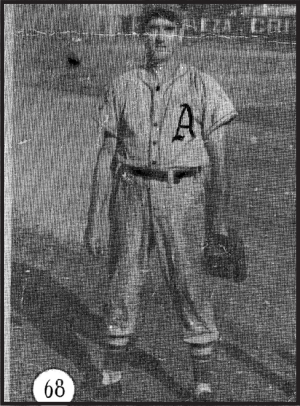 ---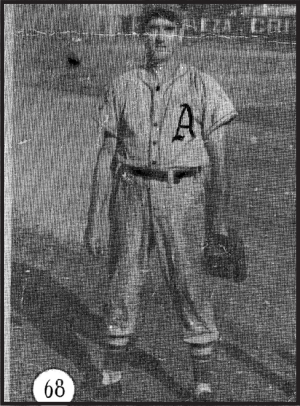 Jorge Comellas didn't impress during his brief stint in the major leagues at the age of 28, as a right-handed pitcher with the pennant-winning Chicago Cubs in 1945. He was demoted before June 1. However, he pitched for six years in the minors before the war, and at the age of 20 was good enough to have earned a spot on a major-league team's September roster. That resulted from his key role in one of the most amazing seasons for a minor-league team in history.
Jorge Vivino Comellas y Pous was born on December 7, 1916, in the Luyanó neighborhood of Havana, Cuba. A sportswriter who interviewed Comellas in 1944 reported that he was of Spanish descent and had won two medals and a trophy cup on his high-school baseball team. While attending the University of Havana he played both baseball and volleyball. During his amateur days he hurled six shutouts and a one-hitter while being coached by longtime major-league pitcher Adolfo "Dolf " Luque, later a member of the Cincinnati Reds Hall of Fame. Comellas called Luque "a real teacher and master."[fn]Rodney Guilfoil, "Coasting Along in Sport World," Bend (Oregon) Bulletin, May 8, 1944, 2.[/fn]
Revolutionary activity by college students in 1934 led to the University of Havana being shut down the next year, and Comellas never graduated.[fn]"Meet the Braves," Utica (New York) Observer, July 20, 1942.[/fn] In fact, Florida sportswriter John Strothard, who called the young man "Machine Gun George Comellas" later that decade, said that the pitcher had "carried a Tommy gun for one side or the other in one or more of the recent Cuban revolutions, while he was a student at the University of Havana"; Strothard may have been writing with tongue in cheek.[fn]John Strothard, "Millers," Daytona Beach (Florida) Morning Journal , April 6, 1938, 3.[/fn] In any case, while still a teenager Comellas made his professional debut on the Marianao team of Cuba's winter league during its 1935-36 season. He would pitch for various teams in that league each winter through 1948-49.
Before the 1936 American League season, Comellas was one of the first nine Cuban players signed to a contract by Joe Cambria, the renowned scout of the Washington Senators. According to a sports columnist in 1937, Comellas had impressed at a "tryout school."[fn]Paul Michelson, "Down the Sports Trail," Titusville (Pennsylvania) Herald, September 6, 1937, 6.[/fn] On March 10, 1936, Comellas arrived in Tampa bound for spring training in Winter Garden, Florida.[fn]Luis Pérez López, "La Curva de Comellas Hizo Estragos en Ligas Menores," Nuevo Herald (Miami, Florida), July 6, 1985, 9. The headline can be translated as "Comellas's curve ravaged minor leagues."[/fn] Passport records for that date show Comellas traveling with seven other Cuban ballplayers, including Fermin "Mike" Guerra, who would play for three American League teams. Comellas would travel with a few other ballplayers on annual springtime boat trips to the States through 1939.
Comellas was assigned to York in the Class-A New York-Pennsylvania League, skipping over lower-level, Class D, C, and B leagues. Comellas didn't speak any English when he arrived in the United States, and on his first trip to New York City he was trapped by the language barrier for four hours at Grand Central Station. As panic was starting to eat at Comellas, a policeman managed to help him out of his predicament.[fn]Guilfoil, Bend Bulletin, 2.[/fn]
The York franchise relocated to Trenton, New Jersey, in early July of 1936. Over the course of the season Comellas won only six games while losing 15. Afterwards he returned to Cuba and spent the winter playing for the Santa Clara team. On April 12, 1937, he and Guerra made another trip together to Florida, to join the Salisbury (Maryland) Indians in the Class-D Eastern Shore League. Cambria helped the two acclimate. For example, they were given pocket cards containing such essential information as how to order various meals in English.[fn]Ed Nichols, "Shore Sports," Salisbury (Maryland) Times, September 26, 1962, 25.[/fn]
Salisbury's 1937 season was quite remarkable, and Comellas played a key role. The team got off to a blistering start, winning 21 of its first 26 games. At that point league Commissioner J. Thomas Kibler issued what was presumed to be a devastating ruling. Teams were allowed to have up to three players with experience at higher levels but Kibler ruled that Salisbury had four, even though one player had merely signed with a Class-C team at one point without actually playing for it. Salisbury lost its appeals, and its official record became 0-26.[fn]"In some other leagues the games were simply thrown out of the standings, but in the Eastern Shore, the offending team was charged with a loss and the opponent credited with a win. Individual statistics, such as wins and losses for pitchers, were not affected." —Bill Weiss & Marshall Wright, at www.milb.com/milb/history/top100.jsp?idx=8.[/fn]
Rather than throw in the towel, the Salisbury squad went all out. Comellas and mound mate Joe Kohlman resumed impressive winning streaks, and after a while the team miraculously re-entered the pennant race.
Years later, Comellas's effort was still vivid to Ernie Foskey, who served as the Salisbury team's trainer, groundskeeper, and bus driver. "Never will I forget one night of that season at Cambridge," Foskey said. "It was a bitter fight for the league lead during the last week of the schedule. I used nine buckets of hot water on Jorge Comellas' arm that night. Hot towels were necessary to keep the circulation flowing, expecially [sic] in his forearm which was cold as ice."[fn]Ed Nichols, "Shore Sports," Salisbury (Maryland) Times, July 23, 1953, 14.[/fn]
Salisbury did win the pennant, thanks in part to Comellas winning his first 20 decisions and finishing with a record of 22-1. During his startling streak he once struck out 21 batters in a nine-inning game. Kohlman finished at 25-1, giving Salisbury the winningest duo in the history of Organized Baseball.[fn]David Nemec and Scott Flatow, This Day in Baseball: A Day-by-Day Record of the Events That Shaped the Game (Lanham, Maryland: Taylor Trade Publishing, 2008), 184.[/fn] Shortly after the season concluded, sportswriter Paul Michelson summarized Comellas's effectiveness. "Even though he telegraphs his pitches, batters can't do much with him," Michelson wrote.[fn]Michelson, Titusville Herald, 6.[/fn]
Lester Biederman of the Pittsburgh Press provided some additional insight around the same time, observing that Comellas "weighs only 156 pounds but has a nifty fast ball." Biederman noted that Comellas struck out 16 batters in his lone loss, and seemed sold on his promotion to the Senators for the close of the American League season.[fn]Lester Biederman, "Sports Stew—Served Hot," Pittsburgh Press, August 31, 1937, 28.[/fn] Comellas was indeed promoted but didn't see any action for Washington. (Kohlman also joined the Senators, and started two games.)
That offseason Comellas pitched a second season for Cuba's Santa Clara team, which won the pennant. In the United States from 1938 to 1942 he bounced around, usually pitching for at least two teams each season. He returned to Salisbury for parts of 1938 through 1940 but also spent time with Washington affiliates in Class A and Class B before eventually slipping out of the Senators' system. Comellas was the winning pitcher in the game that won Salisbury its second consecutive pennant, in 1938.[fn]"Salisbury Takes Eastern Sho' Title," Chester (Pennsylvania) Times, September 17, 1938, 11.[/fn]
Comellas began the 1938-39 season in Cuba with Luque's Almendares team, and he was the starting pitcher in a game of historic significance on October 12, 1938. Visiting were the Homestead Grays of the Negro National League. Comellas yielded only two hits to a strong lineup that featured future Hall of Famer Josh Gibson batting cleanup, but Almendares managed only three hits itself and lost, 1-0.[fn]Severo Nieto, Early U.S. Blackball Teams in Cuba: Box Scores, Rosters and Statistics from the Files of Cuba's Foremost Baseball Researcher ( Jefferson, North Carolina: McFarland & Company, Inc., 2008), 167. Nieto provided the game's box score (though it incorrectly shows a Grays pinch-hitter batting for one of Comellas's teammates in the ninth inning).[/fn]
With Salisbury again in 1940, Comellas figured in another controversy about eligible players, which arose in June after the team tied the league record with 14 consecutive wins. This time the issue wasn't about players' experience. "The chief bone of contention," according to a newspaper account at the time, was "the listing of four Spanish-Cuban names in the daily box scores" in violation of the league's limit on foreign-born players. In response, Salisbury's business manager, Melvin E. Murphy, obtained "birth certificates and racial credentials on his players." Murphy had conceded that a limit on foreign players applied to Comellas but the reporter noted that "Ray Rodriguez, Manuel Menendez, and Al Torre are all naturalized Americans, having been reared in Tampa, Fla."[fn]"Salisbury Denies Any Class Charges," Sunday Morning Star (Wilmington, Delaware), June 9, 1940, 28.[/fn] Comellas finished with a record of 21-10 as Salisbury finished fourth in the standings.
The early 1940s were happy times for Jorge Comellas off the field, particularly during his stints in Cuba. On March 9, 1940, he married Dolores Luisa Rodríguez y Ávila (born August 19, 1918, in Batabano, Cuba), and on April 26 she joined him on his next springtime trip to the United States. Their daughter Barbara was born on the eve of their first anniversary, and their daughter Daisy was born just before Christmas in 1943. Meanwhile, in 1942 Comellas achieved a 19-11 record for Utica in the Class-C Canadian-American League and in 1943 he had a 15-8 record for Portsmouth, an affiliate of the Cubs in the Class-B Piedmont League that won the pennant that year. Around that time, a newspaper profile of Comellas noted that he had "exceptionally long fingers, being able to hold seven baseballs in one hand," and that his Utica teammates referred to him by the nickname Choppy.[fn]"Meet the Braves."[/fn]
For 1944 Comellas was elevated to the Los Angeles Angels in the Double-A Pacific Coast League. He pitched a seven-inning no-hitter on May 7 and was rewarded with a regular spot in the starting rotation. Comellas finished with a solid record of 18-14, going 11-5 from July onward. The Angels won the pennant comfortably, and life for Comellas continued to be good. He had filled out physically, carrying 180 pounds on his 6-foot frame, and had become bilingual enough to admit to reading romance novels in English.[fn]Guilfoil, Bend Bulletin, 2.[/fn] Along the way he had picked up two more nicknames, the plain Pancho and the honorific El Curveador del Pacifico.
The year 1945 started on an upbeat note for Comellas. The Cubs had purchased him from Los Angeles, and in the first half of January it was announced that he would get a tryout with Chicago. It turned out that by the beginning of spring training the Cubs had neither heard from Comellas nor knew where he was. He finally arrived from his home in Havana shortly before the Cubs were preparing to break camp in French Lick, Indiana.[fn]Charles N. Billington, Wrigley Field's Last World Series: The Wartime Chicago Cubs and the Pennant of 1945 (Chicago: Lake Claremont Press, 2005), 118, 124.[/fn] However, manager Charlie Grimm had reportedly seen enough potential in Comellas to consider him a possible starting pitcher.[fn]"Comellas Off to Fine Start," Berkshire County Eagle (Pittsfield, Massachusetts), April 11, 1945, 14.[/fn]
The Cubs opened at home on April 17, and Paul Derringer pitched a complete game in defeating the Cardinals, 3-2. Comellas made his major-league debut in the next game, on April 19. The starting pitcher for the Cubs that day was 38-year-old Ray Prim, who had pitched with the Los Angeles Angels since the mid-1930s, except for 1943, which he spent with the Cubs. After three scoreless innings he was bruised for five runs by the Cardinals in the fourth, and was charged with three more in the fifth without retiring a batter. Prim was relieved by Mack Stewart, who gave up two hits before ending the inning. Stewart was lifted for a pinch-hitter in the bottom of the fifth, so Comellas was summoned to take over on the hill. Wearing uniform number 36, he pitched the sixth and seventh innings without allowing a run. Comellas faced seven batters, balancing a hit and a walk with two strikeouts. His relief stint ended when Grimm pinch-hit for him in the bottom of the seventh. Cubs batters didn't do much all afternoon, and the home team lost 8-2.
From April 20 through the 28th, there were few opportunities for Comellas to make a second appearance. The Cubs didn't play on three of those dates, and they had a six-game winning streak on the strength of five complete games from their regular starters. (Prim picked up the other win in relief.) The winning streak ended on April 29, when the Cubs lost to the Pirates, 6-2, at Wrigley Field in the first game of a doubleheader. In the second game Comellas made his first major-league start. The Pirates scored once in each of the first two innings but the Cubs tied the score in the bottom of the second. Comellas and the Pirates' pitcher, Nick Strincevich, who had won 14 games for Pittsburgh the previous season, conceded no additional runs through the fifth inning. However, in the top of the sixth Comellas was charged with three runs without recording an out and was relieved by Hy Vandenberg. Comellas wasn't hit hard in the inning, giving up an infield single, a walk, and a bunt single to load the bases before exiting. The final score was 5-4 with Comellas the losing pitcher. One of the Pirates' five runs was unearned. Comellas was touched for only four singles before exiting in the sixth inning, but he issued four walks, which contributed to his downfall. On offense, Chicago had six doubles among its 13 hits, but left 10 men on base.
It was 10 days before Comellas pitched again, though during that span the Cubs played only twice. He wasn't charged with any runs in three short relief appearances on the road, against the Philadelphia Phillies on May 9, the Boston Braves on May 12, and the New York Giants on May 16, allowing one hit in each stint. But in one inning of relief on May 18 in Brooklyn, he surrendered the only home run he gave up in the major leagues, to Dodgers center fielder Goody Rosen. The Cubs wound up on the wrong end of a 15-12 slugfest. Though starter Paul Erickson gave up three runs without retiring a batter, Prim surrendered six more and Vandenberg five, the home run Comellas yielded was enough to tag him with the loss.
Comellas made his final major-league appearance 11 days later, on May 29. He reportedly was AWOL during that time, which annoyed the team's management,[fn]Billington, 156.[/fn] though during his absence Chicago used its bullpen in only one game. On the 29th Comellas faced the Dodgers again, this time in Wrigley Field. He was charged with a run in an inning and two-thirds of relief. In his seven appearances in April and May, he pitched 12 innings and had a 4.50 earned-run average.
On May 31 Comellas lost his spot on Chicago's roster (as well as his uniform number, 36) to five-time All-Star Lon Warneke, who had come out of retirement. Comellas was optioned to the Angels.
On May 30 the Cubs had a record of 18-16 and were in fourth place, 6½ games out of first place. If they weren't targeting Comellas specifically but simply wanted to make room for Warneke, then Prim may also have been at risk due to some very rocky outings but he had just helped his cause with a complete-game victory. Also, Vandenberg had a much higher ERA than Comellas, at 7.50, but he had pitched reasonably well for the Cubs in 1944 and would validate their faith in him by the end of 1945 by lowering his ERA to 3.49 while compiling a record of 7-3. Prim fared even better, by managing to lead all NL pitchers with a 2.40 ERA.
Even if Comellas, a rookie facing lineups missing many NL regulars who were in the military, he had to be aware of the importance of making an impact quickly. Germany had surrendered to the Allies shortly after his lone start, so it was a matter of time before many high-caliber players would crowd out fill-ins like him. An unusual number of Cuban players helped to round out major-league rosters during the war because they weren't subject to the US military draft and Cuba played only a limited military role in the war. The Washington Senators finished within two games of winning the AL pennant in 1945 with considerable help from several Cuban players, and other Cuban players that year enjoyed brief opportunities in the majors. "There were many players in 1945 who if not for the war would likely never have played major league baseball," wrote James D. Szalontai in a book devoted to that season; the first player he named was Jorge Comellas.[fn]James D. Szalontai, Teenager on First, Geezer at Bat, 4-F on Deck: Major League Baseball in 1945 ( Jefferson, North Carolina: McFarland & Company, Inc., 2009 ), 2.[/fn]
Within a month of his return to Los Angeles, there was evidence that Comellas hadn't been affected negatively by his middling stint with the Cubs, most notably on June 24 when he won an 11-inning two-hitter against the Oakland Oaks. However, as Richard Beverage noted in his history of the minor-league Angels, "a glandular disorder sapped his strength and ruined his season. After pitching well for a month, he lost his last 11 decisions to finish at 6-16."[fn]Richard Beverage, The Los Angeles Angels of the Pacific Coast League: A History, 1903-1957 ( Jefferson, North Carolina: McFarland & Company, Inc., 2011), 121.[/fn]
In the spring of 1946, Comellas's career took a distinct turn. A millionaire in Mexico, Jorge Pasquel, had been working with his brothers to attract talent to the Mexican League and challenge Major League Baseball. A number of players who had seen major-league action in 1945 jumped to the Mexican League for 1946, among them Sal Maglie, Lou Klein, Max Lanier, and Mickey Owen. Comellas did likewise. He wasn't brand-new to Mexican baseball, having spent a little time with the Torreon team in 1941 (in addition to pitching in 28 games for Class-C Pittsfield and Class-A Springfield that year). For 1946 he joined a new franchise in the eight-team Mexican League, the Tuneros of San Luis Potosi.
By early May it was reported that Comellas was taking over as the team's manager after Felix Arguelles quit.[fn]The hiring of Comellas as manager was news far north of Mexico. For example, see "Sports in Short," Milwaukee Journal, May 6, 1946, 5.[/fn] Comellas, in turn, was replaced by Antonio Rodriguez. The Tuneros finished last.[/fn]
In mid-July of 1946 Pittsfield sportswriter John Flynn reported that Comellas had signed to play winter ball with Almendares in Cuba.[fn]John M. Flynn, "The Referee's Sporting Chat," Berkshire Evening Eagle (Pittsfield, Massachusetts), July 16, 1946, 12.[/fn] Comellas had already spent part of the 1945-46 season with Almendares. In August Baseball Commissioner Happy Chandler imposed a five-year ban on most of the players who had jumped to the Mexican League. The ban eventually applied to the Cuban Winter League, but not before a significant game for Comellas.
Gran Stadium, a 34,000-seat ballpark had been built in the Havana suburb of El Cerro. The first game there was played on October 26. Adolfo Luque's Almendares Blues faced Martin Dihigo's Cienfuegos Elefantes, and Jorge Comellas started for the Blues. He was quite effective, and the Blues won comfortably, 9-1.[fn]William McNeil, Black Baseball Out of Season: Pay for Play Outside of the Negro Leagues (Jefferson, North Carolina: McFarland & Company, Inc., 2007), 48. McNeil provided the game's box score.[/fn]
The Mexican League, meanwhile, had financial troubles, and it was announced that the salaries of the American players would have to be cut in half. There were threats of holdouts in response. On February 19, 1947, Jorge Pasquel flew to Havana because many of those Americans were playing in Cuba that winter. Pasquel was fairly successful in obtaining commitments to return, and at the same time he signed Comellas to a new contract.[fn]John Virtue, South of the Color Barrier: How Jorge Pasquel and the Mexican League Pushed Baseball Toward Racial Integration ( Jefferson, North Carolina: McFarland & Company, Inc., 2007), 184.[/fn]
However, in March there was talk of the Mexican League needing to drop two of its eight franchises. Nuevo Laredo was expected to be one, and the second was to be either Torreon or San Luis Potosi, Comellas's team. San Luis Potosi was indeed targeted for eliminaton, but just two days before the season was to start, the Torreon franchise—and its players—were shifted to San Luis Potosi.[fn]"Ex-Missions Off to Mexico," San Antonio Light, March 26, 1947, 6-B.[/fn] Comellas ended up out in the cold, and there's no indication that he played in Mexico during 1947.
A second winter league was formed in Cuba for 1947-48 because Chandler's ban was being applied to the island, and Comellas joined the Alacranes Blue Sox, managed by Adolfo Luque. Just before Christmas, John Flynn reported that Comellas was among players who had been offered amnesty by Chandler, and as a result Jorge quit the Blue Sox to rejoin the Almendares club, for which he had pitched the previous winter.[fn]John M. Flynn, "The Referee's Sporting Chat," Berkshire County Eagle (Pittsfield, Massachusetts), December 24, 1947, 18. For more on the rival Cuban leagues, and Comellas's place within that situation, see Lou Hernández, The Rise of the Latin American Baseball Leagues, 1947-1961: Cuba, the Dominican Republic, Mexico, Nicaragua, Panama, Puerto Rico and Venezuela ( Jefferson, North Carolina: McFarland & Company, Inc., 2011), 100.[/fn]
In January of 1948, the Los Angeles Angels sold Comellas's contract to Portsmouth of the Class-B Piedmont League, for which he had performed well in 1943. He enjoyed another productive season there, with a record of 14-9. The next few years saw Comellas play for a hometown team in a Florida-based circuit, the Havana Cubans of the Class-B Florida International League, and he finished his pro career in 1951 with Fort Lauderdale in the same league. His US minor-league statistics are incomplete, but records from at least parts of 12 seasons indicate that Comellas won at least 149 games and lost 117, with an ERA of about 3.20.
In the Cuban Winter League Comellas is seventh all-time in games pitched, with 239. He led the league in ERA in 1944-45 and in complete games in 1945-46. In both of those seasons he led the league in shutouts.
The Comellas family eventually settled in Miami. Jorge was officially declared a permanent resident of the United States in 1964 (his daughters had acquired that status in 1950, perhaps to minimize disruption during the American school year), and he became a naturalized citizen in 1973. For the last three decades of his life he lived at the same home.
Comellas continued to at least dabble in baseball. Around 1974 he led the Mambises Baseball Academy in Miami,[fn]Emilio Arechaederra, "Cortos Deportivos," Diario Las Americas (Miami, Florida), January 25, 1974, 15.[/fn] and from 1980 to 1982 he coached at the Caribes Baseball Academy there with Andrés Fleitas, another old-time Cuban ballplayer.
Jorge's wife, Dolores, died in September of 1997. He died on September 13, 2001, at the age of 84. He is buried at Woodlawn Park North Cemetery and Mausoleum in Miami.
This biography originally appeared in "Who's on First: Replacement Players in World War II" (SABR, 2015), edited by Marc Z. Aaron and Bill Nowlin.
Born
December 7, 1916 at La Habana, La Habana (Cuba)
Died
September 13, 2001 at Miami, FL (USA)
If you can help us improve this player's biography, contact us.
Tags
http://sabr.org/sites/default/files/Screen%20Shot%202016-08-07%20at%202.28.30%20PM.png
600
800
admin
/wp-content/uploads/2020/02/sabr_logo.png
admin
2012-01-04 20:43:02
2012-01-04 20:43:02
Jorge Comellas