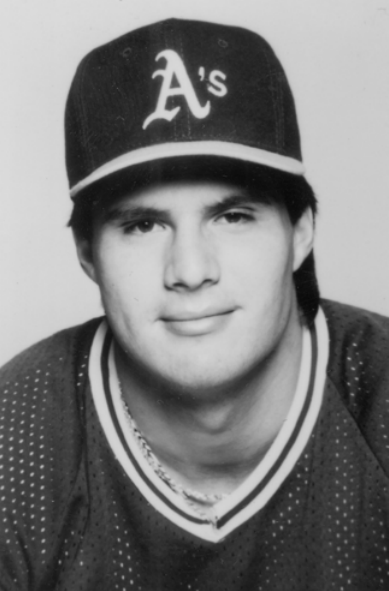 ---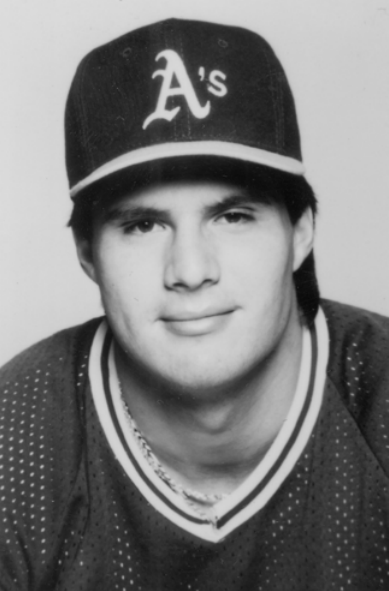 Perhaps no other player in major-league history has been blessed with as much talent and at the same time burdened by such erratic impulses as José Canseco.1 Amassing borderline Hall of Fame numbers with 462 home runs and 1,407 runs batted in during a 17-year major-league career, the former American League Rookie of the Year (1986) and Most Valuable Player (1988) has found his name as often in the tabloids as in the sports pages.2 In the aftermath of his 2005 tell-all memoir, Juiced: Wild Times, Rampant 'Roids, Smash Hits & How Baseball Got Big, in which Canseco admitted to personal steroid use and also named several other ballplayers who he claimed used performance-enhancing drugs as well, Canseco was reduced to a baseball pariah, cast aside to the distant margins of the national pastime.3 "I was known as the godfather of steroids in baseball," he wrote unapologetically. "I introduced steroids into the big leagues back in 1985."4 That he was more forthright than most in his chronicles of anabolic steroid use provided him with little solace after his career.
In 2007, when Canseco's name first appeared on the Hall of Fame ballot, he received only 1.1 percent of the vote from the Baseball Writers' Association of America — in spite of having been named to six All-Star teams,5 garnering four Silver Slugger Awards, and compiling a then-unprecedented 40-homer, 40-stolen-base season in 1988 as he led the Oakland A's to the American League pennant. By the end of his career he was known in baseball circles simply as "The Chemist." While he continued to serve as fodder for late-night comedians, in many respects, his troubled life — and his roller-coaster career — can just as easily be viewed as an American tragedy.
José Canseco Capas Jr. was born on July 2, 1964, in Regla, a borough of Havana, Cuba, overlooking the city's shipyards.6 His identical twin brother, Osvaldo "Ozzie" Canseco Capas, who would have a brief career in major-league baseball, was born two minutes before. Canseco's parents, José Jr. and Barbara, were both of recent Spanish lineage to Cuba and had an older daughter, Teresa, born a decade earlier. Canseco's father had worked in oil refineries in the United States during the 1950s and, the year following the birth of his twin sons, was able to secure his family's immigration to the United States, where the Canseco originally settled in Opa-locka, Florida, 15 miles northwest of Miami. In his various interviews and memoirs, Canseco identifies his father as a stern taskmaster who was highly critical of the two brothers as they worked their way through various youth leagues. He identifies himself frequently as "scrawny" throughout his youth and acknowledges that he played junior-varsity baseball at Coral Park Senior High School until his senior year, when he was scouted by his teammate's father, the former major-league pitcher Camilo Pascual. In 1982, following his high-school graduation when he was still only 17, Canseco was selected as a 15th-round draft choice by the Oakland A's.7
Canseco began his professional baseball career inauspiciously in Idaho Falls of the Pioneer League, batting .263 in 28 games, with only two home runs. In Miami of the Class-A Florida State League he batted .111 in six games. The following year, he started the season at Single-A Medford (Oregon) of the short-season Northwest League, where he batted .269 with 11 home runs, making the All-Star team, but also recorded 78 strikeouts in only 59 games. He finished out the season at Madison (Wisconsin) of the Single-A Midwest League, where he struggled to a .159 average with three home runs in 34 games.
The following year, 1984, Canseco was sent to Modesto, the A's "high" Single-A team, the top Class-A team of the California League, where he got off to a good start before receiving a call that his mother was dying in a Miami hospital from complications due to diabetes and hepatitis. In his memoirs, Canseco claims that his mother's death, coming when he was just 20 years old, was the catalyst that that led him to dedicate his life to becoming "the best athlete on the planet." He batted .276 at Modesto, with 15 homers and 73 runs batted in, and returned home from the offseason to Miami, where, he asserts, he began his first use of anabolic steroids with a friend from Coral Park Senior High, combined with vigorous weight training. As a result of his new regimen, Canseco put on several pounds of muscle and continued to grow in height.8
In 1985, still only 20 and following his initial use of steroids, Canseco had a breakout season, starting with Double-A Huntsville (Alabama) in the Southern League, where he batted .318 with 25 home runs in a mere 58 games. He was then moved up to Triple-A Tacoma of the Pacific Coast League, where he batted .348 with 11 home runs in 60 games and where his power was beginning to make headlines. At one point Canseco was batting .525 and had hit 500-foot home runs in games at Vancouver and Las Vegas. He hit another ball over the 32-foot right-center-field fence at Tacoma's Cheney Stadium. Suddenly he was being dubbed "the next Mickey Mantle." Tacoma's general manager, Stan Naccarato, echoed those sentiments in an interview sent out over the wire services by United Press International. "Everybody you talk to says he has Mantle's speed and Mantle's power," Naccarato declared. "There's electricity in the air."9 Canseco received a late-September callup with the A's during which he batted .302 with five home runs, including a towering 480-foot drive onto the left-field roof at Comiskey Park in Chicago. After the season, "the rip-roaring, 21-year-old slugger" received Baseball America's Minor League Player of the Year Award.
The following spring, Canseco's rocket ship took off. In a telling spring-training profile of him appearing in March of 1986, the Associated Press noted, "When Oakland A's rookie outfielder José Canseco talks, people don't always listen. But when he hits, they fear for their lives." Triple-A Phoenix manager Jim Lefebvre compared him to sluggers Richie "Dick" Allen and Willie Stargell, with yet another nod to Mantle. A's hitting coach Bob Watson compared him to Roberto Clemente, Dale Murphy, and Reggie Jackson, "all rolled into one." All heady company. Karl Kuehl, then the A's director of player development, said his one concern was how Canseco would handle all the attention he was receiving. "He's been very good in the local theaters," Kuehl observed. "Now, he's going to Carnegie Hall."10
In truth, Canseco's rookie season on the A's more than matched his hype. Managed at the start of the season by Jackie Moore, replaced near midseason by interim skipper Jeff Newman, and then finally replaced by Tony La Russa in early July, the 1986 A's were a lackluster team with little offense (no starter batted over .285 that year) and mediocre pitching (no pitcher won more than 13 games). Canseco provided one of the few bright spots, storming to a unanimous selection by edging out the California Angels' Wally Joyner as the American League Rookie of the Year. Although batting only .240 with a thunderous 175 strikeouts, third most in the league, Canseco belted out 33 home runs (tied for fourth in the league) and had 117 runs batted in (good for second), along with 15 stolen bases. There was also some promise for the future: Under La Russa's tutelage, the A's went 45-34 to finish the season. Moreover, there was also another rookie who appeared on the A's roster briefly that year — playing as a third baseman — a 22-year-old from Southern California named Mark McGwire.
The following season, 1987, Canseco's star was eclipsed by his rookie teammate, McGwire, who had switched over to first base and batted cleanup in the A's lineup. While Canseco maintained solid power numbers — 31 home runs and 113 runs batted in –McGwire surpassed him, generating huge amounts of press and crashing a record-breaking 33 home runs before the All-Star break. He destroyed the longtime rookie standard of 38 round-trippers with 49 home runs and was unanimously voted American League Rookie of the Year. The two sluggers soon became known as the "Bash Brothers," hitting 80 home runs between them and driving in 231 runs while also making the pounding of their celebratory forearm bump famous. The A's finished at an even .500 pace that year, good for only third in the American League West, but the '87 season set the stage for three straight World Series appearances and a world championship in the trio of seasons ahead.
Soon after McGwire's spectacular rookie campaign, according to Canseco, the glamour of the Bash Brothers took on an ominous undertone. In his memoirs, Canseco asserted that beginning in 1988, "Mark and I started talking about steroids again, and soon we started using them together. I injected Mark in the bathrooms at the Coliseum more times than I can remember. Sometimes we did it before batting practice, sometimes afterward."11 (McGwire originally denied Canseco's charges; later asserted his Fifth Amendment rights before Congress; and, finally, in 2010, admitted to continued steroid usage throughout his career, beginning in the 1990s. (He continued to deny Canseco's allegations that he shot McGwire with syringes.)12 Canseco has continuously contended that A's manager Tony La Russa was aware of McGwire's steroid use, which La Russa has denied, saying that he was not aware of McGwire's use until McGwire admitted it to him personally during a phone conversation in 2010 when La Russa hired his former slugger as a hitting coach for the St. Louis Cardinals.13 "I'm tired of justifying what I've said," Canseco said about steroid use in baseball during the late 1980s and 1990s. "I've polygraphed, I've proven that I'm 100 percent accurate. I never exaggerated. I told it the way it actually happened. I'm the only one who has told it the way it actually happened. Major League Baseball is still trying to defend itself. It's strange. All I have is the truth, and I've proven that."14
Whatever was revealed to have gone on behind the scenes long afterward, on the ballfield during their three-year run from 1988-1990, the A's had one of the best three-year records of any baseball team over the last 30 years. They averaged 102 wins for each of the three seasons (for a remarkable .630 winning percentage during that period).
Canseco led things off in 1988 with a campaign for the ages. In April of that year, after getting off to a quick start, he declared: "I think I can have a 40-40 season. Let's go for a big time goal."15 Canseco's prediction was more than a bit brash: He had never stolen more than 15 bases before in a year. But by June 2, only 51 games in, Canseco was leading the league with 13 home runs and was third in stolen bases with 17. "I'm trying to shake off the stereotype of just being a power hitter," he declared.16 It was also a way of differentiating himself from McGwire and returning himself to the spotlight. Meanwhile, the A's were operating on all pistons, at one point earlier in the season winning 18 out of 19 games (including 14 in a row) and extending a nine-game lead over the second-place Minnesota Twins.
By midsummer Canseco had captured the imagination of the entire country. He was moving from baseball star into the realm of cultural icon. Vanity Fair's Annie Leibovitz photographed him shirtless for an American Express ad campaign. In a memorable midseason profile appearing in the Washington Post, baseball writer Thomas Boswell wrote of him: "After lockering next to Reggie Jackson last year, Canseco has incorporated the Spanish language version of 'The World According to Buck' into his act — how to play the outfield standing sideways, how to wear the tight uniform, how to gaze lovingly at the long homers and how to cook quotes like 'I don't expect to reach my pinnacle for a few years.'"17 Canseco led all American league outfielders in votes for the All-Star Game, and manager Tom Kelly of the Twins let it be known he considered Canseco the best player in the game.18 The game was played that year in Cincinnati. Canseco joined Dave Winfield and Rickey Henderson (both then on the Yankees) in the American League's starting lineup. Although Canseco went 0-for-4 in his starting role, Kelly played him for all nine innings of the annual showcase, initially in left field and then moving him to right.
Canseco came out hot again in the second half of the 1988 season. On September 18 he clubbed his 40th homer. The following day, the A's clinched the division title over the Twins by more than a dozen games, behind the pitching of the indomitable Dave Stewart, who picked up his 19th win. Then on Friday, September 23, Canseco banged out three hits, including his 41st home run, and stole two bases, to reach the 40-40 plateau. Canseco admitted after the game that when he made his prediction at the beginning of the season, he hadn't realized that no one had done it before. He had now created an exclusive club. "I'm greatly relieved at having done it," he declared. "I didn't want to go through the season and come up short and say I stuck my foot in my mouth."19
That fall would mark the first of three straight trips for Canseco and the A's to the fall classic. But in the week leading up to the American League Championship Series, the Washington Post's Boswell, who had earlier heaped praise on Canseco in his midseason profile, appeared on Charlie Rose's middle-of-the-night television talk show Nightwatch. The conversation turned to the end-of-the-season pennant races and to Canseco's unprecedented 40-40 accomplishment. Canseco, Boswell declared, is "the most conspicuous example of a player who has made himself great with steroids." He also said that other players referred to steroids as "a Canseco milkshake."20
Boswell's charges against Canseco, vague and unsubstantiated as they were, marked the first time that steroid allegations in baseball had broken to the surface of the mainstream media. Ironically, Boswell's comments never appeared in the Post. His editor, George Solomon, would later contend: "You have to have your sources. You have to be 100 percent sure of what you print. At that point, we were not." What Boswell had said on television, Solomon declared, was strictly "Boswell's opinion." 21
Nevertheless, the charges were explosive. Headlines echoing Boswell's remarks appeared across the country. Canseco was forced to deny the charges. "It's just not true," he declared. "It was an ignorant statement, and I usually don't pay attention to ignorant statements. There was no background and no basis to it."22 Baseball's Establishment went into full defensive mode. La Russa, in the midst of getting his team prepared for the playoffs, immediately denied Boswell's allegations. So, too, did former A's slugger Reggie Jackson, who had retired from the game a year earlier and said that Boswell "had done a disservice to baseball."23 But the damage had been done. According to Canseco, Pepsi pulled a $1 million endorsement away from him as a result of the controversy. When the A's appeared in Boston for the first games of the ALCS, Red Sox fans chanted "STER-oids! STER-oids!" when Canseco came to the plate.
The chanting didn't seem to intimidate Canseco. He belted a critical home run at Fenway Park in the A's opening 2-1 win over the Red Sox; he hit a two-run homer off Roger Clemens in the A's 4-3 Game Two victory; and after going 0-for-4 in Game Three, he went 3-for-4 in the clincher with another home run and two runs scored. For the series, he batted .313 with a .938 slugging percentage. He also declared what would become his mantra, albeit a deceitful one, for the next two decades. "If you guys saw what I went through during the offseason, you'd know where this body came from," Canseco said. "My brother and I work out about 3 hours a day, 6 days a week. We play volleyball in the sand to build up the legs, swim to build up the shoulders and back, and then lift weights."24
In the ensuing World Series, however, between the A's and the Los Angeles Dodgers, Canseco's — and the A's — bubble burst. In the very first game at Dodger Stadium, Canseco put the A's ahead 4-2 with a grand slam off Dodgers starter Tim Belcher, providing him with an auspicious start to the Series and giving the A's a lead, which they held, 4-3 going into the ninth inning. The A's brought in their star closer, Dennis Eckersley, needing only three final outs to secure the Game One victory. With two down and Mike Davis on second base, however, Kirk Gibson, who had been injured in the NLCS against the New York Mets, hobbled to the plate as a pinch-hitter. Gibson managed to work a 3-and-2 count and, based on a scouting report, was looking for a backdoor slider as Eckersley's next delivery. Gibson used his wrist and upper body strength to drive the pitch well over Canseco's head and into the right-field bleachers. It was one of the most momentous home runs in World Series history — and completely took the wind out of the A's sails, even though they had been widely favored to win the Series. Had Eckersley secured the save, Canseco would have been the hero; instead, he was all but forgotten as Gibson assumed the spotlight. The A's were cooked. The Dodgers closed out their world championship in five games, with Canseco going 0-for-17 the rest of the way for an .053 Series batting average. McGwire was just as feeble, going 1-for-17 with an .059 average. The "Bash Brothers" had become the "Crash Brothers."
If the World Series loss to the Dodgers had been a profound disappointment, the offseason was even worse for Canseco. In early February, headlines across US sports pages read that Canseco and the A's could not reach an agreement on his forthcoming contract — arbitration seemed inevitable. At the eleventh hour, however, his agent reached an agreement with the A's, resulting in the largest raise in baseball history to a one-year contract for $1.6 million. A's general manager Sandy Alderson was forced to acknowledge "the number he submitted was a fairly reasonable one."25 It might have been a moment of triumph leading him into spring training. Instead, only days later, however, Canseco was arrested by Florida state troopers for driving his new Jaguar 125 miles per hour on Interstate 95. Canseco was cited for reckless driving, creating more headlines. 26 (He was found guilty and fined $500.)
From that point on, the bad press and the bad behavior never seemed to slow down. That same month Canseco was a no-show at a baseball-card convention in New York. A local radio station took to publishing a sign called a "Slam-O-Gram," featuring short derogatory blasts about the A's slugger (an early precursor to Twitter):
"Canseco — major league player, minor league human being."
"Canseco, MIP — Most Invisible Player."
The bad press continued. Canseco was stopped for running a red light in spring training, during which time he argued with police, and had three other traffic tickets that spring. He opened up the 1989 season with a stress fracture in his left wrist. By the third week of April, he hadn't had an at-bat. While getting treatment for his fracture at the University of California Medical Center in San Francisco, Canseco was arrested by campus police and FBI agents for being in possession of a loaded 9mm handgun on a state campus. In January an unidentified traveling companion of Canseco's had been stopped in Detroit for carrying a 15-shot, Italian-made handgun on an airline flight. Canseco seemed to be in freefall. Alderson was terse in his response. "Oakland does not condone this event," he declared, "nor are we happy with the series of events. I am embarrassed for the organization."27 Canseco, however, was anything but recalcitrant. He claimed he was carrying the gun for protection following anonymous threats he had received. "I'm no felon," he declared. "I am no criminal. I am no rapist. I am no murderer. They ought to spend more time apprehending criminals."28 Canseco later pleaded no contest to misdemeanor charges and performed community service.29
By early May Canseco was on a 20-day rehab assignment with Double-A Huntsville, but quickly reinjured his wrist again and was forced to undergo surgery at the same medical center where he had been arrested on weapons charges. After more than a month of recuperation, Canseco returned to Huntsville again, and began his second rehab assignment.
Without ever having to come to bat in the American League that season, Canseco found himself winning a position in the American League's starting lineup in the All-Star Game. He publicly asserted his intent to play in the game, even though he was still in the middle of a rehab assignment in Huntsville. A's manager Tony La Russa, who had clearly become irritated with his wounded slugger, said that he was "concerned if he has his head on straight about what he's supposed to be doing, and that's to help us win the division." Canseco retorted that he didn't think the decision was in La Russa's "jurisdiction." Alderson interceded. "It's our decision when he comes off the disabled list," the GM declared, "and he has to be activated to play in the All-Star Game."30 In the end, he did not play — the A's cited his injury — but he did receive yet another speeding ticket while recuperating during the All-Star break. More headlines. More tension with management. It was a dynamic that would repeat itself for the rest of his career.
The A's were a game and a half out at the All-Star break, and when Canseco finally returned to their lineup on July 13, he did so with a bang — 2-for-3, with a home run, three RBIs, two runs scored and a stolen base, as the A's pounded the Blue Jays 11-7. They never looked back. The A's finished the season with 99 wins, seven games ahead of the Kansas City Royals and with the best record in baseball, while Canseco hit 17 home runs and had 57 RBIs in only 65 games, with a slugging average of .542. In the ensuing ALCS and World Series encounters with the Toronto Blue Jays and San Francisco Giants, the A's lost only a single game on their way to their first world championship since 1974. Canseco registered the signature moment of the ALCS — a towering 480-foot homer off former Cy Young Award winner Mike Flanagan into the fifth deck of Toronto's SkyDome — but the postseason stars of the Athletics were future Hall of Famer Rickey Henderson, who was named the MVP of the ALCS, and pitcher Dave Stewart, who was named World Series MVP after collecting two wins in the so-called Bay Bridge Series, which had been disrupted by the fatal Loma Prieta Earthquake. The 24-year-old Canseco batted a respectable .294 and .357 in the respective series, but he hit only a single homer in each and would have only three more postseason hits in his career. His baseball pinnacle had been reached much sooner than he anticipated.
It wasn't quite a downhill slide after that, but there would be far fewer heroics, no more Most Valuable Player awards — not even close. The A's stormed to their third successive American League West championship in 1990 — Canseco had a respectable season with 37 home runs, 101 RBIs, and another berth on the All-Star team — but he collected only two hits against the Red Sox in the ALCS and a solo home run in the World Series, as the A's were swept by the underdog Cincinnati Reds in four games. That was the end of their triumphant run.
Canseco won the American League home run championship again in 1991 with 44. That same year the then-married outfielder also had a celebrated late-night rendezvous with pop star Madonna, one that made for tabloid headlines around the world. The New York Post dubbed him "Madonna's Bat boy." Yankee fans chanted "Ma-don-na!" when he came to the plate.31At the time, Canseco said that he and the diva were "just friends."32 Later, he would claim that Madonna wanted to have a child with him. "She had a Cuban child and wanted another one," he told Us magazine. "She wanted to get married and have a child with me — she wanted a Cuban child." He said that when he first met her in California, "(S)he came over and said, 'What would you do if I kissed you?' and then sat on my lap and kissed me."33
By the following February Canseco was charged with "aggravated battery" for allegedly ramming his wife Esther's BMW with his Porsche. Before the start of the 1992 season, Canseco pleaded not guilty to charges of aggravated assault and later bargained a deal where he underwent counseling and fulfilled a community-service requirement — but Alderson and La Russa were done with him. Just before the September 1 trade deadline, the A's humiliated Canseco by trading him in the middle of a game (and while he was on his way to the on-deck circle) to the Texas Rangers for All-Star outfielder Ruben Sierra, pitchers Jeff Russell and Bobby Witt, and cash. Over the course of the ensuing decade, Canseco would play for a half-dozen teams — and even another stint with the A's after La Russa had left the team to manage St. Louis — but injuries and continued off-field challenges always seemed to get the best of him. In 1994, his final season with the Rangers, Canseco nearly returned to his peak form — he hit 31 home runs and had 90 RBIs in the strike-shortened season — but the Rangers sent him to Boston that December for outfielder Otis Nixon and part-time third baseman Luis Ortiz.
In 1998 Canseco produced memorable numbers at the age of 33 for the Blue Jays — a career-high 46 home runs, 107 runs batted in (albeit with a league-leading 159 strikeouts) — but he watched in the shadows as his former teammate Mark McGwire, now of the St. Louis Cardinals, and Sammy Sosa of the Chicago Cubs — both players that Canseco later identified as having used performance enhancing drugs — captured the imagination of the nation as they staged an epic battle chasing the seasonal home run record of 61 by the Yankees' Roger Maris in 1961. McGwire hit 70 and Sosa 66 — but they and Canseco all knew the record was tainted.
From that point on, Canseco's playing time and his performance diminished. Just 38 home runs shy of the coveted 500 mark, he signed with the Montreal Expos in 2002, but the Expos cut him during spring training after batting just .200 in 14 games, leaving him to sign a Triple-A contract with the White Sox. After batting a meager .172 with five home runs in 18 games with the Charlotte Knights, a frustrated Canseco simply failed to show up at the park one day. Later, his agent, Alan Nero, stated: "José felt that because of personal reasons and a strong desire on his part to spend more quality time with his young daughter, it was time to announce his retirement."34 A week later, Canseco took a swipe at baseball and augured things to come. "There would be no baseball left if they drug-tested everyone today," he told the Associated Press. "It's completely restructured the game as we know it. That's why guys are hitting fifty or sixty or seventy home runs."35 He staged desperate comeback attempts with various major-league and minor-league teams — including an open tryout with the Dodgers in 2004 — but he never made it back to "The Show." As far as Major League Baseball was concerned, the José Canseco saga was finally over.
At least on the field. Canseco would continue to find himself in trouble with the law and surrounded by controversy, his name still constantly in the headlines. In 2003 he was sent to jail by an angry judge who felt that Canseco had not taken the terms of his probation for a 2001 nightclub brawl seriously enough. Canseco had failed to take anger-management courses and perform community service; he also tested positive for steroids, whose use had also been banned by the terms of his probation. In June he was arrested and placed in Broward County Jail without bond. In Juiced, he described the two-plus months he spent in custody as "the low point of my life."36 He also claimed that he experienced a "nervous breakdown" while he was incarcerated after his ex-wife, Jessica, told him that she was "in love with somebody else." "I'm not using the term nervous breakdown lightly," he wrote. "It all became too much for me. It felt like something inside me was being crushed."37 While he was in jail, his attorneys acknowledged that he was addicted to steroids, but their motion for a medical evaluation for their client was denied.38 In August he was released from custody when a judge ruled that the state could not determine when Canseco had last taken steroids; Canseco also claimed in his memoir that "the chain of custody on my blood test was full of holes." From that point on, Canseco asserted that he would never set foot in Florida again.39
When his memoir Juiced was first published in 2005, it became an instant cause célèbre. 60 Minutes featured a segment on the book, in which Mike Wallace interviewed Canseco. The baseball Establishment — and many baseball writers — took potshots at Canseco. They remained in serious denial. In the Los Angeles Times, longtime baseball writer Allen Barra proclaimed it "the worst sports book so far in three centuries." His longtime nemesis Boswell declared that "in baseball, when it's your word against Canseco's, they invoke the forfeit rule." Tom Verducci of Sports Illustrated echoed Boswell's attack by asserting that Canseco had "the kind of credibility not even nano-technology could find or measure."40 But many fans were apparently beginning to come around to Canseco's perspective. On March 6 Juiced shot up to No. 1 on the New York Times' Best Seller List and spent a total of seven weeks on the coveted list. One aspect of Juiced that has long been overlooked, however, is the fact Canseco, in addition to naming names, was still openly advocating for steroid use in its pages. "Yes, you hear me right," he declared. "Steroids, used correctly, will not only make you stronger and sexier, they will also make you healthier. … Steroids will give you a better quality of life and also drastically slow down the aging process."41
On March 17, 2005, during the middle of the controversy surrounding Juiced and while the major leagues prepared for the coming season in spring training, several of the game's most memorable stars — Canseco, McGwire, Sosa, Alex Rodriguez, Rafael Palmeiro, and Curt Schilling — appeared before the House Government Reform Committee during the course of an all-day, nationally televised hearing. It was a stunning encounter. Canseco and McGwire were together in the same lineup for the first time since their days together with the Oakland A's, but no one could have anticipated the venue where they were now appearing. Both made headlines. In the end, McGwire stumbled unconvincingly through his testimony, refusing to answer the ultimate question: whether or not he used steroids. He also took a potshot at Canseco. "I don't intend to dignify Mr. Canseco's book," he declared. "It should be enough that you consider the source of the statements in the book, and that many inconsistencies and contradictions have already been raised." But when the time came to acknowledge his own participation, McGwire dodged the question. "I have been advised that my testimony here could be used to harm friends and respected teammates," he declared. "My lawyers have advised me that I cannot answer these questions without jeopardizing my friends, my family and myself. I intend to follow their advice."42
The force of public opinion seemed to be bending Canseco's way. As it would turn out, Canseco's testimony before Congress proved to be the most honest of all those who testified. On the other hand, McGwire's performance was universally slammed by the media. Dave Sheinin of the Washington Post declared that McGwire, "once the game's most celebrated slugger but now the face of the steroid scandal, [was] reduced to a shrunken, lonely, evasive figure whose testimony brought him to the verge of tears."43
In his follow-up book, Vindicated, Canseco named more names, went on the offensive against several sportswriters, and doubled-down on his charges against McGwire. Five years later, McGwire finally admitted to using steroids, though he denied ever using them with Canseco and claimed to have begun using them a half-decade later only as a response to injuries. Canseco was outraged by what he viewed as an incomplete, insincere admission. "I've defended Mark, I know a lot of good things about him," Canseco told ESPN. "I can't believe he just called me a liar. There's something very strange going on here. I even polygraphed that I injected him, and I passed it completely. So I want to challenge him on national TV to a polygraph examination. I want to see him call me a liar under a polygraph examination."44 McGwire has never taken him up on his offer.
In the years since his retirement, Canseco asserted that he was forced out of the game and was "blackballed" by Major League Baseball. The one-time MVP has been forced to the margins of the national pastime and became something of a celebrity circus act on reality television programs. In 2003 he appeared in a TV special entitled Stripper's Ball, with porn star Jenna Jameson. He has also engaged in a variety of martial arts and boxing contests, and in 2009 he fought a former child star, 5-foot, 6-inch Danny Bonaduce, to a three-round draw at a bout held in Aston, Pennsylvania. A 2010 effort on Twitter to get Mets GM Sandy Alderson to invite him to spring training elicited no response.
Canseco's behavioral circus never abated. In 2011 he sent out a series of Twitter postings declaring his "love" for Lady Gaga, proclaiming he "would marry her in a second."45 In 2012 he filed for bankruptcy, citing $1.7 million in debt against $21,000 in assets. That same year he was banned by the Mexican League, in which he was hoping to stage yet another comeback, for "refusing to take a doping test."46 The following year, Canseco was named publicly — initially by himself via Twitter — as a suspect in a rape allegation by a fitness model (and the mother of six children) in Las Vegas. He made defamatory countercharges against his accuser via Twitter postings, in which he identified her by name. A month later, he was cleared of all charges by Las Vegas police investigators.47 Later that year he was pulled over with his girlfriend, Leila Knight, and found with a diaper-clad goat in the back seat of their car. The following year, he blew off a portion of the middle finger on his left hand while cleaning his gold-plated Remington .45 handgun, and, a month later, allegedly threatened to kill Knight and her mother. Knight also contended that Canseco was still using the anabolic steroid Anavar to "stay big."48
In June of 2015, Canseco appeared at Dodger Stadium in what was clearly a publicity stunt aimed at his former Bash Brothers teammate Mark McGwire, the hitting coach of the Dodgers. Canseco was carrying a sign that read: "Sorry Mark — Read My Poem! Love José." The poem was posted online:
Roses are red
Violets are blue
I am sorry I wrote a book about you

The balls we hit used to fly
But to do so we had to lie
In our heyday the Bash Brothers stood tall
But the bigger you are, the harder you fall

I know I exposed your secret injections
I hope this apology doesn't find a rejection49
It wasn't exactly Shakespeare, and McGwire publicly rejected the overture. Nor was Canseco seeking conciliation with everyone he had outed in his two books. About Alex Rodriguez, he declared: "Fuck him. I can't stand that guy. He hit on my wife. I'd rather kick his ass."50
Only weeks later, Canseco was playing baseball in an independent league in Northern California. He signed a three-day contract with the Pittsburg Diamonds of the Pacific Association of Baseball Clubs. In a series against the San Rafael Pacifics, Canseco pitched, went 3-for-5 in the second game with an RBI, and in the final contest, started a bench-clearing scuffle when he was brushed back on successive pitches. "Hey, you never know, maybe next year I'll manage, maybe a commissioner, maybe a player/manager," Canseco asserted after the series. "Who knows? A whole lot could happen."51 Indeed it could: In midsummer of 2015, Canseco generated national headlines once again by declaring that he intended to support newly transgendered Caitlyn Jenner by "dressing up and living as a woman for a week." His announcement immediately drew criticism, according to the Washington Post, for "misunderstanding transgender issues and even making fun of them." Canseco was not dissuaded by the criticism. "I wonder what I would look like as a woman," he Tweeted. "Move over Caitlyn." He indicated that he intended to carry out his intentions, in part, by appearing as a woman on his Internet show, "Spend a Day With José."52
In spite of these continued media stunts, Canseco contends that he still loves the game that once brought him fame and fortune. "I love baseball," he wrote in Vindicated. "Baseball is a great game. Maybe the greatest game ever."53 But for the time being, as a profile of Canseco in Sports Illustrated noted, the closest he was likely to get to a baseball diamond was in an outlaw league or the lowest level of the minors.54 He has expressed his regrets for writing his memoir and naming names, but the apologies would clearly not bring him an invitation anytime soon to official gatherings in Cooperstown. He remained "a Judas," in the words of author Howard Bryant, forever banished from the inner sanctums of the game he once dominated. "If José Canseco is ever in the Hall of Fame," one Hall of Fame player told Bryant, "there shouldn't be a Hall of Fame. He wasted more ability than most of us ever had."55
Last revised: October 1, 2016
Notes
1 Special thanks to Joel Domhoff, Mark Nisson, Emily Hawks, Bill Nowlin, and Marlene Vogelsang for their assistance and feedback on this piece.
2 For an interesting discussion about Canseco and the Hall of Fame, see "Jose Canseco and the Keltner List," by Ryan Wilkins, Baseball Prospectus, May 23, 2002. baseballprospectus.com/article.php?articleid=1483. The article came out before the official confirmations of Canseco's steroid use, and as such, it provides an interesting, more objective, perspective on his career without the steroid question being taken into account. Bill James's Hall of Fame Monitor has Canseco at 103, slightly higher than the 100 benchmark for a "likely Hall of Famer." James has otherwise been dismissive of Canseco; in The New Bill James Historical Baseball Abstract (New York: Free Press, 2010), 811-812, James merely mentions Canseco among other twins who have played major-league baseball. It's clearly a dig. He does, however, list Canseco at 36th among all-time right-fielders, ahead of the likes of Chuck Klein and Hall of Famer Harry Hooper. Later on, James also acknowledges that Canseco's RBI-per-game average of .764 ranks him 10th among all outfielders in baseball history.
3 Jose Canseco, Juiced: Wild Times, Rampant 'Roids, Smash Hits & How Baseball Got Big (New York: Regan Books: 2005); although his name did not appear on the book, it was later revealed that Juiced was ghost-written by Steve Kettman. Canseco published a sequel three years later entitled Vindicated: Big Names, Big Liars, and the Battle to Save Baseball (New York: Simon Spotlight Entertainment: 2008).
4 Juiced, 4.
5 Canseco was named to the American League All-Star team in 1986, 1988, 1989, 1990, 1992, and 1999.
6 As with most ballplayers from Spanish-speaking countries in the Caribbean, Canseco dropped his mother's maiden name (Capas) when coming to the United States. I have used the Spanish spelling of his first name, with an accent over the "é."
7 Biographical data collected from Juiced, 1-46.
8 Juiced, 49-55.
9 Ukiah (California) Daily Journal, July 21, 1985: 11.
10 "The A's Budding Superstar," Santa Cruz (California) Sentinel, March 9, 1986: 62.
11 Juiced, 74.
12 Tyler Kepner, "McGwire Admits That He Used Steroids," New York Times, January 11, 2010. Web edition.
13 Ann Killion, "Steroid Taint Didn't Extend to Managers," San Francisco Chronicle, December 12, 2013, web edition. Killion wrote: "If there were an all-steroid baseball team (Bonds in left, McGwire at first, Clemens on the mound — we can keep going), there's no doubt who the manager would be. It would be [Tony] La Russa, who managed the A's in the late '80s and early '90s Bash Brothers era, widely considered Ground Zero for rampant steroid use. Then La Russa went on to manage the St. Louis Cardinals, where McGwire made it fashionable to use steroids to break baseball's most hallowed records. Along the way to this week's Hall of Fame vote, La Russa has been a hypocritical steroid-era bully, pointing fingers at and calling out players he didn't like, even ones he managed, such as Canseco, while simultaneously angrily defending McGwire and others."
14 "Canseco: McGwire Not Fully Forthcoming," ESPN.com, January 12, 2010.
15 "Canseco Sets Lofty Goal," Santa Cruz Sentinel, June 3, 1988: 21.
16 Ibid.
17 Thomas Boswell, "Jose Canseco's 40-40 Vision Starting to Come Into Focus," Washington Post, August 19, 1988. In Los Angeles Times web edition.
18 "Bay Area Bombers: Canseco Has Come Long Way," Santa Cruz Sentinel, July 14, 1988: 13.
19 "Canseco Steals Into Baseball History," Santa Cruz Sentinel, September 25, 1988: B1-B3.
20 Associated Press, "Slugger Denies Use," Kokomo (Indiana) Tribune, September 30, 1988: 17.
21 Bryan Curtis, "The Steroid Hunt," Grantland.com, January 8, 2014.
22 Associated Press, "Slugger Denies Use," Kokomo Tribune, September 30, 1988: 17.
23 Ironically, Boswell would claim that La Russa had been one of his sources. "Slugger Denies Use." See also "The Steroid Hunt."
24 "Slugger Denies Use." John Weyler, "Canseco Leaves Strong Impression on Red Sox: He Gives Oakland Early Lead With Home Run, Tries to Deflect Steroid Charge," Los Angeles Times, October 6, 1988, web edition. Hal Brock, "Shocked Devils," Gettysburg (Pennsylvania) Times, October 8, 1988: B-1.
25 "Canseco Receives Largest Raise in Baseball History," Hazelton (Pennsylvania) Standard-Speaker, February 4, 1989: 20.
26 "Canseco Shows New Type of Speed," Santa Cruz Sentinel, February 12, 1989: 57.
27 "Canseco Arrested on Loaded Firearm Charge," San Bernardino Sun, April 22, 1989: 17.
28 "Canseco Needs a Wake-up Call," Santa Cruz Sentinel, April 23, 1989: 51.
29 Santa Cruz Sentinel, August 20, 1989: 28.
30 "Retired, Injured Players Among Most Popular," Greenwood (South Carolina) Index Journal, July 6, 1989: 12-14.
31 "New York Tabloid Links Jose, Madonna," Santa Cruz Sentinel, May 12, 1991: 16.
32 "Canseco, Madonna 'Just Friends,'" Chicago Tribune, May 13, 1991, web edition.
33 "Jose Canseco Claims Madonna Wanted His Baby, Magazine Sez," New York Daily News, July 10, 2008, web edition.
34 "Major League Player Conseco [sic] Retires as Charlotte Knight," Greenwood Index Journal, May 14, 2002: 9.
35 "Canseco Talks Steroids," Gettysburg Times, May 18, 2002: 13.
36 Juiced, 249.
37 Juiced, 254.
38 Catherine Wilson, "Lawyers: Canseco Has History of Steroid Abuse," Salina (Kansas) Journal, July 8, 2003: 13.
39 Juiced, 255.
40 All quotes from writers in response to Juiced are from Bryan Curtis, "The Steroid Hunt," Grantland.com, January 8, 2014, a fascinating historical account of how sportswriters failed to respond to steroid use in professional baseball.
41 Juiced, 3. For a balanced review of Canseco's memoir, see Bill Nowlin, "'Juiced' Slugger Goes to Bat for Steroids," Boston Globe, March 2, 2005, web edition.
42 Excerpts from McGwire's testimony appeared in the Washington Post, March 18, 2005: D6.
43 "Baseball Has a Day of Reckoning In Congress," Washington Post, March 18, 2005: A1.
44 "Canseco: McGwire Not Fully Forthcoming," sports.espn.go.com, January 12, 2010. https://sports.espn.go.com/mlb/news/story?id=4819250.
45 "Jose Canseco and Lady Gaga: A match made in Twitter heaven?, Yahoo Sports, May 26, 2011.
46 "Jose Canseco Banned by League," ESPN.com, March 9, 2012.
47 "Jose Canseco Cleared In Las Vegas Rape Case," Fox News Latino, June 10, 2013. latino.foxnews.com/latino/sports/2013/06/10/jose-canseco-cleared-in-las-vegas-rape-case/.
48 Christian Red, "Jose Canseco's Fiancée, Leila Knight, Dumps Former Slugger After He Allegedly Threatened to Kill Her and Her Mother," New York Daily News, November 24, 2014. Web edition.
49 Paul Sacca, "Jose Canseco Apologizes To MLB Players He Said Used Steroids In The Most Ridiculous And Hilarious Ways," BroBible.com, June 2, 2015.
50 Jake O'Donnell, "Jose Canseco Apologizes to Ped Users He Snitched on (Except A-Rod, Of Course)," SportsGrid.com, June 3, 2015. sportsgrid.com/mlb/jose-canseco-apologizes-to-ped-users-he-snitched-on/. Canseco also devotes an entire section to Rodriguez in Vindicated, in which he asserts that Rodriguez was obsessed with his wife and made sexual remarks about her repeatedly, pp. 180-190. "Try your luck with Google," he writes (189). "Put in Alex Rodriguez and infidelity and you'll get about 50,000 hits." ESPN reportedly refused to let Canseco read the poem on the air.
51 Nate Gartrell, "Jose Canseco Will Return to Play for Pittsburg Diamonds," Vallejo (California) Times Herald, July 8, 2015. Web edition.
52 Christian Red, "Jose Canseco to live as a woman for a week to support Caitlyn Jenner," New York Daily News, July 29, 2015, Internet edition; Cindy Boren, "Jose Canseco plans to live as a woman for a week to support Caitlyn Jenner," Washington Post, July 30, 2015, Internet edition. (Link to latest Canseco headline: https://latintimes.com/jose-canseco-dress-woman-week-support-caitlyn-jenner-332705).
53 Vindicated, 205.
54 Jack Dickey, "Jose Canseco," Sports Illustrated, July 6 and 13, 2015: 58-62.
55 Howard Bryant, Juicing the Game: Drugs, Power, and the Fight for the Soul of Major League Baseball (New York: Plume Book, 2006), Chapter 10, excerpted by ESPN.com.
Born
July 2, 1964 at La Habana, La Habana (Cuba)
If you can help us improve this player's biography, contact us.
http://sabr.org/sites/default/files/Canseco-Jose.png
600
800
admin
/wp-content/uploads/2020/02/sabr_logo.png
admin
2012-01-04 20:09:00
2021-01-05 01:37:58
José Canseco