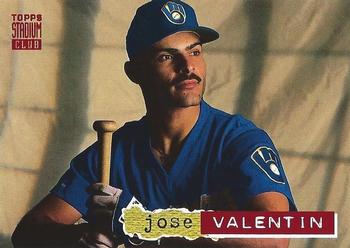 ---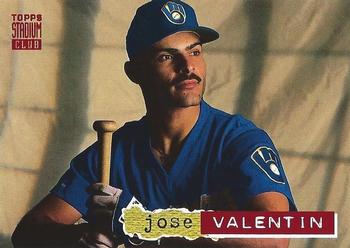 On his 17th birthday, José Valentin got a $22,000 present from the San Diego Padres — a $22,000 professional baseball contract. Sandy Alomar Sr., the Padres' third-base coach, manager of the Santurce Crabbers and San Diego's chief scout for Puerto Rican talent, convinced the Padres that the kid from Fernando Callejo High School in his hometown of Manati, Puerto Rico, was worth the investment. Valentin paid five seasons of minor-league dues at Spokane, Charleston (South Carolina), Riverside (California), and Wichita but made an astonishing 182 errors, playing 471 games as the shortstop of the future and never batted higher than .278 (in 1991 with Double-A Wichita, for whom he hit 17 homers and drove in 68 runs).
Valentin was what might be termed an un-shortstop: he had excellent range, a strong throwing arm, and surprising power he got from the lower part of his 5-foot-10, 175-pound frame, but he made too many errors and struck out too much. Yet Valentin persevered, a throwback player with an aggressive, team-oriented attitude. He played hard, played hurt, and had desire that surpassed other players. "If you want the money … play like it," he said. "Play like you want to get there. Don't talk about it and then not do it."1
Valentin got there and did it for 16 major-league seasons, smacking 249 home runs as a switch-hitting shortstop (with time spent at second base and third), including a stretch of 25 or more home runs per year over five seasons with the Chicago White Sox (2000-2004). He later owned and played on the Crabbers, relocating them to Manati. He returned to the Padres when Manati's attendance plummeted and the club joined a Double-A league in Puerto Rico. In 2012 Valentin became manager of the Class-A Fort Wayne Tin Caps and won the Eastern Division playoffs but lost in the Midwest League championships. In 2013 he led the Tin Caps into the Midwest League semifinals. Valentin's success resulted in a promotion to the major leagues as the Padres' first-base coach the next two seasons. When the Padres hired Andy Green as manager, Valentin was out of a job and did not coach at the major-league level in 2016.
Born on October 12, 1969, José Antonio Rosario Valentin grew up playing Puerto Rico's favorite sport. His high school produced several professional prospects, including major leaguers Carlos Beltran and Valentin's brother, José Javier Valentin, who caught for 10 seasons, mostly with the Minnesota Twins and Cincinnati Reds, and hit two home runs off Hall of Fame pitcher Greg Maddux on the occasion of the pitcher's 298th win.
Their father, José Sr., taught José Antonio to switch-hit beginning at age 14. A former catcher and player-manager for a semiprofessional Puerto Rican national team that traveled around the world. José's father served as president for the Jose Rodriguez Little League in Manati and managed Javier's Junior Division team that won the 1989 Little League Junior Baseball World Series in Taylor, Michigan. His wife, Yolanda Valentin was a long-time volunteer in the local league. In 2005, the Valentins received the George and Barbara Bush Little League Parents of the Year award in a ceremony at Williamsport, Pennsylvania. They were the first Little League Parents of the Year to have two children reach the major leagues.2
José's father knew that his son's best position was shortstop because of his size and his arm. "My dad didn't push me," Valentin said, "but he taught me. He waited to see what position I really wanted to play."3 Valentin also pitched in Little League against future major leaguers Juan Gonzalez and Bernie Williams. "He used to strike me out all the time," Williams said.4 Scouts started following Valentin when he was 16, calling the house and asking about his age and his grades. On October 12, 1986, the Padres signed Valentin but he never played a game for them.
Valentin's big break came on March 26, 1992, when the Padres traded the five-year minor leaguer to the Milwaukee Brewers along with pitcher Ricky Bones and outfielder Matt Mieske for third baseman Gary Sheffield and minor-league pitcher Geoff Kellogg.5 Sheffield was thrilled to leave Milwaukee, having publicly attacked owner and acting baseball commissioner Allan H. "Bud" Selig before the Brewers decided they could get three players for one and eliminate what general manager Sal Bando called a "distraction" for the other players.6 Some Padres wished Valentin had not been part of the deal. "We heard about the trade," Tony Gwynn recalled," and we said, 'Please don't let it be Valentin.'"7
Valentin spent most of 1992 at Triple-A Denver before the Brewers called him up on September 17. He hit a sacrifice fly as a pinch-hitter and scored a run as a pinch-runner but went hitless in three at-bats over four games. After spending most of 1993 at Triple-A New Orleans, Valentin again reached Milwaukee in September, replacing the injured shortstop Pat Listach. Valentin played 19 games at shortstop, 16 from start to finish, batting .245. In his fifth game, he hit a three-run homer in a 15-5 drubbing of the New York Yankees, signaling that the long-awaited successor to Robin Yount (who moved to center field in 1985) might have finally arrived. "This is a good chance for me," Valentin said. "I will work hard to make the team win. I want to make them make a decision on me next year."8
In 1994 the Brewers considered moving Listach to second base and starting Valentin at shortstop or putting 31-year-old Jody Reed at second base, starting Listach at shortstop, and leaving Valentin the odd man out. The Brewers almost ran out of infielders when Listach (left knee tendinitis) and third baseman Kevin Seitzer landed on the disabled list and Valentin left for Puerto Rico to be with his pregnant wife, Ilka, who ended up in the hospital after her blood pressure spiked and doctors had to deliver the baby early. "He needs to be down there with her," manager Phil Garner said. "That's all I know."9
When he returned, Valentin took over at shortstop and hit 11 homers with 46 RBIs and 12 stolen bases in a strike-shortened 1994 season, during which he had a brief bout with tendinitis in his right shoulder. On July 20, a healthy Valentin hit his first grand slam in an 11-1 win over the Kansas City Royals at Milwaukee County Stadium. "The ball hopped off (his bat) and headed toward the right field wall," wrote Bob Berghaus of the Milwaukee Journal. "The only question was on which side of the foul pole it would land." When umpire Ted Hendry gave the fair sign, Valentin "began jumping up and down in a very excited fashion."10 Outfielder Greg Vaughn, the team's top slugger, was not surprised. "José has big-time pop," Vaughn said. "He's going to be a great player, who as long as he continues to improve day in and day out, can be a tremendous shortstop in the American League for a long time."11
The impending strike threatened to cost Valentin valuable playing time. He hoped to raise his batting average and reduce his fielding miscues, something he traditionally worked on playing winter ball back home. The following season, 1995, Valentin played in 112 games and hit 11 home runs with 49 RBIs and 16 steals, but suffered a broken ring finger on his left hand August 31 sliding into second base. The Brewers lost 21 of 28 after that and Valentin played only eight games in September.12
Nobody was happy with Valentin's .219 average and .293 on-base percentage so he decided to become strictly a left-handed hitter. "I've been (switch-hitting) for 10 years and I haven't really improved," he said. "As it is now, they take me out for a pinch-hitter sometimes late in the game. … I may as well hit left-handed all the time." His career statistics showed 23 home runs and 95 RBIs from the left side and no home runs and eight RBIs from the right side, with a 100-point disparity in batting average. A 40-game winter-ball experiment failed, with a .165 average, one home run, and 10 RBIs as a permanent portsider, so Valentin returned to switch-hitting in 1996.13 He finished the season with 24 home runs, 95 RBIs, 17 stolen bases, and a .259 batting average in 154 games. The Brewers responded with a three-year contract that paid Valentin $1.1 million for 1997, $2 million for 1998, and $2.3 million for 1999, with a $3.2 million option for 2000, plus a deferred $1.037 million signing bonus. He had earned $280,000 for the 1996 season and was eligible for salary arbitration before signing the long-term deal. Attributing Valentin's league-leading 37 errors to winter-ball fatigue, the Brewers paid him $100,000 to skip the annual trip to Puerto Rico. "It's going to be nice to relax this winter and not worry about anything," he said. "I won't have to worry about a contract. I can just go out and play."14
Suffering a broken left middle finger in April 1997, Valentin saw his production drop to 17 home runs and 58 RBIs with a .253 average in 136 games, striking out 109 times. In 1998 he spurned $100,000 and played winter ball to improve his hitting and fielding. "I don't care about the money," he said. "If I'm a better player, I will get more money in the future."15 The results were immediate. On April 3 Valentin became the first player to hit three home runs at Miami's Pro Player Stadium, home of the Florida Marlins. His five RBIs included a three-run homer that sealed a 7-1 win. He hit .467 in his first four games and was moved to third in the batting order in the eighth game of the season, despite a 1-for-9 slump in between. Curiously, Valentin was hitting left-handed pitchers better than righties in the first month and the Brewers topped the National League Central at 15-7. Valentin's average plummeted from .296 eight games into the season to .203 by June 7 and he lost the shortstop job in early August to four-year veteran Mark Loretta, whose .320 average was 100 points higher.16 The Brewers (74-88) finished in fifth place and Valentin's numbers (.224, 16 home runs, 49 RBIs, 105 strikeouts, and 21 errors) landed him on the trading block.
Valentin and Garner were given one more chance in 1999. By then, the only numbers talked about were Valentin's $3.2 million option year and the $320,000 he would get if the team declined to pick it up.17 His value depreciated when he suffered a torn ligament in his left thumb. By mid-July, Valentin had played in only 25 games. When he returned to the lineup, his average dropped 40 points to .261. When Bando fired his ex-Oakland teammate Garner, Valentin lost one of his biggest supporters. He still wanted to stay in Milwaukee so he agreed to reduce his option-year pay to $1.3 million and played center field in the Puerto Rican League to sharpen his skills in the event that the Brewers peddled Marquis Grissom.
In what author Richard Lindberg called White Sox general manager Ron Schueler's "last great trade," the Valentin and pitcher Cal Eldred went to Chicago on January 12, 2000, in exchange for pitchers Jaime Navarro and John Snyder.18 Reported to be "flawless in the field" during spring training, Valentin made six errors in his first six regular-season games, four in one game at Oakland. White Sox manager Jerry Manuel remained patient and batting coach Von Joshua worked with Valentin on his hitting. Valentin led AL shortstops with 36 errors and struck out 106 times but he made up for that with 25 home runs (breaking a 36-year-old club record for homers by a shortstop), 92 RBIs, a .273 average, 19 stolen bases, and 107 runs scored, the highest total of his career. He hit for the cycle on April 27 and hit home runs from both sides of the plate on September 30. The White Sox won the AL Central with a 95-67 record and Manuel named Valentin the team's most valuable player, calling him "the heartbeat of the team."19 "José plays to win," Manuel said. "He is exactly what we talk about when we say 'team player.'"20 In return, Valentin — now a free agent — turned down a four-year, $21.4 million offer from the Baltimore Orioles and took $15.5 million over three years with a fourth-year option to stay in Chicago.21
So why did the White Sox trade for Texas Rangers shortstop Royce Clayton? Because they planned to convert Valentin to a center fielder because of his 36 errors at shortstop and incumbent CF Chris Singleton's decline in production. So it was off to winter ball to learn a new position. "He was happy to change positions in order to help the team," wrote scribe Scott Gregor. "He'll get the job done in the outfield and at the plate."22
Clayton's .135 start got Valentin his old job back. He had 13 home runs and was batting .290 before going on the disabled list after June 8, 2001, with a right hamstring injury, and he finished with a career-high 28 home runs, 68 RBIs, and a .509 slugging percentage.23 Yet Valentin called out some of his teammates because of a 14-28 start that eventually kept the White Sox from making the 2001 playoffs. "If guys are out there just to play for their stats, then they better not get caught," he said. "I don't want to play with anyone like that. I'm getting paid a lot of money and I want to earn it. No one should be here who wants to steal money. That's the kind of thing that splits a team apart."24 The White Sox got the message and rallied to finish third with an 83-79 record. "José's one of those guys we all respect," closer Keith Foulke said. "He goes out there and busts his tail every day. … He backs up what he says." Schueler said a team sometimes needs a player to point fingers. Valentin said he was not doing that. "I was asking for help."25
In 2002 Valentin remained the regular shortstop and hit 25 home runs with 75 RBIs. Because he hit only .152 against left-handed pitchers, Manuel wanted to platoon Valentin with utility infielder Tony Graffanino. Instead, Valentin played 144 games in 2003 and socked 28 home runs with 74 RBIs. He still fanned 114 times but reduced his errors to 19 — 11 at third base and eight at shortstop — his lowest miscue total in six seasons. He still made difficult plays others could not and turned double plays swiftly. After abandoning another try at strict left-handed hitting, Valentin in 2004 became the first White Sox shortstop to hit 30 homers in a season — his career high — and drove in 70 runs but hit a career-worst .216 with 139 strikeouts.
When White Sox manager Ozzie Guillen decided to go with utility infielder Juan Uribe at shortstop, Valentin missed the opportunity to get a World Series ring in 2005. He signed as a free agent with the Los Angeles Dodgers, who thought Valentin could replace third baseman Adrian Beltre. Instead, he tore ligaments in his right knee during spring training and played in only 56 games, the fewest of his major-league career. In 2006, Valentin signed a free-agent deal with the New York Mets and played regularly at second base for the National League East champions, with occasional stints at shortstop, third base, and the corner outfield spots, alongside center fielder and Fernando Callejo alumnus Beltran. A rejuvenated Valentin hit 18 home runs (two in one game on August 30 at Colorado and two on September 18 against the Florida Marlins at Shea Stadium), drove in 62 runs, and batted .271, his best single-season mark.
The major-league trail ended the following year when Valentin played regular second base through July 20 and posted a .241 average in 51 games with 3 home runs and 18 RBIs before a foul ball broke his right leg. Valentin finished with 249 career round-trippers. A notorious low-fastball hitter, Valentin hit 226 home runs off right-handed pitchers, 170 to right field and 99 on two-strike counts.
In 2008 Valentin played briefly for two Mets minor-league clubs and 17 games for the Crabbers (Cangrejeros de Santurce) of the Puerto Rican Winter League. He had bought the club in 2004 and moved it to Manati but the team had poor attendance and Valentin sold the team, getting back about half of his original $700,000 investment. "I was trying to help clean up the league," Valentin said, "but I'm not going to waste my career and I'm not going to waste my life and marriage for something that wasn't worth it."26 In 2011 Atenienses de Manati joined a Puerto Rican Double-A baseball league while Valentin became instructor at the Puerto Rico Baseball Academy and High School in Gurabo, 2½ hours from Manati. One of his prize pupils was Jesmuel Valentin, one of his two sons and a first-round draft choice of the Los Angeles Dodgers in the June 2012 amateur free agent draft.27 Traded to the Phillies in 2014, Jesmuel reached Triple-A Lehigh Valley (International League) in 2016. Like his father, Jesmuel played mostly shortstop and persevered waiting for a chance at the big leagues.
José Valentin devoted full time to the major league-sponsored academy until he returned to the Padres as manager of the Fort Wayne Tin Caps (Midwest League) in 2012 and 2013, then moved up to the Padres as first-base coach in 2014 when Rick Renteria was named manager of the Chicago Cubs and Padres first-base coach Dave Roberts became bench coach. "He definitely knows how to motivate his team," Austin Hedges, a catcher on the 2012 Tin Caps, said. "He really emphasizes playing the game hard. We started playing the game the right way — hard and tough. That's the way he played the game. He definitely preaches that."28 Valentin lost the coaching job after the 2015 season when the Padres fired manager Bo Porter.
Valentin kept his Puerto Rican ties, serving as bench coach for Leones de Ponce in 2012 and coaching for Puerto Rico in the 2013 World Baseball Classic. In 2011 he told MLB.com's Alden Gonzalez that he would be a good big-league manager and had set a goal to get there.29
Last revised: August 1, 2018
This biography is included in "Puerto Rico and Baseball: 60 Biographies" (SABR, 2017), edited by Bill Nowlin and Edwin Fernández.
Sources

In addition to the sources indicated in the Notes, the author also consulted Baseball-Reference.com and MLB.com.
Notes
1 George Castle, Throwbacks: Old-School Baseball Players in Today's Game (Dulles, Virginia: Brassey's, Inc., 2003), 124.
2 Cincinnati Reds Media Relations. Parents of Major Leaguers Javier and Jose Valentin chosen as Little League Parents of the Year. http://mlb.mlb.com/news/print.jsp?ymd=20050811&content_id=1166471&vkey=news_mlb&fext=.jsp&c_id=mlb
3 Castle, 124-126.
4 Castle, 126.
5 "Baseball: N.L. West," The Sporting News, April 6, 1992: 23.
6 Tom Haudricourt, "Sheffield Traded to San Diego. Brewers Get Bones and 2 Minor Leaguers," Milwaukee Sentinel, March 28, 1992: B1.
7 Bob Berghaus, "3 New Players Figure to Offer Immediate and Long-Term Help," Milwaukee Journal, March 29, 1992: C6.
8 Tom Haudricourt, "Opportunity Knocks on Valentin's Door," Milwaukee Sentinel, September 17, 1993:1.
9 Tom Haudricourt, "Valentin Leaves to Be with Wife; Brewers Very Low on Infielders," Milwaukee Sentinel, May 13, 1994: 3.
10 Bob Berghaus, "Valentin's Swing Turns Out Grand," Milwaukee Journal, July 21, 1994: C1.
11 Ibid.
12 Drew Olson, "Milwaukee Brewers," The Sporting News, September 11, 1995: 29.
13 Drew Olson, "Milwaukee Brewers," The Sporting News, January 22, 1996: 46.
14 Drew Olson, "Milwaukee Brewers," The Sporting News, November 11, 1996: 38; November 18, 1996: 36.
15 Drew Olson, "Brewers. Working Vacation," The Sporting News, January 12, 1998: 57.
16 Drew Olson, "Loretta's Play Earns Him Starting Role at Short," The Sporting News, August 10, 1998: 38.
17 Drew Olson, "Most Important Moves Will Come Off the Field," The Sporting News. August 30, 1999: 31.
18 Richard Lindberg, Total White Sox. The Definitive Encyclopedia of the World Champion Franchise (Chicago: Triumph Books, 2006), 275.
19 Castle, 119.
20 Lindberg, 276.
21 Ken Rosenthal, "Inside Dish," The Sporting News, December 4, 2000: 64.
22 Scot Gregor, "TSN Power Poll: 9," The Sporting News, March 26, 2001: 18.
23 Scot Gregor, "Painful Reality: Two More Join Disabled List," The Sporting News, June 18, 2001: 40.
24 Castle, 120.
25 Castle, 121.
26 Jeff Sanders, "Work Ethic Drives Valentin Back to Majors," San Diego Union-Tribune, March 19, 2014. sandiegouniontribune.com/sports/padres/sdut-padres-jose-valentin-mlb-first-base-coach-2014mar19-htmlstory.html. Accessed September 19, 2016.
27 Aldren Gonzalez, "Baseball Is Family Affair for the Valentins," MLB.com, August 19, 2011. m.mlb.com/news/article/23394956.
28 Sanders.
29 Gonzalez.
Full Name
Jose Antonio Valentin Rosario
Born
October 12, 1969 at Manati, (P.R.)
If you can help us improve this player's biography, contact us.
https://sabr.org/sites/default/files/ValentinJose.jpg
600
800
admin
/wp-content/uploads/2020/02/sabr_logo.png
admin
2012-01-04 20:35:07
2012-01-04 20:35:07
José Valentin