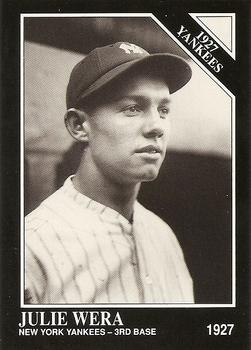 ---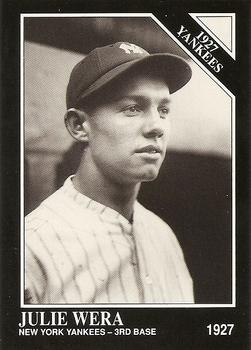 The big front page news in the Oroville (California) Mercury-Register on September 13, 1948, was the death of Julian Wera, a member of the fabled 1927 New York Yankees. Wera, the business manager of the Oroville Red Sox of the Class D Far West League, was found that morning dead in his apartment with a suicide note addressed to his estranged wife.1 Wire service accounts of Wera's death were published in newspapers from coast to coast, including the New York Times.2
The news came as a surprise in Rochester, Minnesota, where the happily married Julian Wera was very much alive and managing the meat department at a grocery store.3
It turned out the man in Oroville who claimed to be Julie Wera was an imposter who had pulled off the ruse for an entire year. Meanwhile, the real Julian Wera lived another 27 years and was forever proud of his role as a teammate of Babe Ruth and Lou Gehrig on one of the greatest teams of all time.
Julian Valentine Werra (pronounced "WARE-uh") was born to John and Anna Werra on February 9, 1902, in Winona, a Mississippi River town in southeastern Minnesota.4 The family name was then spelled with two "r"s.5 Julian's name would appear that way in the Winona newspaper until he left home to play professional baseball in 1924, when he adopted the spelling with one "r" "to make it easier to print," according to his daughter Mary Ann.6 It appears the rest of the family followed suit; John Wera's published obituary in 1947 spelled his name with a single "r."7 (The name will be spelled Wera through the rest of this biography.)
Julian had five living older siblings when he was born; three younger brothers would follow. John and Anna Wera had 11 children all told, including two who died in infancy.8 John and Anna were born in what is now Poland, then part of the Kingdom of Prussia, and married there, coming to the United States in 1893 and settling in Winona's largely Polish East End.9 John was listed in the 1910 census as a laborer at a second-hand store.
Julian "completed seventh or eighth grade," according to daughter Mary Ann, before leaving school to earn money for the family working at a meatpacking plant in the East End.10 He was listed in the 1920 census as a butcher and was elected as an officer of the local meat cutters' union.11
In July 1921, Wera joined Winona's top amateur baseball team, the Peerless Chains, sponsored by the Peerless Tire Chain Company, and moved into the lineup at third base.12 "Young Wera is considered the find of the season," read a newspaper story at the time. "He was picked from the sand-lots by the Chains and developed into a brilliant guardian of the hot corner."13 Wera likely was thought to be just 16 years old at the time, although he was actually 19.14
Wera continued playing with the Chains while working at the packing plant before leaving Winona in May 1924 to play for a semi-professional team in Wausau, Wisconsin.15 After a successful season in Wausau, Wera made the jump to Organized Baseball that September when he received a tryout with the St. Paul Saints of the American Association and played in four games.16 Wera was brought to the Saints' attention by Frank Penas, a one-armed umpire who worked games in Winona, among other places, and scouted for the Saints.17
Wera was invited to the Saints' training camp in Waco, Texas, in the spring of 1925. While he apparently made a good impression on Saints manager Nick Allen, he was sent to Peoria of the Class B Three-I League for seasoning.18 There, he was shifted to second base, also seeing some action at shortstop, and helped Peoria win the pennant, batting .295. The next year, he was the Saints' primary third baseman, batting .298 and setting an American Association record with 31 consecutive errorless games at the hot corner.19 But he played in only 116 of the Saints' 163 games due to what the Winona Republican-Herald described as "no small amount of bad luck…a sick spell, a sprained thumb, and by having his right leg spiked from thigh to ankle."20
Injuries notwithstanding, his play was good enough for Wera to become the first Winonan to play in the major leagues—and with the reigning American League champions at that.
The headline spanned the entire width of the top of the front page of the Republican-Herald on December 21, 1926: "Wera Sold to Yankees for $25,000, Two Players." The report said the only player identified as going to the Saints in the deal was "Bob Duracher, one of the leading shortstops in the Southern association [sic] who will come to the Saints under option." The man in question was actually Leo Durocher, who played for Atlanta in 1926 and spent 1927 with the Saints before moving up to the Yankees in 1928.
Wera learned of the deal from the Republican-Herald's sports editor. "That's a joke, isn't it?" was his response.21 Wera reported he had met his new teammate, Babe Ruth, a few months earlier when the Babe stopped in Minneapolis with his vaudeville show. The two talked for some time and Wera reported, "He's a fine fellow."22 Accounts written after Wera's playing career indicate Ruth gave Wera the nickname "Flop Ears."23
The Yankees seemed to be set at third base with 10-year major-league veteran Joe Dugan, who had already played in three World Series with the Yanks. Wera was thought to be another year away from the majors, but Yankees manager Miller Huggins wanted to carry him on the bench for a season to gain experience as Dugan's understudy.24 Wera certainly had no delusions of unseating Dugan right away. "My fondest hope is to be able to stay with the team during the season," he told the Republican-Herald before leaving for spring training in St. Petersburg, Florida.25
Wera made a good impression in training camp. "I think that young Wera will do," Huggins told reporters in early March. "He seems to be all wool and a yard wide, to coin a phrase. In several years I haven't seen a young infielder who has impressed me as much. He fields and throws beautifully, and seems to know what to do around that bag."26
But while Wera made the Yankees' roster, playing time was hard to come by. He made his debut in the team's third game of the season at Yankee Stadium on April 14, batting for Waite Hoyt against Lefty Grove and grounding out. Then it was more than a month before he saw action again, as a pinch-runner on May 23. His first appearance in the field came in the first game of a doubleheader on May 27, replacing Dugan at third base in the top of the fifth after pinch-hitting for him the previous inning. The Yankees were losing, 7-2 (eventually the final score), when Wera was called in.
Wera finally got his first major league hit on June 12, in the team's 53rd game, when again he was used to relieve Dugan in an apparent blowout. When the visiting Indians took a 7-0 lead into the bottom of the second inning, Huggins sent Wera to the plate for Dugan with two out, and Julie singled off Willis Hudlin to score Tony Lazzeri from second base.
Wera's most memorable moment of the season would come on July 4 in an auspicious doubleheader at Yankee Stadium. A crowd of 74,000—the largest crowd ever to attend a baseball game to that point—saw the Yanks demolish the second-place Senators, winning the first game 12-1 and the second 21-1.27 Wera replaced Dugan at third base in the seventh inning of the second game, and in the bottom of the inning he clouted a two-run homer off Nats lefty Bobby Burke, a rookie like Wera. It would be the only homer of Julie's major league career.
After he returned home to Winona at the end of the season, Wera told Republican-Herald writer O.I. Stortroen about his home run:
It won't be an easy thing for me to forget last Fourth of July. Crowds? Say, I never thought there were so many people in the world. Seventy-six thousand [sic] crazy fans in the grand stand at the Stadium, and me with the chance to play in front of them.

The buzz and the hum of the crowd filled my head. Two men out and me up to bat. [Actually, the home run came with none out and Lazzeri on second base.] I stepped up and clouted one out to the stands. My first home run in the big show! When I crossed the home plate and heard that cheering it sounded like it was coming from miles off. I was in a daze, that's all that's to it.28
Finally, on July 18, in the Yankees' 89th game of the season, Wera was in the starting lineup alongside Ruth and Gehrig, playing third base and batting seventh at St. Louis against the Browns. He drove in the game's first run with a second-inning double off Ernie Wingard and later singled in the ninth off Ernie Nevers to finish 2-for-5 in a 10-6 Yankees win.
Wera also started the next three games at third base. In the last of those games, on July 22, he tried to score from third on a fly ball to left field. The Republican-Herald reported, "Ray Schalk, Chicago manager and catcher, took the throw on the baseline and Wera collided with him. Schalk was knocked unconscious and Wera was also hurt. Ray was taken to a hospital [where he was treated for an injured nose and a dislocated shoulder] but Wera continued in the game until the eighth inning."29
The headline on the Republican-Herald story described Wera as "slightly hurt"; a story in the paper the following January said the collision left him with an injured shoulder.30 But an article about Wera in the Winona Daily News on November 19, 1955, would paint a different picture. Under the headline, "Injury Halted Wera's Career With Yankees," was this account: "Only a tragic injury in a home-plate collision with Chicago White Sox catcher Ray Schalk prevented Wera from blossoming out into a veteran major league star. Wera's knee was badly cut up on the play and developed into a trick knee."31
The injury may have prevented Wera from having an extended run at third base. Another Yankees reserve, Mike Gazella, started the next 14 games at third after replacing Wera in the July 22 game. Wera was seldom used after that, seeing duty as an occasional pinch-runner or blowout relief for Dugan. With the Yankees having the pennant well in hand, Wera started three games at third base in September.
Wera finished the year with a .238 batting average (10-for-42). He appeared in 38 games, 18 of them at third base (including seven starts) without an error, with 17 appearances as a pinch-runner and nine as a pinch-hitter (he stayed in the game defensively after some of his pinch-hitting and -running assignments).
Wera did not see action in the World Series, as the Yankees swept the National League champion Pittsburgh Pirates in four games, but he did receive the same $5,782 check as Ruth, Gehrig, and the rest of his teammates, their share of the winner's portion of the Series receipts.32 His salary for the full regular season was reported to be $2,400.33
In a postseason interview with the Republican-Herald, Wera said his roommate all season was pitcher George Pipgras, who had been a teammate in St. Paul.34 Wera's daughter Mary Ann remembers her father told a different story when she was growing up. "Dad said he often ended up being Babe's roommate, especially on Sunday. They figured Dad would get up and take him to church with him! [Both Wera and Ruth were Catholic.] I don't know if that ever happened, but that's what he said."35
Soon after his return to Winona, Wera collected on a wager he made before the season, as two friends gave him a wheelbarrow ride through the streets of Winona, from the Hurry Back billiard parlors to the Winona Athletic Club. The wager was that if Wera were eligible for the World Series, he would get a ride; if not, he would have to be the one pushing his two friends in a wheelbarrow.36
Just a week after signing his 1928 Yankees contract he was sold on option to Hollywood of the Pacific Coast League. He hit .303 for the Stars, with 23 doubles in 89 games. Then on August 4, he was sent to St. Paul at the request of the Yankees. The transaction allowed the Yankees, who were in need of pitching, to acquire St. Paul lefty Fred Heimach, who was the American Association's winningest pitcher at the time.37 Wera hit a blistering .337 down the stretch for the Saints with 13 extra-base hits in 27 games.
Joe Dugan went to the Braves on waivers after the 1928 season, but Wera did not get a chance to compete for the Yankees third-base job. Instead he was released on option to Jersey City of the International League. "Wera has proved [sic] to Manager Huggins that he can field," according to a New York Times story on January 8. "If he again can wield his bat with sufficient potency to strike the fancy of the Yanks' pilot he doubtless will be reinstalled among the Hugmen's infield forces."38
Wera was late reporting to training camp with Jersey City after an appendectomy but was in the lineup to start the season.39 He hit .293 for the Skeeters and showed some extra-base power with 33 doubles in 460 at-bats. As a reward, he was called up to the Yankees at the end of the International League season. Unfortunately, he had "pulled up lame" after singling in Jersey City's final game of the season, according to the Republican-Herald on September 11 and was not at full strength when he returned to the big leagues. The newspaper report said he was also still bothered by the knee he injured in the 1927 collision with Ray Schalk.40 He got into only five games for the Yanks, starting at third base in the last three games of the season in what would turn out to be his final appearance in a major-league uniform
In January 1930 the Yankees sold Wera outright to Jersey City, and he had a solid season for the Skeeters, hitting .316 with a career-high nine home runs and 90 RBIs. In November, the Yankees purchased him—but not to bring him back to the majors. Instead they sent him to the San Francisco Seals of the Pacific Coast League as part payment for young shortstop Frank Crosetti, who was set for delivery to the Yankees in 1932.41
With the Seals in 1931, Wera hit .306, with 45 doubles, 12 triples and 103 RBIs in 166 games of the elongated PCL season. The Seals won the second half of a split season and swept the first-half champion Hollywood Stars in a best-of-seven series for the championship, with Wera driving in the winning run in the final game.
While he was back in Winona after the season he married Dorothy Fischer, a fifth-grade teacher at Winona's Washington School, on November 18, 1931.42 Julian and Dorothy had met at a New Year's Eve party at the Winona Athletic Club.43
Wera returned to San Francisco in 1932, where he batted .308 and had professional career highs in hits (213 in 185 games), doubles (47) and RBIs (106) while leading the league's third basemen in putouts (198) and assists (383), but also in errors (52).
At the very end of the 1932 campaign a 17-year-old shortstop named Joe DiMaggio joined the Seals and played a few games next to Wera. "I was a skinny, gawky kid, all hands and feet," DiMaggio recalled some 40 years later. "Julie was on third and the first pitch was thrown down to me. I handled it all right, and then I kind of lobbed it over to first base. Julie started yelling at me: 'Throw the ball kid! Throw it! Lean into it!' Only Julie used a lot of adjectives besides…. Boy, I thought, 'so this is pro ball.'"44
The 1933 season was a struggle for Wera after the Seals sold him to Oakland, where he batted just .259 for the Oaks as the knee continued to be a problem. Oakland traded him to Portland of the PCL the following winter, but Wera, whose family now included a son, John (born just before Christmas 1932), refused to report to Portland or to Fort Worth of the Texas League when the Beavers tried to option him there. Instead, he chose to stay close to home and served as player-manager for a semipro team in Wisconsin Rapids, Wisconsin.
"My health was going bad playing night ball on the wet Pacific Coast," Wera told the Republican-Herald in an article published March 13, 1935, "and when I was sold to Portland, I figured it was time to withdraw."45
But with his legs in better shape after the year of reduced playing time, he signed with Syracuse of the International League for the 1935 season. He spent two years in the IL, splitting 1935 between Syracuse and Buffalo and batting .223 in 73 games, then going to Toronto in 1936, where he batted .245 in 81 games.
In January 1937 the Maple Leafs gave Wera his unconditional release. At the time Wera expressed his desire to stay in the game as a manager, and two months later he was appointed manager of the Crookston, Minnesota team in the Class D Northern League.46 He guided the Pirates to a 61-57 regular season record and a fourth-place finish. Wera was also Crookston's regular third baseman, batting .290 with 23 doubles in 89 games.
After the 1937 season Wera left organized baseball for good. The family moved to Rochester, Minnesota, about 50 miles west of Winona, and Wera went back to his earlier occupation as a butcher when he took over as manager of the meat department at a new Piggly Wiggly grocery store.47
Rochester is where the famed Mayo Clinic is, and that brought Wera back together with his former teammate Lou Gehrig when Lou was at the clinic for an examination of the illness that ended his baseball career. Here is the way the Rochester Post-Bulletin described it in an unsigned story published June 15, 1939:
It was at the noon hour when he was leaving the clinic that Gehrig decided to run over and see Wera.

"Remember Julian Wera and did you know he was in Rochester?" a reporter offered. "Julie in town here—where is he?" Lou returned excitedly.

Newsmen and a photographer jumped into a car and whizzed the national hero up to the Piggly Wiggly store where the former Yankee rider of the hot corner was carving out a piece of beefsteak for somebody's frying pan.

"Gosh sakes!" Wera exclaimed as Lou stuck his grinning face over the counter. "How's old man Gehrig?"

Lou didn't answer, he just marched around the counter, went back to the carving block and shook Julie's hand warmly. A photographer asked for a picture. Lou said okay and pretended he was cutting meat as Julie and a bunch of what's-it-all-about customers looked on.48
In Rochester, the Weras had two more children, Tom, born in 1940, and Mary Ann, born in 1942. Mary Ann said her father spent some time as a bird-dog scout for the St. Louis Cardinals in the late 1950s or early '60s. She shared some memories of her father:
"He really worked a lot of hours at the grocery store, six days a week, 8 a.m. to 6 p.m. most days. He was very outgoing and friendly, very verbal and talkative with anybody. He would listen to ballgames quite a bit when he could. We lived about a block from a grassy park area. He would take kids down there and work with them on baseball. Dad would take us bowling. And he loved fishing. It was incredible to watch him filet a fish."49
Wera spent 25 years at Piggly Wiggly before he retired. "But he found out you can only do so much fishing and reading," Mary Ann said. An opportunity came when a new grocery, Barlow Foods, opened and asked Wera if he would work there part-time as a meat cutter, which he did. And in 1972, at the age of 70, he became a member of the Rochester planning and zoning commission and remained in that role for the rest of his life.50
Julian Wera died of a heart attack at his home in Rochester on December 12, 1975, age 73, and was buried at St. Mary's Cemetery in his native Winona.51 He was inducted into Winona's Polish Hall of Fame posthumously in 1983. His widow, Dorothy, gave a speech at the induction ceremony and received a letter of congratulations from Yankees owner George Steinbrenner.52
Sources
Julian Wera's major league statistics and box scores of his major league games (with play-by-play of games in 1927) can be found on Retrosheet.org. His minor league statistics can be found on Baseball-reference.com. Minor league statistics quoted that are not on that site were taken from the appropriate Spalding or Reach guide. Also, his games played in 1936 was taken from the 1937 Spalding guide, as the number on the Baseball-reference.com page appears to be wrong.
Stories referenced from the Winona, Minnesota, newspapers prior to 1960 were found via the Winona Newspaper Project, an online archive presented by the Winona State University library. The author would like to thank Matt Christensen of the Winona Daily News for directing him to that site. He would also like to thank Greg Sauve of the Rochester, Minnesota, Public Library for sending scans of articles from the Rochester Post-Bulletin; Marianne Mastenbrook of the Winona County Historical Society for sending copies of material in their archives; and Bill Francis for sending copies of items from Wera's file at the Baseball Hall of Fame.
Julian Wera's daughter Mary Ann Remick was interviewed by telephone from her home in Winona on August 29, 2010.
Notes
Born
February 9, 1902 at Winona, MN (USA)
Died
December 12, 1975 at Rochester, MN (USA)
If you can help us improve this player's biography, contact us.
https://sabr.org/sites/default/files/WeraJulie.jpg
600
800
admin
/wp-content/uploads/2020/02/sabr_logo.png
admin
2013-07-09 12:12:10
2013-07-09 12:12:10
Julie Wera