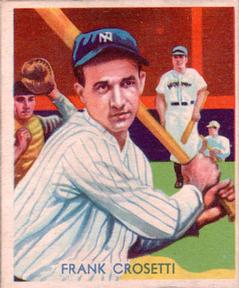 In thirty-seven seasons as an infielder and third base coach for the Yankees, Frank Crosetti was on the field for twenty-three Fall Classics, of which New York won seventeen. After a while "The Crow" had collected so many rings that the Yankees started giving him engraved shotguns instead.
Frank Crosetti may not have been the most talented player in Pinstripes, but he was often the glue that held everyone together. He was a consummate professional, a sure-handed fielder, and as one writer put it "one of the most annoying .245 batters that baseball ever had."1
"Crosetti is the sparkplug of the Yankees," Rogers Hornsby once said. "Without him they wouldn't have a chance. He is a great player and he is about the only one on the club who does any hollering."2
Crow's reputation as the Yankees' "holler guy" gave secondary meaning to a moniker that superficially seemed like a shortened version of his last name. Players grew accustomed to hearing his high-pitched voice cawing from all corners of the field.
It may have come about incidentally. During a frustratingly sluggish stretch of Crosetti's rookie year, manager Joe McCarthy told the kid that Lou Gehrig looked too lackadaisical at first base. "When you get the ball in infield practice," McCarthy said, "fire it back hard at Gehrig. Holler at him. See if you can't wake him up."
Obligingly, Crosetti obeyed. Years later, McCarthy related that Gehrig was never the problem at all—it was Crosetti who had needed the extra motivation. Apparently it worked—his animated style on the field stuck.3 Off the field, Crosetti had "the same approximate loquacity as the Sphinx," as New York Times columnist Arthur Daley once described him.4
The younger son of Domenico Crosetti, who emigrated from near Genoa, Italy, around the turn of the century, and Rachele Monteverde Crosetti, a California native whose parents were from the same region, Frank Peter Joseph Crosetti was born in San Francisco on October 4, 1910.
Because he suffered from poor health as a toddler, the family relocated to the more rural Los Gatos, and Domenico Crosetti started a vegetable farm. Frank's first baseball experiences were playing one-a-cat (a baseball/cricket hybrid) with his brother, John, using a board and a dried corncob.
An unimpressive student, Crosetti, whose family moved to Santa Clara, then to the North Beach area of San Francisco, left school at sixteen. After playing semi-pro ball in Montana, he played winter ball in San Francisco, where Sam Fugazy, an informal Seals scout, invited him for a tryout with the professional club. The Seals appreciated Crosetti's talent but deemed him too small to be a regular, so team secretary George Putnam had bottles of milk delivered to his house every morning, and Crosetti put on ten pounds.5 He wasted little time in grabbing his first headlines, hitting a grand slam off Joe Dawson of the Pittsburgh Pirates in a March 21, 1928, exhibition game against the reigning National League champions.
Crosetti batted a modest .248 in ninety-six games in 1928, mainly playing third base. The following year he was moved to shortstop. Playing nearly the entire grueling 180-plus-game schedule, Crosetti improved to .314 in 1929, and to .334 in 1930. In the latter season he hit twenty-seven home runs, stole eighteen bases, and led the league with 171 runs scored.
The slick-fielding leadoff hitter attracted the attention of Major League scouts, including Bill Essick of the New York Yankees. Convinced that he'd just seen the greatest shortstop in the game, Essick persuaded Yankees owner Jacob Ruppert to open his wallet.6 On August 23, 1930, Crosetti became the property of the Yankees for what eventually amounted to three marginal players and $75,000 in cash.
Still barely twenty years old, Crosetti remained with the Seals in 1931 for more seasoning. He batted cleanup for the only time in his career and hit .343.
Crosetti headed to spring training in St. Petersburg in 1932 as the Yankees' leading shortstop candidate.7 There, he impressed manager Joe McCarthy as "one of the fastest infielders around [with] a fine, sure pair of hands."8 Double-play partner and fellow San Franciscan Tony Lazzeri took him under his wing.
Ultimately, McCarthy went with the veteran Lyn Lary at short and started Crosetti at third. Crosetti went 0-for-5 on Opening Day against Philadelphia (his first big league hit, a triple, came in the Yankees' next game) and was benched after batting .228 in his first twenty-nine games. He won the shortstop job later that summer when Lary stopped hitting.
Crosetti endured relatively unremarkable seasons in 1933 and 1934, and was often in danger of losing his job. Before the 1935 season he worked out with USC track coach Brutus Hamilton to become bigger, faster, and stronger9 and was assured by McCarthy he was the only shortstop candidate in the running.10 And he thrived, particularly defensively, making just sixteen errors after hovering around forty in each of the prior two years.
Then on August 4, 1935, Crosetti blew out his left knee untying his shoes. He had strained it three weeks earlier, but when he pulled his leg up to get undressed in his Pullman berth that night, some cartilage tore loose. The diagnosis: season-ending knee surgery.
Team president Ed Barrow invited Crosetti to spring training the next year on a provisional $1 contract. But Crosetti not only disposed of any doubt surrounding the status of his knee, he put together the best offensive season of his career and was selected to the American League All-Star team.
He did strike out quite a bit—the most in the AL in 1937 and '38. Conversely, Crosetti took tremendous pride in consistently leading the league in hit-by-pitched-balls, which Yankees coach Art Fletcher taught him how to execute without getting seriously injured. Crosetti's career on-base percentage was .341—typically some 90 to 100 points higher than his season batting averages—and he set a then-record of 757 plate appearance in 1938. He also fooled many a base runner by pulling off the hidden-ball trick.
Crosetti's shining moment (and greatest thrill) as a player came in the Yankees' sweep of the Cubs in the 1938 World Series. His defense, which included nailing a runner at the plate from the foul line in short left field, as well as coming "from nowhere" to field a "certain single" up the middle for an out, saved three runs in the Yanks' 3–1 victory in the opener.11 His eighth-inning home run off Dizzy Dean in Game Two proved the deciding blast in the 6–3 victory. Add a two-run double and a two-run triple in Game Four, and Crosetti tallied six RBI for the Series.
His sparkling Series topped off a season in which he'd led the league in stolen bases, hit thirty-five doubles, and set a record for shortstops by turning 120 double plays.12 Much of his defensive success in 1938 could be attributed to the arrival of Joe Gordon at second base to replace Lazzeri.
After the Series, on October 22, 1938, Crosetti and Norma Devincenzi—a San Francisco girl whose family owned the apartment building where his brother, John, lived—quietly eloped at the Church of the Transfiguration in downtown Manhattan. Their union lasted until his death, sixty-three years later, along the way producing a daughter, Ellen Rachel, and a son, John Dominic.13
Crosetti staged a much-publicized holdout in the early days of spring training 1939, refusing to sign for less than $15,000. By mid-March, he'd settled for $14,000. In the rush to catch up in his conditioning, Crosetti developed a sore arm and got off to a slow start. Eventually, he came around and was selected to the AL All-Star team. He received a nice raise for 1940—signing for $18,000.
Then, abruptly, the honeymoon ended. Despite Yankees president Ed Barrow's new mandate that all players stay in shape during the off-season, Crosetti, determined to condition himself "slowly" so he wouldn't develop another sore arm, passed up that advice.14 By mid-March the sore arm returned; he couldn't hit, and he bobbled balls on plays he would normally make. After the Yankees lost seven straight in May, McCarthy benched him for a week in favor of Bill Knickerbocker. In August, Crosetti was dropped to eighth in the batting order. The Yankees finished third and Crosetti hit .194.
Phil Rizzuto, a young shortstop, had been tearing up the Yanks' Kansas City farm club in 1940. Only the looming possibility that young, unmarried players like Rizzuto might be sent to war probably saved Crosetti from being traded that off-season.15
Determined to keep his job, Crosetti had worked furiously to stay in shape. He even experimented batting left-handed in spring training, hoping it would increase his average.16 And yet, as many of Crosetti's teammates initially gave the usurper Rizzuto the cold shoulder, Crosetti actively helped the diminutive youngster. "He made me look good—and here I am trying to take his job away," Rizzuto recalled years later.17
Rizzuto won the starting spot, but when he wasn't hitting by May, the Crow reclaimed the position. Then, on June 16, Crosetti was spiked in the throwing hand and Rizzuto took over again, for good. Crosetti found playing time later in the season at third base when Red Rolfe was hospitalized with chronic ulcerative colitis—but overall, his role was limited to fifty games. Crosetti rode the bench all five games of the Yankees' World Series victory over the Dodgers.
The reportedly "aging" Crosetti (he was only thirty-one, but he was losing his hair) started the 1942 season as a utility infielder. He worked some with young Jerry Priddy, who was being groomed for third base to replace the ailing Rolfe, but Priddy's bat stayed cold, and Crosetti became the regular third baseman. He played well enough that he narrowly missed another All-Star selection.18 Rolfe displaced Crosetti when he returned later that summer.
Crosetti did get into Game Three of the World Series, which the Yankees lost to the Cardinals. Playing third base, he shoved umpire Bill Summers over what he considered a bad call. Commissioner Kenesaw Mountain Landis fined Crosetti $250 and suspended him for the first thirty days of the 1943 season.
In February 1943 Crosetti's father, Domenico, was struck by a car and killed. Barrow gave Crosetti permission to report to camp late, so he could spend more time with his family. Crosetti would be needed to help fill the void at short left when Rizzuto joined the Navy. A bout with the flu days before his suspension ended left him weak and out of shape, however, and rookies Snuffy Stirnweiss and Billy Johnson had the right side of the infield covered. Crosetti return on May 21 went with a whimper.
Still, Barrow and McCarthy recognized Crosetti's value on the bench. Despite continued interest from other teams over the years, Barrow refused to sell him. "I don't care how much they offer," Barrow said. "Nobody can buy Crosetti. He stays with the Yankees as long as I have anything to do with running them."19 The feeling was mutual—for Crosetti, it was "the Yankees—or nothing."20
When Stirnweiss stopped hitting, Crosetti was back at short—and the Yankees cruised to another pennant and a successful World Series rematch with the Cardinals. Crosetti reached base in each of the five games, started the winning rally in the sixth inning of Game One, and made game-saving defensive plays in Games Four and Five.
Working in a shipyard in Stockton, California, in the off-season gave Crosetti an occupational draft deferment as a defense worker, but tied him to his job. All he could do was wait patiently, playing semipro ball once or twice a week. When the draft board eased restrictions on men over thirty in July 1944, Crosetti rejoined the Yankees.
The war sapping baseball of talent gave Crosetti leverage; he was again a late holdout in 1945, signing for $15,000 two weeks before Opening Day. He didn't have the greatest of seasons, but he was better than the alternative—Joe Buzas, who had iron hands.21
By 1946, Rizzuto had returned, and Crosetti, now thirty-five, batted .288 in twenty-eight games off the bench. The Yankees had started traveling out west by airplane, and Crosetti was afraid to fly. He was granted permission to follow the team around by train.
In 1947 Crosetti signed as a player-coach alongside new manager Bucky Harris and got into three games, going hitless in his only at-bat. He went on the inactive list late that summer and was making calls to the bullpen on Harris's behalf when the Yankees beat the Dodgers in the World Series.
At his request, Crosetti reported to spring training in 1948 as a player, not as a coach, though he spent much of the spring helping teammates. He played in seventeen games, in the last of which, on October 3 in Boston, he appeared as a defensive replacement at second base. After that season—and for the next two decades—Crosetti coached full time.
Crosetti lived somewhat old-fashionedly—rising at 6 a.m., the first one in the clubhouse and the last one out, retiring no later than 9:30 or 10 p.m. (unless there was a night game). Baseball was all that mattered. He wouldn't hesitate to call players out for making mistakes if he thought they were not giving their all. When infielder Phil Linz's harmonica playing amidst a losing streak started a fracas on the team bus in 1964, Crosetti had little sense of humor about it, calling it the worst thing he'd ever witnessed in all his years with the club.
And he hardly hid his disdain for the media or anything involving spectacle—pitcher Jim Bouton, who skewered him in his baseball exposé Ball Four, wrote that Crosetti's "twin fortes" were "saving baseballs ... to the point of jumping into the stands after them, and chasing photographers off the field."22
Even after the Yankees would win the World Series, Crosetti wouldn't stick around to celebrate, preferring instead to jump into a car the next day and begin the drive back to Stockton to be with his family. In the off-season, he enjoyed fishing and hunting, biding his time until he could head to Florida for spring training.
When the Yankees needed a guide for young players first joining the team, they had Crosetti pen the twelve-page pamphlet. It covered such topics as staying in peak physical condition, eating and sleeping well, hustling ("Do not let the fans walk out ... feeling like they have watched a listless group of ballplayers"), keeping one's temper, and obligations as a teammate and as a public figure—which included choosing one's friends wisely and avoiding the temptations of drinking, carousing, gambling, and loose women. In 1966 Crosetti (and not a ghostwriter) published a book, a youth instructional titled Frank Crosetti's Secrets of Baserunning and Infield Play.
Crosetti was the ringleader in a 1962 suit filed on behalf of a couple of hundred contemporaries against the owners' pension committee. The Major League Baseball Players' Association, propelled by lucrative television and marketing deals, had met secretly the previous fall to raise the per-month pension rate to $250; players already retired more than ten years, however, like Crosetti, were frozen at $175. The players lost the suit and eventually settled for $750,000. Decades later, Crosetti was also one of a handful of old-time ballplayers unsuccessfully bringing what they hoped would be a class-action against Major League Baseball for using their names and images in promotional materials.23
Not that Crosetti was ever in dire straits financially. His World Series checks alone totaled a reported $142,989—a stunning amount in an era when season salaries were still in the low five figures. He had also made a small fortune from shrewd real-estate investments—something he began doing while with the Seals when a banker friend advised him to acquire all the local real estate he could find in Depression-era San Francisco.24
By 1968, though, the Yankees' World Series bounty had dried up, and Crosetti longed to spend more time with his mother, children, and grandchildren on the West Coast. On October 4, his fifty-eighth birthday, he submitted a six-page handwritten letter of resignation. It concluded: "Once a Yankee, always a Yankee!"25
Yet Crosetti signed to coach the expansion Seattle Pilots in 1969—thousands of miles closer to home than New York—and planned on eventually transitioning into a scout with the organization. But Seattle finished last, and general manager Marvin Milkes didn't renew his contract.26 Crosetti felt betrayed, but before Christmas he'd been recruited by the Minnesota Twins.
Crosetti was in the coach's box along third to shake hands with Harmon Killebrew for the slugger's 500th home run in 1971. He rarely ever shook hands after a player hit a round-tripper—Mickey Mantle's walk-off home run in the 1964 World Series and Roger Maris' sixtieth and sixty-first homers in 1961 being three other notable exceptions.
But after two seasons, he'd truly had enough. He retired and coached high school ball at St. Mary's in Stockton.
Although he never attended a Yankees Old Timers' Day after he retired, Crosetti avidly followed the team from his home in Stockton, and was a frequent visitor when the Yankees came to Oakland each year, even appearing in the broadcast booth on occasion. Until a broken hip from a fall incapacitated him in January 2002, he went fishing regularly, and he rarely shied away from an opportunity to talk baseball or reminisce about his years in Pinstripes with those who would listen.
"He was Yankee all the way around," his wife, Norma, said after he died at the age of ninety-one on February 11, 2002. "He had no other team."
This biography is included in the book "Bridging Two Dynasties: The 1947 New York Yankees" (University of Nebraska Press, 2013), edited by Lyle Spatz. For more information, or to purchase the book from University of Nebraska Press, click here.
Acknowledgments
Special thanks to the Baseball Hall of Fame for providing me a copy of Crosetti's file, to Lawrence Baldassaro for sharing his research, and to Crosetti's grandson Michael McCoy for tracking down relatives to answer questions about his grandparents' history. All statistics, unless otherwise noted, are from baseball-reference.com.

Notes
1. Daley, Arthur, "End of the Trail," Sports of the Times, New York Times, January 20, 1947.
2. Daniel, Daniel M., "A Shoestring, A Slip and an Injured Right Knee Made Crosetti Yanks' Musketeer Number Three," New York World-Telegram, May 21, 1936.
3. Frank Crosetti as told to Al Hirshberg, "I Coach the Hot Corner," Saturday Evening Post, August 8, 1959.
4. Arthur Daley, op. cit.
5. Hughes, Ed R., "Frisco to Fatten Up Gaunt Young Pitcher," The Sporting News, February 14, 1929.
6. Daniel, Daniel M., "Lou Gehrig, on Hitting Spree, Sets Flag Pace for Yankees, New York World-Telegram, June 18, 1935.
7. Meany, Tom, "Crosetti Leading Candidate For Yankee Shortstop Berth," New York World-Telegram, March 9, 1932.
8. Meany, Tom, "Crosetti Leading Candidate For Yankee Shortstop Berth," New York World-Telegram, March 9, 1932.
9. Daniel, Daniel M.,"Lou to Stay At No. 4 in New Lineup," New York World-Telegram, March 12, 1935
10. Daniel, Daniel M., "Yank Midway Combination May Rank Best in League," New York World-Telegram, April 6, 1935.
11. "Crosetti New Hero of Yankees," UPI report in New York World-Telegram, October 6, 1938
12. He also led AL shortstops in chances (905) and putouts (352); then again, he tied with Senators third baseman Buddy Lewis for the league lead in errors (47).
13. Several newspapers reported that the owner and operator of the PCL Oakland Oaks at the time, Victor "Cookie" Devincenzi, was Mrs. Crosetti's brother. However, when Crosetti's grandson, Michael McCoy, addressed the matter with his grandmother (in her late 90s in the fall of 2011), she told him that none of her brothers ever worked in baseball.
14. Daniel, Daniel M., "Crosetti Sees Good Season," New York World-Telegram, March 2, 1940.
15. Daniel, Daniel M., Daniel's Dope, New York World-Telegram, November 27, 1940.
16. Apparently, Crosetti had originally batted lefty in semipro, until his brother informed him there was a demand for right-handed hitters."Crosetti Switches at Bat," New York World-Telegram, March 13, 1941.
17. Trachtenberg, Leo, "Mr. Yankee, Frank Crosetti," Yankees Magazine, October 16, 1986.
18. Daniel, Daniel M., "Yanks favor Crosetti for All-Star Berth," New York World-Telegram¸ June 26, 1942.
19. Williams, Joe, "Barrow Rates An Assist for Keeping Crosetti," New York World-Telegram, October 14, 1943.
20. Daniel, Daniel M. "Johnson Earns Yank Spurs," New York World-Telegram, June 22, 1943.
21. Buzas started the first 12 games of the 1945 season at short, made six errors, and never put on a glove in a major league game again.
22. Bouton, Jim, Ball Four, Dell Publishing Co., 1st Ed., 1971, p. 22.
23. The suit, Gionfriddo v. Major League Baseball (2001), was filed in California court by Al Gionfriddo, Pete Coscarart, Dolph Camilli, and Crosetti—four high-profile ballplayers active before 1947, when a clause was inserted into all players' contracts to allow their image to be used for commercial purposes. They lost because the court concluded that "the public interest favoring the free dissemination of information regarding baseball's history far outweighs any proprietary interests at stake."
24. Daniel, Daniel M., "Frisco Product Proven Maestro," New York World-Telegram & Sun, March 9, 1957. The friend was Amadeo Giannini, who founded what is now Bank of America.
25. Ogle, Jim, "Crosetti Ends 37 Years in Yankee Uniform," The Star-Ledger, April 19, 1968. Ogle was one of a handful of writers who suggested that the Yankees actually retire Crosetti's No. 2, which he had worn since 1945. "Ahh, that's a lot of bull," Crosetti told Newsday's Stan Isaacs. "When I leave, they oughta give my number to somebody right away. I don't think any number should be retired. Maybe Ruth's—that's all because he was special—but the other numbers should be passed on to young players." Stan Isaacs, "The 37 Seasons of Frank Crosetti," Out of Left Field..., Newsday, April 9, 1968. Fitting that the number would eventually end up on the back of another great Yankees shortstop, Derek Jeter.
26. It was probably just as well, seeing as the team would move to Milwaukee a few months later.