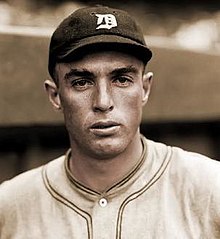 ---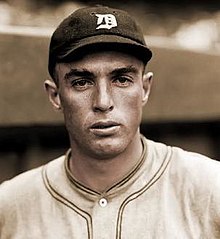 How long does the average "indefinite suspension" last? With all the statistics baseball fans accumulate, no one seems to have tabulated that average. In the case of Ken Holloway in 1926, the answer was about a week. Holloway, in his fourth full season with the Tigers, had begun the year in the starting rotation. On Memorial Day May 31, he surrendered nine runs to the Browns in less than three innings to even his record at 3-3. Manager Ty Cobb was so disgusted with the performance, he issued Holloway an "indefinite suspension" and sent him back to Detroit to get into condition.1
It is uncertain exactly when Holloway escaped Cobb's doghouse because no announcement was made. Holloway's first action back was a relief appearance at home on June 8. He entered the game against the Yankees in the ninth inning down a run. The Tigers tied the score in the bottom of the frame sending the game to extra innings. The match ended in the eleventh inning when Babe Ruth slammed a two-run homer off Ken for the Yankees' victory.2
Holloway's issues in 1926 were indicative of his entire career. He had given Detroit a superlative last couple months in 1925. They expected him to be a major cog in the starting rotation, but his performance was erratic and led to the suspension. Ken was an enigma. Blessed with talent and unbeatable at times, he could inexplicably become an easy target for opposing batters.
Kenneth Eugene Holloway was born August 8, 1897, in Thomas County, Georgia, near the town of Barwick. He was the first of two sons born to farmers Griffin W. and Cornelia "Nena" (Chapman) Holloway. The 1910 census showed that the family opened their home to board four teachers for the local schools. Their presence spurred the Holloway brothers to value education and eventually attend college. Ken went to the University of Georgia. W.C. Holloway became a prominent doctor in nearby Thomasville, Georgia.
Tutored in the ways of baseball on the schoolyards and fields, Holloway grew to be six feet tall and weighed 185 pounds in his prime.3 He was right-handed on the mound and at the plate. By 1916 he was playing for the Barwick town team. He claimed to have been with Dothan, Alabama, in the Dixie League in 1916.4 However, his name does not appear in a search of the local newspapers for that year. Another mystery concerns his high school years. Holloway says he attended Shellman High School for two years. The town of Shellman is about a 100-mile drive northwest from Barwick.5
Ken enrolled in the University of Georgia in the fall of 1917. In the spring of 1918, he played his only season of college ball, lettering for the Georgia Bulldogs. Mercer University was the best team in the south that year. Holloway faced them twice and lost both games; the first was a 13-inning affair and Georgia was shut out in the second, wasting Holloway's dozen strikeouts. His best performance came against Trinity College of North Carolina as he struck out 14 and allowed just three hits in a 12-1 win.
He intended to major in veterinary medicine and enrolled in the Army ROTC program at the university. However, Holloway halted his studies after the war; for reasons unknown, he returned to the family farm, where he was working at the time of the 1920 census. On December 22, 1920, he married Frances Mae "Faye" Banks. The couple had two sons, Ken Jr. and James.
In addition to farming, Holloway played semipro baseball for Barwick and Thomasville. In 1922 he signed with the Augusta Tygers in the Class C South Atlantic League. The local newspaper dubbed him "a speed king" and mentioned that he had talked with Detroit about a contract.6 Manager Neal Ball used him against the Atlanta Crackers in an April 9 exhibition. It was a less than stellar beginning; the Crackers won, 14-2.
Holloway's first regular season start came on a blustery April 29 on a home field that still had puddles from the rain the day before. He pitched well but errors spelled his downfall in a 6-1 loss to Greenville.7Augusta finished in the second division, but Holloway posted a 10-10 record with a 2.97 ERA. His WHIP placed him in the league's top 10. Newspapers around the league ran postseason articles about league all-star teams with many fans and pundits including Holloway for honors. After defeating Spartanburg, 2-1, in 11 innings on August 18, he left for Detroit to join Cobb's Tigers, who had purchased his contract for $8000.
Cobb wasted little time getting Holloway into action. On August 22 he pitched the last inning of a 7-2 loss in Washington, allowing a run on one hit. He was used only in exhibition games after that. On September 25 he pitched five hitless innings against the Pittsburgh Pirates. They rested many of their regulars, but he did face Kiki Cuyler and Pie Traynor. Three days later he worked six innings in relief against the Cardinals and allowed three runs in a 10-3 win.
In 1923, Holloway was one of the earliest arrivals at spring training in Augusta. He was in good shape and quickly made Cobb a believer. Given a chance as a starter, he was the first of the Tigers to go nine innings in an exhibition game. On April 3 against Toronto with President Warren G. Harding, Judge Kenesaw Landis and their entourage in the stands. Holloway allowed eight hits in the 9-2 victory.8
Holloway had some hop on his fastball along with a sweeping curve that could come at different speeds. Most importantly, he had nerve and surprising savvy for a rookie. Cobb made him the number two man in the rotation behind Hooks Dauss. Holloway's first start of the season came on April 19 in St. Louis. He held the Browns scoreless for six innings as Detroit built a 7-0 lead. Ken eventually gave up three runs in the 8-3 win.
On April 27 Holloway was on the hill versus Washington when Eddie Foster drove a ball back at him and split a finger on his pitching hand. The injury sidelined him until May 14 when he faced the Yankees at Navin Field. He left after seven innings, having allowed seven runs (three earned). The Tigers rallied to tie the game but lost, 16-11, in 12 innings. He shook off that game and shut out Boston in his next start.
Holloway struggled in July and dropped four contests while his ERA rose a point. His struggles led to the dual role of spot starter/reliever; he made only six more starts that year, closing out his rookie season with an 11-10 record and 4.45 ERA.
The Washington Senators had experimented with their pitching staff in 1923, using Allen Russell as a spot starter/ closer (the term closer would not appear in baseball parlance for many years). When Russell struggled in 1924, they turned the job over to Firpo Marberry, who blossomed in the role. By the end of June, he had notched the equivalent of seven saves (saves did not become an official statistic until 1969).
The Tigers took note and in July 1924 they began to employ Holloway in the same manner. Ken won three, saved one and tossed an 11-inning complete game that month. Elsewhere, the Chicago White Sox used Sarge Connally in a similar capacity. Holloway posted a stellar 14-6 record with three saves as the Tigers battled New York and the eventual pennant winners, Washington.
In 1925 Holloway posted a 13-4 record for a .765 winning percentage. While his other statistics were similar to those of 1924, the season went quite differently. By the beginning of August Holloway had made only three starts and had seen very little action with the game on the line. An injury to Dutch Leonard left Dauss as the only reliable starter. Cobb was forced to give Holloway a spot in the rotation.
On August 3, he responded with a gutsy 3-2 complete game win over the Browns, scattering eight hits and coaxing three double plays. He made only one relief appearance after that, earning a save. In the final two months he went 8-3 with six complete games. The Tigers were in fifth place and under .500 when he joined the rotation. They finished fourth at 81-73.
There was optimism when training camp opened in Augusta in March 1926. Charlie Gehringer was joining the team at second base. Based on Holloway's finish the year before, it was believed he had "the ability to be a first-string star."9 The enthusiasm was tempered by Cobb's absence because of eye surgery and holdouts by Topper Rigney, Lu Blue and Holloway. Holloway reported 10 days late, just before Cobb rejoined the team.10
The holdout did not hurt Holloway's status as a member of the starting rotation. He took the hill for the third game of the season and left with no decision against the Browns; Detroit eventually won, 5-4. Going into the May 31 game Holloway was 3-2, but his poor performance that day led to his suspension by Cobb.
Holloway returned from the suspension and was assigned to the bullpen. Eddie Wells took his spot in the rotation and tossed three consecutive shutouts in June. Holloway picked up a win and two saves from June 19 through July 2. Then, inexplicably, he was relegated to a lesser role. He pitched in just a single Detroit win over the rest of the season.
Wells suggested that Holloway was one of the Detroit players who "didn't think much of Cobb" as a manager.11 Holloway certainly would have been justified in thinking he was worth more than being used as a mop-up man. He had posted a .730 winning percentage over the previous two seasons.
George Moriarty replaced Cobb in 1927 and Holloway regained the third spot in the rotation. Ken had a stellar month of June, winning five and tossing four complete games, including a shutout in Chicago. Then in July his five starts covered only 22 innings in which he yielded 33 runs. The inconsistency sent him to the bullpen again.
Holloway made the squad in spring training the next year as a reliever. He made 30 appearances, his low with Detroit, while posting a 4-8 record for the sixth-place Tigers. Moriarty reportedly wanted Holloway to develop a knuckleball and rely less on the fastball.12 Whether this decision caused friction is uncertain, but Holloway obviously was not in Moriarty's plans.
Over the winter Detroit traded him to Cleveland along with infielder Jackie Tavener for pitcher George Uhle. The trade was a flop for Cleveland. Tavener played one season and Holloway two; meanwhile Uhle won nine in a row to begin 1929 and gave the Tigers three more decent seasons after that.
Holloway joined manager Roger Peckinpaugh at spring training in New Orleans in 1929. To this point in his career, Holloway's best ERA was 4.07 and he had not had a WHIP under 1.4. In training camp, Peckinpaugh noticed that Holloway was not hiding his hand in the glove. Batters could easily recognize if a curve, fastball or knuckler was on the way. Peckinpaugh was quick to adjust Holloway's mound work and Ken responded with a 3.03 ERA and a 1.303 WHIP.13
The plan was to make Holloway a spot starter and reliever. The Indians opened the season against the Tigers and Holloway asked for a chance to show his talents head-to-head with Uhle. The managers obliged on April 17. Ken should have kept quiet – he was pounded for six runs in under two innings as the Tribe lost, 15-3.14
Holloway worked out of the pen until late May, when injuries made him a starter. He responded with two complete games, a win and a loss. In mid-June he was sidelined with an infection of his throwing hand. He missed nearly six weeks and was then used sparingly until September. He got five starts in the last month and responded with two shutouts and a 3-1 record.
The strong late season performance made Holloway a favorite to join the starting staff in 1930. He looked strong in early work at camp in New Orleans. The Cleveland Plain Dealer heralded his work ethic and gave him a photo spread early in camp.15 The enthusiasm died down when the New Orleans Pelicans scored eight runs against him in an April 6 exhibition. He lost his spot in the rotation and did not see action in the regular season until May 2.
He appeared in 12 games with the Indians, getting two starts, and had a 1-1 record and 8.70 ERA when he was sold to the New York Yankees on June 30. He made 16 appearances for the Yanks without a decision. In late November they sent him to Baltimore in the International League in a four-player deal.
The Orioles finished third in 1931, followed by a second-place finish in 1932 thanks to the addition of Buzz Arlett, who pounded 54 home runs. Holloway won 28 games over these two seasons and sported one of the lowest WHIP marks on the team each year. In January 1933 he was traded to Portland in the PCL for Johnny "Augie" Prudhomme.16
Holloway balked at the cross-country trip and tried to find employment in the East. He joined the Atlanta Crackers in July, but they let him go in favor of a left-hander. He signed with the Little Rock Travelers in the Southern Association in mid-August. From available box scores, he was 1-1 in five games for the Crackers and 0-3 in seven appearances with Little Rock in his final season.
Many ballplayers have been lured to the warmth of Florida after their playing days. Holloway packed the family and they moved to Del Ray Beach. He and Faye became managers of a massage parlor and he listed himself as a masseur on the 1940 census. In the mid-1940s the family moved back to Thomasville, Georgia.
Holloway opened a store that specialized in fishing gear and bait. Besides being an osteopathic doctor and surgeon, brother W.C. Holloway was involved with the local and state game and fish organizations. Ken worked with him on various projects like the protection of species in local rivers. Holloway's sons moved back to Florida and raised their families there.
Ken Holloway passed away on September 25, 1968, after a lengthy bout with lung cancer. He was survived by his wife, sons, brother and five grandchildren. He was buried in the Laurel Hill Cemetery in Thomasville.
Acknowledgments
Thank you to photographer and Southern Georgia historian Brian Brown, who helped with the history of the area.
This biography was reviewed by Rory Costello and Norman Macht and fact-checked by SABR's fact-checking team.
Notes
1 "Draws Wrath of Georgian," Detroit Free Press, June 2, 1926: 16.
2 Harry Bullion, "Ruth's 1926 Detroit Debut Tough on Bengal Pitchers," Detroit Free Press, June 9, 1926: 21.
3 Hall of Fame questionnaire, Holloway claims to have played at 175.
4 1965 questionnaire that he filed with the Hall of Fame. There are multiple forms for Ken, and he only mentions it once.
5 HOF questionnaire.
6 "Detroit Will Leave Merritt with Augusta Club; Locals Sign Holloway," Augusta Chronicle, April 2, 1922: 17.
7 "Tygers Are Not in Form and Spinners Cop Last Game 6-1," Augusta Chronicle, April 30, 1922: 6.
8 Harry Bullion, "Kenneth Holloway Goes Full Distance," Detroit Free Press, April 4, 1923: 18.
9 Marben Graham, "Detroit Tigers Start Training Work in Dixie," The Herald-Press (St. Joseph, Michigan), March 1, 1926: 6.
10 Harry Bullion, "Athletes Work Out Despite Downpour," Detroit Free Press, March 12, 1926: 16.
11 Richard Bak, Cobb Would Have Had It (Wayne State University Press, Detroit: 1982), 152.
12 Francis J. Powers, "Falk Means More Punch for the Indians," The Sporting News, March 7, 1929: 5.
13 "Indian Pilot Corrects Twirling Faults of Hudlin and Holloway," Canton (Ohio) Repository, April 10, 1929: 15.
14 Harry Bullion, "Uhle Gains Verdict in Grudge Contest," Detroit Free Press, April 18, 1929: 21.
15 "Ken Looks for Great Year on the Mound," Cleveland Plain Dealer, March 7, 1930: 19.
16 Baltimore Evening Sun, January 11, 1933: 16.
Born
August 8, 1897 at Thomas County, GA (USA)
Died
September 25, 1968 at Thomasville, GA (USA)
If you can help us improve this player's biography, contact us.
/sites/default/files/HollowayKen.jpg
600
800
admin
/wp-content/uploads/2020/02/sabr_logo.png
admin
2019-12-09 12:54:33
2020-04-09 14:37:28
Ken Holloway