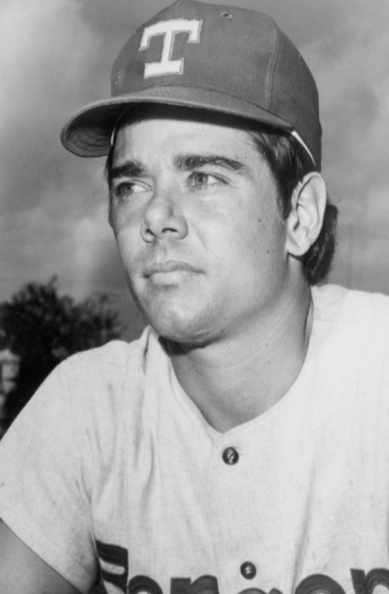 ---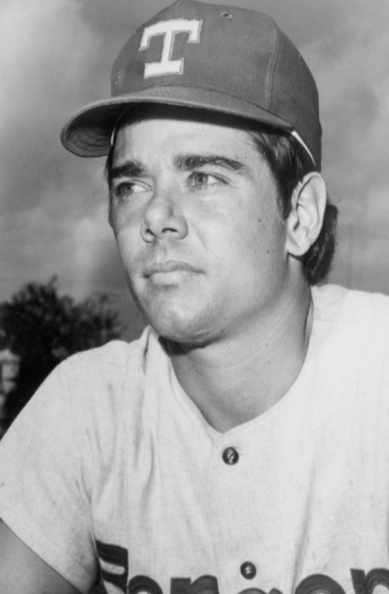 Ken Suarez, one of the "can't-miss" catching prospects of the 1960s and a member of the Rangers' inaugural squad in 1972, took a roundabout trip to arrive at his Arlington destination.
Kenneth Raymond Suarez was born on April 12, 1943, in Tampa, Florida, the son of Joseph R. and Gladys M. (Wadsworth) Suarez, who married in 1941 in Tampa while Joseph was on Army leave. Kenneth had a younger brother, James, born in 1945. Mother and children lived with their family in Tampa as Joseph served his Army duty.
Ken's late wife was Irene Lopez, whose father was Emilio Lopez – the brother of Alfonso "Al" Lopez who played and managed in the majors and is in the National Baseball Hall of Fame. They were married in Tampa in 1965 after being high school sweethearts. She was a vice principal for 35 years at sports-famous Fort Worth Bishop Nolan Catholic High School and active in diocesan education for four decades.1
Kenneth showed big-league potential as a right-handed hitter in college at Florida State. He had starred earlier at Tampa Jesuit High School and played American Legion summer baseball with Baseball Hall of Famer Tony La Russa and Lou Piniella.
Getting his first starting role for the perennial powerhouse in Tallahassee, Florida, as a sophomore in 1963, Suarez responded by pacing the Seminoles to their third NCAA World Series appearance under legendary coach Danny Litwhiler and then enjoyed his best collegiate season in 1964.
That year he hit .404 in 44 games for the nationally fifth-ranked FSU squad under new head coach and nine-season major leaguer Fred Hatfield, belted 6 home runs, had 30 RBIs, scored 25 runs, and walked 21 times to pace the Seminoles in each of those statistical categories. He earned consensus first team All-America honors and was selected for the 1964 US Olympic baseball team (a demonstration sport in Tokyo that year) before signing as a free agent for an undisclosed sum with the Kansas City Athletics in the spring of 1965, just before the first major-league free-agent draft in June.
While Suarez paid his minor-league dues on several occasions while being called up and sent down, he got off to a sizzling start with Lewiston, Idaho, in the Class-A Northwest League. In 55 games he batted .321 with 10 homers and 35 RBIs and was promoted in midseason to the Birmingham (Alabama) Barons of the Double-A Southern League, where his numbers decreased in the face of stronger competition.
Suarez's defensive skills and projected power (his first hit at Lewiston was a grand slam) earned Suarez a spot on the A's 40-man roster and the possibility of being manager Al Dark's everyday catcher.2
In 1966, Suarez made the team out of spring training but did not adapt well to major-league pitching. He made his major-league debut on April 14 and collected his first base hit on the 19th. His first run batted in came in a losing effort on April 24, but his second won the game for Kansas City. It came in the first game of a doubleheader at Yankee Stadium. Whitey Ford was pitching for New York and in the top of the fifth inning Ossie Chavarria hit a two-out double to left and Suarez singled to center to drive him in with the only run of the game.
In 35 games for the A's through July 9, however, Suarez was batting only .145 with 2 RBIs. He was sent down to Mobile, Alabama, to fill in for the injured Rene Lachemann. Phil Roof seized the starting assignment for the A's. On July 28, Suarez was struck in the face by a pitch and suffered a broken cheekbone and the loss of two teeth.3 In the nine games he'd played for the Double-A Southern League team before the injury, he had batted only .125. While waiting for the 1967 season to begin,4 he returned to Florida State to earn his degree in finance.5
In the fourth game of the 1967 season, Roof suffered a split finger and Suarez put on the starting catcher's togs for eight games with a .235 average, 2 homers (his first in the majors was off 1968 World Series standout lefty Mickey Lolich of the Detroit Tigers), and 4 RBIs. When Roof returned from the disabled list, the A's returned Suarez to Birmingham.
In November, the Athletics assigned Suarez to Triple-A Vancouver. Then they chose not to protect Suarez in the Rule 5 draft and the Cleveland Indians claimed him. Al Dark again became Suarez's manager, having been fired by A's owner Charles O. Finley and become manager of the Indians. Suarez was barely used at all by Cleveland, though, appearing in 17 games in 1968 with one single and a walk in 10 at-bats, and he wasn't used at all after August 30.
Suarez also was under the tutelage in the professional ranks in 1968, 1969, and 1971 of the inimitable Alvin Dark. Dark, who also served as the Indians general manager in 1968 and '69, managed all or parts of 13 major-league seasons for five teams in the 1961-77 era.
In the offseason, Suarez worked for the sheriff's office in Tampa, in the juvenile division. "It's the most rewarding work I've ever done," he said. "My job is to counsel kids … try to get 'em out of trouble and keep 'em out of trouble."6
Suarez split 1969 between the Indians and the Portland Beavers of the Pacific Coast League. With Portland he hit .239 with 2 homers and 10 RBIs in 49 games, and he saw his most extensive playing time to date with the Indians, 36 games, hitting .294 with a homer and nine RBIs. Suarez spent all of the 1970 season with Wichita in the Triple-A American Association, where he enjoyed his best campaign at bat (.301 in 84 games, named to the league all-star team), and earned a trek back to the majors in 1971. As Ray Fosse's backup, he played in 50 games and batted .203 with one homer, and nine RBIs.
The 28-year-old backstop went to the Rangers from the Indians in a December 1971 deal. The Indians received Roy Foster, Rich Hand, Mike Paul, and the 28-year-old Suarez for Del Unser, Denny Riddleberger, Terry Ley, and Gary Jones.
The offseason deal with the Rangers for the Rangers inaugural 1972 season allowed Suarez to be the third catcher for manager Ted Williams's team. It was a team so lacking in offense that Williams often stepped into the batter's box during batting practice and demonstrated the fine art of hitting and eye-to-bat control in an effort to encourage his batters to generate some runs.
When the Washington Senators moved to Texas, Suarez became somewhat of a fan favorite as the fourth catcher on the roster and started developing lifelong friendships in the Arlington area.
The first-year Ranger did squeeze in 25 games, 33 at-bats, 4 RBIs, and a .152 batting average before being optioned to Texas's farm club at Denver in the Triple-A American Association. He responded with a career-high .341 batting average in 35 games. Suarez's solid defense earned him the initial playing time in 1972 behind veteran catchers Rich Billings and Hal King, and callup Bill Fahey. Suarez was 5-for-33 (.152).
His Denver showing and better-than-average defensive skills over the course of 1972 helped Suarez leap into a key backup role for Billings in 1973, and Suarez played in 93 games, a major-league season high for him. He had 278 at-bats and registered a .248 batting average. He broke up Jim Palmer's potential perfect game for the Baltimore Orioles on June 16 by hitting a single with one out in the ninth inning after the righty retired the first 25 batters.
Suarez's $20,000 salary in 1973 for the cash-starved Rangers was not what he felt he was due in 1974, and when he became the first Ranger to file for arbitration he was subsequently traded back to the Indians on February 12, 1974, for Leon Cardenas. The disappointed Suarez never trekked to Arizona for 1974 spring training after filing a formal grievance with the Major League Baseball Players Association and essentially retired at the age of 30. The grievance never was resolved.7
While his ongoing negotiations and filings continued, the Indians dealt Suarez to the California Angels along with Rusty Torres on September 12, 1974, for Frank Robinson. Suarez never played a game in an Angels uniform either and left baseball.
The 5-foot-8, 175-pound catcher had a career batting average of .227 with 5 homers and 60 RBIs in 295 major-league games over all or parts of seven seasons.8
In later life Suarez worked as a pregame guest on WBAP radio broadcasts. He also was involved in the aviation industry with experimental aircraft, home-grown vegetable gardens, youth baseball-park projects, and scouting for the Rangers in the Tarrant County (Fort Worth) area.9
He also has been an active member in the Dallas-Fort Worth Ex-Pros Baseball Association in raising funds for inner-city baseball park construction and assistance for needy former major leaguers.
"Ken has been an active participant in the DFW Ex-Pros for many, many years after Eddie Robinson and Dr. Bobby Brown began the original chapter in the 1990s," said the current DFW Ex-Pros president, former major-league pitcher Jack Lazorko.10
"Though I got drafted by the Rangers out of Mississippi State in 1978, I knew of his legacy with the original team in 1972," Lazorko said. "He laid the groundwork for many great teams over the next 45 years and was proud of his association with Ted Williams and that first team in Arlington."11
Suarez was part of a scouting combine that cross-checked Will Clark and Rafael Palmeiro while they were juniors and draft-eligible at Mississippi State in 1985. His reports proved correct as that duo led their team to a 50-15 mark and third place in the NCAA World Series. The eventual starting first basemen at different times for the Rangers later combined for 853 homers and 3,040 RBIs over a composite 35 seasons in the big leagues.12
And charting many of their at-bats and defensive moves from a perch in the old press box behind home plate at old Dudy Noble Field in Starkville, Mississippi, was none other than Ken Suarez.13
"Ken Suarez was one of the most professional people I have met in scouting players," Mississippi State coach Ron Polk recalled after the 1985 season. "We knew Clark and Palmeiro were going to be special even they came to Mississippi State in 1983, and by the time they were juniors, every team in the majors was scouting them. Ken did the usual charts, spoke to the players' parents, our coaching staff and teammates and gathered as much information as anyone on the two players."14
The Rangers and Suarez probably took great delight that the 1985 first-rounders (Clark to the Giants, Palmeiro to the Cubs) eventually made it to Arlington. Both earned spots in the College Baseball Hall of Fame and delighted Rangers fans with their power hitting for several seasons.
"It has been a great run since I first played sandlot ball in Tampa," said Suarez, "and now I have made many new friends over the years in Texas and I'm just living the life. It was great to see many of them at the Ex-Pros holiday banquet and looking forward to more good times with these fellows and their families."15
This biography was published in "1972 Texas Rangers: The Team that Couldn't Hit" (SABR, 2019), edited by Steve West and Bill Nowlin.
Sources
In preparing this biography, the author consulted BaseballReference.com, BaseballAlmanac.com, MLB.com, PointAfter.com, and FanGraphs.com.
Notes
1 Obituary, Fort Worth Star-Telegram, November 13, 2012.
2 Russell Schneider, "A Wish Comes True – Suarez, Dark Reunited," The Sporting News, February 24, 1968: 27. The grand slam came in a game against Salem.
3 "Suarez Injured by Pitch," The Sporting News, August 13, 1966: 38.
4 Schneider.
5 Sid Bordman, "Rifle-Armed Suarez Fills A's Mitt Gap," The Sporting News, May 6, 1967: 18.
6 Schneider.
7 Email to author from Major League Baseball Players Association on March 2, 2018.
8 Most standard baseball databases list Suarez as 5-feet-9, but he himself said, "Yeah, but I'm 5-8." See Bordman.
9 Conversations with Texas Rangers media relations executive John Blake, May 21, 2015, and September 16, 2016.
10 Conversations with Jack Lazorko on December 20, 2017, and January 11, 2018.
11 Ibid.
12 Ibid.
13 Conversations with Ken Suarez on April 23, 1985, April 30, 1985, and December 10, 2017.
14 Conversation with coach Ron Polk of Mississippi State on June 20, 1985.
15 Conversations with Ken Suarez.
Born
April 12, 1943 at Tampa, FL (USA)
If you can help us improve this player's biography, contact us.
https://sabr.org/sites/default/files/SuarezKen.jpg
600
800
admin
/wp-content/uploads/2020/02/sabr_logo.png
admin
2012-01-04 20:41:39
2012-01-04 20:41:39
Ken Suarez