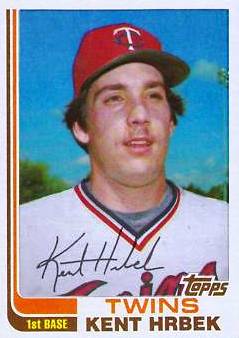 ---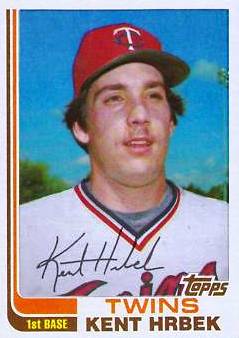 With their first-round pick in the 1978 amateur draft, the Minnesota Twins selected Lenny Faedo, a high-school shortstop from Tampa, Florida. Sixteen rounds later, the Twins selected Kent Hrbek, a first baseman from Kennedy High School in Bloomington, Minnesota.
Faedo and Hrbek both rose through the Twins farm system quickly. Faedo made his major-league debut in September of 1980 at the age of 20. Hrbek reached the big leagues the following August at the age of 21.
A quick ascent through the Twins farm system is the only similarity in the major-league careers of Faedo and Hrbek. Faedo's major-league career consisted of 174 games over five seasons. His best season was 1983, when he hit .277 in 51 games for the Twins. Hrbek would go on to be one of the top hitters and first basemen in franchise history.
One way to explain the differences in the careers of the two would be to call the amateur draft an inexact science. There is another way to explain it according to two former major-leaguers.
"If anything, Midwest kids are late bloomers," said Twins coach Rick Stelmaszek, who grew up in Chicago. "Midwest high school players have such short seasons."
Minnesota native George Thomas, who spent parts of 13 seasons in the big leaguers said, "If Kent had lived in California, he would have been a first- or second-round pick."
Thomas is probably right. Consider, in the same draft the California Angels selected Tom Brunansky, a high-school outfielder from southern California, with the 14th overall pick—two picks ahead of Faedo.
Like Hrbek, Brunansky was 6-foot-4 with power. Brunansky would reach the major leagues in April of 1981 at the age of 20. Brunansky and Hrbek would each spend 14 seasons in the big leagues—spending six-plus seasons as teammates. Hrbek and Brunansky's career statistics are similar—including home runs (293 and 271, respectively), runs batted in (1,086 and 919)—with each hitting at least 20 home runs in a season at least nine times.
"I think we were just happy that we got scouted," said Hrbek. "It's a given in Florida, Texas, and California. There are probably 10 scouts at games. But it was a big deal that [Twins scout] Angie Giuliani was at our game."
The Twins first offer to Hrbek, whom scout Angelo Giuliani described to the Minneapolis Star Tribune as "the best prospect from Minnesota I've seen in 30 years of scouting," was a signing bonus of $5,000. Hrbek turned the initial offer down and played American Legion baseball.
His parents—Ed and Tina—left the decision, signing a pro contract or accepting a scholarship offer to play for the University of Minnesota, up to him. Late in the summer the Twins hadn't increased their offer. But in August, with Twins owner Calvin Griffith, farm director George Brophy, and Giuliani watching, Hrbek hit a long home run in an American Legion game. Griffith was urged to up his offer to Hrbek, and he finally offered $35,000.
Hrbek signed and was sent to the Twins' Fall Instructional League camp in Melbourne, Florida. Hrbek's first professional experience was brief when he suffered a knee injury and was sent home.
After three months of rest and rehabilitation, Hrbek made his professional debut in June of 1979 with Elizabethton (Tennessee) of the rookie Appalachian League. Hrbek's season was cut short after he suffered another knee injury just three weeks into the season. Hrbek's first professional season showed a .203 batting average with one home run and 11 runs batted in (RBIs) in 17 games. In 59 at-bats he struck out 15 times.
With his knee surgically repaired, Hrbek was able to show some potential in his second professional season. Hrbek was sent to Wisconsin Rapids of the Class A Midwest League to play for Stelmaszek, a 31-year-old former major-league catcher in his third season as a minor-league manager.
"[Managing at the Class A level] is a double-edged sword," said Stelmaszek. "You're supposed to develop players and you're supposed to win. If you don't develop [quickly] the winning won't come. I didn't have any coaches. We had a 76-year old bus driver, so I had to drive the bus occasionally. I had to throw b. p. [batting practice]. If a player came out early and wanted extra b. p., I had to throw. There were the monthly organizational reports. It was time-consuming but it was a valuable lesson for me. That [managing Wisconsin Rapids] and the three years of managing in the instructional league helped me when I became a [major-league] coach."
Stelmaszek's job was to teach the players, many of them 19- and 20-year olds away from home for the first time, how to play the game.
"I always say 'many are called, few are chosen,'" said Stelmaszek, who was in his 28th season as a coach for the Twins in 2008. "It's a tough grind at all levels. You look at a lot of things to see if a kid is ready to move up, like when he hits—in the clutch with two outs. To make the progression up the ladder, you have to buck long odds.
"You have to overcome hurdles. The key is to stay positive. At a young age that's tough. One of the things that jumps out is a player's makeup."
Stelmaszek saw something he liked in the 20-year old Hrbek.
"Kent was a free spirit," said Stelmaszek. "He was like a [young] Labrador, all arms and legs. But he had an ability at game time to turn it on."
Stelmaszek was tough on Hrbek and the team, which included future Twins third-baseman Gary Gaetti.
"At the time, he thought I was the biggest jerk in the world," said Stelmaszek. "Later on I think he understood. My job as manager was to teach the guys to do it the right way. I'm a big believer in that."
The hard work paid off for the team, which won the league's second-half title and finished with a 77-64 record. In the playoffs, Wisconsin Rapids was defeated by Waterloo and league Most Valuable Player (MVP) Von Hayes, who led the league in batting average (.329), hits (162), and doubles (33).
Hrbek finished with 19 home runs—three behind Gaetti, who led the league with 22—and 76 RBIs in 115 games and was named to the league's All-Star team.
Hrbek's third professional season would be memorable on and off the field. Hrbek was sent to Visalia (California) of the Class A California League. He started out hot—earning the league's Player of the Month honors for June—and stayed hot.
In 121 games with the Oaks, he batted a league-leading .379—the highest average in a full-season minor league in 1981 and the second-highest for a full-season minor league in the 1980s (in 1987, LaVel Freeman hit .395 for El Paso of the Class AA Texas League). Hrbek finished with 27 home runs, 111 RBIs, 175 hits, a .446 on-base percentage and league-best .630 slugging percentage.
"I can't explain what happened in 1981," said Hrbek. "Maybe it was the stars aligned, and I was just lucky. You know 10 hits can be the difference between .370 and .320. Maybe I had learned the game a little bit at Wisconsin Rapids. I had a pretty good manager and coach [Stelmaszek], who helped me more than anyone in baseball. He showed me how to play the game. I thought the Midwest League was a tougher league. The fields and weather were tougher. In California the conditions were perfect—always sunny and 80. [Oaks manager] Dick Phillips let us go play. We pretty much ran the show. We had a good ballclub. I think we had four or five guys hit over .300 and four or five guys with 20 home runs. We had a great team and that helped me [as a hitter]."
Late in the season, Hrbek was recalled by the Minnesota Twins and joined the team in New York. On August 24, 1981, Hrbek, the 15th native Minnesotan to play for the Twins, made his major-league debut against the Yankees. Batting in the eighth spot, Hrbek drove in a run with a fifth-inning single off Yankees starter Tommy John. The game went into extra innings, and, in the 12th inning, Hrbek homered off future Twin George Frazier to give the Twins a 3-2 victory.
The Twins returned home three days later. In his Met Stadium debut (August 27 against the Detroit Tigers), Hrbek suffered a hamstring injury, which would sideline him for more than a week. Hrbek returned to the starting lineup on September 8 and played in 18 games over the season's final three-and-a-half weeks. In 24 games for the Twins in 1981, he batted .239 with one home run and seven RBIs.
Hrbek's season had been tempered with bad news. While with Visalia, Hrbek's father had been diagnosed with Amyotrophic Lateral Sclerosis (ALS or Lou Gehrig's Disease).
"I've said this before," said Hrbek. "I probably went through the lows of life and the highs of life in one year: making the big leagues with my hometown team and finding out that my father has been diagnosed with Lou Gehrig's Disease, which was going to kill him. Coincidentally, I played my first game in the big leagues in Yankee Stadium, where Lou Gehrig had played. My dad said it best. He told me 'I got you this far, you take it the rest of the way. Don't worry about me. Go and have fun.' He was happy with where he was and with where I was. I don't want to say it made me comfortable, but it helped me."
The 1982 season was one of tremendous change for the Twins—a new stadium, the Metrodome, and a rookie-filled lineup. From the outset, Hrbek showed he was ready for the big leagues.
He hit nine home runs in spring training—tying Harmon Killebrew's team record—including the first two home runs in Metrodome history (in an exhibition game with the Philadelphia Phillies). His hot spring carried over into the regular season. In April, he hit eight home runs and had 22 RBIs in 22 games. On April 17, he began a 23-game hitting streak (his career high), which ended on May 14 in a 4-2, 11-inning loss to the Tigers in Detroit.
Hrbek missed the next nine games with a minor injury before starting a new streak with two hits in a 7-0 loss to Cleveland on May 25. That started a 17-game hitting streak, which ended when he went 0-for-1 with three walks in a 3-0 loss at Kansas City on June 14. In all, Hrbek had hit safely in 40 of 41 games. Included in the streak was his first grand slam—off Kansas City's Mike Armstrong on June 10.
Hrbek was rewarded by being named to the American League All-Star team. On July 13 in Montreal, Hrbek flied out to center—off Steve Howe—in the ninth inning of the A.L.'s 4-1 loss to the National League.
For the season, Hrbek batted a team-high .301 with 23 home runs and a team-high 92 RBIs. Following the season, he was a unanimous choice to the Major League All-Rookie team and was second in the A.L. Rookie of the Year voting (to Baltimore's Cal Ripken). In a poll of A.L. managers, Hrbek was voted the league's best hitting prospect.
In his second full season in the major leagues, Hrbek produced similar numbers. He hit .297 with 16 home runs and 84 RBIs. He had a team-high 41 doubles—the most by a Twin since Zoilo Versalles hit 45 during his 1965 MVP season—and also led the team in triples (five) and slugging percentage (.489). Ten of his 16 home runs came after the All-Star break.
The Twins had shown gradual improvement in Hrbek's first two full seasons in the majors—winning 60 games in 1982 and 70 in 1983. In 1984, the Twins continued to improve and were in the American League West race until the final weekend of the season. The Twins had an 81-75 record with six games to go but lost all six games and finished in a tie for second—three games behind the first-place Kansas City Royals.
The 1984 season was arguably Hrbek's best all-around year in his 14-season career in the majors. In July he hit .368 with 10 home runs and 31 RBIs in 27 games to earn Player of the Month honors. For the season, he hit .311 with 27 home runs and a career-high 107 RBIs. He was fifth in slugging percentage (.522) and seventh in on-base percentage (.383) in the league. Hrbek finished second in the American League MVP voting to Detroit relief pitcher Willie Hernandez.
Hrbek and the Twins started out slowly in 1985. Hrbek batted just .211 in April and was hitting only .249 in mid-June when manager Billy Gardner was fired and replaced by Ray Miller. Hrbek finished the season with 21 home runs and 93 RBIs and a .278 batting average in a career-high 158 games. In addition to having three four-hit games, he hit three grand slams, which tied a team single-season record.
The 1986 season saw Hrbek earn another Player of the Month award (he batted .400—38-for-95—with eight home runs and 27 RBIs in June) and his 100th career home run (off Bret Saberhagen in Kansas City on June 8).
After five seasons of growing pains, the Twins matured in 1987. By August 17, the Twins were 12 games over .500 and atop the A.L. West standings with a five-game lead over the second-place Oakland A's. But the Twins went 0-6 on a road trip to Detroit and Boston and, after 1 –0 loss in Milwaukee by August 28—their ninth loss in 10 games—the Twins were in second place, percentage points behind Oakland. Kirby Puckett's heroics on August 29 and 30 in Milwaukee—going 10-for-11 with six RBIs—helped the Twins to two victories and put them back in sole possession of first. Including those two victories, the Twins won 16 of 25 and clinched the A.L. West title on September 28.
To the Twins' first division title since 1970, Hrbek contributed a career-high 34 home runs—20 of them in the Metrodome—while batting .285 with 90 RBIs. He hit six home runs in an eight-game stretch between August 6 and August 15.
In the American League Championship Series (ALCS), Hrbek was 3-for-20, but he hit a home run off Detroit's Jack Morris in the fifth inning of Game Two. In the World Series, he batted only .208 but his grand slam off St. Louis left-handed reliever Ken Dayley in the sixth inning of Game Six was arguably the biggest home run of his career. Prior to the home run, he was only 1-for-13 against left-handers in the series. The Twins' championship was the first for a Minnesota major-league team in 33 years (the Minneapolis Lakers had won the NBA title in 1954).
In 1988, Hrbek batted a career-high .312 (sixth-best in the American League) and was eighth in slugging percentage (.520) and ninth in on-base percentage (.387). He had 25 home runs and 76 RBIs. Hrbek reached two milestones in 1988—he hit his 1,000th career hit (off Texas's Jeff Russell on May 30), and he became the majors' all-time leader in indoor home runs when he hit his 92nd home run in the Metrodome. When the six home runs he had hit in Seattle's Kingdome were added, he had surpassed Jimmy Wynn, who had played for the Houston Astros. But that season will most be remembered for one of the most discussed trades in team history—sending Brunansky to the St. Louis Cardinals for second baseman Tommy Herr.
The 1989 season saw Hrbek's first stint on the disabled list; he dislocated his left shoulder diving for a ball against Kansas City in the Metrodome on May 15 and was sidelined until June 26. On September 18, he homered off California's Bert Blyleven to become the fourth player in Twins history (Killebrew, Tony Oliva, and Bob Allison were the others) and 151st player in major-league history to reach 200 career home runs. Despite playing in just 109 games, he finished the season with 25 home runs.
Following the 1989 season, Hrbek became a free agent. Boston, Detroit, and Seattle each offered more money than the Twins. He was offered as much $15.5 million for five years, but he eventually re-signed with the Twins for $14 million for five years.
The 1990 season saw the Twins fall to last place in the A.L. West standings. Hrbek batted .400 in spring training, and in July he hit .356 with six home runs and only three strikeouts in 90 at-bats. Late in the season he had a 17-game hitting streak (August 21-September 7), which was the third longest in the American League in 1990. His season ended on September 22 when he suffered a sprained ankle while engaged in some horseplay and running through the clubhouse. "I was just messing around with the clubhouse guys. I had my shower shoes on and I just wiped out. I messed it up pretty good," Hrbek told reporters, adding a comment that was indicative of a personality that some found refreshing and others found aggravating. "I'm not mad at myself for what happened. I've been doing stuff like that for nine years. I've always been a screwoff and I'm not going to change now." For the 1990 season, Hrbek hit .287 with 22 home runs and 79 RBIs.
Hrbek and the Twins started slowly again in 1991. Hrbek was hitting .200 in early May and still hitting only .224 in late May as the Twins were 20-24 on May 27 and just 23-25 after a 4-1 loss to Kansas City on May 31.
Hrbek and the Twins got hot at the same time. On May 29, Hrbek started a 13-game hitting streak (20-for-49, .408) while the Twins started a 15-game winning streak on June 1. The winning streak would spark the Twins to the postseason again as they went on to win the division with a 95-67 record.
Late in the season, Hrbek put together a 17-game hitting streak (26-for-62 from August 11 to August 30). He finished the season with 20 home runs—the eighth consecutive (and ninth overall) time he had hit at least 20 home runs. Only Killebrew had more consecutive 20-plus home run seasons (1959-1967) in franchise history.
Hrbek struggled in the postseason, enduring an 0-for-15 streak in the ALCS. But he contributed a two-out, two-run single in the eighth inning of Game Five of the ALCS to give the Twins a three-run lead in their eventual 8-5 victory over Toronto to win the pennant.
Hrbek got off to a good start against Atlanta in the World Series—going 2-for-4 with a home run in Game One, a 5-2 victory by the Twins. But in the last six games of the series, he was just 1-for-22. He was also involved in the most controversial play of the series, which took place in the second game. In the third inning, with two out and Lonnie Smith on first for Atlanta, Ron Gant singled to left. Smith raced to third on the play. When left-fielder Dan Gladden's throw skidded past third-baseman Scott Leius, Gant took a large turn at first. Pitcher Kevin Tapani scooped up the ball and fired to Hrbek as Gant scrambled back to the bag. Gant reached the base safely standing up but was off-balance as Hrbek took the throw and applied a hard tag. In applying the tag, Hrbek had wrapped his arm around Gant's leg. Both players stumbled backward, causing Gant to lose contact with the bag. With Hrbek's tag still on him, Gant was called out by first-base umpire Drew Coble, although the Braves complained bitterly that Hrbek had intentionally dragged Gant off the base.
Although Hrbek didn't contribute much with the bat over the final six games of the series, the Twins beat the Braves, four games to three, for their second world championship in five seasons.
The 1992 season started and ended with stints on the disabled list for Hrbek. He opened the season on the disabled list after he dislocated his left shoulder diving into third base during a spring training game against the Cardinals in St. Petersburg, Florida, on March 28. He was on the disabled list until April 23. He injured his right shoulder in a collision at the plate with Yankees catcher Matt Nokes on August 28. He returned to the disabled list on September 7 and had surgery 11 days later. His 15 home runs and 58 RBIs were career lows, but he did reach two milestones during the season—his 1,500th career hit and his 250th career home run.
The 1993 season saw a career-low in batting average (.242) for Hrbek, but he had 25 home runs and 83 RBIs in just 392 at-bats. He upped his career indoor home-run total to 162 (10 at the Seattle Kingdome).
The 1994 season was the final year of the five-year contract Hrbek had signed following the 1989 season, and most baseball observers speculated it would be his last season. On August 2, Hrbek informed Twins general manager Andy MacPhail that he would retire at the end of the season. With a strike date of August 11 looming, Hrbek held a news conference on August 4 to announce that he would retire. That night, Hrbek homered and drove in two runs in the Twins' 9-2 loss to the Yankees at the Metrodome.
The Twins won their final five games to improve to 53-60. In his final appearance, Hrbek went 1-for-5 with three RBIs in the Twins' 17-7 season-ending victory over Boston on August 10. Hrbek's final major-league hit was a two-run single in the seventh inning off Tony Fossas.
At the news conference announcing his retirement, Hrbek said, "My dad never got to retire. That's why I wanted to retire. I want to do nothing until I'm tired of doing nothing and then I'll do something. I always thought it was great when someone retired. I talked my dad's brother into retiring. My dad didn't get to enjoy retirement. Maybe that's why I retired."
While Hrbek admitted he felt better during the 1994 season than he had in the previous two or three seasons, he told reporters, "I feel decent, but it's still not there. I can't play first base like I used to."
Hrbek's career numbers show he was a solid major-leaguer—.282 career batting average, 293 home runs, 1,086 RBIs, 1,749 hits in 1,747 games. He ranks second on the Twins' career charts in home runs, RBIs, and walks.
Giuliani, the scout who signed Hrbek, told the Minneapolis Star Tribune on the day of Hrbek's retirement, "In my opinion he's one of the great gloves at first base [a career .994 fielding percentage] I've seen in 60 years of pro ball. He was a lucky break for me. I was tipped off by a concessions manager whose son played against him. He reminded me of Babe Ruth, Jimmie Foxx, Mickey Mantle, those guys. He hit 34 home runs into the upper deck in the Dome, something no one will ever match."
Griffith, who was living in Montana when Hrbek retired, told the Star Tribune, "He's one of the great defensive first basemen to ever play. You know, I'm the one who went over to take a second look when he was in high school. My brothers came to me and said, 'Go look for yourself.' I took [Twins farm director] George Brophy and said, 'Give him what he wants—sign him.' But I tell you, I used to get on managers about him changing his batting stance. I always thought he ought to lose 15-20 pounds. I loved watching him play first base, though."
Andy MacPhail told the Star Tribune, "He is a delightful person. He plays the game like it is a game, and you come to admire that today. Sometimes he exasperates you, but he never really has changed, and you come to realize he is what he is, which ain't bad."
Brophy summed up Hrbek to the Star Tribune, ". . . his first at-bat in a pro uniform, he swung at a ball and dislocated his knee. We had just given him $30,000, which in the 1970s was a lot of money and I said to myself, 'My Lord, what did we do?'
"But it turns out he had a great temperament for the game."
Hrbek's favorite memories from his career are the relationships with teammates.
"When I first started in baseball, I hadn't met too many from outside of the Twin Cities," said Hrbek. "The great thing was the guys you meet and play with. A lot of people get hung up on personal awards. Individual stuff and plaques are great, [but] you can sit downstairs with your plaques on the wall and the good feeling lasts one cocktail. But if you have 30 guys that feeling can last a lot longer. I have fun memories and great friendships like Stelly [Rick Stelmaszek]. And, I still stay in touch with Gary Gaetti and Bruno [Tom Brunansky]."
It's fitting that a guy who went duck hunting on the morning of Game Seven of the World Series would find a second career as the host of a television outdoors show, which is syndicated in the Midwest and Canada. Kent Hrbek Outdoors started its fifth season in 2008.
"I like doing it," said Hrbek. "People tell me I'm doing a fishing show and a hunting show. We're not. We're doing a 'get to know the outdoors' show. It's been fun. I enjoy meeting new people. People seem surprised to find out that I'm just an ordinary guy who will sit on a bucket and fish. I'm honored that we've been able to introduce people to the outdoors and open doors for some people."
Note
A version of this biography appeared in the book Minnesotans in Baseball, edited by Stew Thornley (Nodin, 2009).
Sources
1994 Minnesota Twins media guide
Baseball America Draft Almanac, 1st edition (2003), Durham, North Carolina.
Encyclopedia of Minor League Baseball, 3rd edition (2007). Edited by Lloyd Johnson and Miles Wolff. Published by Baseball America.
The Baseball Encyclopedia, 2004 edition. Edited by Pete Palmer and Greg Gillette. Barnes and Noble Publishers, New York New York.
Minneapolis Star Tribune clippings, August 1994.
Telephone interview with Rick Stelmaszek.
Telephone interview with Kent Hrbek.
E-mail interview with George Thomas.
Photo Credit
The Topps Company
Born
May 21, 1960 at Minneapolis, MN (USA)
If you can help us improve this player's biography, contact us.
http://bioproj.sabr.org/bp_ftp/images4/HrbekKent.jpg
600
800
admin
/wp-content/uploads/2020/02/sabr_logo.png
admin
2012-01-04 20:34:58
2023-01-09 02:43:54
Kent Hrbek