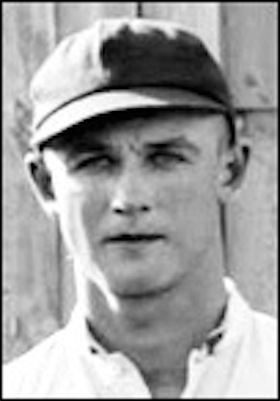 ---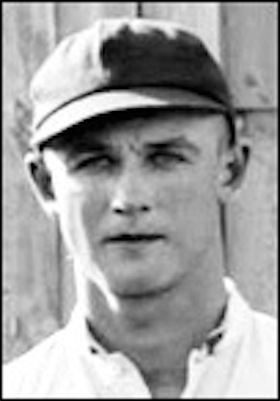 He was a high-school phenom who found himself pitching in the major leagues while barely out of his teens. Connie Mack had heard about him when he was just 16 years old.1 But for every Bob Feller there are countless Lafayette Henions. Unlike Feller's long and successful career, Henion's experience in the major leagues consisted of pitching three innings of mop-up duty and he was out of professional baseball by the time he was 25 years old. Was there a vast difference in talent or temperament, or was it some combination of luck, circumstances, or injuries that separate pitchers such as these?
Lafayette Marion Henion was born on June 7, 1899, in Eureka, California, a coastal town about 250 miles north of San Francisco. His father, Ernest, was a farmer, and his mother, Marie (Stokes), was a homemaker. Both parents were native Californians, Marie's grandparents having traveled from Missouri overland by covered wagon in 1854. Little is known of his childhood other than that his father died in 1903 and Marie married a man named Quincy Adams Jones in 1907. At some point soon after that, the family moved to San Francisco; Lafayette was known to have played on a team there called Pescadero. The family moved to San Diego when Lafayette (or Laffy as he was sometimes called) was 15 or 16 years old.
While in San Diego, Lafayette attended Sherman Grammar School and joined the baseball team as a third baseman. In February 1916, in the semifinals of the city playoffs, Sherman's regular pitcher was unable to go, and Henion volunteered to take the mound. He defeated defending champion Logan 2-0 on two hits, recording 20 strikeouts, including the first 15 batters he faced. Henion followed up that performance with a no-hitter against Florence for the city grammar-school championship and the A.G. Spalding trophy. In this game he struck out 21 and faced the minimum 27 batters.2
The right-hander was listed at 5-feet-11-inches and 154 pounds during his later professional career, but had grown to that size by age 16. Even at this young age, Henion reportedly had several curves, an outdrop, a high fast inshoot, a slowball, and a fast straight one3 among his repertoire of pitches.
In 1917 Henion still attended San Diego High School, where in addition to pitching for the baseball team, he also participated in track and field and basketball. However he was also recruited by two local amateur teams, Golden Hill in the Playground Junior League and a team sponsored by the San Diego Savings Bank. Apparently by April of 1917, his various pitching commitments interfered with his studies and he announced that he planned to quit school. (Subsequent census records indicated he completed three years of high school but did not graduate.)
In early 19184 Henion joined the San Diego Fire Department team, but in March Red Killefer, manager of the Los Angeles Angels of the Pacific Coast League, offered him a tryout. No information was found about the results of this tryout. That spring Henion was also approached by the Oakland Oaks, but when the Vancouver Beavers in the Class B Pacific Coast International League5 offered more money, he signed with that club. He later pitched in a few games for the Aberdeen (Washington) Black Cats in the same league. Overall he had a record of 6 wins and 15 losses in 15 games.
With World War I raging in Europe, and the government's "Work or Fight"6 edict in place, many of the players in the Pacific Coast International League left their teams in midseason for employment with defense-related industries on the West Coast. On his draft registration card from September of 1918, Henion listed his occupation as a pipefitter with the Patterson-McDonald shipbuilding company in Seattle. In reality, his primary job was pitching on the plant baseball team, a member of the four-team Wood Shipyards League.
In April 1919 Henion married 18-year-old Ellen (or Ella) M. Herrill, and on September 25 of that year his son, Jerald,7 was born. That spring he was pitching for the Standard Oils (formerly his old Golden Hill team) but in June signed with the Moose Jaw (Saskatchewan) Robin Hoods of the Class C Western Canada League. He had a record of 6 wins and 10 losses in 20 games when in mid-August he was purchased (for an undisclosed sum) by the Brooklyn Robins of the National League.8
The story of Henion's signing was unusual to say the least. The 1919 Brooklyn Robins spent most of the season in the middle of the National League standings, eventually finishing two games under .500 and in fifth place. Sometime in midseason, between scheduled starts, manager Wilbert Robinson sent pitcher Jeff Pfeffer on a scouting trip. He asked him to go to Saskatoon, Saskatchewan, and look at an infielder named Nies. Pfeffer had a favorable impression of Nies and telegraphed Robinson and told him to purchase the player.
That evening Pfeffer was sitting around drinking beer with several of the Saskatoon players when they asked if he planned to purchase Henion as well. Pfeffer had never heard of Henion, but was told he was with Moose Jaw and, according to the (possibly inebriated) Moose Jaw players, the best pitcher in the league. Pfeffer (possibly under the influence himself) sent another wire to Robinson that night, telling him to buy Henion as well.
Henion joined the Robins while they were in St. Louis in early September, and he introduced himself to Pfeffer in the lobby of the team's hotel. Pfeffer was unimpressed with the 20-year-old pitcher, whom he had recommended to Robinson sight unseen, but suggested they walk down the street to a saloon for a drink. When Henion ordered straight whiskey, Pfeffer was reported to have said, "Might make it at that."9
A few days later, on September10, 1919, Henion made his only major-league appearance, against the Cardinals in St. Louis. Al Mamaux started for Brooklyn and the Cardinals battered him for nine runs in five innings. Henion was called in to start the sixth and pitched the final three innings of the 11-8 loss, allowing two runs (both earned), two hits, striking out two, and walking two. This was the sum total of Henion's major-league career. Despite Pfeffer's endorsement after the trip to the saloon, Robinson thought the rookie was too small to be an effective major-league pitcher (he never even learned his name, calling him "Onion") and released him after this one appearance.
Henion returned to his home in San Diego and pitched for his old Firemen and Standard Oil teams over the winter. In December it was reported that Brooklyn had traded Henion to Oakland of the Pacific Coast League in exchange for catcher Rowdy Elliot.10 In March Oakland sent him back to the Western Canada League, this time to the Winnipeg Maroons,11 where he posted a 3-9 record in 12 games. He also dropped down into the States to pitch a few games for an independent team in Pembina, North Dakota.
The 1921 season found Henion with his third Western Canada League team, the Regina Senators. Sometime in early June he jumped the team to return to Pembina. On July 8 he returned to his old club and pitched Regina to a 6-5 win over Saskatoon, but the Saskatoon manager filed a protest, claiming Henion had not been officially reinstated and was ineligible. Three days later, on July 11, the league president upheld Saskatoon's protest and suspended Henion, blacklisting him from Organized Baseball.
With no other options available, Henion spent all of 1922 back with the independent team in Pembina. During his time in North Dakota he apparently developed a penchant for fast cars. The previous summer he was involved in an accident with another vehicle. No injuries were reported, but Henion's vehicle, described as a "racer," had to be towed in.12 When he left Pembina for his home in California after the 1922 season, he was seen leaving town in a "racing automobile."13
Henion was back with the San Diego Fire Department team in 1923 and in early 1924 he was signed by San Francisco of the Pacific Coast League. Before he could play for the Seals, he had to be reinstated by Commissioner Kenesaw Landis, and in the aftermath of Landis's rulings a few years earlier in the Black Sox Scandal, the commissioner required that Henion provide affidavits attesting that he had not played with or against ineligible players while he was under suspension. Henion satisfied those requirements and joined the Seals, but was used sparingly, pitching just nine relief innings in five games, and he was never effective. In mid-July he was called home due to the illness of his mother, and San Francisco placed him on the voluntarily retired list.14
Over the next couple years Henion pitched for a number of semipro teams up and down the Pacific Coast, including two seasons with his home town Eureka Humboldts. In March 1927 he pitched in a couple of preseason exhibition games for the Denver Bears Western League club, but never appeared in any regular-season games. In 1928 he pitched briefly for a team in LaGrande, Oregon, and in what appears to be his final season as an active player, he was back with the San Diego Firemen in 1919.
It is not known how Henion's marriage to Ellen ended (she later remarried and lived until 1998), but by the time of the 1940 US Census, Lafayette was married to Laura Grimes and they had a son, John Ernest, born March 20, 1940. His older son, Jerald, was also living with them in San Miguel, and like his father, Jerald had become a noted pitcher in the local amateur ranks. Henion's third marriage was to Nellie Morse on May 31, 1954, in Santa Cruz.
Henion worked as a truck driver for a construction company until his death on July 22, 1955, at the age of 56 at French Hospital in San Luis Obispo, California. He was buried in the Odd Fellows Cemetery in that city. In addition to his wife, Nellie, he was survived by his two sons, Jerald and John.
Sources
In addition to the sources cited in the Notes, the author also consulted the following:
Lee, Bill. The Baseball Necrology: The Post-Baseball Lives and Deaths of More Than 7,000 Major League Players and Others (Jefferson, North Carolina: McFarland, 2003).
Graham, Frank. The Brooklyn Dodgers: An Informal History (Carbondale, Illinois: Southern Illinois University Press, 1945).
Phone interview and email correspondence with Henion's son John.
Genealogy, census, and city directory information was taken from Ancestry.com. Unless otherwise noted, statistics have been taken from Baseball-Reference
Notes
Born
June 7, 1899 at Eureka, CA (USA)
Died
July 22, 1955 at San Luis Obispo, CA (USA)
If you can help us improve this player's biography, contact us.
http://sabr.org/sites/default/files/HenionLafayette.jpg
600
800
admin
/wp-content/uploads/2020/02/sabr_logo.png
admin
2016-03-02 18:34:06
2016-03-02 18:34:06
Lafayette Henion