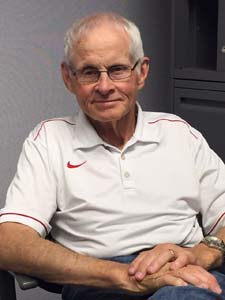 ---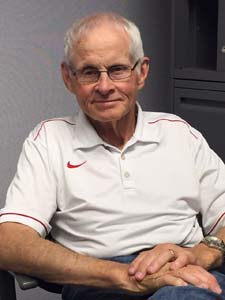 One of the most known and respected umpires of amateur baseball in Minnesota—as of this writing, in 2017—Larry Gallagher made it to the major leagues in 1979, working seven games when the regular umpires were on strike. He continues on the diamonds, making the calls for high-school, college, American Legion, and town teams, with a goal of reaching 60 years of umpiring.
Lawrence Elmer Gallagher, the youngest of four children and the only boy, was born January 14, 1940, in Minneapolis to Lawrence Anthony and Esther Ann Gallagher.1 During World War II, Lawrence worked at Northern Pump (later FMC Corporation), which had a contract with the Navy to manufacture guns for battleships. Lawrence was a crane operator and later did maintenance on tools. "He was the biggest problem solver I've ever known," said Larry of his dad's ability to fix things. Lawrence continued with the company after the war and worked until he was 70. Esther worked in packaging at Northrup King, a seed manufacturer, after Larry started kindergarten. The family was living in Fridley, a northern suburb of Minneapolis, when Larry was born and soon moved to Columbia Heights, a suburb adjacent to Minneapolis.
Gallagher attended Immaculate Conception School through eighth grade and then played three sports at Columbia Heights High School: basketball (under coach Don "Swede" Carlson, an original member of the Minneapolis Lakers), football (he played tackle both ways and was chosen to play in the 1957 American Legion-sponsored All-Star Game), and baseball (he was a catcher).
Joe Vancisin, then an assistant basketball and baseball coach at the University of Minnesota, was involved in the Columbia Heights youth recreation program and had an influence on the young man.2 (Vancisin later became the head basketball coach at Yale and is in the National Collegiate Hall of Fame.) Gallagher helped coach youth baseball in the program and also started umpiring, working from behind the mound, which was common at that time.
Gallagher started playing in a fast-pitch softball league when he was 16. After one of his games, the umpire for the next game didn't show, so Gallagher filled in. He was asked to be a regular umpire in the league and did it in the games he didn't play in. When he was 19 he began umpiring American Legion baseball.
At the time, he was still more a player than umpire. Enrolled at the University of Minnesota, he played on the freshman football team, and practiced on the baseball team. Following his freshman year he transferred to Augsburg College, a small school in Minneapolis that is part of the Minnesota Intercollegiate Athletic Conference (MIAC). After sitting out a year because he had transferred (he tried wrestling as a way to fill his time his first year at Augsburg), Gallagher played football and baseball his junior and senior years and caught for the Auggies' baseball team. In 1961, in his final game, Augsburg beat St. Thomas College of St. Paul to win the MIAC title. Two days later, he umpired his first high-school baseball game. He became part of a loose collection of umpires that became the Gopher Officials Association.3 Eventually, he became a football and basketball official, as well.
After graduation from Augsberg Gallagher stayed another year so he could be a student teacher in 1961-62. He then worked as a substitute teacher in Minneapolis before getting a teaching job at Maplewood Junior High School (Maplewood is a St. Paul suburb) in 1963. That summer, he also married Barbara Svitak. Meanwhile he was keeping up a hectic schedule of playing and managing amateur teams while umpiring on other nights. Later in his career, a typical season saw him with 150 umpiring assignments.
In 1979 he ended up briefly in the major leagues when the regular umpires were on strike at the start of the season. George Brophy, then the vice president and farm director for the Minnesota Twins, called some of the top amateur umpires in the Twin Cities, including Gallagher. He was at first base on Thursday, May 3, as the Twins hosted the Detroit Tigers at Metropolitan Stadium. Gallagher worked with fellow fill-ins Gene Kelly and Bill Hafner as well as Derryl Cousins, a minor-league umpire who crossed lines to begin his major-league umpiring career during the strike.4
The next night Gallagher had an eventful game, his first behind the plate. In the bottom of the fourth inning, with Minnesota trailing Detroit 3-1, the Twins had runners at second and third with two out. Gallagher called a 2-2 pitch from Milt Wilcox to Rob Wilfong a ball, bringing a charged reaction from Wilcox. "I know I missed the pitch, and he was really pissed off about it," said Gallagher.5 Detroit catcher Lance Parrish jumped up and got Wilcox to settle down, even taking the blame by saying he had blocked Gallagher's view of the pitch. The call was significant because Wilfong, rather than striking out, extended the inning by walking, and the Twins scored three runs en route to a 7-6 win.
Gallagher had to deal with a different situation with Twins pitcher Mike Marshall, who entered the game in the seventh inning sporting an ERA of 0.99. Opposing teams had been accusing Marshall of scuffing the baseballs. The issue had been prominent during the Twins' previous series, in Toronto, and also the night before in the series opener versus Detroit. In the game in which Gallagher worked the plate, Tom Briere of the Minneapolis Tribune wrote, "The Tigers accused Marshall of doctoring baseballs last night, and home plate umpire Larry Gallagher threw out two balls."6
However, Gallagher told me in email correspondence 38 years later, "I did toss out 2 or 3 balls that night after Marshall took over. I also threw out 2 or 3 balls before he entered the game. The only controversy from my point of view was that Marshall spouted off in the paper the next day that I threw them out because they had grass stains on them. I have yet to see a baseball with a grass stain. The balls I threw out were ones that had hit the dirt and had some dirt and/or scuff marks from hitting the dirt. None had grass stains, and they did not look like the scuff marks came from any kind of tool that might have made them. Marshall also mentioned how cold it was that night and that because I threw out the two or three baseballs, his arm might tighten up."7
Marshall allowed an inherited runner to score and tie the game, but he ended up being credited with the win when Glenn Adams led off with a home run to right-center in the bottom of the seventh. Second-base umpire Bill Hafner signaled home run, but Adams thought center-fielder Ron LeFlore had caught the ball. Nearing second, Adams turned and headed toward the Twins dugout behind first base. First-base coach Karl Kuehl interceded and got Adams going in the correct direction again. Detroit first-baseman Jason Thompson claimed Kuehl had touched Adams and wanted interference called. "Both Derryl Cousins and I saw Kuehl put up both hands before Adams was able to get past first base," Gallagher wrote, "and then he just turned around and continued his home run journey. No contact by Kuehl at all. Kuehl was still in the coaching box and Adams had not passed first base at all on his way to the dugout. He was just near the bag and pivoted to finish his home run."8
Gallagher umpired seven games in the majors, two behind the plate; his final game was Sunday, May 13, 1979.
He continued umpiring at various levels of amateur baseball as well as officiating high-school football, basketball, and wrestling. He was a high-school physical-education teacher and coach until he retired in 1999. In addition to umpiring, which he still does, Gallagher is a baseball rules interpreter and coordinator for the Minnesota State High School League.
He has been a mentor for many others, including Andre Lanoue, a noted college umpire who has worked NCAA regional baseball tournaments. "When it comes to Larry, there are no words to accurately describe what he has meant to umpires here in Minnesota and to me personally," wrote Lanoue. "He is the best rules guy around and if I am ever in a jam and have a rules question, he is always my first call. Nobody loves to officiate more than Larry Gallagher, and his enthusiasm, his dedication to the craft, and his effort over almost 60 years are inspiring. He is always an advocate for officiating and he freely gives his time to help mentor/train a lot of young umpires that have come through the ranks over the many decades he has been involved."9
Mike Max, now a noted radio and television sports personality in the Twin Cities, umpired for four years while he was in college in the 1980s before going into the television business. Larry, the dean of umpires, helped train younger umps. One game Max was wearing standard umpire attire, he thought, except, as Gallagher pointed out to him, he was wearing blue, not black, dress socks. "He was really a detail guy." Max usually umpired by himself but said it was a treat when he got a two-man crew with Gallaher as his partner. "You'd get a tutorial. He said when you work alone, you can't see everything, but you can always hustle. By hustling and getting into position, the teams will give you credit even if they think you missed a call."10
Gallagher has been inducted in several Halls of Fame, including Columbia Heights High School, the Northwest Umpires Association, the Minnesota Baseball Association for Class A Baseball, and the Minnesota State High School League. He was honored by the Minnesota Twins with the Play Ball! Terry Ryan Award as a Friend of the Game. Gallagher has also received the Angelo Guiliani Award from the Minnesota State High School Coaches Association and the Honorary Member Award from the Minneapolis Officials Association for football and basketball.
Larry and Barb have been married for 54 years as of August 2017, and she has been his "number-one cheerleader and supporter for all of that time and more."11
The couple have two children. A son, Christopher (who later changed his name to Riley), is an architect in Boston and lives in Providence, Rhode Island. A daughter, Ann Stephenson, lives in Sturgeon Lake, Minnesota, and is a teacher along with her husband, Lee Stephenson, in nearby Moose Lake. They have two daughters, Grace and Laura.
Gallagher is still making the calls and is aiming for 2020, which will be his 60th year in umpiring.
Last revised: January 3, 2018
Acknowledgments
This biography was reviewed by Tom Schott and fact-checked by Kevin Larkin.
Photo courtesy of Jason Nickleby/Minnesota State High School League.
Sources
Author interview with Larry Gallagher, August 22, 2017, and follow-up email correspondence in September 2017.
Notes
Born
January 14, 1940 at Minneapolis, MN (US)
If you can help us improve this player's biography, contact us.
https://sabr.org/sites/default/files/GallagherLarry.jpg
600
800
admin
/wp-content/uploads/2020/02/sabr_logo.png
admin
2018-01-03 01:00:20
2020-04-09 14:40:27
Larry Gallagher