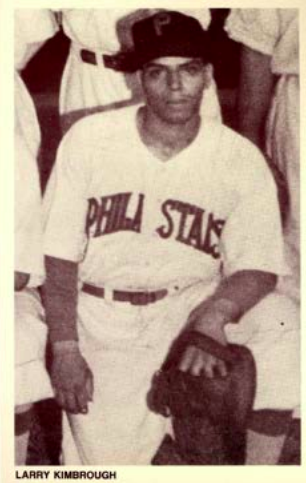 ---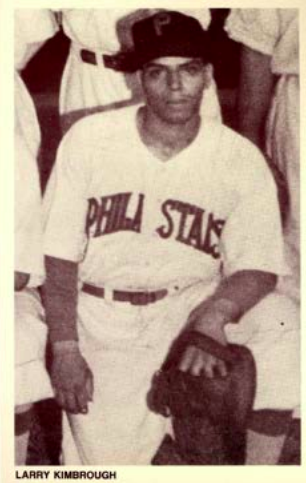 Versatility can be both a blessing and a curse. Larry Kimbrough came to the Negro Leagues with the reputation of being both a switch-hitter and a switch-pitcher. Early in his career he faced the Harrisburg (Pennsylvania) Stars in an exhibition game and held them to two hits until the fourth inning, when they exploded for seven runs. The local paper quipped, "Kimbrough can throw them with either hand … but by the time he found out he wasn't so effective as a right hander, it was too late for him to start twirling from the portside."1
Kimbrough was a natural lefty. He explained that when he "was seven or eight, something like that," he had an accident with the family washing machine in which his left arm was pulled through the wringer.2 The injury required a cast and, during the more than yearlong recuperation, he learned to do everything right-handed. After the cast came off, he struggled to return strength to his left arm. Nursed and guided by his mother, he eventually regained full use of it. As he got older, he realized that he could pitch with either hand and claimed, "I could throw them as hard left-handed as I could right-handed, with a better curveball left-handed."3
Lawrence Nathanial Kimbrough was born in Philadelphia on September 23, 1923, to Ercel and Virginia (Johnson) Kimbrough. His parents had married in Virginia, where Ercel worked as a farm laborer. Their first three children, Howard, Edith, and Allen, were born in Virginia before the Kimbroughs joined the Northern migration and settled in Philadelphia in the early 1920s. Ercel became a postal carrier and Virginia worked as a supervisor in a cleaner's. Allen died in February 1923, but Larry was joined by younger siblings Robert, Dorothy, and Dolores.4 As Larry and Robert grew up, he and Robert spent as much time as possible playing baseball or football on nearby fields. It was not unusual for Virginia to have to track them down to come home for dinner.
Larry graduated from Ben Franklin High School, where he gained prominence as the ace pitcher for the 1941 Ben Franklin team. He pitched a no-hitter against Northeast High School in May 1941. Newspaper reports of the game do not mention it, but Kimbrough claimed to have pitched with both hands in the game.5 He also tossed a three-hit shutout that month, and he played shortstop when he was not pitching. It was not unusual for a star athlete to play baseball and run track. A 1945 article about Negro League players in military service lumped Kimbrough with some track stars, indicating that perhaps he had also been a multisport athlete in school.6
Ed Bolden, owner of the Negro National League's Philadelphia Stars, worked in the post office with Kimbrough's father. Ercel's insistence and Larry's on-field performances led to the Stars signing him in 1941. In 1942 he played with Judy Johnson's semipro Acol Flashes to gain experience; he was added to the Stars' roster late in the season. Negro League record-keeping is haphazard and much has been lost but available statistics credit Kimbrough with one appearance on the mound in 1942.7 He also made a brief outfield appearance against the New York Black Yankees on September 3. 
Dubbed "School Boy" because he came directly from the high-school ranks, Kimbrough was expected to learn the game by watching the veterans. He received training by throwing batting practice and playing in exhibition games. He described himself as 5-feet 10-inches tall and 190 pounds,8 but some early pictures suggest he was nowhere near that weight in his teens. During high school he was referred to as "little" in a 1941 newspaper article, suggesting that he grew into his 190-pound listing later in his career.9
In 1943 the sixth-place Stars' pitching staff was guided by veterans Barney Brown, Ches Buchanan, and manager Homer "Goose" Curry. Together, they earned 14 of the 22 Stars victories that have been verified, which means that Kimbrough saw limited action in league games.10 Still only 19, he was used in exhibition games by Curry to give him experience. Kimbrough was twice used as a leadoff hitter and outfielder against the Negro American League Kansas City Monarchs and Satchel Paige. On the mound, he made four starts in his seven appearances and posted a 1-3 record.11 His lone victory came over the Newark Eagles at Niagara Falls, New York. Kimbrough said he beat Max Manning 4-2 while pitching with both hands; Negro League historian James Riley lists it as a six-hit, 4-0 victory.12 Kimbrough also made limited appearances at shortstop, third base, and the outfield, and batted .300.
In August 1943, at 19, Kimbrough enlisted in the Army and served until January 1946. At Fort Indiantown Gap in Pennsylvania he played as a pitcher, infielder, and outfielder for a base team. He was sent to Saipan in June 1945 and spent six months there before returning home to be discharged.
Kimbrough also played for the 444th Port Battalion team while he was stationed at Staten Island, New York. His future wife, Dorothy Suffern, was the daughter of an area baseball promoter. One day, Kimbrough was playing outfield against her father's team, and the two met when Kimbrough, trying to retrieve a long hit, went into the crowd of spectators lining the field. He returned to the ballpark the next day in uniform in the hope she would be there again. Fate was on his side and the romance began.13 The couple corresponded during his deployment, and they were wed on March 12, 1946. They had four daughters, Dawn, Laura, Roxanne, and Roslyn.
After the Army, Kimbrough returned to the Stars, but he found a glut of pitchers on the team. Barney Brown was still with the squad, and they had added Bill Ricks, Joe "Fireball" Fillmore, Will Harris, and Eddie Jefferson. Kimbrough saw very little action in league games, but he still was paid $350 a month. In 1947 he joined the Richmond Giants in the Negro Carolina League. The following season the Giants became part of the Negro American Association, and 19-year-old Sonny Carroll paced the team's pitching staff. Kimbrough was hampered by a sore arm but did make an impressive appearance against the Homestead Grays, which led to their interest in him.
In August 1948 the Grays acquired Kimbrough's services. Game stories reveal his work in exhibitions, but details of his league appearances prove elusive. He claimed to have "pitched, played outfield, played infield, everything. I did it all."14 The Grays put on a late-season surge and made the playoffs, eventually defeating the Birmingham Black Barons in the Negro League World Series. Thus, Kimbrough's last experience in professional baseball was as a member of a World Series winner.
After his brief stint with Homestead, Kimbrough joined the ranks of semipro ballplayers. Former teammate Ben Hill sponsored a number of teams. In 1949 Kimbrough played for Hill's Washington Pilots, then joined Hill with the Philadelphia Meteors for a couple of seasons. In 1950 Kimbrough took a job with the post office, but he still harbored dreams of a professional baseball career. He was offered a tryout with the St. Louis Browns, but it was canceled by inclement weather.
In 1953 Kimbrough showcased his talents for the Reading Indians, Cleveland's affiliate in the Class-A Eastern League. He told the scouts he was 22, a gutsy move considering that it had been 12 years since his high-school no-hitter. Throwing right-handed, he fired his fastball, then changed pace with a knuckleball. He recalled, "My curveball was just fair, but I guess it would've gotten better if I'd stayed with it."15 Former major-league catcher George Susce was in charge of the tryout camp, and he told Kimbrough that he was too old for the Indians to sign.
In 1954 Kimbrough teamed with Henry Miller and Bill Kitts on the pitching staff of the Pittsburgh Crawfords in the Eastern Negro League.16 The Crawfords and the league continued to play until 1956 but whether or not Kimbrough played with them in 1955-56 is unclear. He had already begun a lengthy career as a baseball and football official in the Philadelphia Public League and Catholic League. He also made it a point to keep alive the memory of the Negro Leagues, especially in the Philadelphia area, and he attended various Cooperstown inductions with fellow Philadelphia Stars players over the years.
In the 1980s and '90s Kimbrough held a membership in the Black Baseball Trailblazers, a Philadelphia-area group that helped to preserve memories of the Negro Leagues. Along with fellow players Bill Cash, Mahlon Duckett, and Gene Benson, he was frequently found at sports collectors conventions in the area. They also visited classrooms to keep the memory of the Negro Leagues alive for future generations. Kimbrough became a member of the Negro League Baseball Players Association and helped to champion their causes.
Kimbrough's involvement in promoting the history and causes of the Negro Leagues led eventually to several accolades being bestowed on him. In 1985 he was honored by the National Association of Black Journalists (NABJ) at its national convention in Philadelphia. In 1990 he was honored at a Philadelphia Phillies game. In 1997 he was inducted into the Negro Baseball Hall of Fame in Kansas City, and in 1998 he was inducted into the Philadelphia Chapter of the Pennsylvania Sports Hall of Fame. In addition to all of his involvement with baseball, he was also an active member of the American Legion.
Kimbrough worked 33 years in the post office. Besides being a popular letter carrier, he served as a union steward. After he retired from the post office, he began an 11-year stint with the Reliance Insurance Company. When death claimed Kimbrough on January 29, 2001, he had seven grandchildren and seven great-grandchildren.
This biography appears in "Bittersweet Goodbye: The Black Barons, the Grays, and the 1948 Negro League World Series" (SABR, 2017), edited by Frederick C. Bush and Bill Nowlin.
Notes
1 "1200 Fans Walk to Island Park for Twin Bill," Harrisburg Telegraph, June 7, 1943: 12.
2 Brent Kelley, The Negro League Revisited: Conversations with 66 More Baseball Heroes, (Jefferson, North Carolina: McFarland and Company, Inc., 2000), 142.
3 Kelley, 144.
4 The 1920 and 1940 censuses were used. Edith appears as Authia in the 1920 census. She is correctly identified from Dolores' obituary in the Philadelphia Inquirer, June 3, 1999. In Kimbrough's obituary her name is spelled Edythe.
5 Kelley, 143.
6 Chicago Defender, May 12, 1945: 8.
7 seamheads.com/NegroLgs/player.php?playerID=kimbr01lar, accessed March 2, 2017.
8 The description came in Kimbrough's Hall of Fame questionnaire, which he filled out himself.
9 "Franklin Blanks Southeast Catholic," Philadelphia Inquirer, April 5, 1941: 22.
10 seamheads.com/NegroLgs/team.php?yearID=1943&teamID=PS&tab=pit, accessed March 2, 2017.
11 seamheads.com/NegroLgs/player.php?playerID=kimbr01lar. Baseball-Reference.com credits Kimbrough with only a 1-1 record in 1943; see baseball-reference.com/register/player.fcgi?id=kimbro000lar, accessed March 2, 2017.
12 James A. Riley, The Biographical Encyclopedia of the Negro Baseball Leagues (New York: Carroll & Graf Publishers Inc., 1994), 464; Kelley, 144.
13 Kendall Wilson, "Larry Kimbrough, 77, baseball legend," Philadelphia Tribune, February 2, 2001: 6-c.
14 Kelley, 143.
15 Kelley, 146. In the Kelley interview Kimbrough says this was 1952. Colavito was with Reading in 1953. Part of his story was wrong, either the year or his facing Colavito. Dates are easier to confuse than personalities, hence the use of 1953.
16 "Krebs Team Cards Contests with 2 Top Negro League Clubs," Shamokin (Pennsylvania) News-Dispatch, July 6, 1954: 6-7.
Full Name
Lawrence Nathanial Kimbrough
Born
September 23, 1923 at Philadelphia, PA (US)
Died
January 29, 2001 at Philadelphia, PA (US)
If you can help us improve this player's biography, contact us.
https://sabr.org/sites/default/files/KimbroughLarry.png
600
800
admin
/wp-content/uploads/2020/02/sabr_logo.png
admin
2014-03-01 00:00:00
2021-09-17 01:07:15
Larry Kimbrough