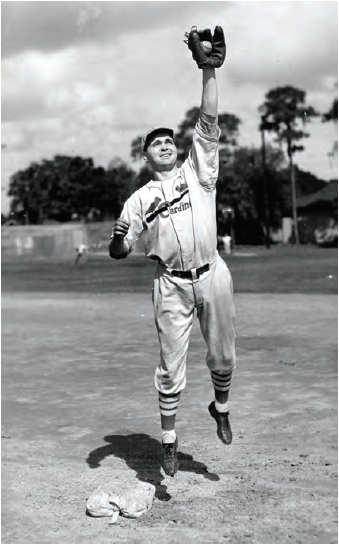 ---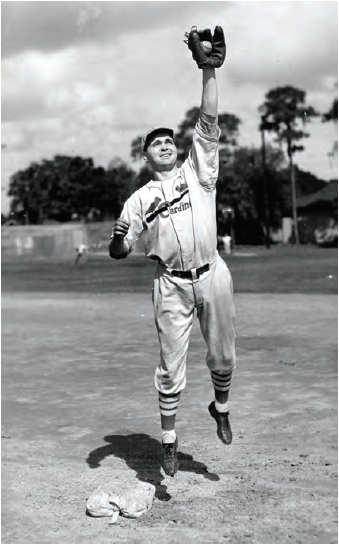 Lew Riggs played parts of ten seasons in the major leagues, debuting with the St. Louis Cardinals in 1934 at the age of 24. Riggs appeared in only two games with the Cardinals that year and on November 3 he was sold to the Cincinnati Reds for $30,000. Cincinnati was where Riggs played his best baseball; he was named to the 1936 All-Star Game as a third baseman and played in the 1940 World Series for the Reds.
Lewis Sidney Riggs was born on April 22, 1910, in Caswell County, North Carolina, to Sidney Cainer and Annie Warren Riggs.1 His large family (Lew was one of ten children) moved to nearby Mebane, North Carolina, when Lew was 4 years old.2 Lew enjoyed sports and played baseball, football, and basketball in high school. He went on to the University of North Carolina, where he played baseball for two seasons (1928 and 1929) before St. Louis Cardinals scout Frank Rickey, brother of Branch Rickey, offered him a $2,000 signing bonus.3 Riggs left Mebane with one thought in mind – to make it to the big leagues. In a newspaper interview in 1962, Riggs said, "It was pretty hard for me to make myself believe that I would ever make the big time, but without a purpose there is no sense in striving for anything. So I told myself I was good enough to make it."4  
Riggs reported to the Shawnee (Oklahoma) Robins of the Class C Western Association in 1930 at the age of 20, and hit .356 with 52 hits in 36 games, which earned him a promotion to the St. Joseph (Missouri) Saints of the Class A Western League. He had signed as a shortstop but the Cardinals wanted him to play third base. Riggs spent the next three seasons and most of a fourth playing for the Columbus (Ohio) Red Birds of the Double-A American Association, where he was pretty consistent, hitting between .277 and .293 in his four seasons there. In 1931 and 1932 Riggs showed some power, hitting 18 and 20 home runs, respectively. In St. Joseph he roomed with Dizzy Dean for a couple of weeks before Dean was promoted to Houston of the Texas League. In 1931 Riggs set an American Association record, hitting six home runs in six days.5
Riggs made his major-league debut for the Gas House Gang Cardinals on April 28, 1934, in Wrigley Field against the Chicago Cubs, striking out as a pinch-hitter for Dizzy Dean. Hisonly other appearance was as a pinch-runner. The Cardinals planned to move Pepper Martin to center field to make room for Riggs at third base. "They told me the job was mine," Riggs said 30 years later. "This put me up on cloud nine. But I trained wrong and came up with a sore arm, so they shipped me back to Columbus for another season."6
After being sold to Cincinnati, Riggs played in 142 games in 1935. He hit .278 with 26 doubles and 73 runs scored.
Riggs hit .257 in 141 games and made the NL All-Star team in 1936. As an eighth-inning pinch-hitter facing Cleveland's Mel Harder, he was called out on strikes and finished at third base alongside shortstop Leo Durocher in the game at Braves Field.
After playing two more full seasons, Riggs appeared in only 22 games in 1939 (Billy Werber was acquired in mid-March and played the bulk of the games at third base) and batted just .158. The Reds won the pennant but Riggs did not appear in any of the four games as the team was swept by the New York Yankees. He played in 41 games in 1940, hitting .292, as the Bill McKechnie-led Reds repeated as pennant winners, this time winning the World Series in seven games over the Detroit Tigers. Riggs appeared in three games – as it happened, the three the team lost. He was 0-for-3, but scored a run in Game Three after reaching base on a forceout as a pinch-hitter.
On December 9, 1940, Riggs was traded to the Brooklyn Dodgers for infielder Pep Young.  In his 1941 season for Brooklyn, now playing for manager Leo Durocher, Riggs hit .305 in 77 games and led the National League with 10 pinch hits in 29 at-bats. For the third year in a row he was with a pennant-winner. He appeared in three games of the 1941 World Series against the Yankees. Riggs was 2-for-8 with an RBI single in a pinch-hitting role as the Yankees won the Series in Five Games.
In 1942 Riggs again played in about half of Brooklyn's games. In his first nine pinch-hitting appearances, through May 12, he hit two home runs and two doubles, walked once, drove in seven runs, and had two game-winning hits. One timely pinch hit broke up a no-hitter by the Cincinnati Reds' Gene Thompson. Durocher said, "Riggs is the best pinch-hitter I have ever seen." Riggs said, "The fans and players realize mine is a tough job and that I can't be expected to come through too often. For that reason I can be relaxed, wait for a good pitch and cut at it real hard."7 Riggs ended the season hitting .278 in 70 games.
After the season Riggs enlisted in the US Army Air Corps and served in the Pacific as player-manager of the 313th Bombardment Wing Flyers team that played in the Mariana Islands as part of the 20th Air Force Tour.8
Discharged in late 1945, Riggs was nearly 36 when he reported to the Dodgers' training site at Daytona Beach, Florida, in the spring of 1946.9 After not getting the ball out of the infield while going 0-for-4 on Opening Day, he was released and spent the rest of the season with Montreal of the International League. That one game, on April 16, 1946, was his final one in the major leagues. Riggs spent the remainder of his professional baseball career (1946-1950) playing on Triple-A rosters in the Brooklyn, Cleveland, Yankees, and St. Louis Browns organizations.
At Montreal Riggs hit .303 with 15 home runs and 73 RBIs. With St. Paul in 1947 he hit .315, but after that season, his batting average dropped each year, and significantly so.
After playing 13 games for Baltimore in 1950, Riggs ended his playing days. Near the end of his career in Baltimore he was beaned by a pitch that fractured his skull.10
Riggs had a knack for being on first-place teams. In 1934 the Cardinals won the World Series while his Columbus team came in first place in the American Association for the second consecutive year, and they won the Little World Series both years. The Cincinnati Reds won the NL pennant in 1939 and the World Series in 1940, while the Brooklyn Dodgers captured the league flag in 1941. In 1946 the Montreal Royals finished the season in first place and won the Little World Series.
Riggs returned to Mebane for good after his playing days. He and his brother Hurley opened Riggs' Shoe Store. Ron Oakley, president of the Mebane Historical Society, delivered the Greensboro Daily News to Riggs's home in the early 1950s. Oakley, who was a Dodgers fan, said he visited Riggs at the shoe store and Riggs always enjoyed talking baseball, even though he was very modest when asked about his own career. Oakley said of Riggs, "Lew was always good natured, friendly, civic-minded, a businessman, a pillar of his church, and a real gentleman, the nicest man I ever met."  Oakley said that on his teams' long train trips, "while the other guys played poker and drank beer, Lew would play bridge or read books. No four-letter words ever passed his lips." In addition to running Riggs' Shoe Store, Lew also worked as a clothing salesman at Malone and Crawford.11
Riggs said that the New York Giants' Carl Hubbell and Hal Schumacher were the toughest pitchers he ever faced.  "One of the easiest pitchers for me to hit off was Dizzy. That is something I will never be able to understand," Riggs said with a grin.12
On May 8, 1943, Riggs married Nellie Dace Hornaday. She died on November 2, 1999. They had no children.
Riggs died of cancer at the age of 65 on August 12, 1975, at the Veterans Hospital in Durham, North Carolina, and was buried at the Rock Creek United Methodist Church Cemetery in Snow Camp, North Carolina. Riggs was a member of the Kiwanis Club and the Mebane Methodist Church.  In 1996 he was honored by being inducted into the first Mebane Sports Hall of Fame class.
Notes
1 rootsweb.ancestry.com/cgi-bin/igm.cgi?op=GET&db=caswellcounty&id=I45002.
2 Email from Ron Oakley, July 31, 2013.
3 Ibid.
4 Walt Riddle, Burlington (North Carolina) Daily Times-News, April 16, 1962.
5 Chillicothe (Missouri) Tribune, September 16, 1931.
6 Burlington (North Carolina) Daily Times-News, April 16, 1962.
7 Ottawa (Ontario) Journal, May 18, 1942.
8 baseballinwartime.com/player_biographies/riggs_lew.htm.
9 baseball-almanac.com/teams/springtrainingsites-nl.shtml.
10 Burlington (North Carolina) Times-News, April 21, 2010.
11 Ibid.
12 Burlington (North Carolina) Daily Times-News, April 16, 1962.
Born
April 22, 1910 at Mebane, NC (USA)
Died
August 12, 1975 at Durham, NC (USA)
If you can help us improve this player's biography, contact us.
/sites/default/files/Lew%20Riggs.png
600
800
admin
/wp-content/uploads/2020/02/sabr_logo.png
admin
2012-01-04 20:29:39
2020-10-07 12:44:34
Lew Riggs