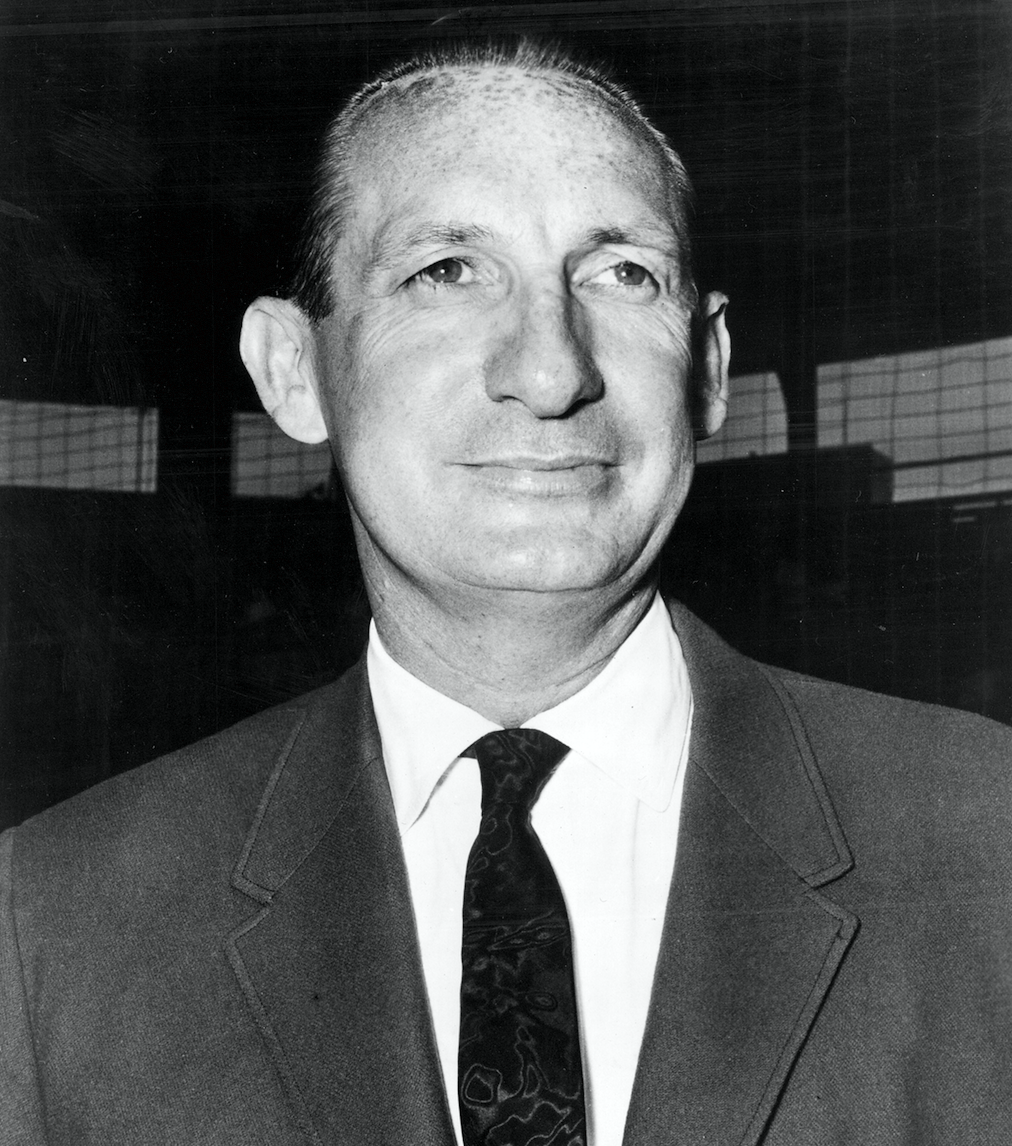 ---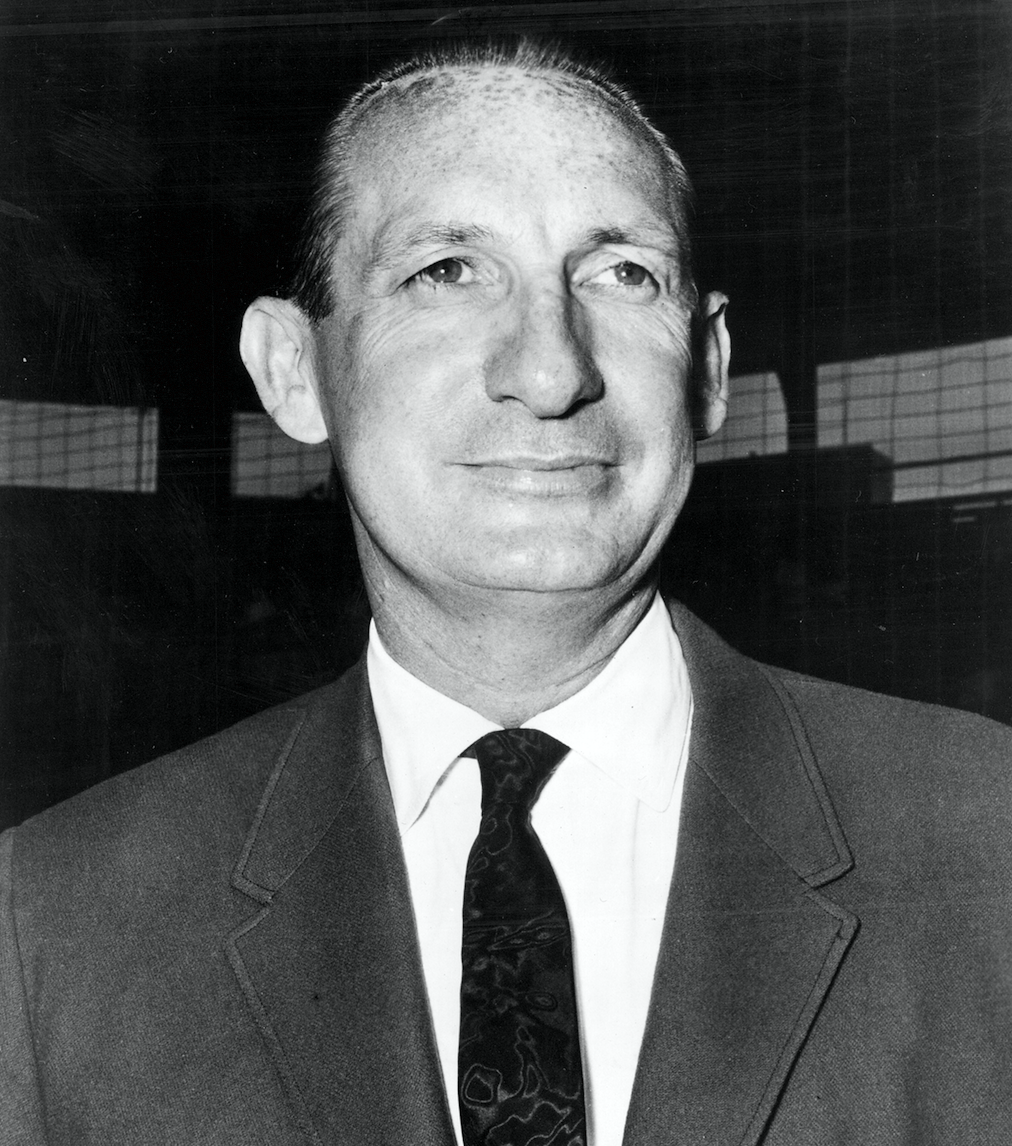 "I've done football for fun," Lindsey Nelson once said. "I did baseball for a living."1 He made an extravagant living as one of network television's premier college and pro football broadcasters while following the New York Mets from worst to first and back for the first 17 years of their history. During three decades he was among the busiest performers in radio and television.
Nelson was a football announcer at heart. Although he never played, a major influence in his life was the University of Tennessee coach, General Bob Neyland. Nelson's resume included 26 Cotton Bowls as well as the Rose, Sugar, Gator, Sun, and Liberty bowls. He once called six bowl games in a month. He worked CBS's NFL telecasts for 21 years and was the voice of Notre Dame football for 13 seasons on a Sunday highlight show that was seen nationwide.
In his spare time, he covered a heavyweight championship fight, basketball, bowling, bobsledding, tennis, and golf. "What didn't you do?" a writer asked. "Rest," Nelson replied.2
He won practically every honor available to a sports announcer with a style that was deliberately bland. "Bob Neyland once told me at Tennessee that Howard Johnson's has 28 flavors of ice cream, and the one that sells the most is vanilla," Nelson explained. "He said, 'Give me the football game—who's carrying the ball, what yard line, and who tackled him. Not a lot of funny stories.'"3
Nelson's broadcasts were vanilla, but not dull. Wherever he set up his microphone, he sounded as if there was no place he would rather be. He was blessed with a rich voice tinged with a Southern accent. Like many announcers trained in the heyday of AM radio, he learned to convey excitement without screaming. His enthusiastic personality, on and off the air, was designed to offend no one, and that was one of the secrets of his survival in the often cutthroat world of big-time sports broadcasting.
As a counterpoint to his middle-of-the-road persona, Nelson adopted the garish sport coats that became his trademark on Mets television broadcasts. The coats were described in the lingo of the 1960s as "psychedelic." A better word is "ugly." CBS News commentator Andy Rooney, who had known Nelson in the army, said he "was better dressed then than he is now."4 Nelson started his collection by going into a store and asking a salesman for all the jackets he couldn't sell. At one point he owned 335 of them. If you didn't hear him coming, you would certainly see him.
He was among the most popular announcers with his peers and with sportswriters, who were notoriously critical of the highly paid voices. He faced the world with a sunny outlook despite tragedy: a disabled child and the early death of his wife.
Lindsey Nelson was born in a cabin—well, more like a shack—near Campbellsville, a crossroads in middle Tennessee, on May 25, 1919, the youngest of three children of John L. Nelson and the former Asie Baker. When Lindsey was 4, the family moved to Columbia, a larger town about 40 miles south of Nashville. John Nelson sold tombstones and drank; his wife took in sewing to help pay the bills. She also made the children's clothes. Lindsey and his brother, James, wore shirts that buttoned on the wrong side because their mother was left-handed.
One of young Lindsey's earliest memories of radio was Graham McNamee's NBC broadcast of the second Jack Dempsey-Gene Tunney heavyweight title fight. McNamee said he was so close to the ring that he could "reach out and touch the canvas."5 Being close to the action in a faraway place sounded like heaven to the 8-year-old.
He became a child orator, declaiming at church revivals and Rotary clubs. By the time he reached high school he was writing for the local paper, playing first base for the varsity baseball team (good field, no hit), and officiating basketball and baseball games. He was refereeing girls basketball when he first saw his future wife, Mickie Lambert. He fouled her out of the game.
At the University of Tennessee in Knoxville, Nelson got free room and board, including a seat at the athletes' sumptuous training table, in return for tutoring the players. Coach Neyland ran a football factory that churned out dozens of future coaches, valuable contacts for the skinny kid who had corrected their papers.
He served as a press box spotter for broadcasters and sportswriters, and made his radio debut when one of the football announcers urgently needed a bathroom break, leaving Nelson to read the halftime statistics.6 When the unbeaten Tennessee Vols played Southern Cal in the 1940 Rose Bowl, Nelson hitched a ride to California and spotted for Bill Stern, NBC's star announcer. Stern's play-by-play accounts often bore only a passing resemblance to what was happening on the field, but Nelson said Stern taught him how to build drama in a broadcast.
After graduation in 1941, Nelson received his ROTC commission as a second lieutenant in the peacetime army. Soon he was in the wartime army on a five-year slog through North Africa, Sicily, and Europe as a public relations officer. He formed a friendship with Ernie Pyle, the most famous war correspondent, served under William Westmoreland, the future Vietnam War commander, and "met" the flamboyant General George Patton, who was sitting on the toilet at the time.
Although he was a staff officer, not a combat soldier, Nelson saw enough horror that he refused to write about it in his autobiography. He said the wartime experience "cannot be shared with anyone who was not present."7 Released from active duty at age 26, he returned to Tennessee to marry his high school girlfriend. Mickie's given name was Mildred, but she had lived in Detroit for a while and was nicknamed after Tigers manager Mickey Cochrane.
Their first child, Sharon, was born in 1948 with Down syndrome. The fragile little girl became Mickie's lifelong project. A doctor later told Lindsey, "Mickie reached down, pulled her up by the bootstraps, and made a person out of Sharon." Her father wrote, "Sharon has been, and is, a joy."8
The former Captain Nelson was "struggling at readjustment" to civilian life when he landed his first radio job with WKGN in Knoxville, broadcasting high school football, midget car races, and a few games of the minor league Knoxville Smokies.9 In 1948 he founded the Vol Network to air University of Tennessee football on stations around the state. That led to his first national exposure on the Liberty radio network. He joined Liberty's stable of announcers, who re-created major league baseball games from a Dallas studio and broadcast college football live on more than 400 stations.
Nelson's big break came courtesy of Bill Stern. Stern, who had had his left leg amputated, was a morphine addict. He disappeared just before a golf tournament in Dallas, and NBC sports director Tom Gallery enlisted Nelson as an emergency replacement. Gallery brought Nelson to New York as his assistant in 1952.
At first Nelson's job was behind the cameras as producer of the network's college football telecasts, with the Yankees' Mel Allen as the number-one announcer. Nelson soon wangled his way into the announcing rotation and became a mainstay on Saturday afternoons. His usual partner was Red Grange, the greatest football hero of the Roaring Twenties.
In one of Nelson's first Cotton Bowl broadcasts, in 1954, Rice halfback Dickie Moegle sprinted down the sideline with an open road to the end zone. Suddenly a player jumped out from the Alabama bench and tackled him. Nelson immediately told viewers that Rice would be awarded a touchdown, and the referee confirmed it. Nelson later confessed that he had never heard of the rule until the night before, when Grange mentioned it while they were discussing freak plays.
Nelson returned to baseball when NBC began Saturday afternoon broadcasts in 1957. CBS was riding ratings success with the grammatically challenged Dizzy Dean on its Saturday Game of the Week, and NBC affiliate stations wanted a piece of the action. CBS had locked up almost all major league teams on exclusive contracts; NBC's series began with only Braves, Pirates, and Senators home games.
The games were blacked out in major league markets and in minor league cities when the local team was playing at home. Network telecasts were seen primarily in the South and West, fertile ground for Dean's country-boy shtick. Nelson, working with Leo Durocher and later Fred Haney and Joe Garagiola, played it straight and left the comedy to Diz, but he never caught up to Dean's ratings.
After 10 years with NBC, Nelson left to join the expansion Mets broadcast team in 1962 with Bob Murphy, who had called games for the Red Sox and Orioles, and former home run king Ralph Kiner. A move from network to local radio and TV was a big step down, but Nelson had noticed that local baseball broadcasters enjoyed longer and more stable careers than network announcers. He thought the Mets job was perfect because, with the expansion team, he wouldn't be replacing another announcer who had built a following. Besides, NBC had lost the rights to both college and pro football, leaving him with little to do.
Nelson said he was looking forward to working seven months and taking the rest of the year off. He bought a beachfront home on Long Island and a set of Mets season tickets so he could look down from the booth to see his wife and daughters. (A second daughter, Nancy, was born in 1954.) But his football itch proved too strong. Before the baseball season was over, he signed up for CBS's college telecasts.
The miserable Mets lost 120 games in their first year, the most by any big league team in the 20th century. They were an embarrassment.
The fans loved them. The reason, Nelson maintained, was their manager, Casey Stengel. "He was the happiest man I ever knew," Nelson said. "He was doing what he wanted to do and he loved every moment of it."10 Stengel was 72 and sometimes showed it. He called pitcher Bob Miller "Nelson" and called the broadcaster "Miller." The real Nelson said, "Just because he couldn't remember your name didn't mean he couldn't sit down and give you a lesson about the pickoff play or how to pitch to a certain hitter."11
The Mets lost more than 100 games in each of their first four seasons. "They played for fun," Nelson said. "They weren't capable of playing for anything else."12 In 1965, when the club visited Houston's Astrodome for the first time, Nelson broadcast from a gondola suspended just below the roof, 208 feet above second base. Stengel asked the umpires what would happen if a batted ball hit his announcer. The umps decided that the ball would be in play. Stengel said, "See, it's the first time my man was ever a ground rule."13 It was also the only time a broadcaster called a game from fair territory.
Miraculously, after seven losing seasons, the Mets finished first in the National League East in 1969. Miraculously, they swept the Atlanta Braves in the league championship playoffs. Miraculously, they beat the Baltimore Orioles in five games to claim the World Series championship. Nelson always said the clinching game of the Series was the highlight of his career. He called it on NBC-TV with Curt Gowdy and covered the champagne-soaked clubhouse celebration.
By then Nelson's plan for a seven-month job was a forgotten pipe dream. At one point in the 1960s all three major networks offered him football assignments. He became closely identified with Notre Dame, presenting a condensed, taped play-by-play of the Fighting Irish games on a syndicated Sunday program. A young actress, Farrah Fawcett, did the commercials for a while.
One year Nelson called 54 football games plus around 150 baseball games. Each September he worked the Mets' Friday night games, Notre Dame on Saturdays, CBS's NFL football on Sundays, and the NFL Monday night games on the Mutual radio network. He played a role in television history at the 1963 Army-Navy game when he introduced the first instant replay. The play was an Army touchdown. Nelson thought viewers might be confused when they saw it a second time, so he said, "Ladies and gentlemen, Army has not scored again."14
January and February were his vacation time; he had bought a villa on the Mediterranean island of Minorca as a winter retreat. Lindsey and Mickie had just arrived there in January 1973 when she suffered a cerebral hemorrhage and died. She was 52. The widowed Nelson never spoke of his feelings publicly, but Mets statistician Art Friedman recalled putting him to bed several times the next season after he uncharacteristically drank himself into oblivion.
The team of Nelson, Kiner, and Murphy stayed together for 17 years in perfect harmony, as all three of them remembered it. There was no formal pecking order, but Nelson was first among equals. "Lindsey would take charge," Friedman said. Kiner recalled, "For a man of his reputation, he had no ego. He never pulled rank."15 The Mets won another unexpected pennant in 1973, giving Nelson another World Series turn on NBC, but fell to their familiar spot in last place in 1977 and 1978.
Just as Nelson had surprised the television industry when he left NBC, he raised shock waves when he walked away from the Mets after the 1978 season. He was 59 years old; many local broadcasters kept going into their 70s or 80s. Nelson wanted none of that. His insecurity may have been a factor, as it was when he quit NBC. He reminded people that two New York icons, Red Barber and Mel Allen, had been fired despite their legendary reputations.
He had another reason to quit. Nelson's daughter Nancy had moved to the West Coast to attend graduate school at the University of Southern California. Not long after he left the Mets, he followed her, signing a three-year contract to broadcast the San Francisco Giants. He had always loved visiting San Francisco and wanted to try living there. He still had his Notre Dame and CBS NFL assignments to fill baseball's offseason.
In moving to the Giants booth, Nelson made the kind of career mistake he had warned against. He replaced the popular Lon Simmons, whose station had lost the broadcast rights. As far as fans were concerned, Nelson wasn't Simmons. Case closed. At the end of his contract, Nelson chose not to renew it.
His NBC boss, Tom Gallery, once called him "a professor of announcing."16 He became one officially in 1981 when he began teaching classes at the University of Tennessee. He moved back to Knoxville, into a condo overlooking Neyland Stadium, but he was still in demand. He called a few games for the Cincinnati Reds, stayed with CBS's NFL telecasts, worked some college games for the Turner cable network, and teamed with Johnny Bench on CBS radio's Saturday baseball.
A who's who of sports broadcasting trekked to Knoxville for Nelson's retirement party in 1986. Parkinson's disease forced him to stop working. The honors began piling up: election to the National Sportscasters and Sportswriters Association Hall of Fame (1979); American Sportscasters Association Hall of Fame (1986); the Ford C. Frick Award from the National Baseball Hall of Fame (1988); National Football Foundation and Hall of Fame award for "most outstanding contribution to amateur football" (1988); the Pete Rozelle Radio-Television Award from the Pro Football Hall of Fame (1990); and an Emmy for career achievement from the National Academy of Television Arts and Sciences (1991). Closest to his heart, the University of Tennessee named its baseball stadium for him.
After a fall in 1995, Nelson entered Emory University Hospital in Atlanta for treatment of Parkinson's. He died there of pneumonia on June 10, 1995, shortly after his 76th birthday.
Nelson was one of the first sports announcers to make his reputation primarily on TV, but he preferred radio. "On television, you're simply writing cutlines for the pictures," he explained. "On radio, you paint the whole canvas with words, pace and intonation. You are the listener's eyes."17
That sentiment was shared by most of his contemporaries who started in radio. But unlike so many whose play-by-play careers curdled in bitterness or rejection—Ted Husing, Bill Stern, Mel Allen, Red Barber—Lindsey Nelson was the happy warrior of the broadcast booth until he couldn't do it any longer.
Additional Sources
Sandomir, Richard. "Lindsey Nelson, 76, Broadcaster for Mets for 17 Years, Is Dead," New York Times, June 12, 1995.
Strange, Mike. "Lindsey Nelson helped put Vol Network on the dial," Knoxnews.com, June 5, 2012. http://archive.knoxnews.com/news/local/lindsey-nelson-helped-put-vol-network-on-the-dial-ep-360689627-356984291.html, accessed January 20, 2017.
Notes
Born
May 25, 1919 at Campbellsville, TN (US)
Died
June 10, 1995 at Atlanta, GA (US)
If you can help us improve this player's biography, contact us.
http://sabr.org/sites/default/files/NelsonLindsey.png
600
800
admin
/wp-content/uploads/2020/02/sabr_logo.png
admin
2017-02-15 16:23:14
2017-02-15 16:23:14
Lindsey Nelson