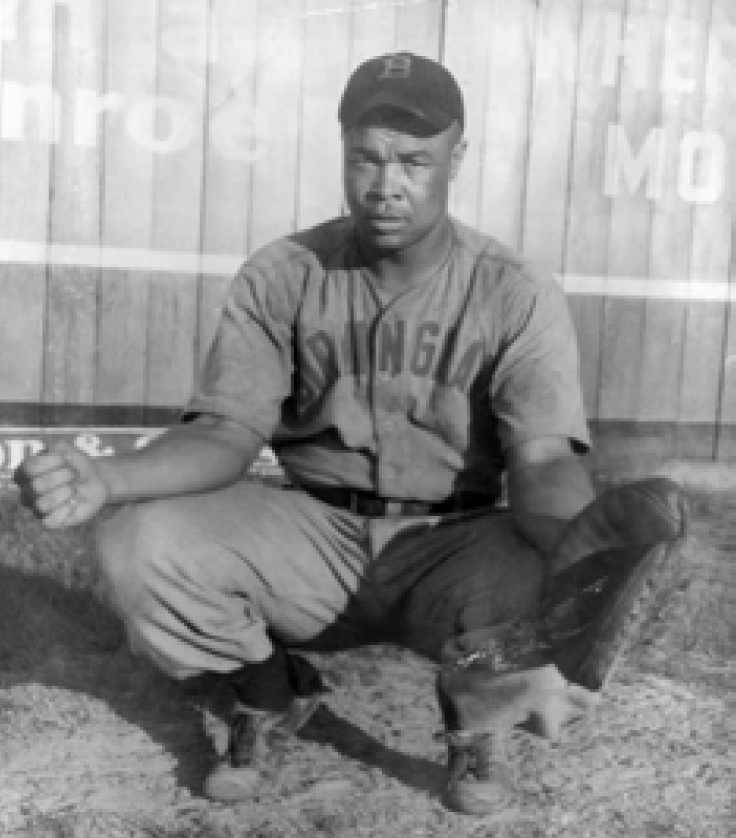 ---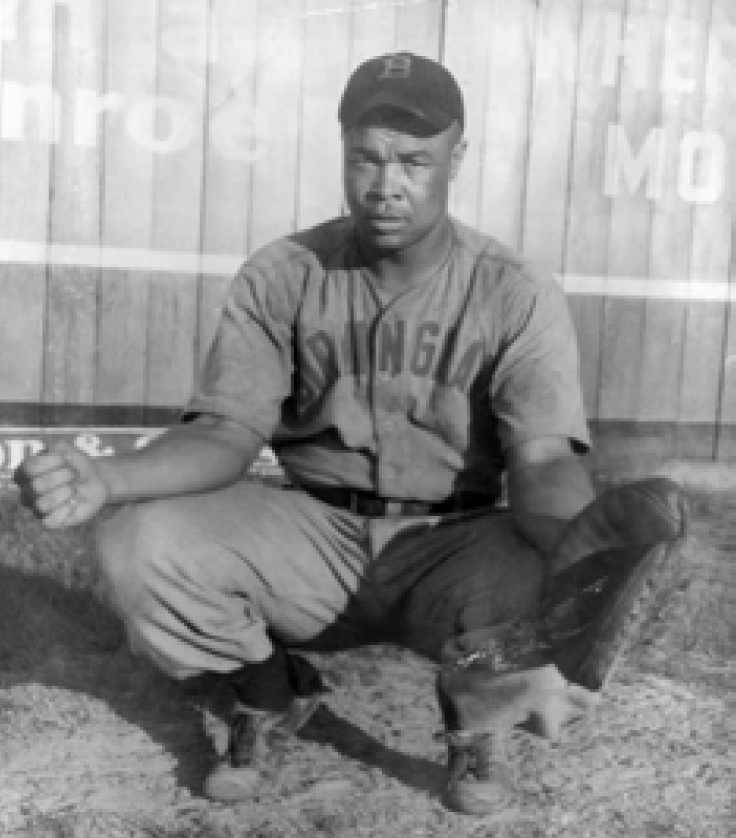 Lloyd Pepper Bassett made his name in Negro League baseball as the "Rocking-Chair Catcher." If calling a game and receiving pitches while sitting in a rocking chair seems like a gimmick, the reason is that it was one. Bassett began his professional career with the New Orleans Crescent Stars, and low attendance led him to suggest to the team's owner that he catch from a rocking chair. As Bassett later said, "I had to figure out a way to put some people in the park."1 Bassett caught only occasional games from his rocker, but the gimmick worked, and he continued to use it after moving to Texas, where he played for the Austin Black Senators, the team that had started shortstop Willie "El Diablo" Wells on his path to the Hall of Fame in the 1920s. According to Negro League umpire Bob Motley, the rocker that Bassett used "was actually smaller than a standard rocking chair, which made it easy for me to see over it and call balls and strikes."2
Although Bassett used the gimmick that gave him his nickname throughout his playing days, he was far more than a mere sideshow: he was a premier backstop who was voted into eight East-West All-Star Games in seven different seasons (he played in both games in 1939) over the course of his career. In his memoirs, Motley extolled the catcher's abilities:
"A switch-hitting slugger, Bassett had an arm like a rifle and would sometimes mow down base stealers while sitting at the edge of the rocker. Most times, however, he would leap up from the chair and fire a bullet down to second, or pick off a runner loafing at first. If there was going to be a play at the plate, Bassett would kick that rocker out the way so fast you'd think he was kicking shit off his shoes. He'd quickly position himself to make the play. … Bassett was really an outstanding catcher, truly one of the best in the league. If times had been different, there's no doubt in my mind that he would have found his way up to the majors."3
The paradox that the Negro Leagues had to exist due to segregation but were nonetheless often popular even with racially unenlightened white fans is perhaps best summed up in the words of one white Texan who asserted about Bassett, "I didn't care if I was the only white man in the stands. I was gonna see that nigger in the rocking chair."4 Bassett's prime years were behind him by the time integration of Organized Baseball began, and he never did make it to the major leagues.
Lloyd Pepper Bassett was born in Baton Rouge, Louisiana, on August 5, 1910, to Cortez Bassett and Lillie Hatter.5 No information about his parents is available, but it appears to have been important to them for their son to get an education as Bassett attended Reddy Street Elementary School and later graduated from McKinley High School.6 Along the way, however, baseball got in young Bassett's blood and, as was the case with so many youths in his time, he honed his skills by playing ball on the local sandlots after school. The details of Bassett's early life have been lost to history, but he became a professional ballplayer at the age of 23 when he joined the New Orleans Crescent Stars in 1934.
After his debut with New Orleans and his travels through Texas with the Black Senators, the burly Bassett – he stood 6-feet-3 and weighed 220 pounds – caught on with the Homestead Grays in 1936. Playing time was sparse for Bassett that season, but he made the most of his opportunities by going 7-for-22 at the plate for a .318 batting average.7 The press was complimentary, with one article asserting, "Pepper Bassett is the big league sensation behind the plate. … [H]e has become one of the best catchers in the game today."8
In March 1937 Bassett was one piece of a major trade between the Grays and their crosstown rivals, the Pittsburgh Crawfords. Gus Greenlee, the Crawfords owner, who had funded his team via his numbers lottery and had barely avoided a conviction in 1934, was running low on money. Greenlee was unable to pay his stable full of star players any longer, and he began to unload them to other teams. This circumstance led to Greenlee's trading future Hall of Famers Josh Gibson and William "Judy" Johnson to the Grays in exchange for Bassett, Henry "Little Splo" Spearman, and $2,500, which was "reportedly the largest sum involved in a player deal in black baseball to date."9
Bassett never attained Gibson's level as a player, but he was an adequate replacement for the legend in 1937, batting .377 over the course of 18 Negro National League games for the Crawfords.10 His performance was good enough to win him a starting spot in that year's East-West All-Star Game, and he was the leading vote-getter among catchers with a total of 41,463.11 In the game, which was played before 25,000 fans at Chicago's Comiskey Park on August 8, Bassett went 0-for-3 with the bat. Perhaps to make up for this shortcoming, the Pittsburgh Courier was effusive about his defensive performance, stating, "Practically sitting  on his heels, he swayed as he snatched the fast and slow ones as they came skipping across the plate, and then tossed 'em back without shifting his position."12
Bassett returned to the Crawfords in 1938, but his batting average dipped precipitously to .250 in 17 league games.13 Greenlee attempted to turn Bassett into his main attraction and "had a multicolored rocker built" for Bassett to use in "selected nonleague games," from which he swore the catcher could "knock a gnat off a dwarf's ear at a hundred yards."14 Greenlee's efforts were not enough to save the franchise. At the end of the season, his financial situation compelled him to disband the team, and he sent Bassett a letter to inform him that he was now a free agent; these "new circumstances left (Bassett) unable even to cash his final $53 check from the Crawfords."15
Bassett joined the Negro American League's Chicago American Giants for the 1939 season, where his batting average plummeted to .202 as he went only 21-for-113 in 30 league games.16 His defensive prowess was such, however, that he was still selected to the West team for that year's two East-West All-Star Games. As he done in 1937, Bassett led all catchers with a total of 502,394 votes, which was second among all players to first baseman Ted Strong's tally of 508,327.17 In the first game, played at Comiskey Park on August 6, Bassett caught the first four innings and took part in a double play behind the plate while going 0-for-2 with the bat. He repeated his 0-for-2 batting performance in the second All-Star Game, which was played at Yankee Stadium on August 27.
In 1940 Bassett became one of the many Negro Leaguers who jumped to the Mexican League, where he played for the Nuevo Laredo Tecolotes and batted .230 with eight home runs.18 After his foray into Mexico, Bassett returned to the Chicago American Giants for the 1941 season. In spite of an abysmal .174 average in only eight league games, his popularity was such that he was once again the starting catcher for the West team in the July 21 All-Star Game at Comiskey Park. Once again the honor of playing in the game had to suffice as Bassett went 0-for-1 at the plate and allowed the East's second run of the game to score when he was charged with a passed ball in the first inning of the West's 8-3 loss.
In 1943 Bassett joined the barnstorming Ethiopian Clowns, a team with a name and a show-business flair that seemed suited to his rocking-chair routine. He continued to play for the team after it was relocated to Cincinnati in 1944 and became a member franchise of the Negro American League. Statistics for Bassett's two seasons with the Clowns are unavailable, but he added new forms of showmanship to his game that he continued to use throughout his career. Fellow catcher James Dudley, who played for the Baltimore Elite Giants, later remembered, "That guy [Bassett] lay down in the dirt like a little child playing. He'd tell the pitcher, 'Throw hard 'cause you can't throw bad.' It didn't make no difference where the ball went in that dirt, he got it."19
Dudley's reminiscence about Bassett's catching acumen was an example of how well the rocking-chair catcher had developed that aspect of his game. In fact, Bassett's focus on defense led to his contribution to the history of baseball equipment. According to Negro League historian Donn Rogosin:
"[Bassett] found that the 1930-style catcher's mitt with its pillow-like design was unsatisfactory, particularly when a quick release was needed to get the runner stealing second. Experimenting, he gradually removed more and more of the padding, toughening up his hand in the process. Unknown to history, he helped create the 'squeezer' style of catcher's mitt."20
In light of Bassett's serious effort to be a first-rate backstop, it made sense for him to leave the Clowns, which he did when he signed with the NAL's Birmingham Black Barons in 1944. As a part-time starter, Bassett batted .212 for the powerful Birmingham squad, which won the NAL title and faced the Homestead Grays, one of his former teams, in the Negro League World Series that year. As fate would have it, however, Bassett and at least three other Black Barons – including Tommy Sampson, John Britton, and Leandy Young – were involved in a car accident in which a drunk driver hit their vehicle head-on. Sampson, who had been driving and who had suffered the worst injuries, recalled:
"I got hurt the week before the [1944] World Series. I think we had played in Louisville, I believe, and we were on our way to Birmingham when we had the accident. I was out 'til that next spring. I was in the hospital, I think, almost 13 weeks. I had a broken leg, head busted, and everything."21
Though Bassett's injuries were minor compared to Sampson's, he also missed out on playing in the World Series, which Birmingham lost to Homestead in five games.
Bassett settled into his role as a platoon catcher with the Black Barons and stayed with the team through the 1950 season; after a year in Canada, he rejoined Birmingham for the 1952 season, his last with that franchise. Statistics are scarce for the 1945-47 seasons with Birmingham, but Bassett did make it to his first East-West All-Star Game with the Black Barons in 1947. He played in the second of the two All-Star Games, which was held on July 29 at the Polo Grounds in New York, and registered his first-ever hit in such a game as he went 1-for-2 with the bat. In the offseason after 1946 and 1947, Bassett also plied his trade – by all accounts sans rocking chair – in the Cuban Winter League.
In 1948 Bassett had his finest season with the Black Barons as he went 43-for-123 to post a .350 batting average. Once again he played in the second of that season's East-West Games on August 24 at Yankee Stadium; this time, he reverted to a 0-for-2 batting line in the contest.
At 38 years of age and with 14 years of professional experience, Bassett had also attained the status of grizzled veteran. Birmingham's youngest player, 17-year-old Hall of Fame-bound Willie Mays, learned a hard lesson from Bassett about the pecking order among players on one particular bus ride. According to Mays' biographer James S. Hirsch:
"One night, over a long, bumpy road, (Mays) was jounced so badly that he moved to the front of the bus to sit with Bassett. … Willie tried to get him to move, but he wouldn't. So Willie asked [manager Piper] Davis, sleeping nearby, for assistance, but Bassett opened his eyes and growled, 'You better get away from me.' He took a swing, missed, and hit an overhead rack. Willie retreated."22
Team chemistry was normally better, though some of the other veterans also were initially resentful of the youthful Mays, and the team won the NAL pennant. After defeating the Kansas City Monarchs in the NAL playoffs, they once again faced the Homestead Grays in what became the last Negro League World Series. This time around, Bassett got to play in the Series, though his fortunes were much the same as in the majority of his All-Star Game appearances: In Game One he was thrown out at the plate in the eighth inning of a game that the Black Barons lost, 3-2.23 Birmingham again lost to Homestead in five games, just as it had in 1944; it was their third loss to the Pittsburgh-area squad in three World Series; they had also fallen in seven games in 1943.
The halcyon days of the Negro Leagues were past after 1948, due almost exclusively to the integration of Organized Baseball. Bassett was too old to merit consideration by either a minor-league or major-league team, so he remained with the Black Barons; he batted .295 in 1949 and .271 in 1950.24 On August 20, 1950, at Comiskey Park, Bassett went 1-for-1 with a double in his final East-West All-Star Game as a Black Baron.. During his lengthy stint with Birmingham, Bassett was known for "a propensity for fancy clothes and fine ladies that matched his hitting prowess."25 He also had become a fan favorite who, according to sportswriter Ellis Jones, was "one of the most popular players ever to wear the livery of the Black Barons."26
In spite of his popularity in Birmingham, the 1951 season found Bassett playing in his third different foreign country when he went north to join the Brandon Greys of Canada's ManDak (Manitoba-Dakota) League. Bassett may have been struck by the irony of playing for a team whose name, though spelled differently, was the same as that of the nemesis that had prevented him from being part of two Negro League championships, but it would become a sweet irony by the end of the season.
On June 28 Bassett won a game against the Elmwood team in dramatic but unusual fashion. Brandon trailed 6-5 in the bottom of the ninth inning and had two men on base when Bassett came to bat and belted what appeared to be a game-winning home run. The ball was "clearly heading out of the park, [but it] hit a guy wire and fell back onto the playing field. He was awarded a triple."27 The hit still resulted in two RBIs that gave the Greys a 7-6 come-from-behind victory. For the season, Bassett batted .251 with 2 homers and 23 RBIs for Brandon.28
Bassett played a key role in Brandon's playoff fortunes as he doubled and scored the winning run in the 10th inning of a 2-1 victory over Carman on September 4. Ten days later he was behind the plate as Brandon defeated the Winnipeg Buffaloes, 5-3, to win the ManDak League's title. 29 After losing twice to the Negro League's Homestead Grays, Bassett finally had become a champion with the Brandon Greys.
In 1952 Bassett returned to the warmer climes of Birmingham, where he now split the catching duties with Otha Bailey. The rigors of catching were getting to be too much for Bassett's now 42-year-old body, and Bailey recalled, "He'd catch four and I'd catch five, but then if the game get real tight, I would come in as a defensive catcher 'cause I could move faster and get a lotta balls that he don't get 'cause he's big and kinda old, too. … Later on, I was the startin' catcher."30
Clearly, Bassett's career was nearing its end. He began 1953 with the Philadelphia Stars but spent most of the season with the Memphis Red Sox. He had one last hurrah as a player when he took part in his eighth All-Star Game as the starting catcher for the West team. In the game, which was played at Comiskey Park on August 16, Bassett went 0-for-3 in the West's 5-1 triumph over the East. Bassett's final season was spent with the Detroit Stars in 1954.
Though Bassett's career has been documented fairly well, not much is known about his personal life. He did marry Exidena Johnson in April 1941, but the couple never had any children. When Bassett's playing career ended after the 1954 season, they ended up in California, where he worked as a janitor until he died on December 28, 1980, in Los Angeles.31 Even his death remains shrouded in mystery, as former pitcher Bill Beverly once told an interviewer, "He's [Bassett] passed. There's two conflicting stories. One said he was killed in California with marked cards and another one said that he just passed."32 Though Bassett is gone, the Rocking-Chair Catcher lives on in baseball lore.
This biography appears in "Bittersweet Goodbye: The Black Barons, the Grays, and the 1948 Negro League World Series" (SABR, 2017), edited by Frederick C. Bush and Bill Nowlin.
Notes
1 Donn Rogosin, Invisible Men: Life in Baseball's Negro Leagues (Lincoln: University of Nebraska Press, 1983), 143.
2 Bob Motley with Byron Motley, Ruling Over Monarchs, Giants & Stars (New York: Sports Publishing, 2012), 121.
3 Ibid.
4 Rogosin, 143.
5 Some well-known sources, including James A. Riley's Biographical Encyclopedia of the Negro Leagues and The Negro Leagues Book by Dick Clark and Larry Lester, give the year 1919 for Bassett's birth. However, Bassett's 1940 World War II draft registration form lists his birth year as 1910. Bassett also gave his full name as Lloyd Pepper Bassett, indicating that Pepper was his middle name rather than a nickname.
6 Lloyd Pepper Bassett file, National Baseball Hall of Fame, Cooperstown, New York. Thanks to Negro League historian Leslie Heaphy for providing information from Bassett's HOF file.
7 baseball-reference.com/register/player.cgi?id=basset000llo, accessed February 3, 2017.
8 "Colored Teams to Appear at Riverside Park," Portsmouth (Ohio) Times, September 16, 1936: 8.
9 Neil Lanctot, Negro League Baseball: The Rise and Ruin of a Black Institution (Philadelphia: University of Pennsylvania Press, 2004), 61. The Grays got the short end of this trade as Johnson retired before playing a single game for the team and Gibson jumped the team during the 1937 season to play for the barnstorming Trujillo's All-Stars with Satchel Paige; see James A. Riley, The Biographical Encyclopedia of the Negro Baseball Leagues (New York: Carroll & Graf Publishers, Inc., 1994), 314, 445.
10 seamheads.com/NegroLgs/player.php?playerID=basse01pep, accessed February 3, 2017.
11 Larry Lester, Black Baseball's National Showcase: The East-West All-Star Game, 1933-1953 (Lincoln: University of Nebraska Press, 2001), 106.
12 Lester, 104.
13 Seamheads.com.
14 Mark Ribowsky, Josh Gibson: The Power and the Darkness (Urbana: University of Illinois Press, 2004), 166.
15 Riley, 65.
16 Seamheads.com.
17 Lester, 139.
18 Riley, 66.
19 Brent Kelley, The Negro Leagues Revisited: Conversations With 66 More Baseball Heroes (Jefferson, North Carolina: McFarland & Company, Inc., 2000), 56.
20 Rogosin, 73.
21 Kelley, The Negro Leagues Revisited, 127. Accounts of this accident vary greatly among several different sources, and Sampson did not go into detail about the accident in his interview with Kelley. One discrepancy involves how many players were riding in Sampson's car. No one disputes that the four players named here were in the vehicle, but some accounts claim that Artie Wilson also was involved in the accident and that he suffered a sprained wrist: however, Wilson played in the World Series and batted .271. In an April 13, 2017 phone conversation with the author, Artie Wilson, Jr. confirmed that his father had not been involved in the accident. The second discrepancy involves the extent of Bassett's injuries, with some sources stating that he incurred only minor cuts and bruises while other sources claim that he suffered two broken ribs; since Bassett did not play in any of the five World Series games, the latter accounts appear more likely to be accurate. All sources agree that Britton suffered a thumb injury and Young a hip injury.
22 James S. Hirsch, Willie Mays: The Life, the Legend (New York: Scribner, 2010), 50-51.
23 "Grays Score First Win in World Series," Afro-American, October 2, 1948: 9.
24 negrosouthernleaguemuseumresearchcenter.org/Portals/0/Birmingham%20Black%20Barons/Statistics%20-%20Birmingham%20Black%20Barons.pdf, accessed February 3, 2017.
25 Tim Cary, "Slidin' and Ridin': At Home and on the Road with the 1948 Birmingham Black Barons," Alabama Heritage, Fall 1986: 26.
26 Ibid.
27 Barry Swanton and Jay-Dell Mah, Black Baseball Players in Canada: A Biographical Dictionary, 1881-1960 (Jefferson, North Carolina: McFarland & Company, Inc., 2009), 26.
28 Ibid.
29 Ibid.
30 Brent Kelley, Voices From the Negro Leagues: Conversations With 52 Baseball Standouts (Jefferson, North Carolina: McFarland & Company, Inc., 1998), 280.
31 Lloyd Pepper Bassett file. As is the case with Bassett's birth year, a different death year is found in some sources. Baseball-Reference.com is one source that lists Bassett's death date as February 27, 1981; however, the state of California's Death Index shows that Bassett died on December 28, 1980.
32 Kelley, Voices From the Negro Leagues, 284.
Born
August 5, 1910 at Baton Rouge, LA (US)
Died
December 28, 1980 at Los Angeles, CA (US)
If you can help us improve this player's biography, contact us.
https://sabr.org/sites/default/files/LloydBassett.png
600
800
admin
/wp-content/uploads/2020/02/sabr_logo.png
admin
2017-08-21 14:01:15
2021-09-17 01:14:47
Lloyd Bassett