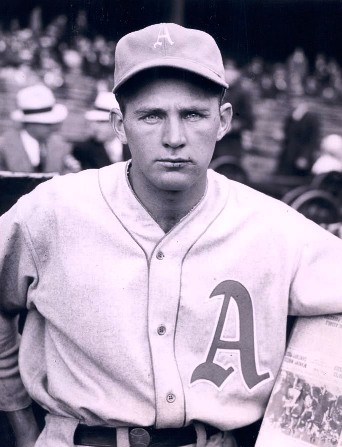 ---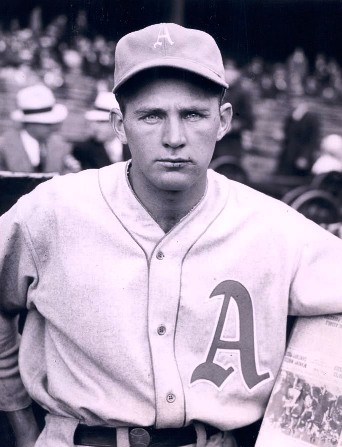 Lou Finney was a tough man to strike out. A fast, feisty left-handed hitter with line-drive power, Finney made contact often enough and was versatile enough in the field to play an important role first for Connie Mack's Depression-era Philadelphia Athletics and later for Joe Cronin's World War II-era Boston Red Sox.
A scrappy, curly-haired Alabaman who spoke with a Southern drawl, Finney stood 6 feet tall and weighed 180 pounds; batted from the left side; and threw from the right. He spent 15 years in the major leagues between 1931 and 1947, and fanned just 186 times in 4,631 at-bats, or only once for every 24.9 official turns, one of the 50 best ratios in major-league history.
A .287 career hitter who hustled whenever he was on the field, the fiery Finney slugged just 31 big-league home runs, but hit 203 doubles and 85 triples. Although he could scamper around the bases, he was not a strong basestealer and swiped just 39 sacks in 84 tries. A top-of-the-order slap hitter, Finney scored 643 runs and drove in 494. He collected 1,329 career hits and walked 329 times to post a .336 on-base percentage.
At his best in his natural position, right field, Finney also played first base for Mack and Cronin. "What almost clinches a post for Finney is the fact that he can play first base like a regular," James Isaminger wrote for The Sporting News. "He is great on ground balls and handles all kinds of throws. He really is an artistic first sacker. A man who can play both first and the outfield as Finney does is too good to be turned loose." Most often a reserve, Finney still appeared in 100 or more big-league games in seven seasons.
He was highly competitive – Jimmie Foxx once said, "He's a guy that'll cut your heart out to win a ballgame" — and loved to needle opponents. Sporting News editor J.G. Taylor Spink recalled in a story about player superstitions, "Bobo Newsom, the garrulous Senator slinger, also has an allergy for small pieces of paper. It was worked to the limit one day by Lou Finney, who, along with the rest of the Athletics, was being mesmerized by Bobo's fast ball. As he took the field one inning, Finney stuffed a newspaper in his pocket. Out in right field, he tore the thing to little bits, and spilled them all over the mound as he came into the dugout after the third out. Newsom went into a tantrum; park attendants had to be called to clean up the wind-blown bits before Buck would agree to pitch again. By that time he was well cooled out again and the A's hitters knocked him out of the box."
A fine all-around athlete "who never has any winter weight to melt," Finney continued his career as a passionate player-manager in the minors when his major-league career ended. Later, he returned home to Alabama to run a small business with his older brother, Hal, a former National League catcher.
Louis Klopsche Finney was born on August 13, 1910, in Chambers County, Alabama, the fifth of Charlie and Mary (Wilson) Finney's 10 children. The Finney family came to America from Scotland before the Revolutionary War and members of the clan served under the Stars and Bars on the side of the Confederacy during the Civil War. Charlie and Mary were of Scottish and Irish descent, were both native Alabamans, and were both educated. They married in 1902. A year later, daughter Ida was born. Their first son, Harold, nicknamed Hal, followed in 1905 (though some sources list 1907). Jack was born in 1906, daughter Rebecca arrived in 1908, and Louis (listed in both the 1920 and 1930 United States Census as "Lewis"), two years after that. Mary had read an inspirational biography of German author Louis Klopsche, a German immigrant who founded the Christian Herald, and tagged her son with the unwieldy moniker. After Louis arrived, Sarah, John, May, Bettie, and finally William, who was born in 1924, followed.
Lou's birthplace is listed as Buffalo, and Hal's as La Fayette (often spelled "Lafayette"), though it is possible both were born on the 1,200-acre cotton and oats farm the family owned in White Plains, a short distance from each town. Buffalo, a half-mile north, was the Finney family's mailing address and La Fayette, five miles to the south, is the Chambers County seat and the 1914 birthplace of boxing legend Joe Louis. Chambers County is located in the middle of the eastern edge of Alabama, along the Georgia border, and between Montgomery, Alabama, and Atlanta, Georgia. Charles and Mary's children attended school five miles north and east at Five Points. Oldest brother Hal went on to play baseball at Birmingham Southern College, about 120 miles west and north of the family home. Jack, perhaps the finest athlete in the Finney family, played football for Birmingham Southern, though injuries cut his career short. Lou left high school to follow his brothers to the college, but quit after he fractured both legs in a football game. He returned home and earned his diploma from Five Points High, where he starred as a third baseman for the baseball team and lettered in football and basketball.
Finney played semipro baseball at Akron, Ohio, in 1929, but when the 1930 Census reached the Five Points Hamburg Region of Chambers County in April, "Lewis" was back on the family farm and at work at a rubber plant. Legend suggests that he was seated behind two mules in late June 1930, when a neighbor informed him that the Carrollton (Georgia) Champs of the Class D Georgia-Alabama League needed an outfielder. Finney answered the call. Just 19 years old, he launched a barrage on the league in his first season in organized baseball. He batted .389 with 17 doubles and 7 home runs before Carrollton and Talladega, the league's cellar dwellers, disbanded on August 14.
By that time, he had been spotted by Ira Thomas, a scout for Connie Mack's Athletics. Philadelphia purchased Finney's contract after the 1930 season and assigned him to the Harrisburg (Pennsylvania) Senators of the Class B New York-Pennsylvania League for 1931. However, he failed to impress the Harrisburg manager and was transferred to the York (Pennsylvania) White Roses in the same league. At York, he resumed his assault on minor-league pitchers. He batted .347 for manager Jack Bentley and earned The Sporting News' All-NYP honors.
Mack purchased the young Alabaman's contract for the season's final weeks. Just a month past his 21st birthday, Finney made his big-league debut for the Tall Tactician on September 12, 1931, against the St. Louis Browns. The Athletics were in the midst of a 19-game home stand, and Finney appeared in nine games – all at Shibe Park – and rapped out nine hits, including a triple, in 24 at-bats. He scored seven runs and drove in three in his three-week stint.
Finney spent the 1932 season with the Portland Beavers of the highly competitive Pacific Coast League. Often called the Third Major League, the PCL boasted a number of future and former major leaguers. Two of the best in 1932 were Finney and fellow Philadelphia farmhand Michael Franklin "Pinky" Higgins, both of whom made The Sporting News' All-PCL team. One or the other was among the league leaders in every offensive category to propel Portland to the PCL pennant with a 111-78 record. Finney slapped 268 hits and batted .351 with 7 triples, all team highs, and finished third in the league's Most Valuable Player voting. Sporting News correspondent "Beaver-Duck" reported that "Lou Finney is just about the sensation of the league in right field. In batting, fielding, and throwing, but above all in pepper and hustling spirit, this 22-year-old looks like a certain major leaguer. He loves to play, does his best work in the pinches, and does it with the eager enthusiasm of a youth to whom winning the game for his team means much more than base hits for his individual average."
Still 22 years old, Finney rejoined the Athletics and his Portland teammate Higgins, who was Philadelphia's third baseman in 1933. Finney enjoyed a splendid spring training and was viewed as a replacement for Al Simmons, one of baseball's all-time great outfielders, whom Mack had traded to Chicago before the season. Finney was "emulating Ty Cobb of a quarter-century ago with his base-running," Bill Dooley gushed in The Sporting News.
"I think Finney will not be long in making Mack forget Simmons," Dooley wrote. "Not a slugger like the great Milwaukeean, Finney is none the less a sharp hitter and a lot faster than Simmons. Here is a lad whose baserunning will open a lot of eyes. He is not only fast on the basepaths, but alert and daring. Any fielder who loafs in returning one of Finney's hits to the infield will find him taking an extra base."
Dooley was also impressed by the "Alabama flychaser's" desire to improve. "Finney didn't know how to slide into a bag when he reported to the Athletics this spring. One of the first requests he made of the coaching staff was a sliding pit. He practiced in it day after day until he learned." When the regular season started, Finney was still hot. But he was nervous and quickly cooled off, and Mack sold his contract with the right to recall the outfielder on 24 hours' notice, to Montreal of the Double A International League. There, Finney hit .298 with 23 extra-base hits in 65 games. His second home run for the Royals came on his last at-bat, on August 15, after Mack notified Montreal to return Finney to Philly. The sudden recall derailed the Royals' playoff hopes and created friction between Montreal and Mack. Back in Philadelphia, Finney continued to hit well.
For the season, he played 63 games as an outfielder, appeared in 11 additional games as a pinch hitter, and batted .267 with 12 doubles and 3 home runs in 240 at-bats.
Between seasons, there were rumors that Mack would trade the youngster to Boston, but when the 1934 season opened; he was Philadelphia's fourth outfielder behind Indian Bob Johnson, Doc Cramer, and Ed Coleman, and sometimes spelled slugger Jimmie Foxx at first base, roles he reprised the next year. Finney played in 201 games in 1934 and 1935, batted .276, and though he hit just one homer in the two seasons, he smacked 22 doubles. In the early summer of 1934, he fell ill and while he was away from the team, and rumors circulated that he was really a Polish player named Louis Klopsche. Finney felt compelled to assure his teammates on his return that the reports were errant and writer James Isaminger told for the first time the story of Finney's naming. The Alabaman was a valuable stopgap for Mack in those two seasons. When Higgins was hurt in 1934, Foxx moved to third and Finney held down first, and when rookie Wally Moses crashed into a fence and was injured in 1935, Finney moved back to the outfield. In 1935, Mack sent Foxx behind the plate 26 times and played Finney at first, but a spate of Athletics injuries nixed the experiment.
In June 1935, soon after teammate Merritt "Sugar" Cain was traded to St. Louis, he and Finney fought fiercely before a game at Sportsman's Park. Cain, a Georgian, first knocked Finney down, and then the Scotsman from Alabama bounced up and decked Cain twice, then pounced upon him. The Sporting News described the intensity, but not the reason for the brawl. Shortly after the grudge match between the two – who had been teammates not only with the A's but with Carrollton — Finney was hit by a batting-practice line drive that fractured his left thumb and he missed 10 days.
Mack continued to feel the effects of the Depression and declining attendance at Shibe Park, and dealt the powerful Foxx to Boston before the 1936 season for players and cash. Rookie Alfred "Chubby" Dean (77 games) shared the first-base duties with Finney, who also played the outfield in 73 games. Playing nearly every day for the first time, he batted .302 in 151 games and collected 37 extra-base hits, though just one was a home run – an inside-the-park effort. The AL leader in at-bats with 653, he scored a career high 100 runs and drove in 41. On July 27, he collected five hits in a 15-8 win over the White Sox. Finney's fifth hit came in the ninth when the Athletics scored seven runs off two Chicago pitchers, the second his old nemesis Cain. Erroneously, the Associated Press article in the New York Times reported that it was Hal Finney (who didn't manage a single hit that summer in 35 at bats for the Pirates in his fifth and final major-league season) who collected the four singles and a triple for Philadelphia.
Despite Finney's fine season, he and Dean split the first base duties in 1937. (Dean, a lifetime .274 hitter, later unwisely moved to the mound and compiled a 30-46 record and a 5.08 ERA as pitcher.) Finney did play 50 games at first in 1937, made the only appearance of his career at second base, where he recorded an assist, and played 39 games in the outfield. Bouncing around the lineup and battling an ailment he picked up in Mexico in spring training, a hernia, a chronic sinus infection, and later, appendicitis, he saw his average slip to .251. He hit another round-tripper, again inside the park, his sixth home run in six major-league seasons. With 10 days left in the regular season, Finney, with Mack's consent, returned home to Alabama and underwent surgery on his sinuses, had a hernia repaired, had the inflamed appendix that had bothered him for months extracted, and had his tonsils removed.
Healthy in 1938, the 27-year-old "Alabama Assassin" enjoyed a power surge when he slugged 10 home runs – with nine of them clearing the fences. He finished fourth in the AL with 12 triples and smacked 21 doubles. He split time at first base with Dick Siebert, Nick Etten, and others, served as a fourth outfielder behind Johnson, Moses, and Sam Chapman, and played in a total of 122 games.
In 1939 Siebert started at first base and Finney batted just .136 in nine games before Mack sold him to Boston on May 9. Detroit and Boston had both claimed Finney on waivers; Mack dealt him to the Red Sox, who paid $2,500 more than the $7,500 waiver price. He joined a Boston team that boasted former teammates Foxx, Cramer, and Lefty Grove, along with 20-year-old Ted Williams, who had made his big-league debut 18 days earlier. The Alabaman enjoyed great success as a pinch-hitter – he led the AL with 13 pinch hits in 40 at-bats — then finished the season at first base after Foxx underwent an appendectomy.
For the Red Sox, Finney flourished under manager Joe Cronin and veteran scout and hitting instructor Hugh Duffy. He credited Duffy, the legendary New Englander, for teaching him to snap his wrist. The results were immediate. Finney batted .325 in 249 at-bats in his 95 games with Boston, with 22 extra-base hits, including a pinch-hit home run at Sportsman's Park. The next spring, he praised Duffy to the Boston Traveler's John Drohan, among others: "I was with the Red Sox for a week or so when Hughie Duffy, who led the National League in batting way back in 1894, asked me if I were willing to take some advice from a 76-year-old man (Duffy was actually 72 at the time). As I realized I was not going anywhere, I told him I was more than willing. Consequently, Hughie, who was one of the Red Sox coaches and batted grounders in the infield practice despite his age, converted me from a choke hitter into a batsman who grabbed his bat way down at the end and swung from the hip. He also changed my stance in the batter's box, spreading my feet a trifle further apart. He also told me to put more wrist into my swing like Ted Williams. Well, I was not hitting my weight when I left the Athletics and I wound up the 1939 season with a mark of .310, the best I ever had." The Red Sox posted an 89-62 record and finished second to the Joe DiMaggio-led Yankees, who methodically captured their fourth straight AL pennant despite the loss of Lou Gehrig to the illness that would tragically cut short his life.
In spite of a broken finger in spring training, courtesy of Cincinnati's Johnny Vander Meer, and a nagging cold, Finney enjoyed another fine season in Boston in 1940. He played in the outfield in place of the injured Dom DiMaggio, and hit so well that the Red Sox postponed DiMaggio's return, before Finney himself suffered a leg injury. When he came back, he moved to first when Foxx injured his knee in a collision. When Double-X returned, Cronin asked his team captain to play catcher for the injured Gene Desautels, which allowed the Boston manager to keep both Finney and DiMaggio in the lineup. In either position, Finney hit well. He was the first major-league player to record 100 hits that season, ranked among the league batting leaders through the summer, and finished with a .320 average, ninth best in the AL. Finney and New York's Charlie "King Kong" Keller tied for second in the league with 15 triples, four behind league leader Barney McCosky of Detroit. The 15 triples were a career best for Finney, who also achieved personal highs with 31 doubles and 73 runs batted in. He scored 73 times and was the AL's toughest man to strike out, fanning just once per 41.1 at-bats, well ahead of runner-up Charlie Gehringer of Detroit, who struck out once every 30.2 AB's. "Finney has been tremendous for us," Cronin said in June. "His hitting has won him the right-field job and I'm going down the line with him. He's a great team player. Never squawks and does a great job every day."
Finney continued to credit Duffy, and attributed some of his success to a trip to the Louisville Slugger factory. "I never had a bat I liked in my life," Finney told United Press writer George Kirksey. "So last May when the Red Sox played an exhibition game in Louisville, I went out to the bat factory to get the kind of stick I wanted. I saw some old Max Bishop models stuck away and I picked up one of them. I liked the feel of them so I had a model made up with a few minor changes. Right away I began to hit better. Then I began to watch Ted Williams and with coaching from Hughie Duffy, I learned to copy Ted's wrist action and follow-through." Duffy, who had hit .440 for the Boston Beaneaters in 1894 (SABR members' research resulted in the figure being raised from .438), was somewhat modest. "Finney goes around telling everybody I made a batter out of him, but he's exaggerating," Duffy told the Traveler's Jack Broudy. " It's true I saw several things he was doing wrong when he came to the Red Sox and we worked on them together until he straightened them out, but that doesn't mean I should get the credit for it. Lou is a fine boy and very appreciative." Duffy told another writer, "Sure I told him about the bat swing, but he worked hard in changing his style and it was by his own perseverance that he improved."
In July, Finney made his only All-Star Game appearance, and coaxed a walk from Carl Hubbell in the NL's 4-0 win. On May 11, he hit one of his two career grand slams, off Marius Russo at Yankee Stadium, to help Boston send New York to a defeat, the Bronx Bombers' eighth straight. Though never again an All-Star, he continued to provide valuable depth for the Red Sox the next two years. In 1941, Finney banged out 24 more doubles and 4 home runs, and batted .288. In 1942, he hit .285 in 113 games for the Red Sox at the age of 31. He was particularly adept in night games, collecting 14 hits in 35 after-dark at-bats between 1939 and 1941 — a .400 average, even better than the .324 mark Williams posted in 34 at-bats.
By 1942, World War II was changing the face of baseball. Players began to leave the game to enter the military or to work in industries vital to the war. After the season, Williams entered the Navy, where he served as a fighter pilot. Finney, who had applied for a chief specialist rating in the Navy at one point, returned home to the 171-acre cotton farm near White Plains, Alabama, that he and his wife, the former Margie Griffin, owned in Chambers County. Finney, who was 32 years old and had no children, had received his draft notice, and had to choose between entering military service and staying on his farm to grow food, an occupation deemed critical to the war effort. On January 11, 1943, the New York World Telegram reported, "Lou Finney, Red Sox outfielder, was told by his Alabama draft board to remain on his farm or be inducted." He voluntarily retired from the game and sat out the entire 1943 season and the first months of the 1944 campaign. In June, two weeks after the Allies invaded France on D-Day, Finney left Alabama and returned to baseball and Boston, though The Sporting News noted he weighed a hefty 225 pounds when he reported. After a week of conditioning, Finney was activated on June 25, and batted a respectable .287 in 68 games. At the end of the season, his teammates voted him a full share, $241.87, of their fourth-place money.
However, his Alabama draft board tracked Finney to Boston in August, and delivered notice that he had been called to active duty and was required to report for a medical examination. Again Finney returned to his farm. The Sporting News reported, "Now Lou must stay on the farm until the war is over, which may be too late for him to resume his play."
While Finney farmed through the first half of the 1945 season, the Allied nations subdued Germany in May, and moved closer to victory in the Pacific over Japan. Once again, Finney journeyed north to rejoin the Red Sox. Cronin, who broke a leg on April 19 and hadn't played since, inactivated himself to open a roster spot for Finney on July 15, but used the Alabaman just twice, both times as a pinch hitter, before the Red Sox sold his contract to the defending American League champion St. Louis Browns on July 27, 1945. Finney spent time at first base and in the outfield, though Pete Gray, who had lost an arm in a childhood accident, served as the fourth outfielder for manager Luke Sewell. Finney also played one game at third base, and handled one of two chances successfully. In 58 games, he collected 59 hits, including 8 doubles, in 213 at-bats, a .277 average. On August 1, he smacked a grand slam off Dizzy Trout at Briggs Field (later called Tiger Stadium), and on September 9, he scampered around the bases for the final home run of his major league career, an inside-the-park circuit clout against Washington's Alex Carrasquel at Griffith Stadium.
At 35, he returned to the Browns at the start of the 1946 season. But the war had ended the previous year, and many of the veterans had started to return to organized baseball. And though Finney collected nine singles in 30 at-bats, a .300 average, the Browns released him on May 29.
That summer, Finney returned to his roots and played 45 games at first base and in the outfield for the last place Opelika Owls and later the second-place Valley Rebels, who represented the tri-city area of Valley and Lanett, Alabama, and West Point, Georgia, in the Georgia-Alabama League. He batted .299 and clubbed six home runs for the two teams.
Finney took one more shot at the brass ring when he pinch-hit unsuccessfully four times for the Philadelphia Phillies, his only at-bats in the National League, before the Phillies released him on May 13, 1947, at the age of 36.
Less than a week later, with his major-league career done, Finney returned to the minors, this time with St. Petersburg in the Class C Florida International League. With the Saints floundering in last place and 17 games behind in the standings, his old teammate Jimmie Foxx was fired on May 17. Finney took over a few days later as a player-manager and guided St. Pete to a 71-80 record, good for fifth in the eight-team league. Primarily a first baseman, he continued to spray the ball around. He hit .308 with 26 doubles, 9 triples, and 2 home runs.
Before the 1948 season started, Finney visited the Red Sox spring training camp, where he watched rookie lefty Mickey McDermott pitching. The Sporting News reported that Finney said, "I remember hitting against him last spring. He loaded the bases in the first inning with none out, then fanned the side. I was the third one. I worked him down to 3 and 2 and took a toe-hold for what I expected to be the fast one. He broke off a Bob Feller jug that nearly unhinged my back when I swung. He fanned seven of us in the three innings he worked. I wonder if Cronin would let me have him? I'd guarantee St. Pete a pennant."
Though he didn't land McDermott or win a pennant, the Saints posted a 78-73 record in 1948 and improved to fourth with a full season under Finney. St. Petersburg's attendance of nearly 137,947 was more than 23,000 better than the year before, the second best in the league behind league champion Havana. Finney played first base and in the outfield. He hit .314, with 27 doubles, 4 triples, and 8 homers. The fiery Finney not only drew fans to the park, he got them fired up. After a 1948 doubleheader, The Sporting News reported, "The fans' ire was fanned when manager Lou Finney was tossed out of both contests. The umpires were given a police escort to their quarters, but some 500 gathered outside and refused to leave. Finally, the arbiters rode out in a police car, while policemen made way with a flying wedge through the crowd."
At the baseball meetings after the season in Minneapolis, wealthy new West Palm Beach owner Lucius B. Ordway lured Finney away from St. Petersburg, which then slumped to seventh under four different managers in 1949. Finney piloted West Palm Beach to a fifth-place finish in the league, which had moved up to Class B. The Indians posted a 74-78 record, 4½ games better than the previous year, and enjoyed an attendance increase of 8,000. Finney played in the outfield, more sparingly than in the previous year, but still batted .286 with 14 extra-base hits. And in 226 plate appearances, he did not strike out once.
Despite his success, when Ordway entered into a working agreement with Philadelphia, the Athletics picked a new manager for West Palm Beach for 1950. The Indians finished seven games worse than in 1949 and attendance fell by more than 24,000. Finney managed to catch on with Temple (Texas) of the Class B Big State League. Temple had finished last the year before, and Finney again turned things around on the field and at the gate. The Eagles improved by 17 2/3 games, to 74-70 in 1950 and attendance leapt up to 105,081, nearly 32,000 more than the year before and the best in the league. Finney batted .345 in 68 games for the fourth-place Eagles, who lost in the playoffs to regular-season champion Texarkana.
In December 1950, Finney was appointed to manage the Raleigh Capitals of the Carolina League, but resigned in February 1951 to devote time to his business in Chambers County and was replaced by Joe Medwick.
Two years later, Finney left Alabama to manage the Lincoln (Nebraska) Chiefs, a Milwaukee Braves farm team in the Class A Western League. The Chiefs managed nine more wins than they had the previous year and drew 26,000 more fans, but in the final month of the season, Finney resigned in order to again to join his brother Hal in the family feed and grain business, and was replaced by Walter Linden.
With that, Finney's baseball career came to an end. Lou ran the family firm for the remainder of his life with Hal. Like Lou, Hal broke into the major leagues in 1931. That year he played 10 games; six at catcher and four as a pinch-hitter, for the Pirates. He played 31 games the next year, and 56 in 1933, when he hit his lone homer and drove in 18 runs. He played in five games in 1934, spent the rest of that season in the minors with the Albany (New York) Senators in the International League, missed the 1935 season because of a fractured skull and an eye injury suffered in a tractor accident and started the 1936 season without a hit in 35 at-bats before the Pirates released him. The brothers worked together in Chambers County until April 22, 1966, when Lou, at the age of 55, suffered a coronary thrombosis, a blockage of a coronary artery, and died at the Chambers County Hospital in La Fayette. He was buried in the Finney family plot of the Chapel Hill Cemetery, just outside of White Plains. Hal, who died on December 20, 1991, is also buried at Chapel Hill.
Sources
The Tattersall-McConnell Home Run Log, The SABR Baseball Encyclopedia.
Daniel, W Harrison. Jimmie Foxx: The Life and Times of a Baseball Hall of Famer, 1907-1967 (Jefferson North Carolina: McFarland, 2004)
Golenbock, Peter. Red Sox Nation. (Chicago: Triumph Books, 2005)
Looney, Jack. Now Batting, Number… The Mystique, Superstition, and Lore of Baseball's Uniform Numbers. (New York: Black Dog & Leventhal, 2006)
McConnell, Bob, and David Vincent, ed. SABR Presents The Home Run Encyclopedia: The Who, What, And Where of Every Home Run Hit Since 1876. (New York: Macmillan, 1996.)
Hardball Times, vol. 9: 293-301.
Stars and Stripes, The Sporting News, Boston Globe, Boston Post. Boston Traveler, New York Times, New York World Telegram, Philadelphia Evening Ledger.
Lou Finney Hall of Fame File.
Certificate of Death #10955, State of Alabama.
American League Service Bureau, Associated Press, and United Press.
Born
August 13, 1910 at Buffalo, AL (USA)
Died
April 22, 1966 at Lafayette, AL (USA)
If you can help us improve this player's biography, contact us.
http://bioproj.sabr.org/bp_ftp/images4/FinneyLou.jpg
600
800
admin
/wp-content/uploads/2020/02/sabr_logo.png
admin
2012-01-04 20:49:34
2012-01-04 20:49:34
Lou Finney