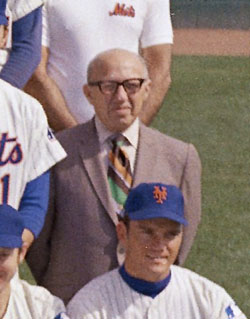 ---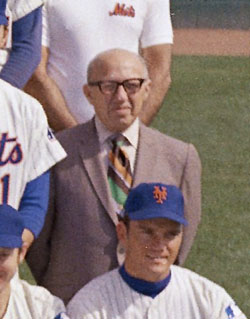 Team pictures of the New York Mets in the 1960s and '70s showed a shorter, older gentleman wearing glasses and business attire. His face could also be spotted deep within the Mets' yearbooks. Near the Yoo-Hoo chocolate drink ads featuring Yogi Berra were head shots of club officials and other employees. Devoted Mets fans who wanted to know everything about their team pored over those photos. For many, this man struck a chord. Who was he?
Lou Niss was the traveling secretary for the Mets from 1962 through early 1980. He was the first person the team ever hired in its front office.1 Yet his background lay in sportswriting, starting in the 1920s. He became sports editor of the Brooklyn Eagle in 1941, and in 1945 he formed a close long-term working relationship with Branch Rickey – then general manager and part-owner of the Brooklyn Dodgers – as Rickey prepared the way for Jackie Robinson to break the color line. Niss played a vital behind-the-scenes role in this effort that has until now gone largely unnoticed.
After the Eagle folded in 1955, Niss worked as a publicist at Yonkers Raceway. In 1959, Rickey hired Niss to handle public relations for the would-be third major league, the Continental League. When that circuit failed to get off the ground, Niss joined the Mets. He witnessed their rise from comically awful expansion team to World Series champion in 1969, followed by a descent into misery in the late '70s. Niss died in 1987 – but lived long enough to see the Mets become champs again in 1986.
Lou Niss was born Louis Nisonoff (he had no middle name) on October 5, 1903. His birthplace was Slatvyan, a town near Minsk, the capital city of what is today the republic of Belarus. It was then part of the Russian Empire, and Tsar Nicholas II was the ruler. Slatvyan is no longer visible on today's maps. Niss's great-nephew Robert Nisonoff conjectures that it was a shtetl, or small Jewish village, and that it may have been destroyed either by the Nazis or during Stalin's purges.
Lou's father, Meyer Nisonoff, had served in the Russian Army as a writer or scribe. He had also been a cantor. Meyer's wife, Basha, was a homemaker. They had five children, two of whom (both brothers) preceded Lou. Around 1904 or so, Meyer and one brother emigrated to the United States; the wives and children later followed. Lou was very small when he arrived in the U.S., and his two younger sisters were born there. The Nisonoffs first settled in Spotswood, New Jersey but later moved to New York City.2
For a time, Lou attended Flushing High School – near where his future workplace with the Mets, Shea Stadium, would later be built. Niss told in 1972 how his career started. "Then, I figured I knew everything, and I gave up going to school. I'd been fooling around writing stories for some of the local newspapers."3 According to his retirement press release, he joined the Flushing Times in 1920 and moved to the Brooklyn Times in 1923. When he got the latter job, Niss said, "I was hooked."4
A different version of the story (one unfamiliar to his family) appeared in May 1958. It said that Niss got a break in 1922 from Garry Schumacher, who later became publicity director for the New York and San Francisco Giants (1946-1971). Schumacher, not even two years older than Niss, was already sports editor of the Brooklyn edition of the New York Journal. He was also said to have hired sportswriter Tom Meany and Ned Irish, who founded the New York Knicks of the NBA, as well as Niss. The trio of youngsters (Irish was then just 17 and still in high school) worked with Jimmy Murphy, who covered scholastic sports for the Brooklyn Eagle for decades.5 Murphy gained notice as the man who recommended Sandy Koufax to the Dodgers.6
At least as early as 1930, Niss covered the "The Daffiness Boys," as the Dodgers were then known.7 Four years later, Casey Stengel began his storied career as a big-league manager in Brooklyn. He and Niss became friends; they worked together directly when the Mets came into being.
The Daily Times bought out the Brooklyn Standard Union in 1932; the merged paper was renamed the Brooklyn Times Union. Then, in 1937, the Times Union was sold to the Eagle. Niss remained with the organization throughout. "I believe that from the beginning he always wrote under the name Lou Niss," said his son Michael. The family name was not officially changed from Nisonoff, however, until around 1949, after Mike was born.8
Niss married Hazel Lois Mitchell, who came from the Bay Ridge section of Brooklyn, on September 14, 1938.9 They had three sons. The first two, Robert Jeffrey ("Jeff," who died in 2011) and Steve, graduated from the U.S. Naval Academy. The third, Mike, went to Northwestern.
Along with baseball, Niss covered the other Brooklyn Dodgers – the football team which played in the NFL from 1930 through 1944 – as well as golf and basketball. Long Island University (located in Brooklyn) was then a national power in college basketball under renowned coach and author Clair Bee.
Niss wrote non-sporting stories too. In January 1941, he interviewed Brooklyn-born war correspondent Quentin Reynolds, who was just back from England and talked about how the British were standing firm against Nazi Germany in World War II.10 After the United States entered the war, Niss served as Brooklyn sports chairman in the drive to sell war bonds. His total of $100 million in sales was his proudest achievement.11 The effort included staging a number of benefit shows at Brooklyn's Ebbets Field. One such show, on April 13, 1944, featured Frank Sinatra at the height of his early popularity as a singer. Niss later told his son Steve how it happened. An Eagle reporter saw Sinatra in a restaurant; the reporter called Niss and asked if he should approach the star about taking part. Lou was doubtful, but said to ask anyway. Sinatra replied that he had heard about the good work and that he would definitely be there. There was skepticism about whether "The Voice" would really show up, but he did – photos of the day show him wearing a Dodgers cap. It was the only time Niss met Sinatra, but his impressions were very positive.12
Niss also covered boxing at its highest level. On January 9, 1942, at Manhattan's Madison Square Garden, the great Joe Louis defended his heavyweight title for the 20th time, knocking out Buddy Baer in the first round. The crowd included notables Dan Topping (then owner of the football Dodgers, later co-owner of the Yankees), Larry MacPhail (president and GM of the baseball Dodgers), and Joe DiMaggio. Niss described the bout colorfully: "The Garden was jammed, and the aisles looked as if they had been cut with a carving knife."13
Previously, in 1941, Niss had succeeded Jimmy Wood as the Eagle's sports editor (he'd been assistant sports editor for roughly three years). Steve Niss noted how Lou helped at least two future star sportswriters, Red Smith and Dave Anderson. "While working for a paper – in Philadelphia, I believe [the Record] – Red asked for and got an interview with my father. My father told Red that he would not hire him because the Eagle salaries were lower than those of the Manhattan-based papers. If he worked for the Eagle, one of the Manhattan papers would hire him away. So, my dad introduced Red to Max Kase, his good friend who was sports editor of the Journal-American." Smith joined the New York Herald Tribune in 1945. He and Niss also became very good friends.14
Anderson joined the Eagle as a clerk after graduating from Holy Cross in 1951. Niss hired him for $40 a week.15 Anderson later wrote that a year after he started, "Lou Niss had me covering some New York (baseball) Giants and Yankees games. In May 1953 the Dodgers' beat writer, Harold C. Burr, broke his hip and all of a sudden I'm covering the Dodgers."16 Anderson realized that Niss had been grooming him for this contingency.17 He went on to win multiple awards and honors. Steve Niss recalled, "Dave spoke at our father's funeral and credited him for giving him his start and training him and giving him the tools to become the writer he became."18
From 1941 through 1955, Niss was chairman of the Brooklyn chapter of the Baseball Writers Association of America. The Dodgers appeared in five World Series during this period, as well as two playoffs for the National League pennant. As BBWAA chapter chairman, Niss handled the press arrangements for those series.19
Niss's social consciousness was visible when the Dodgers signed Jackie Robinson for their farm team in Montreal in late October 1945. Soon thereafter, Michael Carter, a columnist for The Afro-American, observed that Niss "long ago recommended that colored players start in the minor leagues and work up. Any other technique would alienate white players who had to start that way. Today Lou seems to be justified."20 Niss has received no mention in the many books that have been published about Robinson, Rickey, and "The Great Experiment." Yet his son Steve states that, "Next to Rickey, Dad was one of the most important people in this endeavor. He worked very closely with Rickey to insure that when Robinson was brought to the majors, they had done everything possible to make the transition smooth and accepting." To insure this, Niss spent many hours working with community and church leaders, as well as those within baseball. Without his efforts, it might not have been as successful as it was. 21
Niss also strongly promoted youth sports. He was a regional director of Sports America and an official with the Brooklyn Amateur Baseball Foundation, co-founding a sandlot series called "Brooklyn Against the World" in 1946. His partner in this fundraising effort was Branch Rickey.22 The games were held at Ebbets Field. Originally, Rickey wanted it to be a match of North vs. South, like college football's Blue-Gray Classic, but Niss said, "No good. The Civil War is over. Let's make it Brooklyn against the World." Rickey said, "Your team will get its ears beaten off." Niss replied, "You underestimate our town."23
Indeed, in the first series, the Brooklyn team – handpicked by Dodgers scouts and managed by Leo Durocher – took two of three from the "World" squad, which featured young men coming from as far as Hawaii and was managed by George Sisler. Three future big-leaguers took part, including a pitcher from Queens named Ed Ford, who played right field in the second game. The next year, the New York Yankees signed him, and he became known as Whitey Ford. "Brooklyn Against the World" ended after 1950, but overall, it sent eight players to the majors.24
Niss also continued his fundraising on behalf of the Red Cross. One example was the exhibition game between the Montreal Royals and the Dodgers at Ebbets Field on April 10, 1947.25 In the fifth inning of that game came the landmark announcement that Jackie Robinson (playing first base that day for Montreal) was becoming a big-leaguer. Steve Niss fondly remembers frequent visits to the Dodgers clubhouse and conversations with many players. One evening after a game, he also got a ride home with his father, Robinson, and Jackie's wife Rachel in Jackie's new Buick convertible. "That was about the trust and relationship Dad had with him and Rachel."26
Player safety was another concern for Niss, as seen also in 1947. That June, Dodgers star Pete Reiser suffered a concussion in another of his crashes into an outfield wall. While discussing how to prevent such collisions, Niss made a pointed observation: "It seems strange that so many club owners have devoted so much time and expense in rigging fences and moving home plates to accommodate selfish interests."27
Niss was the featured guest on the Colgate Sports Newsreel radio program in September 1948. This show invited many top-rank celebrities, including Babe Ruth and Frank Sinatra. When Niss chatted with host Bill Stern, they discussed "Brooklyn Against the World." Niss spoke out in support of the man called "El Cheapo" – "When I say Branch Rickey and generosity, I mean it." The other topic was the big Dodgers story of the summer, Leo Durocher's move to the arch-rival Giants.
That November, the Men's Club of the Infants Home of Brooklyn honored Niss at a sports brunch for his work with the borough's youth. Emcee Jimmy Murphy introduced many special guests, including Jackie Robinson and Roy Campanella of the Dodgers, Tommy Holmes of the Boston Braves, and George Sisler (then a Dodgers scout).28
The 1949 All-Star Game took place at Ebbets Field, and Niss was one of two assistant official scorers.29 He also did that job in the 1949 World Series, although he protested that he hadn't done it enough recently to be qualified. Nonetheless, Commissioner Happy Chandler insisted.30
When the Eagle folded during a strike in 1955, Niss went to work for Yonkers Raceway, the harness racing track in Westchester County. He and his family moved to the town of Eastchester, just six miles north. Previously they had lived in Hollis, Queens, but he and Hazel believed that Hollis was no longer a really suitable place to raise children. Lou also needed to shorten his daily drive, but there was a flipside: the Niss family had gone to Ebbets Field frequently before moving but visited seldom after that.31
At Yonkers Raceway, business had been conducted in a questionable way. Niss's challenge was "to woo and win the goodwill of the community, a monumental task in the face of the inherited accumulation of ill will." He and management sought to make the track a greater asset to the city and to show it as "a good neighbor who contributes to the life, economy, and prestige of Yonkers."32 For this work, Niss won an Annual Achievement Award from Public Relations News in 1959.
By early 1957, the Dodgers' move west loomed. Niss talked about it that April. "If they build him a park seating 60,000, as it appears Los Angeles will, plain economics will force Walter O'Malley to go west, where the Brooks' stockholders would get rich practically overnight." Of outmoded Ebbets Field, he said, "People don't like to go there any more. The park is too difficult to reach from Manhattan and there are too many bad seats. There was a time when an occasional sell-out of 32,000 would stand off stretches of poor attendance, but those days are gone just like the Dodgers seem to be, as far as Brooklyn is concerned. A minimum of 40,000 seats are required now."
Niss continued, "I've often wondered about that widely publicized Brooklyn spirit, and I lived in it for many years. I'd like to have the Brooklyn attendance broken down and find out just what percentage of it comes from Long Island and lower Manhattan. The same thing with the club seat plans. My guess is that not more than half of the attendance comes from Brooklyn. Here's a club that has lorded it over the National League for 10 years which has to put on all sorts of days and nights to get the attendance up to 1,200,000. O'Malley must wonder what would happen if the Dodgers dropped into the second division."33
After the Dodgers and Giants announced they were leaving, in late 1957 New York City Mayor Robert Wagner enlisted local lawyer Bill Shea to help fill the void. Shea – for whom Shea Stadium was later named – did so by seeking to launch the Continental League. Branch Rickey was named the league's president on August 18, 1959.34 The same day, Niss left Yonkers Raceway.35
"There's no room for pessimists in this organization," said Niss – described as being as excited as a youngster with a brand new toy – in May 1960. "Everyone connected with the new Continental League, and particularly those associated with the New York club, are convinced that the new major league will succeed. I'm as convinced as Mr. Rickey that eventually there will be room for six major leagues, let alone two. This is progress."36
Niss continued to wax enthusiastic. "Wonderful people of sport such as Don Grant, Dwight Davis, Jr., Herbert Walker, and Mrs. Charles Payson are equally convinced of the predicted success of the new league. They are not accustomed to failures."37 Niss later changed his tune regarding M. Donald Grant, who became chairman and minority owner of the Mets – but nobody ever had a bad word about the franchise's majority owner, warm and motherly Joan Payson.
"This is something I've always wanted, something I've waited years for," Niss added proudly. "These are the type of people I've always wanted to be associated with. Branch Rickey, in my book, is the greatest man who ever came along in baseball or any other sport for that matter."38
For almost a year after Rickey came on board, the Continental League negotiated for acceptance with the two existing major leagues. The campaign ended in early August 1960. As Niss said, "What may have appeared to be outright capitulation was nothing more than a clever maneuver in accomplishing the same purpose. It was the easiest and most expedient way out. The eight teams, or franchises, in the proposed Continental League will all eventually be accepted into organized baseball, four now and four in the immediate future."39
The Mets, of course, were one of the first four expansion teams. Considering Niss's top-level connections within the franchise, plus his credentials, it made sense that he stayed with the organization. Many stories from 1960 and 1961 list him as its public relations director. For example, during the team's search for its nickname, Niss said, "This is a decision that cannot be made quickly. After all, this is a name we will have to 'live' with. We can't afford to make a mistake."40 Niss also helped choose the Mets' logo; he had the honor of informing cartoonist Ray Gotto that Gotto's design had won.41
Team president George Weiss hired Tom Meany to do P.R., however, so Niss became traveling secretary.42 He was well suited to his often thankless new role. Art Shamsky, one of the 1969 Mets, explained: "The traveling secretary is always going to be the person taking the blame for just about everything. . .The perfect traveling secretary is a person who can handle the pressure, doesn't care, and is a little hard of hearing. Lou Niss fit all those criteria."43
Author Bill Morales described how hard the job was: "The idiosyncratic scheduling created by expansion and coast to coast travel was tiring for everyone involved, from Casey Stengel, to the players, to the harried Lou Niss."44 Yet Niss remembered that professional conduct was the order of the day. "Even in 1962 when we started we had a good group. The team was inept, but the players were veterans and they acted like a big league club."45
Niss emphasized team unity, regardless of skin color. When pitchers and catchers reported to spring training in February 1962, there were two African-Americans among them: Al Jackson and Choo-Choo Coleman. Milton Gross of the New York Post wrote, "They are the first Negro players in baseball history to be living and eating at the same hotel with their white teammates at a permanent training base in Florida." In Gross's account, they went for a walk after breakfast, and Niss introduced himself, encouraging them to join the rest of the club for the bus ride to the ballpark. Niss said, "We're all here together. If anything bothers you, tell me. That's my job. I'm getting paid to see that all the players are comfortable."46
According to Gross, Jackson said that everything was fine and that things had come a long way since 1947, when Jackie Robinson broke the color line. But another columnist, Steve Jacobson, later heard otherwise. In his book Carrying Jackie's Torch, Jacobson wrote, "I covered that training camp for Newsday and didn't recognize until I was told later that, for the black players, being in the Colonial Inn was a mixed blessing at best." When Jackson checked in, he got a call from the hotel manager, who asked him not to use the bar, the restaurant, and especially not the pool. Niss "raised hell" but to no avail. An uneasy compromise was reached: All the Mets ate in the Colonial's private dining room and stayed out of the bar.47
In May 1963, the sportswriters covering the Mets threw a dinner party for Niss, who (unsurprisingly) had a good relationship with them. Niss said of his job, "It's hard work and it's a challenge, yet at the same time it's fun." He added that his newspaper experience helped. "What on the surface might look like an unreasonable request can make full sense to a fellow who was in that business as long as I was."48
Niss had a superb memory. In 1969, he joined manager Gil Hodges, coaches Rube Walker and Joe Pignatano, general manager Johnny Murphy, and P.R. man Harold Weissman for a round of golf at the Memphis Country Club. They met the club pro, Pat Abbott, and Niss instantly recalled that Abbott had been U.S. Amateur Public Links champion in 1936. He had covered the event for the Eagle and rattled off the details.49
When the Mets won the 1969 World Series, Niss got a ring, which he wore proudly. He spoke highly of Gil Hodges and the tone he set. "When Hodges was managing the club, people knew we were the Mets by the way we acted and the way we dressed. It was all class with jackets and ties."50
New York sportswriter Leonard Koppett told a story after that World Series. "A full share, supplied by the club in accordance with baseball custom, went to Lou Niss, obliterating a nine-year joke. Back in 1961, when Weiss told Niss that he would henceforth be the road secretary instead of the publicity man, he pointed out to the astonished Niss one advantage the new position would bring. 'The road secretary, of course,' Weiss said in all seriousness, 'gets a full World Series share.' In all his Yankee years, Weiss had never been associated with a club that failed to finish in the money, so it was, perhaps, a natural observation. But during seven years of finishing ninth or tenth, Niss had been the subject of much teasing on this point."51
However, the major-league owners decided to cap traveling secretaries' World Series shares in 1970 – they would no longer be full. The sarcastic New York sportswriter Dick Young said, "Now that it's up in the big dough, the magnanimous Lords of Baseball are reneging."52
Easter Sunday 1972 was a sad day in Mets history: Gil Hodges dropped dead of a heart attack after playing golf. Niss was with Hodges and the coaches on the course in West Palm Beach, Florida. "Dad was only riding in the cart and not playing," said Steve Niss. "We first heard that Gil had died on television and were concerned about how Dad would handle it. He was very close to Gil, as was our family, and he was 68 at the time. We could not reach him. Finally, that evening, one of the coaches, either Rube or Piggy, called to say that they were taking care of Dad and he would be OK. My brother Jeff and I went to Gil's wake with Dad in Brooklyn and he went to the funeral. There are videos that show him outside."53
It's also notable that Niss, on a bet in 1968 with Hodges, kicked a three-pack-a-day smoking habit cold turkey.54 Hodges couldn't quit altogether, and though he had other cardiac risk factors, that didn't help matters.
Amusing glimpses of Niss and his duties appeared in The Sporting News. One example came in 1972, when the players perused the menu for their charter flight, part of the itinerary that Niss issued before each road trip. Dominican utilityman Ted Martínez cracked up the team when he shouted, "Hey, Lou. . .when we gonna have rice and beans?"55 Niss issued ballots for menu choices in 1973, and again there was much levity. Gourmet cook Rusty Staub opted for high-end delicacies. Willie Mays voted for soul food.56
New York won the NL pennant again in 1973, despite a mediocre 82-79 record, but lost a hard-fought World Series in seven games to the Oakland A's. Seven years later, Niss still had bottles of champagne intended for the celebration that never took place.57
On September 29, 1975, Casey Stengel died. "I loved him," Niss later told Joe Gergen of Long Island's Newsday. Niss talked about Casey and his favorite adult beverage. "He had a favorite bar in the Netherland Hilton in Cincinnati. He'd sit and drink bourbon old-fashioneds at this one spot. When he died, I was in Cincinnati. I walked into the bar just before it closed and told the bartender to put a bourbon old-fashioned in the spot where he sat and not to let anyone touch it. I told him if it was gone in the morning, I'd know there was a hereafter."58
Joan Payson died just five days after Stengel's death. Hard times ensued for the Mets. The team eked out a decent record in 1976 but then finished last for three straight years. It was their bleakest period in terms of attendance, and Niss laid the blame squarely on M. Donald Grant. "Grant took the Mets apart as if it were a deliberate move on his part. Piece by piece and player by player he ruined the club."59
At the end of May 1979, Niss missed his first road trip in his time with the Mets. P.R. director Arthur Richman stepped in for the nine-day swing. "Just another of the Mets' economy moves," said New York beat writer Jack Lang, who sniped at the club's penny-pinching in that era.60
Shortly before the 1979 season ended, Niss announced his retirement, effective the following January 2.61 Age (nearly 76) and the demands of his job were the major reasons – player attitudes had worsened. He said, however, "If you don't let all this roll off your back, it will drive you crazy." Niss finished training his successor, Art Richman, and then returned to his home in Eastchester. There he contemplated writing a book about his time with the Mets, to be titled "The Team That Didn't Cost a Nickel and Wouldn't Spend a Dime." Niss said, "I don't know if I'll ever publish the book. Maybe I'll only write it for myself. But it is something I need to do."62 Decades later, though, Mike Niss reviewed his father's papers and found insufficient output.63
A group led by Nelson Doubleday bought the Mets in early 1980. The new regime soon hired Frank Cashen as general manager, and the club began to climb back to respectability. Niss "was thrilled to see the improvement after the dismal late '70s," said his son Mike, "but probably impatient that it took a while."64
Niss was still with the Mets during the 1980 exhibition season, and he threw out the first ball that Opening Day. Joe Gergen described how Lou was "still bouncing around in a manner Stengel loved to imitate. The fans cheered and the scoreboard saluted him." Gergen also told a story featuring Niss and Fred Wilpon, then president and 5% owner of the team. Two decades before, Wilpon had been a salesman. He walked into the Mets office and offered a deal on a copying machine. Noticing how small the staff was, he asked Niss if they wanted help. They did, and so Fred's wife, Judy Wilpon, worked with the Mets too for a little while in their earliest days.65
After retiring, Niss still got back to Shea often. Though he and Frank Cashen had long been acquainted, after the latter joined the Mets, "they became very close," said Steve Niss. "They spent quite a bit of time together sharing insights. Frank and his wife Jean lived down the road from Eastchester in Bronxville. Many times Dad and Frank drove into or back from the stadium together."66
"At some point Dad was not comfortable driving at night," said Mike Niss. "He would take the train/subway in on occasion – a bit of a schlep from Eastchester – and hang out in the press box. Sometimes he'd catch a ride home." Another person who gave Niss lifts was Mike Torrez, who pitched for the Mets in 1983 and part of 1984. Torrez then lived in White Plains, somewhat further north.67
The Mets established a Hall of Fame for their franchise in 1981. According to his family, Niss was to be inducted in 1985, but the club decided against it. It was a big disappointment to Lou.
During the National League Championship Series between the Mets and Houston Astros in 1986, Niss was back in the news. That October 14, Nolan Ryan started Game Five of the NLCS for the Astros in New York. Exactly 17 years before, Ryan – then a Met – had made the only World Series appearance of his long career, and it was also at Shea Stadium. Niss told a nice story about Ryan and his wife, Ruth.
"I was getting off an elevator the other day, and this beautiful blonde gives me a kiss and says, 'Mr. Niss, don't you remember me?' I said, 'Of course I remember you, Ruth.' Let me tell you something about Nolan. He was one of the few players who wrote me a thank-you note after he left. [Jerry] Koosman. [Tom] Seaver. A few others. And Nolan wrote me right away."68
Niss also attended some of the Mets' home games in the 1986 World Series, and he rejoiced in the team's exciting triumph. However, his health had begun to deteriorate that fall. "Dad would return home from the World Series games exhausted," said Steve Niss. "He would come to our home and could hardly stay awake." In general, Lou had been remarkably healthy his whole life, other than cataracts and hearing aids. Soon after the World Series, though, he was admitted to New York's Roosevelt Hospital. He was diagnosed with vasculitis, an inflammation of the arteries to the body's primary organs. He fought bravely but never recovered.69
Lou Niss – "one of the most amiable and least flappable men in baseball"70 – died on April 30, 1987. He was survived until October 1991 by his wife, Hazel. Both are buried in Greenwood Union Cemetery in Rye, New York.
Acknowledgments
Grateful acknowledgment to the following members of Lou Niss's family for their help: Steve and Mike Niss (sons), Nancy Giganti (granddaughter), Robert Nisonoff (great-nephew – his grandfather was Morris Nisonoff, one of Lou's older brothers).
Thanks also to SABR member Alan Cohen for his input on the "Brooklyn Against the World" series.
Sources
Internet resources
Lou Niss entry in the Bill Shannon Biographical Dictionary of New York Sports, located on the New-York Historical Society website (http://sports.nyhistory.org/lou-niss/)
Bill Stern Sports Newsreel (http://www.radioechoes.com/bill-stern-sports-newsreel)
ultimatemets.com
fultonhistory.com (online repository of New York State newspapers)
boxrec.com
Notes
Full Name
Lou Niss (born Louis Nisonoff)
Born
October 5, 1903 at Slatvyan, Belarus (BU)
Died
April 30, 1987 at New York, NY (US)
If you can help us improve this player's biography, contact us.
http://sabr.org/sites/default/files/NissLou_1970.jpg
600
800
admin
/wp-content/uploads/2020/02/sabr_logo.png
admin
2016-06-02 11:43:45
2016-06-02 11:43:45
Lou Niss