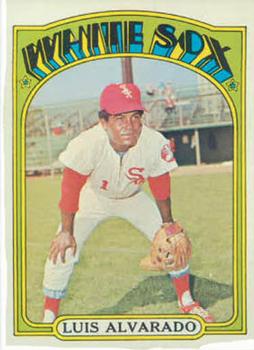 ---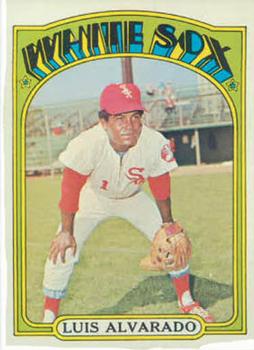 Utility infielder Luis "Pimba" Alvarado never hit much in the majors, but he forged a career with solid defense. He ran well and was known for his quick hands and release. One press guide said, "The ball seems to bounce from his glove to his throwing hand as if on a string."1
Alvarado served four full big-league seasons and parts of five others (1968-74; '76-77), primarily with the Chicago White Sox. He finished with three summers in the Mexican League; meanwhile, he also played 14 years of winter ball in his homeland, Puerto Rico. Alvarado was built like a typical shortstop of the day — 5-feet-9, listed at 162 pounds. The righty swinger's lifetime averages were .214 in the majors, .256 in the U.S. minors, .267 in Mexico, and .225 in the Puerto Rican Winter League.
Luis César Alvarado Martinez was born in Lajas, Puerto Rico on January 15, 1949. Lajas is a municipality in the southwestern corner of the island. His father, Lorenzo Alvarado Laboy, was a farmer. His mother, Pilar Martinez Casiano, stayed home and raised the children.2
At a very early age, Luis picked up his nickname. He called avocados "Pimba" and his mother started to call him by that name, so Pimba he stayed.3 He attended the Luis Muñoz Rivera elementary and high school. He began playing baseball at the age of 12 with the Police Athletic League. During intermediate school, he also went out for track and field.
Alvarado played amateur ball in Puerto Rico with Class-A teams La Parguera and Palmarejo Tigers. In Double-A, the highest local level, he was with the Aibonito Polluelos.4 At age 17, he joined the San Juan Senators of the PRWL. His parents signed on the minor's behalf.
While still a teenager, Alvarado signed with the Boston Red Sox. The scout was Pedro Vásquez; farm director Neil Mahoney said, "Pedro watched Luis play in school and liked him a lot. But then some other scouts came around so he had to sign him quick. He located the boy in a movie theater before the others could get to him."5 Alvarado was given a $1,000 signing bonus.6
The year he turned 18, 1967, Alvarado played for the Waterloo (Iowa) Hawks in the Single-A Midwest League. He played shortstop, appearing in 118 games (all but three that the team played.) He showed a little power, hitting eight homers, while driving in 43 runs and batting .222. He drew enough bases on balls (31 in 478 plate appearances) to lift his on-base percentage to .281.
The Red Sox were busy winning the American League pennant in 1967, with All-Star Rico Petrocelli at shortstop. Petrocelli's main backup was veteran Jerry Adair; second baseman Mike Andrews also saw a little action at short, and 19-year-old Ken Poulsen appeared once there too. The Poulsen callup showed that Boston was willing to dig down to Class A if needed, but Poulsen's lefty bat was an important factor.7
Over the winter of 1967-68, Alvarado first played for San Juan and was named the PRWL's Rookie of the Year. The Boston Globe's Will McDonough wrote that Alvarado could become "the first Latin star ever developed in the Boston system."8 The Red Sox had had Latino players even back in their first decade as a team, and a sprinkling of others followed over the years, but none of note homegrown.9
Alvarado got his first taste of the majors in the spring of 1968. He was brought to camp with Boston (the youngest player on any AL team's major-league roster). He truly impressed with his "slick" and "sensational" fielding. The Boston Record American's Larry Claflin called him "a beauty of an infielder," adding, "[manager] Dick Williams raves about Alvarado as a future prospect."10 Claflin noted that there was one major obstacle in his way: Petrocelli. Williams said that Alvarado was "the surprise of the camp" and that he would be a player to protect in the expansion draft that appeared to be in the offing.11 He envisioned possibly moving Petrocelli to third base (something that did take place a few years later).12
Alvarado was compared favorably to one of the all-time greats at shortstop. Coach Bobby Doerr said, "He has all the moves but he does everything so effortlessly he makes it look easy. Right now he reminds me of a young Luis Aparicio."13 Almost three years later, the Red Sox obtained the veteran from the Chicago White Sox, and Alvarado was part of the deal.
Jerry Adair was still with Boston in 1968, and Alvarado was still in need of seasoning. He was promoted to the Pittsfield Red Sox of the Double-A Eastern League. Once more he played in almost every game — 129 of 139. He hit .257 but led the league in base hits with 125. Pittsfield placed first in the EL under manager Billy Gardner, and Alvarado was named the league's All-Star shortstop.
Boston called Alvarado up when rosters expanded, and on September 13, 1968, he made his major-league debut against the Minnesota Twins at Fenway Park. The Red Sox were already out of the hunt, 15 games out of first place. Dick Williams started Alvarado at short, batting eighth in the lineup, just ahead of starting pitcher Ray Culp. Facing Dean Chance, Boston's Ken Harrelson homered to lead off the bottom of the second inning. Joe Foy and Reggie Smith both singled, and Russ Gibson then advanced Foy to third on a grounder to short. In his first at-bat in the major leagues, Alvarado hit a roller that reportedly went only about 50 feet, but into the no-man's land between the mound and the first base line. The scratch single drove in Foy and made the score 2-0. Culp shut out the Twins, winning 3-0. Alvarado struck out and grounded out his next two times up.
Petrocelli was out with an injured wrist, so Alvarado played in each of the next 10 games, going 6-for-46 (.130) overall with one RBI. He didn't play in the final four games of the season; Petrocelli was back. At the time, Rico generously said, "You know, with that kid around the Red Sox could trade me and I'd never be missed. I've watched him and there isn't a play he can't make."14 In 41 fielding chances, the rookie committed only one error. Near the end of the season, though, the subhead of a Boston Globe article portrayed where the prospect stood: "Alvarado Years Away From Taking Over at Shortstop."15
For most of the 1969 season, Alvarado played in Triple A for the Louisville Colonels. He put up some of the best batting stats of his career. In 137 games, he hit .292, with 62 RBIs and a league-leading 89 runs scored; his 166 hits and 30 doubles also led the International League, as did his .977 fielding percentage. He was voted the league's All-Star shortstop.
That August, the Louisville Courier-Journal ran an amusing feature on Alvarado. In addition to his range and quick release (the latter drew a Phil Rizzuto comparison), it noted his superstitious nature and love of Saturday morning cartoons — he had lucky undershirts with the names Underdog, Mighty Mouse, and Batman stamped on them. He also noted, "I don't know how to steal a base. I don't get a good lead. I only take two or three steps. Should take six. The manager (Eddie Kasko) tells me I got good wheels — 'Steal when you want.' But I'm afraid to take a big lead. I can't get back."16
Once again, Alvarado was brought up to the majors in September. He appeared in seven games, but only once for the full game, and went hitless in five at-bats while handling 10 chances in the field without an error. While with the Red Sox, he learned he had been named International League Rookie of the Year. A little over a week after the season ended, he learned he had also been named I.L. MVP.
In 1970, Alvarado made the big club out of spring training. Eddie Kasko had taken over as Red Sox skipper. There was a lengthy debate regarding Alvarado and Petrocelli, and who should play third base or shortstop.17 The Red Sox wanted to put George Scott, who'd played third in 1969, back at first base, where he'd won two Gold Gloves.
The Alvarado-Petrocelli debate, however, had apparently been fueled in part by erroneous information. Reportedly, Alvarado had played third base in Puerto Rican winter ball and a national publication had said he was the All-Star third baseman. Neither was true. "I haven't played third base since I was a youngster about eight years ago," he said, adding that he would have to buy a bigger glove and learn to throw the ball from third base instead of short. Admitting that he was disappointed in the possible shift of position, he said, "I will do the best I possibly can at third. I want to make the team and I know what a great ballplayer Rico Petrocelli is."18 Kasko said Alvarado needed to look at it as a "golden opportunity to step into a big-league job."19
Alvarado — still only 21 years old — played steadily from Opening Day through June 10: 29 games at third base (through May 12) and then 27 at shortstop. He'd moved over when Kasko shuffled three infielders, benching Mike Andrews.
After the game on June 10, Alvarado too was benched. He was then batting .235 and had driven in only two runs from April 30. George Scott returned to third base on June 19; on June 22, Alvarado was sent to Louisville. There he struggled badly, batting only .201 in 69 games. He was called back up in early September and appeared in 11 games, going 3-for-21. His last game, at Fenway on September 30, was his best. It featured his first big-league home run, a two-run shot in the eighth inning off Fritz Peterson of the Yankees. Alvarado went deep only four more times in the majors.
On December 1, the Red Sox traded Alvarado and the popular Andrews to Chicago for 36-year-old Luis Aparicio. Eddie Kasko said, "We think we can win the pennant with Aparicio."20 It was apparently something of a salary dump for the White Sox. Richard Dozer of the Chicago Tribune wrote that the White Sox were "gaining a new second base-shortstop combination and realizing a handsome saving at the salary window."21
Alvarado joined the White Sox at Sarasota for spring training 1971. He became the regular shortstop for Chuck Tanner, who was beginning his first full year as manager. However, Alvarado got off to a slow start at the plate. By season's end, he had hit .216 in 99 games, with 57 hits (a big-league career high) and a .246 on-base percentage. He got only eight RBIs all year long; the first didn't come until June 16, in his 36th game. Alvarado started 60 games at shortstop and 13 more at second; with 12 errors, his fielding percentage was .959. Both Lee Richard (54 starts) and Rich Morales (46 starts) also played short.
After playing four seasons for San Juan, Alvarado was traded to Caguas before the winter of 1971-72. He was dealt along with Coco Laboy, Iván de Jesús, and Sam Parrilla for veterans Julio Navarro and José Pagán. It's curious that San Juan sent away two shortstops as part of the package. De Jesús had gotten his start at home the prior season as a 17-year-old backup to Alvarado, to whom he looked up.22
The White Sox cut Richard near the end of spring training 1972. That left most of the work at short for Morales (110 games, 71 starts) and Alvarado (63 starts in a big-league career-high 103 games). They subbed for each other a fair amount in the strike-shortened 154-game season. It was Alvarado who came on later, having appeared in just eight of the first 38 games, through June 1. Neither was a force at the plate. Morales hit .206 and drove in 20 runs; Alvarado batted .213 and drove in 29 (also a career high in the majors).
Some of his hits made a difference, such as his two-out, two-run triple in the bottom of the eighth on August 3, beating the Angels, 4-2. Alvarado hit his other four big-league homers in 1972. On August 16, his three-run inside-the-parker helped Wilbur Wood win his 21st game of the season. The next day he drove in two more runs, on his way to 15 for the month.
Shortly after the '72 season ended, Chicago acquired Eddie Leon, who got the lion's share of the work at short for the White Sox in 1973. Leon started 119 games there (batting .228, with 30 RBIs). Alvarado played in 80 games, but just 18 of them came at short — Leon's primary backup was 21-year-old rookie Bucky Dent. Mainly, Alvarado spelled Jorge Orta at second. Overall, he hit .232 with 20 RBIs.
During the winter of 1973-74, Alvarado became a member of a PRWL champion for the first of two times. Caguas went on to represent Puerto Rico in the Caribbean Series, the round robin tournament in which the region's winter-league champs face each other. The Puerto Rican squad, managed by Bobby Wine, won the title.
In 1974, Alvarado was a man on the move. After getting one hit in 10 games for the White Sox, he was traded to the St. Louis Cardinals on April 27, for pitcher Ken Tatum. After hitting .139 in 17 games for the Cardinals, he was dealt again on June 1, to the Cleveland Indians (with Ed Crosby) for Jack Heidemann. All three were utility infielders. Alvarado got in a fair amount of work with the Indians, appearing in 61 games and hitting .219 with 12 runs scored and 12 RBIs. The movement continued at home that winter — he left Caguas for Mayagüez partway through the 1974-75 season.
Alvarado spent the entire 1975 season in Triple-A ball. He played first for Oklahoma City (a Cleveland affiliate) and then Tulsa (a Cardinals affiliate, also in the American Association). He'd been traded on May 27 for a player to be named later (a little more than four months later, it was Doug Howard). Alvarado's combined stats in the AA show a .240 batting average with 64 RBIs in 119 games. He set a league record with a .994 fielding percentage.23
Alvarado also spent most of 1976 with the Tulsa Oilers, and he had his best season of pro ball there, batting .280 in 130 games with 11 homers and 72 RBIs. In September he was called up to St. Louis and got into 16 games (batting .286).
In an eight-month stretch, Alvarado was part of four transactions. His contract was sold to the Detroit Tigers on November 5, 1976.24 On March 25, the Tigers (having signed Tito Fuentes) sold Alvarado's contract to the New York Mets on a conditional basis.25 On April 27, the Tigers asked for Alvarado back, repurchasing his contract to replace Aurelio Rodriguez, who had sprained his ankle.26 He'd played in just one game for the Mets, with two fruitless at-bats.
For the Tigers, Alvarado played briefly at the end of two April games, having one at-bat, also fruitless. He was released on June 22 — and he wasn't happy. "They promised me so many things," he said, "and they never did them. They lied to me too much. I feel like a piece of bleep." He detailed various promises manager Ralph Houk had made him and how hard he had worked to prepare himself, and even mentioned a time that GM Jim Campbell had told him "to cut my hair down shorter because I was going to be playing more." He did, but still didn't get the chance to play.27
Alvarado turned down the Tigers' offer to play for their Triple-A team, Evansville. In August 1977, he joined the Hawaii Islanders (then a farm team of the San Diego Padres) as a free agent. He appeared in seven games and went 12-for-26.
Alvarado's other PRWL championship came in 1977-78 with Mayagüez. Again, Puerto Rico — managed by René Lachemann — won the Caribbean Series.
The historical record of Organized Baseball does not show Alvarado playing in the summer of 1978, though he continued to play Puerto Rican winter ball. He moved on to Ponce for the 1978-79 campaign, and partway through the winter of 1980-81 — his final season at home — he went from Ponce to Arecibo. All told, Alvarado played 630 games in the PRWL, with 471 hits (16 of them homers) and 146 RBIs.
In the summers from 1979 through 1981, Alvarado played in the Mexican League — Yucatán in 1979, León in 1980, and for both the Monterrey Leones and the Mexico City Diablos Rojos in 1981. Overall in Mexico, Alvarado had 323 hits in 327 games with 16 homers and 137 RBIs.
His final notable moment came on August 30, 1981 against Campeche. Mexico City was only three outs from elimination in the South Zone finals, but won three games in a row to advance to the Mexican League finals. In the final game seven, Alvarado singled home the winning run to beat Campeche, 2-1.28
After Alvarado retired from professional baseball, he accepted a job with the Lajas Municipality, his native city and hometown, as a sports and recreational leader. He also kept active in the community managing some Little League baseball teams, and was reportedly even "known to play wiffle ball in the street with the local children."29 Alvarado also owned two small markets in Lajas. He neither married nor had any children.
On March 20, 2001, Alvarado — aged just 52 — died from a heart attack in a neighborhood of Lajas known as Paris. He had been coaching a group of youngsters playing baseball. After their practice, they moved to a nearby basketball court. While the kids were playing, he felt a severe pain in his chest; shortly thereafter he died at the court.30
The municipal gymnasium and Little Leagues in Lajas are both named for Luis Alvarado.
Acknowledgments
This biography was reviewed by Rory Costello and fact-checked by Chris Rainey.
Sources
In addition to the sources noted in this biography, the author also accessed Alvarado's player file and player questionnaire from the National Baseball Hall of Fame, the Encyclopedia of Minor League Baseball, Retrosheet.org, and Baseball-Reference.com. Thanks to Rod Nelson of SABR's Scouts Committee and Rory Costello for a number of beneficial additions.
Alvarado's Puerto Rican statistics: courtesy of SABR member Jorge Colón Delgado, official historian of the Puerto Rican Winter League. They were published in Recuento Temporada 2000-01, by Benny Agosto.
Alvarado's Mexican League statistics come from Enciclopedia del Béisbol Mexicano (Mexico City: Revistas Deportivas, S.A. de C.V.: 11th edition, 2011).
José Antero Núñez, Series del Caribe (Caracas, Venezuela: Impresos Urbina, C.A., 1987).
Notes
1 Mike Shatzkin, editor, The Ballplayers (Westminster, Maryland: Arbor House, 1990), 18. Bill James, The Baseball Book 1990 (New York: Villard, 1990), 234.
2 Edwin Fernández Cruz, interview with Luis's brother Miguel Alvarado and friend Rafael Mercado on December 13, 2017.
3 Ibid. Some sources also show the spelling Timba.
4 Ibid.
5 "Alvarado Top Red Sox Prospect," Christian Science Monitor, March 23, 1968: 14.
6 Harold Kaese, "Third Man Theme for Alvarado," Boston Globe, April 12, 1970: A16.
7 Charlie Bevis, "Ken Poulsen," SABR BioProject.
8 Will McDonough, "Sox Growing 1st Latin-American Star," Boston Globe, February 14, 1968: 62.
9 The team had previously included two Mexican-American ballplayers, Frank Arellanes (1908-10) and Charley Hall (1909-13). Their first foreign-born Latino player, Eusebio González, arrived in 1918. In retrospect, a debate has arisen over the heritage of Ted Williams, which was not widely known when McDonough wrote his column. For further discussion, see (among many other sources) Bill Nowlin, The Kid: Ted Williams in San Diego (Cambridge, Massachusetts: Rounder Books, 2005).
10 Larry Claflin, "Rookie Shortstop Rave of Sox Camp," Boston Record American, March 16, 1968: 21.
11 Henry McKenna, "One-Hitter Humbles Hose," Boston Herald, March 17, 1968: 68.
12 George Sullivan, "'Beanings Must Be Stopped' – Howard," Boston Herald, April 21, 1968: 68.
13 "Alvarado Top Red Sox Prospect."
14 Phil Elderkin, "Another Slick Shortstop in the Red Sox Future," Christian Science Monitor, September 23, 1968: 11.
15 Clif Keane, "Rico Troubled But Still Best," Boston Globe, September 27, 1968: 29.
16 Ed Tatum, "Superstitious Alvarado's Luck Not All Bad," Louisville Courier-Journal, August 6, 1969, 22.
17 Harold Kaese, "Alvarado Joins Good Company at Third," Boston Globe, March 29, 1970: 82.
18 Fred Ciampa, "Shift to Third Base Disappoints Alvarado," Boston Record American, February 26, 1970: 58.
19 Ibid.
20 "Trade Market Active at Baseball Meeting," Associated Press, December 2, 1970.
21 Richard Dozer, "Sox Get 2 for Aparicio," Chicago Tribune, December 2, 1970: F1.
22 Thomas Van Hyning, Puerto Rico's Winter League (Jefferson, North Carolina: McFarland & Company, 1995), 107, 125
23 Larry Harnly, "Raines A Candidate for Top Rookie, MVP," State Journal-Register (Springfield, Illinois), July 18, 1980: 25.
24 "Baseball," Arkansas Gazette (Little Rock), November 6, 1976: 38.
25 "Met Notes," Jersey Journal, March 26, 1977: 11.
26 "Transitions," Washington Post, April 28, 1977: E8.
27 Jim Hawkins, "All Work and No Play Makes Alvarado Bitter," The Sporting News, July 16, 1977: 21.
28 "Mexican League — Reds Come Back from Dead," The Sporting News, September 19, 1981: 39.
29 Lee Harmon, at http://moonlightgrahammets.blogspot.com/2009/12/luis-alvarado-april-13-1977.html
30 Edwin Fernández Cruz, interview with Rafael Mercado on December 19, 2017.
Full Name
Luis Cesar Alvarado Martinez
Born
January 15, 1949 at Lajas, (P.R.)
Died
March 20, 2001 at Lajas, (P.R.)
If you can help us improve this player's biography, contact us.
https://sabr.org/sites/default/files/AlvaradoLuis.jpg
600
800
admin
/wp-content/uploads/2020/02/sabr_logo.png
admin
2018-01-18 01:03:24
2020-04-09 14:40:25
Luis Alvarado