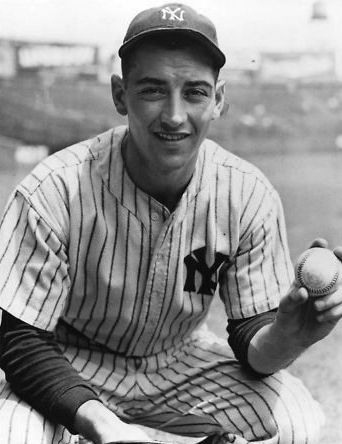 ---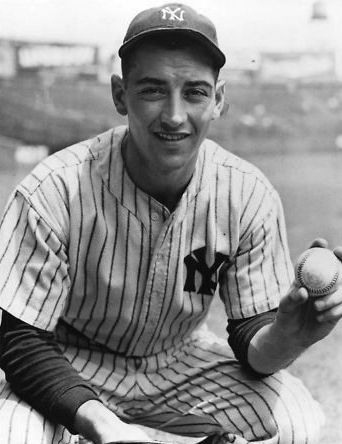 War was raging in Europe as the 1941 baseball season came to a close. News of the fighting kept fans justifiably preoccupied, while the pennant races served as a badly needed diversion. The New York Yankees captured the American League flag, and then defeated the National League champion Brooklyn Dodgers in the World Series. A contributing factor to the Yankees' success was the stellar pitching of young Marius Russo, a hard-throwing left-hander with seemingly unlimited potential.
A native New Yorker, Marius Ugo Russo was born in Brooklyn on July 19, 1914. His parents were Italian immigrants Giovanni and Sabina Russo. Giovanni worked as a skilled tailor, while Sabina cared for Marius, his brother Bruno, and his younger sister, Anita. The family moved to Queens, where Marius attended Richmond Hill High School; he joined the baseball team as a lefty-throwing/right-handed hitting outfielder-first baseman.
Just about everything Marius did was right-handed – except for proficiently throwing a baseball from the port side. During his professional career, autograph-seeking fans often wondered why their favorite left-handed pitcher signed with his right hand. Sensing their concern over possible arm issues, Russo would reply: "I'm just resting it."1
Upon graduation from high school in 1932, Russo received an athletic scholarship enabling him to study at Brooklyn College. Baseball coach Pinky Match quickly marveled at Russo's arm velocity and asked the youngster to consider a move to the pitcher's mound. Russo expressed a willingness to play anywhere the team needed help. "Pinky started me against Panzer College, a small school in northern New Jersey," he recalled in 1939. "I guess I didn't do anything but peg the ball to the catcher as fast as I could, it seemed to work; I struck out 16 and beat them."2
A second scholarship allowed Marius to further his studies at Long Island University, where the 6-foot-1, 190-pound athlete starred in baseball and basketball. Russo was a co-captain of the undefeated 1935 LIU basketball team. When the International Olympic Committee added basketball to the roster of sports to be featured in the coming 1936 world games, LIU was invited to participate in the tryouts at Madison Square Garden; however the team did not compete. The LIU players voted to decline the offer as a protest against the persecution of German Jews. "Because of Hitler's anti-Jewish policies, the LIU players believed that the United States should not participate in the Olympic Games, since they are being held in Germany."3
Instead of competing in the 1936 Summer Olympics, Russo signed to play semipro baseball for the independent Brooklyn Bushwicks. Former Brooklyn Robins catcher Charlie Hargreaves coached the team. Russo remarked: "Working with Hargreaves was a great experience for me. He was smart, experienced in big league ways and he taught me a lot about pitching that I never learned in college ball."4
Hargreaves brought Russo's potential to the attention of Yankees business manager Ed Barrow, who was always searching for local talent. Yankees first sacker Lou Gehrig unofficially helped scout young Russo. Yankees scout Paul Kritchell secured a signed contract in 1937; the transaction cost the Yankees $750.
The contract contained a stipulation that Russo report to the Binghamton Barons of the Class A Eastern League after completing spring training with the Newark Bears of the Double-A International League. But the young pitcher so impressed Bears manager Ossie Vitt that the skipper insisted the lefty stay with Newark for the entire 1937 season. Bears coach Benny Bengough was assigned to mentor Russo, sharing his extensive experience as a former major-league catcher.
The talent-laden 1937 Bears were an International League powerhouse, featuring an extremely strong offense, accompanied by a superior pitching staff. The club finished 109-43, topping second-place Montreal by 25½ games. Russo worked primarily in relief, posting an 8-8 mark, with a 3.63 ERA. In the Little World Series, Newark uncharacteristically dropped three games to the Columbus Red Birds of the American Association before roaring back to win four straight and capture the series.
In 1938 Russo improved to 17-8 with a 3.15 ERA as primarily a starting pitcher under the tutelage of new Bears manager Johnny Neun. During a game in Newark in June, the Rochester Red Wings hit Russo particularly hard, resulting in an early exit that put the usually calm, cool Russo into a sullen mood. A young fan bore the brunt of his uncharacteristic wrath.
Details of the incident were recalled more than 50 years later by Stasia Syndek: "With several girl friends, we planned to go to a dance that night. However, seeing a night ballgame appealed to them, and we went to the ballpark instead. As we were making our way to the exits, one of the girls saw Russo and dared me to get his autograph on my jacket. I asked him all right, but he told me to scram and walked away."5 Stasia reported the exchange to an usher, who informed Russo of a fan's dissatisfaction over rude treatment. Russo sought out Stasia, offered an apology and ultimately invited her to attend a dance, where she taught him the art of jitterbugging.
Russo opened the 1939 season with Newark, posting a 5-4 record in 64 innings. His anemic 1.97 earned-run average caught the attention of the parent Yankees, in need of a southpaw capable of spelling the veteran Lefty Gomez. "Despite his inexperience and youth, there were many who felt Russo displayed the poise of a veteran," a baseball historian recalled. "He was cool in the clutch, lacked emotion, and took everything in stride."6
Russo made his major-league debut in Detroit on June 6, 1939, in a relief appearance against the Tigers. He pitched 1⅓ scoreless innings in relief as the Yankees lost 6-2. Coach Earle Combs commented how young players benefited after a promotion to the major leagues: "New fellows join our team and by associating with the players and watching them on the field, they seem to acquire additional class. When the new man gets his chance to play he does things in typical Yankee fashion."7
Joining the Yankees, Russo was noticeably moved by the deteriorating condition of teammate Lou Gehrig: "When he took the lineup card to the umpire, Lou was usually accompanied by a coach or player, so he wouldn't stumble or fall. It wasn't much fun watching his daily struggle with his body and emotions."8
The Sporting News reported: "Marius is willing; he is an ambitious youngster and was on the mound (September 16) for the Bombers the day they clinched the 1939 flag."9
Russo finished 8-3 with a team-best 2.41 ERA. His ascendency fortified an aging mound corps that was en route to winning a fourth consecutive American League pennant and World Series.
Russo's successful season fittingly ended with a walk down the aisle, on November 4 when he and the former disgruntled fan Stasia Syndek were married at St. Casimir's Catholic Church in Newark.
American League managers were touting Russo as "the best pitching prospect in the league"10 during spring training in 1940. Although the Yankees finished in third place, Russo enjoyed a fine 14-8 season with a 3.28 ERA. He emerged as somewhat of a Red Sox nemesis, beating Boston five times during the season. It was commendable work considering that it was accomplished by a left-hander pitching against Boston's powerful right-handed hitting lineup (plus lefty Ted Williams).
In 1941 Russo started 27 games, working a team-leading 209 2/3 innings with 17 complete games. Overall, his 14-10 record was accompanied by a 3.09 ERA, with 105 strikeouts. A highlight occurred on June 26, 1941, when he tossed a one-hitter against the St. Louis Browns, winning 4-1. He was named to the American League squad for the All-Star Game, but didn't pitch in the contest. According to sportswriter Dan Daniel that season, "[N]one other than Lefty Grove considered Russo to be the best lefthander in the American League."11
The 1941 World Series was an all-New York affair, pitting the Yankees against the Brooklyn Dodgers. The Series opened with a Yankees victory on October 1 at Yankee Stadium. The Dodgers won Game Two and the action shifted to Brooklyn. Russo started Game Three for the Yankees; the Dodgers countered with veteran right-hander Freddie Fitzsimmons. A gem of a pitcher's duel ensued, with both teams scoreless into the seventh inning.
In that inning the right-handed hitting Russo stepped to the plate with two outs and Joe Gordon on second. Russo turned on an inside offering and smacked a solid line drive back to the box. The ball struck Fitzsimmons just above the left kneecap and ricocheted off the pitcher's leg to Dodgers shortstop Pee Wee Reese, who gloved it for the third out.
Suffering great pain, Fitzsimmons was gingerly helped off the field and was replaced by reliever Hugh Casey in the eighth inning. The Yankees promptly scored two runs off Casey. Reese's hit in the bottom of the eighth got one run back for the Dodgers, but the Yankees held on for a 2-1 victory. Russo's tidy four-hitter gave the Yankees a two-games-to-one edge, and they won the next two for a Series victory in five games.
In later years Russo recalled Fitzsimmons' injury: "Brooklyn fans sure took it out on me because my line drive hit Fitzsimmons on the leg and crippled him so he had to quit when we were having a red-hot pitchers' battle. One lady writer was particularly hateful in a letter to me. She claimed I had deliberately aimed that line drive at Fitzsimmons. Maybe I get a hit now and then, but I'm not that good."12
Despite the World Series championship, the 1941 season ended on a somewhat bittersweet note for Russo. He had enjoyed a fine season, earning All-Star recognition and receiving his second World Series ring; however he'd ultimately lament how overuse that season deteriorated his arm, marking the beginning of the end for him.
The country shifted into full wartime mode after the December 7, 1941, attack on Pearl Harbor. Baseball continued, deemed essential to morale via famous Green-Light Letter issued by President Franklin D. Roosevelt. Ballplayers enlisted or registered for the draft, leaving rosters filled with replacements. Russo was classified 3-A, deferred as married and supporting his widowed mother. He took an offseason job at Republic Aviation.
Throughout 1942 more players were called to active duty, further depleting major-league rosters. Russo's wartime employment, plus ongoing arm and shoulder woes limited him to only nine games that season, with a 4-1 record and a 2.78 ERA. The Yankees repeated as American League champs; the National League champion St. Louis Cardinals prevailed in the World Series, topping the Yankees in five games.
Russo's draft status remained unchanged in 1943 but his pitching woes continued. His record dropped to a disappointing 5-10. Russo strongly considered retirement, due to lingering arm issues; manager Joe McCarthy encouraged the 28-year-old pitcher: "Be patient, your arm will be stronger."13 The World Series featured a badly depleted Yankees squad prevailing over a severely depleted Cardinals team. Russo started and won Game Four, hurling a gutsy 2-1 complete-game victory. His clutch double in the eighth inning scored the winning run.
The 1944 season was a particularly challenging one for all of baseball. Rosters were filled with 4-F (unfit physically) and over-draft-age replacement players. Spring-training sites were close to home (Atlantic City, New Jersey, for the Yankees) as specified by Commissioner Kenesaw M. Landis. As manpower needs grew, Russo was reclassified 2-A (deferred because of work essential to the war effort), placing him closer to being called up to active duty and clouding Joe McCarthy's mound plans. Russo was called up by the Army in February and sent to Camp Kilmer in Edison, New Jersey. He joined the camp team as a cleanup-hitting first baseman. Training completed, Russo was assigned to the Signal Corps and sent to Honolulu.
In early 1945 Russo reinjured his pitching arm in Hawaii. Years later he commented to author Bill Madden: "My shoulder was still bad, though I wasn't that fancy to begin with. I had just two pitches. One was my 'Our Father' and the other was my 'Hail Mary.' I tried a change-up, but never got it down. Control was my thing. After two years of inactivity my ball didn't have the same sink to it and that was my best pitch."14
Corporal Russo was discharged from the Army in January of 1946 after serving 23 months, 14 of them in the Pacific. At Johns Hopkins Hospital in Baltimore, bone chips were removed from his left elbow. Russo previously utilized a three-quarter-overhand motion; after the surgery he was strictly a side-arm pitcher.
The Yankees sent Russo to Triple-A Kansas City in 1946, to work out and get into shape; he pitched in three games, posting a record of 0-1 with a 3.38 ERA. Returning to New York, Russo pitched in eight games from May through July and went 0-2 with a 4.34 earned-run-average. Those were his last major-league games. In 1947 he was 5-7 for Newark, then 4-1 for Kansas City, but his ERA was an inflated 6.00.
Sold out of the Yankees system in 1948, Russo was 3-3 with a 4.95 ERA, for Seattle in the Pacific Coast League. Realizing the magic was gone, Russo called it a career. New York found him a managerial slot, as Russo recalled: "Johnny Murphy was by then the Yankees farm director and he hired me to manage their Hornell, New York, team in Class D. Seven months away from my family was too much, though. I just didn't care for it."15
For the Yankees Russo posted a career record of 45-34 with a 3.13 earned-run average. In three World Series he compiled a 2-0 record, with a stingy 0.50 earned-run-average. The good-hitting pitcher, posted a career batting average of .213, complemented by an on-base percentage of .266; his postseason average was .286 with a .375 OBP.
Russo worked as an executive with Grumman Aircraft on Long Island for just shy of 30 years before taking full retirement. He regularly participated in old-timers day celebrations at Yankee Stadium, becoming the winning pitcher in the 1959 contest, beating a team consisting of former National League all-stars.
The Russos were living in Fort Myers, Florida, when Marius died on March 26, 2005, at the age of 90. He was survived by his wife, Stasia, daughters Marion, Carole Ann, and their immediate families. Russo never minced words when considering the two luckiest days during his career: The first occurred when he was switched to the mound; the second was signing with New York: "I was very proud and lucky to be a Yankee."16
Sources
Thanks to the National Baseball Hall of Fame for sharing material contained in the Marius Russo player file. Information from baseball-reference.com, retrosheet.org, sabr.org/bioproject, and ancestry.com all proved to be vital. The Sporting News, accessed through sabr.org, and the Newspaper Archive, available through the Anne Arundel County (Maryland) library system, were important sources of information.
Notes
Born
July 19, 1914 at Brooklyn, NY (USA)
Died
March 26, 2005 at Fort Myers, FL (USA)
If you can help us improve this player's biography, contact us.
http://sabr.org/sites/default/files/RussoMarius.jpg
600
800
admin
/wp-content/uploads/2020/02/sabr_logo.png
admin
2017-02-22 12:02:51
2017-02-22 12:02:51
Marius Russo