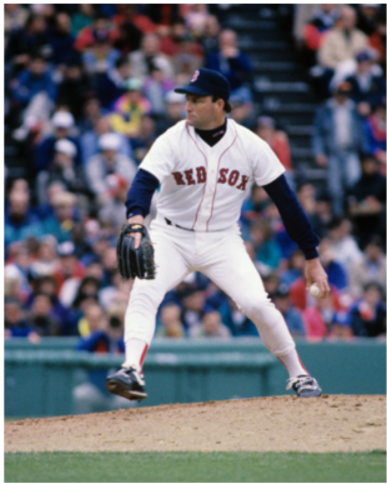 ---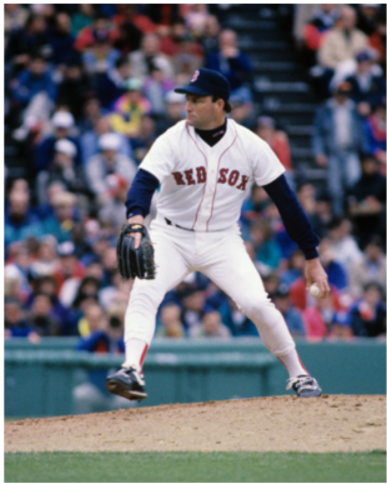 Matt Young's place in baseball history is secure.
On April 12, 1992, the 33-year-old left-hander became only the third pitcher to throw a complete-game no-hitter and lose the game. Pitching in the first game of a doubleheader for the visiting Boston Red Sox against the Indians in Cleveland, Young lost 2-1. Since his complete game was only eight innings long, Young's gem is not recognized as an official no-hitter. Official or not, Young, Andy Hawkins, and Ken Johnson (who had an "official" nine-inning complete game) remain, as of the end of 2016, the only major-league pitchers to lose a complete game in which they did not allow a hit.
Matthew John Young was born on August 9, 1958, in Pasadena, California, one of eight children of William and Mary Ellen Young. William Young was a building contractor and disabled veteran who died in 2005.1 As a youngster, Matt played baseball in the Arcadia/Sierra Madre Little Leagues, the same leagues that produced major-league pitchers Tim and Todd Worrell.2 He attended St. Francis High School in La Canada Flintridge, a city in Los Angeles County. There Matt starred as a left-handed pitcher. St. Francis is a Catholic college-preparatory school for boys, and more than 99 of its graduates go on to higher education.3 Young is one of a number of notable alumni of St. Francis, including Jason Hirsh (Colorado Rockies), Mark Loretta (Los Angeles Dodgers), and Gregg Zaun (Baltimore Orioles).4 After graduating from St. Francis in 1976, Young attended Pasadena City College, Jackie Robinson's alma mater, in 1977 and 1978. Besides Robinson, other alumni who made it to professional baseball include Irv Noren (Yankees), Alan Wiggins (Padres), and Brandon Kintzler (Brewers).5 Young was an All-Metropolitan Conference First Team selection as a pitcher and was inducted into the college's Hall of Fame in 2015.6
While attending Pasadena City College, Young was selected in the second round of the January 1978 amateur draft by the Boston Red Sox. Instead of signing with the Red Sox, Young accepted a scholarship to the University of California, Los Angeles and pitched for the Bruins in 1979 and 1980.7 UCLA has a long tradition of sending players to the major leagues, including Jackie Robinson.8 Young's roommate at UCLA was Tim Leary, another Southern California native who would go on to pitch 13 years in the major leagues.9As of the end of 2016, UCLA had sent approximately 90 players to the majors.10 Writing for CBSSports.com in 2013, Danny Knobler chose Young as one of the top 10 major-league players from UCLA, noting that he was then "the only UCLA pitcher ever to make an All-Star team."11
In the June 1980 amateur draft, Young was selected again, by the Seattle Mariners in the second round. A predraft scouting report on Young rated him a 50 (on the 20-80 scale) in "overall future potential," noting that he had a "plus fast ball," "fields his position well," and "looks good on mound as far as delivery, etc."12 Young's weaknesses, according to the scouting report, was that his "curve has not improved in 2 years at UCLA, tends to lose close games — question his courage."13 Young spent three years in the Seattle farm system, advancing each year from Class A to Double A to Triple A before debuting with the Mariners at the age of 24 on April 6, 1983.
Young pitched 10 years in the majors, for the Mariners, Dodgers, Athletics, Red Sox, and Indians. He was a strapping figure on the mound, at 6-feet-3, 205 pounds, and a hard thrower. He pitched in 333 games, including 163 starts, with a record of 55-95 and a 4.40 ERA. He had 20 complete games in his career, 5 shutouts, and 25 saves.
In his debut season of 1983, Young pitched 203 innings for the Mariners, going 11-15 with a 3.27 ERA, which ranked him in the top 10 for ERA in the American League. He made the All-Star team and pitched a scoreless eighth inning in the midsummer classic, with future Hall of Famer Johnny Bench being one of the three batters he retired. On June 3 Young pitched a two-hit shutout against the Yankees.14
An arthritic condition surfaced in 1984, affecting Young's lower back and knees15 and limiting him to 22 appearances, all starts, for the Mariners, with a record of 6-8 and a 5.72 ERA. Young was healthy in 1985 and started 35 games for the Mariners (12-19, 4.91). Scouting Young as a possible acquisition for the Minnesota Twins, a Twins scout praised Young's abilities: "[h]e has good movement and good velocity on his fastball … throws a good slider and a soft curve … throws strikes and challenges a hitter."16 Young was converted to a reliever in 1986, appearing in 65 games for Seattle while starting five. He had 13 saves to go with an 8-6 record and a 3.82 ERA.
After the 1986 season Young was traded to the Los Angeles Dodgers. He was "a hot commodity" at the Winter Meetings and the Dodgers got him "cheaply," according to the Los Angeles Times, for "unproven" starter Dennis Powell and second-base prospect Mike Watters.17 Ross Newhan, writing in the Los Angeles Times in December 1986, mentioned Young in the same breath as Sandy Koufax. Newhan noted that Koufax had to retire because of arthritic pain in his left elbow and that the recently acquired Young required medication to control arthritis that became evident in 1984.18 Young, whose father had rheumatoid arthritis, said at the time that "[t]oo much was made about [the arthritis] in the first place. … I haven't had a problem for 2½ years."19
The Dodgers did their homework before acquiring Young. Advance scout Phil Regan, who was Young's pitching coach in Seattle, recommended him for relief work, noting that "[i]n the last two years, Matt never refused the ball as either a starter or reliever."20 Another Dodgers scout, Mel Didier, called Young "one of the hardest throwers in the American League [who] can pitch three days in a row with outstanding stuff."21 Manager Tom Lasorda expected Young to fill the Dodgers' need for a left-handed reliever in the bullpen, commenting: "I'm impressed. I like the way he throws."22
Young signed a one-year contract with the Dodgers for $350,000, avoiding salary arbitration.23 In what turned out to be his only season with the Dodgers, he pitched in 47 games, all in relief, finishing 31 of them, while going 5-8 with a 4.47 ERA. After the season Young was traded to the Oakland A's as part of a three-team trade that sent Dodgers pitcher Bob Welch to Oakland and brought the Dodgers Alfredo Griffin and Jay Howell from Oakland and Jesse Orosco from the Mets.24
After being traded, Young had to undergo Tommy John surgery and missed the entire 1988 season. Returning for the 1989 season after a short stint in the minors, Young pitched in 26 games (four starts) as a member of the 1989 World Series-winner A's. He made one relief appearance in the American League Championship Series but did not pitch in the World Series, in which the A's swept the San Francisco Giants.
In 1990 Young returned to the Mariners as a free agent, signing a one-year contract for $587,000, "cheap" even at the prices of that era.25 Young signed with Seattle in part because of the opportunity to once again be a starting pitcher. And, indeed he got that chance in Seattle and took maximum advantage of it. Young posted a 3.51 ERA while going 8-18 with 33 starts and a team-best seven complete games. Mariners pitching coach Mike Paul said, "[t]he improvement in Matt Young from April until now has been phenomenal in our eyes. He's just gotten better as the season's gone along."26 His 8-18 record was not indicative of how well Young, then 32 years old, pitched for a Mariners team that did not score many runs for him.
The 1990 season was a "bounceback" season for Young. Mike Paul said, "When he started the year, there was always the question of, 'Do I still have it? Can I get people out? Well, he's held up very well with the run support he's been given this year."27 Young said, "I may not be a better pitcher than I was [back in 1983 when he debuted with the Mariners] but I think I'm a smarter pitcher. I realize my limitations, my capabilities. I know now that I can't strike anybody out until I get two strikes on them."28 Young threw harder after his surgery than he did before. "My velocity has picked up by two or three mph on an average on my fastball," he said. "[b]efore my surgery, I threw anywhere from 87 to 89. Now [in 1990] I'm throwing 89 to 92."29 In 1990 Young made the baseball record books when he struck out four batters in an inning (including future Hall of Famer Wade Boggs) on September 9 against the Red Sox. As of the end of 2016, he was one of only 78 pitchers to accomplish the feat and one of 20 left-handers.
Hitting free agency once again after the 1990 season, Young signed with the Red Sox for three years and $6.4 million. His annual salary of $2,266,667 far exceeded his previous high salary of $587,000 the year before.30 The Sporting News reported that the signing was part of the "Red Sox spending binge" as the defending AL East Champions (having lost to Oakland in the 1989 ALCS) signed four free agents (Jack Clark, Danny Darwin, Tom Brunansky, and Young) for a total of $31.45 million.31 The Sporting News also highlighted Young's salary in an article that compared free-agent salaries to those of MLB umpires, commenting on the large sum paid to Young, who had only an 8-18 record the year before.32
In his first season for the Red Sox, 1991, Young started 16 games, relieved in three, and went 3-7 with a 5.18 ERA. He spent time on the disabled list with a slightly torn rotator cuff.33 His disappointing season earned him the nicknames "Sigh Young" and "Door Matt."34 As the 1991 season came to a close, rumors abounded that the Red Sox would "dump" Young.35 The Sporting News commented that the signing of Young and Darwin was a "big blunder,"36 referring to them (along with Clark) as the "Fenway Flops."37 While free-agent salaries in 1991 were significantly lower than those in later years, "escalating salaries" and the "huge" amounts paid to free agents were still an issue.38 Young's contract was mentioned in articles noting that free-agent salaries had reached "obscene levels,"39 were "spiraling out of control,"40 and were a sign of "insanity."41
The Red Sox decided to keep Young in 1992. The decision looked great when Young, in his first start of the year, pitched his no-hitter on April 12, 1992. Facing the Cleveland Indians in the first game of a doubleheader, he gave up single runs in the first and third innings as he struggled with his control. Those two runs were the difference in a 2-1 defeat as Young walked seven and struck out six.42 The game put Young in the record book not only for the no hitter but also because the doubleheader set a record that still stood as of 2016, for the fewest hits allowed by one team in a doubleheader — two — thanks to Roger Clemens pitching a two-hit shutout in the second game.
The no-hitter was the highlight of Young's 1992 season. He started eight times, relieved 20 times and was 0-4 with a 4.58 ERA. He had a short stint on the disabled list in July.43 In that season Young, under the tutelage of new Red Sox manager Butch Hobson, worked on and improved his longtime difficulty in throwing to the bases.44 Like Steve Sax and Chuck Knoblauch in the 1980s and '90s and Jon Lester and Dellin Betances later on, Young had the "yips" when it came to making throws.45 Young's "mental block" was so bad that during the entire 1991 season he did not attempt a single pickoff throw to first base.46 Young recognized the problem with self-effacing humor, stating, "I'm a mental case" and attributing his throwing problems to self-doubt that began when he made a critical throwing error during a 1984 game, in his second year in the majors. Michael Madden, writing in the Boston Globe in 1992, remarked that 'just a simple toss to first base would have been a victory [for Young] but that when Young (having worked hard on his fielding) picked off a runner in his second start of the season, it "truly was a marvel."47
Despite the improvement in his throwing, Young's disappointing 1992 season led to his being released by the Red Sox before the start of the 1993 season. After signing with Boston for three years for $6.35 million, Young left after only two seasons and a total of only three wins.48 After his release, Young signed with the Cleveland Indians, where he ended his major-league career in 1993 with a 1-6 won-lost record in 22 appearances (eight starts). His last big-league appearance was on August 6, 1993, and he was released by the Indians on August 9.49 Toronto signed him three days later, assigning him to Triple-A Syracuse before releasing him in September.
In 1993 The Sporting News disclosed that Young "had a Cy Young of his very own." The newspaper was not referring to the award but to the fact that Matt Young had a pet Dalmatian named Cy. He and his pet, along with other major leaguers and their pets, were featured in a 20-card set of baseball cards from Milk-Bone, the dog-biscuit company.50
Off the field, Young had a role in a piece of baseball labor history. After player strikes in 1981 and 1985, the collective-bargaining agreement expired in 1989. In 1990 Young was named to an 18-player negotiating committee to work with Players Association executive director Donald Fehr in negotiations with Major League Baseball.51 That year the owners locked out the players during spring training before the owners and the union reached a new agreement in March. After serving on the negotiating committee, Young became the player representative for the Red Sox during the 1992 season.52
After his release by the Blue Jays, Young returned home to Pasadena. He coached Connie Mack youth baseball53 and pursued business interests, including real-estate investments with a friend, former Mariners minor-league pitcher Tracy Harris.54 Young's two children had athletic careers of their own. His son, Clayton (born in 1985), played two years of varsity baseball at the same high school his father attended, where he was selected as the team's most improved player.55 A tall (6-feet-5) left-handed pitcher like his father, Clayton then played baseball at Glendale Community College and San Diego State. He was drafted in the 37th round in 2003 by the Kansas City Royals, and again in 2005 by the New York Yankees in the 38th round. Young's daughter, Brynne (born in 1982), played volleyball for four years at the University of San Diego.56 Matt's younger brother, Bill, was also an athlete, having pitched for St. Francis High School before becoming a major-league scout.57
While he never achieved the success of his namesake, Cy Young, Matt Young pitched in 333 games over 10 years in the major leagues. His performance in one of those games — on April 12, 1992 — ensures that he will be long remembered by baseball fans everywhere.
Last revised: February 1, 2017
This biography appears in SABR's "No-Hitters" (2017), edited by Bill Nowlin.
Sources
The author gratefully acknowledges the assistance of Frank Harris, the reference services librarian at the County of Los Angeles Public Library, for providing background information regarding Matt Young and his family.
Notes
1 Obituary of William J. Young, Pasadena Star-News, November 16, 2005; Sierra Madre Area City Directory (1959) and (1968) listings for William J. Young; Mike Downey, "Dodgers Call Gets This Lefty Off the Hook," Los Angeles Times, December 14, 1986.
2 "Dodger Thoughts: Spring Training Opening Chat and Earliest Dodger Stadium Memory," Comment No. 53, March 11, 2005, dodgerthoughts.baseball.toaster.com/archives/156845.html.
3 St. Francis High School website, sfhs.com
4 The Baseball Cube, thebaseballcube.com/hs/profile.asp?HS=2123.
5 Baseball-Reference.com, baseball-reference.com/schools/index.cgi?key_school=f372b08a.
6 "PCC 2015-16 Sports Hall of Fame Selections Announced," pasadena.edu/news-and-events/news/2015-2016-sports-hall-of-fame-selections.php.
7 Ibid.
8 University of California, Los Angeles Baseball Players Who Made It to the Major Leagues, Baseball Almanac, baseball-almanac.com/college/university_of_california_la_baseball_players.shtml.
9 "AL Report," The Sporting News, June 20, 1983.
10 Baseball Reference.com, baseball-reference.com/schools/index.cgi?key_school=47d2ae18.
11 Danny Knobler, "On the List of UCLA's Best, Jackie Robinson Stands Out," CBSSports.com, June 26, 2013, cbssports.com/mlb/writer/danny-knobler/22537300/on-the-list-of-uclas-best-jackie-robinson-stands-out. Young is also the answer to a great trivia question: Who are the only two major leaguers to play at both Pasadena City College and UCLA? Answer: Jackie Robinson and Matt Young. In 2015 Gerrit Cole became the second UCLA pitcher to make an All-Star team.
12 Scouting Report by Joe Stephenson available at Diamond Mines, scouts.baseballhall.org/report?reportid=01601&playerid=youngma01
13 Ibid.
14 The Sporting News, June 20, 1983.
15 Ross Newhan, "New Dodger Matt Young Says His Arthritic Condition Is Under Control," Los Angeles Times, December 14, 1986.
16 Scouting Report by Lee Irwin available at Diamond Mines, scouts.baseballhall.org/report?reportid=06538&playerid=youngma01.
17 Newhan.
18 Ibid.
19 Ibid.
20 Ibid.
21 Ibid.
22 "N.L. West," The Sporting News, April 1, 1987.
23 "Sports People: Comings and Goings," New York Times, February 7, 1987.
24 The trade also included pitcher Jack Savage going from the Dodgers to the Mets and the A's sending pitchers Kevin Tapani and Wally Whitehurst to the Mets. See Baseball-Reference.com.
25 Jim Cour, "Mariners Hail Matt Young Despite Record," Los Angeles Times, September 13, 1990.
26 Ibid.
27 Ibid.
28 Ibid.
29 Ibid.
30 Murray Chass, "Record Opening Day Salaries: Not Peanuts or Cracker Jack," New York Times, April 10, 1991.
31 "A.L. East," The Sporting News, February 18, 1991; "Game Report," The Sporting News, July 22, 1991.
32 "Sports Voices: Shame on Baseball: Umpires Deserve Better," The Sporting News, April 15, 1991.
33 "A.L. East," The Sporting News, August 5, 1991.
34 Dan Shaughnessy, "Leave It to Red Sox, and Young, to Lose a No-Hitter," Boston Globe, April 13, 1992.
35 "A.L. East," The Sporting News, September 30, 1991.
36 "A.L. Report," The Sporting News, May 6, 1991.
37 "A.L. Report," The Sporting News, July 8, 1991.
38 "Sports Voices: TSN Poll Line," The Sporting News, December 9, 1991.
39 "A.L. Report," The Sporting News, October 14, 1991.
40 "Sports Voices: TSN Poll Line," The Sporting News, December 9, 1991.
41 Bob Verdi, "Sports Voices: In This Age of Skyrocketing Salaries, Survival Is Players' Ultimate Mission," The Sporting News, March 23, 1992.
42 See Alan Raylesberg, "April 12, 1992: Cleveland Indians 2, Boston Red Sox 1 at Fenway Park, First Game of a Doubleheader," SABR GamesProject.
43 "Transactions," New York Times, July 1, 1992.
44 Michael Madden, "Young Is Still Being Thrown Off," Boston Globe, March 19, 1992; Dan Shaughnessy, "Rolling Out the Unwelcome Matt. After Two Star-crossed Seasons, Red Sox Finally Release Young," Boston Globe, March 31, 1993.
45 Nick Cafardo, "Yapping About Lester's Yips Overblown," Boston Globe, April 12, 2015 (stating that Matt Young had to roll balls to first base).
46 Madden.
47 Ibid.
48 Shaughnessy, "Rolling Out the Unwelcome Matt" (discussing Young's disappointing Red Sox career and stating that "[t]he signing of Matt Young probably was the worst free agent signing in baseball history").
49 "Transactions," New York Times, August 8, 1993.
50 "Openers: Pet Names," The Sporting News, May 31, 1993.
51 "A.L. Report," The Sporting News, January 1, 1990.
52 "A.L. East," The Sporting News, March 22, 1993.
53 "St. Francis Wins Third Straight," Glendale (California) News-Press, June 8, 2001.
54 Dan Raley, "Where Are They Now? Pitcher Tracy Harris, Former M's Farm Hand," Seattlepi.com, May 9, 2006, seattlepi.com/sports/baseball/article/Where-Are-They-Now-Pitcher-Tracy-Harris.
55 San Diego State Official Athletic Site, Biography of Clayton Young, goaztecs.com/sports/m-basebl/mtt/young_clayton00.html.
56 Ibid.; University of San Diego Women's Volleyball, Biography of Brynne Young, usdtoreros.com/sports/w-volley/mtt/young_brynne00.html.
57 "High School Baseball/Southern Section Previews: San Fernando League," Los Angeles Times, March 7, 1992.
Born
August 9, 1958 at Pasadena, CA (USA)
If you can help us improve this player's biography, contact us.
https://sabr.org/sites/default/files/YoungMatt.jpg.png
600
800
admin
/wp-content/uploads/2020/02/sabr_logo.png
admin
2017-02-15 11:13:38
2017-02-15 11:13:38
Matt Young