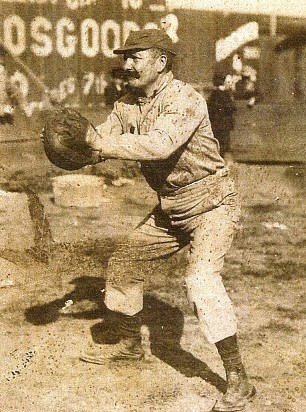 ---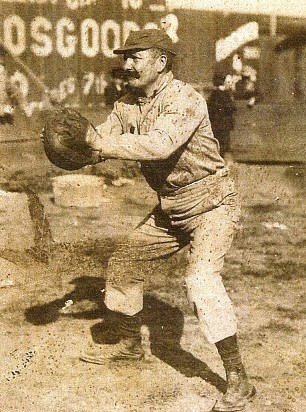 San Francisco's Mike Finn was a pioneer professional as a California baseball player and manager. A versatile performer, he was an adept infielder, outfielder, and catcher, but was, in the Oakland Tribune's opinion, "a pitching star of magnitude." His managerial legacy was five championships during the California League's formative years (1886-1893), more than any other pilot. An established player, manager, and owner, Finn had an encyclopedic knowledge of West Coast baseball history and helped to popularize the game in San Francisco and San Jose (where he was known as the Duke of Santa Clara). His contributions, along with those of a handful of others, eventually led to the establishment of the Pacific Coast League in 1903.
A quiet but ambitious man who was stubborn, stern, and demanding, Finn said, "I choose my players with as much an eye to their gentlemanly qualities as to their ability in baseball." He was also superstitious, choosing to sit in the grandstand rather than on the bench, conspicuous because he always wore a brown derby and had a perpetually present cigar and unsmiling demeanor. A wealthy businessman who ran several enterprises, Finn, said the Tribune, "made as much money out of baseball in this state as anybody." He liked the grandstand because it enabled him to keep an eye on gate receipts as well as the game.
A native of Craughwell, County Galway, Ireland, Michael Edward Finn was born on September 29, 1856. He was the older of two children born to Patrick and Mary Jane (Kane) Finn. Michael's sister, Winnifred, was born just 12 days after Patrick died in September 1858. Their mother married Michael Finnegan in 1860 and had another son and two daughters.
Little is known about Mike Finn's early life; it was something he did not talk about with family and friends. What is known is that he was determined to become a successful businessman. With that in mind, he left Ireland for Liverpool, England, at the age of 14 and booked passage on the ship City of Brooklyn, which arrived in New York on July 19, 1871. Finn told the San Francisco Chronicle that he did not linger long in New York and soon wended his way to San Francisco. By 1880 he was living at 397 Eighth St. and working as a boot cutter for S.W. Levy.
Finn started playing baseball in 1876. According to the Chronicle, "Mike's stamping grounds were around the vacant squares in the vicinity of Eighth and Harrison streets, where the south of Market street brigade were strong contenders in many a sand lot engagement." California baseball historian John E. Spalding has written that a group of cricket players organized the city's first baseball team late in 1859. The sport's popularity soared in 1868 when San Francisco's first baseball ground was built near Potrero Hill. A year later, with the completion of the Transcontinental Railroad, the Cincinnati Red Stockings toured California, sparking more interest.
The Pacific Base Ball League formed in January 1878, comprised of four teams, the Eagles, Renos, Californias, and Athletics. Most of the players were from working and lower middle class backgrounds. Finn first appeared in a box score on July 29, 1878. Playing for the Renos, he started in center field in a 27-13 loss to the Californias. The Chronicle wrote that the game featured "bad playing … many errors [resulting from] utter carelessness and a disinclination to step out of their positions to stop the ball." With the Renos trailing 4-2 in the fourth inning, "Irwin's position as pitcher was taken by Finn. This was not a desirable change, for in that inning the Californias made ten runs."
Finn's first amateur championship came on October 13, 1878, when he played shortstop for Young Union in a 7-4 victory over Fremont. Another championship followed a week later when his Buckingham and Hecht club defeated West Coast Furniture, 14-9. Finn was a member of the National Guard of California in 1879 and was elected Captain of the Company B Second Infantry Regiment team. According to the San Francisco Morning Call, Finn was "considered one of the best amateur catchers in the business" during his time with the club.
In 1880, as San Francisco baseball was making slow progress toward professional status, Finn played third base for the Pacific League's Renos, a circuit of three teams that did not last beyond July. It was much the same in 1881 as the California League featured five teams that played what Spalding called "loosely organized competition [with] no standings." And no contracts; Finn occasionally appeared at catcher for another club, the Athletics.
On March 21, 1881, Finn married 18-year-old Mary Ann Dullea in San Francisco. She was a fringe maker and a native of Boston. They had 13 children between 1882 and 1906, of whom nine (five girls, four boys) survived.
The 1882 California League, again loosely organized, consisted of four teams (Californias, Nationals, Niantics, and Renos) that played games on Sundays. Finn was a member of the Niantics and played catcher, second base, and third base. He had a fine outing on June 11, going 3-for-6 with a double, triple, and three runs in a 15-13 loss to the Renos. Mike also did well at catcher in a 23-5 rout of the Renos on July 30. The Chronicle said that Finn "handles pitcher [Charley] Sweeney's hot shot like a veteran." Sweeney would move on to pitch for Providence of the National League in 1884, setting a major-league record by striking out 19 Boston batters. Finn made one of his first career pitching appearances in a 14-11 loss to the Renos on October 29.
In 1883 San Francisco baseball was boosted by the construction of Central Park in the Civic Center area. California League competition became tougher with the entry of a top-notch team sponsored by Haverly's California Theater. Finn again played for the Niantics. A third baseman early in the season, Finn was 3-for-4 with two runs in a 7-3 win over the Californias on April 29.
Two weeks later Haverly scored ten runs off pitcher Charley Sweeney, prompting the insubordinate hurler to walk off the field and disappear from the ballpark. League President and Niantics founder John Mone was so embarrassed that he withdrew the team from the league. It was replaced by Woonsocket, a club that kept most of the Niantic players.
Finn replaced Sweeney in the pitcher's box, at the time only 50 feet from home plate. Box scores show a 1-2 pitching record between May 28 and June 25. He pitched two games for San Francisco against Sacramento on July 29 and August 5, winning the first and losing the second. He lost two more games in September and October, bringing his season record to 2-5. Haverly (6-1) won the 1883 championship. The rest of the league, according to Spalding, did not win "as many as half their games."
Finn managed and pitched for the San Francisco club in 1884; he also served as the California League treasurer. According to Spalding, the four team circuit was still "a primitive organization" until 1886. The seven-game season started in late July. San Francisco played other opponents beforehand; with pitchers now permitted to throw overhand, Finn's serves were pounded by the Eurekas 13-1 in Sacramento on June 1. He hurled for the Schilling Nine 30 days later, defeating Enterprise, 14-9. He didn't fare well in San Francisco's July 27 opener against Haverly, a 9-8 loss, surrendering six hits and striking out eight. His best game was a 16-3 two-hitter against the Stars on September 28.
San Francisco played several nonleague games in 1885. On May 10 the Altas of Sacramento came to San Francisco and lost 7-4. Finn was 2-for-5 and was the winning pitcher, striking out ten. The team disbanded during the summer and was reorganized by Finn as the Pioneers, with many of the same players. Another game with the Altas on August 30 resulted in an 18-9 Pioneer victory. Finn was 3-for-5 with a run scored and was again the winning pitcher. The Sacramento Daily Record-Union reported that "Finn and [catcher] Carroll work well together, and are effective, but Finn is not as good a pitcher as such a nine should have."
The Pioneers' nine-game California League season began on August 16. Finn secured the services of two former Haverly players, brothers Hugh and John J. "Big" Smith, the league's top two hitters. The heavy artillery wasn't enough; Haverly (20-5 overall), led by pitcher Billy Incell (11-3), won the championship, with the Pioneers (6-3) finishing second.
Playing professionally didn't pay much. Finn told the Chronicle in 1920, "When I started the Pioneers, we once cut up 10 cents each among the players for the game. I pitched and won the game and my cut was 10 cents. But we stayed with it and we once got a cut of $400 each out of a game. That was our biggest gate. … It looked mighty big to us."
Finn's club continued to play nonleague contests in November, losing to the Altas 10-8 on November 1. The Daily Record-Union noted that "Finn, who occupied the box for the Pioneers, struck out 11 of the Altas."
In November 1885 Finn was appointed to a temporary position at the US Custom House Appraiser's store at a salary of $840 a year. The job was made permanent two months later.
A three-team San Francisco Winter League began play in January 1886. Finn's Pioneers steamrolled the Stars and Haverlys, winning six of seven games. In a 16-10 win over Haverly on January 11, Finn walked nine of the Haverlys. Sporting Life reported on a February 1 game: "The clever occupancy of the points by Finn were the main causes of the [9-3] defeat of the Stars." A week later, before "an immense crowd," Sporting Life noted that "Both Finn and Incell were badly pounded. The Haverlys fielded badly and went all to pieces [in an 11-4 loss]."
A feisty man with a barrel chest and handlebar mustache, Mike was approximately 5-feet-9-inches tall and weighed about 180 pounds. No stranger to fisticuffs, he tangled with teammate Charles Gagus on March 28 after hearing that Gagus was jumping to another team. The Daily Record-Union called it "one of the hardest-fought battles witnessed in this city for many years." The combatants fought three rounds at Central Park and, according to the Chronicle, "The men punished each other not a little and there were several knock-downs, Gagus scoring the greater number. Their faces disfigured when the third round was called. … Gagus finally hit him with tremendous force on the chin and [Finn] tumbled over on the sawdust just as time was called. The fight was conceded to Gagus." In October Finn tangled with an insubordinate outfielder, Henry Moore, who was making disparaging remarks about him. Finn won the bout and Moore was blacklisted by league President Mone for the duration of the season.
April 4, 1886, was Opening Day for the new California League, a five-team circuit that expanded beyond San Francisco and was a member of the National League of Professional Baseball Clubs, which administered the National Agreement. Players were under contract for the first time and league officials took steps to control unruly players by prohibiting the sale of alcohol to them at the ballparks.
The Pioneers journeyed to Sacramento and defeated the Altas, 4-3, behind Finn's three-hit, ten-strikeout pitching. The Sacramento Daily Union said that "Finn and Carroll … played a strong game." Eight days later Finn and Stars pitcher Jimmy Mullee both threw a no-hitter, with the Pioneers prevailing by a 4-1 count. Mullee's seven walks and the Stars' seven errors were the difference.
In early May Mullee and the Stars (1-3) were expelled from the league. The Chronicle said Mullee "presented himself in a condition totally unfit to occupy the box and had no command of the ball whatever. …" The Pioneers (12-20), Altas (17-14), and Greenhood & Moran (13-13) finished the season behind Haverly (18-11). Billy Incell (14-5) was the league's top pitcher. Finn was 4-8. The Chronicle, in assessing the league's players, concluded that there were "comparatively few all-around ball players. Finn and [Andrew] Piercy of the Pioneers and [George] Van Haltren of the Oaklands [Greenhood & Moran] play all positions. … Incell is doubtless the best pitcher out here. Finn is probably next. Last season Finn pitched some games which would rank him above Incell."
Mike Finn had become a wealthy man by the late 1880s. After more than a year at the Custom House, he moved to the US Mint by March 1887 to work as a revenue officer. He also started a contracting business at some point during the decade and, according to Spalding, "owned many pieces of real estate." His contracting business was doing so well that in March 1888 the Chronicle reported that "Finn has been absent from the city for the past week up in the wilds of Mendocino county buying timber land, on which he proposes to erect a sawmill." In addition, Finn once held a position as a deputy US marshal.
Working in public service and having side enterprises didn't escape press notice. In March 1887 a tongue-in cheek Chronicle broadside, "Driven To Death: Overworked Officials in San Francisco – A Medical Commission a Distressing and Immediate Necessity," wrote that "Finn, a ball-tosser before he went into the Mint, could run the bases like a jack-rabbit and dispose of Fourth-street beefsteaks as easily as an ostrich can eat cobblestones. Mr. Finn is now an altered man. His shattered health requires that he be allowed to attend all the open meetings of the California League. Even with these concessions of leisure during office hours, he is failing, and the commission had better look into his case promptly."
The 1887 California League season featured a new ballpark, Haight Street Grounds, on the eastern end of Golden Gate Park. Finn and other league officials formed an association to finance its construction and the park routinely held 15,000 fans. In the Park's first contest, Finn's Pioneers defeated Haverly, 5-4, on April 3.
A rival circuit, the financially distressed Pacific Coast League, collapsed on May 29 and Finn bolstered his Pioneers with out-of-work players. New recruits included the Smith brothers, Nick and John, who became the heart of his offense, and pitcher Eddie Lorrigan, who, according to Spalding, "dominat[ed] the league from the time he pitched his first game. …"
Now focused on managing, Finn ended his playing career after 1887. Lorrigan anchored the Pioneers' pitching staff, but Finn experimented with other pitchers (with little success) and put himself in the box on July 9 against Haverly. This choice, said the Chronicle, "seemed to tickle the Haverlys, for they all wore a broad grin and winked very knowingly to each other, which seemed to convey the idea they were going to a picnic with his pitching." To everyone's surprise, "the old war-horse fooled them, and fooled them badly, holding them down to five scattering hits and retiring five on strikes [in a 13-9 victory]. His clever work astonished not only the Haverlys but every one present." Pitching himself didn't always work; in a 5-4 loss to the Altas on August 21, Finn was "batted quite freely," according to the Daily Alta California.
No longer a playing manager, Finn changed his managerial approach. The Chronicle reported in August that he "has at last thrown friendship aside and become a strict disciplinarian, and the result is he has now nine large, well-built, energetic and hard working players." He was unafraid of trying unconventional approaches to problems. Noting that his players were poor baserunners, he put everyone in the care of a chiropodist, who removed the corns from their feet in order to facilitate their sliding.
One player who wasn't hard-working was Henry Moore, who made a farce of a Pioneer-Haverly game on October 22. Playing center field in the second inning, Moore, in the Chronicle's estimation, "deliberately shirked a fly ball, which he could easily have caught, but folded his arms and stood stone still and allowed the ball to drop to the ground, three men scoring on the play." Finn promptly ordered him off the field at the end of the inning to loud hisses and groans from the crowd. Moore was then blacklisted by league President Mone and was fined $25.
Three days later Finn and Moore ran into each other near a saloon on O'Farrell Street. Mike heard that Moore was making disparaging remarks about him, which Moore denied. Soon thereafter, blows were exchanged and a lively fight started, which was eventually broken up by the crowd. Reporters speculated that Moore's behavior resulted because he had bet heavily on his team to win and was upset when they fell behind. Others thought Moore wanted to see his pitcher, Joseph Purcell, dropped from the team. (Finn reinstated Moore for the 1888 season but released him in late April because Moore could not abstain from drinking.)
By the end of October 1887 it looked as though Haverly, 2½ games ahead of the Pioneers, would win the pennant. But two straight Haverly losses and three straight Pioneer wins later found them tied for the lead, and a 6-4 Pioneer win over Haverly on November 19 gave them a one-game lead. Both teams lost on the final day of the season, giving the Pioneers (24-21) their first California League championship. Nick Smith (.307) and his brother John (.305) were the league's leading batters. Eddie Lorrigan (15-2) was the top pitcher.
Major-league teams often toured California to earn extra money during the winter. At one time or another, Finn's clubs faced such teams as St. Louis, Chicago, and New York, usually on the short end of the score. One of the more memorable contests took place on November 27, 1887, when the Pioneers' Lorrigan limited the New York Giants to five hits in a 1-0 loss. John Smith had two of the Pioneers' six hits.
Finn's hope for a second Pioneer championship depended on bringing back Lorrigan in 1888. By the end of February the hurler had signed contracts with both the Pioneers and the league's new franchise in Stockton. After protracted negotiations, Stockton bought his release for $350, dealing Finn and the Pioneers what the Chronicle called a "severe blow," since Lorrigan, "more than anyone else, won the pennant for them last season." Finn had a good offensive lineup with the three Smiths, John, Hugh, and Nick, but pitching proved to be a problem throughout the year. Joe Purcell (17-15) was Finn's top man in the box. In May the Chronicle suggested that Finn, "a clever boxman … will have to doff his elegant managerial robes, put on a 'rig,' steady his boys, and save them from utter annihilation."
The loss of Lorrigan was acutely felt on July 14 when he no-hit the Pioneers 8-0 in Stockton. Shortly thereafter, Lorrigan became ill, never recovered, and died in 1889. George Harper replaced Lorrigan in the box and Stockton (41-24) won the California League pennant. The Pioneers (30-37) finished third behind Stockton and Haverly, with Oakland's Greenhood & Moran in last place. Nick Smith (.243) was the Pioneers' leading hitter.
In December 1888 Finn sold his interest in the California League to Haverly manager Henry Harris, giving Harris the sole right to manage a team in San Francisco. Finn sold the Pioneers to James L. Gillis, who moved the franchise to Sacramento. After the transactions Sporting Life noted that the longtime triumvirate of managers Henry Harris, Tom Robinson, and Finn would be broken up: "Of the three [Finn] was the only one who had ever won distinction on the diamond. He is greatly esteemed by our public."
Finn wasn't out of baseball for long. According to Spalding, "Henry Harris shocked the league by selling his San Francisco team to Finn in June 1889 for $2,200 and took the Stockton manager's job for $250 a month." First-place San Francisco struggled with the managerial change and lost 11 straight, still clinging to the lead but fighting with Tom Robinson's Oakland club for an advantage. The race was close for weeks, with Oakland pulling ahead in late October. San Francisco put pressure on Oakland by winning three straight from them in the season's final week, setting up a tiebreaking final game between the two clubs on November 24.
Haight Street Grounds overflowed with a record 28,000 fans. With San Francisco in the field awaiting the first pitch, Robinson sent George Van Haltren to the plate to start the game. Finn immediately withdrew his team from the field in protest; Van Haltren, William Brown, and Fred Carroll, all major leaguers, were in the Oakland lineup. "We refuse to play this game with these Eastern men against us," Finn told umpire Jack Sheridan, who gave him five minutes to field his team or forfeit the game. When the deadline passed with Finn's squad still on the sideline, Sheridan awarded the game to Oakland.
Finn, who was livid, protested to President Mone, who threatened him with a $300 fine if his team failed to take the field. Much debate followed, with Finn agreeing to play the contest, which Robinson then called an exhibition. With the three major leaguers out of the lineup, Oakland won, 5-4. Five days later, Finn's protest was considered by league officials, who set aside Sheridan's forfeit and ruled that the latter game was official, giving Oakland (56-38) its first championship. San Francisco (55-39) was led by Len Stockwell (.301) and George "Blockers" Hanley (.295). A trio of pitchers, Bill Clarke (10-4), Pete Meegan (28-15), and Romeo Barry (15-11), pitched well throughout the season.
In 1890 Finn told the San Francisco Morning Call, "I propose to win the championship this year and will spare neither time, trouble nor expense to do so. My team was beat out of it last year by a fluke and I don't intend to have a similar trick played on me." Finn added Charley Sweeney and Buck Ebright for offense and Nick Lookabaugh for mound presence; he would need all the help he could get for the league's expanded 139-game season.
As the league headed into July, San Francisco was in the middle of a hot pennant race. Off the field, Finn was the subject of concern. According to the Oakland Tribune, "Some of the league directors are not happy with the way Finn has been managing his team and assert that he fails to look out for tomorrow." According to Spalding, "Finn was spending so much time overseeing his properties and trying to get a political career started in the Democratic Party" that league President Mone tried to persuade Henry Harris to return to manage San Francisco, but to no avail.
Meanwhile, San Francisco, Oakland, and Sacramento were in a close race for the pennant. A key moment came in late August when Sacramento released former major-league pitcher Roscoe Coughlin, who was then signed by Finn. On October 6 Oakland's Kid Carsay pitched a 2-0 no-hitter against San Francisco at Haight Street; both teams had 64-49 records at the end of the day.
In the season's final weeks, league officials admitted they hadn't kept won-lost records and were unsure of the final totals; newspapers also reported different standings. An investigation found that San Francisco and Sacramento had identical season-ending records – a playoff would be needed.
League directors, after heated discussions, scheduled three games in a neutral site, Stockton. Sacramento manager Thomas Enright protested and threatened to boycott the games, perhaps because his players had been paid through the end of the regular season and wanted extra money for the playoffs. Enright refused to pay and wired officials that the game couldn't be played in Stockton. Finn, knowing that his club would win if Sacramento failed to show, took his team to Stockton, where it was awarded two forfeit victories and the California League championship. Nick Lookabaugh (33-28) and Roscoe Coughlin (20-10) pitched well for San Francisco (81-58). Buck Ebright (.295) and Blockers Hanley (.269) paced the offense.
On December 6, 1890, Finn sold the San Francisco franchise to Henry Harris, who became the team's sole owner; Finn also disposed of his interest in the Haight Street Grounds. He then revealed that he'd signed a two-year contract to manage the fledgling San Jose franchise, which would replace Stockton. The San Francisco Morning Call wrote that Finn, his wife, and his children had been sick for two years with an unspecified illness and were constantly under a doctor's care; he hoped that selling the club would improve his health and that of his family. Perhaps San Jose's warm climate was the attraction; Mike relocated his family to a home there by the end of February. In March he attempted to raise money by selling his contracting business and a dozen thoroughbreds he housed in Palo Alto. A prospective buyer for both was found but died three days before the deal was to be consummated.
Owned by a group of seven bankers and businessmen, the San Jose club was led by trolley magnate James H. Henry, who put up $5,000 to operate the team and build a ballpark. Finn supervised its design and construction. He also kept busy signing players during the winter. He brought Ebright (a former major leaguer with Washington in 1889), Lookabaugh, Hanley, and shortstop "Wild Bill" Everitt with him from San Francisco, added pitcher George Harper, and solidified the defense with first baseman Charles Dooley and outfielders Art Sunday and Joe McGuckin. Another stellar addition was outfielder-catcher George T. Stallings, who had had 91 games of minor-league experience (1887-1890) plus four games with Brooklyn of the National League the previous year. He later became famous as the manager of the 1914 "Miracle" Boston Braves, which won the World Series championship over the Philadelphia Athletics.
San Jose opened the season on March 22 with a 5-0 loss to San Francisco at Haight Street. Stallings had two of San Jose's four hits; the Chronicle wrote that Finn took the defeat "very philosophically." Six days later San Jose entertained the San Franciscans at the team's new Agricultural Park field, winning 6-5 in front of 3,000 spectators. Thereafter, it wasn't long before San Jose was in first place, where it stayed for most of the season. By June newspapers were calling Finn the Duke of Santa Clara County for popularizing baseball there, a title that Sporting Life said "promises to stick to him as long as he remains at the head of the San Jose team." His team soon became known as the Dukes.
Spalding called Finn a "stickler for training rules," adding, "He wanted his players to refrain from drinking alcohol or gambling during the season … and fined them [if they did]." A fan from that era told the Chronicle that players of the late 1880s usually wound up at a saloon at Ellis and Steiner Streets on Saturday nights, either to drink to their afternoon victory or to drown their chagrin over a defeat. "Many a Saturday night," the fan recalled, "I used to see Mike Finn … collar his players at the bar and take them home to sober up so they could play their Sunday game."
During a game in April, Finn unexpectedly let out a loud yell and was seen, to the astonishment of fans and players alike, doing a war dance on the grass, hardly behavior one would expect from the staid skipper. It seems that Joe McGuckin had a pet white rat that he left in Finn's care on the bench. According to The Sporting News, "During the excitement of the game Finn thrust the animal into one of the pockets of his trousers. Fifteen minutes later … the rat had eaten a hole through his pocket and was chasing up and down his leg." It was the last time Finn cared for the critter.
In July 1891 San Jose fans were in a froth over Finn's release of team captain Buck Ebright; Mike caught him playing poker at 1 A.M. in the back of a cigar store and fined him $10. Ebright told him he'd quit before paying and was subsequently given his release. Ebright then signed with Oakland, where he played eight games before the San Jose directors got nervous during a losing streak; Duke promptly re-signed the outfielder.
Finn could also be superstitious, and losing sometimes prompted creative solutions to remove a perceived "jinx." At one point during the summer, Spalding noted, Finn and his club "piled up old uniforms and bats and set them on fire. … The results were mixed and players thought there still might be a hoodoo on their team." With three weeks left in the season and with San Jose holding a one-game lead over San Francisco, Finn and Ebright shaved off their mustaches in an effort to turn things around.
The change in fortunes was stunning – the Dukes didn't lose another game during the November stretch drive, winning 13 straight to finish 90-57, 5½ games in front of San Francisco. George Harper (47-32) and Nick Lookabaugh (43-25) pitched San Jose to the pennant; Harper completed all of his 79 starts and had a 0.96 ERA. Lookabaugh threw 577 innings with an ERA of 1.74. Buck Ebright (.284), Charles Dooley (.258), and Bill Everitt (.254) supplied a big slice of offense. Some called George Stallings the fastest player in the circuit; he stole a league-leading 86 bases. Harper moved on to the majors in 1894 and 1896, posting a 10-14 record in 28 games with Philadelphia and Brooklyn. Everitt hit .317 as a major leaguer for Chicago and Washington (1895-1901).
Hoping to make more money, San Jose challenged Portland, winner of the Pacific Northwest League, for the championship of the Pacific Coast. A 19-game series was set with all but two scheduled in San Francisco. The series opened on November 26 (Thanksgiving Day) and was evenly matched throughout, with neither team able to build more than a two-game lead. With the series knotted at nine games apiece, the second game of a Sunday doubleheader on January 10, 1892, determined the champion. With the score tied at 3-3 in the eighth and Everitt on third base, Ebright was called safe at second in a close play. The Portland manager and second baseman, Bob Glenalvin, and several of his players challenged the umpire's decision, but no one called time. With everyone from Portland focused on the dispute, Everitt stole home and was called safe, prompting Glenalvin to pull his team off the field. The game was then forfeited to San Jose and the Dukes became champions of the West.
With the offseason lasting only ten weeks, Mike Finn signed most of his 1891 players to new contracts. One exception was Blockers Hanley. On March 21 the Morning Call reported that Hanley would not be retained, writing, "[Hanley] and Finn fell out on a question of total abstinence and Blockers got the worst of it." Another Dukes player who sparked controversy was third baseman Jerry Denny, a major leaguer who played third base in spectacular fashion without a glove. Spalding said Denny's presence on the Dukes was "distinctly illegal." The property of Pittsburgh, Denny refused to go east and preferred to stay near his family in Oakland. Finn's position was clear: "If Pittsburgh wants him they will have to fight for him."
The California League of 1892 featured one new team, Los Angeles (which replaced Sacramento) and a schedule of approximately 170 games. San Jose and Los Angeles were in a tight race in the early going, but a disturbing trend affected all clubs – dwindling attendance. By late July Finn was considering the possibility of shifting the franchise to Stockton. Another matter also occupied his time. According to Spalding, "He was busy with politics as well and moved back to San Francisco for three months in the middle of the summer while he ran an unsuccessful campaign to gain the Democratic Party's nomination for superintendent of streets in the city."
Finn also had another personal enterprise – the Home Plate cigar store on West Santa Clara Street in San Jose, in partnership with George Stallings, an establishment that also sold ballgame tickets. The store didn't last long – it was gutted by fire in the early morning hours of August 1. The damage was estimated at $2,500, which was covered by insurance.
In an effort to counteract sagging attendance, the league accepted a proposal by Los Angeles manager G.A. Vanderbeck to split the schedule into two halves, ending the first season on July 26, with the two first-place teams meeting in a playoff at season's end. San Jose played Los Angeles five times in the final week of the first half, winning the last game 4-3 on a home run by George Harper. The triumph by San Jose (49-36) was the third straight championship for the Dukes and the fourth consecutive title for Finn.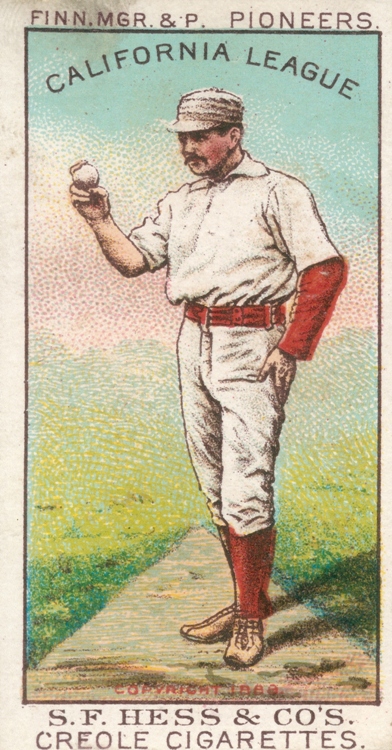 San Jose managed to sell 500 season tickets, enough to keep the team in town, but didn't play well in the second half (35-49); disappointed fans stayed away in droves. Although Los Angeles (51-35) won the second season, Finn objected to any playoff games there; his relationship with Vanderbeck had been strained since the end of the first half. Finn declined Vanderbeck's offer to pay San Jose's expenses, but a split-the-gate agreement was accepted by all but two of San Jose's players, who deserted Finn and jumped their contracts by arranging a series on their own. Los Angeles won the subsequent playoff (5-0-1) in early December but the result was nullified at the annual league meeting, which awarded San Jose the first-half championship and Los Angeles the second half. Los Angeles was then kicked out of the league and Vanderbeck's license was revoked.
By early January 1893, Mike Finn wasn't sure whether he wanted to continue in baseball or look for a political appointment. In February, he decided to move his club to Stockton, a city that had failed to support a team in 1890. According to Sporting Life, Finn said, "Stockton was infested by ball players who were dishonest enough to forget to pay their debts. … But I'll not stand for such practices from my players. Temperance will also be another feature of the team or I'll quickly dismiss all offenders."
Money problems surfaced elsewhere; Tom Robinson was unable to pay his Oakland players, prompting Finn to note that Robinson's gate receipts were adequate but that Robinson used the money to buy diamonds and then told everyone his ladies bought them for him. Soon thereafter, new owners assumed control of the club. Oakland captain Norris "Tip" O'Neill, who was released by the new regime, was hired by Finn to serve in the same capacity in Stockton; his players immediately threatened to strike. Finn countered by vowing to suspend and fine any strikers. With few of the players on good terms with O'Neill and a fear that Robinson would somehow take control of the team and move it to Sacramento, the players didn't show up for a May 26 game, which was forfeited to Los Angeles. Finn sold the club the next day to John W. Moore of Spokane.
The ownership changes resulted in the election of a new league president in early June. Finn, outgoing President Mone, Henry Harris, and Tom Robinson were seen as contributing to the league's decline; new Los Angeles manager Al Lindley said the public had lost confidence in their operation. The Chronicle noted that owners Harris, Finn, and Robinson had lost a reported $60,000 in the disastrous seasons of 1892-93. By mid-August, the California League had collapsed and wouldn't resurface for another four years.
On June 7, 1893, Finn's two-story residence on San Francisco's Page Street was destroyed by a fast-moving fire that consumed a city block; three firefighters died fighting the blaze. Three days later the Chronicle reported that Finn had applied for a pitching job with a Petaluma team managed by Blockers Hanley. Perhaps recalling his ouster by Finn a year earlier, Blockers said, "You might want to get up in the night and eat clam chowder, and you know that kind of conduct will not do on my team. I've had some trouble with you before, and you must look elsewhere for a job."
Finn continued to look for other baseball opportunities and went back to San Jose in November 1893 with the hope of working up enthusiasm for a team, but left in what the Evening News called "a very disconsolate spirit." In September 1895, at the age of 39, he again announced his desire to get back into managing, but nothing came of it. Thereafter, Mike's participation was limited to the occasional neighborhood diamond challenge or benefit/charity game. He managed a team of Customs House employees in February 1896 that lost to the Mint, 17-6, hitting a triple in the contest. There were also annual charity contests in the Hayes Valley area between Finn's "Gallagherites" and the "Mahoneyites."
Out of the game, Finn still maintained a keen interest in baseball, sometimes taking in a Pacific Coast League game; he also managed the Haight Street Grounds for a time. He had, however, lost his desire to get back into the game, primarily because of the high salaries demanded by the players. As he told the Chronicle in 1913, "The old style was better, when the aim was to hit the ball a mighty clip, which insured more activity on the part of the players. … The pitchers have too much of a handicap with the foul-strike rule in vogue. … The game will have no limit to its popularity no matter how the moguls construct the rules." Only one of Finn's four sons played baseball; Charlie was captain of a team called the Micks in 1907. (Charlie died in August 1926 when he was hit in the chest by a baseball.)
A stalwart in the Democratic Party, Mike Finn was involved in San Francisco politics well into the 1920s. At a party convention in September 1894, several backers, including Blockers Hanley and Charles Gagus, touted him as a potential candidate for Twelfth Ward supervisor (councilman), but he declined to enter the contest. In August 1899 he announced his candidacy for recorder, but wasn't elected. The well-connected Finn, however, had influence. During an influenza epidemic (probably in 1918) everyone on San Francisco public transportation was obligated by law to wear a mask. Mike took his off while on a streetcar and was arrested when he got off. When the arresting officer brought Mike to the police station, the sergeant in charge said, "Are you nuts? Do you know who that is?" Mike was promptly released and the officer was in big trouble.
On April 18, 1906, the San Francisco Earthquake destroyed Mike Finn's rebuilt home on Page Street. The family, like thousands of others, ended up living in a tent in Golden Gate Park until the home could again be rebuilt. Finn's wealth and construction expertise no doubt hastened the process.
Finn was a man who loved to host parties, affairs that relegated his children to the top of a grand, winding staircase where they watched guests arrive. His servants would offer guests only the best booze; if they refused but attended later parties, Mike would never offer them a drink again. The gaiety was also fueled by ragtime piano music played by his daughter Ruth, who played professionally at department stores and movie houses. Her brother Eddie, also a musician, sometimes accompanied her.
One of Finn's gala events was held on October 18, 1920, when he hosted a reception for Ty Cobb. Posing for a Chronicle photographer, Cobb insisted on standing to Finn's left, saying "He is my superior officer and I should really stand one pace to the rear of him." Of the meeting, Mike said, "Ty Cobb is so different from the man I expected to see that I couldn't get my breath for a while, and after he had left I thought of a lot of things I might have said to him. He is a champion hitter and somehow I had pictured him as a big roughneck with bulging muscles. Instead of that I was greeted by a boyish looking fellow who looked as if he had to shave once a week. … He has class sticking out all over him, and I am mighty proud to have made his acquaintance."
Finn retired from a job with the US Internal Revenue Service in the mid-1920s. He and Mary Ann then spent about ten years on a farm in the Concord area of Contra Costa County. It became a focal point for family gatherings; by 1930, the home on Page Street was occupied by Mike's son Frank, a firefighter, and his daughter Georgiana, a saleswoman. The Finns' daughter Alice and her husband lived on the farm until 1956.
When they could no longer care for the farm, Mike and Mary Ann lived with their daughter Ruth and her husband. Mike died from chronic arteriosclerosis on February 10, 1935, after a long illness. A service was held at Gantner-Felder-Kenny Funeral home and a high Mass was celebrated at St. Agnes Church on February 13. He was buried at Holy Cross Cemetery in Colma, California.
Sources
Spalding, John. Always on Sunday: California Baseball League 1886 to 1915. Manhattan, Kansas: Ag Press, 1992.
Zingg, Paul J., and Mark D. Medeiros. Runs, Hits, and an Era: The Pacific Coast League, 1903-58. Urbana and Chicago: University of Illinois Press, 1994.
Sporting Life, 1885-1893
San Francisco Chronicle, 1878-1956
San Francisco Morning Call, 1890-1893
San Francisco Call, 1895, 1898, 1899, 1907-1909
Sacramento Daily Record-Union, 1884-1890
San Francisco Bulletin, 1886-1890
Daily Alta California, 1886-1889
San Jose Evening News, 1890-1947
Oakland Tribune, 1891-1912
Los Angeles Times, 1892
San Jose Mercury News, 1913
San Francisco Examiner, 1936
Seattle Daily Times, 1935
Ancestry.com
The Library of Congress Chronicling America: http://chroniclingamerica.loc.gov/
California Digital Newspaper Collection: http://cdnc.ucr.edu/cdnc/
Genealogybank.com
San Francisco Public Library
Acknowledgments
Thanks to Deborah Shepherd Hayes, Duke Finn's great-great-granddaughter, for initiating this project and providing invaluable biographical information, photos, and encouragement. Two great-granddaughters, Laurrana Leigon and Nancy Gazzano, made significant contributions with genealogical information, old scrapbooks, and stories about Duke as related to them by the oldest living Finn descendant, Arthur "Bud" Rodgers. It's an honor to have them call me an "honorary Finn."
Born
September 29, 1856 at , ()
Died
February 10, 1935 at , ()
If you can help us improve this player's biography, contact us.
http://bioproj.sabr.org/bp_ftp/images4/FinnDuke1.jpg
600
800
admin
/wp-content/uploads/2020/02/sabr_logo.png
admin
2012-01-08 21:23:24
2012-01-08 21:23:24
Michael E. Finn