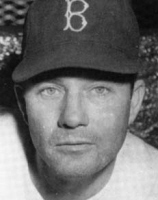 ---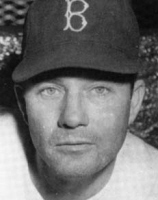 The phrase "journeyman catcher" might have been coined expressly to describe Mickey Livingston. From his debut in the South Carolina textile leagues in 1935 to his ultimate retirement in 1956, he played or coached for two textile-mill teams, 15 minor league teams, and six major-league teams. Most of the time he was a backup catcher. The 1943 season, when he played for the Phillies and the Cubs, was the only year in which he appeared in more than 100 games in the majors.
Thompson Orville Livingston was born in Newberry, South Carolina, on November 15, 1914. His parents were Cole Blease and Ada Thompson Garrett Livingston. In 1920 the family was living in Newberry, and consisted of Cole and Ada, Mickey, and two sisters, Julia and Sarah. His father was apparently not working, but his mother was employed in a textile mill. In 1930 he was living in Newberry with his parents and his 19-year-old sister, Sarah. According to his World War II enlistment records, his schooling ended with grammar school.
Livingston started out playing American Legion ball, and then played for the Newberry Mill team in 1935. That same year, he married Margaret E. Darby. During the 1937 season, he played for Sanford in the Florida State League, Charlotte in the Piedmont League, and then for the Chattanooga Lookouts of the Southern Association, all farm teams of the Washington Senators. He played the most games, 86, for Chattanooga, where his batting average was .249. While at Chattanooga, his contract was purchased by the Washington Senators. The plan was for him to finish out the season in Chattanooga and then be either called up for the Senators' spring training or released.
Livingston must not have made it to spring training, because in 1938 he again played for the Newberry Mill team, and later for Trenton, a Senators farm club in the Eastern League. He batted .223 with Trenton, but his 20 extra-base hits out of a total of 62 gave him a slugging percentage of .342. Livingston was called up to the Senators and made his major-league debut when they defeated the St. Louis Browns on September 17, 1938. He got three hits, two of them doubles, in four at-bats, and was charged with an error. He played in one other game, making a late-inning appearance behind the plate the next day.
Livingston went to spring training with the Senators in 1939, but was once again sent down to the minors. That season and the next he played for Springfield in the Eastern League. Partway through 1939 he sported a batting average of .360 and seemed to have a bright future ahead of him. In midseason, however, he ran into a dugout roof while chasing a pop foul. The resulting concussion caused vision problems that plagued him for the rest of his career. He finished the 1939 season with a batting average of .299 and a slugging percentage of .458. In 1940 he played in 93 games for Springfield, and was voted the best catcher in the Eastern League.
In October 1940 the Brooklyn Dodgers drafted Livingston from Springfield, then a month later traded him to the Philadelphia Phillies along with pitchers Vito Tamulis and Bill Crouch and $100,000 for pitcher Kirby Higbe. Livingston considered this a big break, and told a sportswriter, "If I'd stayed up with Brooklyn, I'd have had to break three other catchers' arms to get in a ballgame."[1] By this time he was a family man with two children, a 4-year-old boy and a 2-year-old girl.
According to the sportswriter, Livingston was labeled by his fellow Phillies as "one of the hustling-est catchers in the league." He was also known as one of the quietest, saying: "Most of my talking is to the pitcher. … I figure the batter isn't bothered much with chatter. And when a fellow comes sliding home with his spikes up, you can't talk him into being out. You have to tag him." Coach Hans Lobert of the Phillies said: "He's my kind of ballplayer – has lots of guts, can hit in the clutch, and keeps his mouth shut."[2]
In 1941 Livingston appeared in 95 games for the Phillies (starting 55 behind the plate), batting .203. The following season he appeared in 89 games (starting 68 games behind the plate) and batted .205. He split the 1943 season between the Phillies and the Cubs. He appeared in 84 games for the Phillies, batting .249. In August he was traded to the Chicago Cubs for pitcher Bill Lee. He played in 36 games for the Cubs, and batted .261.
In March of 1944 Livingston was drafted into the Army. However, the pressure from his helmet aggravated his vision problems and caused him severe headaches, and he was granted a medical discharge in November. Livingston returned to the Cubs for the 1945 season. The Cubs made it to the World Series that year, and though they lost to the Detroit Tigers in seven games, Livingston was an unexpected hero with three doubles, four RBIs and a .364 batting average for the Series. He also, however, was fined $250 by Baseball Commissioner Happy Chandler for momentarily grabbing the arm of umpire Jocko Conlan in the sixth game. Livingston remained with the Cubs in 1946, playing in 66 games and batting .256.
In July 1947 Livingston was sent to the New York Giants on waivers. He played in only five games for the Giants, working mostly as a bullpen catcher. In 1948 he played in 45 games, starting 31 behind the plate, and batted .212. In 1949 he played 19 games for the Giants before being sent to the Boston Braves on waivers. After the season he was sent to the St. Paul Saints, a Dodgers farm team in the American Association. Livingston told the Newberry Observer that he was far from satisfied with the deal. While he was not "spouting off," he made a terse statement: "I am not going to report to St. Paul."[3] He told reporter Scoop Latimer that he was upset at being traded only two months and a few days before he would qualify for the financial and other advantages available for players with ten years of major-league service.
Latimer speculated that Livingston would either play for a local textile team or ask for his outright release so he could coach minor-league ball. Latimer described him as "a smart heady catcher … who would make some club a capable playing manager (and) intimated that he would be interested in a managerial job in a good minor league."[4] Apparently no such offer came along, however, because Livingston was back in South Carolina for the 1950 season, playing for the semi-pro Clinton Mill team. By the time the playoffs came around, he was hitting .333, and was instrumental in winning a Central Carolina championship for the team.
In 1951 Livingston returned to Organized Baseball, playing in 78 games for Fort Worth in the Texas League and six games for the St. Paul Saints. His combined batting average was .301. Late in the season, he was brought up by the Dodgers to fill in for an injured Roy Campanella, but appeared in only two games. He played his final major-league game on September 20, 1951. During his major-league career, he played in 561 games, had a batting average of .238, hit 19 home runs, had 153 RBIs, had an on-base percentage of .310 and a slugging percentage of .326. He was a good fielder, with a fielding percentage of .984 over his major-league career. Although primarily a catcher, Livingston played first base in 14 major-league games, and had a fielding percentage of .991 at that position.
In December 1951, the Dodgers released Livingston and he was hired as manager of Shreveport in the Texas League. He led the Shreveport team in 1952 and 1953. In 1952 he played in most of Shreveport's games, batting .274. That year was also his best year as a minor-league manager; the team ended the regular season with an 84-77 record and went on to win the Texas League championship playoffs.
On October 1, 1953, Livingston signed a contract to manage Shreveport again in 1954, but the club fired him for opening Mickey Livingston's Bar and Cocktail Lounge at the Jefferson Hotel in downtown Shreveport. He appealed his case through various baseball channels, and later through the courts, but ultimately lost his case. The United States District Court for the western district of Louisiana found that he had not asked the club's permission to open the business, and that the Shreveport organization had the right to expect his full participation with the team. Furthermore, the court said, his owning a bar did not provide a good image for the team, or a good role model for the fans: "Although there is nothing illegal in the proper operation of a bar, it was as wrong for plaintiff to enter into such a business as it would be for a preacher or teacher. Such people, and baseball managers, are prominently before the public eye. Their conduct in all things should be above reproach. By his action plaintiff set an unpardonable example before the children and young people in this community. He stigmatized his position and his team."[5] The court also found that the team and the league had the right to make the decision to terminate Livingston. The ruling was to become a landmark in arbitration law.
Livingston caught on as manager of the Colorado Springs Sky Sox of the Western League in 1954. He was there for only 15 games before moving to the Beaumont Exporters of the Texas League. He remained with Beaumont through 1955. He also played while managing Beaumont, appearing in 32 games in 1954 and 64 games in 1955. In December 1955 Livingston was named the manager of the Milwaukee Braves' Boise, Idaho, team in the Pioneer League. He was there for only 21 games, and then moved to the Lubbock/Texas City Texans of the Big State League. This was the end of Livingston's minor-league career. He was in the minors for ten seasons, spanning almost two decades. He played in 786 games, had 567 hits, batted .265, and had a slugging percentage of .378.
Mickey Livingston died in a veterans hospital in Houston on April 3, 1983, at age 68. His last known residence was Galveston, Texas. He was survived by his wife, Margaret Darby Livingston, and three children, Donald, Judy, and Sarah. He was buried in Rosemont Cemetery in Newberry, South Carolina.
June 1, 2011
Sources
Ancestry.com (1920, 1930 census records; World War II Army Enlistment Record)
Baseball-Reference.com
Baseball-Almanac.com
Billington, Charles N. Wrigley Field's Last World Series. Chicago: Lake Claremont Press, 2005.
Perry, Thomas K. Textile League Baseball: South Carolina's Mill Teams, 1880-1955. Jefferson, North Carolina: McFarland and Company, 1993.
---
Full Name
Thompson Orville Livingston
Born
November 15, 1914 at Newberry, SC (USA)
Died
April 3, 1983 at Houston, TX (USA)
If you can help us improve this player's biography, contact us.
http://bioproj.sabr.org/bp_ftp/images5/LivingstonMickey.jpg
600
800
admin
/wp-content/uploads/2020/02/sabr_logo.png
admin
2012-01-04 20:46:12
2012-01-04 20:46:12
Mickey Livingston