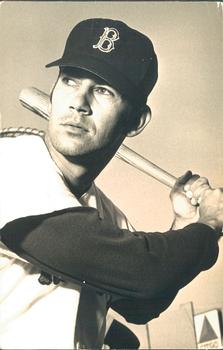 ---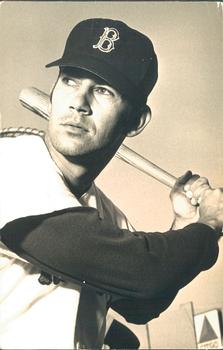 Mike Derrick made the major leagues in 1970, the culmination of a dream he had pursued since he was a young boy growing up in the area of Columbia, South Carolina. A first baseman, third baseman, and outfielder in the minor leagues, his first 14 appearances in the big leagues were as a pinch-hitter for the Boston Red Sox.
James Michael Derrick was born into a blue-collar family on September 19, 1943, in Columbia to James Henry Derrick, a section foreman for a cotton mill, and Doris [Wingate]. Around the time of Mike's birth, one of his uncles worked as a gas station attendant and his aunt Lucy worked as a salesgirl in a five- and 10-cent store. His grandfather George was a truck driver for an oil company.
Young Mike attended the Brookland Grammar School, and in 1961 graduated from Brookland-Cayce High School in West Columbia, lettering in baseball, basketball, football, and track. He was a high school All-American selection in football and All-State in basketball. On top of that, he was president of the senior class. His football coach called him "the best all-around athlete I have ever coached."1 He had played Little League, Pony League (twice homering four times in a single game), and American Legion baseball. He helped lead his Legion baseball team to two South Carolina state titles. In football, he played in both the Shrine Bowl and the North-South all-star game.
He was awarded a football scholarship and enrolled at the University of South Carolina. He had already talked to 10 or 12 major-league baseball scouts, but had his mind set on going to college. The offers were lucrative, though, and on August 29, 1961, he was signed to his first professional baseball contract by scout George Pratt of the Pittsburgh Pirates for a bonus reported as between $40,000 and $75,000 spread over five years. He had worked out for several clubs, but after his workout at Forbes Field, he decided to sign with the Pirates, and put in his fall semester at the university, reporting the following spring.2
Asked if he preferred first base or the outfield, his answer was: "It doesn't matter a bit. I'd rather hit, to tell the truth."3
Derrick stood an even 6 feet tall, and is listed at 190 pounds. He threw right-handed, but batted left.
He was assigned to the 1962 Grand Forks Chiefs in Grand Forks, North Dakota, in the Class-C Northern League. He played first base, appearing in 115 games, and was named to the league all-star team. The Chiefs finished first in the eight-team league, Derrick driving in two runs and scoring two more in the clinching game.4 Derrick's .306 batting average ranked him fourth. He led the league in doubles (29) and both assists (68) and double plays (106) by a first baseman, but also in errors (29). He homered 11 times and drove in 73 runs.
In Class A in 1963, he played for the Kinston Eagles (Carolina League). In 97 games, he hit .272 with 58 RBIs. His 1964 season was split between the Asheville Tourists (Double-A Southern League) and the Reno Silver Sox (Class-A California League), but he lost several weeks of playing time due to a broken ankle. He struggled to keep up his average at the higher level, hitting only .198 in 44 games with Asheville, then hit .294 in 47 games for Reno.
Derrick was named an All-Star again in 1965 with Kinston, getting off to a torrid start with 12 homers by May 18, eight of them in a six-day stretch. He was always a streaky hitter, and naturally couldn't keep up that pace but he finished the season driving in 103 runs with 28 homers and a .289 average. He led the league in both homers and RBIs.
For the next two seasons, he played in Triple A with the Columbus Jets, unexpectedly making the team out of spring training in 1966 and impressing manager Larry Shepard with a hot start in the regular season as well.5 On June 22, however, in pregame fielding drills, Derrick re-fractured the same ankle he had broken in 1964. As a result he was only able to appear in 48 games. He hit .279 in the games he played. He got in some extra playing time in Nicaraguan winter league baseball.
His 1967 season was very much an off-year, hitting only .234 with 44 RBIs in 120 games, then finding himself riding the bench near the end of the season. On November 29, 1967, the Pirates traded him to the Detroit Tigers for Chris Cannizzaro.
The Tigers placed him with Toledo and he had two solid seasons for the Mudhens, .283/11/74 (.357 on-base percentage) in 1968 — while playing more at third base and in the outfield than at his customary first base. He placed second in league MVP voting. In 1969 he was back at first base and produced .269/16/80 (.356). He earned a reputation as someone who hustled. Responding to a reporter, he self-deprecatingly said, "If you look as bad as the player as I do sometimes, you better hustle."6
The Tigers, though, chose not to protect him and he was selected by the Boston Red Sox in the Rule 5 draft on December 1, 1969. He played in Puerto Rico over the winter. He had at this point played in 38 states. "Most of the time I was riding old broken-down buses with those clubs. You know, there was only one AAA club out of the 24 in the country that didn't fly. I was real lucky," he said, tongue in cheek. "It was Toledo."7
Incoming manager Eddie Kasko, who'd seen him play in the minors while Kasko was managing Louisville, said that drafting Derrick was a form of insurance: "I don't know that he's going to solve any of our problems, but he can do a lot of little things which I like. He can play first, third, and the outfield. He steals a base for you. And his last two years have been good ones at Toledo."8
He made the big-league Red Sox team out of spring training as the utility player (really, a left-handed pinch-hitter) Kasko had foreseen. In his major-league debut, as a pinch-hitter on April 9 at Yankee Stadium, Derrick struck out. His first 14 appearances were all in pinch-hitting roles. The fourth time, he connected for his first base hit, on April 17 at Tiger Stadium, a two-out single in the top of the 10th. He was cut down trying to steal second base. The Tigers won the game in 11. He only had one other hit in those first 14 appearances, but picked up a third one in his first start on May 27 at Fenway Park. It was also the game in which he drove in his first run, albeit in a losing effort. His next two games (May 30 and May 31) saw him collect two hits and two RBIs per game. He played left field in both games. He told the newspapers back home that he was truly thrilled to be playing in the major leagues.9 There weren't a lot of opportunities, however, with an outfield of Carl Yastrzemski, Reggie Smith, and Tony Conigliaro, with George Scott at first base and Billy Conigliaro as the fourth outfielder. He's played three games in a row "but then everybody healed and that was it."10
Those two hits in each of the last two May games were his last big-league base hits and his last runs batted in. He pinch-hit in seven games in June but without success.
The Sox decided to replace him with another utility man, John Kennedy, and optioned Derrick back to Louisville on June 26. His major-league record stands at a .212 batting average, with the five RBIs.
He played out the season with the Colonels, appearing in 43 games and driving in 31 runs with a .333 average.
Derrick played two more years in baseball, appearing in 105 games for Louisville in 1971 with a .280 average but only 49 RBIs. In January 1972, the Minnesota Twins organization acquired him in a trade and he played for Tacoma (Pacific Coast League), appearing in 113 games, hitting for a .268 average, homering 10 times, and driving in 67 runs. His last big game in pro ball was on August 19, when he had two homers and five RBIs in a game against Eugene.
In October 1972, Derrick was hired by Integon Life Insurance Corp. as a representative based in Columbia and began what looked to be the next stage of his career.11 Rather soon afterwards, however, he started his own company, Cayce Welding and Ornamental Iron.
In 1978, missing the game, he began as head coach of an American Legion baseball team in the Columbia area. That first season, his Congaree team won the state championship. They repeated in 1980.
He had settled in the area, marrying Jacqueline "Jackie" Davis, his high school sweetheart, on December 30, 1961. They had three children — Mike Jr., who worked with him at the welding and iron business, and two daughters, Wendy and Christy.
He still followed baseball. "I still pull for the Red Sox," he said in 1990. "So does my son, who was about eight or nine when I played in Boston."12
Derrick died of cancer on January 14, 2009, in Lexington, South Carolina. He was survived by his wife and their three children.
Acknowledgments
This biography was reviewed by Norman Macht and fact-checked by Kevin Larkin.
Sources
In addition to the sources noted in this biography, the author also accessed Derrick's player file and player questionnaire from the National Baseball Hall of Fame, the Encyclopedia of Minor League Baseball, Retrosheet.org, and Baseball-Reference.com. Thanks to Rod Nelson of SABR's Scouts Committee.
Notes
1 Jake Penland, "In the Press Box," The State (Columbia, South Carolina), October 7, 1960: 39.
2 Bill Rone, "Mike Derrick Gets Bonus to Sign with Pittsburgh," The State, September 1, 1961: 23.
3 Ibid., 25.
4 "Chiefs Win Northern Flag," The Sporting News, September 8, 1962: 37.
5 See Eddie Fisher, "Jet Fans Crane Necks To Watch Derrick's Shots," The Sporting News, May 28, 1966: 33.
6 Bill Fox, "Hens Cackling Over Derrick's Hot Bat," The Sporting News, May 24, 1969: 37.
7 Doug Nye, "Derrick Finally Lands Spot in Big Leagues," Columbia (South Carolina) Record, May 7, 1970: 42, 43.
8 Bill Liston, "Sox Spend $25,000 for Insurance," Boston Herald, December 2, 1970: 41.
9 Ernie Trubiano, "Derrick Made All the Stops On His Trip to the Majors," The State, June 16, 1970: 16.
10 Ernie Trubiano, "Doing It All," The State, August 18, 1990: 27.
11 See newspaper announcement in The State, October 22, 1972: 43.
12 Ernie Trubiano, "Doing It All."
Born
September 19, 1943 at Columbia, SC (USA)
Died
January 14, 2009 at Lexington, SC (USA)
If you can help us improve this player's biography, contact us.
https://sabr.org/sites/default/files/Derrick%20Mike.jpg
600
800
admin
/wp-content/uploads/2020/02/sabr_logo.png
admin
2018-06-27 13:20:54
2020-04-09 14:38:44
Mike Derrick