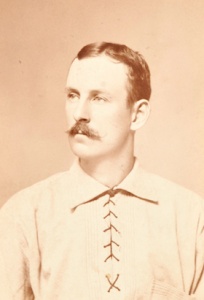 ---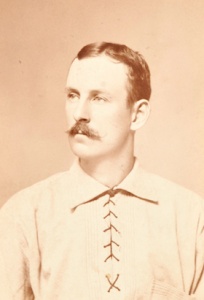 Mike Dorgan was the older brother of major league outfielder Jerry Dorgan, who died at an extremely young age of alcohol poisoning. Both brothers dealt with a severe alcohol problem during their playing days, but Mike eventually won the battle.
Michael Cornelius Dorgan was born on October 2, 1853 to Cornelius Joseph Dorgan and Mary Cahill. Mike's obituary in the May 28, 1909, Sporting Life recounted that his first ball playing of consequence came in his hometown in 1873, the year after the Middletown Mansfields left the major league National Association to play an independent schedule. The April 12, 1879, New York Clipper reported that he first began to draw attention to his multiple diamond skills in 1874 as the shortstop of the Webster, Massachusetts, Clippers. In 1875 he was seen most often catching for the Grafton, Massachusetts, club until it disbanded and then returned to his shortstop post upon joining the Live Oaks of Lynn, Massachusetts, where he finished the season.
Dorgan signed with the independent Syracuse Stars in 1876. The Stars had been a strong local and statewide team dating back to 1866, but decided to become more professional after the 1875 season. A stock company was formed and the existing Lakeside Park field and grandstand were completely rebuilt. The new board lured the Lynn Live Oaks manager, George Brackett, to lead the team, and he brought Mike Dorgan and four other players to Syracuse from the Live Oaks team. Dorgan, who had successfully handled the new curveball of Live Oaks ace, Will White, moved to Syracuse early and worked all winter in the loft above his apartment with the Stars' 1875 pitcher, Harry McCormick, to help the 20-year-old perfect the curveball pitch he was trying to learn.1
The Stars gained national attention with a 42–13 record in 1876, including victories over the National League Boston Red Stockings and St. Louis Brown Stockings clubs, as well as a split with the pennant-winning Chicago White Stockings. Dorgan led the team with a .406 batting average2 and became the manager in August when the board dismissed Brackett after some disagreements about finances and how the team was being handled.
Dorgan signed with the St. Louis National League Brown Stockings in January 1877, becoming the first Syracusan to play in the major leagues. The Brown Stockings played an exhibition game on May 1, 1877, in St. Louis against Dorgan's former team, the independent Syracuse Stars. The game was called after 15 innings on account of darkness with the score tied at 0–0, and was called "The Grandest Game ever played" by famous sportswriter Henry Chadwick.3 Dorgan must have felt he'd done a good job helping Stars pitcher Harry McCormick learn to throw the curve ball – he went hitless against his former protégé. Thanks to Chadwick's notoriety, details of the game were printed in newspapers throughout the country.
In his major league debut on May 8 at St. Louis Dorgan played right field and went hitless in a 3–2 win over Boston's Tommy Bond, who went on to win 40 games for the eventual pennant winner that season. Dorgan played in all 60 of the team's games as a National League rookie. His .308 BA was second on the team to catcher John Clapp's .318, and twelfth in the league. He led the Brown Stockings in hits and total bases, and showed his versatility by playing outfield, third base, shortstop, second base, and catcher. The "Rookie of the Year Award" didn't exist back then, but Dorgan would have been a strong candidate if it had. He and Hartford pitcher Terry Larkin were given "retrospective" co-rookie of the year awards by baseball researchers David Nemec and Dave Zeman in 2004.4
He also became a trend-setter when he wore a crude mask behind the plate in a game late in the season. "Mike Dorgan became the first catcher to wear one [a catcher's mask] in a National League game on August 8, 1877," baseball researcher Peter Morris has written, "but he was recovering from an injury at the time and seems to have discontinued its use once his injury healed."5 Prior to this time catchers were ridiculed for wearing masks or any other protective equipment, but a mask appeared in the Spalding catalog in 1878, and by the 1880s masks were used by almost every catcher.
The Brown Stockings dropped out of the National League after the season, and Dorgan returned to Syracuse in 1878 to be player-manager for the Stars, now in the minor league International Association. Dorgan led the Stars in BA (.319) and SLG (.368)6 and was considered the club's top position player when Syracuse joined the National League in 1879. The New York Clipper awarded him its "gold-medal prize" for his .862 fielding average, the best amongst the International Association's catchers.7
In his second major league season, Dorgan slipped a bit at the plate, hitting just .267, but demonstrated that he was arguably the most versatile player in the game, serving at every position but left field and center field, and in addition acted as the Stars' field captain for much of the season. Syracuse folded because of financial losses in early September, and did not return to professional baseball until 1885.
Dorgan signed as player-manager with the Providence, Rhode Island, National League club in 1880, and had another sub-par season at the plate with a .246 BA. The well-traveled 26-year-old married 18-year-old Jennie Conners in early June. Both sets of parents were immigrants from Ireland.
Dorgan moved on again in 1881 when Providence did not designate him as one of five players on its protected reserve list, and signed as player-manager of the Worcester, Massachusetts, National League club. Late in the season Worcester released him, citing his lame shoulder as the reason, but the New York Clipper wrote that the real cause was his "incompetency as captain of the team."8 According to the September 17, 1881, New York Clipper, Dorgan almost immediately signed with Detroit but was blacklisted by the league after the season "for dissipation and general insubordination."9 Like his brother Jerry, Dorgan suffered from an enormous and all but unconquerable drinking problem.
Forced to sit out professional baseball for the entire 1882 campaign, Dorgan reorganized the Syracuse Stars as an independent team according to the July 9, 1882, Chicago Tribune. He returned to the big top in 1883 with the novice New York Gothams National League club and suffered through a bad re-entry year, hitting just .234. However, the next three years, 1884–1886, were perhaps the best of his major league career. He hit .276, .326, and .292, respectively – a composite .297 – over the three years, and his .326 was third in the league in 1885. He spent part of the summer in New York's pitching rotation in 1884, going 8–6 after a broken left thumb he suffered on May 26 while catching in a game against Providence temporarily limited his use as an outfielder. Oddly, Dorgan never pitched another inning in the majors after 1884, perhaps in part because he had his career year as a hitter in 1885 and in part by the first symptoms of an arthritic right shoulder that would soon curtail his career since he both threw and batted from the right side.
By 1887 Dorgan had a share in a Syracuse saloon and claimed he no longer needed baseball unless the Giants (the team had changed its nickname in 1885) met his salary demands. Eventually he signed in time to open the season in right field but was sub-par physically and his BA dropped to .258. He lost his job temporarily, but Dorgan was at his post in right field again on closing day. By the following spring, though, he was in Hot Springs, Arkansas, getting treatment for his shoulder. He toyed with the notion of playing for the independent Syracuse International Association club but then announced his retirement, only to change his mind in August and demand $900 to finish the season with the Stars. Manager Charlie Hackett opted to keep Fred Ely in left field instead. Although Dorgan does not appear in baseball-reference.com's 1889 roster for the Syracuse International League team, Syracuse baseball historian Ron Gersbacher has written that he played part of the season for the Stars in 1889.10
Dorgan signed with Syracuse in 1890 when the Stars joined the American Association to make another attempt at Major League Baseball. The October 26, 1889, Police Gazette announced he had "sold out his saloon" in order to devote his full attention to getting back into playing shape.
Although 36 and the oldest player on the Stars, he was retained for his name attraction and local connections by owner-manager George Frazier and opened the season in right field. After being suspended for intoxication in May, he was cut the following month when his salary, the highest on the team, coupled with his .216 BA, compelled the financially struggling Stars to dump their top drawing card. Dorgan's final major league appearance came on June 9, at New York when he went 1-for-5 in a 13–7 loss to the Brooklyn Gladiators' Mike Mattimore.
Less than a year later the April 18, 1891, issue of The Sporting News trumpeted that Dorgan was incarcerated in Syracuse after beating a man "to a pulp" in a drunken brawl. He may have been surprised to see an old teammate, Moses Fleetwood Walker, in an adjoining cell. Walker, an African American who caught for Syracuse in 1888–1889, was arrested – and later acquitted by virtue of self-defense – for stabbing to death one of several drunken thugs who'd accosted him on the street.11
On February 18, 1893, TSN wrote that Dorgan had undergone the "Keeley treatment" (for chronic alcoholism) and had asked his former Giants teammate John M. Ward to put in a good word for him with National League president Nick Young so that he could get a post as an umpire, but Ward demurred. Resilient if nothing else, Dorgan eventually found other ways to sustain himself. The 1900 United States Federal Census and the 1905 New York State Census listed his occupation as "bar keeper."12 13 He appears, in addition, to have taken the Keeley treatment to heart. In 1900 he was still in good enough shape to play in an old-timer's game in Syracuse at age 47. Dorgan was still in reasonably good health at age 55 when he opted to repair an old knee injury in 1909 at a Hartford, Connecticut, hospital. He had moved to Hartford for a job with the American Bridge Company. He died of blood poisoning on April 26, 1909, six weeks after undergoing surgery. He was buried in Syracuse, survived by his wife, Jennie, and three children, William (born 1882), Mary (1888), and Harry (1896). Willie later played three years of minor league ball, but lacked his father's talent.
Dorgan was selected to the Greater Syracuse Sports Hall of Fame in 1999 and the Syracuse Baseball Wall of Fame in 2002.
Sources
This biography is an expanded version of one that appeared in David Nemec's Major League Baseball Profiles: 1871-1900 (Bison Books, 2011) vol. 1.
In assembling this biography I made extensive use of Sporting Life, The Sporting News, the New York Clipper and the Chicago Tribune for details of Dorgan's professional baseball career and life after baseball. His parents' background came from ancestry.com. Other sources are listed in the end notes.
Notes
Born
October 2, 1853 at Middletown, CT (USA)
Died
April 26, 1909 at Hartford, CT (USA)
If you can help us improve this player's biography, contact us.
http://sabr.org/sites/default/files/DorganMike.preview.jpeg
600
800
admin
/wp-content/uploads/2020/02/sabr_logo.png
admin
2012-01-04 20:26:59
2012-01-04 20:26:59
Mike Dorgan