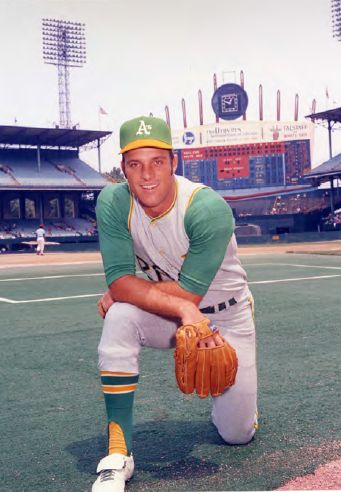 ---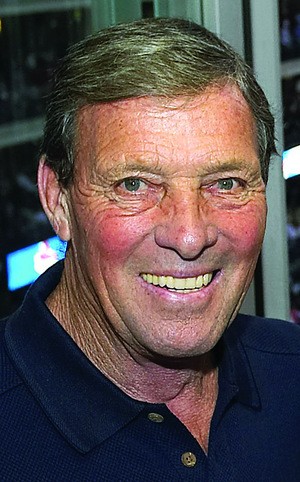 During the summer of 1954 the Cleveland Indians visited New York to play a three-game series against the Yankees with both teams in contention for the American League pennant. The story of the second game wasn't the Yankees' 4-1 victory, or Eddie Lopat outdueling Mike Garcia, but the 12-year-old batboy in the Cleveland dugout, Mike Hegan. Mike, the son of Indians starting catcher Jim Hegan, was pressed into service because the normal visiting team batboy, Mike Morton, was absent. The Little Leaguer became a celebrity when Red Barber interviewed him on his pregame TV show. The Yankees' batboy, 18-year-old Joe Carrieri, heaped praise on his younger counterpart, saying, "Considering his lack of experience, Mike showed some real promise."1 Little did Mike Hegan know that he would make his major-league debut 10 years later in the same stadium.
James Michael Hegan was born on July 21, 1942, in Cleveland, the son of Jim and Clare Hegan. Jim Hegan, a five-time All-Star, played on Cleveland's last world championship team, in 1948. One of the best defensive catchers ever, he was a fan favorite in Cleveland for his all-out play and professionalism. His career lasted 17 years, 14 of them with the Indians.
During Mike's early years, the Hegan family made their offseason home in Lynn, Massachusetts, Jim's hometown. In the summer it was common to see Mike hanging around the clubhouse or shagging fly balls in the outfield at Cleveland Stadium.
In 1954 Jim and Clare Hegan relocated their family of three children (Mike, Patrick, and Catharine) to Lakewood, Ohio, after Jim entered a business venture with Cleveland Browns quarterback Otto Graham. Their business was called Hegan-Graham Inc., and later became Hegan-Graham Appliance, a store in downtown Cleveland that sold appliances, sporting goods, luggage, and jewelry and urged customers to "get the right pitch, before you buy."
In 1956 Mike enrolled at St. Ignatius High School in Cleveland. He excelled in football, basketball, and baseball. On the baseball team he pitched and played first base and made several local and state all-star teams. (In 1989 he was elected to the St. Ignatius High School Athletic Hall of Fame.)
After high school Hegan accepted a football and baseball scholarship from Holy Cross College in Worcester, Massachusetts. He passed up offers from Notre Dame, Stanford, Syracuse, Maryland, and Wisconsin to play for Holy Cross's legendary baseball coach, Jack Barry, who had been a shortstop for the Philadelphia Athletics from 1908 to 1915 and started in Connie Mack's famed "$100,000 Infield." As a freshman Hegan played freshman football and baseball, and hit .510 while playing first base for a baseball team that finished 6-10.
In August 1961 Hegan was offered contracts by 15 major-league clubs and signed with scout Bill Skiff of the New York Yankees even though two other teams offered more money. He felt the short distance down the right-field line at Yankee Stadium would be to his advantage since he was a left-handed pull hitter, so he accepted the Yankees' offer of a minor-league contract with "a substantial bonus." The following year, he was off with the rest of the Yankees for spring training in Fort Lauderdale, Florida. General manager Roy Hamey said of Hegan, "We'll play him as high as we can."2
As Hegan's playing baseball career was beginning, his fathers had just ended. After 14 years with the Indians and short spells with four other teams, Jim Hegan was hired as the bullpen and catchers coach for the Yankees. "I felt I had to be better to justify being the coach's kid," Mike said. "But Dad treated me just like any other player."3
Mike returned to Cleveland to continue his college education and enrolled at John Carroll University. "My father and mother told me that when you take that step to play professional baseball, you'd better have something to fall back upon," he said. "One of their stipulations was that I finish my college education."4
Mike thought of his father as a disciplinarian, but fair. "He didn't yell or scream, but when he gave you that look, you didn't go any further." Mike was living at home when he came in one morning at 2:30. "When I pulled into the driveway, I saw a light on in the kitchen," Mike said. "My father was sitting at the table." Jim was not happy and let Mike know it. "You've got your whole career in front of you, and I don't want to see you start screwing up," Jim said. "I don't want to see you coming home this late again."5 Mike understood his father's message.
Playing first base in his first pro season, with Fort Lauderdale in the Class-D Florida State League in 1962, Hegan hit .306 and walked 100 times in 121 games. Said Yankees assistant general manager Dan Topping, Jr., "He's got terrific determination and great coordination." Everybody who saw him in his first year as a pro agrees he's a big-league fielder right now."6
In 1963 Hegan was promoted to Idaho Falls of the Class-C Pioneer League. In 126 games, he hit .323, smacked 28 home runs, had 98 RBIs, and had a league-leading 123 runs scored. He was named to the league's All-Star team. Idaho Falls won the league title, besting Billings two games to one in the final series. After the season, on October 12, he and Nancy McNeill were married at St. Pius Church in Lynn.
The next season Hegan played for Double-A Columbus (Southern League) and was a late-season call-up to the Yankees. He made his major-league debut on September 13, 1964, against the Minnesota Twins as a pinch-hitter for Whitey Ford and flied out to right field. He was 0-for-5 with one walk in five games and was added to the Yankees' World Series roster when Tony Kubek suffered a sprained wrist. In Game One against the St. Louis Cardinals in St. Louis, Hegan ran for Johnny Blanchard at second base in the eighth inning and scored on a Bobby Richardson single. The Yankees lost, 9-5, and eventually lost the Series in seven games. Hegan had the distinction of scoring a run in a World Series game before getting his first regular-season major-league hit.
Hegan returned to Columbus in 1965 and earned a midseason promotion to the Triple-A Toledo Mudhens. He returned to Toledo in 1966, led the International league in triples and walks, and was a late season call-up by the Yankees. He collected his first major-league hit on September 15, 1966, two years and two days after his debut with the Yankees. Batting leadoff against the Washington Senators, Hegan singled in the fifth inning and eventually scored on Clete Boyer's hit. In the seventh inning he singled and scored on a hit by Joe Pepitone.
When the 1967 season began, Hegan was completing his active duty with the Army National Guard and did not join the Yankees until May 12. He hit his first major-league home run on September 1 off of Dick Lines of the Washington Senators in the 12th inning to provide the Yankees with a 2-1 win.
On February 23, 1968, Mike and Nancy welcomed their first son, Shawn Patrick, three days before Mike was to report for spring training. First base was becoming crowded with Mickey Mantle starting and Andy Kosco and Joe Pepitone backing him. At the end of spring training the Yankees assigned Hegan to Syracuse, where he hit .304 with 11 homers and 39 RBIs, while mostly stationed in right field. He was selected to play in the International League All-Star Game, but he was unable to play because of military reserve commitments. On June 14 the Yankees sold Hegan to the expansion Seattle Pilots for $25,000. The one caveat to the deal was that Hegan finish out the year in Syracuse.
Hegan was the first player to sign with the Pilots, who would begin play one year later in 1969 in Seattle's Sick's Stadium. He was thrilled to join the expansion Pilots. "It's a mental lift to be with the Pilots," Hegan told The Sporting News. "While I was with the Yanks, I put a lot of time into the service and couldn't get rolling. And then I always had to back another first baseman. When I came up, they had Moose Skowron. Then they had Joe Pepitone. Then I was a fill-in when they shifted Mickey Mantle to first. What if Mantle retires? Then I would have to back Pepitone again. Here I may be in a similar situation with Don] Mincher on first. But I played more outfield than first in Syracuse, so right field would suit me fine."7
Hegan found familiar faces in Seattle. Also coming over to the Pilots from the Yankees were pitchers Jim Bouton, Steve Barber, Dooley Womack, and Fred Talbot, infielder John Kennedy, and outfielder Steve Whitaker. Garry Roggenburk, also from St. Ignatius High School, was on the Pilots' pitching staff. Scout Bill Skiff, who had originally signed Hegan, was now a scout with the Pilots. Former Cleveland broadcaster Jimmy Dudley was the radio voice of the Pilots.
Managing the Pilots was Joe Schultz, who came to Seattle from the St. Louis Cardinals, where he had been the third-base coach for the 1968 National League pennant winners. Schultz emphasized a running style with the Pilots, who led the American League in 1969 with 167 stolen bases. Unfortunately for the expansion club, the team batted .234, grounded into 111 double plays, and led the American League with 1,015 strikeouts. The pitching staff yielded 172 home runs.
But Hegan had his finest year to date in the major leagues. He hit the first home run for the Pilots on Opening Day off Jim McGlothlin of the California Angels. He led the Pilots in batting average (.292), slugging percentage (461), and on-base percentage (427), and was chosen for the All-Star Game, but had to withdraw in favor of Don Mincher because of a hamstring injury. Hegan missed 67 Pilots games, partly due to injuries.
Just before the 1970 season the Pilots were sold to Milwaukee car dealer Bud Selig, who moved the club to his hometown, where they became the Milwaukee Brewers.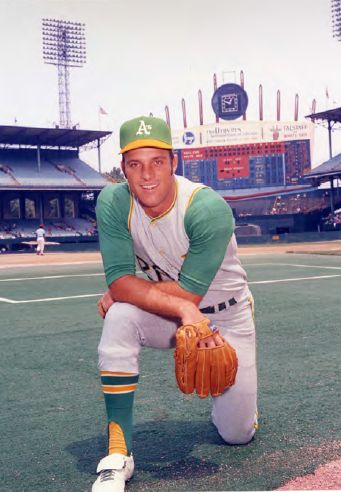 On September 24, 1970, Hegan began a streak of playing in 178 consecutive games at first base without making an error, and the streak went into 1973, when he was a member of the Oakland Athletics. The record stood as the major-league mark for 12 years and was the high-water mark in the American League until 2010, when it was broken by Seattle's Casey Kotchman.
Also in 1970 Hegan got a glimpse of his career after baseball. During the offseason he began doing drivetime sports reporting and TV interviews for WTMJ-TV in Milwaukee.
On June 14, 1971, Hegan was sold to the Oakland Athletics. A month before, on May 18, Nancy gave birth to their second son, James Joseph (known as JJ).
It was a break of sorts for Hegan to go from the struggling Brewers to the A's, who won their first of five consecutive AL West Division crowns in 1971.
In 1972, the A's adopted the moniker "The Mustache Gang." Reggie Jackson reported to spring training with a full-grown mustache. Although no official rule banned players from wearing facial hair, it was more or less an unwritten rule. A's owner Charlie Finley didn't like the look of Jackson's mustache, but instead of making him shave it off, he told a couple of other players to start growing mustaches. It was Finley's hope that Jackson would not feel like an individualist, and would shave his whiskers. Instead, the strategy backfired, and all the players grew mustaches. Finley began to like the idea and offered a cash incentive to any player who grew a mustache by Father's Day, or "Mustache Day." True to his word, the players found $300 apiece in their lockboxes after the game. In addition, Finley extended his idea to the fans, and any fan bearing a mustache was admitted free on Father's Day.
Hegan shaved his mustache off shortly thereafter, giving into a higher authority than Finley: his wife Nancy. "My wife didn't like it," he admitted.8
On the field the Athletics stormed through the American League West, winning 101 games despite 49 players going through a revolving door on the roster. After they defeated Detroit in the American League Championship Series, the National League champion Cincinnati Reds awaited them in the World Series. Hegan played in six of the seven games, mostly as a defensive replacement for first baseman Mike Epstein. At the plate he got a single in Game Five, his only hit of the Series, won by the A's in seven games. It was the first of three straight world championships for Oakland.
Jim and Mike Hegan claimed a first by becoming the first father-and-son combination to each win a World Series. There have been six other such combinations since.
As the 1973 season commenced, Hegan was again a backup at first base, this time to Gene Tenace. On June 3 Hegan's streak of consecutive errorless games at first base ended. The error occurred in the eighth inning against the Boston Red Sox on a groundball by Carl Yastrzemski to Hegan, who threw late to pitcher Vida Blue covering first base.
On July 18 in Baltimore, a glimpse of Mike Hegan's future was on display. A's radio announcer Jim Woods was ailing, and Oakland manager Dick Williams instructed Hegan to report to the radio booth to call three innings. After three innings, he went to the clubhouse, put on his uniform, and reported to the dugout.
On August 18 Hegan was reunited with his father when the Yankees purchased his contract. Jim was still the Yankees' bullpen coach. Mike, a lefthanded hitter, batted mostly against right-handed pitchers, and hit .275, with 6 homers, 14 RBIs, and 36 runs scored. On September 30 he became a bit of Yankee trivia as the last batter in Old Yankee Stadium when he flied out to center field in an 8-5 loss to the Tigers.
Hegan opened the 1974 season platooning at first base with Bill Sudakis until April 26, when the Yankees acquired first baseman Chris Chambliss from the Cleveland Indians. Chambliss commanded most of the playing time, and Hegan asked the Yankees to move him to one of three teams: Boston, where Nancy's family lived; Milwaukee, where they made their offseason home; or Detroit, where his father had become the Tigers' bullpen coach. The Yankees granted Hegan's request and sold him to the Brewers, where George Scott was getting most of the playing time at first base.
In 1975 and 1976, Hegan split his time between first base, designated hitter, and the outfield. He became only the sixth player (all left-handed batters) to pinch-hit for Hank Aaron, on July 8, 1975, against Kansas City at Royals Stadium. On September 3, 1976, Hegan became the first Brewer to hit for the cycle by going 4-for-5 with six RBIs against Detroit's Mark Fidrych, at Tiger Stadium.
As the 1977 season unfolded, Hegan was dissatisfied with his diminished playing time, and with the direction of the team under manager Alex Grammas. On July 8 he played in his last major-league game, getting his release from the Brewers a week later.
Hegan had done the sports news at WTMJ-TV during the offseason in 1976 and had decided to stay in broadcasting. Ten days after his release, he was in the broadcasting booth with sportscaster Ray Scott, providing color commentary for Brewers games, and the next season he started doing some play-by-play. In all, he handled Brewers games for 11 seasons.
Broadcasting major-league baseball was not all that kept Mike Hegan busy. For 15 years he owned Grand Slam USA in suburban Milwaukee, which housed indoor baseball and softball batting cages, and pitching machines. Grand Slam USA also offered instruction in hitting, pitching, and fielding.
In 1989 Hegan returned to Cleveland to broadcast Indians games on WUAB-TV. A generation of Tribe fans grew up listening to him describe the action for the Indians. Later he moved to the radio broadcast team. He called play-by-play and color on both television and radio. Hegan retired from broadcasting after the 2011 season.
Hegan died of heart problems on December 25, 2013. He was survived by his wife of 50 years, Nancy; their sons, Shawn and JJ; and four grandchildren.
This article originally appeared in "Mustaches and Mayhem: Charlie O's Three Time Champions: The Oakland Athletics: 1972-74″ (SABR, 2015), edited by Chip Greene. It also appeared in "1995 Cleveland Indians: The Sleeping Giant Awakes" (SABR, 2019), edited by Joseph Wancho.
Sources
In addition to the sources cited in the Notes, the author also consulted baseball-reference.com, ignatius.edu, Retrosheet.org, thebaseballcube.com, and:
Rosen, Byron, Washington Post, July 13 and July 16, 1977.
Shippy, Dick, "Hegan Returning as an Established Pro," Akron Beacon Journal, April 2, 1989.
Author interviews with Mike Hegan on May 19 and August 1, 2007
Notes
1  "Hegan's Son, a Little Leaguer, Drafted as Tribe Relief Batboy," New York Times, September 2, 1954: 27.
2  "Yankees Give Big Bonus to Coach Hegan's Son, 19," New York Times, August 10, 1961: 20.
3 Bob Dolgan, Heroes, Scamps and Good Guys (Cleveland: Gray and Company, 2003), 35-36.
4 Ibid.
5 Ibid
6 Til Ferdenzi, "Bombers Eye Hot-Shot Hegan as No. 1 Nifty on '63 Camp List," The Sporting News, December 1, 1962: 10.
7 Hy Zimmerman, "Pilots Gleeful Over Hot Swinger Hegan," The Sporting News, March 29, 1969: 26.
8  Bruce Markusen, "Thirty Years Ago… Birth of the Mustache Gang," Respect Our Legacy: Keep the A's in Oakland, March 14, 2002,  http://oaklandfans.com/columns/markusen/markusen134.html. Accessed September 28, 2018
Born
July 21, 1942 at Cleveland, OH (USA)
Died
December 25, 2013 at Hilton Head, SC (USA)
If you can help us improve this player's biography, contact us.
http://sabr.org/sites/default/files/MikeHegan.JPG
600
800
admin
/wp-content/uploads/2020/02/sabr_logo.png
admin
2012-01-04 20:49:05
2020-10-30 05:54:54
Mike Hegan