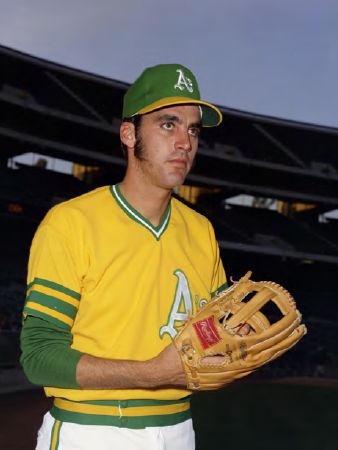 ---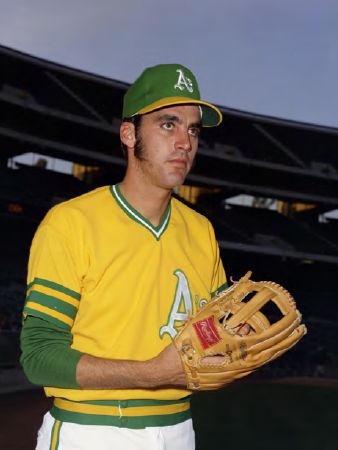 A cheerful southpaw from a small town in Canada, Mike Kilkenny determinedly forged an unlikely major-league career despite not having organized baseball activities in his hometown for most of his childhood. He was named Detroit's Rookie of the Year in 1969 and became known for his humor and community involvement. While his stubbornness may have cut his major-league career short, Kilkenny also made his mark in two other sports, as he had a stint as a harness racehorse owner and as a coach for a PGA tour golfer.
Kilkenny's forbears immigrated to Canada from Ireland in the 19th century and became lighthouse keepers in Caraquet, New Brunswick. After her husband and one of her sons were lost at sea in a storm, Kilkenny's great-great-great-grandmother moved west with her surviving son, who became a rider for the Pony Express and eventually settled in Bradford, Ontario, about 40 miles west of Toronto.
Mike's father, Keith, was successful in the furniture and appliance business established by the family. Keith and his wife, Gwendolyn, had two sons, Peter, born in 1941, and Mike, born on April 11, 1945. As a child Mike was much more focused on sports, particularly baseball and golf, than on academics. He developed a curveball in a childhood game by throwing a baseball over a hedge to his brother and trying to have it to drop to the ground before his brother could catch it.
When Mike was about 10, he pitched for a peewee baseball team in Bradford that went to the provincial finals in its division. The team disbanded at the end of the season. Mike was told he was too young to play in the Leaside Baseball Association in Toronto, but a team told him he could participate in drills and come to games. Toward the end of the season, Mike was allowed to pitch in a game the team was losing badly. He struck out the side on nine pitches, struck out the side again the next inning and was given the start in the team's next game.
The next season Mike joined another team and, at the age of 15, became their primary starting pitcher. Despite the fact that many players in the league were around 21, Kilkenny struck out 177 in 81 innings and in one game he struck out 22 batters over seven innings. This opportunity to play was critical to his development, because Bradford District High School had no baseball team. Kilkenny played on the school's golf team, and won the school's golf championship twice.
Word spread of Kilkenny's prowess through bird-dog scouts and Kilkenny received contract offers from 19 of the 20 major-league teams. He signed with the Detroit Tigers in 1964. At the time his $15,000 signing bonus was a record for an amateur Canadian baseball player. Mike left high school before graduating and soon married Carolyn Hughes, whom he had dated throughout high school.
Weighing 145 pounds, the 6-foot-3 southpaw began his professional baseball career as a starter for the Rookie League Cocoa (Florida) Tigers. Kilkenny was promoted to Lakeland of the Class A Florida State League midseason where, although he had a losing record at 3-4, he had a relatively low 2.47 ERA in 51 innings.
The next season, pitching for the Daytona Beach Islanders in the Florida State League, was a tale of two halves for Kilkenny. Midway through the season his record was 1-10. After a stern lecture from manager Al Federoff, Kilkenny had a much improved second half and finished with a 14-15 mark as the staff workhorse. In perhaps his finest game as a professional, he threw a no-hitter against Tampa on July 14, 1965. Kilkenny recalled that he got into a perfect zone during the game and "everything was in slow motion" for him; "I knew where I wanted to throw the ball and I knew exactly how to get it there."
In 1966 Kilkenny was promoted to the Montgomery Rebels of the Double-A Southern League. After injuring his left index finger fielding an infield fly in batting practice, he only pitched 21 games and had a 4.23 ERA, which was the highest of his minor-league career. Kilkenny recalled he had a difficulty regaining the feel of his pitches after injuring his pitching hand. He set a Southern League record by throwing five wild pitches in a game at Macon. Mike recalled that there was a foundry near the diamond beyond right field and, when the blast furnaces were cleared out, ash would sometimes drift into the playing field. During that game the ash covered the field and the game was delayed for an hour. Kilkenny attests most of his wild pitches resulted from the ash obstructing his catcher's view.
Kilkenny returned to Montgomery in 1967. His 39 relief appearances led the team and he posted an impressive 2.88 ERA. He struck out nearly a batter an inning, but continued to struggle with his control. That offseason, Kilkenny went to Florida for the second consecutive year to play in the Florida Instructional League.
Kilkenny returned to Montgomery in 1968. The players were given free tickets for friends and family members to the season opener. On a lark, Kilkenny sent a postcard to Alabama Governor George Wallace and his wife telling them he had left tickets for the governor at the ticket office. He was shocked when Governor Wallace came to the game. Governor Wallace left in about the sixth or seventh inning and, as he walked out of the stadium, he gave Mike a shout and a wave.
Kilkenny didn't mind spending a third straight season in Montgomery, as he loved the warm weather and played golf whenever he had the opportunity. His third stint with the Rebels was his best. He pitched in three straight games against the Evansville White Sox on June 16-18, and surrendered only one hit over nine innings. After posting a 1.20 ERA in 45 innings, Kilkenny was promoted to Triple-A Toledo. Mike posted a 2.32 ERA in 22 relief appearances with the Mud Hens. After the season, Kilkenny received a pair of World Series cufflinks; the Tigers had won the Series and Kilkenny had been at major-league spring training that year. After the season he worked as a furniture deliveryman in Bradford. He held a variety of odd jobs over the winters when he wasn't able to play winter ball, including one offseason he worked as a mail carrier.
Kilkenny made the Tigers out of spring training in 1969 and his major-league debut occurred on his 24th birthday, April 11, against the New York Yankees at Tiger Stadium. He came into the game with one out in the top of the ninth and the Tigers trailing 9-3. He said his most vivid memory of the moment was that, as he came onto the diamond and walked to the mound, third baseman Don Wert told him, "You're every bit as good as this guy or you wouldn't be here." This gave Kilkenny a boost of confidence and eased his nerves. He retired Gene Michael on a fly ball and then struck out Bill Robinson.
With Detroit's strong rotation, led by Denny McLain, Mickey Lolich, and Earl Wilson, Kilkenny pitched sparingly during his first few months in the majors. After his debut, he pitched only one inning in the next 13 days and he pitched only 1⅓ innings in May. He didn't give up a run until June 22, which was his 12th major-league appearance.
On July 10 Kilkenny had a 0.44 ERA in 20⅓ innings and had held opposing batters to a .130 batting average and a .174 slugging percentage. However, to that point he had been mostly utilized as a low-leverage reliever. He was given an opportunity to seize the fifth spot in the starting rotation and, after suffering two losses and a no-decision, on August 12 Kilkenny had one of the most memorable days of his life. Before the night was over, he had won a major-league start for the first time, thrown his first complete game, notched his first major-league hit, driven in his first run, and had become a father for the first time.
Kilkenny's wife, Carolyn, went into labor six weeks before their baby was due and gave birth to the couple's first child, a boy named Rory Erin Kilkenny in the early afternoon. Mike stayed with Carolyn until about 4 P.M. and then, he recalled, "I sent my wife some roses, let the dog out — he hadn't been out all day — took a shower, grabbed a sandwich and came to the ballpark." He proceeded to pitch a three-hitter against the California Angels, striking out ten, and added a run-scoring single, which was his first major league hit.
Aside from one relief appearance, Kilkenny remained in the rotation for the rest of the season. In his last nine starts, he threw four shutouts, including a three-hitter against the Oakland A's. Over his final four starts, Kilkenny posted a 1.36 ERA over 33 innings. He struck out 24 batters and held opponents to a .164 batting average and a .224 slugging percentage. After finishing the season with a 3.37 ERA in 39 appearances, which included 15 starts, Mike was named the Tigers' Rookie of the Year.
Kilkenny ascribed much of his success to his curveball, telling a sportswriter, "When I'm right, I feel I can throw my curve on 3-and-1 and 3-and-0 without thinking twice about it." He attributed his improved command and control of the pitch to the lessons of Johnny Sain and Hal Naragon, who were the pitching and bullpen coach, respectively, for the Tigers for part of the season before Sain was let go and Naragon quit. Kilkenny said they both taught him how to pitch, instead of how to simply throw the ball.
During the season Kilkenny was part of a group of Tigers who visited the FBI Building in Washington, which led to him forging an unusual friendship. The group met with J. Edgar Hoover, who made an offhand remark to Kilkenny that he liked his blue seersucker jacket. A couple of months later, Kilkenny saw a similar blue seersucker jacket, which he bought and sent to Hoover. He was soon visited by an FBI agent who passed along Hoover's gratitude and extended an invitation for Kilkenny to meet Hoover for lunch. Kilkenny visited Hoover in his office in the FBI Building and the two got along very well. For the rest of Kilkenny's playing career, they would have lunch a couple of times a year when Kilkenny had a road trip to Washington or Baltimore.
With his exceedingly strong ending to the 1969 season, Kilkenny was given a larger role in the rotation in 1970 and made a career-high 21 starts. However, as the team's fourth starter, he still had to deal with periods of inconsistent usage. In April he went 22 days between pitching assignments and in August he threw 18 innings in six days, but then made only one appearance in the next three weeks. For the season, Kilkenny put up a 7-6 record with a 5.16 ERA in 36 appearances.
Kilkenny's repertoire consisted of a fastball, a curve, and a changeup. He could vary the speeds for each pitch and could also command them from three arm slots when he was going well. Mike primarily threw from a three-quarters arm angle, but could also throw straight overhand or side-arm. He enjoyed success against left-handed batters, whom he'd often attack with his strong curve. Kilkenny worked during the season on developing a screwball, but scrapped it after it didn't develop as he hoped.
In 1970, Carolyn gave birth to the couple's second child, a daughter named Dawn Michelle Kilkenny.
The offseason was also eventful in an unexpected manner, as on New Year's Eve Kilkenny went to Windsor Raceway with some friends. One owned a harness race horse and Kilkenny bet his friend that he could get a horse that could beat his friend's horse. He proceeded to buy a horse named Royal Pick, which he described as "a horse of little repute." He entered Royal Pick in a race in which his friend's horse was running and won the bet. This started Kilkenny's involvement in harness racing, which lasted for the better part of a decade. Kilkenny owned 31 horses at one point, before quitting the horse business in 1977 or 1978.
Just before spring training in 1971, Kilkenny won the Pasadena Major League Baseball Golf Tournament. He shot a 73 and tied Joe Horlen for the best score. Because of darkness, a playoff was impossible and Kilkenny was named the tournament's victor after a coin flip. He received a color television and trophy. Kilkennny also won the driving contest with a 310-yard shot, besting the more than 70 players in the tournament.
In 1971 Kilkenny continued to serve as a swingman for the Tigers. He started the fifth game of the year, but did not start again until the club's 43rd game. He picked up his first win of the year on June 11, when he limited the Minnesota Twins to one run in a complete-game victory. On September 13, he surrendered Frank Robinson's 499th major-league home run in a game against the Orioles. Over the season, Kilkenny threw only 86⅓ innings and posted a 5.00 ERA.
After the season Kilkenny went to Vietnam as part of a USO troupe, which included players Bobby Bonds and Jim Hannah and umpire Nick Colosi. At one point he was in a vehicle that was fired upon by the Viet Cong. As part of the tour, Kilkenny and the others were expected to return to the US and talk about how well the war was going, but after their firsthand experience they agreed amongst themselves to remain mostly silent about their trip. Kilkenny made a few brief statements about the hospitality and dedication of the troops. When he returned from the tour, Mike picked up his regular offseason community involvement, which included participating in the Tigers' winter tour.
Kilkenny's preparations for the trip to Vietnam revealed another reason why he may have struggled during the previous season. When he was receiving inoculations for the trip he was told by doctors that he was recovering from mononucleosis, which he didn't even know he had. "No wonder I was so tired last summer," he remarked. Kilkenny told a reporter, "I just didn't have any strength. I was always tired. Heck, I fell asleep a couple of times in the bullpen. But now … [a]ll I want is a chance to pitch."
Many trade rumors involving Kilkenny were floated that offseason, but they were consistently denied by Tigers general manager Jim Campbell. Despite that vote of confidence, Kilkenny only pitched in one game for the Tigers in 1972, which came on April 30 when he pitched an inning of relief and surrendered a homer. Manager Billy Martin was calling pitches from the dugout, which Kilkenny did not appreciate. After the game, Kilkenny and Martin, who didn't get along well, got into a shouting match in the clubhouse and Kilkenny threatened to punch Martin. He never pitched for the Tigers again.
On May 9, 1972, the Tigers dealt Kilkenny to the Oakland Athletics for first baseman Reggie Sanders. Kilkenny received news of the trade in a hotel room in Chicago, where he was napping after a long flight. When he went to the ballpark to get his belongings and say goodbye to his teammates, he found himself barred from entering and his bag waiting outside the clubhouse.
Kilkenny made his first appearance for the Athletics with a flawless inning pitched on May 13 against the Boston Red Sox in relief of his fellow ace golfer Joe Horlen. The two didn't get a chance to have a rematch on the links, as those would be the only batters Kilkenny faced wearing Oakland's green and gold. On May 17, only eight days after acquiring him, the A's dealt Kilkenny, Curt Blefary, and a player to be named later to the San Diego Padres for Ollie Brown.
Kilkenny made five appearances for the Padres, mostly in blowout losses. On June 11, the Padres dealt Kilkenny to the Cleveland Indians for infielder Fred Stanley.
Reflecting on being traded three times in just over a month, Kilkenny said, "It gets a little depressing to be moved along as much as I have been." He considered not reporting to Cleveland, but general manager Gabe Paul assured him that he wouldn't be dealt again. Reflecting later, Kilkenny said he felt that the Indians had wanted him all along and that his stops in Oakland and San Diego occurred as teams worked out other moving pieces in the trades.
On June 14, when Kilkenny entered a game against the California Angels, he tied a major-league record by pitching for four teams in a year. In a strange coincidence, the trivia question on the back of one of Kilkenny's 1972 baseball cards, which was printed before the season began, was: "How many pitchers ever pitched for four teams in one season?" Upon realizing the coincidence, Kilkenny remarked, "I can't believe it."
After joining the Indians, Kilkenny experienced immediate success and surrendered only one run in his first 14⅔ innings, including a start against the Yankees in which he pitched a four-hitter for a 5-1 win .Over the entirety of the 1972 season, Kilkenny totaled 64⅓ innings, all but 6⅓ of them for Cleveland, where he posted a 3.41 ERA.
Kilkenny got into a dispute with the Indians over money in spring training in 1973, which spiraled into a verbal battle with manager Ken Aspromonte, who was threatening to send him to the minors. Kilkenny felt that managers didn't give him as many chances as he should have been granted, as his biggest strength was his breaking ball and managers preferred power pitchers. Mike eventually signed with Cleveland, but was demoted to the minors in early May.
After refusing to accept the demotion, Kilkenny was placed on the suspended list by the Indians. This precluded him from playing baseball elsewhere and he was effectively left in limbo. The Indians refused to give up on Kilkenny and carried him on their minor-league roster for the whole year, hoping he might change his mind.
However, Kilkenny wouldn't budge and he turned his attention to harness racing. Kilkenny told a newspaper reporter that he had basically invested his life savings into his horses. "I'm in this right up to my neck right now and it's costing me plenty," he said. By April 1973, Kilkenny and his trainer, Tom Pederson, had 16 horses. Kilkenny spoke of hoping to purchase a farm in Ohio. "You can't make any money unless you have your own facilities, your own pastures. It just costs too much to stable your horses at somebody else's barn all year."
Kilkenny was finally released by the Indians in 1975 , although his career in major-league baseball was effectively over. By this time, he was managing the golf shop and happily working as a pro manager at Llyndinshire Golf Club, near London, Ontario.
After his release, George Hall, the owner of the London Majors of the Intercounty Baseball League, asked Mike to pitch for the club. Happy with his emerging practice at Llyndinshire, Kilkenny reached an agreement that he would join the Majors, but would pitch only Friday night games in London and wouldn't travel with the team. This unique arrangement paid huge dividends for the Majors, as Kilkenny posted a 9-0 record in the regular season with a 2.31 ERA and 129 strikeouts in 96 innings pitched. He won the Intercounty League's Most Valuable Player Award and led the team to the league title.
Kilkenny didn't return to pitch for the Majors in 1976. He had moved to the Maple Ridge Golf and Country Club and was busy giving golf lessons and repairing clubs. He became so busy at Maple Ridge that he began selling his horses and divesting himself from his harness racing hobby.
Kilkenny's business at the pro shop picked up substantially and around 1979 he started a business that was both a retail store and repaired clubs for golf shops across the province. It was focused on wood-headed clubs and, as metal heads became more popular in the 1980s, Kilkenny shut down the business at the end of 1984.
Meanwhile, Mike and Carolyn were going through a divorce. In 1983 he reconnected with Edie Hobbs, a woman he had met briefly while pitching for the Padres. A single mother of two children, Edie came to stay with him in March 1983. Despite the fact it was supposed to be a short trip, she didn't return to California until March of the following year.
That spring Kilkenny decided he could still compete in the Intercounty League, despite not having picked up a baseball in eight years. He threw a pitching session for the Majors and was invited to play for the team again. He had another undefeated season, posting a 9-0 record. Mike has fond memories of his second season with the Majors, as it was only time Edie and his children regularly saw him play baseball. In 1984, his divorce was finalized and later that year he and Edie were married.
After his golf business closed, Kilkenny took a job with Kert Chemicals in Toronto selling pool chemicals. Kilkenny described himself as a "nonresponsive employee." He would not complete paper reports or follow some of the company's other standard requirements, but he sold so much product that the company wouldn't do anything about it.
Kert was bought by a British company, Holt Lloyd International, which shifted him to selling bulk military specialized lubricants. After a couple of years, Holt Lloyd asked him to take over as head of its US division, which would have required Mike to move to Atlanta and spend about three-quarters of the year on the road. Mike and Edie turned down the offer. Mike felt that his career with the company was probably limited, so he resigned at the end of 1989.
In 1991, Kilkenny gave some golf lessons for a friend's clients. The lessons went well, and his reputation as a golf pro grew. He wound up spending nearly 20 years as a golf professional at the Fairview Golf Practice Facility, retiring for health reasons in 2010.
For the last 15 years, Mike has been a constant presence in the life of Ted Potter Jr., who has gone on to forge a professional golf career. After meeting Potter as a 15-year-old in Ocala, Florida, Kilkenny took him under his wing and began to help him with his golf game. Potter has been on the PGA Tour since 2011 and earned his first PGA tour win at the Greenbrier Classic on July 8, 2012.
Most memorably, Mike stayed with Potter for 13 days in August, Georgia, for the 2013 Masters. Kilkenny describes his relationship with Potter as "part-time swing coach, full-time mentor and all-time friend." He characterized the relationship as "very personal, but very low profile."
Kilkenny had left knee replacement surgery in 2008. That surgery did not go well, as he suffered an infection while recovering and he later had a mild stroke. Kilkenny also had a right knee replacement in 2012 and had his gall bladder removed in 2014. As of 2014, he was in good health.
Asked to reflect on the most memorable moment of his playing career, Kilkenny didn't respond with a specific moment, but instead recalled standing on the mound for the national anthem before a night game. He remembered those moments as wonderful and said he'd stand there and ask himself how a kid from Bradford, Ontario, could make it to start a game at a sold-out Yankee Stadium or Fenway Park.
Mike describes his father was the biggest influence on his playing career, given all the sacrifices he made to ensure that Mike had every opportunity to play baseball, such as driving him to Toronto multiple times a week to play in the Leaside Baseball Association during his childhood. "He took time out of everything," Mike recalled. "He was at every game, and he never got in the way, he never criticized me." Kilkenny's father died in 1988. His mother died in December 2005.
In February 2011, the Bradford West Gwillimbury Council renamed the main baseball diamond at Joe Magani Park the Mike Kilkenny Field. In 2012, the London Majors retired his number 17. "It means more than a lot to me," Kilkenny said.
As of 2014, Mike and Edie divided their time between their homes in Belmont, Ontario, and Ocala, Florida.
Last revised: July 1, 2015
This article originally appeared in "Mustaches and Mayhem: Charlie O's Three Time Champions: The Oakland Athletics: 1972-74″ (SABR, 2015), edited by Chip Greene.
Sources
Unless otherwise indicated, all quotations and attributable information relating to Mike Kilkenny come from an interview the author conducted with Kilkenny in Bradford, Ontario, on March 2, 2014.
Other sources
Chass, Murray, "Roundup: Blessed Events of All Kinds for Canadians," New York Times, August 14, 1969.
Crawford, Scott, "Baseball Night at the St. Mary's Lincolns Game," February 4, 2013; online: baseballhalloffame.ca/news/baseball-night-at-the-st-marys-lincolns-game/.
Green, Steve, "Majors Pay Tribute to Championship Legend," London Free Press, June 24, 2012 ,online: lfpress.com/sports/baseball/2012/06/24/19951746.html
Huff, Bruce, "Event Details: Oldtimers Sports Association Game," June 12, 2012; online: pointstreaksites.com/view/londonmajors/schedule/events_38278
Lang, Jack, "Kilkenny Shoots a 73 to Win Links Tournament," The Sporting News, March 13, 1971, p. 34.
Spoelstra, Watson, "Kilkenny Is Tough Pitcher in a Paradise for Swingers," The Sporting News, October 11, 1969.
Young, Rick, "Pitch and Putt Makes Great Team," London Free Press, July 18, 2012; online: lfpress.com/sports/golf/2012/07/71/19997567.html
"Bubble-Gum Kid Doubles A's Troubles," clipping from unidentified source dated August 28, 1969, in Kilkenny's file at the Baseball Hall of Fame, Cooperstown, New York.
"Former Major-Leaguer Mike Kilkenny to be Honoured at London Majors Game," London Metro News, June 18, 2012; online: metronews.ca/news/london/267428/267428/
"Has His Business Well in Harness," clipping from unidentified source dated January 7, 1973, in Kilkenny's file at the Baseball Hall of Fame, Cooperstown, New York.
"One Pitcher's Future Lies in Horsemeat, the Running Kind," clipping from unidentified sourced dated April 15, 1973, in Kilkenny's Hall of Fame file.
"Only a Job in Majors Could Pay for the Hay," clipping from undated, unidentified source in Kilkenny's Hall of Fame file.
London Health Sciences Centre, Orthopaedics Donor Update, "Former Baseball Pro 'Forever Grateful' to LHSC," September 2013.
Clipping from unidentified source dated July 1, 1972, in Kilkenny's Hall of Fame file.
The Sporting News, December 15, 1973.
Minor League Baseball, "This Day in Minor League Baseball History: April 25," milb.com/milb/history/tdih.jsp?tdih=0425&sid=milb
Born
April 11, 1945 at Bradford, ON (CAN)
If you can help us improve this player's biography, contact us.
http://sabr.org/sites/default/files/MikeKilkenny.JPG
600
800
admin
/wp-content/uploads/2020/02/sabr_logo.png
admin
2012-01-04 20:25:15
2020-11-10 06:12:41
Mike Kilkenny