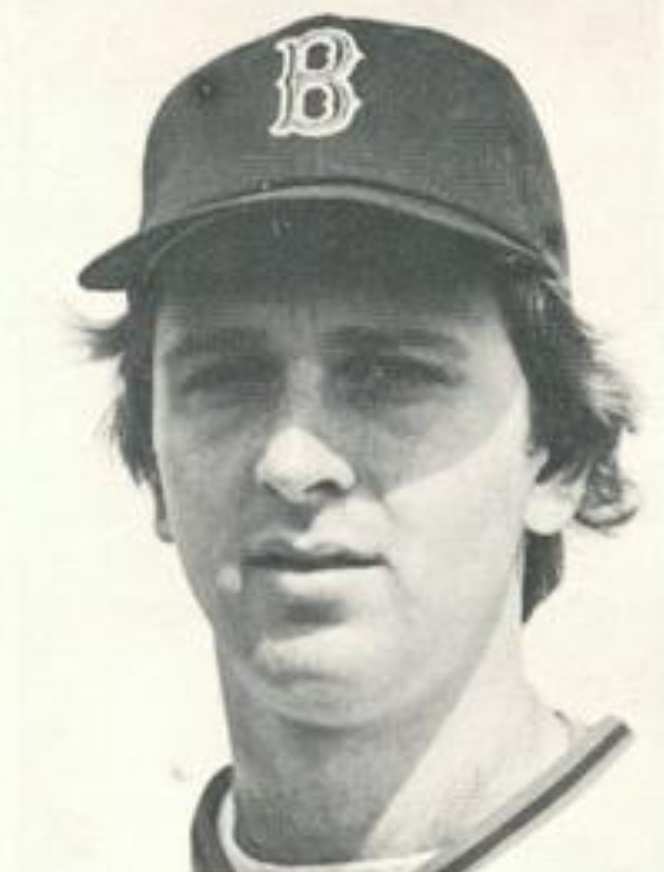 ---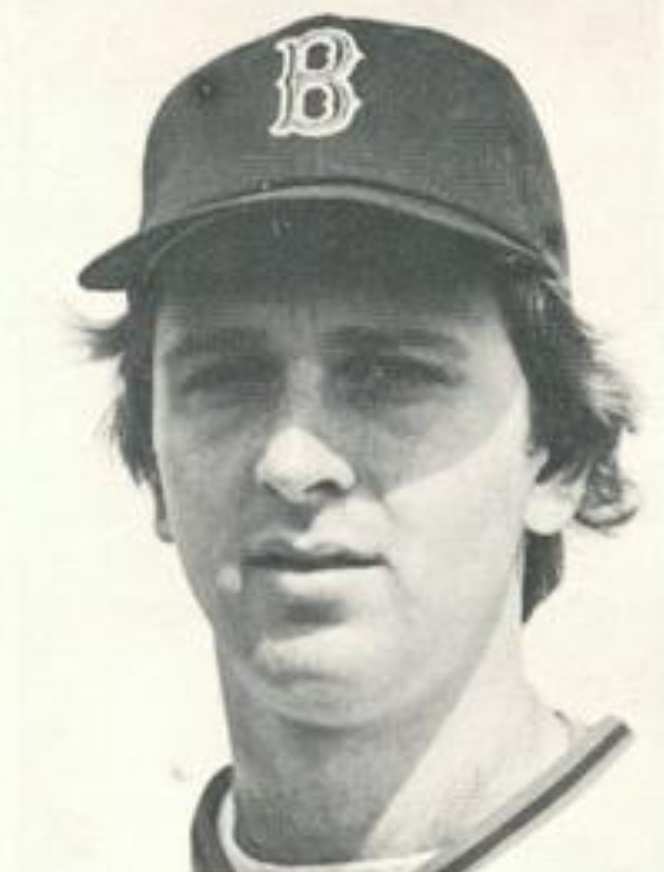 Signed by Boston Red Sox scout Milt Bolling, Mike O'Berry was, by the start of his second year, "considered the best receiver in the organization."1 The Red Sox catcher at the time was three-time All-Star Carlton Fisk.
O'Berry was not a high draft pick. He had been selected in the 22nd round of the June 1975 draft out of the University of South Alabama in Mobile, then played in 39 games for the Winter Haven Red Sox in the Class-A Florida State League. His skill was primarily in his catching; his batting average had been .083. For most of baseball history, a catcher's talents in calling a game and his defense behind the plate have been rated more highly than batting. Those were the skills O'Berry cultivated, and they were skills which saw him catch in the major leagues over the course of seven years, from 1979 through 1985.
O'Berry was right-handed, listed at 6-feet-2 and 190 pounds. Born Preston Michael O'Berry in Birmingham, Alabama, on April 20, 1954, he graduated from that city's Ensley High School.
O'Berry says, "My dad was a draftsman in an iron works. My mom was a stay-at-home mom for most of my young years. Most days she worked in the library at the high school, which allowed her to be at home when the kids were at home. My dad spent a lot of his time with me at the ballpark. My dad's name was Preston. Andrew Preston. I'm Preston Michael. My mom's name was Betty Ann. I had two sisters — one older and one younger — and then a younger brother."2
One newspaper account said Mike had been catching since the age of 8.
"It may have been 9. Back in our day, we couldn't start playing in any organized ball until we were 8. I played that first year at age 8. Little League. They called it your 'farm year'. My second year, when you were 9 and 10, they called it minor league. Then 11 and 12, it was major league. When I was 9, I started out pitching and played third. I wasn't catching when I started playing. But one of the major-league clubs wanted me to come up and catch for them. I said, "I'll try anything." So that's kind of where it all began."
His father was very supportive. He played catch in the backyard when he could, but baseball was a neighborhood passion. "Back then we played all day every day. We got up and had breakfast and went outside and came home at dark. Everybody in the neighborhood played. We always found someplace to play. Baseball, or in somebody's yard we'd play Wiffle ball. Somebody was playing something most of the time."
Mike's overall high school batting average was .333 and he had been runner-up as MVP in the East-West All-Star Game, in the spring of 1972, played at Birmingham's legendary Rickwood Field.3
In July 1972, Mike was awarded a scholarship to USA (the University of South Alabama).4 There he played under head coach Eddie Stanky. Both O'Berry and teammate Dave Stapleton were among the six Jaguars drafted in 1975, both selected by the Boston Red Sox.
O'Berry put in his time in the minor leagues. In 1976, it was a full year in Single-A ball, playing in the Carolina League for the Winston-Salem Red Sox. He got off to a very strong start, but by season's end, in 111 games, he hit an even .200. As befitting a catcher, however, he had a good eye for the strike zone and his on-base percentage was .318.
His next two seasons were in Double A, both for the Bristol (Connecticut) Red Sox of the Eastern League. His production was nothing but consistent, despite being bumped up a level on the development ladder — he hit .205 in 1977 with a .316 OBP. Dave Stapleton was on the '77 team, too. In 1978, O'Berry nudged those numbers up to .236 and .332 OBP. He also drove in 41 runs. He was never a slugger; his six home runs that year proved a career high.5 His career slugging percentage was .298 in his 10 minor-league seasons and .247 in the seven seasons he played in the majors. He was, though, a solid backstop. In his full major-league career, he handled 760 chances with only a dozen errors (giving him an excellent career .984 fielding percentage.)
In November 1978 he was added to the major-league roster and, in 1979, O'Berry debuted in the big leagues. There was really no surprise in him being added to the roster; the Red Sox were afraid he'd get snapped up by the Cubs or another team if they didn't protect him. Boston manager Don Zimmer said, "Every major league club always is looking for a backup catcher — a guy with the receiving talents of a man like O'Berry. The big problem with Mike is his bat. He isn't regarded as a really good-looking hitter but it can always improve. But you see a lot of catchers who stay around the major leagues a long time who hit only .210 or .220."6
Due to a "tender elbow," the Sox had given Carlton Fisk extra rest in spring training, letting Gary Allenson and O'Berry handle most of the catching.7 Fisk was still sore from the '78 campaign, in which he had played in 157 games, and said he didn't think he'd be able to play more than 120 or so games.8 In fact, he only played in 91. Allenson– who had been the MVP of the International League in 1978 — understandably got the lion's share of the work, getting into 109 games. O'Berry appeared in 43.
He was, perhaps, being asked to rise to the occasion a little earlier than one might have projected. He hadn't yet played at Triple A. Indeed, the Boston Globe's Ray Fitzgerald devoted a full early spring training column to a look at "Project O'Berry."9 He was, arguably, a little unkind, talking about "trying to make a prince out of a frog, a silk purse from a sow's ear" in trying to make a hitter out of Mike O'Berry. He asked, "Can you build a hitter, shape him from the clay of a nonhitter?" The Red Sox were trying, the reason being that they saw in O'Berry someone who had all the other tools — "said to have the best arm in the Red Sox system, plus the ability to handle pitchers and field his position." Ted Williams pushed him to keep trying — "You're a great handler of pitchers. You look great behind the plate, but you are no hitter." He wanted O'Berry to keep working at hitting, saying, "I don't ever want to see you without a bat in your hands."10
O'Berry was coached in the batting cage by Walt Hriniak and Carl Yastrzemski as well, Yaz taking a special interest. He cited Jim Rice and Rick Burleson as two ballplayers who developed into good hitters. Tony Torchia, O'Berry's manager at Bristol, though, said, "He'd get a hit in a clutch situation once in a while…overall, well…he had trouble." And O'Berry himself, in Fitzgerald's words, "admitted he'd never had much confidence at the plate." He was quoted: "I never had much sting on the ball. I'd hit something that should go in the gap, but there'd be nothing on it, and I'd be an easy out. You get 25 or 30 of those with sting on them and you have base hits, but there's no way you can hit with just your arms, the way I've been doing it.11
O'Berry was aware of his strengths ("the reason I'm still playing baseball is my defense") and he was very appreciative of all the assistance he was being given. "I'd never seen video tape machines, never been exposed to all this help. Sometimes I've been confused, what with two or three people telling me what to do, but I've never told myself I can't hit."12
Kevin Dupont of the Boston Herald quoted O'Berry: "Catching is what got me here. I've been catching since I was eight years old — it ain't hittin' that got me here." O'Berry added that the instruction he was being given was the first time anyone had taken time to try to work with him on his hitting. Pitcher Mike Torrez was one who spoke very highly of O'Berry's work behind the plate.13
Another catcher the Sox might have turned to was Bob Montgomery, but he had a sore elbow. Allenson had a bad back. O'Berry himself had a sore shoulder.
O'Berry's major-league debut came on April 8 in Cleveland. So did his first base hit. Batting ninth in the order, he grounded into a double play in his first at-bat, ending the second inning. He grounded out to short in the fourth inning, but then singled pastsecond base into right field in the sixth. His fourth time up, he executed a successful sacrifice bunt to the first baseman.
He didn't get another hit until June 17. He'd been used in 16 games, but primarily for defensive purposes, and only had eight at-bats in the nearly 10 weeks between hits. His second hit was a home run down the left-field line at Comiskey Park, leading off the third inning, off Ken Kravec of the White Sox. It was his first run batted in; it was also the only run the Red Sox scored in a 6-1 loss.
On June 29, Montgomery was activated and O'Berry was optioned to Pawtucket for a couple of months, only returning on August 27. In 34 games for the PawSox, he hit .167 with five RBIs — as one writer said, "hitting far less than his weight."14 Zimmer really had no other choices. O'Berry was used pretty steadily throughout September and by season's end had, accumulated 68 plate appearances with a .169 average (.242 on-base percentage.) It had been a rough first year, though.15
On October 23, O'Berry was the player to be named later, heading to the Chicago Cubs to complete a deal dated August 17 when the Sox had acquired Ted Sizemore.
Over the wintertime, he worked on hitting with Harry "The Hat" Walker, baseball coach at the University of Alabama — Birmingham.16 O'Berry trained with the team at Mesa, but on April 1 was among the players sent to the minors. Over the course of the season, he was shuttled around a fair amount. He played in 57 games for Double-A Midland in the Texas League and in nine Triple-A games for Wichita, with more than one stint for each.17 He hit .243 and .261 respectively.
When catcher Barry Foote suffered some muscle spasms in late May, O'Berry was brought to the big-league club as a backup long enough to appear in one inning on June 10 and again in July, when he saw some action in parts of three mid-July games. He was a September call-up and got into 15 games. He had a three-hit, two-RBI game in New York against the Mets on September 12, breaking a 5-5 tie in the 14th inning with a bases-loaded single that drove in two runs. O'Berry had caught all 14 innings. He had another two-RBI game against the Pirates at Wrigley on the 26th. At the end of the 1980 season, he had hit .208 with five RBIs and seven runs scored.
Both times he'd been sent down, the AP reported, no one had directly informed him. He just saw his name wasn't on the lineup card and had to ask what had happened: had he been sent down? "My wife was driving all over the country. Just about the time you'd get adjusted to place, you'd be gone. That's when I realized they didn't really care about me at all. I was just a pawn."18
And he was on the move again, traded on October 17 to the Cincinnati Reds for right-handed pitcher Jay Howell.
In the off seasons, one event he enjoyed was the annual Baton Rouge Kids Baseball Clinic.19
In both 1981 and 1982 he played for the Reds. Johnny Bench had left catching after the 1980 season. Joe Nolan became their first-string catcher. O'Berry worked with Ted Kluszewski on hitting over the winter, but there was some feeling that the work may have hampered him by having him try to pull the ball more than he was used to. In early May, he said, "I've just dug my own grave trying to pull the ball, and I've got to go back to what I do best. If I can do that and hit .250 or .260 that way for a year or two, then maybe I can look for my pitch to pull…I've got to go back to hitting the ball to right field. If I get 50 hits and all 50 of them are singles, that's how it will have to be."20 O'Berry was with Cincinnati all season long, and he appreciated the stability. "At least you're not worried about whether you're going someplace [different] tomorrow. And I've got an idea how I'm going to be used. If there's a left-hander pitching, I might start. Or if the game's close in the late innings, I might go in there…I don't mind coming into games late. I've got confidence in doing what I'm supposed to do."21 He appeared in 55 games and batted .180, again with five RBIs.
He might have appeared in more, of course, but for the players' strike in 1981. The Reds only played 108 games that season, with no games at all from June 12 through August 9. O'Berry had appeared in half of them. The Reds finished 66-42, the best record of any team in the majors — but the way the postseason seedings were determined, the Reds didn't get a shot. They gave themselves a pennant, unfurled at Riverfront Stadium, reading "Baseball's Best Record 1981." O'Berry said, "It's tough to swallow. It's tough to take when you think you're the best team and when the playoffs start, you sit at home watching it."22
For 1982, the Reds acquired catcher Alex Treviño. O'Berry was again a backup with the big-league team through June 9, appearing in 16 games. The Reds called up Dave Van Gorder on the 14th, and optioned O'Berry to Triple-A Indianapolis in the American Association, where he appeared in 45 games, batting .190. He spent most of the summer there, returning to Cincinnati in time to get into another five games in September. In his 21 games with the Reds, he hit .222 with three RBIs.
On January 10, 1983, he was traded to the California Angels for John Harris, who had spent some time with the Angels (appearing in 56 games 1979-1981) but was with Spokane in 1982 splitting his time between first base and outfield.
The Angels were O'Berry's fourth major-league team. He was dubbed a "defensive standout" by Ross Newhan of the Los Angeles Times, seen as a possible backup for catcher Bob Boone.23 Joe Ferguson was given that role, however, and O'Berry opened the season in Triple-A Edmonton (Pacific Coast League), but when Ferguson tore a muscle in his ribcage, O'Berry was brought up to the Angels and got in his first game on June 22, sticking with the team the rest of the season. He'd earned the opportunity, hitting .307 for Edmonton with 24 RBIs in 57 games. His big-league totals with the Angels in 1983 were a .167 batting average in 26 games, driving in five runs.
In November, O'Berry was granted free agency and three weeks later he signed with the New York Yankees on December 7 for their farm club in Columbus.
After backup catcher Rick Cerone went on the DL in early May, O'Berry was brought up from Columbus to be prepared to spell Butch Wynegar as needed. He drove in two runs in the fourth inning of the first game he played, on May 10, a game the Yankees took to the 16th inning before winning, 7-6. Wynegar, however, was the kind of catcher who didn't like to be platooned. He wanted to play every day. When Cerone was reactivated on July 5, O'Berry was returned to Columbus, where he completed the season. In 13 games for the Yankees, he had hit .250 with five RBIs. With Columbus he hit .225 with a .294 on-base percentage.
In 1985, he started with the Columbus Clippers once again but only got into 18 games before he was released on May 25 and became a free agent. Almost a month later, he was signed by the Montreal Expos on June 21. Joining his sixth big-league team, he played in 20 Expos games — all in September — batting .190 in 26 plate appearances, with two runs scored but no RBIs.
His major-league playing days were done. His final career numbers were a .191 batting average, .274 on-base percentage, and 27 runs batted in. His fielding percentage had improved every year, without exception, and he ended up with a career .984 mark. There are no metrics to measure the intangibles, in terms of calling a solid game. Throughout his career, it was his work as a catcher that made him attractive, year after year, to the clubs that employed him.
With baseball over, he found work in the financial world, working for The Equitable in Birmingham. "I pitched plans — insurance, disability stuff. I did that for, I guess, five years." It was sales work at first; for the last couple of years he worked on the management side. "It was a good company," he said, "but it just wasn't something I really enjoyed doing. Being inside, wearing a coat and tie, and being behind a desk. That wasn't who I was at the time."
He got back into baseball in 1992. "I was fortunate enough to get into a conversation with Jimmy Bragan, who was the president of the Southern League at that time. We got to talking. He said, "You need to get back into baseball." I ended up getting an interview with Doug Melvin with the Orioles. I flew up to Baltimore and they offered me the job."
That was the year O'Berry began working as a manager, the first four seasons in the Baltimore Orioles organization. His first year, with the Appalachian League's Bluefield Orioles, saw him lead the rookie league team to a league championship. With the Class-A Albany (Georgia) Polecats in the South Atlantic League, his team finished 71-71. In 1994 and 1995, he managed the Class-A Carolina League's Frederick (Maryland) Keys to second-place and eighth-place finishes.
Melvin left the Orioles, however, and went on to Texas. Perhaps O'Berry should have followed him there, but he stuck with the Orioles. As a new ownership group took over, over time, they brought in all their own people.
He moved on and from 1996 to 1998 he spent three years in independent league ball managing the Tennessee Tomahawks based in Winchester, Tennessee. They made it to the playoffs each year. "Butch Hobson got me that job. He called me and told me it was a good situation. I went up there. We had some good teams. John Dopson pitched for me up there. He'd hard arm trouble, I guess, but he did well for me.
"They took care of me pretty good. The owner was pretty good. That's the only reason I took the job, I could do up there and being in charge, getting the players and all, so I spent a little more time up there than just during the season. It was a good deal."
O'Berry's next transition was to coaching high school sports. "When that league folded that fall of '98, we had just found out that my wife was pregnant. I was 44 at the time. I decided I would stay close at home. I called up a friend from high school and he ended up getting me a job, I started, I guess, in October maybe that year. I went straight from the Tomahawks to high school. I started at Pelham (Alabama) High School. I coached football and I helped the head guy in baseball up until 2001. Then I got the head baseball job in 2001." Pelham won the state championship in 2004.
"I coached baseball there through, I think, '06. My daughter was 7 at the time. She got into golf. We were traveling everywhere playing golf. Her golf season ran through the spring and summer. I was with her and I did that all the way up until her junior year of high school. She graduated in 2016. A friend of mine got the head football coaching job at Thompson High School, which is about 10 miles down the road. We grew up together. He asked me to come over there, so I moved to Thompson and started coaching football again, and I'm still there."
O'Berry is listed as Director of Football Operations at Thompson High School in Birmingham, Alabama.
His daughter Mychael Grace is the focus of his attention these days. His first marriage, in 1975, ended in divorce right after he got out of baseball. He remarried in 1989 and was married for more than 25 years.
"Mychael Grace plays golf at Auburn. She's on Auburn's golf team. She's on scholarship there. She's played tournaments all over this country. She's played more good golf courses than I ever thought about playing. She went to Scotland and played in a tournament there."
After getting out of professional baseball, he kept in touch with some of his teammates, but over the years, different people have gone their different ways. He still keeps in touch with Dave Stapleton, Tom Hume, and a few others. "There's still a few kids who played for me in the Orioles organization, they'll shoot me a text every now and then. It's all been pretty good."
As to what teams he might follow these days, he says. "I'll always be a Red Sox guy, because that's who I started with. They were a class organization. They still do a good job now keeping in touch with alumni. They send out newsletters. They do a good job of that. If I had to pick somebody, that's who it would be."
What might he have done otherwise, if he had it all to do over again? Basically, bulk up a bit and work to build himself a stronger constitution. "A lot of it's probably my fault," he says, but even most major-league teams didn't offer or encourage the strength and conditioning programs they do now. "We didn't even have a weight room when I was going through high school. I came out of high school weighing 165 pounds. I came out of college at 180. Today, they have these weight training programs. I think I'd have gotten a little bigger and a little stronger. In the minor leagues, I'd catch 120, 130 games a year. I'd always start out pretty good but by about July, I was pretty worn out. That bat got a little heavier. And I wasn't strong enough. If I had it to do over, I'd have got on a program. I was always scared that if I worked with weights on my own that I'd hurt my arm. But that's the way it was. Back in my day the minimum salary was $22,000 to start with. Now it's $500,000. A lot has changed.
"Mechanically, they can do a lot of things. But physically, you've got to be able to withstand the catching every day in the heat and maintain your strength. That was probably my own fault."
That said, he's not been bound to a desk and he has his memories, as well as a certain satisfaction. "It was a dream of mine and I got to do it. I played with some great guys. It was fun."
Last revised: May 12, 2020
Acknowledgments
This biography was reviewed by Andrew Sharp and Norman Macht and fact-checked by Kevin Larkin.
Sources
In addition to the sources cited in the Notes, the author also relied on Baseball-Reference.com, and Retrosheet.org.
Notes
1 Peter Gammons, "Finley Mad, Tough, Rude, and Ingenuous," Boston Globe, April 11,1976: 60.
2 Author interview with Mike O'Berry on April 1, 2020. Unless otherwise indicated, all direct quotations are from this interview.
3 Runner-up? Who was named MVP? "It was kind of funny. They announced me as the MVP, but we lost the game so they gave it to somebody else. I can't even tell you who it was." April 1, 2020 interview.
4 "USA Signs Birmingham Catcher," Mobile Register, July 9,1972: 13.
5 He did earn a headline with one of his homers, a three-run eighth-inning homer that beat Waterbury, 7-5. Associated Press, "O'Berry's HR Sends Brisox by Waterbury," Hartford Courant, April 16, 1978: 13C.
6 Bill Liston, "O'Berry Has A Shot, But with Sox?," Boston Herald, March 11, 1979: 44.
7 Larry Whiteside, "Wanted — A Player Rep," Boston Globe, March 2, 1979: 37.
8 Larry Whiteside, "A Painful Prospect," Boston Globe, March 2, 1979: A12.
9 Ray Fitzgerald, "Project O'Berry," Boston Globe, March 11, 1979: 62.
10 Fitzgerald.
11 Fitzgerald.
12 Peter Gammons, "O'Berry to Start Sox Opener?" Boston Globe, March 28, 1979: 31.
13Kevin Dupont, "O'Berry: His Sox Stock Up," Boston Herald, March 28, 1979: 39.
14 Joe Giuliotti, "Sox A Joke — Royals Laughing," Boston Herald, August 26, 1979: 41.
15 Richard Dozer, "Irish Mike Hopes Cubs Eyes Smile on Him," Chicago Tribune, March 1, 1980: A5. More than one writer noted that he had committed more errors (five) than he had driven in runs (four).
16 Richard Dozer, "Irish Mike Hopes Cubs Eyes Smile on Him."
17 His Sporting News contract cards show his journey in 1980 as Wichita, Midland, Wichita, Chicago, Wichita, Chicago, Midland, Chicago. https://digital.la84.org/digital/collection/p17103coll3/id/162580/rec/3
18 Associated Press, "Mike O'Berry Likes Stability As Reds Catcher," Mobile Register, May 20, 1981: 29.
19 "Big Leaguers Here for Kids' Clinic," State Times Advocate (Baton Rouge), January 30, 1981: 62.
20 Associated Press, "O'Berry Throws Way Into Lineup," Boston Globe, May 5, 1981: 1.
21 Associated Press, "Mike O'Berry Likes Stability As Reds Catcher."
22 Associated Press, "Baseball's Top Team Sidelined," Xenia Daily Gazette (Xenia, Ohio), October 5, 1981: 6.
23 Ross Newhan, "Angels Still Don't Have the Answers," Los Angeles Times, March 19, 1983: C4.
Born
April 20, 1954 at Birmingham, AL (USA)
If you can help us improve this player's biography, contact us.
https://sabr.org/sites/default/files/OBerry-Mike-BOS.png
600
800
admin
/wp-content/uploads/2020/02/sabr_logo.png
admin
2012-01-04 19:54:44
2020-06-30 09:28:23
Mike O'Berry