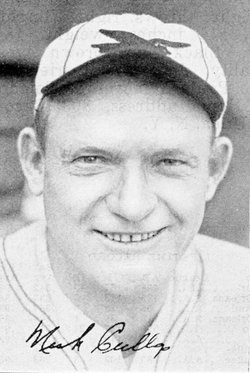 ---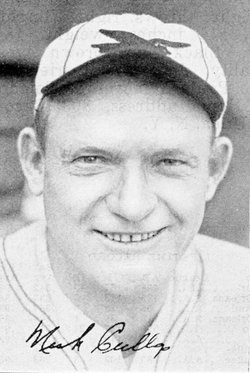 There have been two Nick Cullops in major-league baseball; one a left-handed pitcher, the other primarily an outfielder. Despite a 13-year age difference, they faced each other in the American Association in 1926. Nick the outfielder had recently joined the St. Paul Saints from the New York Yankees. His first weekend series with the Saints was in Louisville. Pitcher Nick Cullop of the Colonels went to the Saints' dugout and introduced himself. The two Cullops talked and decided they were not related.1 In game two of the May 9 Sunday doubleheader they faced one another. The Saints won 11-3 and outfielder Nick went 4-for-4. In an interview 45 years later, he recalled hitting a home run off the other Cullop. Time can fog memories though; he actually hit the home run in the first game of the day.2
By the time the Cullops met in 1926, Nick the outfielder had established a reputation as a power hitter. Like contemporaries Buzz Arlett and Joe Hauser, Cullop was never able to find success in the big leagues. His lifetime stats line reads 490 at-bats, 29 doubles, 12 triples, 11 home runs, 128 strikeouts and a .249 average. In today's baseball those numbers easily get you a seven-figure contract.3 But when there were only 16 major-league teams it meant confinement to the minor leagues. Cullop made the most of the situation and stands in the top-10 all-time in minor-league home runs and extra bases. Most notable is that he is the all-time minor-league RBI champion with 1,857.
Heinrich Nicholas Kohlhepp was born on October 16, 1900, in Weldon Springs, Missouri. His parents were William Peter and Katie (Yohn) Kohlhepp. William worked as a day laborer and then became a teamster for a coal company. After Nick left home, William became a fireman and the couple divorced. Katie brought in money as a laundress. A sister, Esther, was born in 1906. Called Henry or Harry growing up, he went to University High School in St. Louis for two years.4 When the name was Americanized to Cullop is unknown, but he appears in box scores as Cullop in 1918.
Cullop learned his baseball growing up in St. Louis. At 6-feet and 190 pounds,5 he was an imposing figure with a strong arm. When he became talented enough to play in the Municipal Leagues, he was a catcher and pitcher. He was in such demand that he tried to play for two teams in 1919 and was suspended for about a month. When the Recreation Department lifted the ban, he played with the Fulton Iron Works team in the Manufacturers League.
Cullop's manager with the Fulton Iron Works team was Ralph Works, a former major-league pitcher, who also coached at an area university. In 1920 Works was hired to manage the Madison Greys in the Class D South Dakota League. Works took eight local players with him to Madison. Cullop and three others made the squad. Cullop became the workhorse of the pitching staff with his fastball and sharp curve. He worked 247 innings and won 18 games; both totals were second in the league. He was also second in the circuit in walks issued. Cullop was used as a pinch-hitter and fielder; in 182 at-bats, he hit .341.
Judging from box scores, Cullop probably led the league in hit batsmen. It was not unusual for him to hit two or three men in a game. Three factors were in play when explaining all the hit batsmen. First, he had a deceptive motion that hid the ball; second, he had a streak of wildness; and third, he believed he owned the whole plate. On August 29 he pitched both ends of a doubleheader with Wessington Springs. He won both games, 7-2 and 6-5, but in the process he "beaned" opposing pitcher Ray Maxwell and sent him to the hospital in serious condition.6
When the newswires caught the story of the beaning, Cullop was misidentified as the former left-handed Yankees pitcher named Nick Cullop. Being called "Nick" caught on quickly and many writers mistakenly called him a left-hander. The Sporting News made a point of calling him Henry in his early years, but by 1925 the paper had begun to call him Nick. Eventually he ceased to be Henry except when signing documents.
Cullop was a popular player. Fans could identify with him because of his love of baseball and easygoing manner. "His tastes were simple and forthright — base hits, applause and approval, coon dogs and beer."7 The term colorful was frequently used to describe him. In addition to being dubbed "Nick" he picked up a handful of other nicknames. Being of German/Swedish descent, he had something of a ruddy complexion that led to the nickname "Tomato Face." His prowess as a horseshoe thrower earned him "Hipper-Dipper." Cullop acknowledged both of those on his Hall of Fame questionnaire. He did not mention a nickname that became popular in his later managing days: "Old Baldy."
The South Dakota League had four youngsters who had the talent to make it in the majors. Besides Cullop there were future St. Louis Cardinals Showboat Fisher and Jim Bottomley, plus George Stueland, who pitched with the Cubs. Fisher and Cullop were both sold to the Minneapolis Millers when the season ended. Cullop debuted with the Millers on September 15, losing to Milwaukee, 6-4. Manager Joe Cantillon was pleased with the performance despite six walks and a wild pitch. Cullop also showed his hitting skill by smashing a triple and single.8
Cullop dropped a game to Indianapolis and then won on October 3, beating Toledo, 11-5. He was breezing along in that game until he walked the first three hitters in the seventh. Pulled from the game, he watched the relief allow all his runners to score.
Cullop married Pearl Nerdahl in Sioux Falls, South Dakota, on October 13, 1920. She was a telephone operator of Norwegian descent. They made their permanent home in her hometown of Madison for the next seven or eight years. Their first child, Rudolphus William (aka Billy), was born there in 1921. He died tragically on July 4, 1925, when he fell from the third-story window of the family apartment in Atlanta.9 The parents shook off the tragedy the best they could. A daughter, Alice, was born in South Dakota in 1927 and Henry Jr. joined the family in 1929 in Georgia.
Cullop's marriages did not fare well. He and Pearl separated and then divorced in 1932. She moved back to Madison with the children in 1935 before returning to Minneapolis by 1940. She eventually was married to Russell Bourgerie and lived in the Twin Cities until her death in 1969. Alice married Richard Marietta and lived in Minneapolis. Henry Jr. moved to Los Angeles and worked in local television until his death in 1977.
Cullop married a Columbus, Ohio, divorcee, Edith R. Becker, on December 26, 1936. That marriage lasted about 14 years before ending in divorce. The couple produced no offspring. Cullop owned a farm just south of Columbus. During the war years, he worked in the machine shop at Jeffrey Manufacturing in addition to caring for the farm. After his divorce from Edith, he took Lorraine Cope as his bride in 1952; that marriage ended in a 1960 divorce.
Minneapolis went to spring training in Oklahoma City in 1921. Cullop joined 12 pitchers in camp. Millers President George Belden also owned the St. Joseph Saints in the Class A Western League. After a couple of training-camp appearances, Cullop was optioned to St. Joseph. He pitched one of the best games of his career on April 29 against Oklahoma City. He fashioned a nifty four-hitter for a 4-0 victory. He also singled and scored a run.
On July 30, Cullop was traded to the Tulsa Oilers for pitcher Karl Adams. The Tulsa sportswriters applauded the swap and noted, "Cullop may supply badly needed righthanded hitting punch."10 Cullop was seldom used for his bat and by September he was sidelined with a sore arm.
The following year, 1922, Minneapolis sent Cullop to Des Moines in the Western League. The team struggled, but Cullop was in good form. He put together a modest three-game winning streak going into the May 14 match-up with Omaha. In the third inning, Cullop was called out on a close play at first by umpire McGloom. Cullop blew up and chased McGloom around the field until other players got him under control. He was tossed from the game and given an indefinite suspension by league President A.R. Tearney.11
The suspension was lifted on May 25 and Cullop rejoined the Boosters. He piled up 275 innings pitched for them and won 13 games. He also played a little outfield and batted .295 with 6 home runs in 149 at-bats. On December 12, he was part of a deal that brought Dan Tippie to Minneapolis from Omaha. Cullop was bound for the Western League for the third year with his fourth team.
Veteran Ed Konetchy was the Omaha manager-first baseman. He gave Cullop the Opening Day start and was rewarded with a 10-4 win over Tulsa. As the season progressed, By Speece and Buckshot May became the class of the pitching staff. Konetchy started to use Cullop in the outfield and he responded with three home runs in the first week of June. Two weeks later, outfield Pug Griffin was sold to Dallas to make room for Cullop in the outfield. Cullop closed the season 9-6 on the hill while batting .280 with 12 homers.
Cullop went on an exhibition tour after the season, then wintered in Omaha. A local writer added "The Viking" to his list of nicknames. Cullop let it be known that he wanted to join a soccer team to stay in shape.12Art Griggs took over as Omaha manager in 1924. Cullop eventually became a full-time outfielder because of a tendon issue in his arm. In the first month of the campaign he pitched only twice.
Cullop lost to Oklahoma City on April 24 but blasted a 423-foot homer. He made his next start on May 6. He won, 6-2, and had a single, double, and triple. After that he was used for his hitting prowess. Outfielder Frank Osborn joined the team about 40 games into the season. With his arrival, Griggs went to the bench and installed Cullop at first base.
The Buffaloes had an impressive workhorse pitching staff of five men all tossing over 200 innings. It was led by veteran Bill Bailey who won 23 games and hurled 340 innings. Harry Lee won 25 in 325 innings, and Lou Koupal won 22. Cullop paced the offense with 40 home runs and a .322 batting average. With five other regulars batting over .300, Omaha won the pennant. Cullop was handed the ball to pitch the last game of the season and responded with a 7-0 shutout at Tulsa.
Cullop, Osborn, and Koupal were named first-team Western League all-stars.13 The New York Yankees had taken an interest in Cullop after the 1923 season. They finalized his purchase in February 1924 but left him with Omaha. After his breakout performance, there was a good deal of speculation about Cullop being able to unseat Wally Pipp at first base. The Sporting News suggested that he might still be used as a pitcher.
Cullop went to Yankees' spring training with Ruth, rookie Lou Gehrig, and the rest of the Bombers. He was optioned to Atlanta in the Southern Association in a move that Miller Huggins said "was deemed advisable under existing circumstances."14 The "circumstances" were that Gehrig looked better at first than Cullop and Ben Paschal looked better in the outfield.
Cullop made the most of his transfer to Atlanta. He battled through his grief in midseason over the death of Billy and went on to tear up Southern Association pitching for the league champion Crackers. He belted 30 home runs and had a .621 slugging percentage. He was used mostly in center field, an indication that his 200 pounds did not diminish his speed or range. That winter he played with Croissantania in the Sunshine League in Florida.
Cullop joined the Yankees again for spring training. He did not hit well an exhibition series against the Boston Braves, but still made the Opening day roster. He made his major-league debut on April 14 at Fenway Park. He singled in the ninth as a pinch-hitter but was left stranded. He had an opportunity to pinch-hit again versus Washington and struck out. On May 6 Cullop was sent to St. Paul in the American Association as part of the deal that had sent Herb McQuaid to New York.
After a season batting .314 with 22 home runs, Cullop was sent to the Washington Senators as part of a deal that sent Dutch Ruether to New York. Cullop made the Senators' roster in 1927 and was used as mainly a pinch-hitter. He was batting .217 when the Cleveland Indians purchased his contract for $12,500. The Plain Dealer called him "Henry Cullop, slugging Washington outfielder" and mentioned that negotiations had been going on for a couple of months.15 Cullop pinch-hit for three weeks before getting into the lineup.
Cullop launched his first home run in the majors on July 8 at Cleveland's Dunn Field against the Senators. He entered the game in the eighth as a pinch-hitter for Baby Doll Jacobson. With Joe Sewell on base, Cullop sent a blast over the screen in right field to make it a 5-3 game with Washington on top. The Senators won 7-4 with Cullop striking out to end the game.16 He started six games in center field over the next week, but his batting average dropped to .214.
Cullop's next appearance came on July 25 in Fenway Park, where he pitched the eighth inning. He gave up three hits and a run in his only major-league pitching effort. The Tribe lost, 10-7. A few days later Cullop was tossed from a game in Boston and given an indefinite suspension "for the heinous crime of picking up a handful of dust and throwing it indignantly to the ground in the direction of Umpire Van Grafian."17 The suspension was lifted after four days. During the short suspension, Fred Eichrodt played brilliantly in center field and took Cullop's spot.
The Indians left on their final Eastern swing on September 7. With a bevy of rookie call-ups in tow, manager McAllister left Cullop and four other players behind in Cleveland "with permission to go home at their convenience."18 In mid-December Cullop and eight others passed through waivers. On January 4, 1928, he was sold to Buffalo in the International League for $8,000.19
Cullop opened the season in center field and batting cleanup for the Bisons. In an odd twist, just after newspapers mentioned Cullop's great start, he was relegated to the bench. After 10 days during which he only pinch-hit, he was sold to the Atlanta Crackers. Cullop was an instant success in Atlanta, but then was felled with stomach trouble in August. He was held to 75 games with the Crackers, but posted a lofty .692 slugging percentage. Wilbert Robinson of Brooklyn took note and the Robins purchased his contract on September 16. Cullop would be one of 11 outfielders vying for a spot in 1929.20
The Robins trained in Jacksonville, Florida. Cullop made a good impression, but then left camp to care for Pearl, who was ill and pregnant with Henry Jr. This led to speculation that Cullop would rather be in Atlanta. He put an end to that talk by slamming a bases-loaded triple and two singles in his first game back. He won the starting job in left field and opened the season with back-to-back two-hit games. Brooklyn lost its first five games and quickly cemented its second-division status.
On May 6, Cullop ripped a double and home run in a 12-3 win over Cincinnati. He went 1-for-15 after that and was pulled from the lineup. A week later he was with Atlanta, playing center field and batting cleanup. He had a down year with Atlanta but still led the team with 17 home runs, three of them on August 26 against Little Rock. On September 18 he was sold for cash and a player to be named later to Minneapolis.
That winter Cullop filed a petition with the commissioner's office to be declared a free agent. He claimed that the transfer from Atlanta to Brooklyn and back again had violated baseball law. Commissioner Kenesaw M. Landis ruled on December 14 that Cullop was not eligible to be a free agent and that he was the property of the Minneapolis Millers.
Cullop's 1930 season cemented his place in minor-league history. From the first day he stepped into the batter's box in spring training and lofted 11 of 21 pitches over the fences in Hot Springs, Arkansas, it was clear that Cullop meant business.21 Next came the raves from manager Mike Kelley that the slow-footed Cullop of the past was history and that he had "vastly improved his fielding and running on the bases."22
Every heroic tale must include stumbling blocks for the hero. Just as the American Association season began, Cullop was bedridden with a sore throat. He finally got clearance to play and in the first inning on April 18 he took a fastball to the skull from Toledo's Alex Ferguson. "Nick dropped to the ground as though shot. … [F]ormer major leaguer Dr. Johnny Lavan … rushed from the grandstand and administered first aid."23 Cullop was carried from the field.
Cullop was back in the lineup in a couple of days, but his confidence had been tested. He struck out in 12 of his next 15 at-bats. He was benched and the Minneapolis Star added a new nickname to his list on April 28 by dubbing him "Strikeout." The next day they used "Hitless." Cullop battled back. If his hitting was off, he could still play the field. He wowed the fans by tossing out baserunners at home and third in the same game. On May 2 he was batting .153.
Slowly but surely, Cullop regained his batting eye. Averages published on May 25 had him batting .217 (14-for-64). It all changed later that day when he hit three consecutive home runs to lead the Millers to an 11-10 win. He drove in six runs. The story continued the next day when he homered in his first at-bat, giving him four consecutive homers. Cullop closed out the season with 54 home runs, a batting average of .359, and a .763 slugging percentage. He led the league in runs, homers, and RBIs.
The Cincinnati Reds purchased Cullop on September 16. He played in seven games and banged one homer. He spent the fall touring with various barnstorming groups. In spring training, manager Dan Howley was excited about Cullop and his power, hailing him as a second Babe Ruth. Unfortunately for Cullop, he developed a lame arm and then was hit on the wrist by a pitch.
The arm and wrist both healed and Cullop opened the season in left field. Batting .308 in May, he injured a hand making a diving catch in the outfield. After missing a week, he returned to action. In June Cullop again missed a week after injuring a shoulder attempting a diving catch. He kept his batting average up, but the power that was expected at Redlands Field never materialized. He lost his regular spot in mid-July and ended the season playing 104 games while hitting 8 home runs (four at home and four on the road). He led the league in strikeouts with 86.
Cullop's major-league career ended in Cincinnati, but he spent the rest of the decade in the high minors. From Cincinnati he made a brief stop in Rochester before finding a home with the Columbus Red Wings. This began a 13-year relationship with the St. Louis Cardinals. St. Louis vice president Branch Rickey liked Cullop's style and was pleased to have him in the dugout, first as a player and then as a manager.
Columbus won the American Association pennant in 1933, but Cullop saw Minneapolis's Joe Hauser crush 69 home runs for a new league record. The Red Wings faced Buffalo in the Junior World Series and won, five games to three. Cullop hit .395 with 2 homers and 12 RBIs. Teammate Jack Rothrock bettered that with a .455 average, 3 homers, and 14 RBIs. The next year, the Red Wings won the league title in a playoff. They defeated Toronto five games to four in the Junior World Series. Cullop batted .375 with two homers.
Cullop moved to the Pacific Coast League with Sacramento in 1937 and 1938. The Solons won the league both seasons. From there he went to Houston in the Texas League. At age 38, he led the circuit in home runs and was named The Sporting News Most Valuable Player.24 The Buffaloes lost in the playoffs that year but won the title the next. In 1940, Cullop had a collision with Dizzy Dean that injured his left knee and ended his days as a regular.25
Cullop changed course after that. From 1941 through 1959 he managed 17 seasons in the minors. Cullop was never a stern disciplinarian. He was a hustler and loved to win, expecting the same from his players. His teams made the playoffs or led the league in eight seasons. His first title came with Pocatello in the Class C Pioneer League in 1942. Cullop returned to Columbus in 1943 and led the team to a third-place finish. The team went on to win the playoffs. He was named The Sporting News Minor-League Manager of the Year.
Rickey had left the Cardinals and when Cullop asked for a pay raise, owner Sam Breadon was unflinching in his refusal. Cullop was released, but soon received an offer from Bill Veeck to manage Milwaukee at $12,000 a year. In 1945 he guided the Brewers to the regular-season American Association crown but lost in the playoffs. Nevertheless, the Milwaukee boosters had a brand-new Allis Chalmers tractor delivered to his Ohio farm as a gesture of appreciation.26 The 1947 campaign was a déjà vu season. The team finished third, won the playoffs, and went on to be Junior World Series champions. Once again Cullop was named Manager of the Year. Late in the 1948 season, Milwaukee held a "Cullop night" and he was awarded a 1949 Mercury and about $3,000.27 In 1950 he took over the Baltimore Orioles and finished third in the International League. The team rallied to win the playoffs, only to lose to Columbus in the Junior World Series.
Some of his players in Baltimore tested Cullop's resolve. He gave the team a 2 A.M. curfew with an off-day coming up. He waited in the hotel lobby and figured out who was staying out past curfew. He left orders for them to call when they got back in. He fined five players $100 each. According to Cullop, "They really hustled the rest of the season." Before the playoffs started, he refunded each man his money, saying, "I figured the boys had earned their dough the hard way."28
Cullop was with six different teams in the 1950s. Back in Columbus in 1955, he became part of a major baseball donnybrook on July 8. The trouble started in the fourth inning when Lou Limmer, Toronto's first baseman, called Cullop an unprintable name. Limmer had begun the season with Columbus but was traded in June. Cullop went after Limmer and landed a left hook to his face. Cullop was ejected. In the next inning, Limmer ran over Spook Jacobs at second base. Jacobs got up and decked Limmer with a series of blows. The benches emptied, fans threw beer bottles. Eighteen policemen were needed to finally quell the brawl. League President George Trautman witnessed the brawl personally. Cullop was reprimanded and fined $50.
After his playing days, Cullop lived in the Columbus area. He was a physical-therapy supervisor at the Columbus State Home. One day a fight broke out. Cullop tried to break it up but one of the inmates caved in his leg with a chair. The damage to the right knee bothered him the rest of his life.29 After retirement he traveled occasionally to see his children and grandchildren. He also made it a point to look up baseball buddies. In 1976 he was named to the Ohio Baseball Hall of Fame.
Cullop had a devoted companion in his later years named Esther Bowen; she died about four months before Cullop did. He died on December 8, 1978, in a convalescent home in Westerville, Ohio. His burial was in the Mifflin Township Cemetery in Gahanna, Ohio. He was survived by his daughter and nine grandchildren.
Acknowledgments
Thank you to Stephanie Riley, a great-great-great-granddaughter of Cullop. She helped verify the spelling of Kohlhepp and has a family tree on ancestry.com. Thanks also to Bill Carle, head of SABR Biographical Committee, who confirmed the Kohlhepp as indeed correct.
This biography was reviewed by Len Levin and fact-checked by Warren Corbett.
Notes
1 Eugene Murdock, Baseball Players and Their Times: Oral Histories of the Game 1920-1940 (Westport, Connecticut: Meckler Publishing, 1991), 208.
2 "There's Always a Way to Forget," Louisville Courier-Journal, May 19, 1926: 6.
3 Compare Cullop's numbers to the 2017 lines for Miguel Cabrera, Jackie Bradley, or Carlos Gonzalez. His numbers are also very close to the 2017 league averages.
4 Eugene Murdock reported that Cullop's original name was Kolop. However, information from Stephanie Riley, Cullop's great-great-great-granddaughter, indicates the spelling was Kohlhepp.
5 When Cullop matured he played at 200 pounds and as a manager tipped the scales at 250.
6 "Man Injured by Pitched Ball," St. Louis Post-Dispatch, August 31, 1920: 11.
7 Brad Willson, "Nick Cullop Happy to Once More Wear Columbus Baseball Uniform," Columbus (Ohio) Dispatch, April 17, 1955: 184.
8 "Millers Make Last Stand Against Brewers Today," Minneapolis Star, September 16, 1920: 5.
9 "Youthful Son of Nick Cullop Falls 3 Stories to Death," New Orleans States, July 5, 1925: 16.
10 B.A. Bridgewater, "Oiler Hurling Staff Boosted by Adams Deal," Morning Tulsa Daily World, July 31, 1921: 9.
11 Sec Taylor, "Cullop Draws Ban for Bout with M'Gloom," Des Moines Register, May 16, 1921: 8.
12 "Nick Soccerist," Omaha World-Herald, August 23, 1923: 12.
13 "The Fanning Beehive," Lincoln Journal Star, September 3, 1924:8.
14 "John McGraw Making Capital of Conquest Over Senators," The Sporting News, April 9, 1925: 1.
15 Henry P. Edwards, "Indians Release McNulty, Buy Cullop, Nats Slugger," Cleveland Plain Dealer, June 6, 1927: 18.
16 Henry P. Edwards, "Indians Lose First Double Header of Season to Nats," Cleveland Plain Dealer, July 9, 1927: 16.
17 Henry P. Edwards, "Tribe Bats Busy as Hudlin Holds Enemy," Cleveland Plain Dealer, July 30, 1927: 14.
18 Henry P. Edwards, "Tribe Is Off for the East With Five Cut From Squad," Cleveland Plain Dealer, September 8, 1927: 24.
19 "Cullop Sold," The Item (Richmond, Indiana), January 5, 1928: 8.
20 Thomas Holmes, "Ex-Yankee Fell Down Against Major Pitching but Hit Well in Minors," Brooklyn Daily Eagle, September 17, 1928: 22.
21 "New Gardener Hits Hard at First Chance," Minneapolis Star, March 10, 1930: 13.
22 George A. Barton, "Sport Graphs," Minneapolis Star Tribune, April 1, 1930: 16.
23 George A. Barton, "Toledo Registers 13 Runs in Fifth and Sixth Frames," Minneapolis Star Tribune, April 19, 1930: 22.
24 "Veteran Shows Way to Youth in Texas Loop," The Sporting News, October 12, 1939: 14.
25 Murdock, 216-17.
26 "Santa Visits Nick Cullop Early," Columbus (Ohio) Dispatch, December 24, 1945: 6.
27 Murdock, 218.
28 Sam Levy, "On the First Bounce," Milwaukee Journal Sentinel, January 7, 1951:44.
29 L. Robert Davids, "Nick Cullop, Minor League Great," Baseball Research Journal #4 (SABR, 1975), accessed online at https://research.sabr.org/journals/nick-cullop on February 1, 2018.
Born
October 16, 1900 at St. Louis, MO (USA)
Died
December 1, 1978 at Westerville, OH (USA)
If you can help us improve this player's biography, contact us.
https://sabr.org/sites/default/files/CullopNick-Henry.jpg
600
800
admin
/wp-content/uploads/2020/02/sabr_logo.png
admin
2018-03-14 17:40:10
2020-04-09 14:40:22
Nick Cullop (Henry)