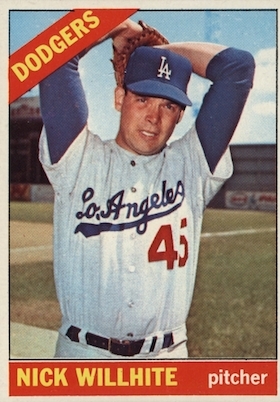 ---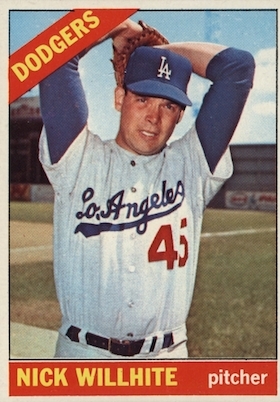 World Series, 1965. Fetal position, 1989. Alcohol along the way."1 The words seemingly capture the heights climbed and depths plunged in the life and career of Nick Willhite. Addiction not only ruined the budding baseball career of the once-promising left-handed hurler in the Los Angeles Dodgers pipeline, but everything in its wake as Willhite was left living on the streets of Salt Lake City, Utah. "Alcohol was my king and master … [and] I paid quite a price, namely my wife, children, career, and happiness," he admitted.2 Fortunately for Willhite, there was a silver lining. In 1989 Stan Williams, a former Dodgers teammate, helped connect him to the Baseball Assistance Team (B.A.T.), the charitable arm established jointly by MLB and the Players Association to assist troubled former players.3 Willhite entered a treatment center, got cleaned up and eventually pursued a rewarding career as an addictions counselor. Moreover, before his death in 2008 he reconnected with his family.
Jon Nicholas Willhite was born on January 27, 1941, the second of three sons of Phil Dwight and Lois Joan (Lawyer) Willhite (a/k/a Wilhite) in Tulsa, Oklahoma. Nick was the sixth great-grandson of Tobias Willheit, a German immigrant who arrived in Northern Virginia around 1720. Over the next century Tobias's descendants began a southwesterly trek from Virginia to Tennessee and Mississippi, eventually settling in Arkansas before 1850. Nick's great-great-grandfather fought for the Confederate Army in the 14th Regiment, Arkansas infantry. On August 9, 1864, he was killed in a skirmish in the western part of the state. Years later James Dudley Wilhite, Nick's great-grandfather, lost an eye when he was shot by deputies who mistook him for a horse thief. This brush with the law may have contributed to the decision by James's son George Doran Willhite to pursue a career in law in the early part of the twentieth century. (George also appears to be the first to add a second "l" in the surname.) During the Depression, Nick's father, Phil, enrolled at Oklahoma A&M (now Oklahoma State University), where he majored in history, science, and literature. In 1940, three years after he married, Phil was a schoolteacher in central Oklahoma.
The family eventually moved to Colorado, where the boys attended South High School in Denver. Nick became a star on the gridiron and baseball field for the South High Rebels. An outstanding hitter as well as a superb pitcher, he played the outfield when he wasn't pitching. In 1958 and 1959, his junior and senior years, he led the Rebels to consecutive state titles. But South High was not the only beneficiary of his baseball prowess. In 1958 Willhite led his American Legion post to the Regional 10 tournament where, in the first game, he collected 22 strikeouts in Denver's 4-1 win over Sheridan, Wyoming. His subsequent two-hit shutout of Roswell, New Mexico, advanced the team to the Section D finals, where Willhite set a tournament record with 18 strikeouts in a losing effort to Billings, Montana.
As a teenage ballplayer, Willhite was surrounded by major-league scouts. A 1959 high-school graduate, he had committed to Colorado State College (now the University of Northern Colorado) in Greeley before identical $50,000 bonuses from the Baltimore Orioles (reportedly interested in signing him as an outfielder-first baseman) and the Dodgers caused him to change his mind. During the summer Willhite honed his skills pitching for the semipro Rapid City (South Dakota) Chiefs in the Basin League while negotiating for more. When it became apparent that the clubs would not budge, Willhite signed with Dodgers scouts Bert Wells and Denver-based Manuel Boody. (The pair inked East Denver High School's Stan Williams five years earlier.)4 Most reports indicate that the signing took place in 1959 but the southpaw's limited action in 1960 (11 games) appears to suggest he signed in '60.
Willhite's brief success in the Class C California League resulted in a jump to Greenville, South Carolina (Class A) in 1961. It took no time for him to acclimate to the South Atlantic League. On June 17 he fanned 11 Portsmouth-Norfolk Tides in route to a league leading 161 strikeouts. A month later, with a record of 13-5, 1.46, Willhite was named the circuit's Topps Player of the Month. His won-lost record was clouded by the offensively challenged Greenville Spinners. In a July 7 duel against Charleston White Sox righty Ronald Woods, he surrendered just three hits in a 1-0 loss with the lone Greenville hit coming off Willhite's bat. He led the league with 23 complete games, six shutouts, 230 innings pitched, and a nationwide best ERA of 1.80. (The minuscule ERA was the fourth lowest in SAL history.) During the offseason Willhite was tabbed among the Dodgers' "[m]ost promising young pitchers coming up."5
In 1962 the 21-year-old went to the Dodgers' spring training as a nonroster invitee. Noted for a blazing fastball and "the poise of a fellow who's been pitching pro ball half a dozen years,"6 Willhite was one of the last players cut. He was given explicit instruction to work on his curveball pitching for the Omaha Dodgers in the Triple-A American Association. On May 9 Willhite flirted with a no-hitter against his hometown Denver Bears through six innings before settling on a 4-3 win. He tied a league record with seven consecutive strikeouts, and his midseason circuit-leading 10 wins and 11 complete games earned the starting role in the All Star game. Though he fell to a second-half record of 8-9, 3.86, Willhite finished with a league-leading 18 wins, 32 starts, 243 innings pitched, and 19 complete games (the latter an Omaha Triple-A record). Handling his position flawlessly, Willhite also earned the Rawlings Sporting Goods Company Silver Glove award as the best minor-league fielding pitcher.
Throughout the mid-1960s Willhite, Pete Richert, Joe Moeller, and Phil Ortega sought to complement the Big Three of Sandy Koufax, Don Drysdale, and Johnny Podres. Willhite began the 1963 season with the Spokane Indians in the Pacific Coast League and was coming off six straight wins when Dodgers GM Buzzie Bavasi, after a failed attempt to bolster the Dodger staff via trade, looked to the Triple-A club for help. In June Willhite traded roster spots with Richert and on June 16, 1963, the lefty made his major-league debut in Dodger Stadium as the nightcap starter in a doubleheader against the Chicago Cubs. Before a Father's Day crowd of 45,239, he struck out the first two batters and retired the last seven in order in a crisp 1 hour and 54-minute five-hit shutout (the only whitewash of his big-league career). It was the first shutout by a Dodgers pitcher in a debut start since Stan Williams blanked the Cubs on June 1, 1958. "Willhite's curve was his best pitch," said Cubs future HOF slugger Ernie Banks, while another eventual inductee, manager Walter Alston, raved about "the boy's command and poise."7
Six days later Willhite made his second appearance. In a duel against St. Louis Cardinals ace Bob Gibson, he held a slim 1-0 lead before an error and a one-out balk tied the game in the fourth. Willhite was lifted after six innings and suffered a 2-1, four-hit loss. On July 7 he held the Cincinnati Reds to one run over seven innings to capture his second win before the wheels came off. In a start in Philadelphia nine days later, Willhite was unable to retire a batter in an eventual 10-2 loss. On July 21 he was chased in the fourth after surrendering six runs to the hard-hitting Milwaukee Braves. Willhite was returned to Spokane, where he finished the season. During the offseason the New York Mets, at the urging of skipper Casey Stengel, made a push to acquire Willhite but the Dodgers were reluctant to part with the promising youngster.
But far less encouragement ensued when arm problems plagued the Dodger hurler throughout a spotty 1964 season. A brilliant complete-game win over the Houston Colt .45s on April 29 was followed by a quick hook four days later against the San Francisco Giants in which Willhite could not survive the second inning. An error by shortstop Maury Wills on May 20 prevented Willhite from his second major-league shutout, but this was followed two starts later by another early hook, this time against the Braves in a 5-1 loss. He was assigned to the Double-A Albuquerque Dukes in the Texas League where he continued to struggle: 7-6, 4.95 in 129 innings (22 appearances, 20 starts). In October, as part of the perpetual Dodgers-Senators pipeline that began after Brooklyn great Gil Hodges took over the helm in Washington, Willhite was sold to Senators on a conditional basis.
Hodges looked to Willhite as a second southpaw starter to accompany Claude Osteen, but a December seven-player trade sent the Washington ace to the Dodgers for Richert and Phil Ortega. Eight days before the start of the 1965 season the Senators added another southpaw, Mike McCormick, after Willhite struggled with arm and back problems throughout spring training. He made five relief appearances with the Senators (7.11 ERA in 6⅓ innings) before he was returned to the Dodgers. Willhite was assigned to Spokane, where he inexplicably regained his footing. On June 13, after pitching a one-hitter against the Oklahoma City 89ers, Willhite was starting against the Mets (the call coming after Dodgers lefty Jim Brewer was placed on the disabled list). Willhite yielded just one hit through three innings before being lifted in the sixth; he did not figure in the decision. Six days later he came within two outs of a shutout in a win against the Phillies. But far less success followed when, except for a 6⅔-inning relief appearance against the Cubs on July 18 and a win against Houston on September 3, Willhite yielded 22 runs and 28 hits over 16⅓ innings (11 appearances).
During the offseason Willhite contemplated retirement before reporting to Vero Beach, Florida, in February 1966. As events unfolded, he produced the strongest Grapefruit League campaign of his career, opening with seven scoreless innings followed by four innings of no-hit pitching against the Baltimore Orioles on March 26. But when the season began, Willhite was used sparingly in relief and in May he was sent to Spokane when the Dodgers were required to trim their roster to 25 players. He returned the next month to spell an injured player before finishing the season in the Pacific Coast League. Willhite placed among Spokane's pitching leaders with 10 wins, 23 starts, and 105 strikeouts. In October he accompanied the Dodgers on a goodwill tour of Japan as the organization fielded trade queries for the 25-year-old, including an aggressive pursuit by the Houston Astros. On December 15 he was traded to the California Angels for former All-Star reliever Bob Lee. "We're giving up a potential star," said Bavasi. "But because of what has happened this winter [Sandy Koufax's retirement and a failed attempt to acquire Cubs lefty Dick Ellsworth], we found ourselves in need of someone for the present."8
With ace Dean Chance gone, the Angels looked to Willhite to help fill the void. He would instead start the season in the bullpen after a difficult spring. Willhite got his first start on May 3, 1967, against the Boston Red Sox in a duel versus eventual Cy Young Award winner Jim Lonborg. Willhite did not figure in the decision in a 2-1 loss. But in a season that largely resembled 1964, Willhite was inconsistent: eight shutout innings against the Chicago White Sox on May 13 were followed a week later by an early exit against the Minnesota Twins. On June 10 he was traded to the Mets for right-handed hurler Jack Hamilton. The swap was the first of three trades made by the Mets over a two-week span in an attempt to squeeze a southpaw into the rotation. Willhite's trial lasted only one start, in which he was shelled by the Cubs on June 11 in an 18-10 loss. Shifted to the bullpen, Willhite showed some signs of improvement before he ran into trouble against the Atlanta Braves on June 23. It proved to be his last appearance in the major leagues. In July he was optioned to the Tulsa Oilers in the PCL (a Cardinals affiliate) where, except for a five-hit shutout of the Seattle Angels on July 31, he continued to struggle. He finished with a record of 4-6, 4.71 in 16 appearances with the last-place Oilers.
Willhite spent the offseason pitching for Navegantes del Magallanes in the Venezuelan Winter League. (It was not his first experience in the Caribbean; in 1962-63 he spent the winter with Caguas-Guayama in the Puerto Rican League.) Still contractually obligated to the Mets, Willhite spent most of the 1968 season with Chicago Cub affiliates in Tacoma and San Antonio, garnering just one win in 12 decisions. (Another source suggests he was 2-11, one of the wins coming in a 12-9 slugfest.) In February 1969 Willhite reported to Mets spring training as a nonroster invitee and was released by the Memphis Blues, the Mets' Double-A affiliate, before the start of the season.
Willhite returned to his Colorado home, where he found work at a Boulder bank. He joined a semipro club in the city and, as his arm began to show signs of a rebound, he requested a tryout with the Denver Bears, the Minnesota Twins' American Association affiliate. Willhite was signed on August 25, A week before the end of the season. In a six-inning relief appearance, Willhite surrendered seven runs in a 16-5 loss to the Iowa Oaks. But he was not discouraged. Believing his arm to be sound for the first time in many years, Willhite secured an invitation to the Kansas City Royals 1970 spring camp. He signed a Triple-A contract with the Omaha Royals but eventually agreed to join the parent club as a left-handed batting-practice pitcher. (Orlando Pena was the right-hander, in an unorthodox move that most likely marked the first – and possibly only – time in the major leagues that a club carried two batting practice pitchers.)
But Willhite was not resigned to batting practice. "I still think of myself as a [major league] pitcher," he said. "I think I'm throwing better every day. I can't cut loose yet … [b]ut one of these warm days someone is going to ask for a fastball and I'm really going to let him have one."9 On July 24, after approaching the organization to begin pitching in meaningful games, Willhite was assigned to Omaha. In his first appearance he threw three innings of shutout relief before yielding nine runs (eight earned) over the next five games. He retired for good after the season.
Willhite moved to Utah and from 1971 to 1977 was the assistant baseball coach at Brigham Young University. In 1978 he was hired by the Milwaukee Brewers as a minor-league pitching instructor and served in the same capacity for the New York Yankees a year or two later. But Willhite held neither of these latter jobs long after he developed "a reputation for late hours and late arrivals at the ballpark."10 His addition to alcohol – an addiction that had started before he ever placed a foot on a major league field – began to overwhelm him.
Willhite blew through three marriages and suffered the death of an infant son; moreover, his six surviving children – two sons and four daughters – had placed considerable distance between themselves and their father. By the time he reached into his 40s, Willhite's life had completely unraveled. He pawned his 1963 World Series ring and eventually found himself penniless on the streets. He began to contemplate suicide. "BAT gave me another chance at life," he later acknowledged.11 Willhite completed an alcohol rehabilitation program and, with the assistance of former Giants manager Herman Franks, found a new home in Salt Lake City. In the early 1990s the 50-year-old former hurler studied to become an addictions counselor and successfully re-established ties with his children and grandchildren. A decade later Willhite returned to Denver to join former major leaguers Ryne Duren and Charlie Metro on The Art of Relief Pitching panel at the 2003 national convention of the Society for American Baseball Research. On December 14, 2008, a month before his 68th birthday, Willhite died of cancer at his son's home in Alpine, Utah, and was buried in Alpine City Cemetery.
In 1965 the Dodgers were reported to "have the nucleus of a pitching powerhouse for the next decade"12 with youngsters like Willhite, Bill Singer, and future Hall of Famer Don Sutton within their fold. But after his brilliant debut performance two years earlier, Willhite collected a mere five additional major-league wins and, over a five-year career established a pedestrian 4.55 ERA in 182 innings – a far cry from the grand expectations that were lost to addiction.
Acknowledgments
The author wishes to thank SABR members Bill Mortell and Tom Schott for research assistance. Further thanks extended to Len Levin for review and edit of the narrative.
Sources
Websites
Ancestry.com
Notes
Born
January 27, 1941 at Tulsa, OK (USA)
Died
December 14, 2008 at Alpine, UT (USA)
If you can help us improve this player's biography, contact us.
http://sabr.org/sites/default/files/WillhiteNick.jpeg
600
800
admin
/wp-content/uploads/2020/02/sabr_logo.png
admin
2016-06-22 15:10:36
2016-06-22 15:10:36
Nick Willhite