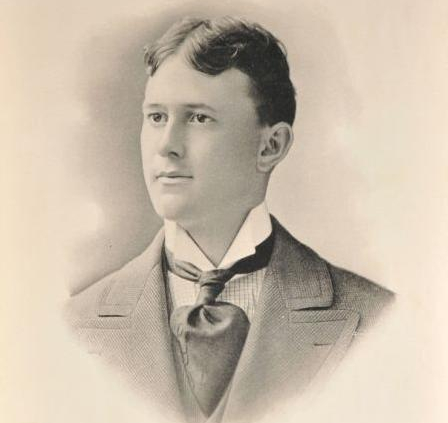 ---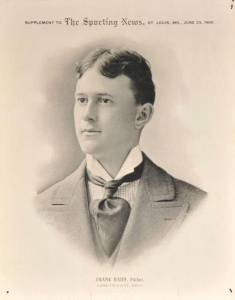 In July 1903, just two months after turning 24, Noodles Hahn won his 100th game, becoming the youngest player since the pitching distance moved to its current 60′ 6″ in 1893 to reach that milestone. In the century since, only Bob Feller, another power pitcher, managed to win 100 games at a younger age. But Hahn had also racked up 300 innings pitched in each of his first four seasons, and the strain on his young left arm would soon take its toll. "I am wise enough to know that I cannot last forever and that I am greatly shortening my career by pitching as I did last season," he told The Sporting News after the 1901 season, in which he'd pitched a career-high 375 innings. Those words proved prophetic; after achieving his 100th victory, Hahn won only 30 more games, and within three years he was out of baseball, a victim of a dead arm at the age of 26.
Frank George Hahn was born in Nashville, Tennessee, on April 29, 1879. He acquired his distinctive nickname as a youngster, though he claimed he didn't know why. "All I know is they always called me 'Noodles,'" Hahn said. But a friend claimed to recall the origin quite well. "When Hahn was a boy in Nashville," the man explained, "he always had to carry his father's lunch to him. His father worked in a piano factory, and the lunch was always noodle soup, so the nickname was a natural." There are at least three other variations on the story, however; in one he earned the nickname because he sold his mother's homemade noodle soup, in a second he was simply fond of the soup, and in a third, his brothers gave him the nickname for carrying noodle soup for his grandmother to a poor neighbor.
Hahn was only 16 in 1895 when he joined the nearby Chattanooga team of the Southern Association, moving to Mobile when the franchise was transferred there in July. Of Chattanooga one sportswriter wrote: "If there is poorer ball town on the face of the earth than Chattanooga, I have never heard of it."
The next year he pitched well enough in Mobile to attract the attention of both the Detroit and St. Paul clubs of the Western League. Detroit won out, and although neither of Hahn's two seasons with the Wolverines was particularly impressive—he finished 17-16 in his first year and 12-19 in his second—Cincinnati Reds owner John Brush purchased him on the recommendation of St. Paul owner Charles Comiskey, who had previously managed the Reds and whose player-evaluation skills Brush still held in high esteem.
Not yet 20, and coming off his less than stellar year in the Western League, little attention was paid to Hahn at his first major-league training camp. Nevertheless, he pitched well, and The Sporting News reported that he had "terrific speed, good curves, and the best control ever displayed by a green southpaw" and that he showed little of the "lack of condition" that had plagued him in the Western League. Hahn observed that for the first time he was getting proper training in the spring. He didn't throw as hard as he could on the first day of practice, and he was getting his arm rubbed frequently. Despite his strong spring, near the end of camp some doubt existed over whether Hahn would make the club. Manager Buck Ewing was reportedly in favor of letting him go, but owner Brush insisted he stay.
Hahn proved Brush correct and burst into the National League even stronger than his spring predicted. A year and half later the Cincinnati Commercial-Tribune reminisced about a game early in the season in Pittsburgh that set the tone for Hahn's rookie campaign. Leading 1-0 heading into the bottom of the ninth, he surrendered a leadoff triple to Big Bill Clark. Facing the next batter, Hahn suddenly moved as if delivering the ball to the plate, but instead laid it on the ground. The crowd noise was deafening in anticipation, and it looked as if Hahn had quit under the strain. But "with a slow motion he put his hand in his shirt pocket, pulled out a plug of tobacco, took a bite and then prepared for business." The crowd watched dumbfounded as Hahn struck out the final three hitters. Pittsburgh manager Patsy Donovan "talks of the game to this day. He will tell you that it was the greatest game he ever saw a young pitcher deliver." [Author note: the box score shows Hahn with only three strikeouts for the game in total.] Hahn pushed his record to 15-4 before finishing 23-8 with a league-leading 145 strikeouts.
Hahn attributed part of his successful debut to swearing off drink. He told the Cincinnati Enquirer: "This year shows me what I can do when I am not drinking. I'll never again indulge in any kind of strong drink." When questioned, Hahn did confess to one beer at a barbecue in Columbus, Georgia when no water was available.
Prior to the start of the 1900 season Hahn had contract problems that he was "unable to adjust to his satisfaction." Though newspapers of the time were usually unsympathetic to players in such circumstances, the Boston Herald remarked at midseason that Hahn had been justified in his salary stand, and that he was generally regarded as the best left-handed pitcher in the National League. On July 12 Hahn hurled the season's only no-hitter—against a potent Philadelphia Phillies lineup, no less—and although his 1900 record of 16-20 paled in comparison to his phenomenal rookie year, he still tossed 311 innings and led the NL in strikeouts again with 132.
The 1901 season proved to be the pinnacle of Noodles Hahn's short career. Pitching for a hapless Reds club that finished in last place with only 52 wins, Noodles won 22 games (against 19 defeats), racking up 42% of his team's victories—the second-highest percentage in modern National League history, behind only Steve Carlton's remarkable 46% for the 1972 Philadelphia Phillies. For the third consecutive season Hahn led the NL in strikeouts with a career-high 239, and he also led the league in complete games (41) and innings pitched (375). On May 22 against Boston he became the first player since the introduction of the modern pitching distance to strike out 16 batters in a game, a mark that wouldn't be surpassed until Dizzy Dean struck out 17 on July 30, 1933.
Not surprisingly, the new American League, fresh off its inaugural season, tried to entice Hahn to enter its fold. While Hahn was in the process of negotiating a salary of around $3,500 with the Reds, Harry Killilea, principal owner of the Boston Americans, came to Cincinnati and offered him a salary of $4,000 to jump. Hahn liked Cincinnati and had a sweetheart there that he didn't want to leave, but he also wanted some assurance that the Reds would improve. "I pitched 40 games during the past season, yet I did more work than if I had pitched 80 games with a winning team behind me," he told The Sporting News. Hahn showed remarkable prescience by telling the Cincinnati Enquirer: "If a fellow can't get a fat salary in 1902, he will never reach for I think something will give before the war is another year old." While pondering his baseball future, Hahn took a couple weeks off to go hunting in the woods near Madeira, Ohio. In the end, Hahn accepted a salary of $4,200 to stay with the Reds, a dramatic increase over his salary of $1,800 only two years before. His new contract made Hahn the highest paid Red, an honor most acknowledged he deserved.
Although only 23 years old that fall, Hahn also demonstrated a surprising maturity by realizing he needed a fallback profession after his baseball career ended. In summarizing his thoughts, he later wrote that when ballplayers are finished as major leaguers many drift back to the minors, then into the saloon business, and then into oblivion; and that not two-dozen NL players were in a position to give up baseball at the end of their career. Determined not to follow that path, Hahn evaluated his alternatives. He thought there were enough doctors, lawyers, and dentists, "but 'hoss doctors; why, they're lined up along the boulevards waiting to give those boys money." He enrolled in the Cincinnati Veterinary College.
Shortly after registering, while walking to class Hahn stopped by the Reds' offices to talk horses with manager Bid McPhee. On his way out, Hahn ran into business manager Frank Bancroft, an automobile enthusiast, who jibed him: "You want to quit your horse business and learn how to run an automobile. By the time you graduate the horse will be sent away back to graze and we'll all be riding in autos." Bancroft was obviously right; nevertheless, Hahn would enjoy a fine career as a veterinarian.
Over the next two seasons Cincinnati did improve to around .500 and Hahn continued to pitch well. In 1902 he won 23 games against only 12 losses and finished second in the NL with a 1.77 ERA. The next year he almost duplicated his won-loss record (22-12) and finished with a 2.52 ERA, still well below the NL average of 3.26.
Hahn started slowly in 1904, but The Sporting News called him "one of the game's greatest left-handed pitchers," and believed he would come around: "He has given good service for a longer period than most southpaws, but there is no reason to believe 'Noodles' will not retain his effectiveness for several seasons." That sentiment highlights a changed perspective on the longevity of left-handed pitchers over the last 100 years, as Hahn was barely 25 and in only his sixth season. Though he finished the year with a 2.06 ERA (the second-lowest of his career), his record fell to 16-18, and reports that he was slipping began to surface.
In May 1905 Hahn, who had recently married Salome Stevens, was involved in a bizarre and potentially tragic incident. A dog owned by Hahn bit his mother-in-law, Mrs. Kate Stevens, and his sister-in-law, Miriam Stevens. At first no one thought anything of the bite, but when the dog died a couple of days later, rabies was feared; a post-mortem on the dog confirmed this diagnosis. The two women went to the Pasteur Institute in Chicago for treatment. The Sporting News reported that Mrs. Stevens was in critical condition with little hope of recovering. But a search of the available records and correspondence with a historian for the Institute suggests the two women likely survived their ordeal.
During the 1905 season, Hahn hurt his arm and never returned to his previous form. He did pitch a four-hitter against St. Louis in April in which his "famous jump ball played havoc with the visiting players," but by mid-August he had pitched only 77 innings. Though Hahn's record stood at a respectable 5-3, the Reds decided to release him, their decision probably made easier by the fact that he was still earning his "wartime" salary of over $4,000. "Hahn has failed to reach his old standard," reported the Cincinnati Commercial Gazette. "Without his speed, he was robbed of much of his effectiveness." Hahn finished out the season pitching for some semi-professional teams.
Spring training 1906 found Hahn trying to catch on with the American League's New York Highlanders. He made the team, and manager Clark Griffith held him back from starting until the weather warmed up. Hahn pitched well in his first start in May, but his arm was slow to respond. Through July Hahn had hurled only 42 innings and decided it was time to move on to other endeavors. He asked for and received his release from Griffith. Just prior to his retirement, an article in the Washington Post celebrated Hahn as baseball's best piano player.
With his major league career finally over, Hahn became a veterinary inspector for the United States government in Cincinnati. To stay active in baseball, Hahn continued to pitch semi-professionally. He also visited Crosley Field on a regular basis. Noodles kept a locker there and frequently put on a uniform to pitch batting practice until 1946, when he was 68 years old. In the early 1950s he and his wife moved from Cincinnati to a town called Candler in western North Carolina. Noodles Hahn passed away there at age 80 on February 6, 1960.
Sources
In preparing this biography I primarily made use of Hahn's file at the National Baseball Hall of Fame Library, issues of The Sporting News throughout his career, and Lee Allen's seminal book The Cincinnati Reds (Putnam, 1948).


Born
April 29, 1879 at Nashville, TN (USA)
Died
February 6, 1960 at Candler, NC (USA)
If you can help us improve this player's biography, contact us.
https://sabr.org/wp-content/uploads/2012/01/Hahn-Noodles.jpg
572
448
admin
/wp-content/uploads/2020/02/sabr_logo.png
admin
2012-01-04 20:29:27
2022-10-22 08:19:13
Noodles Hahn