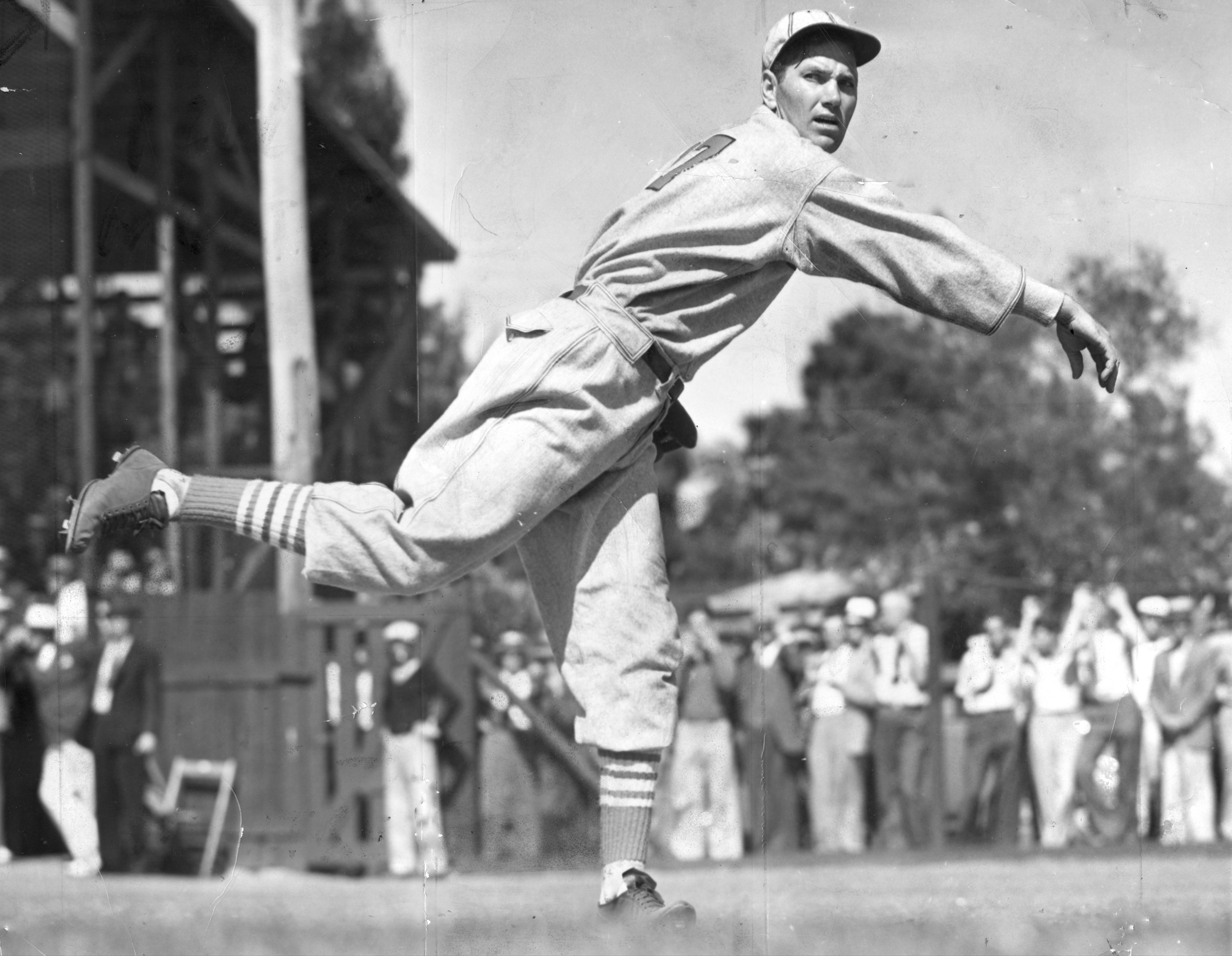 July 30, 1933: Dizzy Dean fans 17 Cubs for new modern strikeout record
---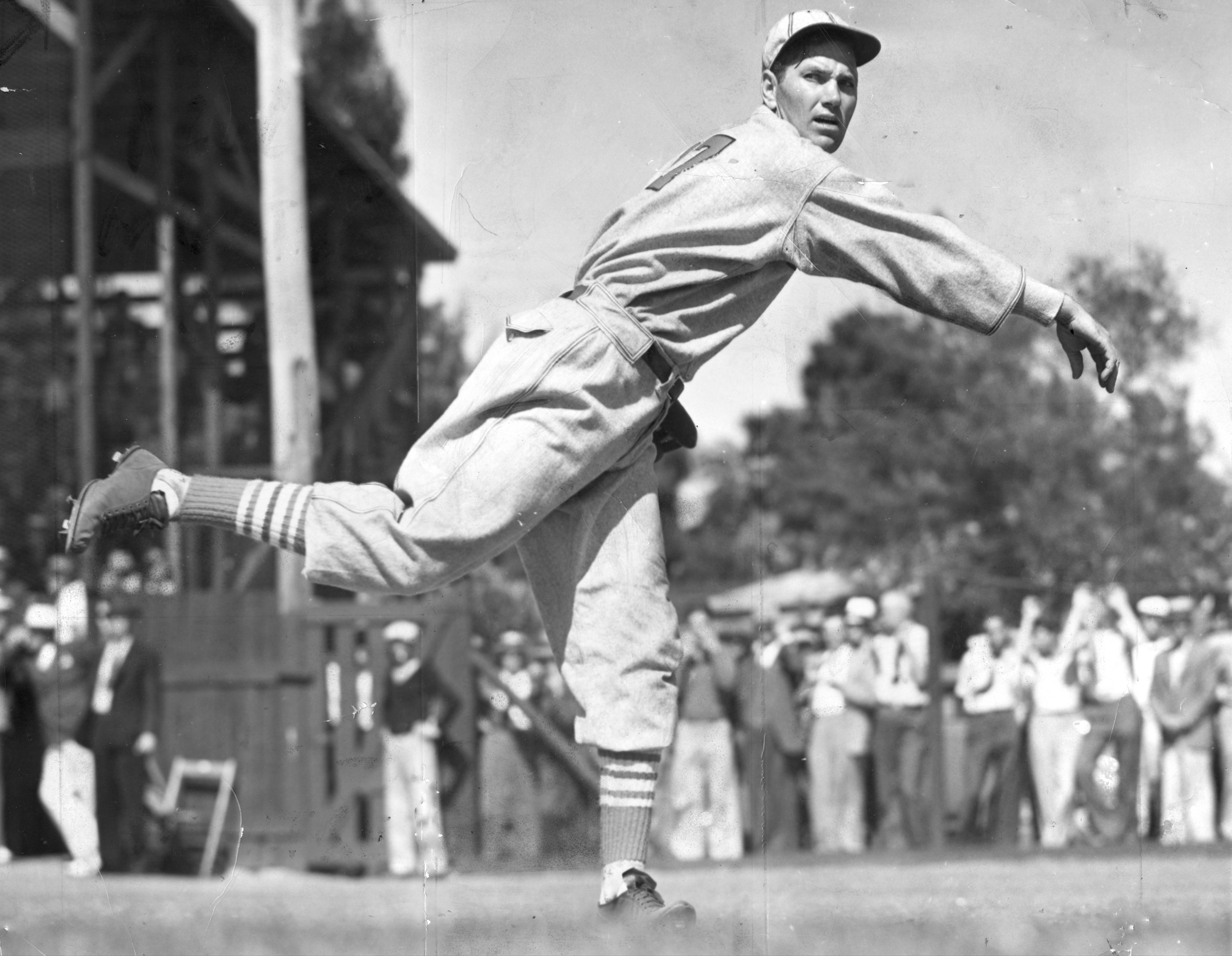 "[He] pitched with devastating speed, his curves breaking fast and baffling the best of the Cubs hitters," gushed the Associated Press after Dizzy Dean's record breaking performance.1 The 23-year-old Cardinals hurler fanned 17 to set a post-1900 record for most strikeouts in a game. St. Louis sportswriter L.C. Davis exulted that "the Great Dean proceeded to turn out a masterpiece that dwarfed all his former efforts."2 J. Roy Stockton of the St. Louis Post-Dispatch praised Dean as the "brilliant young Cardinals pitcher, whose skill, showmanship and color make him the Babe Ruth of the National League."3
The Cardinals were in dire need of Dean's heroics as they prepared for a Sunday-afternoon doubleheader against the Chicago Cubs to conclude a season-long 23-game homestand. The Redbirds had overcome a sluggish start and were tied for first place as late as June 17. Then they lost 24 of their next 37 games. Club owner Sam Breadon, notoriously quick to replace his skippers, fired Gabby Street, who had led the underdog Cardinals to a World Series victory over the Philadelphia Athletics in 1931, and replaced him with the NL MVP of that squad, second baseman Frankie Frisch. St. Louis had won its first four games for the Fordham Flash, and was in now in fourth place (50-45), eight games behind the New York Giants. Player-manager Charlie Grimm's reigning pennant-winning Cubs (53-44) had been the hottest team in baseball, having won 15 of 17 games before a three-game sweep in Pittsburgh cooled them off. Their losing streak reached four when Pepper Martin belted a three-run walk-off home run in the first game of a three-game set with the Cardinals the day before.
The pitching matchup featured two of the league's best right-handers. The Cubs' Guy Bush, the "Mississippi Mudcat," was a slick-dressing, good-looking 31-year-old who had fashioned a 125-87 record in parts of 11 campaigns, including an 11-8 mark thus far in '33. Dizzy Dean needed no introduction to even the casual baseball fan of the time. In just his second full season in the majors, Dean had captured the country's attention in the height of the Great Depression with his down-home, eccentric stories about growing up in Arkansas. He had won 25 and 26 games respectively in his first two seasons of Organized Baseball. As a rookie with St. Louis in 1932 he went 18-15 and led the majors in strikeouts (191). He entered the game with a 13-11 record, but had recently struggled, yielding 16 runs (15 earned) and 25 hits in his last 22⅔ innings. Dean probably had been overworked; he had relieved in 12 games in addition to his 20 starts. Given some extra rest by his new skipper, Dean was making his first start in a week.
According to the St. Louis Post-Dispatch, the Sunday-afternoon twin bill drew a crowd of 29,500 to Sportsman's Park, located at the intersection of Grand Avenue and Dodier Street on the city's near north side.4 Dean, the NL's biggest drawing card, looked rusty. Cubs leadoff hitter Mark Koenig stroked a double to center, and scored on Billy Herman's single to center. Kiki Cuyler hit a popup to Dean, who attempted some shenanigans. He "grounded" the pop fly, letting it fall, hoping for a double play. Dean's antics confused first baseman Pat Crawford, who was "balled up in the trick technique" as Edward Burns put it in the Chicago Tribune.5 The umpires didn't fall for it, though, and Cuyler was called out on an infield-fly ruling. Dean then whiffed Babe Herman and Frank Demaree to end the inning. He settled down in the second and third innings, striking out three batters.
No slouch at the plate, Dean got the Cardinals on the board in the third, belting a double down the third-base line. He moved to third when Pepper "The Wild Horse of the Osage" Martin hit a screamer back to the mound that caromed off Bush's glove for an infield hit, and subsequently scored on Frisch's sacrifice fly to tie the score, 1-1.6
The Cubs took the lead in the fourth. Martin committed the Cardinals' only error of the game when he fumbled a sharp grounder to third by leadoff hitter Demaree, who scored on Gilly Campbell's double to left. (The run was unearned.) Dean retired the next three hitters, but for the only inning of the game did not register a strikeout. He made up for it in the fifth, striking out the side, and increased his total to 10 with two more punchouts in the sixth.
The Cardinals, led by the league's highest-scoring offense, broke through in the sixth. Crawford drew a one-out walk and Joe "Ducky" Medwick singled to left field, where Cuyler fumbled the ball, allowing both to advance a station. Ernie Orsatti smashed a double that ricocheted off first baseman Harvey Hendrick's glove, enabling Crawford and Medwick to score, giving the Cardinals a 3-2 lead. After Jimmie Wilson's single drove in Orsatti, Leo Durocher's double off the wall plated Wilson and ended Bush's rough afternoon (10 hits and 6 runs, all earned, in 5⅓ innings). Burleigh Grimes, a 39-year-old spitballer, took the mound. Facing Dean, his first toss was a wild pitch, sending Durocher to third. Dean followed with a run-scoring single to make it 6-2.
St. Louis tacked on two more runs in the eighth. Medwick led off with his fourth single of the game and moved to second on Orsatti's sacrifice. With Wilson on first via a walk, Durocher hit what Ed Burns considered an easy double-play ball to shortstop Billy Jurges, whose throw to second baseman Billy Herman nabbed Orsatti. But Herman misfired on the relay toss to Hendrick, permitting Medwick to scamper home. Dean smacked a double off the center-field wall, his third hit of the game, to drive in Durocher for the Redbirds' eighth and final run.
After Billy Herman led off the eighth with a single, Dean overpowered the Cubs, fanning six of the next seven batters he faced. His only blemish was a leadoff double by Babe Herman in the ninth. Dizzy struck out pinch-hitter Jim Mosolf to complete the Cardinals' 8-2 victory in one hour and 42 minutes.
Dizzy's 17 strikeouts, 12 of them swinging, set a new modern single-game record.7 Since 1900 four pitchers had whiffed 16: Cincinnati's Frank "Noodles" Hahn (1901), Christy Mathewson of the New York Giants (1904), Rube Waddell of the St. Louis Browns (1908), and Brooklyn's Nap Rucker in 1909. In 1884, when the pitching mound was located 50 feet from home plate, Charlie Sweeney of the NL Providence Grays struck out 19. Dean's record wouldn't last long — just five years later, teenage phenom Bob Feller of the Cleveland Indians bested Dizzy's mark with an 18-strikeout game.
Dean was his typical exuberant self after the game. "[Frisch] gave me a chance to rest a week, and I believe I pitched my best game as a result," said Dizzy, who walked just one. "I was at my best when the game ended."8 J. Roy Stockton went so far as to suggest that Dean might have had more "had he paid attention to the fanning business earlier."9 Dean's batterymate Jimmie Wilson also set a big-league record for most putouts by a catcher (18), including one foul popup he caught.
The Cardinals took the second game of the doubleheader, 6-5, highlighted by Ducky Medwick's three-run homer and Pepper Martin's three runs scored, to stay undefeated for player-manager Frisch. The Post-Dispatch opined that the Sportsman's Park faithful were "convinced that the Cardinals could not be counted out of the pennant race."10 Dean stoked their belief. "No kidding, I actually do believe the Cardinals will win the flag this year," he said after facing his younger brother Paul "Daffy" Dean, pitcher for the Columbus Red Birds, in an exhibition in Ohio on July 31.11
The Cubs released "Old Stubblebeard" Grimes after the game. The following day the future Hall of Famer signed with the Cardinals.
So moved by Dean's record-breaking performance, St. Louis sportswriter L.C. Davis wrote a poem in his honor.
17 – Count 'Em – 17
Nine hearty cheers for "Dizzy" Dean,
The new-crowned strike-out king;
At his new mark of seventeen,
The pitchers now can fling
While carving for himself a niche,
With but a single walk,
He showed the world he can pitch,
As well as he can talk.
The batters were completely cowed
And eating from his hand;
Like wheat before the scythe they bowed,
As one by one they fanned.
And graybeards to their sons someday
Will speak of "Dizzy" Dean,
And tell them all about the day
He struck out seventeen.12
Dean finished the season with a 20-18 record and once again led the majors in strikeouts (199) for the Cardinals, who finished in fifth place. In his injury-shortened career, Dizzy struck out 10 or more batters in a game on eight occasions.
This article appears in "Sportsman's Park in St. Louis: Home of the Browns and Cardinals at Grand and Dodier" (SABR, 2017), edited by Gregory H. Wolf. Click here to read more articles from this book online.
Sources
In addition to the sources cited in the Notes, the author also accessed Retrosheet.org, Baseball-Reference.com, the SABR Minor Leagues Database, accessed online at Baseball-Reference.com, SABR.org, and The Sporting News archive via Paper of Record.
Notes
1 Associated Press, "Marks Set in Cards' Double Win," Cincinnati Enquirer, July 31, 1933: 10.
2 L.C. Davis, "A Sport Salad," St. Louis Post-Dispatch, August 1, 1933: 2B.
3 J. Roy Stockton, "Cards Idle for Day After Dean's Record 17-Strikeout Show," St. Louis Post-Dispatch, July 31, 1933: 1B
4 Stockton.
5 Edward Burns, "Cubs Lose to Cards, 8-2, 6-5; Deans Fans 17 For New Record," Chicago Tribune, July 31, 1933: 17.
6 Both the Chicago Tribune and St. Louis Post-Dispatch report that the Cardinals scored their first run in the third inning. The incomplete game accounts on Baseball-Reference.com and Retrosheet.org show that the Cardinals scored their first run in the first inning.
7 Stockton.
8 "Dean Praises Frisch and Predicts 1933 Pennant," St. Louis Post-Dispatch, August 1, 1933: 3B.
9 Stockton.
10 Ibid.
11 "Dean Praises Frisch and Predicts 1933 Pennant."
12 Davis.
Additional Stats
St. Louis Cardinals 8
Chicago Cubs 2
---
Sportsman's Park
St. Louis, MO
Box Score + PBP:
Corrections? Additions?
If you can help us improve this game story, contact us.
Tags
https://sabr.org/sites/default/files/images/Dean%20Dizzy%201457.68Wt%20D_Act_%20PD.jpg
600
800
admin
/wp-content/uploads/2020/02/sabr_logo.png
admin
2018-11-07 14:22:47
2020-04-17 10:23:48
July 30, 1933: Dizzy Dean fans 17 Cubs for new modern strikeout record