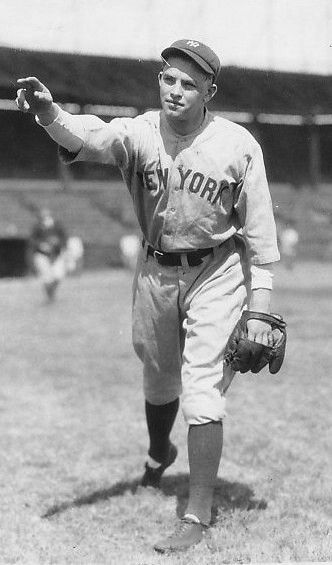 ---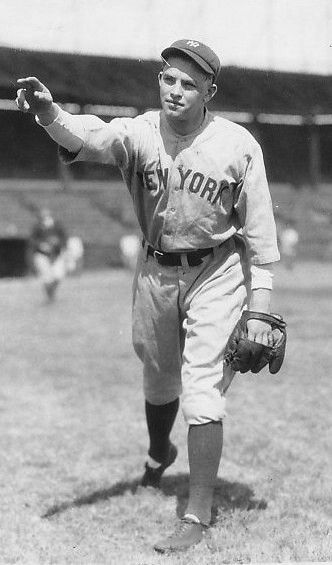 "A little more experience is all you need."1
So wrote Brooklyn Dodgers manager Wilbert Robinson to Oscar Roettger of the Double-A St. Paul Saints (American Association) before the 1927 season. It didn't quite happen — Roettger played in five games for Uncle Robbie's squad and 37 games in the major leagues over four seasons. A substantial minor-league career included eight seasons with the Saints, three with the Double-A Montreal Royals, and a brief experience in the minor-league managerial realm.
But it was the next job where he made the most visible contribution to the National Pastime — a Rawlings executive for nearly 40 years, Roettger took on "tailor" duties to chronicle players' measurements and ensure that their uniforms fit. Rawlings, a St. Louis-based sporting-goods giant, supplied major-league baseball with the sartorial accoutrements, along with other equipment — gloves, baseballs, etc.
During his retirement dinner in 1974 — at the appropriate location of Stan Musial's Hilton Inn in St. Louis — Roettger revealed that uniforms in the post-World War II era might have boasted a West Coast look. "Just be glad that we didn't wind up with baseball shorts in the big leagues," said Roettger. "Fred Haney and Bob Cobb, operating the Hollywood Stars in the Pacific Coast League, put their players in soccer-style shorts right after World War II. Branch Rickey called me from Brooklyn and was all set to have the Dodgers measured for what would have been baseball Bermudas when — for some reason — he changed his mind."2
Oscar Frederick Louis Roettger — pronounced "Ret-ger"3  — was a turn-of-the-century baby, born on February 19, 1900 in St. Louis, Missouri to Gustav and Minnie Roettger. Gustav ran a "small grocery near Fairground Park."4 Oscar's siblings were Olinda, Harold, Elmer, and Wally  — another ballplayer who reached the major leagues. They learned the game playing sandlot ball.5 Oscar worked as a grocery clerk for his father at 4001 North 25th Street and registered for the World War I draft6 — he did not serve during the Great War but he did for World War II, after his baseball career ended.
The Roettger clan on the St. Louis North Side was linked to baseball. Wally Roettger was a baseball coach at the University of Illinois when he died at the age of 49 in 1951 — he played for the Cardinals, Giants, Reds, and Pirates from 1927-1934 and batted .285 lifetime. Harold Roettger died at 41 in 1955, found dead in a St. Petersburg motel swimming pool. Harold had front-office experience working as an administrative assistant in the Pirates organization, for Branch Rickey and John Galbreath.7
On a phonetic analysis, Roettger's name could be Roatger, Roetgur, Rowtgerr, and so on. An oft-told tale concerns the difficulty of spelling the moniker, but its first appearance in baseball lore apparently happened during his stint with the Philadelphia Athletics in 1932. During a card game (hearts) in spring training, Roettger explained the story that dated back to his brief tenure with the Dodgers. He was ready to go to bat when Irish Meusel interrupted. According to Roettger, a Jacksonville reporter asked Robinson for the spelling and it flustered him to the point that he put in Hendricks [sic] instead.8 This is most likely a misspelling and referred to Harvey Hendrick.
Beginning his professional career with the Joplin Miners,9 the 6'1, 185-pound Roettger10 was tagged as "a quiet youngster [who] says very little, but keeps plugging away at a steady gait, impressing one however, that he might show some real stuff when the proper time comes to turn loose."11 The Joplin Globe further praised the right-handed pitcher's composure during Spring Training: "He has as easy and graceful a style as a Broadway dancing master and doesn't know the meaning of excitement."12 He batted right, but a 1923 article states that he was a lefty at the plate.13
Roettger did not make it past Spring Training14 — in early April, Joplin released the prospect "in need of some seasoning in a good league of the caliber of the Southwestern."15 Destination: Parsons, Kansas. In 1921, Roettger's combined output with the Parsons Parsons (Kansas), Cushing Oilers (Oklahoma), and the Muskogee Mets (also Oklahoma) was 82 games, 33 runs scored, five home runs, .266 batting average.16 He hurled two no-hitters that season.17 Joplin had filed papers to recall him in mid-August18 and sold him to the Yankees for an undetermined amount.19 New York's part of the deal — pitcher Jesse Doyle and outfielder Walter Christensen.20 Roettger ended the season in a Miners uniform21 before leaving for the offseason in St. Louis.22
Before the 1922 season began, the Yankees sent him to the Sioux City Packers in the Class A Western League, where he was hailed for striking out an average of eight players per game for Muskogee.23 In 1922, he had a 16-16 record and pitched 50 games with Sioux City, compiling 237 walks, 294 innings pitched, and 207 strikeouts. He allowed 261 base hits.24
Roettger went to Yankees spring training in 1923, though he did not fare too well — in the Yankees' first exhibition game, he gave up five walks and six runs in one inning.25 His progression, along with George Pipgras, earned praise from the Daily News: "Both of these big boys are made of big league stuff. They have the size, the strength, the speed and the curves. Perhaps they are lacking a bit in experience."26 Roettger was the last man standing — the Yankees whittled down the lineup till he was the "only recruit pitcher" kept in pinstripes. Veteran righthander Bob Shawkey said, "Roettger is the most likely looking youngster I have seen in some time. He has fine speed, and a natural snap delivery that should enable him to develop a sharp-breaking curve."27
Roettger was a reliever for the 1923 World Champion Yankees, pitching in five games for an 0-0 record and batting twice. But he did not see action in the World Series against the Giants. In 1924, he played in one game, then went to the St. Paul Saints in a trade — reportedly, Hendricks (outfielder) and Pipgras (pitcher) were supposed to join Roettger in exchange for Cliff Markle. But Pipgras and Hendricks couldn't be "waived out of the majors."28
For the next eight seasons, Roettger wore a Saints uniform, save for a five-game stint with the Dodgers in 1927. With St. Paul, he was as solid as Lake Phalen when it's frozen in February. In his first three years as a Saint, he played in an average of 52 games a season and batted .334. For the next five years, he never played in less than 124 games, and also batted .334.
And a crucial change occurred — he became a first baseman.29
Roettger returned to the majors with the A's in 1932, lasted 26 games, and batted .233. On July 1st, the A's traded him to the Montreal Royals for Gowell Claset, "a $40,000 prospect" while Roettger's worth was around $7,500.30 "Because of Jimmy [sic] Foxx's phenomenal hitting Oscar never had many opportunities to play," explained the Philadelphia Inquirer's James C. Isaminger. "He was used in a pinch role several times, but is not the type of batsman to bat in an emergency. Roettger has to play regularly to appear at his best."31 He saw more playing time and productivity in his three seasons with the Royals: 92 games and .308 average; 165 games and .305 average; 59 games and .283 average.
Described as "well liked and popular with teammates and opponents alike,"32 Roettger became manager of the Royals in late May, 1933, when Walter "Doc" Gautreau stepped down. A knee injury in 1934 sidelined Roettger for more than half of the Royals games; he had an operation in early November.33 Frank Shaughnessy took over the manager's job a week and a half later.34
Roetgger bounced around the International League for the greater part of his remaining career, first signing with the Toledo Mud Hens in the offseason for shortstop Eddie Montague and an undisclosed amount of cash."35 His tenure in Toledo resulted in 35 games and a .217 average. The Syracuse Chiefs obtained Roettger in June, 193536 and he went to the Baltimore Orioles in November.37 Now 36, Roettger did not let age affect him — he played in 89 games for Baltimore and hit .283 in 1936. His output, though solid, did not warrant staying in an Orioles uniform — Roettger got released after the 1936 season.38
Rochester welcomed him as a player-coach for the Red Wings — 75 games, .253 average in 1937. The next year, he played in one game. There was a buzz between the seasons about Roettger possibly helming the Buffalo Bisons;39 Rochester released him in early November 1938.40 But he only stayed unemployed for a couple of months, signing with the Durham Bulls as manager in January, 1939.41 He also played in two games with Durham but did not register any hits. At the end of the year, Roettger got tagged with executive duties when the Bulls' front office made him vice president in addition to manager.42
In December 1940, Roettger penned a contract for one year to manage the Birmingham Barons in the Class-A1 Southern Association.43 During spring training, he lauded the schedule for testing his squad. "It's going to be rough on the boys facing so many double A clubs but it's going to be a fine way to get them in shape," said Roettger. "I think it is a better way to find out about your players than sending them against clubs below their classification."44
Roettger approached spring training as an opportunity to evaluate ability rather than concentrate solely on outcome. "We think we have several youngsters on the squad who will come through for us," explained the Barons skipper. "We will have an excellent opportunity to judge the youngsters under the pressure they will be under in playing one major club and 14 Double A clubs. We aren't looking for results in the win column but what the players can show us under a terrific exhibition schedule."45
After the Barons had a fifth-place showing for 1941, Roettger stepped down.46 The following summer, he took the reins of the Chicago Cubs summer baseball school from his brother, Wally.47 After the Japanese attack on Pearl Harbor and the declaration of war on Japan and Germany, Roettger served in the European Theater during World War II — North Africa48 and Italy49 — and achieved the rank of corporal.50 The Army discharged him after V-E Day, towards the end of May 1945, and he headed to his hometown for Rawlings, where he had begun working in 1941.51
Roettger's position as the "tailor" for uniforms provided access to major leaguers, a crucial job requiring travel of 30,000 miles per year and giving an opportunity to influence performance.52 But players differed on their opinions. With the Braves' Hank Aaron and Eddie Mathews, for example, they "don't go to the extreme, they prefer the trousers slightly tapered," whereas the Senators' slugger Frank Howard "goes for the extreme."53
Technology played a highly significant role in uniform design. In 1970, Roettger emphasized in an interview, "A big thing, too, is in the weight of the uniform. The heavy flannel used to be eight or nine ounces, really hot in the summer. Now, with synthetics, it's about four and a half ounces."54
Roettger was a model salesman, possessing a manner and composure that was avuncular rather than aggressive. "Oscar never pushed in dealing with a potential customer," wrote Iowa sports writer Gus Schrader in 1974, upon Roettger's retirement from Rawlings. "He was a master of the soft sell. Baseball people always knew he would be available at league meetings and the like with his friendly, obliging manner. If he ever forgot a name — especially someone in baseball — we never noticed it. He will be missed wherever baseball men gather."55 Minnesota scribe Dick Cullum concurred, "His warm personality makes him welcome everywhere."56
But Roettger's affable attitude was not part of a sales technique. It was inherent. Towards the end of his playing career, Montreal sportswriter Marc McNeil heaped praise on Roettger: "Light-hearted, friendly and with a pleasing manner, Roettger made a host of friends while resident in Montreal, and he thoroughly enjoys returning here and renewing old acquaintances every so often." Additionally, "He has a sense of humor and doesn't take himself too seriously. He knows he is no great batting threat now and is willing to laugh over it."57
Roettger went back to Rawlings in 1975.58
In 1983, Roettger received plaudits for his decades of involvement in the National Pastime when he was named "King of Baseball" — a title bestowed annually by the National Association of Professional Baseball Leagues for commitment to Minor League Baseball.59
Oscar married his wife, Dorothy Miller, on September 11, 1946.60 They stayed married for nearly 40 years, until Oscar died at age 86 from a heart attack on July 4, 1986.
Last revised: December 2, 2022 (zp)
Acknowledgments
This biography was reviewed by Bill Nowlin and David Lippman and checked for accuracy by SABR's fact-checking team.
Sources
In addition to the sources cited in the Notes, the author also consulted Baseball-Reference.com and Retrosheet.org.
Notes
1 Wilbert Robinson to Oscar Roettger, 18 February 1927. Lelands sold the letter at auction for $1886.40 in 2017 as part of the Invit17 auction May 23, 2017 to June 30, 2017, Lelands, accessed December 4, 2019, https://lelands.com/bids/1927-wilbert-robinson-brooklyn-robins-letter-to….
2 Bob Broeg, "Master Tailor to Big Leagues," The Sporting News, June 1, 1974: 4.
3 Bob Broeg, "Smooth Oscar Roettger Had Moments On Diamond," St. Louis Post-Dispatch, April 26,1976: 2B.
4 Dick Kaegel, "Oscar Roettger's Motto," St. Louis Post-Dispatch, February 11, 1969: 21.
5 "Roettger Making Good," Parsons [Kansas] Daily Republican, May 16, 1922: 2.
6 Oscar Fred Louis Roettger, Draft Registration Card, Serial Number, 2438, "U.S., World War I Draft Registration Cards, 1917-1918 for Oscar Fred Louis Roettger," Ancestry.com, accessed December 9, 2019,
7 Bob Broeg, "Tailor Roettger Saw Uniform Changes," St. Louis Post-Dispatch, May 20, 1974: 2B.
8 James C. Isaminger, "Robbie Couldn't Spell Roettger So Hendricks Played First Base," Philadelphia Inquirer, March 12, 1932: 14. See also Bob Broeg, "What's In A Name? The Way It Sounds, Who Knows?," St. Louis Post-Dispatch, May 7, 1974: 34.
9 "Miners to Miami Monday — Giants to Play Here," Joplin Globe, March 13, 1921: 10.
10 These measurements are on Roettger's The Sporting News Contract Cards. They are available courtesy of the Society for American Baseball Research and the LA84 Foundation. Oscar Roettger, Contract Card, accessed December 10, 2019, https://digital.la84.org/digital/collection/p17103coll3/id/87911/rec/3. Baseball-Reference.com lists him as 6'0" and 170 pounds, accessed December 10, 2019, https://www.baseball-reference.com/players/r/roettos01.shtml.
11 "Vanguard of Miner Squad Starts Training at Miami," Joplin Globe, March 15, 1921: 6.
12 "Recruit Twirler Is Likely Moundman," Joplin Globe, March 20, 1921: 9.
13 "Oscar Roettger, Pitcher, New York Yankees," Kane Republican (Kane, Pennsylvania), September 29, 1923: 5.
14 "Miami Beaten By Coffeyville, 10-3," Joplin Globe, August 23, 1921: 4.
15 "Roettger And Wallace Released To Parsons, Joplin Globe, April 13, 1921: 6.
16 "Southwestern League Batting And Fielding Averages, Season 1921, Pittsburg (Kansas) Sun, October 12, 1921: 8.
17 "Muskogee 7; Cushing 1, Pittsburg (Kansas) Sun, August 23, 1921: 6; "Roettger Was Too Much For Manuals," Pittsburg (Kansas) Sun, September 10, 1921: 8.
18 "Hayden Issues Recall Of Farmed Out Players," Joplin Globe, August 21, 1921: 6.
19 "Yanks Buy Joplin Pitcher," Hutchinson (Kansas) Gazette, September 18, 1921: 16; "Muskogee Ends Season By Winning Both Ends Of Doubleheader From Bartlesville," Muskogee Daily Phoenix, September 19, 1921: 6.
20 "Baseball Gossip," Pittsburgh Press, October 2, 1921: 29.
21 "Bats and Gloves Stowed Away for Winter, Mets Cast Around for 'Vacation' Work," Muskogee (Oklahoma) Daily Phoenix, September 20, 1921: 5; "Krueger Not Show Again This Season In Uniform," Joplin Globe, September 21, 1921: 5.
22 "Miner Inklings And Facts About 'Em," Joplin Globe, September 22, 1921: 6.
23 "Four Pitchers Are Obtained By Packers," Sioux City Journal, March 11, 1922: 13. This article gives the 1921 won-loss record as 12-7.
24 Evansville Courier, December 20, 1922: 9.
25 Marshall Hunt, "Yankees Trounced In First Exhibition: New Orleans Pelicans Score 13 to Champs' 0," (New York) Daily News, March 12, 1923: 19.
26 James Crusinberry, "Yankee Batters' Eyes Still Blind To Baseballs: Pitchers Look Fine; Sluggers Unable To Slug," (New York) Daily News, March 28, 1923: 27.
27 "Roettger Is Only Yankee Pitching Rookie To Stick," New Castle (Pennsylvania) Herald, April 6, 1923: 17.
28 Charles Johnson, "64 Games of Six Hits or Less Pitched in A.A. This Season," Minnesota Daily Star, June 19, 1924: 9.
29 Ed Hill, "A Corner On Sport," Reading Pennsylvania] Times, July 5, 1932: 10.
30 D. A. L. MacDonald, "A's Sell Roettger To Local Club For Option On Claset," Gazette (Montreal), July 2, 1932: 12.
31 James C. Isaminger, "Mackian Pickups," Philadelphia Inquirer, July 2, 1932: 12.
32 "Oscar Roettger Royals' Manager," Canadian Press, Ottawa Citizen, May 26, 1933: 11.
33 "Will Operate on Kimsey Next Week," Gazette (Montreal), November 3, 1934: 22.
34 "Name Shaughnessy To Head Royals," Edmonton Journal, November 12, 1934: 8.
35 "Roettger Added To Toledo Roster," Evening Independent (Massillon, Ohio), February 8, 1935: 16.
36 "Oscar Roettger Joins Syracuse," Gazette (Montreal), June 14, 1935: 14.
37 Associated Press, "Major Leaguers Paid $631,750 to Minor Clubs for Players in 1935," St. Louis Post-Dispatch, November 21, 1935: 16.
38 Kenny Van Sickle, "The Sports Tower," Ithaca Journal, October 17, 1936: 8.
39 "National League Deals Hinge on Brooklyn's Van Mungo," Democrat and Chronicle (Rochester, New York), December 2, 1937: 22.
40 Elliot Cushing, "Ray Blades Named Manager Of St. Louis Cards," Democrat and Chronicle, November 7, 1938: 19.
41 Dick Herbert, "Shorts on Sports," Evening Telegram (Rocky Mount, North Carolina), January 19, 1939: 6.
42 "Paul Florence New Birmingham Prexy," St. Louis Globe-Democrat, December 5, 1939: 13.
43 Zipp Newman, "Oscar Roettger Is Selected To Manage Birmingham Barons In 1941," Birmingham News, December 1, 1940: 24.
44 Zipp Newman, "Dusting 'Em Off," Birmingham News, March 18, 1941: 19.
45 Zipp Newman, "Dusting 'Em Off," Birmingham News, March 21, 1941: 28.
46 Associated Press, "Barons' Roettger Resigns," Tennessean (Nashville), September 11, 1941: 14.
47 "Oscar Roettger to Take Charge of Cubs' School," Chicago Tribune, July 4, 1942: 15.
48 "Baseball Men Now in Service," Evening Herald (Pottsville, Pennsylvania), June 29, 1943: 9.
49 Zipp Newman, "Dusting 'Em Off," Birmingham News, December 19, 1943: 22.
50 Halsey Hall, "It's A Fact," Minneapolis Star Journal, August 12, 1943: 28.
51 "Nelson, McSpaden Win Exhibition," Morning Call (Paterson, New Jersey), June 4, 1945: 15; "Oscar Roettger, Tailor To Baseball Stars," St. Louis Post-Dispatch, July 6, 1986: 50.
52 Dick Kaegel, "Oscar Roettger's Motto."
53 United Press International, "Former Utility Man Sizes Up Players," Pittsburgh Press, March 20, 1966: 69.
54 Bob Broeg, "Baseball Uniform Hasn't Been Uniform," St. Louis Post-Dispatch, March 26, 1970: 23.
55 Gus Schrader, "Red Peppers," Cedar Rapids Gazette, May 31, 1974: 17.
56 Dick Cullum, "Retirement for Roettger," Minneapolis Tribune, May 28, 1974: 23.
57 Marc T. McNeil, "Casual Close-Ups," Gazette (Montreal), June 10, 1937: 12.
58 "Local Notes," St. Louis Post-Dispatch, December 12, 1975: 46.
59 Rick Hummel, "'Ifs' Kept Redbirds From Making Deals At Winter Meetings," St. Louis Post-Dispatch, December 11, 1983: 83.
60 "Miss Miller Married to Oscar Roettger," St. Louis Globe-Democrat, September 22, 1946: 37.
Full Name
Oscar Frederick Louis Roettger
Born
February 19, 1900 at St. Louis, MO (USA)
Died
July 4, 1986 at St. Louis, MO (USA)
If you can help us improve this player's biography, contact us.
https://sabr.org/sites/default/files/RoettgerOscar.jpg
600
800
admin
/wp-content/uploads/2020/02/sabr_logo.png
admin
2012-01-04 20:03:51
2022-12-02 08:16:50
Oscar Roettger