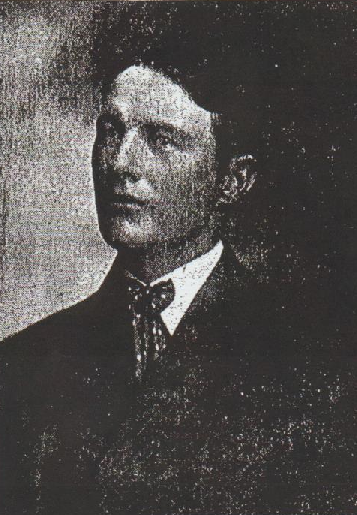 ---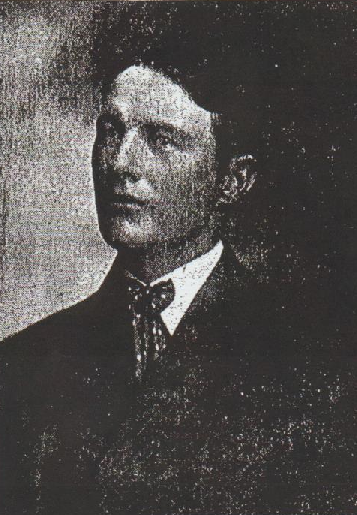 With the dog days of August 1904 having descended on St. Louis and the Browns well back in the American League standings, manager Jimmy McAleer was looking for something to maintain fan interest in his club. To that end, he placed two local favorites from the semipro St. Louis Trolley League on the Browns roster: teenager Art Bader and 20-year-old Pat Hynes. The youngsters, alas, were not major-league material, and neither Bader nor Hynes would play another big-league game after his 1904 audition. But the lives of the two make an interesting study in contrast, nonetheless.
Released after a two-game trial with the Browns, Bader developed into a competent high minor-league outfielder, playing mostly for Des Moines of the Western League. But soon after he obtained his law degree in 1910, the still youthful Bader abandoned the game. For almost the next 50 years, he devoted himself to the civic life of St. Louis, serving as an assistant city attorney, circuit-court judge, and city excise commissioner. He died in 1957 at age 70, having led a full and productive life. Fate was far less kind to Pat Hynes. After leaving the Browns, he played two seasons as a pitcher-outfielder in the American Association, and was signed for the 1907 campaign by the Milwaukee Brewers. Days before his scheduled departure for spring training, Hynes was shot dead in a St. Louis saloon, expiring on his 23rd birthday. Art Bader is already the subject of a BioProject profile. What follows is the biography of his ill-starred 1904 St. Louis Browns teammate.
Patrick J. Hynes was born in St. Louis on March 12, 1884. He was the middle of three children born to stonemason Patrick J. Hynes (1849-1914) and his wife, Margaret (née Mullins, 1850-1919). The couple were Irish Catholic immigrants who met, married, and raised their family in the north end of St. Louis. Next to nothing is known of young Pat's early life. But north St. Louis was a baseball hotbed, having earlier spawned such major-league standouts as George and Patsy Tebeau, Bill Joyce, and Perry Werden, as well as a host of lesser lights. So it is no surprise that a gifted athlete like Pat Hynes took up the game. He was pitching for an amateur team called the Ben Millers by age 13, and thereafter ascended to the St. Louis Trolley League, a fast semipro circuit.1 Notwithstanding his ultimately achieving major-league status, most of Pat's vital statistics — aside from throwing left-handed — have been lost to time. It is even unclear which side of the plate he batted from. Perhaps the best-discovered description of his attributes comes from one of his obituaries: "Hynes was a long, rangy southpaw who developed into a fine, free hitter as his ability to pitch petered out. His habits were bad, however, or he would have stayed in the big leagues."2
Hynes began his pro career as a 19-year-old. According to one dubious report, he signed for the 1903 season with the Seattle Chinooks of the Class A Pacific National League, but failed to report.3 He began his career in earnest that season much closer to home with the Vicksburg (Mississippi) Hill Billies of the Class D Cotton States League. Splitting his time between the outfield and the mound, Hynes batted .257 in 237 at-bats, and posted a creditable 7-4 log in 11 games pitched. This prompted interest from the New Orleans Pelicans of the Class B Southern Association, but Vicksburg "refused a liberal offer" from New Orleans for the youngster's services.4 Soon thereafter, friction developed between Hynes and Vicksburg skipper Billy Earle. In late July Hynes quit the Hill Billies and returned to St. Louis,5 earning himself a place on Organized Baseball's disqualified list.6 Pat then resumed playing in the hometown Trolley League. Meanwhile, the National League St. Louis Cardinals, cruising to a last-place (43-94) finish, were on the lookout for local talent. And by means now unclear, the Cardinals were able to give the ostensibly ineligible Hynes a tryout.
Pat Hynes made his major-league debut on September 27, 1903, pitching the first game of a season-ending doubleheader against Philadelphia. Before 8,000 home fans, "Hines [as his surname was often misspelled] pitched a very good game"7 but dropped a 6-3 decision to the Phillies. At the plate, Pat went 0-for-3, and he mishandled one of his two fielding chances. Still, his promise was enough to generate a Sporting Life report that the Cardinals had retained Hynes for the 1904 season.8
Hynes's eligibility and whereabouts remain uncertain as the 1904 season commenced. He was not in the Cardinals spring camp, and NAPBBL Secretary John H. Farrell's March 24, 1904, Official Bulletin continued to list Hynes as property of the Vicksburg club.9 Then in late May, Farrell issued a Special Notice alerting clubs in Organized Baseball that "the following independent clubs are harboring disqualified players: Poplar Bluff, Missouri — P.J. Hynes and E. Green."10 Wherever he was previously, Hynes was playing for the White Seals of the St. Louis Trolley League by midseason.
With his team firmly ensconced in the second division and going nowhere as August arrived, Browns manager McAleer embarked on a youth movement, signing 17-year-old Art Bader from the local Trolley League. On August 2 Bader played left field in a 4-3 loss to Philadelphia, going 0-for-3, with a walk, against flamethrower Rube Waddell. An unsuccessful pinch-hitting appearance the following day brought Bader's two-game major-league career to a close. Days later McAleer inserted another Trolley League recruit into the Browns' lineup: Pat Hynes. In time, Sporting Life would report that St. Louis had purchased Hynes from Vicksburg, the club that still held the rights to him.11 But the timing of the deal and the details of how St. Louis extricated Hynes from the ineligible list are unknown, as Secretary Farrell's mid-August Official Bulletin still listed Hynes as disqualified.12 However it was managed, Hynes was in right field for an August 5 home game against Washington and acquitted himself capably in a 7-2 loss. He went 1-for-3 against Nats right-hander Barney Wolfe and handled his three chances in the outfield without mishap. The following day Hynes registered two singles and scored the ninth-inning winning run in a 5-4 Browns victory over Washington. On August 10 "the surprise of the day was the batting exhibition given by Hynes, the young amateur who is subbing in right," reported the Boston Herald in noting the two doubles and three runs scored by Pat in an 8-4 Browns win that temporarily dislodged Boston from first place.13
Later that month, Sporting Life informed readers that: "McAleer has a Trolley League player Hines (sic) on trial and thinks well of him. Hines will be given every chance to establish his class. The youngster frankly admitted to McAleer when he applied for a berth on the Browns that he was under suspension by the Cotton States League. He is a left-handed pitcher that will be kept in right field for the rest of the season unless he should let down. He has a fine physique, stands well at the plate, meets the ball nicely whether swinging or bunting, and plays the field acceptably."14 The Browns also used the young southpaw occasionally on the mound, with a 6-3 complete-game win over Detroit on September 8 being the pitching highlight of Hynes's brief major-league career.
After his fast start, Hynes cooled off with the stick, finishing the season with a .236 (60-for-254) batting average that was near the club norm (.239). But he had supplied little of the power (only 10 extra-base hits, with no home runs and a substandard .287 slugging average) usually needed from an outfielder, and his strikeouts-to-walks ratio (42 to 3) was atrocious. Still, he saw plenty of action in the postseason intercity series against the Cardinals, and the Browns placed Hynes on their reserve list for the 1905 season.15 Indeed, manager McAleer reportedly expressed the belief that Hynes would "be good enough for a regular job in the outfield" next year.16
In March 1905 Pat was among the Browns holdovers invited to spring camp in Dallas. He appeared to play well, even hitting a long home run in an exhibition game against the Dallas Giants.17 But the Browns were overstocked with outfielders, and McAleer, short of left-handed pitching, contemplated using Hynes in the rotation rather than in the field. Sporting Life reported, "The lad from the North End [of St. Louis] has some puzzling benders and deceptive shoots and 'Jeems' expects to use Hynes' sidewheeler to advantage."18 Arm problems frustrated that plan, and Hynes was soon slated for backup outfield duty.19 But before the club headed north, Hynes was sold to the Minneapolis Millers of the Class A American Association.20 Unbeknownst to young Pat Hynes, he would never wear a major-league uniform again.
According to one report, Hynes was surprised and embittered by the demotion, attributing it to being bad-mouthed by Browns catcher Mike Kahoe.21 Nevertheless, Pat reported to Minneapolis, where his manager would be the veteran Bill Watkins, a no-nonsense disciplinarian with whom Hynes, a young man with "convivial propensities,"22 often clashed. Watkins needed pitching, but Hynes's arm was no longer up to the task. He eked out a decent 5-3 record for the Millers, but made only 10 mound appearances. He also batted .260 in 100 at-bats. By August he was back home, again playing in the Trolley League.23 Despite meager numbers during his Minneapolis stay, it was reported that the Browns retained interest in Hynes and that he would rejoin the club at the American Association season's end.24 And true enough, the Browns selected Hynes in the September minor-league draft.25 But he would not get another chance in the big leagues.
In early March 1906, the Browns sold Hynes to a Minneapolis rival, the Milwaukee Brewers.26 Unhappy once again, Pat initially refused to sign a Brewers contract unless club boss Joe Cantillon increased the salary offered.27 Otherwise, Hynes would remain in St. Louis, where he had a job tending bar.28 In time he relented and joined Milwaukee, where he got along well with manager Cantillon, who intended to alternate Pat between the outfield and the box. The two even became comrades-in-battle during a late-August home game against Toledo. When Brewers third baseman Harry Clark muffed a foul popup, an irate fan named Peters launched a beer bottle at him. This earned Peters a pummeling by enraged manager Cantillon. Left fielder Hynes joined in the assault. American Association President Joseph O'Brien thereafter suspended the two for five games.29 In 85 appearances Hynes turned in serviceable numbers for the Brewers, batting a Deadball Era-respectable .260, with modest power numbers (18 extra-base hits). But another sore arm had limited Pat's pitching record to 3-2 in 11 outings.30 Still, Cantillon kept Pat in his plans, projecting him as the Milwaukee first baseman for the 1907 season.31
All such plans would come to naught, for young Pat Hynes would soon be dead. With his bags packed and ready to set off for spring training with the Brewers, Pat and one Michael Hessian began bar-hopping on the evening of Monday, March 11, 1907. At about 2:30 the following morning, the by-now-intoxicated pair entered Harry Grover's saloon on Easton Avenue, where Hynes ordered beers for himself and his friend. When bartender Louis Richardson refused to consider the beers on the house, Hynes became angry, throwing a pretzel bowl and then a spice holder at Richardson. He also purportedly struck the barkeep in the face with a mop. When Hynes then attempted to go behind the bar, Richardson uncovered a pistol and fired twice. One bullet missed. The other mortally wounded Hynes. Next-day newspaper reports stated that the deceased had been struck in the head and killed instantly.32 An autopsy subsequently determined that the bullet had penetrated Hynes' lungs.33 Whichever the case, Pat Hynes had died on his birthday, less than three hours into his 23rd year.34
Upon receiving the tragic news, a distraught Margaret Hynes was reported to have sobbed that she "would rather her son had been slain than be the slayer."35 Joe Cantillon, recently appointed manager of the Washington Nationals, also took the news hard, stating, "Pat was a splendid slabsman, a fine hitter and a decent lad, whom everyone liked."36 Cantillon was also skeptical that bartender Richardson had acted in self-defense, as "Pat never carried a weapon of any kind in his life and was anything but a trouble hunter."37 At the coroner's inquest, the bartender's account of the incident was corroborated by patron William Stansbury. But two other witnesses maintained that Hynes had not brandished a mop, and that some minutes had elapsed between the pretzel-bowl throwing by Hynes and the firing of the fatal shot by Richardson.38Although initially disposed to return a verdict of self-defense, two hours of sometimes heated deliberations ultimately produced a finding of culpable homicide.39 A St. Louis grand jury, however, did not agree. Accepting the Richardson self-defense claim, it no-billed (dismissed) the charge against him and closed the case.40 Meanwhile, a blunt memoriam was offered by The Sporting News: "Hynes had great natural ability, but bad habits handicapped him in his profession."41
Following a Funeral Mass at Notre Dame de Lourdes Church, Patrick J. Hynes was interred at Calvary Cemetery, St. Louis. He was survived by his parents and sisters, Marie Hynes and Katherine Hynes Bushmiller.
Sources
Sources for the biographical info recited herein include the Pat Hynes file maintained at the Giamatti Research Center, National Baseball Hall of Fame and Museum, Cooperstown, New York; US Census and St. Louis directory data accessed via Ancestry.com; and certain of the newspaper articles cited below. Unless otherwise noted, stats have been taken from Baseball-Reference.
Notes
1 As per an unidentified March 13, 1907, news article contained in the Pat Hynes file at the Giamatti Research Center.
2 Seattle Times, March 12, 1907.
3 Ibid. Hynes's age and professional inexperience make it improbable that he would have attracted the attention of a Class A minor-league club, particularly one in faraway Seattle. Beginning with a Class D team in much closer Vicksburg, Mississippi, the pro debut ascribed to Hynes by Baseball-Reference, seems far more likely.
4 As reported in Sporting Life, June 20, 1903.
5 As per Sporting Life, August 1, 1903.
6 Official Bulletin No. 10, issued by NAPBBL Secretary John H. Farrell on August 18, 1903, and published in Sporting Life, August 29, 1903.
7 Sporting Life, October 3, 1903. Other news outlets concurred, with a wire-service report stating: "Hines, the local semi-professional, pitched for St. Louis and did well." See, e.g., the Boston Herald, Saginaw (Michigan) News, and Tampa News, September 28, 1903.
8 See Sporting Life, October 17, 1903.
9 The Farrell bulletin was published in Sporting Life, April 9, 1904.
10 See Sporting Life, June 11, 1904.
11 See Sporting Life, October 8, 1904.
12 As per the Official Bulletin promulgated August 18, 1904, and published in Sporting Life, August 29, 1904.
13 See the Boston Herald, August 11, 1904.
14 Sporting Life, August 27, 1904.
15 As reported in Sporting Life, October 8, 1904.
16 As per Sporting Life, October 22, 1904.
17 It is perhaps noteworthy that Hynes's homer was a long drive over the head of Dallas left fielder Doyle, but an attempt to divine whether Hynes was a righty or lefty batter on the basis of the direction of his base hits was stymied by insufficient detail in newspaper accounts of his playing exploits.
18 Sporting Life, March 11, 1905.
19 As reported by the Dallas Morning News, March 17, 1905. The Browns starting outfield would consist of George Stone, Emmet Heidrick, and Emil Frisk, with Hynes in reserve.
20 As reported in Sporting Life, April 1, 1905, Kalamazoo (Michigan) News, April 11, 1905, and Anaconda (Montana) Standard, April 19, 1905.
21 See the Kalamazoo News, April 11, 1905.
22 The descriptive of an unidentified sportswriter quoted in the Pat Hynes section of Frank Russo and Gene Racz, Bury My Heart at Cooperstown: Salacious, Sad, and Surreal Deaths in the History of Baseball (Chicago: Triumph Books, 2006), 113.
23 As reported in the St. Louis Post-Dispatch, August 6, 1905.
24 See the (Springfield) Illinois State Journal, July 14, 1905, which stated that St. Louis club management made its intentions public only "to quiet the rumors that Hynes was to join the Browns this week."
25 As per The Sporting News, September 9, 1905, and Sporting Life, September 15, 1905.
26 As reported in the Elkhart (Indiana) Truth, March 3, 1906, Omaha World-Herald, March 4, 1906, and Sporting Life, March 10, 1906.
27 According to the Rockford (Illinois) Register-Gazette, March 20, 1906.
28 As per Sporting Life, March 31, 1906. Hynes also expected to earn an extra $25 per week pitching in the Trolley League on weekends.
29 As reported in the Milwaukee Journal, August 28 and 29, 1906, and Denver Post and Evansville (Indiana) Courier, August 29, 1906.
30 As per a 1906 Brewers season history compiled by Milwaukee baseball historian Dennis Pajot, accessible to SABR members via the research tab on the SABR website. Baseball-Reference has no 1906 pitching stats for Hynes.
31 As per Sporting Life, January 5, 1907.
32 See, e.g., the St. Louis Globe-Democrat, March 12, 1907, and St. Louis Post-Dispatch and St. Louis Republic, March 13, 1907.
33 As per the death certificate contained in the Pat Hynes file at the Giamatti Research Center.
34 Certain newspapers coupled word of Hynes's death with the report of the slaying of one Albert Nichols, shot and killed shortly thereafter in a nearby saloon following "a dispute over the price of a ham sandwich." See the Aberdeen (South Dakota) News, Riverside (California) Press, and Wilkes-Barre (Pennsylvania) Times, March 12, 1907.
35 As reported in the St. Louis Post-Dispatch, March 12, 1907. See also the Augusta (Georgia) Chronicle, Baltimore Sun, and Grand Forks (North Dakota) Herald, March 13, 1907.
36 As per the Washington Evening Star, March 13, 1907.
37 Ibid.
38 See the St. Louis Globe-Democrat and St. Louis Republic, March 13, 1907.
39 As per the St. Louis Globe-Democrat, March 13, 1907.
40 Per the St. Louis Post-Dispatch, March 21, 1907. Thanks to SABR member Sam Gazdziak for finding the disposition of the matter.
41 The Sporting News, March 16, 1907. The St. Louis Globe-Democrat, March 13, 1907, concurred, stating that "Hynes … threw away many chances of becoming one of the best twirlers in the business."
Born
March 12, 1884 at St. Louis, MO (USA)
Died
March 12, 1907 at St. Louis, MO (USA)
If you can help us improve this player's biography, contact us.
https://sabr.org/sites/default/files/HynesPat.png
600
800
admin
/wp-content/uploads/2020/02/sabr_logo.png
admin
2016-12-22 14:21:16
2016-12-22 14:21:16
Pat Hynes