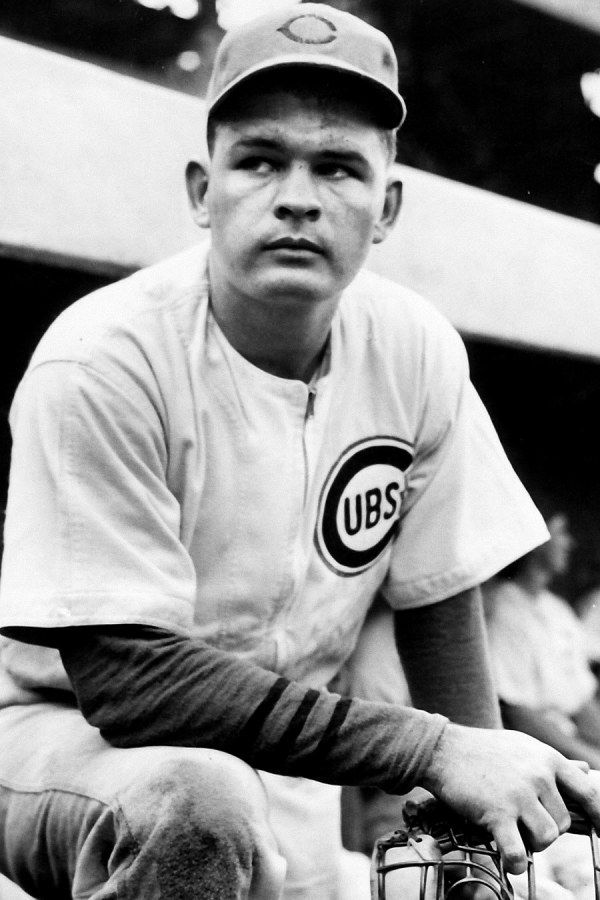 ---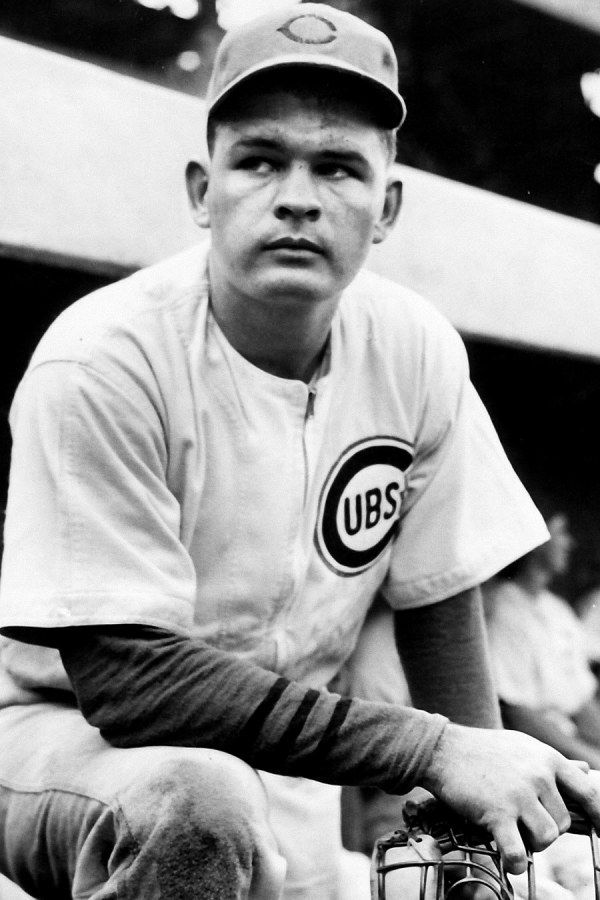 Paul Gillespie was a high school second-team catcher at 17, a minor-league all-star outfielder at 19, and a major-league catcher at 21. In a career that spanned 89 games from 1942 to 1945, he became the first big-leaguer to hit a home run in both his first and last regular season at-bat. Only one other man has done it since: John Miller (in 1966 and 1969).
Paul Allen Gillespie was born September 18, 1920 in Cartersville, Georgia.1 He was the second of three children born to Virgil E. Gillespie, a painter and a carpenter, and Rebecca Allen Gillespie.2
At the age of 14, Gillespie started playing baseball with the Inman Park Cardinals, an American Legion team. At 15, he played for the YMCA Crackers, another American Legion team.3 When he reached high school age, Gillespie played football for the Northwest Tigers sandlot football team.4
Gillespie enrolled at Tech High School in Atlanta, Georgia. In high school, he "wasn't good enough to make first string . . . and sat out his Tech High career on the bench."5
Despite playing a backup role, Gillespie got a hand from his friend and fellow Carterville resident Rudy York, who was playing for the Detroit Tigers. York arranged for Tigers manager Mickey Cochrane to check out Gillespie.6 Shortly after Cochrane's observation, Tigers' scout Eddie Goosetree signed Gillespie to a contract.7
Less than two months after leaving Tech High, the 17-year-old was playing professional baseball for the Brownsville Charros of the Class D Texas Valley League. The Brownsville Herald reported, "Paul Gillespie is the new catcher. He hails from somewhere in Georgia, we're not sure where, but he is a big boy and looks like he might go places."8 Indeed, Gillespie had good size at 6-feet-3 inches and 195 pounds when fully grown.
Gillespie signed as a catcher, but after playing his first game for Brownsville behind the plate, he shifted to third base for the next several weeks.9 By mid-July, however, he had returned to catching duties. On July 25, he drove in three runs with a triple in the seventh inning but had to leave the game when he split a finger reaching for a foul tip.10 Yet just two days later, Gillespie was back in action and drove home the winning run with a single in the fifth inning.11
After 183 at-bats and a .213 batting average for Brownsville in 1938, Gillespie moved to the Lake Charles (Louisiana) Skippers of the Evangeline League (also Class D) for the 1939 season. He started the season as the Skippers' catcher, but soon found himself in the outfield. By late July, he'd been selected the North Team utility outfielder for the Evangeline League all-star game.12
Following the all-star game, Gillespie found himself in the lineup at catcher, left field, first base, and third base.13 He even appeared as a pitcher when he moved from third to get the final out of a 11-1 Skippers loss.14
After finishing the season with a .312 batting average, Gillespie was looking forward to advancing in the Detroit Tigers organization. He was ticketed for Beaumont in the Texas League.15 Instead, he became one of 92 players declared a free agent by Baseball Commissioner Kenesaw Mountain Landis in a "drastic decision aimed at eliminating 'misuse of working agreements as a camouflage for covering up players' by the Detroit Tigers and 15 farm teams."16
The Montreal Royals, the Brooklyn Dodgers' top farm team, quickly signed Gillespie.17 After the start of spring training, Royals manager Clyde Sukeforth was impressed with Gillespie's hitting against International League pitching and his work behind the plate. Still, Gillespie was optioned to the Class A Elmira Pioneers of the Eastern League in late March.18
Pioneers business manager Charlie Miller described Gillespie as "a possible first-string receiver."19 When the Pioneers broke training camp to begin the Eastern League season, Miller called Gillespie "another Bill Dickey."20 Elmira manager Bill Killefer was also impressed with Gillespie's "hustle behind the plate and his handling of the willow."21
With the start of the 1940 season, Joe Just was announced as the starting catcher for the Pioneers. Having a shortage of outfielders, Killefer commented that in 89 games in the outfield the previous season, Gillespie had "covered the territory well and made only six errors." Killefer went on to say Gillespie might move to the outfield.22
After the first four games of the season, Gillespie was 5-for-6 at the plate and had won a starting position in left field. He continued his role as backup catcher.23 By May 20, Gillespie was leading the Eastern League in hitting with a .457 average.24 Three days later, playing catcher, Gillespie injured his thumb and had to leave the game.25
By mid-June, Brooklyn Dodgers president Larry MacPhail conceded the Dodgers would not make the 1940 World Series. However, he was confident the Dodgers would win the 1941 pennant with a revised lineup. One of the names mentioned was Paul Gillespie — MacPhail said he was highest on him, "We signed him for $7,000. I'd value him at $150,000 right now." He added that Bill Killefer touted Gillespie as "the greatest he's ever seen — including himself. The boy handles himself like a Dickey, throws a 'soft' ball to second, and leads the Eastern League in batting . . . at the moment!"26
In mid-July, Elmira manager Killefer commented, "Gillespie . . . may need more experience but he's on his way."27 But by mid-August, Gillespie's batting average had fallen from over .400 during the first six weeks of the season to .258. The downward spiral led him to be demoted to the Class C Grand Rapids Dodger Colts of the Michigan State League.28
After sending Gillespie to Grand Rapids, Charlie Miller "conceded that 'we guessed wrong twice this year. Paul Gillespie, the catcher who looked so good in the spring camp was a disappointment behind the plate and at the plate.'"29
Despite finishing out the 1940 season with Grand Rapids, Gillespie found himself getting "lots of work" during spring training with Brooklyn in 1941.30 After playing in the major-league camp, the Dodgers planned to assign Gillespie to the Montreal Royals, even though Royals manager Clyde Sukeforth felt that he would probably never make the major-league grade.31
When spring training started for the Royals, Gillespie stayed in the Brooklyn camp, getting plenty of work and participating in exhibition games daily.32 Then, at the start of the season, Gillespie was traded from Montreal to the Class A1 Knoxville Smokies.33
Smokies manager Freddie Lindstrom said he was "tickled pink" that he was able to trade for Gillespie, who had played in the same league previously against a new teammate, Woody Johnson. According to Johnson, Gillespie was a left-handed hitter who "always drove the ball a long way against our club. . . I can recommend him to the limit for the way he played against us.'"34
Lindstrom quickly lost his excitement for Gillespie. After seven at-bats for Knoxville, Gillespie was sent to Gadsden in the Southeastern League (Class B) in a 'farming' arrangement on 24-hour recall.35 After 41 at-bats with Gadsden, Gillespie was demoted further to the Class D Salina Millers, a Cleveland Indians farm club in the Western Association.
After batting close to .200 in his brief stints with Knoxville and Gadsden, Gillespie regained his hitting prowess with Salina (.323 in 189 at-bats). Even so, Knoxville, which still owned Gillespie's contract, decided to outright him to the Oklahoma City Indians in the Class A1 Texas League.36 Despite hitting just .196 in 59 games, Gillespie quickly became a "one-man catching staff."37
Either toward the end of the 1941 season or shortly thereafter, Gillespie registered for the draft, listing the Oklahoma City Baseball Club as his employer.38 With World War II raging, Gillespie returned to the Indians for the 1942 season. As the opening game approached, John Cronley of the Daily Oklahoman evaluated the club's roster. He wrote, "Catching — Paul Gillespie, period." Cronley added a note of concern that "the army call is just around the spring corner for Gillespie."39
Gillespie, whom teammates had named "perpetual motion Paul," showed another side of his personality on a rainy day in April.40 As described by John Cronley, some of the rainy day antics around the hotel were classics. Gillespie and outfielder Hershel Martin teamed in the top act. With Martin at the piano, Gillespie "rigged up a strip tease pantomime that brought down the house . . . 'A little fan-fare,' Paul calls, there is a tinkle of the ivories, and Gillespie glides forth, about as much of an Astaire as a cow on ice."41
Despite opening the season as Oklahoma's starting catcher, Gillespie was soon catching behind Danny Doyle.42 However, he had regained his starting position by late July.43 The game of July 26 was a highlight as Gillespie "applied a hilarious finish with a clean theft of home as the flabbergasted Buff infield stood around arguing about a popfly."44
Yet the franchise did not experience much hilarity during the season as it fought through financial problems. By August 1, the Indians, "desperately needing cash to meet another pay roll, . . . disposed of catcher Paul Gillespie . . . to Tulsa."45
At the time Gillespie was sold to the Tulsa Oilers (also in the Texas League), he had the Tribe's second-best batting average at .266. After a brisk start at the plate, he had lost time due to an injury. However, he was still considered the team's top big league prospect.46
The Oilers — then the top farm affiliate of the Chicago Cubs — felt Gillespie would help "unless waived in by the Cubs."47 It didn't take the Cubs long to reach for him. On August 11, less than two weeks after he'd been acquired from Oklahoma City, Gillespie was sold to Chicago "for delivery when and if the Oilers fade from the Texas League playoff picture."48
Exactly one month after the Cubs purchased his contract from Tulsa, Gillespie made his major-league debut. On September 11, 1942, he settled in behind the plate in a game against the New York Giants. He also settled in at the plate with a home run off Harry Feldman in his first major-league at-bat. He later singled in a second run.49
Following an offday, the Cubs travelled to Boston to take on the Braves in a doubleheader. Gillespie was the starting catcher in the first game. In the eighth inning, he hit his second major-league home run, this time against Braves pitcher Tom Earley.50
After homers and two RBIs in each of his first two games, Gillespie had positioned himself as potentially the Cubs' catcher of the future. However, that was put on hold because he was scheduled to report to the Army on November 1.51
But instead of the Army, Gillespie, who was one of 13 Cubs in the military, reported for Coast Guard training in New Orleans.52 Once his training was complete, he found himself catching for the Coast Guard team during the 1943 season.53 By season's end, Gillespie had teamed with pitcher Al Jurisich, who made his major-league debut with the St. Louis Cardinals in 1944, to win the USO championship.54
During his Coast Guard enlistment, Gillespie served in New Orleans, Ringold, Mississippi, Baltimore, Maryland, and on board the USS William M. Black.55
At the start of the 1944 season the Cubs had six catchers, including Gillespie, in the military.56 Gillespie, though, was able to report to the Cubs on September 2 after receiving a medical discharge from the Coast Guard because of a knee injury. Still, after reporting to the Cubs, he had to wait to play until September 13 when his transfer from the national defense list became effective.57
Cubs manager Charlie Grimm said, "From what I've seen of Gillespie, I think he has a chance to be the best catcher on our staff. He has a good arm, looks as if he packs some power at the plate and he's a big guy, just like old Gobby sic Hartnett."58
Once Gillespie became eligible, Grimm immediately inserted him into the lineup against the Cincinnati Reds.59 He finished the season having played nine games and hitting one home run, against New York Giants pitcher Bill Voiselle on September 21.60 Perhaps as an attempt at revisionist history, Gillespie would later claim that he homered in his first at-bat after returning from the Coast Guard.61
With the approach of the 1945 season, Mickey Livingston, the Cubs' starting catcher in 1943, was given a medical discharge from the army.62 With Livingston's return, Gillespie became one of four catchers competing to be Livingston's backup.63
Gillespie helped his position early in the 1945 spring training when he belted a pair of homers off Walt "Boom Boom" Beck.64 As the season progressed, Gillespie asserted himself as not only a backup catcher but one of starting caliber.
During the season, officials from several teams questioned whether wearing an honorable discharge service patch known as the "ruptured duck" should be allowed. At the time, the patch was being worn by four Cubs (Gillespie, Hiram Bithorn, Peanuts Lowrey, and Mickey Livingston) and Red Ruffing of the Yankees. In response, on July 17, American League president Will Harridge wrote to all teams: "I will leave it to your judgment as to whether or not this is desirable." It appears that no other major league players wore the "ruptured duck" patch on their uniforms.65
A highlight of the regular season came in an August 15 game against the Brooklyn Dodgers. when Gillespie hit a grand slam in the first inning and a two-run homer in the fourth.66 A week later, he was credited with a steal of third in a game against the New York Giants.67
Gillespie's last regular-season at-bat in the majors — in which he homered — was a fourth-inning shot off Pittsburgh's Rip Sewell on September 29. He came out of the game after that at-bat. He appeared again in the field the next day, finishing the game in right field, but did not make a plate appearance.
It is not known if the August steal aggravated his old knee injury, but the Cubs were concerned about his bad knee as they prepared for the 1945 World Series. Even with their concern, the Cubs anticipated having Gillespie catch when Detroit used a right-handed pitcher.68
Although Gillespie had hit .288 against Livingston's .254, Livingston remained the starting catcher for the Cubs. However, as planned, Gillespie was inserted into the lineup for the second game of the series when right-handed pitcher Virgil Trucks was named the Tigers' starter.
In the ninth inning, Gillespie swung at a Trucks pitch and "half fell after hitting a ball down to first base," aggravating his old left knee injury. Cubs manager Charlie Grimm said that Gillespie, with his twisted knee, would probably be lost for the remainder of the series."69 Even so, Gillespie entered two more games as a pinch-hitter. He finished the series going hitless in six at-bats, but was one of 30 Cubs to receive a full Series share of $3,931.22.70
Three weeks after the Cubs lost the World Series to the Tigers, Gillespie underwent an operation in the Illinois Masonic hospital. Dr. Walter Fischer performed the operation on what was described as "an injured external cartilage."71 While recuperating from that procedure, Gillespie stayed active. The Daily Oklahoman reported: "Red Smith, who doubles as coach of the baseball Cubs and football Giants under Steve Owen, says he gets a play a day (football) from Paul Gillespie."72
Once out of the hospital, Gillespie took a break from baseball. On January 5, 1946, he married ex-Marine sergeant Pat Ozment.73 The couple went on to have four daughters.74
After returning from his honeymoon, Gillespie signed his 1946 playing contract with a boost in salary.75 When spring training started, he was described as "moving around as if forgetting all about the (knee) operation."76 His recovery was important. Even though he had led Cub catchers in hitting in 1945, he was in an eight-man competition that included former starting backstop Clyde McCullough, who was returning from the Navy.77
Gillespie's effort to make the 1946 Cubs roster took a hit on March 18 when he "was banged on the little finger of his bare hand, the wallop sending him away for repairs."78 Three weeks later, on April 10, he was optioned to the Class AA Nashville Volunteers of the Southern Association.79
In a May 17 game against the New Orleans Pelicans, Gillespie was hit on the right side of the head by a pitch and knocked unconscious.80 Two days later, he still had a knot on his forehead so large that he could not wear a mask.81
By mid-June, Gillespie had returned to be one of the Southern Association's top hitters.82 In mid-July, he was one of three catchers selected to the all-star team. In a note of irony, Gillespie, who was the Volunteers' primary catcher, received eight votes while Teddy Pawelek, the Vols' reserve backstop, got 11 votes — making the backup the starter and the starter the backup.83
In an August 17 game against the Atlanta Crackers, Gillespie was bowled over when Charley Glock tried to score. The following day, Gillespie collided with Cracker catcher Mike Ulicny, injuring Ulicny's knee so badly that he was lost for the season.84
A week later, Gillespie was on the sidelines with a split finger.85 While rehabbing that injury, he contracted the flu. The Tennessean reported that he returned to uniform on August 30, still in a weakened condition.86 However, when the year-end Southern Association all-star team was named, Gillespie was one of three catchers selected.87
With a successful season behind him, Gillespie was requested to report to the Cubs for the 1947 spring training.88 But before camp started, Gillespie was sold outright to the Oakland Oaks of the Pacific Coast League on a "30-day look."89 This meant that manager Casey Stengel had until May 1 to decide to keep him or to send him back to the Cubs.90
Gillespie returned the first Oaks contract he was offered, unsigned. Oakland then sent him a revised pact.91 Gillespie finally reported to training camp on February 25.92 Two days later he signed.93
In the midst of the Oaks spring training, Gillespie was hospitalized with a severe cold. At the time, Stengel felt that the catcher's hitting was impressive but that his throwing had yet to come under scrutiny.94 Two days later, Gillespie was released from the hospital 15 pounds lighter than when he went in.95
When the Oaks broke camp to begin the 1947 season, Gillespie was named the starting catcher.96 Yet, his tenure didn't last long. Just two weeks into the season he was turned over to the Los Angeles Angels.97 He joined the Angels on a similar 30-day look. In reporting the move, the Oakland Tribune commented, "The big fellow is a good man with the willow but he can't throw."98 Gillespie was hitting .300 when the Oaks released him.99
By May 20, Gillespie had increased his Pacific Coast League average to .321.100 But at the end of the season, it had dipped to .257.101
Gillespie was scheduled to return to the Angels for the 1948 season, returning his signed contract on February 17.102 Early in spring training, Angels manager Bill Kelly indicated that he was not happy with his catching candidates. In describing Gillespie, Kelly said he "can hit, but he's not Hartnett behind the plate."103 By May 23, Gillespie was relegated to being the Angels' bullpen catcher.104 His 1948 season got worse on September 15 when he underwent an appendectomy at Bell Mission Hospital.105
On October 5, after a season where Gillespie played in only 21 games and hit .107, he was released by the Angels.106
The start of the 1949 season found Gillespie with the Class A Macon Peaches, where he played in 12 games, hitting .350. After he reinjured his knee, he found himself without a team until being recruited by Tom Hicks, a former teammate and manager of the Tyler Trojans of the Class C East Texas League.107
It appears that Gillespie's tenure with Tyler was short-lived. Even though the 1949 Tyler Trojans records do not show that Gillespie was ever a part of the team's official roster, he actually played his first game for the Trojans on June 16.108 One week later, while Gillespie was shown as one of two catchers on the Trojans roster, he was being held out because of an injured arm.109
By early August, Gillespie was playing for Bolton Post 156 in the Atlanta Amateur Baseball Federation Tournament.110 After the tournament, Gillespie continued to play amateur ball with Bolton in the Chattahoochee League. After a September 4 game, the Atlanta Constitution reported, "Paul Gillespie, former Chicago Cubs catcher, smacked two homers to pace Bolton 156 to a 14-13 triumph."111
With a disappointing 1949 season behind him, Gillespie decided to attempt a comeback in 1950 with the Beaumont Roughnecks of the Texas League (by then Class AA). Competing against three other established catchers, he failed to make the roster despite a determined fight.112
After his baseball career came to an end, Paul Gillespie lived in Atlanta; Jacksonville, Florida; and Anniston, Alabama. He worked as a sales representative for the Adler Typewriter Company. Not quite 50 years old, he died in Anniston on August 11, 1970 after a short illness.113
Paul Gillespie is buried at the Westview Cemetery in Atlanta, Georgia.114
Last updated: September 17, 2020 (ghw)
Acknowledgments
This biography was reviewed by Rory Costello and Chris Bouton and fact-checked by Kevin Larkin.
Sources
In addition to the sources cited in the Notes, the author also consulted Baseball-Reference.com.
Notes
1 U.S., Baseball Questionnaires, 1945-2005. From the American Baseball Bureau and found on ancestry.com.
2 United States Census, 1930 and 1940.
3 U.S., Baseball Questionnaires, 1945-2005.
4 "Banquet to honor Northwest Tigers," Atlanta Constitution, December 19, 1946.
5 "Ex-Tech High boy catches for Cubs," Atlanta Constitution, October 4, 1945.
6 Gary Joseph Cieradkowski, The League of Outsider Baseball: An Illustrated History of Baseball's Forgotten Heroes (New York: Touchstone Books, 2015), 59.
7 "Ex-Tech High boy catches for Cubs," Atlanta Constitution, October 4, 1945.
8 "Ramblin through the sports news," Brownsville Herald (Brownsville, Texas), June 22, 1938.
9 Based on a review of box scores from the Brownsville Herald.
10 "Gillespie drives in Brownsville runs," Valley Morning Star (Harlingen, Texas), July 26, 1938.
11 "Brownsville Charros divide twin bill with Cardinals," Valley Morning Star, July 28, 1938.
12 "Indians place four stars on Northern Nine," Clarion-News (Opelousas, Louisiana), July 27, 1939.
13 Based on a review of box scores from Town Talk (Alexandria, Louisiana).
14 "Evangeline loop boxscores," Town Talk, September 4, 1938.
15 Charlie Roberts, "Ex-Smithie catcher hits homer in major debut," Atlanta Constitution, September 20, 1942.
16 "Tigers suffer blow in action of Landis feeing 92 players," Detroit Free Press, January 15, 1940.
17 "3 free agents to Dodger farm," Daily News (New York, New York), February 3, 1940.
18 "Pioneers get new catcher; start drills on Monday," Star-Gazette (Elmira, New York), March 23, 1940.
19 Ibid.
20 "Pioneers to face Roanoke team Wednesday," Star-Gazette, April 13, 1940.
21 "Killefer May use Gillespie in Pioneer outfield," Star-Gazette, May 2, 1940.
22 Ibid.
23 "Gillespie, Templeton start against Albany; Hofferth's hit wins," Star-Gazette, May 7, 1940.
24 "Eastern Big Six," Star-Gazette, May 20, 1940.
25 "Pioneers bow to Laurels, play Springfield tonight," Star-Gazette, May 24, 1940.
26 Hy Turkin, "Hits," Daily News, June 16, 1940.
27 Tommy Holmes, "Tour gives Dodgers line on farmhands," Brooklyn Daily News (Brooklyn, New York), July 14, 1940.
28 "Locals swap Gillespie for Sosh," Star-Gazette, August 16, 1940.
29 Harry O'Donnell, "'We guessed wrong on two,' Miller says," Star-Gazette, August 22, 1940.
30 Judson Bailey, "Baseball Banter," Selma Times-Journal (Selma, Alabama), February 17, 1941.
31 Marc. T. Mcheil, "Casual Close-ups," Gazette (Montreal, Quebec, Canada), February 21, 1941.
32 "Royals await Bramham's decision after hearing -Sukeforth in Macon," Gazette, March 30, 1941.
33 "Smokies obtain pitcher and new catcher," Knoxville News-Sentinel (Knoxville, Tennessee), April 13, 1941.
34 "Smoky Skipper tickled over players," Knoxville News-Sentinel, April 13, 1941.
35 "Sugar Cain released by Knoxville Manager," Huntsville Times (Huntsville, Alabama), May 9, 1941; Bob Wilson, "Sugar Cain is given release after defeat," Knoxville News-Sentinel, May 9, 1941.
36 "Changes are plentiful in Southern loop," Montgomery Advertiser (Montgomery, Alabama), July 27, 1941.
37 John Cronley, "Tribe squeezes in win before curtain drops (No Encores)," Daily Oklahoman (Oklahoma City, Oklahoma), September 8, 1941.
38 Paul A. Gillespie, "Georgia World War II Draft Registration Cards, 1940-1945."
39 John Cronley, "Giants are hitting clean-up." Daily Oklahoman, April 5, 1942.
40 "Perpetual Motion Paul," Daily Oklahoman, April 19, 1942.
41 John Cronley, "Indians mire deep in the mud of Texas," Daily Oklahoman, April 9, 1942.
42 John Cronley, "The city makes a sizeable assist to keep Indians here," Daily Oklahoman, June 26, 1942.
43 "Club can't draw, some shows will," Daily Oklahoman, July 24, 1942.
44 John Cronley, "Indians jolt Buffs twice," Daily Oklahoman, July 27, 1942.
45 "Gillespie, Butcher peddled to Tulsa," Daily Oklahoman, August 2, 1942.
46 Ibid.
47 John Cronley, "Once over Lightly," Daily Oklahoman, August 5, 1942.
48 "Gillespie is sold to Cubs," Daily Oklahoman, August 12, 1942.
49 Hy Turkin, "Giants win in ninth, 4-3," Daily News, September 12, 1942.
50 "Cubs, Braves split twin bill," Danville Morning News (Danville, Pennsylvania), September 14, 1942.
51 Hy Turkin, "Giants win in ninth, 4-3," Daily News, September 12, 1942.
52 Arch Ward, "In the Wake of the News," Chicago Tribune, December 9, 1942.
53 Arch Ward, "In the Wake of the News," Chicago Tribune, December 9, 1942; "Beauregard opens baseball season," Town Talk (Alexandria, Louisiana), May 18, 1943.
54 Cieradkowski, The League of Outsider Baseball, 60.
55 "Paul Gillespie weds Louisiana belle," Atlanta Constitution, January 28, 1946.
56 Fritz Howell, "Baseball-1944," Pantagraph (Bloomington, Illinois), April 19, 1944.
57 "Former Indian catcher joins Cubs' roster, Daily Oklahoman, September 14, 1944.
58 Ibid.
59 "Secory belts homer; Cincy, Cubs divide," Decatur Herald (Decatur, Illinois), September 14, 1944.
60 Irving Vaughan, "Cubs win over Giants twice, 11-8 and 6-4," Chicago Tribune, September,22, 1944.
61 Paul Gillespie, "My big thrill," Daily Chronicle (De Kalb, Illinois), June 29, 1946.
62 "Livingston to join Cubs next season," Daily Chronicle, November 9, 1944.
63 Edward Burns, "Talent hunters setting traps for Cub chiefs," Chicago Tribune, December 8, 1944.
64 "Reds 5, Bruins 4," Daily Oklahoman, April 7, 1945.
65 http://exhibits.baseballhalloffame.org/baseball_enlists/at73.htm
66 "Cubs' 4 homer attack routs Dodgers, 20-6," Chicago Tribune, August 16, 1945.
67 "Hack comes through," Chicago Tribune, August 22, 1945.
68 "Cubs shakeup puts Nicholson on sidelines," Chicago Tribune, August 28, 1945.
69 "Tigers even series with Cubs," Daily Oklahoman, October 5, 1945.
70 "30 Cubs get $3,930.22 as series share," Chicago Tribune, November 2, 1945.
71 Irving Vaughan, "Cubs add four teams to farm system," Chicago Tribune, October 30, 1945.
72 Hal Middlesworth, "On the level," Daily Oklahoman, November 13, 1945.
73 "Paul Gillespie weds ex-marine sergeant," Chicago Tribune, January 15, 1946.
74 "Obituaries," Anniston Star (Anniston, Alabama), August 12, 1970.
75 "Paul Gillespie signs Cub pact," Atlanta Constitution, January 24, 1946.
76 Irving Vaughan, "Grimm works Cubs 4 hours, but easy like." Chicago Tribune, February 21, 1946.
77 Ibid.
78 Irving Vaughan, "Lowrey smacks double; Gillespie injured," Chicago Tribune, March 19, 1946.
79 "Paul Gillespie joins Vols," Atlanta Constitution, April 11, 1946.
80 Raymond Johnson, "Nashville overcomes five-run lead to win," Tennessean (Nashville, Tennessee), May 18, 1946.
81 Raymond Johnson, "One man's opinion," Tennessean, May 20, 1946.
82 Arch Ward, "In the Wake of the News," Chicago Tribune, June 22, 1946.
83 Raymond Johnson, "One man's opinion," Tennessean, July 19, 1946.
84 "Ulisney takes beating in blocking plate," Tennessean, August 19, 1946.
85 "Alderson, Hausmann shelled by Pelicans," Tennessean, August 28, 1946.
86 "Ailing list mounts," Tennessean, September 1, 1946.
87 "8 Crackers on Southern all-star nine," Atlanta Constitution, February 9, 1947.
88 Raymond Johnson, "Vols recall 18 farm hands for next season," Tennessean, September 8, 1946.
89 "Gillespie sold to Oakland," Chicago Tribune, February 6, 1947.
90 "Ex-Cub catcher signed by Oaks," Oakland Tribune (Oakland, California), February 5, 1947.
91 "Max Marshall only Oakland holdout," Oakland Tribune, February 21, 1947.
92 "Gillespie in camp," Oakland Tribune, February 26, 1945.
93 "Scarsella comes to terms with Oakland ball club," Oakland Tribune, February 28, 1947.
94 Alan Ward, "Acorns in double bill," Oakland Tribune, March 11, 1947.
95 "Oak hurlers worry Stengel," Oakland Tribune, March 13, 1947.
96 Walter Judge, "Oaks pick starters," San Francisco Examiner, March 27, 1947.
97 "Oaks, Senators clash tonight," Oakland Tribune, April 15, 1947.
98 Ibid.
99 "White of S.F. leads hitters," Oakland Tribune, April 15, 1947.
100 "Jo Jo White top PCL hitter," Oakland Tribune, May 20, 1947.
101 "Pacific Coast League batting marks for '47," Los Angeles Times, November 30, 1947.
102 "Angels, Stars sign players," Los Angeles Times, February 18, 1948.
103 Frank Finch, "Angel Hurlers biggest worry, says Kelly," Los Angeles Times, April 4, 1948.
104 Al Wolf, "Raiders beat Angels twice," Los Angeles Times, May 24, 1948.
105 "Angels Gillespie loses appendix," Los Angeles Times, September 16, 1948.
106 "Angels release two players," Los Angeles Times, October 6, 1948.
107 "Trojans give away orchids to lure customers to park," Longview News-Journal (Longview, Texas), June 21, 1949.
108 "Ten-Minute Break," Tyler Morning Telegraph (Tyler, Texas), June 18, 1949.
109 "Dean on sports," Tyler Courier Times (Tyler, Texas), June 26, 1949.
110 "Mountain View to use team of Deans, Mabrys in amateur baseball meet," Atlanta Constitution, August 7, 1949.
111 "Chandler vets cop pennant in Suburban," Atlanta Constitution, September 5, 1949.
112 "Hopes high in Beaumont on opening day," Miami Daily News-Record (Miami, Oklahoma), April 11, 1950.
113 "Obituaries," Anniston Star (Anniston, Alabama), August 12, 1970.
Born
September 18, 1920 at Sugar Valley, GA (USA)
Died
August 11, 1970 at Anniston, AL (USA)
If you can help us improve this player's biography, contact us.
/sites/default/files/GillespiePaul.jpg
600
800
admin
/wp-content/uploads/2020/02/sabr_logo.png
admin
2012-01-04 20:00:27
2020-09-17 06:43:14
Paul Gillespie