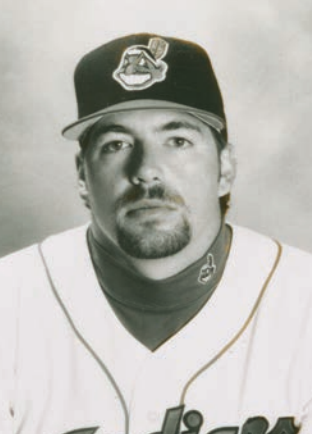 ---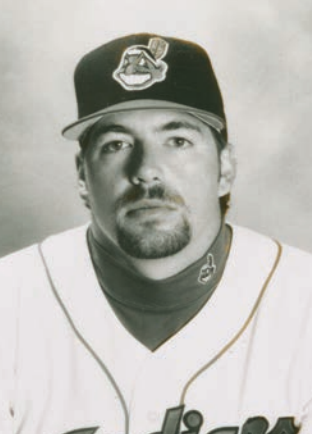 The flame-throwing right-hander Paul Shuey was selected by the Indians in the first round (second overall pick) of the 1992 amateur baseball draft, ahead of such future luminaries as Derek Jeter and Todd Helton. With good reason the Indians expected Shuey to become their star closer. However, a series of injuries prevented him from attaining the stature that had been predicted for him. Nevertheless, he fought back from injury after injury to carve out an 11-year career as a big-league middle reliever and set-up man.
Paul Kenneth Shuey was born on September 16, 1970, in Lima, Ohio, the son of Teresa Bernice (Mason) and Kenneth Claude Shuey. During his childhood, the family moved to Raleigh, North Carolina. His father, an electrical engineer, taught him how to pitch, and he played American Legion and Babe Ruth League baseball as well as high-school ball. He became an outstanding baseball player at Raleigh's Millbrook High School, where he was a starting pitcher and right fielder. In high school he pitched a no-hitter and was named to the All-State team. He said, "I loved to hit and high school was the last place where I was able to play baseball the way I wanted to play, where I could hit and pitch. I had some at-bats in college and in the big leagues, but it wasn't the same as high school."1
At the University of North Carolina at Chapel Hill, Shuey wasted no time in becoming a star. In his first year (1990), he made the freshman All-America team, based on an 8-1 won-lost record and eight saves as he led the Tar Heels to the Atlantic Coast Conference championship. In 1991 he suffered a patella tendon rupture, the first of many injuries that were to plague him throughout his career. In limited action, Shuey led the Tar Heels with a 1.70 earned-run average. During the summer he pitched for the US national baseball team in the Pan American Games. He came back strong in 1992, earning his place in the first round of the June baseball draft. In his collegiate career Shuey was 18-4 with a 2.67 ERA and 16 saves. He struck out 87 batters in 69 innings.
Shuey signed with the Indians, eschewing his senior year of college. His father, a certified public accountant, and his mother negotiated their son's contract. At age 21, Shuey stood 6-feet-3 and weighed 215 pounds. In addition to his blazing fastball, he was equipped with a splitter and a sharp-breaking curveball. His fastball topped out at 98 mph and the split-finger pitch could reach 90 mph. The Indians told Shuey to abandon his high leg kick, which slowed his delivery and made it easy for baserunners to steal against him. It didn't work, so he was told to throw the way he wanted. "I tried it in one outing for the first three batters," Shuey said, "but I bagged it for the fourth hitter, because a guy stole second even when I used the low kick."2 The Indians sent Shuey to the Columbus Red Stixx of the Class-A South Atlantic League in 1992, where he started 14 games and went 5-5. In 1993 he was assigned to Kinston of the high Class-A Carolina League, where he won his only decision before being promoted to Canton-Akron of the Double-A Eastern League. A losing record (4-8) caused Shuey's demotion to Class-A Kinston to start the 1994 season.
Shuey quickly earned one win and eight saves for Kinston. Desperate for relief pitching, the Indians called him up. It is rare for a player to leap from Class A to the major leagues, but Shuey's case was not unprecedented. From the moment the Indians drafted him they had regarded him as their closer of the future. Shuey made his major-league debut at Baltimore on May 8, 1994, in relief of Jose Mesa, with the Indians trailing, 8-6. He retired the first batter he faced, Mark McLemore, and finished the inning, giving up one hit and striking out one. On May 14 he made the highlight reels by striking out four batters in one inning. However, he could not quite master the closer's role. Although he saved five games, he had a horrific ERA (8.49) and was sent down to Triple-A Charlotte, where he won two of three decisions, saved 10 games, and compiled a 1.93 ERA.
Shuey started the 1995 season with Buffalo, the Indians affiliate in the Triple-A American Association. He pitched reasonably well for Buffalo until he was sidelined with an injured hamstring. The Indians brought him back up briefly, but he had two losses with no saves or wins. He was not on the postseason roster for Cleveland's run to the 1995 World Series. During the next several seasons, Shuey shuffled back and forth between Cleveland and the minors and spent an amazing amount of time on disabled lists. He was on the DL three times in 1997. In 1999 he injured his right hip. Shuey explained this injury: "I have what you'd call a violent pitching motion, with a lot of torque involved. I was pitching on a wet mound in Cleveland, and I started slipping. Then I felt something funny." Over the next several seasons he underwent multiple surgeries on his hip. In 2001 Shuey was placed on the DL with a strained ligament in his elbow. In his nine years in Cleveland, Shuey was 34-21 with a 3.60 ERA. He struck out 450 batters in 404⅔ innings while walking 202.
On July 22, 2002, Shuey was traded to the Los Angeles Dodgers for pitcher Terry Mulholland and minor leaguers Francisco Cruceta and Ricardo Rodriguez. As a middle reliever for the Dodgers in 2002 and 2003, he enjoyed some success, compiling an 11-6 record with one save. He had surgery on his hip in October 2003. By spring his pitches had not recovered their effectiveness, so the Dodgers planned to put him on the DL. The injury bugaboo struck again during spring training in 2004. He tore a ligament in his thumb and reinjured his hip while undergoing rehabilitation, causing him to get a hip replacement and miss the entire season. The Dodgers paid Shuey his full salary ($3.25 million) even though he did not pitch a major-league inning in 2004, expecting to recover the expense from the insurance company (Hartford). However, the policy had expired the day before the tendon tear. The club claimed his disability was caused by the hip problems and should be covered. Hartford argued that Shuey's disability was caused by the thumb injury and thus was not covered. The Dodgers sued, and the case dragged on for years. In December 2011 the club and the insurance company agreed to accept an arbitration procedure.3
During the offseason Los Angeles let Shuey go, and he signed to rejoin Cleveland, but he never pitched a game for the Indians. He announced his retirement, but in February 2007 Baltimore signed him, and he attempted a comeback. He had very little success, losing his only decision and collecting only one save.
In his next-to-last major-league appearance, on August 22, 2002, Shuey gained considerable notoriety by allowing the last nine runs as the Texas Rangers defeated Baltimore, 30-3, an American League record for the most runs scored by a team in a game. Shuey made his final appearance in the big leagues four days later. After 11 injury-plagued seasons and at least 13 trips to the DL, he had accumulated 45 major-league wins, 28 losses, 23 saves, and an ERA of 3.87.
The Orioles released Shuey on September 5, 2007. In January 2008 the Indians signed him to a minor-league contract. They assigned him to their Akron farm club, but Shuey had to give it up; the pain was too much. "It's a sad day," he said in announcing his retirement. "It's pretty much the end of the baseball career, and that's always tough to think about it actually being over, especially when I know I'm leaving and still can probably get some guys out with my 84 to 86-mph pitches. I can still throw the split and the curves, but … I had the pain that I had in 2003 in the back of the hip. … As soon as you are sitting there with your hip throbbing again and limping around, you realize this is not what we had hoped. … The writing was pretty much there for me as soon as I had pain."4
In retirement Shuey settled in Wake Forest, North Carolina, with his wife, Julie, and their three daughters: Morgan (born 1997), Casey (1998), and Kate (2006). He signed on as an assistant coach of the Barton College women's soccer team, but his chief avocation was bass fishing. From 2009 through 2013, the ex-pitcher competed in the Walmart Fishing League. Since 2012 he has competed in the Fishing League Worldwide tour. Shuey has participated in 21 tournaments, in which he has caught 89 bass, weighing a total of 210 pounds, and earned $1,787 in prize money.5
This biography was published in "1995 Cleveland Indians: The Sleeping Giant Awakes" (SABR, 2019), edited by Joseph Wancho.
Sources
In addition to those cited in the notes, the principal sources consulted were baseball-reference.com. and beenverified.com.
Notes
1 "Millbrook High School Hall of Fame," wcpss.net/athletics/hallfame, December 22, 2013.
2 Sheldon Ocker, "Cleveland Indians Team Notes," The Sporting News, September 12, 1994: 50.
3 Bill Shaikin, "Dodgers Still Fighting Over Paul Shuey's Salary," Los Angeles Times, December 16, 2011: 38.
4 indians.scout.com. April 27, 2005, Accessed August 14, 2014.
5 flwoutdoors.com. Accessed August 14, 2014.
Born
September 16, 1970 at Lima, OH (USA)
If you can help us improve this player's biography, contact us.
https://sabr.org/sites/default/files/ShueyPaul.jpg
600
800
admin
/wp-content/uploads/2020/02/sabr_logo.png
admin
2012-01-04 20:33:28
2012-01-04 20:33:28
Paul Shuey