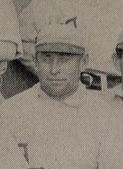 ---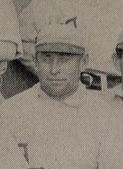 Pearce Nuget Chiles was a ne'er-do-well, a scoundrel. A decent enough ballplayer, but a scoundrel. In two partial seasons with the Philadelphia Phillies (1899-1900), he was a late-inning pinch hitter whose lifetime at-bats to runs-batted-in ratio rivals that of Joe DiMaggio (22.04 to Joe's 22.53) and a thoroughly disruptive baserunning coach, known for his devilishly ingenious system of stealing catcher's signals by employing an electric buzzer device hidden in a mud puddle in the third-base coaching box. And as the late Lee Allen (organized baseball's Vasari in Florsheims) came to find before me, Pearce Chiles is one of the most slippery, elusive historical characters major-league baseball has ever produced.
First, there's the problem of nomenclature. Around the same time Pearce Chiles was knocking around from one minor-league club to another, there was a flashy second baseman playing in Cleveland called Clarence Algernon Childs, better known as "Cupid." Cupid Childs should be better known today than he is — he retired with a higher on-base percentage than any second baseman in the Hall of Fame except Rogers Hornsby and Eddie Collins. However, Hall of Famer Christy Mathewson was guilty of careless conflation when, in his book Pitching in a Pinch (1912), he accuses the innocent Cupid Childs — not Pearce Chiles — of the sign-stealing scheme.
If that weren't bad enough, the year after Pearce Chiles "retired" from the Phillies, a utility player named Pete Childs made his debut in St. Louis, and quickly flamed out. Sportswriters of the period were understandably flummoxed, interchangeably referring to Pearce Chiles as "Pete Chiles," "Pete Childs" and, occasionally, "Pierce Chiles," "Pearce Childs," or "Pierce Childs."
Then there's his retirement. For a number of years, Lee Allen had the last word on Pearce Chiles. At the end of his research file on Pearce Chiles, there was a one-page form letter with typed interlineations from the Texas Department of Corrections, dated May 18, 1967. Regarding "CHILDS, Pierce, TDC #20498 (Active)," the Department informed Allen that "The subject was received in this Institution on June 22, 1901, from El Paso County . . . [and] was dXXXXXXd escaped from the Texas Department of Corrections on August 15, 1902." That was the last trace of him that Allen was able to find. The Macmillan Baseball Encyclopedia, long the standard reference work on major-league baseball, lists Pearce Nuget Chiles' status as "Deceased" in lieu of giving a definitive date and place of death — a good guess, but an unconfirmed fact. Online sites such as Retrosheet and Baseball-Reference.com have shown him as born in 1867, but indicate nothing at all regarding his death.
All scoundrels have parents, the families who spawned them. Pearce Nuget Chiles was born on May 28, 1867 in Deepwater, Henry County, Missouri, the fourth child and only son of Alfred M. Chiles and his wife, Amanda Rutherford. There were Chileses all over Henry County, having decamped there from Virginia. Unfortunately, Pearce's father died when Pearce was eight years old. Pearce received $325 in the will. By the looks of Pearce's later behavior, it appears that his poor mother Amanda and his older sisters Martha, Anna, and Lilley were no match for Pearce's . . . exuberance.
Although the exact date remains elusive, Pearce Chiles entered organized baseball, probably in his late teens. Unlike some ballplayers of the 19th century who tended to ply their trade near home, Pearce seems to have thought nothing of traveling far and wide, playing for one minor-league club after another. He played in Kansas for Lawrence and Topeka in 1893 and for Little Rock and St. Joseph in 1894. By 1895, a reporter in Phoenix was referring to Chiles as a "crack ballplayer." Unfortunately, however, the article was a crime report.
Chiles must have returned to Deepwater for his mother's funeral (she passed away on July 10, 1895) and gotten into some mischief. Having arrived in Phoenix in the Fall for the Winter League, word reached him that the authorities were after him. According to the February 11, 1896 article in the Los Angeles Times, Chiles "was wanted in Missouri for illicit relations with a sixteen-year-old girl there. As the age of consent in that State is eighteen years," the article went on, "the charge against him is constructive rape." Chiles, however, got the jump on the local authorities, and lit out of Phoenix just ahead of the arrest papers. He managed to get in some playing time with Shreveport and Galveston in 1895, and acquired an unusual nickname. His habit of taunting opposing batters when they hit their pop-ups to him by shouting "What's the Use?" before stylishly catching the ball encouraged sportswriters to call him "Pearce 'What's the Use' Chiles," or sometimes, "Pearce 'It's No Use' Chiles." He wasn't shy about adding insult to injury, and reporters noted that he often found himself in trouble with local authorities, but managed to get out of trouble on the goodwill of his baseball compatriots.
Turn-of-the century baseball had plenty of room for guys like Pearce Chiles, though. Baseball of the gay '90s vintage was about as nasty as baseball could get, as the unfailing Bill James describes: "Players spiked one another. A first baseman would grab the belt of the baserunner to hold him back a half-second after the ball was hit. Players tripped one another as they rounded the bases. Fights broke out more days than not. Players shoved umpires, spat on them, and punched them. Fans hurled insults and beer bottles at the players of opposing teams." The most successful managers were the ones that could train their players in the cleverest, dirtiest and most brutal ways to win.
Although seven out of nine players on the diamond might have felt like calling him a jackass on a good day, Chiles' lawlessness on the field was considered leadership in those days. Thus, Chiles served a stint as the player-manager of the 1898 Lancaster Maroons in the Atlantic League — a money-losing team, but a winner with a record of 82-50 — before going to New Orleans for the winter. (The year before, he had played for Scranton, and in 1897 back in Texas for the Denison-Sherman Twins/Waco Tigers.)
So it was that the Philadelphia Phillies probably thought they had someone who was future coaching material coming when Pearce "What's the Use" Chiles joined the Phillies' camp in Charlotte, North Carolina as a 33-year-old rookie during the spring of 1899.
He played for the "Yannigans," the alternate squad that faced the Phillies' starting lineup in practice games, but batted well and meshed well with the regulars. At their North State Street lodgings, Chiles and starting first baseman Duff Cooley were acknowledged as the best billiards players in camp. Meanwhile, Cooley rounded up a singing "Quintette" consisting of himself, third baseman Billy Lauder, pitcher Red Donahue, and shortstops Monte Cross and Dave Fultz, performing old-time classics such as "The Bridge the Heart Burned Down" and "You'll Get All That's Coming to You." The Quintette began to steal so much attention among the local women that reserve catcher Morgan Murphy conspired to start his own musical group; and in typical wise-ass fashion Chiles joined, along with outfielders Delahanty and Flick, to form a quartet better focused on clowning than harmonizing. By the time the club returned to Philadelphia for the start of the season, they had stolen the hearts of their Charlotte hosts.
Chiles made his major-league debut on April 18, 1899, pinch-hitting for pitcher Chick Fraser in the ninth; although he doubled and scored, the Phillies went down against the Senators, 6-4. The Philadelphia Inquirer referred to him as "the bright particular star of the matinee." But on a club that included future Hall of Famer Nap Lajoie at second base, future Hall of Famers Ed Delahanty and Elmer Flick in left and rightfield, and base-on-balls king Roy Thomas in center, there wasn't much playing time available for the new fellow. The papers would often refer to Chiles as a baserunning coach rather than as a player. Still, as a late-inning sub (often for Flick), Chiles managed to bat .320 and knocked in 76 RBIs in 354 plate appearances. That year, the Phillies finished third behind Brooklyn and the Braves, but had a superlative record of 94-58, and Chiles' place on the club in 1900 seemed secure.
The authorities are silent as to Chiles' activities during the winter, but one might assume that he was probably up to no good. The following spring, Chiles was collecting splinters again until a team bust-up availed him of some starts. Nap Lajoie and Elmer Flick, it seems, were always in each other's way a bit — during the previous spring, Flick had blown up at Lajoie over some on-field slight. On May 30, their tensions erupted when Flick picked up Lajoie's bat in the clubhouse and announced that he would be using it that day. Lajoie begged to differ, upon which Flick dared Lajoie to stop him. In the ensuing exchange of punches, Lajoie knocked Flick silly a few times, while Flick gave Lajoie a black eye and a cut on the face. The piece de resistance was when one of Lajoie's blows missed Flick and hit a locker behind him, resulting in Lajoie breaking his thumb. Flick threw a tantrum on the way out, vowing never to play with the Phillies again. With Flick out of the lineup for awhile, Chiles got the chance to fill in for him for a couple of days at right field. By June 4, however, Flick was back in the lineup, and Chiles was back on the bench.
Perhaps it was a combination of boredom and Chiles' natural instinct for larceny that sent Chiles out with Morgan Murphy to devise a crafty, totally illegal plan to steal the opposing catcher's signals, a technique that came to light one September afternoon against Cincinnati. It went as follows: Murphy, sitting behind the center-field wall with a spyglass, would see the signals that the opposing catcher would make to the pitcher regarding whether the next pitch would be a fastball or a curve, and would relay the contents of the signal to Chiles via an electrical signal — over a wire that extended from Murphy's location to the third base coaching box, where, barely exposed, it would give Chiles a little shock. Chiles would then give a prearranged hand signal to the batter. Observers had remarked that Chiles had a strange leg twitch when he coached, so all was explained when Reds shortstop Tommy Corcoran stopped the game and found the buzzer device under Chiles' foot with the assistance of the umpire and the police.
On the following day, Chiles got his wise-ass revenge: he switched to first base and started his leg twitching again; but this time, when the Reds stopped the game and dug out the coach's box, they found nothing. The incident, though, would be the beginning of the end of signal stealing for the present, as league officials went on a witch hunt for variations on Chiles' theme perpetrated by other clubs.
That year, the Phillies finished in third place again, but with the considerably less heroic record of 75-63. In October, Chiles' name appeared on the Phillies' official reserve list — which suggests that, despite the fact that Chiles only hit .216 in 111 at-bats in 1900, the Phillies thought they had room for the 35-year old scoundrel on the 1901 squad.
El Paso's first ever Mid-Winter Carnival opened on January 16, 1901. Miss Claire Kelly presided as Carnival Queen, with a court of 12 Maids of Honor, while attractions at the Carnival included an electric fountain; Lunette, the Flying Lady; Bosco, the Snake Man; a simulated volcanic eruption; roping, tying and rough riding contests; confetti and serpentine battles; and bullfights daily, just across the border in Ciudad Juarez.
People came from miles around to attend the Carnival, which of course drew all manner of commercial exhibitors, jugglers, acrobats, and street entertainers. Also on hand were the usual bunch of thieves, con-men, and pickpockets who could always be counted on showing up wherever there were big crowds. Pearce Chiles was there, too. We will never know what mischief he got into at the Carnival (he seems to have paid a $101 fine for some infraction there), but we have some idea of what he hoped to accomplish after it was over. What we do know comes from the official court records of Chiles' case.
On an eastbound train, the G.H. Limited, rolling through southern Texas and heading for Hot Springs on the evening of February 15, 1901, Chiles and his faceless companion, a D.B. Sherwood, spotted a young, recently discharged soldier, a fellow named Benjamin F. Henry from Albany, Georgia, and thought they had found an easy mark. According to Henry's testimony, the affable Sherwood struck up a conversation with Henry, and was soon sitting next to him for the ride. A while later, Chiles came down the aisle, stopping at Sherwood's shoulder and asking him for a light for his pipe. Sherwood pulled out a matchbox and handed it to Chiles. Chiles feigned difficulty opening it and protested to Sherwood. "What are you trying to do?" he asked. "Poke fun at me?" Sherwood insisted that there were matches inside the box, but Chiles still couldn't open it, finally handing the box back to his accomplice, declaring, "I can't open it, and nobody else can, either. I will bet you $50 or any amount of money that he," referring to Henry, "can't open it." Sherwood leaned over and whispered to Henry, "How much money do you have? Bet it and we will win." Henry demurred, but Chiles kept the con alive, betting Sherwood $5 and saying, "I'll pay this man a dollar for every dollar in his pocket if he can open the box."
Sherwood handed the box to Henry, who opened it without difficulty. Chiles said, "All right. I am an honest man. I pay every time I lose." "Pay him $5," Sherwood said, pointing to Henry. "No, I won't," said Chiles. "He hasn't got any money on his person." Henry then admitted that he had $95 in his pocket. As Henry got his money out to show Chiles, Chiles and Sherwood engaged in a little pretend argument over the bet, and in the ensuing confusion, Sherwood got a hold of Henry's money. The thieves disappeared out of the coach, but Henry managed to raise the conductor and the brakeman, and before long, Chiles and Sherwood were in the custody of a state ranger.
In jail awaiting trial in El Paso, Chiles reached out to the folks who had always been able to help him in the past — his baseball compatriots. According to George Girsch, writing in the August 1958 issue of Baseball Digest, Chiles wrote a letter to one of his friends in Philadelphia. How Girsch got his hands on this letter, and where it is today, is unknown, but it reads in part:
"Friend Billy,
i taught that i would right you in regards to what happened to me while on the train i left this town on my way to hot Springs last friday night and while on the train a man had a match box which is hard to open so i bet him he could not open it while i counted on my fingers so i won and he had me arrested . . . so i dont know any body hear and hafto stay in jail this man told all kinds of lies and did not tell the truth at all So i want you to goe and get some good men to right to this Prosecuting atorney and tell him that I aint no theift . . . Dont let them put it off for this is a Bad country to have trouble in . . ."
Neither his friends nor the Phillies came to his aid. For a time, Chiles banked on the idea that Benjamin Henry would not return to El Paso to appear as a witness against him. When he later heard that Henry had arrived and had already testified at Sherwood's trial, he thought people were kidding with him; but after the news of Sherwood's conviction, Chiles folded, and according to the El Paso papers, pleaded guilty. The report from the sports pages read:
"Pearce Chiles, the famous coach and buzzer manipulator of the Philadelphia club, is now lost in the sea of despair. He has signed a new contract, but not for any $2400, nor will any American League team try to steal him away from his new employers. Chiles is to do two years on the Huntsville convict farm, and his uniform will be back and white, with the number 24876 across his back. He will not stop at the Fifth Avenue Hotel, but will sleep in an abandoned hog pen, and his daily menu will include sour bacon, hominy, corn bread and pure water. Incidentally, Chiles will be allowed to work from 6 a.m. to 6 p.m., and the work will be so different from that of last year that it will be an interesting novelty . . . Such is the fate of Pearce Chiles. How this man ever got on the Philadelphia team is a mystery. He was run out of Kansas and Texas years ago for serious crimes, and now gets the two-year trick for working a flimflam game."
An inquiry with the Texas Department of Corrections yielded no details of his escape from the Huntsville Prison on August 19, 1902, after serving less than 16 months of his sentence. An administrative assistant wrote, "The above referenced individual was received from El Paso county, Texas for Theft of Person a 2 year sentence. Due to the age of this information that is all the information available to us. We are sorry but this is all the information we are allowed to give."
He apparently had the chutzpah to play a stint with the Natchez Indians in the Cotton States League at the end of the 1902 season. After that, it seems that the slippery con-man made his way to Portland, intending to play for the Portland Browns club in the Pacific Coast League, but he was quickly dismissed from the team in February 1903 after getting arrested for an alleged assault on a young woman named Roe. As Sporting Life reported the incident, "Chiles struck her in the face, blackening her and loosening her teeth." Today, Portland doesn't seem to have any record of the incident. The following month, Pacific Northwest League president W.H. Lucas strenuously denied that Chiles had been signed by the League's San Francisco club, declaring that "Chiles will never be permitted to play in the Pacific Northwest League so long as I am president of it."
Later in 1903, Chiles was playing for Fortuna, a semipro club in a one-horse northern California town. After that, he seems to have disappeared.
Leave it to the larcenous fellow to cover his tracks so well. Did he flee to Canada? Or Mexico? Did history intervene, leaving him an unidentified victim of the San Francisco earthquake or the sinking of an ocean liner? Or did he just fade away — like thousands of roving oddjobbers, good and bad ones alike, without roots or loved ones? It's possible we won't ever know the final chapter of this strange, sad little story.
Editor's note
An earlier version of this biography was originally included in Ron Schuler's Parlour Tricks (May 28, 2006), http://rsparlourtricks.blogspot.com/2006/05/state-v-pearce-whats-use-chiles-part-i_28.html
Sources
Correspondence and conversations with Joe Dittmar were very helpful in researching this biography.
Pearce Chiles player file, National Baseball Hall of Fame Library
Dittmar, Joe, "A Shocking Discovery in Philadelphia," SABR Baseball Research Journal #22 (Cleveland: SABR, 1991), 20.
Baseball Digest (August 1958)
Chicago Daily Tribune
Galveston Daily News
Los Angeles Times
Philadelphia Inquirer
Washington Post
Sporting Life
El Paso Mid-Winter Carnival (1901 program), (Beinecke Rare Book & Manuscript Library, Yale University)
James, Bill, Bill James Historical Baseball Abstract
Macmillan Baseball Encyclopedia
Mathewson, Christy, Pitching in a Pinch (Lincoln: University of Nebraska Press, 1994).
Sowell, Mike, July 2, 1903: The Mysterious Death of Hall of Famer Big Ed Delahanty (New York: Macmillan, 2002).
Texas Department of Corrections (correspondence)
State v. Chiles case file, El Paso County Clerk's Office
Last Will and Testament of Alfred M. Chiles
Family history records via Ancestry.com
Born
May 28, 1867 at Deepwater, MO (USA)
Died
December 11, 1933 at Talmage, CA (USA)
If you can help us improve this player's biography, contact us.
http://sabr.org/sites/default/files/Pearce_Chiles.jpg
600
800
admin
/wp-content/uploads/2020/02/sabr_logo.png
admin
2013-07-29 23:20:04
2013-07-29 23:20:04
Pearce Chiles