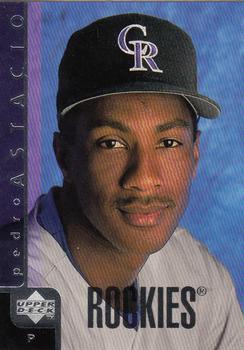 ---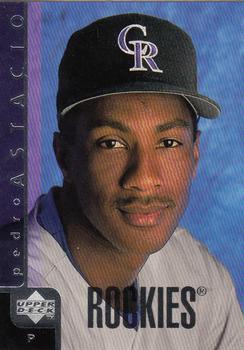 Right-hander Pedro Astacio made national news by tossing a shutout and fanning 10 in his major-league debut and proceeded to record four shutouts in just 11 starts as a midseason call-up for the Los Angeles Dodgers in 1992. Never the superstar his meteoric rise might have suggested, Astacio eventually developed into a sturdy, and sometimes spectacular, innings-eater.
Traded to the Colorado Rockies in late 1997, Astacio proved a pitcher could have success hurling half his games in the mile-high hitters' paradise Coors Field. "I didn't put doubts in my mind (about pitching in Coors)," said Astacio, who twice led the league in home runs allowed with the Rockies. "Just get the ball, go to the mound, make some good pitches and see what happens."1 In parts of five seasons in Denver, Astacio won 53 games (which ranked sixth in franchise history as of 2017) despite a 5.43 ERA, and his 17-win, 210-strikeout campaign in 1999 still ranks among the best single seasons in Rockies' history.
"He's the pitcher who mentally has not been affected by pitching in Colorado," said one GM. "Pedro has always tended to throw strikes. He's aggressive with his stuff and trusts his stuff is good enough."2 Astacio's teammates were equally impressed with his dogged determination. "He was a battler," said teammate Todd Helton. "He wouldn't back down. He could give up three early runs and you'd never know it."3
Pedro Julio (Pura) Astacio was born on November 28, 1968, in Hato Mayor, in the eastern Dominican Republic. He grew up on a rural farm between Hato Mayor and coastal San Pedro de Macoris, where his father, Fulgencio, planted crops and tended to livestock on about 100 acres. Astacio's mother died when he was 8, leaving his father the sole provider for his six children (three boys and three girls). Like almost all boys on the baseball-crazed island, Pedro loved baseball. According to one story, he learned to pitch by using an old tractor tire as a strike zone.4 By the time Astacio was a student at Pilar Rondon High School, he was on the radar of big-league scouts. On November 21, 1987, 19-year-old Astacio signed with legendary Los Angeles Dodgers scout Ralph Avila and Elvio Jimenez.
Astacio's first taste of professional baseball came a few months later when he donned the uniform of the Tigres de Licey in Santo Domingo in the Dominican Winter League. Though he hurled only one game, he'd return to that club to pitch occasionally for the next eight seasons (through 1995-1996), compiling a 13-10 record.5 In the spring of 1988 Astacio arrived in Campo Las Palmas, at the Dodgers visionary baseball academy Avila founded the year before.6 That camp would serve as a model for almost all other big-league teams and produced dozens of major leaguers, among them Pedro and Ramon Martinez, Raul Mondesi, and Jose Offerman, but Pedro was the first protégé to reach the majors. Astacio's 4-2 record with 2.08 ERA in the Dominican Summer League earned him a promotion to the Dodgers farm system in 1989.
Over the next three years Astacio progressed through the Dodgers system. He earned All-Star honors in the Rookie Gulf Coast League in 1989 and two years later had advanced to the Double-A San Antonio Missions in the Texas League. Though he struggled (4-11, 4.78 ERA) facing more experienced hitters in the Texas League, the Dodgers were impressed enough to invite him to spring training in 1992.
The 23-year-old Astacio surprised the coaching staff by going 2-2 with a 1.42 ERA in the Grapefruit League.7 Nonetheless, he began the 1992 season with Triple-A Albuquerque, where he was converted into a reliever. Astacio struggled in his new role, yet a series of events conspired to lead to his unexpected promotion to the Dodgers. Following the riots that had engulfed Los Angeles from April 29 to May 4 after four police officers were acquitted of using excessive force against Rodney King, the Dodgers were forced to play four doubleheaders in six days in early July. Desperately needing pitching, the club called up Astacio as an emergency starter. In what was described as the "finest debut in franchise history," Astacio tossed a five-hit shutout and fanned 10 (a new team record for debuts) to beat the Philadelphia Phillies, 2-0, in the second game of a twin bill on July 3.8 "It was hard to believe what I was seeing," said teammate Brett Butler. "[H]e's toying with major-league hitters.9 Astacio exhibited the kind of enthusiasm and raw emotion that would define his career – on and off the diamond – by jumping around after strikeouts and openly celebrating.
Astacio's roller-coaster ride was in its infancy. He was returned to Albuquerque after his next start, five days later, then recalled a month later to replace the injured Tom Candiotti. He tossed another shutout in three starts, and despite an eye-popping 1.42 ERA (six earned runs in 38 innings) was demoted again. Back with the Dodgers in September, Astacio was the feel-good story in the Dodgers' otherwise forgettable season and worst record in the majors. Astacio finished with a 5-5 slate, including four shutouts in 11 starts, and a 1.98 ERA in 82 innings.
Standing 6-feet-2 and weighing about 175 pounds, Astacio had a "good, lean power pitcher's body with a long trunk," according to one scout.10 Indeed, Astacio was primarily a fastball pitcher with a bullwhip-like delivery that created late ball movement. Astacio struggled with mechanics his entire career. One scout described them as "poor [because] he hyperextends his elbow which throws off his command" and added "[h]e also arches his head, tightening his back, further contributing to his inconsistent command."11 Astacio also had a big overhand curve and a changeup, and was never shy to challenge pitchers inside as evidenced by twice leading the league in hit batsmen.
Astacio's rookie success surprised everyone, yet the Dodgers were careful to temper their expectations in 1993. Slated for the fifth spot in the rotation after a productive spring, Astacio struggled early in the campaign. "It's his command," said skipper Tom Lasorda. "He's not getting the ball where he wants to or where he's supposed to."12 By the end of July Astacio's 4.74 ERA (easily the highest on the staff) threatened his role in the starting rotation. In almost a repeat performance from a year earlier, Astacio caught fire, going 7-3 and posting a 1.82 ERA in 74⅓ innings over the last two months of the season. "He's not flying off the handle anymore and making dumb pitches," said catcher Mike Piazza of Astacio's transformation. "He realizes that every pitch has a purpose."13 Called the "ace of the staff" by sportswriter Gordon Verrell, Astacio fashioned consecutive shutouts in September as part of a career-best 21⅓ scoreless innings. While the Dodgers split their 162 games to finish in fourth place in the NL West, Astacio led the steam with 14 victories and was the only starter with a winning record, while his 186⅓ innings were just short of the 200-inning barrier his mound mates Orel Hershiser, Ramon Martinez, Candiotti, and Kevin Gross all surpassed.
During Astacio's remaining tenure with the Dodgers, the right-hander flashed the brilliance that many experts had expected; however, he often struggled mightily, and rarely found a middle ground. Frustrations – by both the pitcher and the organization – grew as Astacio's inconsistencies baffled his managers. One scout called Astacio "probably the most inconsistent 60-grade pitcher in the game."14
Astacio had a scare in spring training in 1994, when team physicians detected a heart murmur. Although the diagnosis was ultimately determined to be insignificant, Astacio was sidelined for much of camp. Nonetheless he was ready to start the season and fanned 11 in his debut, a 6-0 loss to Atlanta on April 8. Astacio seemed to catch his stride during a six-start stretch beginning June 14, going 3-1 with a 1.88 ERA and holding batters to a .175 average, and leading sportswriter Tim Kawakami of the Los Angeles Times to declare, "There's no doubt Pedro has established himself as one of the top pitchers in the division."15 Such a comment typified glowing perceptions of Astacio. In stark contrast were those voiced just weeks later when he failed to make it through the third inning in consecutive starts. Pitching coach Ron Perranoski said that Astacio's lack of English made it "difficult to make adjustments" during the game, suggesting that his struggles would continue because of a language barrier.16 The Dodgers were in first place in the NL West when the players union began its strike on August 12, resulting in the cancellation of the rest of the regular season and postseason. Astacio finished with a 6-8 record and 4.29 ERA (highest among the club's starters) in 149 innings.
While baseball executives and union representatives haggled in the offseason over the future of baseball, Dodgers brass wondered what to do with the erratic, streaky Astacio, whose potential seemed as limitless as his flameout as a starter was likely. One report described Astacio as "teetering this close to mental disaster all the time" during the 1994 campaign, leading many to wonder if the high-strung flinger might be better suited as a reliever.17 Calls for Astacio's banishment to the bullpen intensified when he went winless in his first five starts of the 1995 campaign before blanking the New York Mets on six hits on May 24, thereby recording his first victory since June 25 of the previous year. Losses in his next five consecutive starts resulted in his demotion. Beat reporter Bob Nightengale of the Los Angeles Times suggested that Astacio's "emotional fluctuations" and not his ability were the root cause of his "mystery struggles."18 Used primarily in mop-up and low-leverage situations, Astacio fared better in the bullpen (3.40 ERA vs. 4.82 as a starter), or as team VP Fred Claire said, "had better focus."19 The Dodgers captured their first division crown since they won the World Series in 1988. Astacio pitched in relief in each contest of the three-game sweep by the Cincinnati Reds, yielding just a hit in 3⅓ scoreless innings.
Astacio arrived at camp skeptical about the Dodgers' claim that he had a chance to regain a spot in the starting rotation. "They said it's my job to lose, but that doesn't mean anything," he said. "[L]ast year they told me I'd be back in the rotation."20 After blowing up in his debut, Astacio produced his best and most consistent season in Dodgers blue. Though he didn't complete any of his 32 starts, he proved to be a dependable workhorse, logging 211⅔ innings with a sturdy 3.44 ERA (including a 2.95 clip over the last three months). Poor run support contributed to his misleading 9-8 record. According to the Los Angeles Times, three factors led to Astacio's success: He quickened his pace on the mound (he had been one of the NL's slowest workers), he relied much more on his fastball, and he seemed less demonstrative.21 Astacio joined Hideo Nomo (16-11), Ismael Valdez (15-7), and Ramon Martinez (15-6) to anchor the NL's best staff (a major-league-low 3.46 ERA) as the Dodgers finished in second place and captured a wild-card berth in Lasorda's final season in the dugout. The team was once again swept in the NLCS, this time by the Atlanta Braves. In his only appearance, Astacio hurled 1⅔ scoreless innings in Game Two.
The now 28-year-old Astacio arrived in camp in 1997 after yet another offseason filled with trade rumors, and also a new skipper, Bill Russell, who replaced the legendary Lasorda after 21 seasons. Astacio got off to a hot start, winning his first three decisions, while producing a 2.00 ERA a month into the season. In one of those victories, he tossed seven hitless innings against the Mets at Shea Stadium before yielding a leadoff double in the eighth. "He's one of the most underrated guys in this league," gushed pitching coach Dave Wallace.22 Astacio then lost his next seven decisions, during which time he had an ugly altercation. Yanked after surrendering five runs in four dismal innings against the Cardinals in Los Angeles on national television, a visibly angered Astacio confronted Russell in the dugout and had to be restrained by third-base coach Joe Amaltifano after a shoving match.23 (Three days earlier Valdes and Russell had a similar dugout confrontation.) Astacio immediately apologized in the press, but his fate was sealed. "When something like that happens in the dugout with the cameras there, you have to pay the consequences," said VP Claire, who fined Astacio an undisclosed amount.24 Normally a quiet player in the clubhouse, Astacio was considered by some as too emotionally volatile to be consistently successful; on the other hand, some reporters sympathized with the pitcher, suggesting that the Dodgers never helped him settle into a rhythm as a starter and put too much pressure on him to conform to the "Dodger Way." On August 19, the Dodgers shipped Astacio to the Colorado Rockies for All-Star second baseman Eric Young. "[Astacio] has great ability, character and work ethic," said Claire about the transaction. "He pitched some outstanding games, (but never with consistency.)"25
Astacio wasted no time proving his worth to Rockies manager Don Baylor following the loss of the fan favorite Young. After fanning eight in a 6⅔-inning no-decision in his debut against the Houston Astros, in the Astrodome, Astacio won five consecutive decisions. Those victories included a career-high 12-strikeout performance in eight scoreless innings against Atlanta and an emotional six-inning outing with nine punchouts versus his former team in Los Angeles. After just six starts, pitching coach Frank Funk pronounced Astacio the best pitcher ever to wear a Rockies uniform.26 The Rockies went 23-14 after acquiring Astacio to finish with a winning record (83-79; third place NL West) for the third consecutive season since they entered the league as an expansion team in 1993. "He came in and really took charge," said Funk of Astacio (5-1, 4.25 ERA in seven starts), and really fired up our ball club."27
A hot free-agent commodity in the offseason, Astacio signed a four-year deal worth more than $24 million with the Rockies. "He's one of our leaders," said Funk when spring training opened. "He has that aggressive, I-love-to-play attitude. He's got the work ethic of a high-school kid in his first major-league camp."28 The Rockies, with the signing of free-agent pitcher Darryl Kile, were expected to challenge the San Francisco Giants and the Dodgers for the West crown in 1998. And then the season started. Astacio struggled mightily, yielding 27 earned runs in his first 20 innings (12.15 ERA). He's fighting with his control," said skipper Don Baylor. "He's up in the (strike) zone, and behind in the counts. You can't pitch like that."29 While the Rockies limped to a 77-85 record, Astacio took a beating, producing the highest ERA in the majors among starters (6.23), tied for the major-league lead with 39 gopher balls, and led the NL by hitting 17 batters; still, he went 13-14, made 34 starts, set a new team record with 170 punchouts, and exceeded the 200-inning mark for the third straight season. Nonetheless, rumors swirled that Astacio's arm was injured – it wasn't. "[Astacio] bears no resemblance from the nasty right-hander" from 1997, wrote Denver sportswriter Ray McNulty.30 Beat reporter Mike Klis noted that Astacio relied more on breaking balls instead of his heater.31 Like all hurlers, Astacio had to adjust his pitching in Coors Field, with its thin air, where balls flew out of the park at a record pace in an era of home-run records. And that process wasn't easy, as the split in Astacio's home and away ERA indicated (7.39 to 4.90).
Astacio reached the heights and depths of his career in 1999, but for vastly different reasons. On the field he enjoyed his best season, consistently pitching deep into ballgames despite yielding a league-leading 38 home runs. His victory against the Milwaukee Brewers on June 6 might best capture Astacio's career at Coors Field. In 7⅔ innings, he surrendered four round-trippers and five runs while fanning 10 and emerged the victor when the Rockies exploded for eight runs (and also smashed four home runs) in the seventh. On July 6, he took revenge against the Dodgers, tossing a complete game with 10 punchouts and drove in the go-ahead run in a 5-2 victory at Coors Field. Not known as good hitter (.133 career average), Astacio had his most productive season at the plate, collecting 20 hits.
Just as Astacio seemed to realize the potential many had predicted for him, he was arrested on August 12 after a violent altercation with his estranged, pregnant wife, Ana, allegedly striking her in the face.32 (It was his second marriage. His first, to Dorca Garcia Thomas, ended in divorce in 1995.)
Neither suspended nor fined by either the Rockies or Major League Baseball, Astacio took the mound three days after the incident and tossed eight innings, fanning 11 in a 12-4 victory over the Montreal Expos in Denver, where the initial chorus of boos gradually turned to cheers for the pitcher. While the Rockies plunged to a last-place finish, Astacio completed a career year despite his legal distractions. He won 17 games (tying Kevin Ritz from 1996 for the franchise record), and set new club records in innings (232), complete games (7), and strikeouts (210, third best in the NL).
Astacio's charge of domestic abuse cast a dark shadow over his best season and raised questions about his future. On January 28, Astacio pleaded guilty to third-degree assault and received two years deferred judgment, thereby avoiding jail.33 Soon thereafter the Department of Immigration and Naturalization Services (INS) informed Astacio that a felony or misdemeanor involving domestic violence was a deportable offense. (Astacio was a citizen of the Dominican Republic and had since reconciled with Ana.) Apparently unaware of the legal ramification of his plea, Astacio left the Rockies spring training in March and was granted permission to withdraw his guilty plea in an effort to remain in the United States with the formal trial set for early July. (The trial was subsequently deferred to November.) Despite his legal troubles, Astacio was the Rockies' Opening Day starter. After losing his first two starts, he won his next six decisions. Included was a four-start stretch with at least 10 strikeouts. He fanned 10 or more seven times during the season, and matched his career high of 12 punchouts in seven overpowering innings, yielding just two hits and one run in a 2-1 victory over the Chicago Cubs at Wrigley Feld on August 1. Seemingly headed to matching his totals from the previous season, Astacio injured his left oblique on September 1, making only three very brief starts thereafter before he was shelved the last two weeks of the season. He concluded the campaign with a 12-9 slate (5.27 ERA in 196⅓ innings) and racked up 193 strikeouts. Weeks after the season, he underwent arthroscopic surgery on his left knee to remove damaged cartilage that had bothered him for two years.
Astacio's legal woes were far from over. On November 13, he pleaded guilty to lesser charges, a single count of spousal harassment, and was sentenced to six months' probation; however, his residency status was still unclear.34 INS eventually abandoned deportation procedures by the beginning of spring training. Astacio opened his 10th big-league season red-hot. On April 22, he tossed two-hit ball over eight innings to beat the Arizona Diamondbacks in Phoenix, 2-1, to improve his record to 3-1 and lower his ERA to 1.93 after four starts. And then the bottom dropped out. He won only three of his next 15 decisions with an ERA well north of 6.00, prompting trade rumors as the Rockies were headed to their second straight last-place finish in the NL West in three years. Despite Astacio's horrendous numbers, contenders still sought his services. In a cost-cutting move, the Rockies shipped Astacio, due to be a free agent at season's end, to the Houston Astros for pitcher Scott Elarton. Astacio had a renaissance of sorts (2-1, 3.14 ERA) before shoulder pain ended his season after just four starts.
Astacio was diagnosed with a torn labrum in the offseason, but decided to forgo possible season-ending surgery given his status as a free agent. The Mets took a chance a chance on the 33-year-old hurler, signing him to a two-year contract in January. Reunited with former Dodgers teammate Mike Piazza, Astacio emerged as one of the surprises of the season, winning his first three starts. On April 27, he threw 7⅓ hitless frames against the Brewers at Shea Stadium, ultimately tossing eight innings in a 2-1 victory. Mets beat writer Rafael Hermoso reported that the team was impressed with Astacio's "maturity" and "preparation" and how he mentored young hurlers on the club.35 Teammates gave him the moniker Mule for his ability to carry them late into innings. On August 6, he tossed a complete-game three-hitter and fanned 10 (the 20th and final time he reached double digits in strikeouts) to beat the Brewers in Milwaukee, improving his record to 11-4 and lowering his ERA to 2.95 before the clock stuck midnight in his fairy-tale season. As the pain in his shoulder intensified, Astacio collapsed in his final nine starts, yielding 54 earned runs in 45 innings (10.80 ERA) while losing seven of eight decisions. Through it all, Astacio still took the mound every five days and never became a distraction for the last-place Mets. On the contrary, Hermoso described Astacio as "one of most jubilant members of the Mets' clubhouse, joking about almost everything and dismissing poor performances as if he had a bad hair day."36
Astacio spent four more seasons in the big leagues, battling an array of arm and shoulder injuries, chasing a dream. Occasionally he found lightning in a bottle. He made only seven appearances for the Mets in 2003, signed in the middle of the 2004 season with the Boston Red Sox, making five appearances in September during their historic run to the World Series (he was not on the postseason roster), and made 22 combined starts for the Texas Rangers and San Diego Padres in 2005. His 4-2 slate and 3.17 ERA for San Diego earned him his first and only postseason start. In Game Two of the NLCS he lasted only four innings yielding four runs (two earned) and was collared with the loss, 6-2, to the Cardinals in St. Louis. The 37-year-old Astacio finished his 15-year big-league career with the Washington Nationals in 2006, splitting 10 decisions in 17 starts, one of which was his second two-hitter for his 12th and final shutout, blanking the Braves, 5-0, on August 15 in the nation's capital.
The typically modest, media-shy Astacio was never an All-Star but he retired as one of the most productive pitchers from the Dominican Republic. At the time of his retirement following the 2006 season, his 129 victories (124 losses) ranked fourth behind Juan Marichal (243) and brothers Pedro Martinez (206)37 and Ramon Martinez (135). (Astacio's total has since been passed by Bartolo Colon's 235 and Ervin Santana's 144, both as of 2017.) Astacio also became just the fourth Dominican hurler to log at least 2,000 innings, joining Marichal, Pedro Martinez, and Joaquin Andujar.
After his active playing days Astacio returned to his longtime residence and ranch in San Pedro Macoris, near where he grew up. In 2013, he donned a big-league uniform for the first time in seven years when he returned to the Rockies as a special assistant coach during spring training. As of 2017 Astacio still resided primarily in the Dominican Republic.
Last revised: March 1, 2018
This biography originally appeared in "Major League Baseball A Mile High: The First Quarter Century of the Colorado Rockies" (SABR, 2018), edited by Bill Nowlin and Paul T. Parker.
Sources
In addition to the sources cited in the Notes, the author also accessed Retrosheet.org, Baseball-Reference.com, the SABR Minor Leagues Database, accessed online at Baseball-Reference.com, SABR.org, and The Sporting News archive via Paper of Record.
Notes
1 Owen Perkins, "In Camp With Rox as Coach, Astacio Thrilled to Help," MLB.com, February 28, 2013. m.mlb.com/news/article/42093506/in-camp-with-colorado-rockies-as-coach-pedro-astacio-thrilled-to-help/.
2 Quote by New York Mets GM Steve Phillips in Tyler Kepner, "Astacio's Health Is a Key Issue," New York Times, January 18, 2002: D2.
3 Perkins.
4 Randy Franz, "Performance Does the Talking," Orange County Register (Anaheim, California), March 26 1993: C1.
5 Pedro Astacio page, WinterBall Data, winterballdata.com/.
6 Ken Baxter, "Avila Led the Charge in MLB's Latin Revolution," ESPN, October 2, 2006. espn.com/espn/hispanichistory/news/story?id=2607258.
7 Allan Malamud, "(Notes) on a Scorecard," Los Angeles Times, July 6, 1992: C3.
8 Gordon Verrell, "LA Dodgers. Fly on the Wall," The Sporting News, July 13, 1992: 21.
9 Ibid.
10 "Scouting Report: Pedro Astacio," The Sporting News, August 13, 2001: 35.
11 Ibid.
12 Steve Dilbeck, "Astacio's Having Problems," San Bernardino (California) Sun, May 11, 1993: C2.
13 Associated Press, "Astacio, Dodgers blank Marlins," San Bernardino (California) Sun, September 13, 1993: C2.
14 "Scouting Report: Pedro Astacio."
15 Tim Kawakami, "Baseball Daily Report," Los Angeles Times, July 6, 1994: C9.
16 Maryann Hudson, "Baseball Daily Report," Los Angeles Times, July 24, 1994: C7.
17 "Caught on the Fly," The Sporting News, March 25, 1996: 5.
18 Bob Nightengale, "Dodgers Reconsidering Astacio's Starting Role," Los Angeles Times, June 16, 1995: C5.
19 Gordon Verrell, "Los Angeles Dodgers," The Sporting News, February 19 1996: 23.
20 Bob Nightengale, "(Baseball) Daily Report," Los Angeles Times, February 24, 1996: C6.
21 Bob Nightengale, "He Gets By With Help From Friends," Los Angeles Times, July 26, 1996: C1.
22 Bob Nightengale, "Los Angeles Dodgers," The Sporting News, April 28, 1997: 27.
23 Chris Baker, "Call It Dodger Blew – As in a Fuse," Los Angeles Times, June 9, 1997: C1.
24 Steve Springer, "Dodger Report," Los Angeles Times, June 10, 1997: C6.
25 Ross Newhan, "Baylor Looks for a Change From Astacio," Los Angeles Times, August 24, 1997: C9.
26 Mike Klis, "'Dodger Way' Isn't Working Well," Gazette (Colorado Springs, Colorado), September 21, 1997: SP 11.
27 Ray McNulty, "A Rockies' Attitude Adjustment," Gazette (Colorado Springs, Colorado), February 26, 1997: SP1.
28 Rob McNulty, "Preview," Gazette (Colorado Springs, Colorado), February 26, 1998: SP2.
29 Tony DeMarco, "Colorado Rockies," The Sporting News, April 27, 1999: 37.
30 Ray McNulty, "Rockies Better Batters in Beer-League Title," Gazette (Colorado Springs, Colorado), September 8, 1998: SP4.
31 Mike Klis, "Colorado," The Sporting News, May 22, 2000: 48.
32 "Rockies' Astacio Arrested," CBS News, August 12, 1999. cbsnews.com/news/rockies-astacio-arrested/.
33 "Rockies P Astacio Avoids Prison," CBS News, January 28, 2000. cbsnews.com/news/rockies-p-astacio-avoids-prison/.
34 Associated Press, "Astacio Sentenced to Supervised Probation," ESPN, November 13, 2000. a.espncdn.com/mlb/news/2000/1113/876164.html.
35 Rafael Hermoso, "It's Astacio's Turn to Take a Run at a No-Hitter," New York Times, April 28, 2002: G4.
36 Rafael Hermoso, "With Astacio Hurt, Mets Look to Cone," New York Times, March 21, 2003: S3.
37 Pedro Martinez was still active at time and had 206 victories; he finished with 219.
Born
November 28, 1968 at Hato Mayor del Rey, Hato Mayor (D.R.)
If you can help us improve this player's biography, contact us.
https://sabr.org/sites/default/files/Astacio-Pedro-COL.jpg
600
800
admin
/wp-content/uploads/2020/02/sabr_logo.png
admin
2018-02-20 11:22:07
2020-04-09 14:40:23
Pedro Astacio