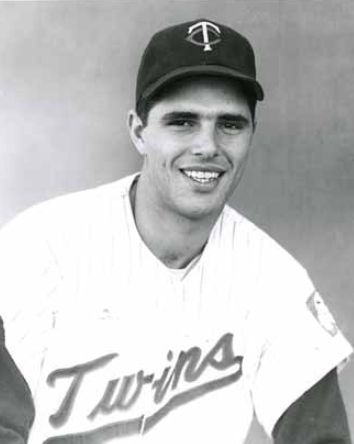 ---
In the spring of 1960 few high-school athletes in the country were more highly sought after than Pete Cimino. As a 17-year-old senior pitcher at Bristol (Pennsylvania) High School, he followed up a 14-strikeout perfect game on May 16 with a no-hitter four days later. His exploits on the diamond were overshadowed only by the numbers he had turned in as a forward on the school's basketball team. As a senior he averaged 29 points and 17 rebounds per game on his way to being named First-Team All-State. At 6-feet-2 and 195 pounds, Cimino looked like every coach's dream, regardless of the sport.
Peter William Cimino was born on October 17, 1942, in Philadelphia. His parents, Peter and Philomena, first met at St. Ann School in Philadelphia as teenagers. They were married in 1941 and had two children, Pete and another son, David.
Both parents were extremely supportive of Pete's athletic endeavors and seldom missed an opportunity to see their son play. He enrolled at Bristol High as a freshman in the fall of 1956. It was not long before he began to garner notice for his all-around athletic ability. On August 2, 1957, he registered six strikeouts in a complete-game 8-4 victory over Phoenixville to capture Bristol's first Babe Ruth League state championship. In April 1958, as a member of the Bristol High Warriors, he hurled a one-hit shutout with eight strikeouts in a 7-0 victory over William Tennent. As a member of the basketball team, he scored 30 points in a 107-62 victory over Palisades High on December 16, 1958. Bristol finished the regular season with a 20-2 record, and Cimino scored 16 points in an 85-54 victory over Upper Dublin to advance to the District 1 Class B championship. Bristol lost the title game to Darby, 71-69, in a matchup that featured multiple overtimes. Among Cimino's 20 points was a last-second shot to tie the game and force the second overtime.
And so it went. Cimino was back on the mound for his junior season the following spring, tossing a complete-game win with nine strikeouts against William Tennent on May 14. Between his performance on the diamond and his prowess on the hard court, expectations were high for his senior year. Before the year was out, Pete Cimino more than exceeded even the highest of them.
Starting a contest against visiting Palisades on January 22, 1960, Cimino was averaging 23 points per game for the season. He scored 20 points in the first quarter alone. "It was halfway through the first quarter and Pete had quite a few points, and Coach [Chic] D'Angelo said we were going to go for the league record for Pete," recalled Jack Wichser, a Bristol teammate, in a 2012 interview.1 He added 24 more in the second quarter, leaving him just 18 points shy of the single-game Lower Bucks County League record of 62 points held by Lou Klein of Delhaas. He pumped in 32 more in the third quarter to easily surpass the record and then finished strong with 38 points in the fourth quarter for a game-high total of 114. Bristol won the game 134-86. Cimino shot 44 of 79 from the field and 26 of 29 from the foul line, and his 114-point total was only 6 shy of the then national scholastic scoring record of 120 points in a game. As of 2014 the total was tied for fourth all-time and remained the Pennsylvania state record.2 Cimino was more than willing to share the spotlight for the accomplishment, stating, "I can't begin to give the other fellows enough credit. The way they got the rebounds and passed off to me is what made it possible."3 Looking back on the game many years later, Cimino recalled that his mother was not there to see it. "My father telephoned her at halftime and she was visiting my grandmother and he told her she better come up to the game because I was scoring a lot of points. She said she wasn't coming up because the other team wasn't very good – and I think that was the only game she missed."4 News of Cimino's game made national headlines and earned a mention in The Sporting News.5
Cimino contributed 25 points in a season-ending, losing effort to Columbia in the Pennsylvania state basketball playoffs. He shared First-Team All-State honors with Richard "Dick" Allen of Wampum, who would go on to a productive 15-year career with 351 home runs in major-league baseball. With the basketball season drawing to a close, it was time for Cimino to turn his attention back to the pitcher's mound.
Cimino's perfect game and no-hitter in May certified him as a prospect in the eyes of several scouts, but on May 20 it was reported that he had accepted a scholarship to play basketball at Rider College.6 Three weeks later, the Associated Press reported that the Washington Senators had signed Cimino for a $12,000 bonus. He was signed by club vice president Joe Haynes. He was assigned to the Senators' Wytheville, Virginia, farm team in the Class D Appalachian League. Of his signing, Cimino said, "I passed up several basketball scholarships to play baseball. School wasn't for me."7
Cimino was more or less a one-pitch pitcher, relying almost exclusively on a hard, rising fastball. He had some control issues. In his first professional season, at Wytheville, he finished with a 6-2 record and a 3.43 ERA for the league's first-place team. After the season he spent the winter playing in the Florida Instructional League before finding himself with the Wilson Tobs of the Carolina League in 1961. The Tobs had the best record in the league, but Cimino struggled to a modest won-loss mark of 4-5 and a 5.61 ERA.
In 1962 Cimino was invited to participate in spring training with the major-league club, now in Minnesota. Although he was not expected to make the club, it was a sign of the high regard in which the Minnesota Twins held him. According to club president Calvin Griffith, "Often, just the spring-training association with major leaguers in camp helps some of these youngsters to mature more quickly. They realize they go first-class in the majors and it develops a greater desire to attain big-league status."8 The Twins once again assigned Cimino to Wilson in the Carolina League. While his record for the season was just 12-13, he managed 190 strikeouts in as many innings, and frequently overpowered the opposition. On April 30 he tied a 17-year old Carolina League record by striking out 20 batters in a 7-3 win over the Burlington Indians. He struck out the side in the second, third, sixth, and eighth innings, as well as the final two batters in the ninth to tie the record. On July 1 he tossed a no-hitter against the Winston-Salem Red Sox, striking out eight and walking one while retiring the first 22 batters he faced. Nine days later, he recorded 14 strikeouts in a 5-1 win over the Kinston Eagles.
Cimino returned to the Florida Instructional League in October, and after pitching a three-hit shutout against the Reds on November 16, he was mentioned in The Sporting News along with several other young Twins pitchers as showing "great promise."9 The Twins promoted Cimino to the Dallas-Fort Worth Rangers of the Triple-A Pacific Coast League to begin the 1963 season. In May he was optioned to the Charlotte Hornets of the Double-A South Atlantic League. On July 19 he hurled 13 shutout innings before allowing two runs in a 4-3 loss to the Chattanooga Lookouts in an 18-inning contest. By the end of July Cimino was ninth in the league with a 2.80 ERA and 81 strikeouts in 103 innings of work. On August 22, he tossed a three-hit, 3-0 shutout over Nashville to lower his ERA to 2.50 in 127 innings. His performance earned him a recall to Dallas-Fort Worth, where he picked up a win in three scoreless innings of relief work against Oklahoma City on August 27.
After once again pitching in the Florida Instructional League, Cimino entered the spring of 1964 as one of the Twins' top pitching prospects. In April he was sent to minor-league camp for reassignment and ended up with the Triple-A Atlanta Crackers. On May 14 his wife, Barbara, gave birth to their second child, Michael, while visiting her husband during a Crackers stay in Rochester. The couple already had a daughter, Darlene.
The Crackers were easily the worst team in the International League, and from time to time the players and coaches had to do what they could to keep things loose. On June 4, while visiting the Columbus Jets, Cimino and fellow pitcher Jim Merritt bought a four-foot rubber snake in an effort to scare catcher Chuck Weatherspoon, who was known for his fear of snakes. The June 20, 1964, edition of The Sporting News detailed what happened next:
"They put it under a pillow and tried to lure Weatherspoon to their room, but he was intent on more sleep. Their plot foiled, Merritt and Cimino left for breakfast. While they were gone, a maid came in to tidy up the room. You guessed it: When she saw the snake, her screams woke everyone on the floor. She insisted she had been bitten and only after the calming effects of a sedative and a long rest was she ready to return to work."10
Once again Cimino's overall numbers for Atlanta were not overwhelming, but from time to time he still dominated his opponents. On July 7 he allowed just one hit and an unearned run in a 1-0 loss to Jacksonville. Four days later he tossed a five-hitter to beat Columbus, 6-2. He contributed a grand slam to his own cause.
Although Cimino began the 1965 season with the Triple-A Denver Bears in the Pacific Coast League, many expected that a solid performance would earn him a shot with the big-league Twins before the end of the season. His 9-7 record, 3.70 ERA, and 91 strikeouts in 90 innings of work warranted a September call-up. Unfortunately for Cimino, when the call came, he was on the disabled list with a fractured pitching hand. The result is that he appeared in only one game for a 1965 Twins team that won the American League pennant and faced the Los Angeles Dodgers in the World Series. On September 22, 1965, Cimino retired Paul Blair, Boog Powell, and Brooks Robinson with three straight fly outs in a perfect ninth inning of a 5-2 loss to the Orioles. Of his first and only big-league appearance that year, Cimino later recalled, "I got through it without allowing a hit. So I have the lowest ERA in the majors – 0.00. Boy was I shaking after I finished that inning! I sat on the bench and couldn't stop shaking."11
Cimino spent that winter pitching for the Ponce Lions in the Puerto Rican League. He eagerly anticipated the start of the 1966 season and his chances to stick with the Twins as a reliever. He reported to spring training in Orlando a week before the February 21 start date. "… I'm going early so I can get a jump on things. And I'm 215 pounds and want to get down to 205," he said.12 With only a few open roster spots, Cimino expected stiff competition, adding, "And they'll be a few fighting for them. It will be a tough struggle but I'm confident."13
Cimino performed well in the spring and claimed one of only two open spots on the pitching staff. Manager Sam Mele called him and right-hander Dwight Siebler "the most improved pitchers in our camp."14 On April 5 Cimino received word that he had made the club, after which he called his parents in Bristol to share the good news.
The 1966 Twins finished a distant second behind the Baltimore Orioles. For his part, Cimino proved a useful member of the bullpen. Initially he did not see much action, but generally he pitched well when the opportunities came. He earned his first big-league victory on June 9 against the Kansas City Athletics with two scoreless innings of relief. The game was notable because Minnesota tied a major-league record by hitting five homers in a single inning in the seventh, Cimino's final frame.
By August Cimino's quality work was sparking speculation that he was the heir-apparent to the 37-year-old Al Worthington as the ace of the Minnesota bullpen. He worked hard to develop a curveball, taught to him by Twins pitching coach Johnny Sain. "Before Sain taught me this, I was never able to throw a curve in my life," Cimino remarked.15 Mele envisioned Cimino offering the club some flexibility in the future, commenting, "He still gets a little wild sometimes. He needs experience. But he can become a good reliever. And he can become a starter too, if we get in a jam and I need one. He's strong and can pitch a lot of innings."16 But as the season wound down, Cimino grew less and less effective. He took his fourth loss, against the Boston Red Sox, on August 21, surrendering two runs in two-thirds of an inning. Three days later he blew a save opportunity in the ninth inning in a long relief appearance in Washington. On August 28 against the White Sox, he allowed three hits and walked three in 2⅔ innings while taking his fifth loss of the season. On October 2 he made his final appearance of the season, tossing two scoreless innings in the first game of a doubleheader against the Orioles. He wrapped up his rookie season with a disappointing record of 2-5, but despite some control trouble, his ERA was a very healthy 2.92.
By mid-October, it became clear that club officials did not necessarily view Cimino as the future savior of the Minnesota bullpen. The October 15, 1966, issue of The Sporting News included an article discussing club president Calvin Griffith's desire to bolster the bullpen in the offseason, stating, "Griffith wants help in the relief pitching department. Griffith felt Pete Cimino did not show that he was quite ready to take over the lead." In late October the Twins hired 300-game winner Early Wynn to replace Johnny Sain as the club's pitching coach. Among his expected tasks was to further the development of young pitchers Jim Roland and Cimino.
Cimino spent a portion of the offseason traveling with teammates Tony Oliva, Sandy Valdespino, and Earl Battey as part of the Twins winter banquet tour. They were scheduled to appear at over 90 dinners across the Midwest. But before the tour was over, Cimino found himself traded to another team.
On December 2, 1966, Minnesota sent Cimino, outfielder Jimmie Hall, and first baseman Don Mincher to the California Angels for former Cy Young Award winner Dean Chance and a player to be named later. Cimino acknowledged shock over the deal, telling reporters, "I had no idea they were thinking of trading me since I thought I'd be here several years to help them. But maybe it'll work out since I'll have more opportunities to pitch with the Angels."17 In the weeks that followed, statements from Angels officials made it clear that they considered Cimino a priority in the deal. Angels manager Bill Rigney acknowledged, "We did not make the trade until Pete was included."18 In assessing the trade, The Sporting News noted that after observing Cimino in the Pacific Coast League, Angels pitching coach Bob Lemon was impressed, and that "initially, Cimino will be provided a starting opportunity, but he will likely go on to relief."19
In March 1967 a minor controversy occurred when new Angels first baseman Don Mincher said he thought the Twins gave away too much to acquire Chance. He told reporter Ross Newhan, "I firmly believe the Twins gave up too much. I could see the Twins giving up one or two of us, but not all three. … I am especially high on Cimino. He's going to be a great pitcher."20 The comments garnered a diplomatic response from Chance, who offered, "And that Pete Cimino could be a good pitcher. That is quite a bit of talent to give up."21
The 1967 California Angels finished with a winning record of 84-77, in fifth place in the American League. Cimino was optimistic about his prospects for the season, and after 14 appearances, he boasted a 2-1 record and a solid 2.81 ERA. Against the White Sox on May 26 he entered in the second inning and went the rest of the way for the win, striking out seven in 7⅔ scoreless innings. He began working with Lemon on a new curveball to increase his effectiveness and prolong his career. But in August he hit a rough patch in which he allowed nine earned runs in five appearances totaling 9⅓ innings, pushing his ERA from 2.70 to 3.40. He finished the season with a modest 3-3 record, 80 strikeouts, and an uninspiring 3.26 ERA in a career-high 88⅓ innings of work. Of the trade that brought Cimino from the Twins, Angels general manager Fred Haney said bluntly, "Mincher has done a fine job. Hall has been adequate. Cimino has been less than expected."22 Having failed to meet the club's lofty expectations, Cimino looked to sharpen his skills as a member of the San Juan club in the Puerto Rican league over the winter.
In 1968 Cimino made only early-season four appearances with the Angels, allowing two earned runs in a total of seven innings. His final appearance in the major leagues came on May 7 against the White Sox. He allowed three hits and one earned run in 1⅔ innings of relief. Shortly thereafter the Angels sent him to Seattle in the Pacific Coast League. His demotion was one of many over the course of the 1968 season as the Angels struggled to a disappointing 67-95 record and an eighth-place finish. He pitched well in Seattle, posting a 3-0 record and a 2.57 ERA in 21 innings. He ended the season with the El Paso Sun Kings in the Double-A Texas League. The team won the Texas League title but Cimino pitched in only two games. They were the final innings of his career.
Cimino held a job driving a truck for a beverage company for 19 years, and then worked for a chemical company for two years before retiring. On May 23, 1992, Pete married Linda, a woman with whom he had reconnected after initially meeting in Virginia when they were both 17 years old. In a 2010 letter to the website Kentucky Baseball, he wrote, "We really liked each other but got separated for 30 years. Then we found each other again, got married, and have lived happily for 18 years."23 In retirement, he spent time with his wife, his two children, and his three grandchildren.
Looking back on his time in the big leagues, Cimino said he had fond memories and few regrets:
"I always wanted to play pro ball. I realized my dream. Unfortunately, it didn't last as long as I would have liked. But nevertheless, I was there. In the majors everything was first class all the way. In the minors you had to put up with those long bus rides through the South – maybe 10 or 14 hours on a bus. And they only gave us a few dollars for meals. So you had to eat at a greasy spoon. It was the best you could do. But it still seems worth it."24
Notes
1 articles.philly.com/2012-03-02/sports/31117286_1_bristol-area-jack-wichser-bristol-high-school.
2 en.wikipedia.org/wiki/List_of_basketball_players_who_have_scored_100_points_in_a_single_game.
3 "Prep Basketeer Rips Cords For Total of 114 Points," Hutchinson (Kansas) News, January 24, 1960.
4 articles.philly.com/2012-03-02/sports/31117286_1_bristol-area-jack-wichser-bristol-high-school
5 James Enright, "Big O' on Edge? Fans Wondering," The Sporting News, February 3, 1960.
6 "Land Prep Star," Sandusky (Ohio) Register, May 20, 1960.
7 "Twins' Rookie Turned Down Hoop Offers to Try Mound," The Sporting News, March 8, 1961.
8 Tom Briere, "Twins Invite Farm-Club Pilots to Join Huddles at Orlando Base," The Sporting News, January 24, 1962..
9 Fed Lieb, "Hall, Oliva and McCabe Spark Twins' Six-Game Win Splurge," The Sporting News, December 1, 1962.
10 "Lowly Crax' Hijinks Liven Dull Situation in Columbus," The Sporting News, June 20, 1964.
11 Max Nichols, "Twin Problem Kids Roland, Nieson and Cimino Eye Hill Jobs," The Sporting News, March 26, 1966.
12 Dick Dougherty, "Pete Cimino Heads South To Get Jump On Training," Bucks County Courier Times, February 15, 1966.
13 Ibid.
14 Max Nichols, "Great Cesar's Ghost, Twins Find Zoilo's Sub in Wraith-Like Tovar," The Sporting News, April 16, 1966.
15 Max Nichols, "Twins Making Bow to Cimino As Crown Prince of Bull Pen," The Sporting News, September 10, 1966.
16 Ibid.
17 Ray Di Lissio, "Trade Comes as Shock to Pete Cimino," Bucks County Courier Times, December 3, 1966.
18 Ross Newhan, "Rubio Choice Gem in Jewel Kit of Angels," The Sporting News, December 24, 1966.
19 Ibid.
20 Ross Newhan, "Slugger Mincher Sees Deal As Real Calamity for Twins," The Sporting News, March 11, 1967.
21 Max Nichols, "Dean Holds His Fire In War With Angels," The Sporting News, March 25, 1967.
22 Ross Newhan, "It's Official – Angels Will Rehire Rigney," The Sporting News, October, 1967.
23 kentuckybaseball.blogspot.com/2010/02/pete-cimino-1965-1968-major-leaguer.html.
24 Ibid.
Born
October 17, 1942 at Philadelphia, PA (USA)
If you can help us improve this player's biography, contact us.
http://sabr.org/sites/default/files/PeteCimino.JPG
600
800
admin
/wp-content/uploads/2020/02/sabr_logo.png
admin
2012-01-04 20:25:38
2021-07-04 11:39:11
Pete Cimino