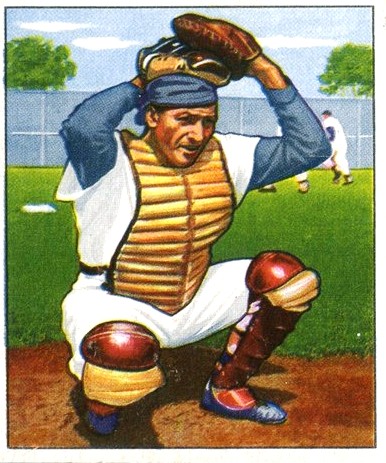 ---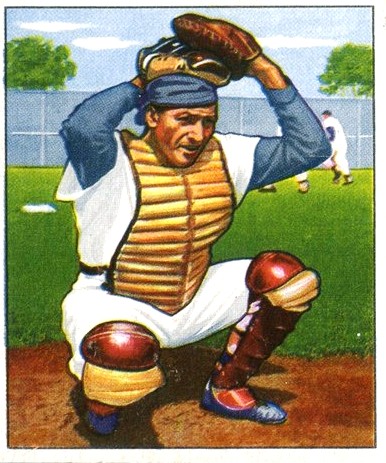 Although he was a four-time All-Star with the Boston Braves and respected throughout baseball as an excellent defensive catcher and steady hitter, Phil Masi is best remembered for being part of one of the most controversial plays in World Series history.
During the bottom of the eighth inning in Game One of the 1948 Series between the Braves and Cleveland Indians, Cleveland pitcher Bob Feller spun around and threw to shortstop Lou Boudreau to try to pick Masi off of second base. Masi, who was pinch-running for slow-footed starting receiver Bill Salkeld, slid back to the bag and was called safe by umpire Bill Stewart, though most observers believed he was out. The implications became huge moments later when Masi scored the only run of the game on Tommy Holmes' single, thus denying Hall of Famer Feller his best chance to win a World Series contest.
Although the Indians went on to win the series in six games, controversy raged over the play for decades — and Masi made a point of not conceding he was out. Holmes, who was Masi's roommate with the Braves, said, "Whenever I asked Phil [about the play], he always said, 'Tommy, it was close.'" Holmes was on-deck at the time, and he claimed that the play happened too quickly for him to know for sure. On October 7, 1948, one day after the game, the Associated Press noted that Masi was "not sure" whether he was safe or out. He insisted only that "it was much closer than it looked," adding that: "I would have squawked if I had been called out." In an interview published in Baseball Digest in 1978, Masi offered a stronger opinion formed over 30 years by stating: "Feller and Boudreau worked the play very well, but I'm sure I was safe."
Back in '48, bitterness about the pickoff play had remained strong throughout the remaining five games of the series. Feller said that the ump's decision "started a scrap that ran through the series and was picked up lustily by the fans in Cleveland." Writing about the incident for The Sporting News in 1990, McCoy also recounted that "Carl Lundquist, a New York sportswriter who was covering the '48 Series for the old United Press, wrote that Stewart 'was as popular in Cleveland as the Mad Butcher of Kingsbury Run,' a mass murderer who was in the news at the time."
Ironically, the decisive run that Masi accounted for in Game One would be the only one he scored in that World Series. Interestingly, and long since forgotten, is that Indians pitcher Bob Lemon and Boudreau picked Boston's Earl Torgeson off of second base in Game Two using the same play. Cleveland won that game 4-1, and after the Indians captured the series it would have been logical for fervor over the incident to die down.
This was not the case. In November '48, the official film of that year's World Series debuted for more than 300 baseball writers and league officials at Toots Shor's restaurant in New York. Writers had hoped that the film, which was made under the direction of former major leaguer Lew Fonseca, would shed light on whether Masi was safe. "The movie showed the play," said one contemporary article, "but in a very negligible way. As Fonseca warned the writers, it showed nothing. The play had been photographed with a wide-angle lense. Fonseca said he had tried to purchase the pickoff incident from the newsreels [that era's equivalent of TV news coverage], but they had no better luck than he had with it."
Further complicating matters, the inconclusive footage led to charges that National League President Ford Frick was "censoring" the film by intentionally removing the frames that might have been embarrassing to Stewart. Frick denied the charges vigorously, according to writer Dan Daniel: "That story involving me in a plot to cut that play out of the film is far more serious than appears on the surface," said Frick. "The yarn attacks not only me, but the integrity of baseball, as well."
Legendary New York sportswriter Joe Williams said that the film was "informally known as "The Mystery of the Missing Play." When the movie debuted, Frick alluded to the burgeoning controversy, making the "facetious" comment, according to Williams, that "this picture comes to you through the censor's office of our league." Yet the film still did not resolve the question of whether Masi was out, much to the dismay of the public. As Williams said in his column:
"[Y]ou come away from the film wondering just how Fonseca's cameras could have missed this play when they captured in full detail every other key play in the series. Time after time the film is stopped to show by what a narrow margin a runner is thrown out or beats the ball, or breaks up a double play…."…[I]t was the most debatable play the series has developed in years. How Fonseca's cameras managed to catch every play but this one will continue to be a mystery as baffling as any the FBI ever grappled with."
Feller, however, had no doubt that Masi was out on the play. In his 1990 autobiography Bob Feller: Now Pitching, written with Bill Gilbert, the old ace said:
"We caught Masi napping. Unfortunately, we caught Bill Stewart of the National League, doing the same thing. Lou put the tag on Masi as he slid back into the bag. Neither the Braves nor Stewart knew we had that play in our book, so nobody was looking for it.1
"Lou tagged Masi out by two feet," Feller went on. "It wasn't even close. Everybody in the ballpark saw Masi was out — except one — the umpire. We hadn't just picked off Masi. We had picked off Stewart too." Feller added that "the pictures in the paper the next day left no doubt" that Masi was out, although others were of course far less conclusive.
Feller said that Boudreau was thwarted in his attempt to inform the umpires that the team might use the pickoff play, which they had perfected during the season: "Lou told me later that he couldn't alert the National League umpires to the play because [Braves manager Billy] Southworth was in the room during the pre-Series meeting of the managers with the Commissioner. Lou said he should have pulled them aside after the meeting but he didn't and they didn't know to be looking for it in a situation like that.
"In this case, though, our pickoff — or attempted pickoff — has endured through 40 years as one of the most controversial plays in World Series history," Feller continued. "And there's this much about it: I get asked about that World Series play everywhere I go, and I have never had even one person tell me that Masi was safe. Ten years later, Bill Stewart told me he blew the call."
As Bob McCoy of The Sporting News described in a column on April 16, 1990, Masi had reportedly changed his story about the play shortly before his death a few weeks before. Holmes had received a baseball in the mail to sign from a young fan who had first sent the ball to Masi for his autograph. "The ball came in a box and I just signed it and shipped it back," Holmes told The Sporting News. "The kid had enclosed a note that said, 'I have Mr. Masi's autograph, and I'd like yours too.' The kid tipped me off to what Phil had signed. Sure enough, below his signature, there it was: 'I was out.'"
Raymond R. Coffey of the Chicago Sun-Times on April 5, 1990 noted that "Phil had refused to talk about the play while Stewart was still alive. But, he admitted now, he was out; the ump blew the call." Masi also acknowledged in his will that he was out, no doubt hoping to put an end to the topic as well as ease his conscience. It may have done the latter, but more than a decade later Feller was still hearing — and talking — about it.
The incident overshadows what was a fine catching career and a fine life for a devoted husband, father, and grandfather. Philip Samuel Masi was born on January 6, 1916 in Chicago, Illinois, and was the lone brother to four sisters. He graduated from Austin High School in Chicago, and he was nicknamed "Butcher Boy" since he was discovered working behind the counter of a Chicago meat market, according to the 1939 National Green book. The incident was later described in great detail by Ed Rumill of the Christian Science Monitor in a June 1947 article:
"He [Masi] had caught high school and sandlot ball around his native Chicago without attracting a great deal of attention. But one day he was working behind the counter of a butcher shop when in walked the old Chicago White Sox outfielder Johnny Mostil, in search of pork chops. Johnny got his chops all right and the butcher boy got a job. Phil agreed to report to Wausau of the Northern League, the same circuit in which Mostil managed the Eau Claire club. John had seen Masi play high school ball." Rumill quotes Masi as saying, "I was so eager, I wanted to take off my apron right then."
As a 20-year-old in his first professional season, Masi hit .334 with 10 home runs and 61 RBIs in only 96 games for Class "D" Wausau. In fact, he hit a home run in his first professional contest, and before the end of the 1936 season the hot young hitter was loaned as part of a "gentleman's agreement" to the Eau Claire team, which Mostil managed.
Although he had started as a catcher, Masi was a fulltime utility player during his second season with Wausau in 1937. He appeared in 12 games at first base, 20 games at third base, 36 games as a catcher, and 52 games as an outfielder. Wherever he played, he hit, including three home runs and a double in one contest. All told Masi had his finest minor league season at the plate in '37, batting .326 and leading the league with 31 home runs in being named a Northern League All-Star.
Following his 102-RBI performance with Wausau, Masi was purchased by the Milwaukee Brewers, a Cleveland affiliate, and sent to Springfield of the Mid-Atlantic League at the very end of the '37 season. He would get into 12 games there and drive in nine more runs, giving him a fantastic 111 RBIs in just 124 contests that summer.
According to an article published on August 19, 1937: "Observers who have watched the play of Outfielder Phil Masi, purchased by Milwaukee last week from Wausau of the Northern League for 1938 delivery, describe the Italian lad as a Pepper Martin type of performer, with such Wild Horse characteristics as head-first slides, short-cut sleeves, strutting and prancing in a frequently dirty uniform."
Yet, according to Rumill: "[A]bout this time there came a turning point in Masi's career. It seems that Cleveland had originally signed him to a Milwaukee contract, then shipped him to Springfield. This somehow violated the laws of baseball and Commissioner K.M. Landis declared the Chicago boy a free agent."
By 1938, Masi was primarily a catcher. During that season his backup behind the plate was Jim Hegan, who would be the opposing catcher when Masi's Braves and his Indians faced each other in the World Series 10 years later. Hegan would eventually have the longer big league career, but in '38 Masi was the star. While his offensive numbers had fallen a bit for Springfield, Phil's .308 batting average with 16 home runs and 97 RBIs was enough to convince the Boston Bees (as the Braves were then called) to sign him to a deal. Boston scout Jack O'Connor had his eye on Masi when he became a free agent, and Jack McAllister, another scout for the team, soon offered Masi a contract with the Boston organization. The deal also included a signing bonus.
The Bees already had a surplus of catchers: the '38 Boston roster included veterans Al Lopez, Ray Mueller, and Johnny Riddle. This was tough competition indeed. Lopez was a future Hall of Famer, and Mueller a future All-Star. Masi, however, would not be deterred from the challenge, and Bees Manager Casey Stengel noticed.
According to Rumill: "Masi worked so hard in the sandy soil of Bradenton [in spring training] that Stengel had to push him past three or four other catchers who ranked ahead of him in the Boston backstopping department. It may have been that Phil remembered Thomas Edison's oft-remembered advice: 'Success is five percent inspiration and 95 percent perspiration.' At least, it described Masi's program."
A New York Times article from March 10, 1939 recounted a conversation at the Bees' training site in Bradenton, Florida between Fresco Thompson, the manager of the Bees' Hartford farm team, and Stengel. "I'll take a chance on that fellow [Masi]," said Thompson. After watching Masi hit a home run, Stengel retorted To Thomson: "You're very generous. But maybe I'll take a chance on him myself." By the start of the '39 season both Mueller and Riddle had been traded, and rookie Masi was the primary backup to Lopez.
The right-handed hitting Masi debuted for the Braves as a defensive replacement on April 23, 1939 in New York against the Giants. The next month, in his first plate appearance, he hit a run-scoring double off of Bucky Walters. All told, Phil batted .254 with just one home run and 14 RBIs in 46 games during his rookie season, as Lopez played almost every day. Understandably, while Masi did get a game-tying run in the ninth inning of the September 7, 1939 game against Carl Hubbell — hitting the first pitch he saw to center field to score Max West — he did not get much notoriety during his first season. When he slugged a home run off of Brooklyn pitcher Hugh Casey on August 13, 1939, in fact, writer Robert B. Cooke referred to him as "the obscure second-string catcher."
For a while, things did not get much better. From 1940 through 1942 Masi struggled woefully at the plate as a back-up player, posting batting averages of .196, .222, and .218, respectively and never getting more than 180 at-bats in a season. According to Rumill, Stengel used to get "a bit impatient" with Masi "because the kid eventually got so confused at bat, he didn't know whether he was going or coming." Still, the author noted that Stengel's tips helped Masi develop as a hitter while first Ray Berres (in '40 and '41) and then Hall of Famer Ernie Lombardi (in '42) handled the bulk of the catching duties. And although his offensive highlights were few during this period, Masi in 1941 did break up Whitlow Wyatt's no-hit bid for Brooklyn in 1941 as a pinch-hitter with one-out in the ninth inning.
Masi served as a backup through 1942, but that season ended prematurely for him on August 20 when he suffered a compound fracture of the little finger on his throwing hand and returned home to Chicago to recover. By this time it was already a lost year for Phil anyway; on July 25, his father Andrew Masi had died of a heart attack at age 53. Because Phil then became his mother's sole means of support, he was exempt from military service. This meant he could stay on the Braves roster through World War II, and his patience would finally pay off the next season.
When defending NL batting champ Lombardi was traded to the Giants in early 1943, Masi took over as the team's regular catcher and responded with a .273 batting average in 80 games. He also showed good speed for a catcher, stealing seven bases during that summer. In fact, Masi occasionally was used as a pinch runner throughout his career in Boston, a rarity for a catcher.
Still, it was the 5'10", 180 lb. Masi's ability to handle pitchers, rather than his bat, that kept him in Boston's lineup consistently for the next several years. He made just two errors during the '43 season, and tied Lopez (now with Pittsburgh) for the league's top fielding percentage of .991. A 1978 Baseball Digest article made reference to his "magnet glove" and how he led the National League in fielding in 1947, 1948, and 1950, while also leading all N.L. catchers in assists in 1945 and putouts in 1946.
This was especially impressive considering that one of Boston's top hurlers during part of this period was knuckleballer Jim Tobin. "I always caught Jim Tobin because I could handle the knuckleball, which was all he ever threw," said Masi in Baseball Digest. Masi went on to catch Tobin's 2-0 no-hitter against the Brooklyn Dodgers in April 1944. Rumill praised Masi's defensive work at the time, saying, "Of all the butterfly hurlers in the majors, Jim was probably the toughest to hold. His ball was slower than the others and did more tricks. But Masi gave it a regular battle and held it like a master."
Masi also gained notoriety for his work catching 20-game winners Warren Spahn and Johnny Sain. "Johnny Sain had an outstanding curve ball," Masi noted, "but he was harder to catch than Spahn because he would sometimes shake off the signals. I'd call for a curve, but if the batter shifted his stance, Sain would come in with a quick slider instead. He said he could get the batter out easier that way, and since it worked most of the time, it was okay with me."
Another contemporary but unattributed account found in his Hall of Fame file also praised Masi's defense: "The outstanding reputation which Masi had established for himself in 1944 and 1945 as among the major leagues' best catchers is being enhanced daily by his fine work behind and at the plate. In the first two months of the 1946 campaign, Phil hit consistently in the vicinity of .300 and turned in a superb job as a receiver. His outstanding work already this season stamps him among the best catchers in the business."
Masi's RBI totals improved in both 1945 and 1946, and he enjoyed his best season at the plate in 1947 as the Braves continued their rise from perennial second-division dwellers to a strong third-place club. In the middle of that '47 season, Rumill made this observation:
"No player in the National League puts more effort into a ball game than does Phil Masi. No man tries harder to win, with a minimum of importance on his own averages. It is foolish to say of a ballplayer that he is a 100 percent team and never thinks of his personal figure. No player living completely ignores his own statistics. But Masi pays as little attention to them as any player you can name."
For others, however, Phil's numbers in 1947 stood out. Masi had career highs with a .304 batting average, which ranked 10th in the National League, 125 hits, and nine home runs. He also struck out just 27 times in 411 at-bats and had 11 sacrifice hits, so even when he wasn't getting a hit, he was usually putting the ball in play (often to the team's benefit). As Coffey said in reference to Masi's 1947 season: "That wouldn't get a guy into the Hall of Fame, which no one understood better than Phil. But it was pretty good." During that summer, Masi also was the catcher when Jackie Robinson had his first at-bat in the major leagues (against Johnny Sain).
While his offensive production tailed off in 1948, Masi still batted in 44 runs and played solid defense for the pennant-wining Braves. He was chosen as a National League All-Star for the fourth consecutive season that summer and got his only career hit in All-Star play. In Baseball Digest, Masi related how the team celebrated after making it to the World Series: "When we clinched the pennant in 1948, we didn't have a clubhouse celebration because our manager, Billy Southworth, didn't believe in it. No champagne, no anything. So we went out, hit all the Boston nightclubs, and charged our bills to the club's account. Lucky for us, Perini (Braves' owner Lou Perini) accepted them."
Early in the 1949 season, there was a published report of "dissension" in the Braves clubhouse. According to a United Press article datelined April 13, 1949, Manager Southworth claimed that he had originally called a meeting to discuss signals but that stories were soon written about clubhouse turmoil. One allegation was that the players felt that Southworth was taking too much credit for the team's accomplishments, and there were rumors that the club had called a players-only meeting. "I can't understand why all this stuff is coming out," said Southworth.
According to the UP article, Masi contradicted a Boston Globe report alleging that there had been such a meeting. Said Masi: "There was absolutely no meeting of that kind held by the players. If there were, [Masi's roommate and team player representative Tommy] Holmes would have known about it and told me."
Amid this mess, at age 33, Masi's offensive production continued to fall in early 1949. Through his first 37 games, the veteran catcher was batting only .210 with zero home runs and six RBIs. With promising 19-year-old Del Crandall available as a potential replacement, the Braves traded Masi to the Pittsburgh Pirates for outfielder Ed Sauer on June 15, 1949. Masi would back up Clyde McCullough and Ed FitzGerald in Pittsburgh for the rest of that season, and to his credit hit much better (.274 in 48 games) after the trade. This showed other teams he could still produce, and on February 9, 1950, he was purchased from the Pirates by the Chicago White Sox in what was described in one account as "being a cash deal involving more than $10,000." The Chicago native was going home.
Playing in the American League for the first time and starting again at catcher, Masi's career was further rejuvenated with the struggling White Sox in 1950. Following a stretch from June 11 to 25 when Chicago won 11 of 14 games, an anonymous major league manager commented: "I'm glad to join the applause for [newly-acquired Chicago players Ray] Scarborough, [Ed] Robinson, and the others, but don't forget the guy who has been the biggest single factor in making the White Sox a tough club — Phil Masi, the catcher. How that guy was ever waived out of the National league (sic), I'll never know.
"He's doing a terrific job of handling pitchers," the praise went on. "His work has been nothing short of inspirational for the whole club. And if you'll check your records, he's been carrying his share of the load at the plate, too….A real hustler and team man, the ex-National leaguer (sic) is acting like he's tickled to death to be performing steadily in his home town."
All told, Masi hit .279 with the White Sox in 1950 and placed fourth on the club in both home runs (with seven) and RBIs (55). He was Chicago's starting catcher again in 1951, but while he still hit well at .271 he was being rested much more. Following that season, when the team acquired the much younger Sherm Lollar in a trade with the St. Louis Browns, Masi became a backup once again.
Phil's career had come full circle by 1952. At age 36 he hit .254, the same average as his rookie season with Boston back in '39, and at year's end he was released by Chicago. Masi finished his major league career with 917 hits, 27 home runs, 417 runs batted in, 45 stolen bases, and a .264 batting average in 1,229 at-bats over 14 seasons.
Masi played one last season in 1953 with the minor league Dallas Eagles before retiring from professional baseball, and he went out a winner. As he explained in Baseball Digest: "The White Sox gave me my release at the end of 1952. Not long afterwards the owner of the Dallas Eagles, Dick Burnett, called Paul Richards, the White Sox manager. He said he wanted a catcher who could win the Texas League division championship, the playoffs, and the Little Dixie World Series. Richards recommended me, so Burnett signed me up for the next season. And we won all three."
In a letter published in the Chicago Sun-Times on April 15, 1990, Ernie Rossi related this memory of Masi: "As a kid of about 9 years old, I'll never forget watching [Masi play sandlot ball with Rossi's brothers, who also went to Austin High School] and how outstanding Phil was as a catcher. During the summer of 1938, we used to play two or three games of ball at Byford School, at Iowa and Central. Masi came by when the Braves were in town to play the Cubs. He agreed to let me pitch a tennis ball to him. He took one swing — and the ball was still rising as it hit the house across Iowa Street. My friends and I were just thrilled to have a real major leaguer take time to play a little ball with us and be so nice to us. Phil was our hero. I was so glad for Phil to come into my life, even if it was for such a short time…I will never forget him."
Following Masi's death, Raymond Coffey offered this description of the former catcher: "He was a nice guy. Great family man. He'd entertain the grandchildren by going one-on-one against his dog in ice cream cone-eating races. The kind of grandfather we'd all like to be."
Masi, according to Coffey, was "a ballplayer before ballplayers took to being millionaires first and ballplayers second…He was a ballplayer, and more than a ballplayer. A man for all seasons." Art Ahrens was similarly taken with Masi, and described him in Baseball Digest during 1978 as "a bespeckled grandfather with thinning gray hair" though "he still retains the trim physique of his playing days."
According to his obituary, Masi worked with a silkscreen printing firm in Chicago called Reliable Printing Company until 1980. Masi and his wife, Lucille (Gentile), had moved to Mount Prospect, Illinois in 1966, where he lived for the rest of his life. He had a daughter, Joanne Dhein, who also lived in Mount Prospect at the time of Phil's death. Masi had seven grandchildren and six great-grandchildren.
"Even as he battled cancer into extra innings [in the summer of 1989]," said Coffey, "Phil had an amplifier hooked up to his bed so he could follow games on TV and radio. And he still dragged himself out to watch his great-grandson's Little League games."
Phil Masi died of cancer on March 29, 1990 at age 74 at his Mount Prospect, Illinois home. His funeral mass was held two days later at St. Cecilia Church. Masi is buried in All Saints Cemetery in Des Plaines, Illinois. He is fondly remembered in Des Plaines as far more than just the guy who should have been called out at second base. After all these years, it's only fair.
Note
This biography originally appeared in the book Spahn, Sain, and Teddy Ballgame: Boston's (almost) Perfect Baseball Summer of 1948, edited by Bill Nowlin and published by Rounder Books in 2008.
Note
1. During a reunion of the Boston Braves Historical Association on October 12, 2003, Paul Stewart, the grandson of Bill Stewart and a former player and referee in the National Hockey League commented: "I led two professional hockey leagues in penalty minutes, then went on to officiate. One thing I learned from making the transition is something none of you players will ever know: Phil Masi may have thought he was out but he wasn't out. You know why? Because the umpire is always right — and so is the referee!"
Sources
Masi's biography and statistics on baseball-reference.com, retrosheet.org, baseball-almanac.com, and baseballlibrary.com.
Clippings from Masi's file at the Hall of Fame:
Ahrens, Art, "Major League Baseball in the 1940s: Phil Masi recalls when the Boston Braves won a pennant almost 30 years ago," Baseball Digest, February 1978, pp. 50-56.
"Bees Defeat Giants. 4-3. as Hub Falters," September 8, 1939.
Coffey, Raymond R., "A ballplayer we shouldn't forget," Chicago Sun–Times, April 5, 1990.
Cooke, Robert B., "Boston Triumphs 13-6 and 8-2, Piling Up 17 Hits in First Game," August 14, 1939.
Daniel, Dan, "Hannigan Hints Interest in Giants."
Daniel, Dan, "World Series Film Saddens Yankees," December 1, 1948.
"Denies Censoring Movie." Day illegible, but it is from November 1949.
Feller, Bob with Bill Gilbert, Now Pitching: Bob Feller. (New York: Birch Lane Press, 1990).
Letter dated April 26, 1990 from Phil Masi's wife, Lucille, after Masi's death.
Letters from Ernie Rossi and Richard S. Williamson in the Chicago Sun-Times, April 15, 1990.
"Masi," obituary in Chicago Tribune, March 30, 1990.
"Masi Clouts Homer," April 21, 1944.
"Masi Uncertain About Lou's Tag," October 7, 1948.
McCoy, Bob, "Final Call: 'I Was Out.'" The Sporting News, April 16, 1990.
"Movie Pickoff Proves Naught," November 10, 1949.
"No Dissension Ever Says Southworth," April 13, 1949.
"Phil Masi, at 74, was catcher with Boston Braves from 1939-49," Boston Globe, March 31, 1990.
"Phil Masi," obituary in Daily Herald, March 30, 1990.
"Phil Masi." No publication or date given.
"Philip Samuel (Phil) Masi." No publication or date given.
Program from Funeral Mass at St. Cecilia Church, Mt. Prospect, Illinois, March 31, 1990.
Rumill, Ed, "Phil Masi Arrives," June 1947.
Untitled articles: September 11, 1941; July 2, 1942; February 11, 1947. Also one titled "The Backstop Department" without a publication or title. There is also what appears to be a birth certificate.
"White Sox Buy 2 NL Players," February 2, 1950.
Williams, Joe, "Series Movies Accent Mystery of Missing Play," December 1, 1948.
Photo Credit
The Topps Company
Born
January 6, 1916 at Chicago, IL (USA)
Died
March 29, 1990 at Mount Prospect, IL (USA)
If you can help us improve this player's biography, contact us.
http://bioproj.sabr.org/bp_ftp/images3/MasiPhil.jpg
600
800
admin
/wp-content/uploads/2020/02/sabr_logo.png
admin
2012-01-04 20:30:43
2012-01-04 20:30:43
Phil Masi