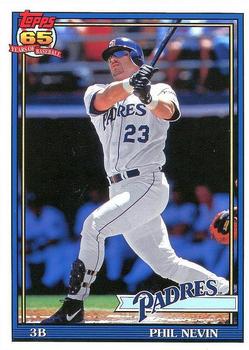 ---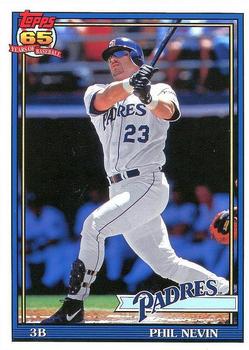 When Phil Nevin was an infant, he had difficulty breathing. His mother thought he had pneumonia and slept in his room to monitor his breathing. One day, at the age of 2, he had to be taken to the hospital after he started turning blue.
"They ran some tests and told me, 'Your kid has asthma, didn't you know?'" Terry Nevin said. "I lost my mother of the year recommendation right there. But as Phil got older, he decided he was going to live a normal life and the asthma has been easy to control."1
It subsequently was discovered that he was allergic to grass. His mother saw one consolation in that for the future ballplayer.
"I don't think he's allergic to artificial turf," said Terry Nevin.2
Phil Nevin persisted and became a two-sport athlete in high school and college. In 1992 he became the first player from the baseball hotbed of Orange County (suburban Los Angeles) to be the first overall selection in baseball's June amateur draft.
Nevin was born in Fullerton, California, on January 19, 1971, to Terry, a teacher, and Norm Nevin, an electrical engineer for Southern California Edison Co. At El Dorado High School in Placentia, California, he was a standout kicker on the football team — kicking a then-Orange County record 57-yard field goal in 1988 — and the baseball team (where he was a teammate of future major leaguer Bret Boone).
In June of 1989, two days after Nevin and El Dorado won the CIF-Southern Section 5A division championship — a victory over Long Beach Millikan at Dodger Stadium — Nevin was selected in the third round of the draft by the Los Angeles Dodgers.
Nevin, who had grown up a Dodgers fan, turned down a reported $150,000 offer from the Dodgers. "It really wasn't a money decision," he said. "I made a decision (earlier in the year) to play both sports, possibly have a future in both. And I can't have a future in football if I don't keep kick. It's hard to say no to my all-time dream."3
After turning down the Dodgers, Nevin went ahead with plans to attend nearby Cal State Fullerton, which was less than three miles from his high school.
As a punter and placekicker, Nevin had an immediate impact on the Titans' football team as a freshman. In his fourth collegiate game, on September 23, 1989, on the field where he become a major-league All-Star, Nevin kicked a 42-yard field goal (his fourth of the game) as time expired to help the Titans tie San Diego State, 41-41, at Jack Murphy Stadium. The Aztecs' quarterback was future NFL quarterback Dan McGwire, the brother of Mark McGwire. After the season, Nevin was named first-team All-Big West Conference and the best freshman kicker or punter in NCAA Division I-A by The Sporting News.
In his three seasons as the Titans placekicker, he made all 69 of his extra-point attempts and kicked 31 field goals.
As a freshman on the Titans baseball team, Nevin batted .358 with 14 home runs and 52 RBIs in 59 games. As a sophomore, he batted .335 in 56 games with 3 home runs and 46 RBIs.
Titans coach Augie Garrido challenged Nevin after his sophomore season.
"Phil needed to modify his behavior and react to things properly," Garrido said. "At the same time, he was trying to be coach, general manager, owner, and chief of umpires. He wanted to wear all the hats. We told him to keep it simple and just be a baseball player, and he did make the adjustments."4
Nevin agreed with his coach's assessment: "They sat me down and pointed me in the right direction.5
As a junior, Nevin hit .402 with 22 home runs and 86 RBIs and led the Titans to the championship game of the College World Series. In the Titans' 7-2 victory over Florida State in the first round, he hit a grand slam and had six RBIs.
Two days after the victory over Florida State, the Houston Astros selected Nevin as the number-one pick in the 1992 draft.
"The Houston Astros have a job to do," Astros scout Tom Mooney said. "After what happened to us last year (the Astros had failed to sign their first-round pick, John Burke, a pitcher from Florida, in 1991), we wanted to get a player who wants to play for the Houston Astros — and will sign. We do not make the decision on 'who can we sign the cheapest. (But) you know Houston is Houston. We're a small-market club. We're just trying to do the best we can."6
Nevin, who was the 1992 Golden Spikes Award winner (as the nation's top amateur baseball player), was named the MVP of the College World Series, even though the Titans lost to Pepperdine in the championship game.
Nevin and the Astros quickly reached an agreement on a reported $700,000 signing bonus. After signing, Nevin spent the summer playing for Team USA, which lost to Japan, in the Bronze Medal game of the 1992 Olympics in Barcelona, Spain.
Nevin began his professional career in 1993 at the Triple-A level. In 123 games with Tucson, he hit .286 with 10 home runs and 93 RBIs. He returned to Tucson in 1994 and batted .263 with 12 home runs and 79 RBIs in 118 games.
The 1995 season was an eventful one. Nevin played for four teams in four leagues. He began the season at Tucson. He was hitting .291 with 7 home runs and 41 RBIs when he was called up by the Astros on June 10. On June 11 he made his major-league debut in the Astros' 3-2 loss to the Cincinnati Reds in Houston. Nevin delivered an RBI single in his first major-league at-bat (in the first inning off C.J. Nitkowski).
After hitting .117 in 18 games with the Astros, Nevin was returned to Tucson. On August 15 Houston sent Nevin to the Detroit Tigers to complete a trade from five days earlier in which the Astros had acquired pitcher Mike Henneman.
The Tigers sent Nevin to their Toledo farm team, where he hit .304 in seven games. On September 1 the Tigers recalled Nevin and he made his AL debut that night, going 1-for-4 with an RBI in the Tigers' 14-4 loss to Cleveland in Detroit. On Sept. 3 he hit his first major-league home run, a solo shot off Albie Lopez, in the Tigers' 9-8 loss to Cleveland.
Nevin was a regular in the Tigers' lineup over the final month of the season, appearing in 29 games. He batted .219 with 2 home runs and 12 RBIs.
During spring training in 1996, the Tigers moved Nevin, who hadn't caught since Little League, to catcher and sent him to Double-A Jacksonville so he could play every day. After hitting .294 with 24 home runs and 69 RBIs in 98 games, he was recalled by the Tigers on August 3. In his 1996 debut for the Tigers that day, he went 3-for-4 with an RBI in a 6-3 victory over the Seattle Mariners.
Nevin put together a 10-game hitting streak between August 28 and September 7. On September 21, he had the first multiple-home-run game of his career when he homered twice in a 13-6 loss in Milwaukee. Overall, in 38 games with the Tigers in 1996, Nevin hit .292 with 8 home runs and 19 RBIs.
Nevin opened the 1997 season on the disabled list after suffering a torn wrist ligament early in spring training. After a three-game rehab stint at Class-A Lakeland (the only time in his career he played below Double A) and a five-game stint with Toledo, he was activated on April 16. In 93 games with the Tigers in 1997, he batted .235 with 9 home runs and 35 RBIs.
After the season the Tigers traded Nevin and Matt Walbeck to the Anaheim Angels for minor-league pitcher Nick Skuse.
In Nevin's first full season in the majors, 1998, he batted .228 with 8 home runs and 27 RBIs in 75 games.
In the final week of spring training in 1999, Nevin and a minor-leaguer were traded to the San Diego Padres for infielder Andy Sheets and a minor-leaguer. Nevin opened the regular season on the 15-day disabled list because of a strained left hamstring suffered in spring training. He was activated on April 16 and made his Padres debut the next day with a pinch-hit single in the Padres' 7-3 loss to the Dodgers in San Diego.
After becoming the Padres regular third baseman and cleanup hitter on August 1, Nevin hit .288 with 17 doubles, 12 home runs, and 47 RBIs in 59 games over the final two months of the season. On September 7 he agreed to a two-year contract extension (with an option for a third year). For the season, he posted career highs in every offensive category: 24 home runs with a team-high 85 RBIs in 128 games. After the season he was named the Padres' MVP.
The 1999 season was the first of a three-year stretch that saw Nevin average 32 home runs and 106 RBIs for the Padres.
In 2000, his first full season as a regular, Nevin increased his production as he led the Padres in batting average (.303), doubles (34), home runs (31), RBIs (107), and slugging percentage (.543) in 143 games. He hit .346 after the All-Star break despite being slowed in September by an abdominal muscle strain. He hit just .233 with one home run in 14 games in September. For the second consecutive season, he was named the team MVP.
The 2001 season saw more improvement from Nevin, who became the only major leaguer to improve his batting average, home runs and RBI total in each season since 1998. Nevin led the Padres in batting average (.306), home runs (41), and RBIs (126) and earned his first All-Star berth. His season was highlighted by consistency — he hit .310 with 21 home runs before the All-Star Break and .301 with 20 home runs after the break. Among his 41 home runs were a club record (and the most in the majors in 2001) four grand slams.
Nevin closed out the season with a flourish. On September 27, he was 3-for-5 with two home runs and a career-high 7 RBIs in the Padres' 13-9 loss to the Colorado Rockies in Denver. On October 6, the next-to-last day of the regular season, he hit three home runs and drove in six runs in the Padres' 10-4 victory over the Rockies in San Diego. For the season, Nevin hit 8 home runs and had 29 RBIs in 71 at-bats against the Rockies. In 10 games at Coors Field, he hit five home runs and had 22 RBIs.
When Nevin was named the team MVP for the third consecutive season, he joined Tony Gwynn (1986-1988) as the only Padres to win three consecutive team MVP awards. On November 15 Nevin agreed to a four-year extension through the 2006 season — worth a reported $34 million. The deal was the richest in club history to date.
Nevin was slowed in 2002 by two trips to the disabled list. He missed 14 games in May with a strained left elbow. After returning to action on May 27, he suffered a fractured humerus in his left arm in his third game back. He was sidelined until July 12. The Padres missed his offensive production. During his two stints on the disabled list, the Padres were 16-33. For the season, he hit .285 with 12 home runs and 57 RBIs in 107 games.
The 2003 season got off to a rough start, when Nevin dislocated his left shoulder in an exhibition game on March 7. The injury was initially expected to sideline him the entire season, but after undergoing surgery, Nevin returned to action in late July. Over the final two months of the season, he hit .279 with 13 home runs and 46 RBIs in 59 games.
Nevin rebounded solidly in 2004, hitting .289 and leading the Padres with 26 home runs and 105 RBIs. The season included one stint on the 15-day disabled list (July 5-20) with a knee injury, but Nevin became the first Padre with three 100-RBI seasons.
After hitting just .167 in the first 10 games of the 2005 season, Nevin batted .302 over his next 45 games to raise his average to .276. Included in that stretch was a career-high 13-game hitting streak (April 16-29) and a 12-game streak (May 24-June 5).
In late June, Nevin's season was again interrupted by a trip to the disabled list — June 26-July 17 with a strained oblique muscle. Two weeks after being activated, he was traded to the Texas Rangers for pitcher Chan Ho Park. The Rangers also sent $6 million to the Padres to help offset the money remaining on the $65 million, five-year contract Park signed with the Rangers before the 2002 season.
Several days before the trade, Nevin had invoked the no-trade clause in his contract after the Padres tried to send him to Baltimore in exchange for Sidney Ponson.
At the time of the trade, Nevin was among the leaders in several Padres career categories — home runs (second, 156), slugging percentage (second, .503), RBIs (third, 573), hits (fifth, 842), batting average (sixth, .288), and games played (ninth, 806).
Over the remainder of the 2005 season, he batted .182 with three home runs and eight RBIs in 29 games with the Rangers.
The 2006 season, which would turn out to be Nevin's final season as a player, saw the 35-year-old Nevin play for three teams and make the first postseason appearance of his career.
He spent the first two months of the season with the Rangers, hitting .216 with 9 home runs and 31 RBIs in 46 games. On May 31 the Rangers traded Nevin to the Chicago Cubs for outfielder Jerry Hairston.
In 67 games with the Cubs, he hit .274 with 12 home runs and 33 RBIs. On August 31, the Cubs traded Nevin to the Minnesota Twins for a player to be named (on September 5, the Cubs received minor-league pitcher Adam Harben from the Twins.
Nevin enjoyed the month in Minnesota as the Twins bid for the AL Central title and a spot in the playoffs for the fourth time in five seasons.
After going 1-for-3 in the Twins' 6-1 victory in Cleveland on September 17 — which moved them to within one game of AL Central-leading Detroit — Nevin said, "I made the comment before the game, that it would be hard not to say that these are the finest 17 days of baseball of my life. All these years, and being part of a pennant race, even if it's a small part, has been what I hoped."7
The Twins went 19-11 over their final 30 games to claim the AL Central crown (edging the Tigers by one game) and opened the playoffs against the AL West champion Oakland Athletics.
The series opened in Minneapolis, and Nevin went 0-for-3 as the designated hitter in Oakland's 3-2 victory over the Twins. The A's went on to sweep the series in three games.
After the 2006 season, Nevin filed for free agency before announcing his retirement. In 1,217 games over his 12-year major-league career, Nevin batted .270 with 208 home runs and 743 RBIs.
In 2007 Nevin joined the Padres' pregame radio show. He also served as an analyst on college baseball broadcasts.
In 2009 Nevin managed the Orange County Flyers in the independent Golden Baseball League. In 2010 he joined the Tigers' organization and managed Erie in the Double-A Eastern League. In 2011 he was promoted to manage the Tigers' Triple-A farm team in Toledo.
In 2014, after three seasons as the Toledo manager, Nevin became the manager of the Arizona Diamondbacks' Reno farm team in the Triple-A Pacific Coast League. In his first season as manager of the Aces, he directed the Aces to an 81-63 record and the PCL championship series against Omaha, which Omaha won, 3 games to 2.
After three seasons as the Reno manager, Nevin was reunited with former Padres manager Bruce Bochy when he joined Bochy's San Francisco Giants coaching staff as the third-base coach.
In 2018, he moved to the New York Yankees as a third-base coach under first-year manager Aaron Boone.
Nevin and his wife, Kristin, have three children (Koral, Tyler, and Kyle). Tyler was drafted as a high-school senior by the Colorado Rockies in the first round (38th player overall) of the 2015 draft. In 2018 Tyler was listed as the number-nine Rockies prospect. Kyle, a senior at Poway (California) High School in the 2018-19 school year, planned to attend Baylor on a baseball scholarship.
Last revised: August 1, 2019
This biography appears in "San Diego Padres: The First Half Century" (SABR, 2019), edited by Tom Larwin and Bill Nowlin.
Sources
In addition to the sources cited in the Notes, the author also consulted Baseball-Reference.com, mlb.com, newspapers.com and retrosheet.com.
Thank you to Jason Zillo, vice president for communications and media relations for the New York Yankees, for helping the author connect with Phil Nevin.
Notes
1 Mike DiGiovanna, "Asthma, Allergies Haven't Slowed Down Titans' Nevin," Los Angeles Times, June 2, 1992: C3.
2 Ibid.
3 Robyn Norwood, "Nevin Tells the Titans He Doesn't Bleed Dodger Blue," Los Angeles Times, August 8, 1989: III-6.
4 Mike Penner, "Astros Get a Real Deal with Nevin," Los Angeles Times, June 2, 1992: C1.
5 Ibid.
6 Ibid.
7 Patrick Reusse, "Newcomer Phil Nevin Is Reveling in a Pennant Race and Marveling at the Skill of His Teammates," Minneapolis Star Tribune, September 18, 2006: C3.
Born
January 19, 1971 at Fullerton, CA (USA)
If you can help us improve this player's biography, contact us.
https://sabr.org/sites/default/files/NevinPhil-2016.jpg
600
800
admin
/wp-content/uploads/2020/02/sabr_logo.png
admin
2012-01-04 19:49:12
2023-01-09 02:51:42
Phil Nevin