---
It is easy to imagine that at the end of her final day of filming with acclaimed director Ken Burns, Rachel Robinson must have felt some sense of relief. When Jack died, she was only 50 years old. Since then, she had been blessed with a long life and had spent almost as many years shepherding her husband's story, safeguarding it from those who would twist, misrepresent, or abuse his legacy. The sweeping documentary by Burns, made in 2016 and titled simply Jackie Robinson, would be the most comprehensive, multifaceted look at Jack's tale — the crown jewel in that important aspect of her life's work.
Yet her role as guardian was just one of her many accomplishments. Rachel was also a distinguished professor at Yale, a psychiatric nurse, a vocal civil rights activist, a cunning businesswoman, and a generous philanthropist. Hers is a stunning résumé for anyone, but most especially a Black woman born nearly a century ago.
Rachel Annetta Isum took her first breath on July 19, 1922, in Los Angeles, to parents Zellee and Charles Raymond Isum. Zellee Jones was born in Texas, and after moving to California became a gourmet cook and self-employed caterer with elite clientele in Beverly Hills and Hollywood. Charles was a second-generation Californian, and an Army veteran who'd fought in World War I and was gassed by the German army in France. After the war he got a job as a bookbinder for the Los Angeles Times, though he never fully recovered from the gas attack and was forced to retire while still a relatively young man.1 Believing in the importance of exposing her children to art and culture, Zellee took Rachel to violin lessons, the museum, and the Exposition Park Rose Garden, not far from the family home at 1588 36th Place.2 Rachel attended the acclaimed Manual Arts High School, which counted among its notable alumni filmmaker Frank Capra and California Governor Goodwin Knight. Her parents provided her with opportunities that few Black families could give their children.
When it was time for college, Rachel went to UCLA. She longed to be a doctor, but Zellee convinced her that nursing was a more appropriate career path for a woman who was destined to have a family.3 Rachel lived at home, and drove her old, beat-up Ford V-8 to school. It was a largely isolated existence, living off-campus.4 That changed when she met Jack Roosevelt Robinson. Prior to their introduction, she had seen Jack play for Pasadena Junior College, a rival of her own beloved Los Angeles, and had instantly disliked him. She found the popular athlete to be "cocky, conceited and self-centered." She even found the way he stood in the backfield during football games, with his hands on his hips, to give off an air of arrogance. In truth, Jack was rather shy around women. When the two, now both attending UCLA, were introduced by Jack's more outgoing friend Ray Bartlett, she found her earlier prejudices challenged.5
There was an instant spark between the two. Jack was attracted to her "looks and charm," she found him "impressive — a handsome, proud, and serious man with a warm smile and a pigeon-toed walk."6 When she brought Jack home to meet her family, her mother and brothers were impressed. Her father was a harsher critic, and Rachel sensed that he harbored some jealousy of the successful athlete who was wooing his daughter. For their first formal date, Jack took her to the Bruins football homecoming dinner, an affair at the Biltmore Hotel. Rachel later remembered her anxiety about stepping out into such glamorous surroundings. The racism she faced in Los Angeles was often "unexpected and inexplicable," and an event at a place like the Biltmore was rife for a surprise reminder. There was also an underlying sexual tension that was new to the innocent Rachel. Still, despite the occasional awkwardness, the night went off seamlessly, as she and Jack danced the fox-trot and flirted, two kids in love. The road ahead for Rachel and Jack would not always be so smooth. 7
Charles Isum died on March 6, 1941. His death deeply affected Rachel, who thought of herself as her father's guardian angel. One of the roles assigned to her by Zellee, even when she was a young child, had been to serve as a caretaker to her often-ill father. Her grief brought Rachel and Jack even closer together, as he was a loving salve for her during that difficult time. Just three days before Charles's death, Jack had dropped out of UCLA, only a few credits shy of graduation. He always claimed that it was financial hardships that forced him to leave school. He had to find work to help his mother, Mallie, with the bills. However, Rachel would note years later that she always believed that the real reason was not a financial one. Rather, by that spring he had used up his athletic eligibility. With no sports, school no longer held his interest.8 He found work, first with the National Youth Administration in Atascadero. He was hired as an assistant athletic director, a position he enjoyed, but the approaching war cut the job short in July. After a brief tenure playing for the Los Angeles Bulldogs of the Pacific Coast Professional Football League, he quickly signed with the Honolulu Bears of the Hawaii Senior Football League, a position that came with an attached construction job.9 Rachel supported his decision, even though it meant they would be separated. Before he left, Jack gave her a charm bracelet, a symbol that they were committed to one another.10
They were not separated for long. While he had some success on the gridiron in Hawaii, Jack was often hampered by injuries and he left Honolulu just two days before the attack at Pearl Harbor. Upon his return, he and Rachel immediately began spending as much time together as work and school allowed. Their reunion was short-lived. On March 23, 1942, Jack received notification that he was to report for induction into the US Army.11 Rachel suddenly had three important men in her life serving — her brothers, Chuck and Raymond, both saw active combat. Chuck, a pilot, was even missing in action for a time, after his plane was shot down over Yugoslavia. It was while Jack was on leave from the Army in March 1943 that they formalized their engagement when he presented Rachel with a diamond ring. They promised to wed once she finished school, though in truth she was in no hurry. While she loved Jack, she had come to realize that much of her life had been lived to fulfill the goals her family had for her. She understood that with marriage, she was likely surrendering another piece of her autonomy, a reality she was happy to delay.12
Rachel did her part toward the war effort by taking a job as a riveter at Lockheed Aircraft, working nights while she went to school during the day. In September 1943 she transferred to the U.C. San Francisco School of Nursing, where she then worked eight-hour shifts in hospital wards, all while juggling her studies.13 Jack wrote Rachel weekly, and arranged for a box of chocolates to appear at her dorm room every Friday. The distance was difficult for them both, especially Rachel, who was now living over six hours away from home. She watched all of her new friends go on adventures with their romantic interests, while Jack was 1,700 miles away at Fort Riley, Kansas. Worse, he and Rachel clashed when she wrote to him and informed him that she had decided to join the Cadet Nurse Corps. Jack mistakenly believed she had actually enlisted in the Army, and wrote her back, insisting she withdraw. He was certain that were she to be surrounded by enlisted men, she would quickly be seduced by them. Rachel, not one to be told what to do, returned the ring and bracelet. She joined the Corps, glad for the extra $20 a month it provided and for the chance to serve her country.14 The two remained estranged until Jack was discharged from the Army in November 1944. At first, he hesitated to contact Rachel, but after some convincing by his mother, Mallie, he called her. Rachel was eager to rekindle their romance and he rapidly drove to San Francisco. The two reconciled, and reaffirmed their engagement when he gave her back the ring.15
Jack was again on the road at the beginning of 1945, playing shortstop for the Kansas City Monarchs, while Rachel was completing her studies. She graduated in June, with honors, from UCLA, receiving a B.S. in Nursing. She also won the Florence Nightingale Award for clinical excellence, a superlative for which she was chosen by her peers. After graduation, she took a job working in the nursery of Los Angeles General Hospital.16 Two months later, Jack was contacted by the Dodgers. It was at his August 28, 1945, meeting with Branch Rickey that the Mahatma famously asked Jack, "You got a girl?" and told him to marry her right away. In truth, Jack and Rachel had already set the date for their wedding, but before she settled into the role of wife, she wanted an adventure of her own. Rachel and her college roommate, Janice Brooks, moved to Harlem in October. There, she found work as a hostess in a restaurant, a job she left when she learned the establishment was segregated. She then found a position at the Hospital for Joint Diseases in Manhattan. Growing up in her largely White world in Los Angeles, her experience in Harlem was revelatory and it brought herself and Jack, who had spent considerably more time with fellow BIPOC, closer together. At the beginning of January, her adventure complete, Rachel and Jack returned to California to prepare for their wedding.17 They married on February 10, 1946, an affair that was largely planned by Zellee. Jack, who adored his mother-in-law, was happy to join Rachel in indulging Zellee's flower-drenched whims.18
The two took an abbreviated honeymoon in San Jose, California, staying at the home of Rachel's aunt. But the future was calling and barely three weeks after the wedding, armed with a basket of fried chicken and boiled eggs given to them by Jack's mother Mallie, Rachel and Jack were on their way to Daytona Beach, Florida, for spring training with the Montreal Royals. While Rachel had experienced "unexpected" racism in California, the journey through the American South was eye-opening. Inexplicably booted from their connecting flight in New Orleans, they were forced to stay in a second-rate, grimy hotel. Unable to find a restaurant that would serve them, the only food they had was Mallie's chicken. Bumped from another flight the next day, they had to take a bus from Pensacola, where they suffered the additional indignity of being sent to the back to make room for White passengers. Jack, who had suffered court-martial rather than be forced to the back of a military bus, moved without a word. Throughout the 16-hour ride, Rachel wept at the pain she knew it caused her proud husband to stay silent.19
They were largely welcomed in Daytona, where they met influential community leaders and stayed with a prominent Black family, the Harrises. The city was fairly progressive for the time and place, though even there they witnessed reminders of the Jim Crow South. While it was acceptable in Daytona for Black shoppers to try on shoes, it was against the law to try on clothing in the local stores.20 Their experiences around the rest of Florida were even more challenging, and Rachel felt Jack's nightly struggles to withstand the hatred and still manage the rather difficult task of hitting a baseball. Recognizing that Rachel would be integral in helping Jack weather the storm ahead, Rickey allowed her to join the other players in camp — the only wife allowed to do so. She quickly realized that her role in the important work that Jack was doing was to lend support, to "be a consistent presence to witness and validate the realities, love him without reservation, share his thoughts and miseries, discover with him the humor in the ridiculous behavior against us, and, most of all, help maintain our fighting spirit."21
Jack's first season in Organized Baseball brought them to Montreal, where Rachel was pleasantly surprised to learn that the housing discrimination she had been anticipating was not as prevalent north of the US border. After a month in a guest house, they found a home in a French-speaking neighborhood, a modest apartment at 8232 de Gaspé Avenue not far from Jarry Park. In May, she and Jack were delighted to learn that she was pregnant with their first child. She enjoyed their stay in Montreal, and would later remember that time as "blissful."22 Still, within all the joy, the year had its obstacles. The psychological pressure was physically grueling on Jack, who by midseason was suffering from exhaustion. Rachel helped him bear the burden, while simultaneously remaining quiet about the unexpected complications she was having with her pregnancy, a struggle Jack did not learn about until much later.23 Occasionally she traveled with him, but often she stayed at home, sewing, shopping, and generally living the domesticated home life she anticipated would come with marriage.24 Despite his physical woes, Jack excelled on the field that season, leading the Royals to the Little World Series championship on October 4, 1946. Eight months pregnant, Rachel was on the field with her husband when he celebrated with his teammates.25
After the season, the family returned to Los Angeles, living in Rachel's childhood home. Their first child, Jackie Jr., was born on November 18, 1946, at Good Samaritan Hospital. Jack and Rachel had the luxury of the early support of their families, but challenges awaited them. Needing money, Jack signed on with a local basketball team, the Los Angeles Red Devils, for $50 a game, an experiment that lasted only a few weeks.26 In late February, Jack left for spring training in Cuba, and this time Rachel (and Jackie Jr.) were not allowed to accompany the team. When they reunited it was in New York, where they established a temporary life at the McAlpin Hotel, on Broadway near Herald Square, a frequent Dodgers haunt. It was from this space, too cramped for the blossoming family, that they changed the world on April 15, 1947. Rachel was at Ebbets Field that day with Jackie Jr., and she watched her husband make history. Sitting between Ruth Campanella, whom she had befriended when Jack and Roy had been teammates in Montreal, and Roy's mother-in-law, she left her seat only to warm up the baby's bottles at the hot-dog stand. A California girl, she underestimated how cold an April day in Brooklyn could be, and by game's end Jackie Jr., who was also suffering from an upset stomach, was stuffed inside the fur coat of Ruth's mother to stay warm.27 Minor inconveniences aside, she watched the game before her and contemplated the possibilities of social change. She understood, even in that moment, how much Jack's elevation meant to "Black America, and how much we symbolized its hunger for opportunity and its determination to make dreams long deferred possible."28
While Jack continued to make headlines, Rachel established their lives at home. After two weeks at the McAlpin, they received an offer from a woman to share an apartment at 526 MacDonough Street, in the Bedford-Stuyvesant neighborhood of Brooklyn. The apartment was a roach-infested tenement, but it had a small room for Jackie Jr., a separate bedroom for them, and access to a kitchen, none of which the McAlpin provided.29 Still, it was too small and dreary, and the uninspiring quarters led to increased tensions between the couple, a situation exacerbated by Rachel's unwillingness to give voice to her own trials as part of her mission to support Jack. In an effort to fill the need for there to be more to her life than just domesticity, she took a course in interior decoration. She also began to slowly make friends with some of the other Dodgers wives, including Joan Hodges and Dottie Reese.30
Before the end of the playing season, the Robinsons moved again, to 407 Stuyvesant Street. Rachel oversaw all these moves while caring for an infant, and still managed to attend every home game. She embraced the role of Jack's protector, including oftentimes intercepting the mail before her beleaguered husband could read it. At first, she threw away the threatening letters that came to their home, but when they grew in ferocity, including threats to the life of Jackie Jr., she started sharing them with the Dodgers.31 The couple grew to love Brooklyn, and thought of it as a haven. The real test to their fortitude came when Jack went on the road, where the racial taunts would be most vile. At times, Rachel went with him. She remained silent on these occasions, but sat upright in her seat, imagining herself a shield that could keep the invectives from reaching the ears of Jack on the field.32
Even in Brooklyn, there was the occasional reminder that they were Black citizens trying to integrate a White world, not just in baseball, but on the streets of their own home. They moved again, this time to the top-floor apartment of a two-family home at 5224 Tilden Avenue in the largely White and Jewish neighborhood of Flatbush, in April 1948.33 Although Jack was immensely popular in Brooklyn (he had, in fact, been elected the second most popular person in America in a nationwide contest, trailing only Bing Crosby), there were still rumors of a petition being circulated in the neighborhood to prevent their Black landlady from buying the house. Some of their neighbors came to their defense, including the Satlows — Arch and Sarah — and their three children. The two families grew close. Rachel helped Sarah learn how to bake, and Jack hired her to prepare the massive amounts of fan mail he answered. The Satlows ultimately became lifelong friends; but even amid all the national adulation, the family remained isolated with few close companions.34
For the first time in their brief married life, they did not return to California after the season. By 1948 the family had come to think of New York as home, and with that decision, Rachel prepared for another move, this time to a house of their own. The timing was fortuitous — not long after she found a place, she learned that she was again pregnant. Their new home in the St. Albans section of Queens, near Idlewild Airport,35 was just the right size for their burgeoning family. It was there, at 112-40 177th Street, that they finally found a place that most resembled their California childhoods, with a big backyard, a play area, and old oak trees. The house itself needed some work, but the open space, after the continually close quarters of their first two years in New York City, was a literal breath of fresh air. They purchased the house for $100 and "other good and valuable considerations."36 Their racially mixed neighborhood included the Campanellas, who had moved there just before the Robinsons, as well as musicians like diva Leontyne Price and Count Basie. Groundbreaking education innovators Gus and Jeanne Heningburg were their neighbors, and played a role in devising the school system that the Robinson children would learn by during their stay in Queens.37
Sharon Robinson was born on January 13, 1950. Rachel was overjoyed that she had had a girl, as she had long harbored secret fantasies that she would have a family like her own as a child — a willful girl born between two boys. After the birth of Sharon, Jack and Jackie Jr. flew to California in February 1950 so that Jack could film the motion picture The Jackie Robinson Story. Rachel was to stay home with the baby and Mallie, but Jack struggled with the unfamiliar world of a film set. After two weeks, Rachel and Sharon joined him in Los Angeles, where they once again lived at her childhood home. Her arrival allowed Jack to relax and enjoy the remainder of the experience. By this point in their relationship, it was clear to both of them that her influence extended far beyond how well he handled his struggles on the diamond. Jack not only looked to her succor in private, but he recognized how his wife's brilliant mind and beautiful looks could help relieve the tremendous pressure he felt in a different way. Rachel eased Jack's suffering by simply being charming enough to occasionally direct the spotlight away from him.38
Despite the high drama that Jack experienced on the baseball diamond, playing an integral role in the storied battle between the Dodgers and their crosstown rival New York Yankees, for the children and Rachel the early 1950s marked an extended period of peace. Rachel delighted in being a mother, and the birth of their youngest child, David, in May 1952 finalized the picture-perfect family for which they longed. There was just one ultimate, vital piece that the Robinsons needed to achieve their familial dreams. Not only did the latest addition make the house start to feel crowded again, but Jack and Rachel had grown tired of the attention they were receiving from unwanted guests, who would show up on the front lawn of their St. Albans home and take pictures at all hours.39 Rachel began the process of finding her dream home, a place where she and her family could finally settle, long-term. She could not have anticipated that her hunt would put her on the pages of the newspapers.
She was stymied in her searches, in both Westchester County and Connecticut, by realtors who, upon meeting her, told her that her family wasn't "the right fit" for the neighborhood. By this point, Jack was no longer under any restraints regarding how he conducted himself on the field and, on a larger scale, in his personal and political life. He started to become more vocal in his politics, and Rachel joined him. As the civil rights movement blossomed, they recognized the weight that came with their voices and they used their influence. When a reporter with the Bridgeport Herald, who was doing an exposé on racist housing practices, contacted the Robinsons about their struggles, she willingly spoke to him. The Robinsons became central characters in the subsequent article. When residents of North Stamford, Connecticut, read the story, they came to the family's aid.40
One family in particular, Andrea and Richard Simon (founder of the publishing house Simon and Schuster, and parents of future music star Carly Simon) were particularly kind. Andrea went far beyond emotional support, and used her influence with local realtors, who had been dismissive to Rachel, to help acquire the land where the Robinsons built their dream home, in North Stamford. The exotic Andrea had a Swiss father and a Cuban mother, and was 13 years Rachel's senior. Still, the two formed a lifelong friendship that "crossed all boundaries of age, race, and culture."41 With Andrea's aid, as well as that of a pair of local Jewish bankers, the Spelke brothers, who provided the loan, the family purchased land at 103 Cascade Road in Stamford from contractor Ben Gunnar.42 They then hired Gunnar to build them their dream home. When the house wasn't ready in time for the 1954 school year, the Simons offered the Robinsons use of their summer home so that the children could start school in Connecticut and Rachel could oversee the build.43
In many ways, the move was all the family longed for, but it came at a price. While they had the space and luxuries that country living provided, the largely White community of Stamford increased the feelings of isolation in the children, especially in Jackie Jr., who more than the others struggled to thrive in his father's very long shadow. Eventually, the Robinsons formed relationships with the families around them, and the kids found friends to play with them, both Black children and White. But they never stopped being reminded of their race, and the increasingly important and complex struggle of the civil rights movement. At the same time that Jack, perhaps the most famous Black man in America, was denied membership at a Connecticut country club, Emmett Till was lynched in Mississippi. Rachel recalled weeping when nine Black children were escorted into Central High School in Little Rock.44 The news was a daily reminder of how far there was left to go, and how important a role Jack, Rachel, and the Robinson family played in that narrative.
Only a week after Rachel and Jack returned from a December 1956 series of exhibition games in Japan, where he had appeared alongside some of his fellow Dodgers, Jack announced his retirement from baseball on the pages of Look magazine. It was again Rachel who provided him counsel and respite at the outset of this new stage in his life, but she also found herself in a unique position. She completely sympathized with her husband's need to move on to his new business ventures and quit the physical toil he suffered playing ball. Certainly she was overjoyed that her husband was going to be spending more time at home with the family, a coexistence she had long longed for.45 But she also felt the keen loss that, as a fan, came with the end of his career. Jack had been an athlete for the entire length of their relationship. They had faced many challenges in the 16 years they had been together, but what came next was truly uncharted territory.46
Jack embroiled himself in the affairs of his new business life, as a vice president of Chock Full O' Nuts Coffee and as an activist for the NAACP and the civil rights movement. Rachel enjoyed the first real opportunity to focus on herself since her college days. She yearned for self-improvement and independence. Jack, who had witnessed his own mother work long, tiring hours, was troubled by the thought of Rachel finding work.47 Undeterred, she applied to the Graduate School of Nursing at New York University. She was admitted to the psychiatric nursing program in 1959 and reentered college life at the age of 37. Her initial concerns, of being "a helpless and befuddled 'old lady,'" were quickly replaced by the confidence she gained when she realized that her real-life experiences had prepared her quite well for academia. Throughout her studies, she attempted to keep her connection to Jack a secret. It was important to her that she succeed on her own merits, and not because of her famous husband.48
Jackie Jr. shared this particular desire with his mother, perhaps most keenly of all of the children. Part of the challenge for Rachel, in her pursuit of her degree, was that this time marked the first in which she was not consistently present for her children's needs. Jackie Jr. had started to struggle in school, particularly with reading. Sharon was studious and reserved, and she kept many of the personal struggles she felt as a Black child surrounded by White playmates buried deep inside. David, who unlike his siblings was sent to a private school, found strength in isolation in a way that few children do. Rachel and Jack believed it was best if the harshness of the world was absent from the dinner-table discussions, instead choosing to encourage their children's natural inclinations toward fairness and honor. As well-intentioned as the choice was, it was one that Rachel would later come to regret.49
Rachel graduated from NYU in 1961, and after a brief tenure as a clinical nurse at the First Day Hospital in the Bronx, got a job as a psychiatric nurse at Albert Einstein College of Medicine, in its Department of Social and Community Psychiatry, of which she soon became the head.50 For the next five years, she was part of a study that was dedicated to proving that family assistance was the key to a more independent, and safe, life for the mentally ill. The program statistically proved their point, but the funding never materialized to create the housing that would be necessary to enact such a program. Days at the college, spent searching for a better world for her patients, were followed by nights at home with the family, including her mother. Zellee had moved in with the family when Rachel went to school, and her steady presence led to a feeling of solidarity in a family filled with individuals who were now largely each going their own way. Jack was proud of what his wife was accomplishing in her new career, but he also struggled to adapt to their new dynamic. It was now Rachel who was absent for long stretches of time, embroiled in her important work.51
As Jack played a larger and larger role in the NAACP and the children were growing older, politics become a more frequent topic at home. Rachel and Jack found themselves on opposite sides of the aisle when he famously gave his support to Richard Nixon in the 1960 presidential election, a decision he later regretted. Rachel, a third-generation Democrat whose entire adolescence was spent under FDR, was troubled to see her husband side with conservatives.52 Despite this rift, they remained a unified force for civil rights. One of the most enduring memories for the whole family was the uplifting day in August 1963 when they attended the March on Washington for Jobs and Freedom, and witnessed Martin Luther King Jr.'s "I Have a Dream" speech on the steps of the Washington Monument. Rachel listened to King's words with tears in her eyes, and left that day "filled with hope and pride."53
Jack and Martin Luther King were frequent collaborators, especially when it came to fundraising. In 1963, when the Robinsons learned that King needed bail money for those who were arrested on the marches, they put together a fundraiser on their six-acre homestead. They staged "An Afternoon of Jazz," featuring some of the most legendary names in the industry, including Dave Brubeck and Dizzy Gillespie, both of whom donated their union minimum salaries.54 The festival was a hit, with over 500 attendees raising $15,000 for the cause. It became an annual event, raising money for various charities over the years. Even after Jack died, Rachel (and later, Sharon) kept it going until 2001, a nearly 50-year tradition in Connecticut.
Professionally, Rachel continued to make quite a name for herself. After leaving Albert Einstein, she took jobs as the director of nursing for the Connecticut Mental Health Center in New Haven, and as an assistant professor of nursing at Yale University. At CMHC, she applied the research she had done at Einstein, and found a whole new level of reward in her work. At the same time, as Jack went deeper and deeper into politics, taking a pay cut to do so, he began to appreciate the salary that Rachel was bringing home in a whole new way.55 Just five years after moving past the phase of her life that was dedicated solely to her husband and her children, Rachel was a respected educator and nurse. She was enjoying the well-deserved benefits of her hard work, her keen mind, and her intense compassion.
This period of fulfillment, for her and for Jack, was not destined to last. Always in his father's shadow, Jackie Jr. led a troubled life, one that took him to Vietnam. There, he suffered an injury that led to drug addiction. After returning home, he was arrested in March 1968, on both drugs and weapons charges. His tabloid-fodder struggles dragged their private family pain into the light. Rachel was able to arrange for him to be given a room at Yale New Haven Hospital, but the family quickly learned that this was a poor choice. Surrounded by patients who were mentally unwell, but not addicts like himself, Jackie Jr. resented the setting and quickly persuaded doctors to release him. Once freed, he returned to his addiction.56 Jackie Jr.'s troubles were just the beginning of the nightmare that was the spring of 1968. Within the next three months, the Robinsons witnessed the murders of Martin Luther King Jr. and Robert Kennedy, and the death of Mallie.
Jackie Jr. gave the family some hope when, faced with a choice between prison and rehab, he chose to enter the Daytop drug rehabilitation program. Jackie thrived at Daytop, not only successfully fighting his addiction, but later serving as a counselor to others in need.57 The success of his heroic struggle made his untimely death from a car crash on June 17, 1971, all the more tragic. Rachel was out of town when he died, attending a conference in Massachusetts. Jack and Sharon quickly drove to her, desperate to give her the news before it hit the press. Rachel collapsed under the weight of the emotional devastation, and Jack and Sharon had to help her to the car. When they returned home, she ran through the fields surrounding their home, mad with grief. Her tears did not stop for days.58
In the aftermath of Jackie Jr.'s funeral, Rachel and Jack decided to stage that year's jazz concert, scheduled for just two weeks after the death of their son, and make it a tribute to their lost child. That year's event was already intended to be a fundraiser for Daytop, and Jackie Jr. had played an active role in securing the acts. That event was the culmination of his final work, and the day was poignant and cathartic. Rachel remembered walking around "in a daze, on the edge of madness."59 The weeks that followed were tense in the Robinson household, as Jack failed to address his own grief over Jackie Jr.'s death. Instead, he transferred his pain into an increasing frustration with the amount of time Rachel dedicated to work. It all came to a head when Sharon came home one night to find her father crying, alone in the living room. Uncertain how to ease her father's suffering, she told her mother, who was reading upstairs in the bedroom. Once more, Rachel went to her husband and provided him comfort. From that point, they would slowly begin to heal from the wound of their lost son.60 Sadly, there was even still more pain that awaited her.
Jack had been struggling with medical issues caused by his diabetes for years. He was losing his eyesight and he suffered tremendous pain in his legs. By the summer of 1972, his sight was failing enough that Rachel needed to hire a chauffeur for him.61 That year also marked the 25th anniversary of Jack's integration of the Dodgers. Commissioner Bowie Kuhn recognized the date by presenting him with an award dedicated to his philanthropic efforts helping young people learn about the dangers of drugs, a cause he embraced after Jackie Jr.'s troubles. In a ceremony prior to Game Two of the 1972 World Series, Bowie Kuhn presented Jack with the award. His family by his side, it was Rachel who took him by the arm and led him to Kuhn when it was time for him to accept the honor. The NBC cameras respectfully cut away from his labored journey to a shot of the crowd on their feet, honoring this aged hero.
One week later, on the morning of October 24, while Rachel was making breakfast, Jack came rushing from the bedroom and into her arms. He collapsed to the floor, and quickly fell unconscious. She attempted to do what she could while she waited for help to arrive, but it was too late. Jack Robinson died of a heart attack, at the tragically young age of 53. The final words he spoke before he lost consciousness in Rachel's arms were, "I love you."62 At his funeral four days later, over 2,500 mourners joined Rachel in saying goodbye to her husband at Riverside Church in Harlem. Even in her pain, she understood the role that Jack had played in the lives of so many, and she insisted that two-thirds of the pews be set aside for anyone who wished to join them, including a special section for the kids who played hooky from school that day to attend. "Jack loved children, so," she told the press.63
Her journey would have to carry on without him by her side, but Rachel was far from finished being Mrs. Jack Robinson. Just as her guidance helped shape his baseball career, her stewardship of his legacy is largely responsible for how the public thinks of him today. Within weeks of his death, she resigned from Yale and took over as the head of Jack's various financial interests. It had long been his dream to start a construction company that built affordable housing for underserved families. She quickly realized that they didn't have the resources for such a venture but, as a long-time veteran of fundraising, she did see how they were well-equipped to be real- estate developers. With the help of some of Jack's partners, she founded the Jack Robinson Development Corporation. Working with the Halpern Building Corporation, the JRDC built and managed over 1,300 units of low- and moderate-income housing in New York City and Yonkers. Rachel herself oversaw the training of the various property managers who were the caretakers of Jack's dream.64
Once the Jack Robinson Development Corporation was on stable footing, she turned her eyes toward honoring the rest of Jack's activism. In 1973 Rachel, along with her brother Charles Williams, lawyer and ambassador Frank Williams (no relation to Charles), and family friend Marty Edelman, formed the Jackie Robinson Foundation. The foundation's mission was to further the education and leadership development opportunities of minority children with few economic resources at their disposal. Beginning in 1975, the foundation became the sole beneficiary of the Afternoon of Jazz annual fundraiser. In 1978 the first recipient of a foundation scholarship, Debora Young, graduated from Boston College. Rachel was on hand to give Debora her diploma. Since then, more than 1,500 students have received financial support from the foundation, which as of 2020 had an annual operating budget of $9 million.65
Jack was the recipient of numerous posthumous accolades, and Rachel was frequently on hand to accept them. The first was just a few months after his death, when in March of 1973 the New York Urban League awarded him its annual Frederick Douglass tribute, presented by Jack's old ally, New York Governor Nelson Rockefeller.66 In 1984 she accepted Jack's Presidential Medal of Freedom, the highest civilian award in the United States, from President Ronald Reagan. In a strange twist of fate, also honored at that event was Maria Shriver, founder of the Special Olympics and niece of Jack's earlier political foil, John F. Kennedy. Rachel returned to Washington in 2003 when he was awarded the Congressional Gold Medal, this one the highest honor a civilian can receive from Congress, turning a rare double play.67
Rachel received numerous superlatives of her own, including the Candace Award for Distinguished Service from the National Coalition of 100 Black Women, given to a "Black role model of uncommon distinction who ha[s] set a standard of excellence for young people of all races."68 She also won the Equitable Life Black Achievers Award and the Associated Black Charities Black History Makers Award. She received 12 honorary doctorates, including one from her alma mater, New York University.69 Her other alma mater presented her with the UCLA Medal in 2009, the University's highest honor. In 2017 she was given the Buck O'Neil Lifetime Achievement Award by the Baseball Hall of Fame and Museum, presented every three years to a person who enhances baseball's positive image on society.
Rachel also played an integral role in securing Jack's legacy within major-league baseball. She was a living connection to baseball's finest moment, and she understood the magnitude of that reality. Even when baseball disappointed her, she persevered and made them do better. When Dodgers vice president Al Campanis appeared on Nightline in 1987 and questioned the mental fitness of potential Black managers, Rachel did not shy away from her criticisms of both Campanis and the systemic racism that still existed in baseball's front office. Embarrassingly for baseball, Campanis's comments came as they were celebrating the 40th anniversary of Jack's integration of the Dodgers. Speaking to the importance of that moment, Rachel acknowledged the achievement, but quickly followed that by saying that "until there's a change in all aspects of the game — the executive structure, front offices and ownership — I don't feel any real change had occurred at all."70 Her words moved Commissioner Peter Ueberroth to bring her into his inner circle as he attempted to confront baseball's ongoing race issues.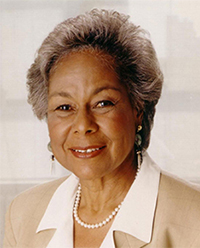 The culmination of her efforts came in 1997 when, with the assistance of National League President and Jackie Robinson Foundation Chairman Len Coleman, it was announced that baseball would celebrate the league-wide retirement of Robinson's number 42. While Commissioner Bud Selig spoke of the "considerable progress" that baseball had made since Ueberroth began his initiatives, Rachel remained undeterred. When the retirement was announced, she was grateful, but even while still basking in the glow of that unprecedented honor, she made sure to let the world know that "racism is still with us and the struggle is still on. We need to have a vision and we need to have a plan."71 Rachel was able to check another US commander-in-chief off the list, when President Bill Clinton was on hand at Shea Stadium to speak at the April 15 ceremony that prefaced the contest between the New York Mets and the Los Angeles Dodgers.
Intermingled with the host of other responsibilities she took upon herself, Rachel also played an occasional role in the dramatic interpretations of Jack, serving as a creative consultant on multiple TV, stage and book projects. Despite the vast quantity of fictionalizations, including the commercially successful 2013 film 42: The True Story of an American Legend, starring Chadwick Boseman as Jack and Nicole Beharie as Rachel, none of those works could truly capture the full depth and breadth of his expansive life. It was her desire to see the whole of Jack's story told, which led Rachel to reach out to Ken Burns in hopes that the creator of the 10-volume omnibus, Baseball, might be willing to be the one to tell the tale. At first Burns hesitated, but as Rachel passed her 90th birthday, the documentarian became concerned that he was going to lose the opportunity to speak to the best firsthand witness to the life of Jack Robinson.72 Rachel appears throughout the four-hour film; her memories, both joyful and painful, are crystal clear and told with the wisdom and humor of a woman who had seen much in her long life. And still she was not done.
On July 19, 2020, Rachel, along with three generations of Robinsons, celebrated her 98th birthday. It was, in the bizarre world of that pandemic-shortened season, Opening Day for the Los Angeles Dodgers. She looked resplendent in a bright red dress, surrounded by an array of floral arrangements in her New York City apartment. The family enjoyed the well-wishes that flooded in from social media, as well as a compilation of tributes that had been put together by the Jackie Robinson Foundation.73 Rachel sold the house in Stamford in the 1990s, and split her time between her home in North Salem, Connecticut, and New York City. In September 2020 she moved to Delray Beach, Florida, with Sharon, into a home they designed together.74
The 2020 season marked the 75th anniversary of Jack's first meeting with Branch Rickey, and this time it was Sharon who handled the bulk of the publicity when Major League Baseball celebrated the event. The festivities were particularly poignant, as America was once again gripped by racial justice protests, sparked by repeated police violence against BIPOC citizens, a familiar refrain for Rachel. There will be more anniversaries in the years to come, as Jack's legacy, one that Rachel assured, will likely be celebrated for all time. Maybe one day, those celebrations can take place in a world that Rachel and Jack sacrificed so much for — a world of true equality for all.
Last revised: April 30, 2021 (zp)

This biography was originally published in "Jackie: Perspectives on 42" (SABR, 2021), edited by Bill Nowlin and Glen Sparks. Click here to purchase an e-book copy or paperback edition.
Notes
1 Arnold Rampersad, Jackie Robinson: A Biography (New York: Ballantine Books, 1997), 76. See also 1940 US Census, accessed through Ancestry.com.
2 Gary Libman, "Rachel Robinson's Homecoming: She Recalls a Legend and Her Days in L.A.," Los Angeles Times, September 2, 1987.
3 Rampersad, 78.
4 Rachel Robinson and Lee Daniels, Jackie Robinson: An Intimate Portrait (New York: Abrams, 1996), 20.
5 Jackie Robinson, I Never Had It Made (New York: Harper Collins, 1995), 11.
6 I Never Had It Made, 10
7 Intimate Portrait, 22-24; Rampersad, 79.
8 Ken Burns, director, Jackie Robinson. Florentine Films, 2016.
9 Rampersad, 84-86.
10 Author email exchange with Jennifer Jensen, curator of Jackie Robinson Foundation, October 26, 2020.
11 Rampersad, 89.
12 Rampersad, 94.
13 Intimate Portrait, 27-28.
14 Rampersad, 99.
15 Rampersad, 111.
16 Jensen email exchange, October 26, 2020.
17 Rampersad, 131-132.
18 Intimate Portrait, 40.
19 Rampersad, 137-139.
20 Rampersad, 140.
21 Intimate Portrait, 50-52.
22 Ingrid Peritz, "Jackie Robinson's Wife Remembers a Welcoming Montreal," Globe and Mail (Toronto), April 28, 2013. https://theglobeandmail.com/news/national/Jack-robinsons-wife-remembers-a-welcoming-montreal/article11602715/.
23 I Never Had It Made, 53.
24 Rampersad, 152.
25 Intimate Portrait, 54-58.
26 Rampersad, 158-159.
27 I Never Had It Made, 66.
28 Intimate Portrait, 66.
29 I Never Had It Made, 66.
30 Rampersad, 180-182.
31 Intimate Portrait, 72.
32 Intimate Portrait, 75.
33 Jensen email exchange.
34 Intimate Portrait, 88; Rampersad, 195, 196.
35 Idlewild Airport was later renamed for the slain President John F. Kennedy.
36 Nicholas Hirshon, "Jackie Robinson's House Not Safe," New York Daily News, April 7, 2008. https://nydailynews.com/new-york/queens/jackie-robinson-house-not-safe-article-1.280057.
37 Intimate Portrait, 94-96.
38 Rampersad, 198.
39 Hirshon.
40 Susan Muaddi Darraj, Jackie Robinson (New York: Chelsea House, 2008), 71.
41 Intimate Portrait, 130-132.
42 Rampersad, 274.
43 Jensen email exchange.
44 Intimate Portrait, 133.
45 Rampersad, 310.
46 Intimate Portrait, 139.
47 Intimate Portrait, 144.
48 Intimate Portrait, 161.
49 Intimate Portrait, 160-161.
50 Rampersad, 360.
51 Ramersad, 361.
52 Intimate Portrait,175.
53 Intimate Portrait, 174.
54 "Jazz Festival Earns Funds for Rev. King," the Record (Hackensack, New Jersey), June 24, 1963: 5.
55 Intimate Portrait, 176.
56 I Never Had It Made, 219.
57 Intimate Portrait, 201.
58 I Never Had It Made, 247.
59 Intimate Portrait, 202.
60 Rampersad, 449-450.
61 Rampersad, 210.
62 Rampersad, 216.
63 "The Plain and Poor Remember Jack Robinson," Democrat and Chronicle (Rochester, New York), October 28, 1972: 3D.
64 Intimate Portrait. 220.
65 "History." Jackie Robinson Foundation website. Jackierobinson.org/timeline/#/home. Accessed October 23, 2020; Jensen email exchange.
66 "Urban League Gives Posthumous Award to Jack Robinson." New York Times, May 4, 1973.
67 "History," Jackie Robinson Foundation website.
68 National Coalition of 100 Black Women, Inc. ncbw.org/.
69 "Rachel Robinson Bio," Jack Robinson Foundation website. Jackierobinson.org/people/rachel-robinson/. Accessed October 24, 2020.
70 "After Campanis: What About Blacks' Chances," Bismarck (North Dakota) Tribune, April 12, 1987: 19.
71 Ronald Blum, "Baseball to Honor Jack Robinson in '97," News-Press (Fort Myers, Florida), February 27, 1997: C1.
72 Author interview with Sharon Robinson, September 18, 2020.
73 Author email exchange with Sharon Robinson, October 26, 2020.
74 Author interview with Sharon Robinson, September 18, 2020.
Full Name
Rachel Annetta Isum Robinson
Born
July 19, 1922 at Los Angeles, CA (USA)
If you can help us improve this player's biography, contact us.
https://sabr.org/wp-content/uploads/2012/01/Robinson-Rachel-dreamstime_xl_106975307-scaled.jpg
2560
1883
admin
/wp-content/uploads/2020/02/sabr_logo.png
admin
2021-04-14 00:43:10
2021-04-30 11:47:49
Rachel Robinson