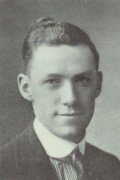 ---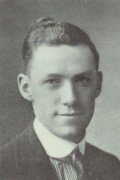 Immediately following his graduation from Tufts College Dental School in June 1916, catcher Ralph Carroll joined the Philadelphia Athletics, where his tenure was brief (10 games) and distinguished only by the fact that the club dropped every game in which Carroll appeared. Or perhaps that was not much of a distinction, as the hapless A's (36-117) managed to lose another 107 games entirely without him. Although he did not hit, Carroll flashed impressive defensive skills behind the plate and a strong, accurate throwing arm in his short time with Philadelphia. Club co-owner/manager Connie Mack was, therefore, reportedly disappointed when Carroll chose to leave the A's in early August, either due to exhaustion or to prepare for his dental licensing exams; news accounts varied. In any case, once he left the playing ranks, Carroll never came back, spending the remainder of his life briefly dabbling in high school and college coaching and decades thereafter in professional scouting. But mainly, he followed the profession that he had learned at Tufts, maintaining a dental practice for more than 50 years in his hometown of Worcester, Massachusetts.
Ralph Arthur Carroll was born in Worcester on December 28, 1891. He was the only child known to have been born to tinsmith John B. Carroll (1848-1917), an Irish Catholic immigrant, and his Massachusetts-native wife Anna (nee McKenna, 1852-1940), a domestic servant. Young Ralph attended local schools through his graduation from Worcester Classical High School. Good-sized (eventually 6-foot-1, 170 lbs.) with a shock of flaming auburn hair, "Red" Carroll1 was an outstanding schoolboy athlete, particularly on the baseball diamond. After high school, he took a post-graduate year at Worcester Academy, catching for an undefeated prep nine.2 Carroll's ball-playing aptitude did not go unnoticed, and Jesse Burkett, then winding down a Cooperstown-bound career as playing manager of the Worcester Boosters of the Class B Eastern League, was particularly anxious to sign him. But Carroll opted for college instead, matriculating to Holy Cross.3
Although only a freshman academically, the 21-year-old, who batted and threw from the right side, quickly assumed first-string status with the Crusaders, who finished with a 14-13 log. That summer, Carroll came to the attention of Connie Mack, courtesy of T. Frank Hickey, a wealthy Massachusetts businessman and a long-time Mack friend. For the past several summers, Hickey had sponsored a summer baseball club in Shrewsbury that served as a sort of developmental squad for the Athletics. Hickey had already sent outfielder Bruno Haas to Mack for a tryout,4 and more recruits were reportedly in the pipeline. "Ralph Carroll, a catcher on the Holy Cross team, is a possibility for graduating to the A's," reported the Detroit Times. "He has been growing fast as a backstop for Hickey's team and in another year might be ready for big league duty."5 Carroll's advancement in baseball, however, would soon take a back seat to a newly-formed desire to enter the dental profession. To that end, he left Holy Cross and transferred to Tufts College in September 1913 in order to enroll in its dentistry school, forfeiting a year of collegiate athletic eligibility in the process.6
Although he went to Tufts primarily for educational purposes, the move also benefitted Carroll athletically, placing him under the tutelage of Jumbos baseball coach Jack Slattery, a former major league receiver.7 Although he had been away from collegiate competition for a year, the Tufts transfer showed promise as soon as 1915 spring practice began. "Tufts will be well-fixed behind the plate," reported the Boston Herald. "'Red' Carroll, the former Holy Cross backstop, has shown the best form up to date. Under Coach Slattery, who was himself a catcher in the major leagues, Carroll should improve wonderfully."8 The unidentified Herald reporter proved a seer, as Carroll had a standout junior season. He excelled behind the plate and batted a robust .386 (22-for-57) for a 17-2-1 Jumbos nine.9 Tufts and Carroll encored that performance the following year. With seven regulars batting over .300, Tufts went a sparkling 20-2, the second-best record registered by a Northeastern college in 1916.10 Carroll did his part to ensure team success, again providing yeoman service behind the plate and batting a handsome .353 (25-for-71).11
While "Red" Carroll was performing his heroics at Tufts, the fortunes of Connie Mack's champion Philadelphia A's had begun a free-fall in American League standings. Diminishing gate receipts, player defections to the upstart Federal League, and grim financial prospects had prompted Mack to begin dismantling his juggernaut ball club after the A's had been upset by the Boston Braves in the 1914 World Series. The results were catastrophic. From the AL top spot, the Athletics plummeted all the way to the league cellar in 1915, posting a woeful 43-109 (.283) mark. And things did not improve for Mack's club in the early going of 1916. Entering June, the A's were again in last place and given little chance of climbing higher.12 Desperate for a remedy, Mack resorted to a familiar strategy: the signing of amateur talent from the college ranks.
Unlike many other big league skippers, Mack was not averse to having college players on the A's. To the contrary, he prized the intelligence, better behavior, and locker room stability that educated ballplayers brought to his club, and A's rosters were always liberally dosed with them. Indeed, college men like Eddie Collins (Columbia), Eddie Plank (Gettysburg), Chief Bender (Carlisle), Jack Barry (Holy Cross), Eddie Murphy (Villanova), and Jack Coombs (Colby) had formed the core of Mack's recent championship teams.13 And helpful given the financial straits that the A's were currently in, college players held another attraction. They could be acquired cheaply, available for signing without incurring the expense that attended obtaining talent via purchase or the minor league player draft. During the course of the 1916 season, Mack auditioned no fewer than nine new collegians. "Red" Carroll was one of them.
The terms under which Mack engaged Carroll are unclear.14 But whatever the details, it was promptly announced that "Ralph Carroll, as classy as any of the college catchers in the East," would be given a tryout during an upcoming A's road trip.15 On June 27, 1916, Mack paired his new receiver with right-hander Jing Johnson, another collegiate (Ursinus) signee yet to make his major league debut, and sent them out to face the defending World Series champion Boston Red Sox. Opposed by Sox ace lefty Babe Ruth, the A's got off smartly, scoring two quick first-inning runs and looking for more. With two outs, Ruth walked outfielder Jimmy Walsh to load the bases in order to face the A's novice catcher. As he strode to the plate, Carroll received "a fine reception" from Boston fans who appreciated his achievements at nearby Tufts.16 He then took a called third strike, ending the A's rally. From that point on, Ruth clamped down, pitching scoreless ball for the remainder of the game. Meanwhile, Boston batsmen began to find the range against Johnson, who was hit hard in an eventual 7-2 Athletics loss. By game's end, Carroll had struck out again, and gone hitless in four at-bats, overall. Yet despite his impotence with the bat, Carroll received good notices in the press, with the Philadelphia Inquirer informing readers that "his backstopping was fine," and that young Carroll had gunned down three would-be base stealers.17
For the next two weeks, Carroll remained on the bench as the floundering Athletics remained entrenched in the AL cellar. Carroll's second game appearance came against the St. Louis Browns on July 13, when he was a late-inning replacement for starting catcher Billy Meyer. And again, he made a favorable impression on the local press. His two outfield fly outs were well-hit, and he "handled himself well" defensively, reported the Philadelphia Evening Public Ledger. Carroll "was right at ease behind the plate and showed a rifle arm" in throwing out a Brownie base-stealer.18 Carroll's game performance two days later garnered little press notice, but later became fodder for an anecdote about the misadventures of the 1916 Philadelphia Athletics that pitching staff member Tom Sheehan (then on his way to a ghastly 1-16 record, and decades later San Francisco Giants manager) would regale listeners with for years. As Sheehan told it, "Remember [catcher] Val Picinich? He was 19, just breaking in. He hit .195. On other days, total strangers would catch. Once we were playing the Yankees at the Polo Grounds and I'm pitching. Picinich warms me up, but as soon as the first batter gets in, Val goes back to the bench and takes off the tools. Another guy comes out, a guy I've never seen. He comes to the mound and says, 'My name is Carroll. I'm the catcher. What are your signs?' I tell him not to confuse me and get the heck back there and catch. He stuck around for about a week and nobody ever saw him again."19
After he had caught Sheehan, Carroll continued to receive game assignments from manager Mack. The results were fairly uniform: Carroll was sound defensively but helpless with the bat. The A's, meanwhile, lost each of the games that he appeared in. The ex-collegian finally broke into the hit column on July 21, stroking a single off Cleveland left-hander Fritz Coumbe during a 7-2 loss to the Indians. Carroll's batting returned to form on July 25. He went hitless in an 8-3 loss to the St. Louis Browns. But his work behind the plate drew raves from the hometown press: "Catcher Carroll gave a good exhibition, showing an arm of steel and an inclination to mix it up with anyone who tried to push him away from the rubber," observed the Philadelphia Inquirer. "He nipped such speed artists as [George] Sisler twice, [Jimmy] Austin and [Burt] Shotton who tried to pilfer the second sack. The throws to [Nap] Lajoie were perfect, just knee high and on a line."20 Carroll was also commended for fortitude in guarding the plate. Trying to score from second, the Browns' Del Pratt had "shot his spikes at the youngster, but Carroll was on the job. He blocked the plate and applied the ball without blinking an eye."21
Ralph Carroll's tenth and final major league game was an unhappy affair. Behind the plate for the second game of a July 26 doubleheader against St. Louis, the usually sure-handed receiver had trouble handling fireballer Joe Bush. Two passed balls by the young catcher (plus two walks by Bush, a wild pitch, a St. Louis base hit, and two A's fielding miscues) put Philadelphia in a three-run hole before the Athletics had recorded an out in the second inning. A "peeved" Bush thereupon refused to continue pitching, forcing manager Mack to bring in reliever Red Lanning. Later, the temperamental Bush complained that Carroll "could not hold his speed."22 The Athletics lost the contest, 5-1, the tenth consecutive A's defeat in games in which Carroll had played. The only consolation for the redhead was getting his second major league base hit, a single off of winning pitcher Dave Davenport. After the game, Carroll reportedly informed Mack that "the professional game was not to his liking."23 As it turned out, he never appeared in another one.
By early August, Carroll had left the Athletics, a matter apparently of his own choosing.24 Unlike his college opposition, Carroll had been unable to hit American League pitching, posting an abysmal .091 batting average, with one run scored and zero driven in. His defensive work, however, had been solid. His .942 fielding average (three errors in 10 games played) was respectable for an inexperienced rookie, and he threw out 41 percent (13-of-32) would-be base stealers.25 In short, if his hitting could be improved, Carroll had the makings of a major league catcher.
Like the terms of his engagement, the circumstances attending Carroll's departure from the Athletics are unclear. Some reports indicated that he left the club to prepare for his dental licensing exams.26 Others attribute his leaving to physical exhaustion.27 Perhaps his tenure with the inept A's and/or the disagreeable encounter with "Bullet" Joe Bush had soured Carroll on making baseball his profession. Or maybe Carroll had come to the conclusion that practicing dentistry would provide a better and more stable livelihood than professional baseball.28 Whatever the case, his manager was sorry to see him go. Despite a feeble bat, Carroll had made "a good impression on Connie Mack,"29 himself a weak-hitting, defense-oriented catcher during his playing days.
Resting back home in Worcester, Carroll reportedly applied for a position as an Eastern League umpire.30 By year's end, however, he had been licensed to practice dentistry and found employment with the Forsythe Dental Infirmary for Children in Boston. Thereafter, he returned to Worcester to affiliate with a dentist with an established local practice. Connie Mack, still hoping to develop him into a big-league catcher, tendered young Dr. Carroll a contract for the 1917 season. But Carroll, by now resolved on a career in dentistry, returned it unsigned.31 Still, the game was not entirely out of his system. So when the baseball coach at Worcester Boys Trade High School was unexpectedly called away to National Guard duty that April, "Dr. Carroll, [who] had formerly played ball at Holy Cross, Tufts College, and the Philadelphia club of the American League" stepped into the breach. Coach Carroll "took hold of the squad and rounded it into a fast team, injecting it with fight and a never-say-die spirit."32
In 1918, Carroll became the baseball coach at Worcester Polytechnic Institute, where he made "a specialty of battery work."33 He also coached football at Worcester South High School.34 But in time, Carroll gave up coaching to practice dentistry full time, a decision likely influenced by his 1922 marriage to Worcester stenographer Isabella Goggin. The birth of the couple's only child, daughter Elicia in 1924, completed the Carroll family. Sometime later, Dr. Carroll returned to school to obtain an advanced degree from Washington University in St. Louis, and thereafter concentrated his office practice in orthodontics. He also was also on staff at St. Vincent's Hospital in Worcester.
By middle age, Carroll had established a thriving professional practice. But he remained connected to the game of his youth. In 1940, he was elected president of the Worcester Retired Professional Baseball Players Association,35 and emceed its annual winter banquet.36 He also retained pride in his brief time as a big leaguer. Thus, when the Boston Herald mistakenly identified 1942 rookie Philadelphia Athletics catcher George Yankowski as the first collegiate player to appear in a major league game without having any minor league experience, a letter from "Dr. Ralph A. Carroll, Worcester" promptly set the newspaper's readers straight. He, not Yankowski, was the first such major leaguer.37
In the mid-1950s, "Doc" Carroll38 became New England regional scout for the Milwaukee Braves, a post that he filled for more than a decade. Returning home from the Braves' Waycross, Georgia rookie camp in 1964, Carroll, an avid amateur golfer, stopped in Virginia to visit with an old ballplayer-turned-golf-pro friend. While there, he informed The (Petersburg) Progress-Index how radically baseball had changed from his own Deadball Era playing days. "The bunt is a lost art and the stolen base is fading out with it," said Carroll. Today, "most major league teams are going for the big, strong boy who can hit the long ball and supply the home run." Regarding outfield prospects, "the two main features are top speed and his arm, and [to] be as big as possible," he added.39
Dr. Carroll continued practicing dentistry in hometown Worcester into his early 80s before retiring. In August 1982, Isabella Carroll, his wife of 60 years, passed away.40 By then, the elderly dentist was a resident of a local assisted care living facility. Early the following summer, he came down with pneumonia. Days later, he went into cardiac arrest and died at Worcester City Hospital on June 27, 1983.41 He was 91. After a Funeral Mass was celebrated at Our Lady of the Rosary Church, his remains were interred in St. John's Cemetery, Worcester. In all, Dr. Ralph Arthur Carroll, while hardly a noteworthy major league ballplayer, had lived a long, interesting, and productive life — a destiny most would aspire to.
Acknowledgments
This bio was originally published in the SABR Deadball Era Committee's newsletter, The Inside Game, Vol. XIX, No. 1, February 2019. This version was reviewed by Rory Costello and Joel Barnhart. It was fact-checked by Alan Cohen.
Sources
Sources for the biographical information recited herein include the Ralph Carroll file maintained at the Giamatti Research Center, National Baseball Hall of Fame and Museum, Cooperstown, New York; United States Census data and Carroll family posts accessed via Ancestry.com, and certain of the newspaper articles cited below, particularly the obituary published in the Worcester Telegram, June 29, 1983. Unless otherwise noted, stats have been taken from Baseball-Reference and Retrosheet.
Notes
1 Modern baseball reference works usually identified our subject as "Doc" Carroll, using a later-in-life nickname that never appeared in newsprint during Carroll's ball playing days. When reporting on Carroll's exploits in high school, college, and with the Philadelphia A's, Deadball Era newspapers invariably called him Ralph or "Red" Carroll.
2 Worcester Academy won 39 straight games over the 1912-1913-1914 seasons.
3 "Sporting News: Baseball at Holy Cross," Springfield (Massachusetts) Republican, January 1, 1913.
4 Haas had already played an exhibition game with Philadelphia and would later bat .056 in a 12-game audition for the Athletics in 1915.
5 "Rich Fan Provides Mack with Real Baseball Farm," Detroit Times, October 14, 1913.
6 Pursuant to the "one-year rule," Carroll was not able to play baseball during his first year as a transfer student at Tufts. See "Tufts Baseball Chimes Bright," Boston Herald, February 7, 1915.
7 A decade earlier, Slattery had spent four seasons as a backup big leagues catcher. He would subsequently go on to coach (1918-1919) and briefly manage (in 1928) the Boston Braves.
8 Slattery's Fine Hand Apparent," Boston Herald, February 28, 1915.
9 As noted by the Springfield Republican, June 12, 1915, in "Leland Hits for .402." Carroll's .386 batting average was the third-highest among Northeastern collegiate players.
10 As reported in the Springfield Republican, June 26, 1916. Columbia's 18-1 record was tops, while Harvard (21-3) placed third among the 18 institutions catalogued.
11 Ibid.
12 A headline from a small North Dakota newspaper encapsulated the situation aptly. See "Connie Mack Has Hopeless Task: Athletics Look to Finish No Better than Eighth," (Langton) Courier-Democrat, June 1, 1916.
13 With these players, Mack's Philadelphia Athletics had captured American League pennants in 1910, 1911, 1913, and 1914, and won the World Series in all but the last of these campaigns. Among the lesser lights contributing to A's success had been a Tufts graduate, pitcher Doc Martin.
14 After Carroll had made his big leagues debut, it was reported that "Manager Mack said he had not talked business to Carroll, but it is understood that the Mackmen have a string on his services." Philadelphia Inquirer, June 28, 1916.
15 Per "American League Notes," Sporting Life, July 18, 1916.
16 See "Macks Again Have to Yield to Red Sox," Boston Herald, June 28, 1916.
17 Per "Couldn't Score After the First," Philadelphia Inquirer, June 28, 1916. See also, the Bridgeport (Connecticut) Evening Times, August 1, 1916: "Red Carroll, the Tufts catcher, made a fine impression, catching Johnson in fine style and nabbing three men who attempted to steal second."
18 "Fall of Athletics Has Not Injured Baseball Here, but Came at an Inopportune Time," Philadelphia Evening Public Ledger, July 14, 1916.
19 As per Jack Orr, "The Worst Team of All," The Second Fireside Book of Baseball, Charles Einstein, ed. (New York: Simon & Schuster, 1958), 174. Like all good raconteurs, Sheehan was not overly fussy about getting the facts of his yarns right. For the record, Carroll never appeared in a game against the Yankees. The only time that Carroll ever caught Sheehan was on July 15, a 4-1 loss to the Chicago White Sox at Shibe Park. By that date, Carroll had been a member of the Philadelphia A's for about two weeks.
20 "Larry Hit Them, But the Rest Couldn't," Philadelphia Inquirer, July 26, 1916.
21 Ibid.
22 As per a wire service account published in the Erie (Pennsylvania) Times and Washington Herald, July 27, 1916.
23 According to John G. Robertson and Andy Saunders, As Bad As It Gets: Connie Mack's Pathetic Athletics of 1916 (Jefferson, North Carolina: McFarland, 2013), 100.
24 At the time, Wally Schang was injured and Billy Meyer was recovering from an emergency appendectomy, leaving the Athletics in dire need of able-bodied catchers.
25 Both Baseball-Reference and Retrosheet charge Carroll with five passed balls, but this total is inconsistent with Carroll's individual game logs, which memorialize only three.
26 See Chandler D. Richter, "Philadelphia Points," Sporting Life, July 22, 1916, which mistakenly has Carroll boning up for the Massachusetts bar exam, rather than his dental license test.
27 See e.g., "Around the Circuit," the Springfield Republican, September 1, 1916, which placed Carroll back home in Worcester "resting under doctor's orders." See also, Sporting Life, August 26, 1916.
28 In a late-life questionnaire submitted to the Hall of Fame library, Carroll expressed ambivalence about having given professional baseball a try, citing the "low salary [paid players] in those years."
29 "American League Notes," Sporting Life, July 22, 1916
30 According to the Springfield Republican, September 1, 1917.
31 See "Jess Burkett To Be Tutor to Red Sox Kids," Boston Herald, January 24, 1917.
32 The Blue and Gray (the 1917 Worcester Boys Trade High School yearbook), 93, accessible via Ancestry.com. Under Carroll, the team's record stood at 5-2 when the yearbook went to press.
33 As per the WPI Tech News, No. 25, April 2, 1918. See also, the 1918 WPI Journal, 325. Carroll's 1983 Worcester Telegram obituary states that he was also director of athletics at WPI, but this is incorrect. Percy (Doc) Carpenter served as AD at WPI from 1916 to 1952 (but Carroll might have filled an assistant's spot at some point during his brief association with the school). The writer is indebted to WPI Sports Information Director Rusty Eggen and colleagues for this clarifying information..
34 As per the Carroll obituary published in the Worcester Telegram, June 29, 1983.
35 As reported in the Fitchburg (Massachusetts) Sentinel, January 12, 1940.
36 The 1942 affair hosted by Dr. Carroll featured such bygone baseball luminaries as Jesse Burkett, Jack Barry, Kitty Bransfield, and Bill Bergen. See the Boston Herald, February 27, 1942
37 See "It Happened Once," Boston Herald, August 18, 1942.
38 Doc was a later-in-life nickname that Carroll acquired from his dental patients. As previously noted, he had always been called Ralph or Red Carroll during his playing days.
39 Per "Scout Talks About Object of the Job," The (Petersburg, Virginia) Progress-Index, April 21, 1964.
40 The ultimate fate of daughter Elicia, an unmarried school teacher living with parents into the 1950s, was undiscovered by the writer.
41 As per the death certificate contained in the Ralph Carroll file at the Giamatti Research Center.
Born
December 28, 1891 at Worcester, MA (USA)
Died
June 27, 1983 at Worcester, MA (USA)
If you can help us improve this player's biography, contact us.
https://sabr.org/sites/default/files/CarrollRalph.jpg
600
800
admin
/wp-content/uploads/2020/02/sabr_logo.png
admin
2019-04-17 12:37:09
2020-04-09 14:37:34
Ralph Carroll