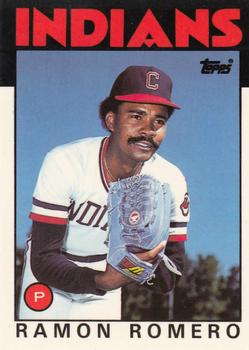 ---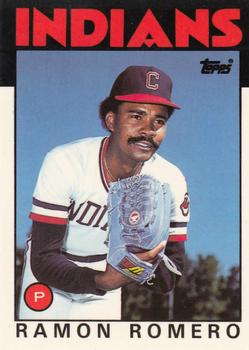 Even if you were one of the Cleveland Indians' most rabid fans in the mid-1980s, you can be forgiven if you don't recall Ramón Romero, a tall, lanky left-handed pitcher who toiled pretty much in anonymity during the 1984 and 1985 seasons. And if he was overlooked while active, his post-baseball life proved to be even more obscure.
Ramón Romero was born on January 8, 1959 in San Pedro de Macorís, Dominican Republic.1 He was the son of Ramón de los Santos and the former Carmen Romero (it appears that he was another of the various Latino players who became known in the U.S. by his mother's surname). Nothing else is known about his family background and young adulthood, other than that he attended the Gaston F. Deligne secondary school in San Pedro de Macorís, but left before graduating.2
Scouted and signed by Indians' scout Wilfredo Calviño on October 1, 1976, Romero was assigned to the Tribe's Batavia (New York) club in the short-season New York-Pennsylvania League to begin the 1977 season. He pitched only a single inning for the Trojans before being sent, along with fellow hurler Julián Rodríguez, to the Pulaski Phillies in the Appalachian League in early July. Pulaski had been a Philadelphia affiliate in the same league, 1969-75, and still used the Phillies name, although the team was now in its second season as a co-op, with players provided by the Phillies, Baltimore Orioles, and Minnesota Twins, as well as the Indians.
Romero found regular work, all in relief, on the Pulaski staff, with 16 appearances out of the pen. He did little to distinguish himself, however, allowing 52 hits and 25 walks in 48 innings, with 28 strikeouts and a 6.94 ERA.
The Indians moved Romero to their Waterloo (Iowa) team in the Midwest League to start the 1978 season. As in the previous year, he made just one appearance before being moved again, this time back to Batavia. Again, his numbers in 12 games, all but two in relief, weren't pretty. He allowed 33 hits and 32 walks, in only 31 innings, to go with a 5.23 ERA. After the season, Romero returned home to pitch in the Dominican Winter League, but only pitched a single inning in his one game with the Leones del Escogido.
Being left-handed and still only 20 years old probably got Romero yet another chance, and surely the Indians were hoping that 1979 would be the year that he would find some semblance of improved control. For the second time in three seasons, he was loaned to a co-op team — this time to the Wausau Timbers (Midwest League). With Wausau, in an attempt to get more work, Romero was moved into a starting role. The results, in 11 starts and six relief appearances, totaled 66 innings, 77 hits and 53 walks — nearly two baserunners per inning — and a 6.55 ERA.
He again joined the Escogido club during the winter, but this time he appeared in only two games.
At this point, Romero could hardly be considered one of the Tribe's premier prospects. Truth be told, he was probably kept around to help fill out the rosters over the next few seasons. Between 1980 and 1982, he saw service with Waterloo, Hagerstown (an Orioles farm team — loaned out again), Chattanooga, back to Waterloo again (for his fifth consecutive season in the Midwest League), and once more in Chattanooga. He showed enough with the Lookouts that he was moved up to Buffalo (Eastern League) for 1983. There he found a home in the bullpen, finishing 26 games and posting a 10-4 won-lost record — by far his best season to date. Romero spent the 1980-83 winter seasons back in Escogido, as a regular member of the club's bullpen, appearing in 22 games during both the 1982-83 and 1983-84 seasons. After six winter league seasons without recording a win or loss, Ramón posted a 2-3, 5.34 record in 1983.
Desperately looking for a lefty to groom for the big league staff, and pleased with Romero's progress the previous season, the Indians started him back in Buffalo in 1984. He held his own, warranting a midseason promotion to the Triple-A Maine Guides team. He pitched well enough there, with a 2.56 ERA in 27 games, to receive a September call-up to the Indians.
Romero worked in only one game after his promotion — a three-inning mop-up appearance on September 18, in a 6-3 Tribe loss in Seattle. The rookie hit the first batter he faced, Jack Perconte. But Perconte was promptly retired in a double play, and Romero faced the minimum nine batters in his three innings of work, striking out three while not allowing a hit or walk.
Romero's trail of 14 teams through seven minor league seasons had finally paid off, and he had a title that no one could take away from him — major leaguer.
At least for one day, Romero had harnessed his control problems, and had made quite an impression on his teammates and manager, Pat Corrales. "If he gets the ball over, they won't hit it," said Corrales after the game.3 Back with the Leones del Escogido that winter, Romero tallied 18 innings in 18 games, working to a 5.00 ERA, while giving up 23 hits and 10 walks.
Naturally, Romero looked forward to spring training 1985, knowing that he had a chance to be the bullpen lefty that the Indians had been searching for. Unfortunately, both he and fellow Indians hurler José Román were delayed in reporting by a mail strike in the Dominican Republic. Neither of the rookies had received the airline tickets that the club had mailed!4
Once he finally reported to the Tribe's camp in Tucson, Romero continued to make great strides, giving up only three runs on four hits and only two walks in 11 1/3 innings. That proved to be enough to win the rookie a spot on the Indians' Opening Day roster.
"All he has to do is get the ball over the plate because they won't hit it," said Corrales, repeating his assessment from the previous September. "I told him that he would be with this club a long time if he does that. If he doesn't, he'll have to catch a cab."5
Romero made his 1985 Indians debut in the second game of the season, as the third of five Tribe pitchers in an 8-1 loss to the Tigers in Detroit. Entering the game to start the seventh inning, he didn't last long, being touched for two runs on a walk, a sacrifice, and a hit, in just one-third of an inning. He didn't exactly "have to catch a cab" after the game — but he did find himself heading back to the AAA Maine club, where he appeared in 15 games before rejoining the big league club in early July.
After returning to the Indians, Romero joined the team's starting rotation for 10 games, with a 2-3 record, before being sent back to the bullpen at the end of August. His last eight appearances all came in mop-up roles in losing games. His season stat line showed 64 1/3 innings pitched, giving up 69 hits, with 38 strikeouts and an equal number of walks, allowing 13 home runs and a 6.58 ERA. Back in Escogido for the winter, he worked in 19 games, but still experienced control problems, giving up 24 walks to go with 26 hits in 28.1 innings.
During the off-season, the Indians traded Romero and fellow pitcher Roy Smith to the Minnesota Twins for pitchers Ken Schrom and Bryan Oelkers. Romero ended up never pitching in the majors for the Twins, splitting the 1986 season between the club's Toledo and Orlando minor league affiliates. He made his last winter league appearance that season, giving up seven hits and seven walks in seven innings.
The Twins invited Romero to spring training as a non-roster player the next year, but released him before the season started. He joined the Rieleros de Aguascalientes in the Mexican League for a brief portion of the 1987 season, his final professional employment.
The search to discover what happened to Ramón Romero after he left baseball took several interesting twists and turns.
First, when the 1986 Topps baseball cards were issued, a beautiful card of Romero was included (#208 in the series). It pictured him in his Indians home uniform, with the photo probably taken at the team's spring training complex in Tucson. Of course, by the time the 1986 cards were released, Romero was no longer with the Indians. He was in the Twins organization, and in the minor leagues, at that. That is not an uncommon situation at all; it happens to numerous players each season.
In the case of Ramón Romero, however, even though his major league career had probably gone unnoticed by most, he became the focus of a small and dedicated group of fans — autograph collectors. He may have signed some autographs in person while he was an active player, but he was known to have responded to merely a few mail requests. In years to come, collectors who specialized in autographed Topps baseball cards, especially those who tried to get every card signed in a particular set, began to realize there was a major problem in completing an autographed 1986 Topps set — Ramón Romero.6 Even those who tried to collect the set when it came out in 1986 would have had a hard time finding him. He was no longer with the Indians, and before the Internet let player transactions be more closely followed, they may not have known where to find him in the Twins' system.
Most collectors probably assumed that he had returned to his native Dominican Republic after his playing days, but even if a mailing address might someday become available, mail back and forth between the United States and the Dominican Republic could be problematic. Perhaps he would turn up some day as a guest at a baseball card show, or someone might venture to the Caribbean and track him down, but that was not the case. A decade after the 1986 Topps set was released, every collector known to be working on that set was still missing a signed copy of #208.
This author had a particular interest in Ramón Romero, because he pitched for my hometown Pulaski Phillies in 1977, and I had worked for the team in 1969-1972. I had begun trying to track down "what ever happened to" as many members of the Pulaski franchise as I could. Even before doing that, however, I had mailed Romero a SABR/Baseball Hall of Fame biographical questionnaire to fill out, shortly after his major league debut, but he never responded.
So, in the late 1990s I set out to track down Romero. I spoke to numerous players from the Dominican Republic, especially those from San Pedro de Macorís, asking if they remembered or knew Ramón, or where he might be. I got two types of responses. The first was from players who knew where he was, but upon investigating further, the player they were referring to turned out to be the "other Ramón Romero" — A. DeJesús Ramón Romero, a shortstop in the White Sox system in 1979-85. The other set of responses held that Cleveland pitcher Ramón Romero was rumored to be deceased, although no one could provide any concrete information. Perhaps he had died in a car wreck, was killed in a bar fight, or possibly murdered, maybe in the Dominican, but maybe in New York, etc.
Research using the Internet was still in its infancy in the 1990s, but I did find one interesting entry in the online Social Security Death Index:
Name: R. Romero
Birth: 8 Jan 1959
Death: Oct 1988
Civil: New York
Bingo! That looked to be him, but maybe it wasn't. The birth date matched one of those that we had for the pitcher, but there was no complete first name, death date, or place of death. I wrote to the State of New York to search for a death certificate, but came up empty-handed.
Fast forward about 10 years, as more and more newspaper archives were being made available online, and I found a story from the October 16, 1988 edition of Newsday, a newspaper published on Long Island, New York. It is repeated here, in its entirety:
"CRACK SUSPECT DIES IN 6-FLOOR FALL

A suspected crack dealer who was fleeing police late Thursday at his fifth-floor Bronx apartment died when he fell from a fire escape, police and neighbors said.

Police said officers from the 44th Precinct began chasing Ramón Romero about 10:30 p.m. after witnessing a drug deal in a hallway outside his apartment. The officers had gone to the apartment building at 105 E. Clark Pl. to investigate a report of shooting, police said.

When he saw police approaching, Romero, 29, slammed his door shut, climbed out a window and headed up the fire escape, police said.

Romero fell while attempting to come back into the building through a sixth-floor window, police said. Romero's next door neighbor, [name redacted], said she saw police on the fire escape and heard a struggle outside her window before Romero fell.

Romero died of multiple injuries to his head and chest, including a fractured skull and a lacerated heart, said Ellen Borakov, a spokeswoman for the medical examiner's office. She said his injuries were consistent with a fall.

Romero's neighbors said they had complained to police of drugs being sold from his apartment in the past.

Another man involved in the alleged crack transaction ran up the stairs to the roof, where he was arrested, police said. [Name redacted] was charged yesterday with criminal possession of a controlled substance — 21 vials of crack, police said.

Police said detectives from the 44th Precinct were investigating Romero's death."7
So, this news story matched the information from the Social Security Death Index, and filled in the first name and complete date of death. However, it tells us only that the person who died in the fall had the same name and birthdate as the Indians pitcher, which would be quite a coincidence. There is no mention of this person being a ballplayer.
Now, fast forward another five or six years, and I was able to finally obtain a copy of the death certificate from the City of New York Bureau of Vital Records. It shows that the Ramón Romero who died on October 13, 1988 in the Bronx, New York was born in the Dominican Republic, and his "Usual Occupation" was listed as Baseball Player.8
Ramón Romero died three years and two weeks after his last major league appearance with the Indians. His death was unreported to and unnoticed by the baseball community, and it took over 25 years to be discovered. One autographed copy of Romero's 1986 Topps baseball card is now known to exist, but its authenticity has been questioned.
Ramón was survived by his wife, the former Margielyn Rincón. His body was returned to the Dominican Republic, and was interred in the Cimenterio Municipal, San Pedro de Macorís.
Sources

In preparing this biography, the author consulted Baseball-Reference.com, Retrosheet.org, The Sporting News, http://history.winterballdata.com, Newsday, the Heilbroner/Baseball Blue Book player information cards, and Ramón Romero's death certificate, from The City of New York Bureau of Vital Records.
This biography was reviewed by Rory Costello and fact-checked by David Kritzler.
Notes
1 The January 8, 1959 birthdate is found on Baseball-Reference.com, Romero's 1986 Topps baseball card, and on his death certificate. The 1984-86 editions of the Baseball Register, published by The Sporting News, show a January 22 date. On the biographical information card that Romero completed for the Heilbroner/Baseball Blue Book in October 1976 he listed his birthdate as January 15, 1959. Suffice it to say that Ramón was born in San Pedro de Macoris, Dominican Republic, on a Thursday in January 1959.
2 Abstract and Biographical Index Card completed for Heilbroner/Baseball Blue Book in October 1976. Now in the author's private collection.
3 Sheldon Ocker, "Tribe Bullpen is Still a Secret,"The Sporting News, October 15, 1984: 23.
4 Stan Isle, "Caught on the Fly,"The Sporting News, March 11, 1985: 44.
5 Sheldon Ocker, "Romero, [Dave] Von Ohlen On the Spot in Pen."The Sporting News, April 15, 1985: 20.
6 Another card from this series that became extremely difficult to find autographed was that of Joe DeSa, who died in a car crash in December 1986.
7 Mitch Gelman, "Crack Suspect Dies In 6-Floor Fall."Newsday (Melville, New York), October 16, 1988: 34.
8 City of New York Bureau of Vital Records – Certificate of Death filed on October 21, 1988.
Full Name
Ramón Romero De Los Santos
Born
January 8, 1959 at San Pedro de Macoris, San Pedro de Macoris (D.R.)
Died
October 13, 1988 at Bronx, NY (USA)
If you can help us improve this player's biography, contact us.
https://sabr.org/sites/default/files/RomeroRamon.jpg
600
800
admin
/wp-content/uploads/2020/02/sabr_logo.png
admin
2019-02-28 17:19:13
2020-04-09 14:37:35
Ramón Romero