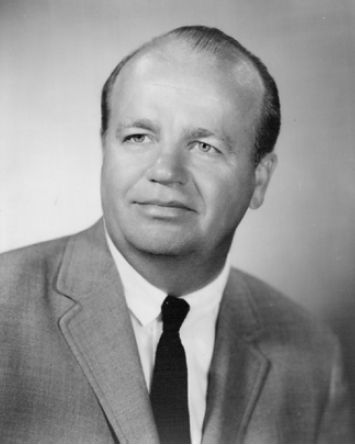 ---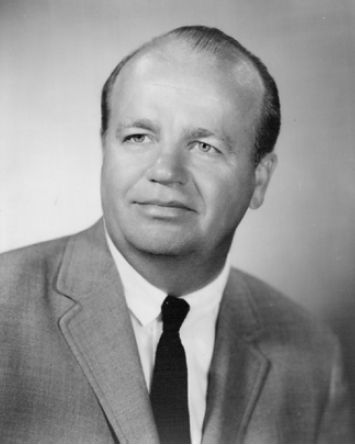 "Not all veteran fans remember him. Credit it to the fact that he was simply too good at what he did, which was use his voice with the range and subtlety of a concert violinist," wrote TV Guide of Ray Scott. "CBS's National Football League coverage didn't make a move to any big game without him in the late 1950s and early sixties."1 
Widely known as the voice of the Green Bay Packers for a decade and the play-by-play announcer for four Super Bowls, Scott brought his deliberate demeanor and the same cadence, clarity, and conciseness to baseball that had already become his trademark on football broadcasts. Longtime Minneapolis and St. Paul sports columnist and baseball observer Patrick Reusse said, "Everyone knows he was a great f***ing football announcer, but not everyone remembers he was a great f***ing baseball announcer."
Ray Scott was born on June 17, 1919, in Pennsylvania to William and Ada (Long) Scott. He had a younger brother, Hal, and at least one other sibling, a sister, Virginia.2 He attended high school in Connellsville, Pennsylvania, graduating in 1936. Along the way he tried to follow the gridiron path of other western Pennsylvania young men. Connellsville became notable in football in part because of the Lujack brothers, including Johnny, who would later win the Heisman Trophy at Notre Dame. Though he tried, Scott wasn't up to the Lujack standards. "I tried to play," he told Reusse in 1996, "and was kindly told by several coaches that I was lacking speed, size, and ability. Thanks to those coaches, I became a sportscaster."
His first job in broadcasting, in Johnstown, Pennsylvania, included other duties, including writing copy and selling radio time to sponsors. He also got his first shot at sportscasting, calling high-school football and basketball games. After serving more than four years in the Army during World War II, Scott returned to Johnstown and resumed his radio career. Later he moved to Pittsburgh, where he did the play-by-play for Carnegie Tech and University of Pittsburgh football and then worked for an advertising agency while announcing sports on the side. Scott recognized the rise of television in sports and worked his way into broadcasting National Football League games for the DuMont Television Network starting in 1953.
In January 1956 Scott was assigned to work with Bill Stern on the ABC telecast of the Sugar Bowl between Pittsburgh and Georgia Tech. Stern, who was dealing with an addiction to painkillers, arrived at the stadium as the game was about to start. He was in no condition to be on the air, leaving Scott to handle the broadcast duties. "While it was a terribly dark day for Stern," wrote David J. Halberstam in Sports on New York Radio: A Play-by-Play History, "it was a sparkling start for Ray Scott, whose career rocketed after that Sugar Bowl performance."
That fall, CBS Television hired Scott. At the time, CBS designated a set of announcers for each of the teams, and Scott got the assignment to work the Green Bay Packers games. At the time the Packers were a poor team, but in 1959 Vince Lombardi arrived as coach, and the Packers became the dominant team in football through much of the 1960s. "Scott's deep-throated, concise descriptions of the Packer games were as much a trademark of the team to the television viewing public as [Bart] Starr, Paul Hornung, Jimmy Taylor, Jerry Kramer, and all the rest of the Packers," wrote Maury Allen in Voices of Sport.
Scott got his first shot at baseball in 1957. NBC was carrying the Cubs-Pirates game in Pittsburgh on June 15 and needed a fill-in for Lindsey Nelson, who was covering a golf tournament in Toledo, Ohio  Scott got the call and worked with Leo Durocher as his color sidekick on the game. It was his first experience announcing baseball, but he was a fan and hoped to do more. "I loved baseball," Scott said in a 1990 interview. "I probably attended more Pirate games than any other nonbroadcaster."
After the 1960 season, the Washington Senators moved to Minnesota and became the Twins. Bob Wolff was the only member of the Senators broadcast crew to come with the team. A Minneapolis writer and announcer, Halsey Hall, was hired to do the color on the broadcasts, and Scott was under consideration for the third and final spot. Scott had done some work for Sports Network Incorporated (later the Hughes Sports Network) and was recommended by people there for the Twins job. Hamm's Beer was one of the key sponsors of Twins broadcasts on WCCO Radio and WTCN Television. Art Lund of the Campbell-Mithun advertising agency handled the Hamm's account and had a relationship with people at Sports Network.
"Somehow my name came up," said Scott, "but to never have done baseball [except for the one game in 1957] turned out to be an insurmountable hurdle. [Twins owner] Calvin Griffith was involved in the decision and said, 'Let's hear a tape of him doing baseball.' I got the rosters of the players involved in a game between the Orioles and Senators and went to a friend who had a recording studio in Pittsburgh. With sound effects, I did two or three innings of an Orioles-Senators game. Apparently, it met Calvin's okay, because I was hired." 
Scott settled in nicely with Hall, who was more than 20 years older. "I had a rapport from the very first," Scott said of Hall, describing him as "a kindly man," and adding, "It was obvious that he knew and loved the sport of baseball." In 1962 Wolff left the Twins broadcast team and was replaced by Herb Carneal. Scott, Hall, and Carneal became the familiar voices for a team that rose in the standings and reached the World Series within a few years.
The trio worked both television and radio. On the 50 telecasts each year, Scott and Carneal split up, each covering a portion of the game on WCCO and WTCN. Hall bounced back and forth between the booths on televised games. For the radio-only games, all were in the booth at the same time, but they never talked over one another. A radio clip of the final inning of Jack Kralick's no-hitter for the Twins in August 1962 provides a glimpse of the crew's style. With Scott handling the play-by-play at the time, Carneal sat nearby and helped provide information but did not lend his voice to the broadcast. Hall chimed in only on a few occasions, a contrast to the constant chatter now provided by color analysts.
The group stayed together through the 1966 season, when Scott left. "I left baseball and the Twins in 1966 to try and resolve a family situation," Scott explained. "Except for that I never would have left baseball. If I'd been forced to make a choice between football and baseball, my choice would have always been baseball."
For a time during the 1960s, both Scott and his younger brother, Hal, were sports announcers in the Twin Cities. Hal had worked in radio in Johnstown and Pittsburgh and came to Minnesota for to visit Ray in 1962. He discovered that WCCO Television was looking for a sportscaster. By the time Hal's visit was over, he had the job. He was the main sports anchor for WCCO until 1980, when he injured his vocal cords in a fall on the stairs at the television station; he hit his throat on the end of the bannister.
After leaving the Twins, Scott continued announcing National Football League games and also golf tournaments. "I did basically four sports," he said of his career, with baseball and basketball being the other two.
After CBS discontinued the practice of assigning specific announcers to particular teams following the 1967 season, Scott became the network's lead announcer for its NFL broadcasts. Paul Christman teamed with Scott until his death in March 1970, and then Pat Summerall became Scott's partner.
Scott got back into baseball broadcasts with the Washington Senators (an expansion team that started when the previous Senators moved to Minnesota) and later came back and announced Twins games on television in 1973 and 1975. (By this time the Twins had separate announcing crews for television and radio.)
CBS and Scott parted in 1974. "Reasons for Scott's exit are difficult to put in focus. But reportedly neither side was sorry about the parting," wrote Jack Craig in The Sporting News. To author Curt Smith, Scott said the reason was "because I choose to speak out against the growing tendency to focus on the announcer, not the event, and because I'm not afraid to deplore 'show biz broadcasting' and athletes-turned-announcers who have no talent whatsoever."
Scott did local football broadcasts on radio, first for the Kansas City Chiefs and then for the expansion Tampa Bay Buccaneers, who lost their first 26 games in 1976 and 1977. He had his last stint as a baseball announcer in 1976 and 1977 for the Milwaukee Brewers, working with Bob Uecker and Merle Harmon. (Harmon had filled Scott's spot on Twins broadcasts and worked in Minnesota from 1967 to 1969.)
Scott eventually came back to Minnesota with his second wife, Bonnie. (Scott and his first wife, Eda, had five children: Sharon, Michael, Bill, Patrick, and Preston.) In a 1990 interview, Scott told a story that revealed the itinerant nature of his life, particularly in recent years. "I'm a jazz fan and have quite a collection — the only thing I saved from my first marriage," he said. "They've been in big cartons. We haven't unpacked them in our last four moves. They haven't been out of the carton in about six years. We're hoping our next move, probably in the next year, will be a permanent move to a house. We're going to stay here."
Scott remained what he always was, a sportscaster. He conducted a nightly radio sports talk show live from a restaurant he owned in downtown Minneapolis and continued the show from other venues after his establishment went out of business. Health problems, including prostate cancer and a leg infection that nearly caused an amputation, slowed him, but in 1996 he got involved in a nationally syndicated radio show. The talk show had rotating hosts, including Scott one night a week, on the SportsAmerica Radio Network.
SportsAmerica didn't last long, and, unfortunately, neither did Scott. Other health issues, including triple-bypass heart surgery, a kidney failure that resulted in a transplant, knee surgery, and hip replacements, had plagued him in the 1990s, and Scott died in Minneapolis on March 23, 1998, at the age of 78.
Scott was twice named National Sportscaster of the Year by the National Sportscasters and Sportswriters Association and was inducted into its Hall of Fame in 1982. After his death he was elected to the American Sportscasters Association Hall of Fame in 1998, was the recipient of the Pete Rozelle Radio-Television Award from the Pro Football Hall of Fame, and was inducted into the Green Bay Packers Hall of Fame.
In Voices of the Game, Smith wrote of Scott in the announcer's words: "'I've never tried to draw all attention to myself. I never believed in trying to please the whims of a producer or director. I just considered myself a conduit to provide the fan with something he couldn't obtain himself. My primary concern was not making Ray Scott a household word,' as he became exactly that."
Sources
Allen, Maury, Voices of Sport (New York: Grosset & Dunlap, 1971), 207-209.
Halberstam, David J., Sports on New York Radio: A Play-by-Play History (Lincolnwood, Illinois: Masters Press, 1999), 59-61.
Smith, Curt, Voices of the Game (South Bend, Indiana: Diamond Communications, Inc., 1987), 318-321.
Adams, Jim, "Hal Scott, WCCO Sportscaster and Mentor," Star Tribune, Minneapolis, September 24, 2010, B6.
Craig, Jack, "Big Turnover in Telecast Teams," The Sporting News, September 21, 1974, 58.
Millea, John, "Legendary Sports Broadcaster Ray Scott Dies," Star Tribune, Minneapolis, March 24, 1998, B7.
Reusse, Patrick, "Ray Scott's Still Making the Calls," Star Tribune, Minneapolis, August 16, 1996, C2.
Shepherd, Don, "'Seens' & Sounds," Augusta Chronicle, June 15, 1957.
Author interview with Ray Scott, February 27, 1990.
Author conversation with Patrick Reusse, February 21, 2014.
Broadcast of ninth inning of Kansas City at Minnesota game, August 26, 1962, WCCO Radio.
Notes
1 The date of the TV Guide issue with comments on Scott is not known, but it was referenced on page 319 of Curt Smith's Voices of the Game.
2 Scott's death certificate, which lists his name as Ray E. Scott and provides the source of his parents' names, has only Pennsylvania for his birthplace.  Some sources list Johnstown, Pennsylvania, the location of his first job in radio, as Scott's birthplace, although he graduated from high school in Connellsville, Pennsylvania, about 60 miles southwest of Johnstown.  Scott's obituary, written by John Millea, in the Star Tribune of March 24, 1998, lists Hal and Virginia as survivors but does not indicate if Scott had had any other sisters or brothers.
Born
June 17, 1919 at Johnstown, PA (US)
Died
March 23, 1998 at Minneapolis, MN (US)
If you can help us improve this player's biography, contact us.
/sites/default/files/RayScott.JPG
600
800
admin
/wp-content/uploads/2020/02/sabr_logo.png
admin
2014-02-14 12:50:44
2021-09-08 19:02:12
Ray Scott