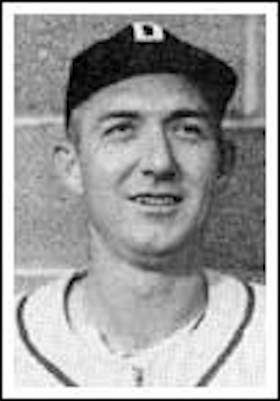 ---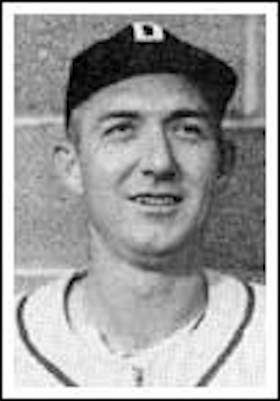 Gerald (Red) Fahr had an average major league fastball and curveball. At 6'5" and only 185 pounds he gave the "impression that he was composed only of arms and legs."1 His gangly appearance made him appear out of control, but he had an uncanny ability to put the ball exactly where he wanted it. Howard Green, president of the Longhorn League in Texas, once said that Fahr was so accurate he could throw a ball through a "knothole. He's very smart and never gives the batter anything good to hit."2
According to sportswriter Harry Jones of the Cleveland Plain Dealer, "Control is a remarkable thing in a young pitcher…Fahr claims it can be acquired through long and diligent practice."3 In his case, Fahr learned control by pitching to his older brother, Herschel. If Red missed the target, Herschel fired the ball back so fast and hard that it hurt to catch it. Fahr learned the control that paved his way to the majors in 1951 in self-defense.
John Antone Fahr and Bertha A. Noel were native Arkansans who wed on April 19, 1916. John was a farmer in Greene County located in northeastern Arkansas. The couple had three sons, Herschel, Harold and Gerald, and two daughters, Lena and Eva. Gerald, born on December 9, 1924 in Marmaduke, Arkansas, was the fourth child. All the children graduated from the Marmaduke high school. Gerald was center on the basketball team. He pitched and played outfield for the baseball team. However, after an 0-for-10 slump in amateur ball he decided to concentrate solely on pitching. He dreamed of a career as a professional baseball player. He attended a Brooklyn tryout camp in 1942 and then a Cardinals' tryout the next year, but neither organization offered him a contract.
All the Fahr brothers served in World War II. Herschel enlisted early and was a radio operator with the Air Command based in India. He served on flights over Burma and into China. He was lost in a plane crash in 1943. Harold joined the Army and rose to the rank of sergeant. Gerald was drafted in 1944 and assigned to the Second Armored Division. The Second Armored spearheaded the drive on Germany and Fahr was with them when they became the first American unit to enter Berlin.
When hostilities ceased Fahr played for the Division baseball team and took on major leaguers like Red Munger and Russ Peters. The unit returned to Fort Hood, Texas where Fahr was discharged in August, 1945.4
With his military service completed, Fahr rekindled his hopes of a career in baseball. In 1946 he again auditioned for the Cardinals, but drew no interest. The next spring, "I saw an ad in the Sporting News. A new league was being formed in West Texas called the Longhorn League and they needed players. I drove there (Vernon, Texas) in my old jalopy and asked for a job. 'Twasn't any trouble at all."5
The right-handed, red-headed stringbean joined the Vernon Dusters in the Class D Longhorn League. He was one of only four players to spend the entire season with the franchise. The 1947 Dusters finished in last place at 42-87. Fahr was the ace of the staff with a 16-18 record and an ERA of 4.68, which was sixth lowest in the league. Fans were quick to embrace him, nicknaming him "The Marmaduke Windmill."6 Fahr had twelve wins at mid-season and was selected to the All-Star game where he worked three scoreless innings.
The 1948 Dusters had many new faces because the league rules mandated 15-man rosters, seven of whom had to be rookies. The best addition was 19-year old pitcher Eddie Jacomb, who captured 22 wins to lead the league. Fahr opened the season with a three-hit shutout and never looked back as he dominated the competition. On June 21 versus Ballinger, he allowed a run, but made up for it by getting three hits and a sacrifice, scoring twice and driving in four. Fahr posted a 21-8 mark with a league best ERA of 1.96. Most impressively, he never threw a wild pitch. The Dusters finished in fourth place with a 76-64 record. In the playoffs they dumped Big Spring four games to two, but lost to Midland in seven games in the finals. Fahr had two wins versus Big Springs and split his two decisions with Midland. At the end of the season his contract was sold to Shreveport in the Class AA Texas League for $6,000 and two players.
In 1949 Manager Salty Parker of the Shreveport Sports used Fahr solely in relief. After 18 appearances in April and May, the club optioned him to Alexandria of the Class C Evangeline League. The Aces immediately made him a starter again on June 1, and he responded with a 3-2 win over Baton Rouge. He faced Baton Rouge again on June 27 and struck out a career-high 15 in a 4-1 win. In late July, with a 6-7 record, he was optioned to the Class C East Texas League. He joined the Kilgore Drillers and proceeded to win seven of ten decisions while posting a microscopic 1.23 ERA in 88 innings.
That winter Fahr wed his Arkansas sweetheart, Violet Wood, on January 28, 1950. The couple would reside in the Paragould, Arkansas area for the duration of their marriage. They raised three children, Teresa Lynn, Toni Ann and Stephan.
The Shreveport Sports exercised their option to keep Fahr for the 1950 season. Once again Manager Parker opened the season with Fahr in the bullpen. Parker finally gave him a start on June 7 and he responded with a 2-1 win over Tulsa. Wins in his next two starts cemented his place in the rotation. In 195 innings he went 10-6 with a 2.72 ERA. In November the Cleveland Indians drafted him.
The Indians' "Big Four" starters (Bob Feller, Mike Garcia, Bob Lemon and Early Wynn) were in place for 1951, but the bullpen needed an overhaul. Fahr joined rookies Bob Chakales and George Zuverink and a bevy of veterans in spring training.
Fahr's first test in spring training came against the World Series champion New York Yankees. He pitched three scoreless innings to win 6-5 in 12 innings. A few days later he again faced the Yankees. He showed a sneaky fastball with a fair curve and again held them scoreless for three innings. On March 15 he pitched three innings versus the White Sox and gave up his first run. Management, fans, and sportswriters began to take note. A couple of lackluster outings against the Pirates did not keep him off the Opening Day roster.
The Tribe went north with a 28-man roster, including 13 pitchers. The rosters would be pared to 25 in early May. Cleveland opened the season winning seven out of eight games. Then they met the St. Louis Browns in a doubleheader on April 29. Down 11-5 in the seventh inning of the second game, Fahr made his major league debut. He surrendered two runs in an eventual 13-11 loss. His next outing came on May 7 against the Washington Senators, in relief of spot-starter Johnny Vander Meer. In the fourth inning the Senators poked five consecutive singles off Vander Meer. Fahr entered the game and gave up three more hits before recording an out. Washington plated five runs. Fahr was lifted for a pinch-hitter in a game won 11-10 by the Senators.
Despite an opponent's batting average of .600 and an ERA of 9.00, Fahr survived the roster cutdown. Pitcher Jess Flores was sold and Charley Harris was optioned. (The third spot had been cleared in a trade a few days earlier.) On May 18 Fahr stopped a Boston rally by getting Walt Dropo to hit into a double play. Fahr would make two more appearances before being optioned to Ottawa in the International League on July 17. His major league career was over after five appearances.
With the seventh-place Ottawa Giants Fahr posted a 5-4 record with a brilliant 1.96 ERA. Fahr received an unexpected bonus after the World Series. The Indians' players voted him a $917 share. Oddly the man who replaced him on the roster, outfielder Clarence Maddern, only was voted a $417 share.
Fahr went to spring training in Tucson in 1952, but failed to impress Indians' management. On April 1 the club sold him to the Toronto Maple Leafs in the International League, where he posted a 10-13 record with the fourth place squad. He also spent 1953 with Toronto. Used as both a starter and reliever, he went 7-8 for the year.
Fahr staged a holdout in 1954 and did not sign with Toronto until April 14. The Maple Leafs opened the season in Havana on April 20. Fahr was one of six players left behind to work into shape. He saw his first action on May 6 as a reliever in Ottawa. On May 9 he earned a win versus Montreal despite allowing 12 hits in six innings of work. Three days later Toronto optioned him to the Charleston Senators in the American Association. Lou Sleater also went from Toronto to Charleston. The Senators returned Al Zillian to Toronto. While this looks like a trade it was merely Toronto exercising its options.
Fahr lost his first four decisions with Charleston, finally picking up a win on June 13. The Senators released Fahr in mid-July and returned him to Toronto. The Maple Leafs in turn optioned him to the American Association Minneapolis Millers. Fahr dropped his first start to Kansas City, but on July 24 he beat Charleston 3-1.7 He helped stabilize the Miller's rotation and thereby helped them to a third place finish. For the season he posted a 9-10 record in the American Association (3-5 with Charleston and 6-5 with Minneapolis).
In the playoffs that year, the Millers faced Indianapolis and its young stars Herb Score and Rocky Colavito. Fahr pitched in relief in game one and took the loss after surrendering two runs. He tossed two scoreless innings in game three. The Millers dropped the series to end their season.
Toronto exercised its option and returned Fahr to their roster in 1955 but used him sparingly. In four months he made 20 appearances, five of them starts, and posted a 1-1 record. Meanwhile in the Texas League the Tulsa Oilers were enduring a losing streak and were desperately trying to make the playoffs. The Oilers worked out a deal to acquire Fahr, but needed him to report by midnight on August 6 to be eligible for post-season play. He took a flight from Toronto to Tulsa. Then he was hustled aboard a plane for Beaumont, Texas to join the team. He arrived at 11:07 p.m. He made three appearances for Tulsa, but his hectic travel effort went for naught when Tulsa missed the playoffs.
Toronto still owned Fahr's rights and optioned him to Charleston in 1956. Fahr choose not to report and instead joined the Dickinson Packers in the semi-pro ManDak (Mankato and Dakotas) League. Fahr pitched the opener, a 25-5 Packers win, but that was one of the few high points of the season. The Packers finished fourth (and last) and lost in the first round of the playoffs. Fahr posted a lackluster 7-10 mark, but did add two playoff wins.8
Fahr returned to Paragould and the family and called it quits after the 1956 season. There were mentions in newspapers during his career that he was considering using the GI Bill to attend college during the off-seasons. But on his Hall of Fame questionnaire he said that he never attended college. Whether he had any specialized training is uncertain, but he found employment as an industrial engineer with Emerson Electric. He spent 30 years with the firm. He also became a prominent member of the First Baptist Church in Paragould.
After his wife passed away in 2004 and with his health fading, Fahr moved to Georgia to be near his daughter, Teresa Wellwood. He passed away on February 12, 2010 at Peachtree Christian Hospice in Duluth, Georgia. His body was returned to Arkansas where he was buried in the Memorial Gardens Cemetery in Paragould.9
Sources
Books
Johnson, Lloyd and Wolff, Miles, ed. The Encyclopedia of Minor League Baseball. Durham, North Carolina: Baseball America, 1993
1955 Sporting News Guide
Newspapers
Abilene (Texas) Reporter-News
Arkansas Gazette (Little Rock)
Daily Press (Paragould, Arkansas)
Galveston (Texas) Daily News
Odessa (Texas) American
State Times-Advocate (Baton Rouge, Louisiana)
The Sporting News
Union (Springfield, Massachusetts)
Notes
Born
December 9, 1924 at Marmaduke, AR (USA)
Died
February 12, 2010 at Duluth, GA (USA)
If you can help us improve this player's biography, contact us.
http://sabr.org/sites/default/files/FahrRed.jpg
600
800
admin
/wp-content/uploads/2020/02/sabr_logo.png
admin
2016-08-18 13:01:11
2016-08-18 13:01:11
Red Fahr