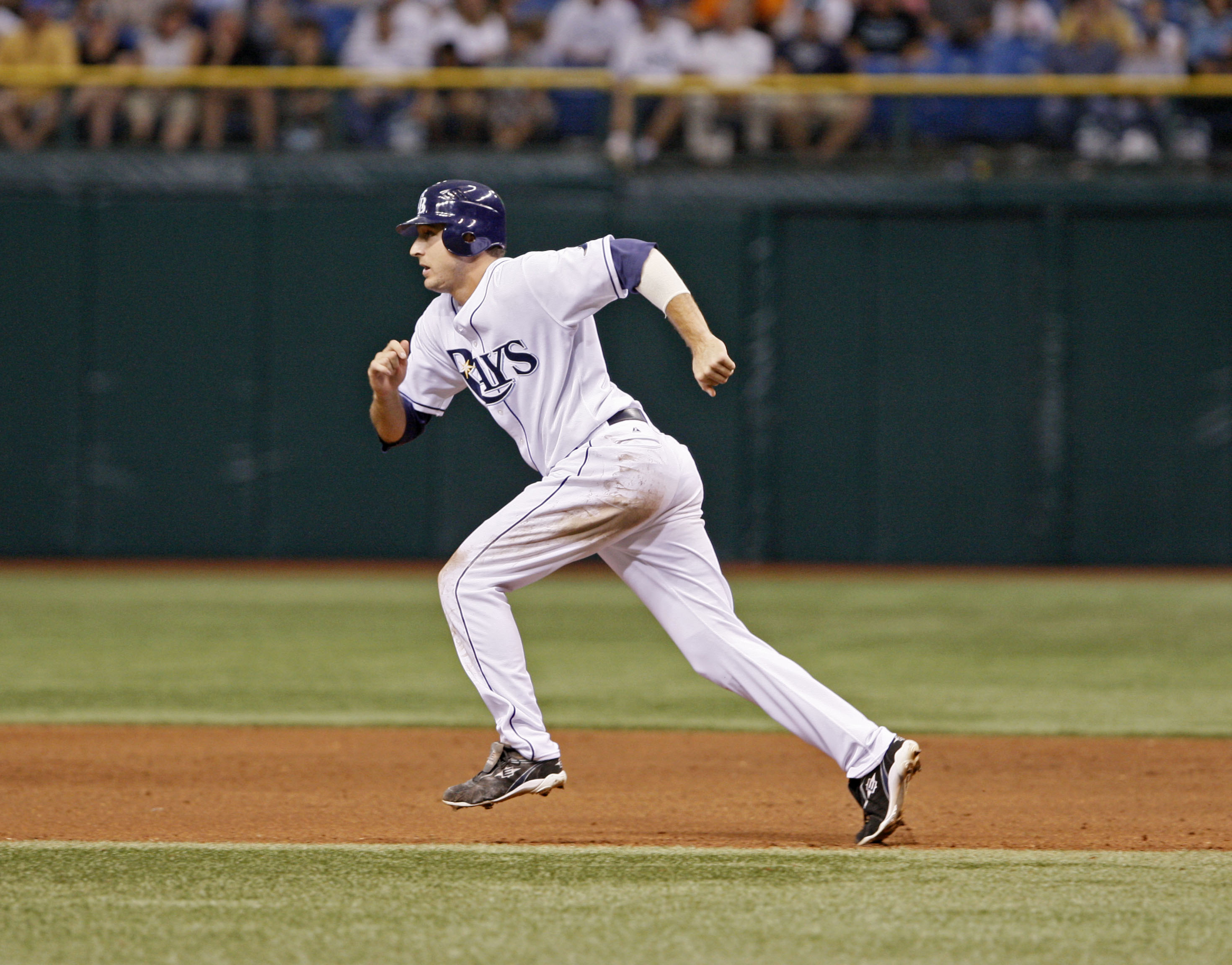 ---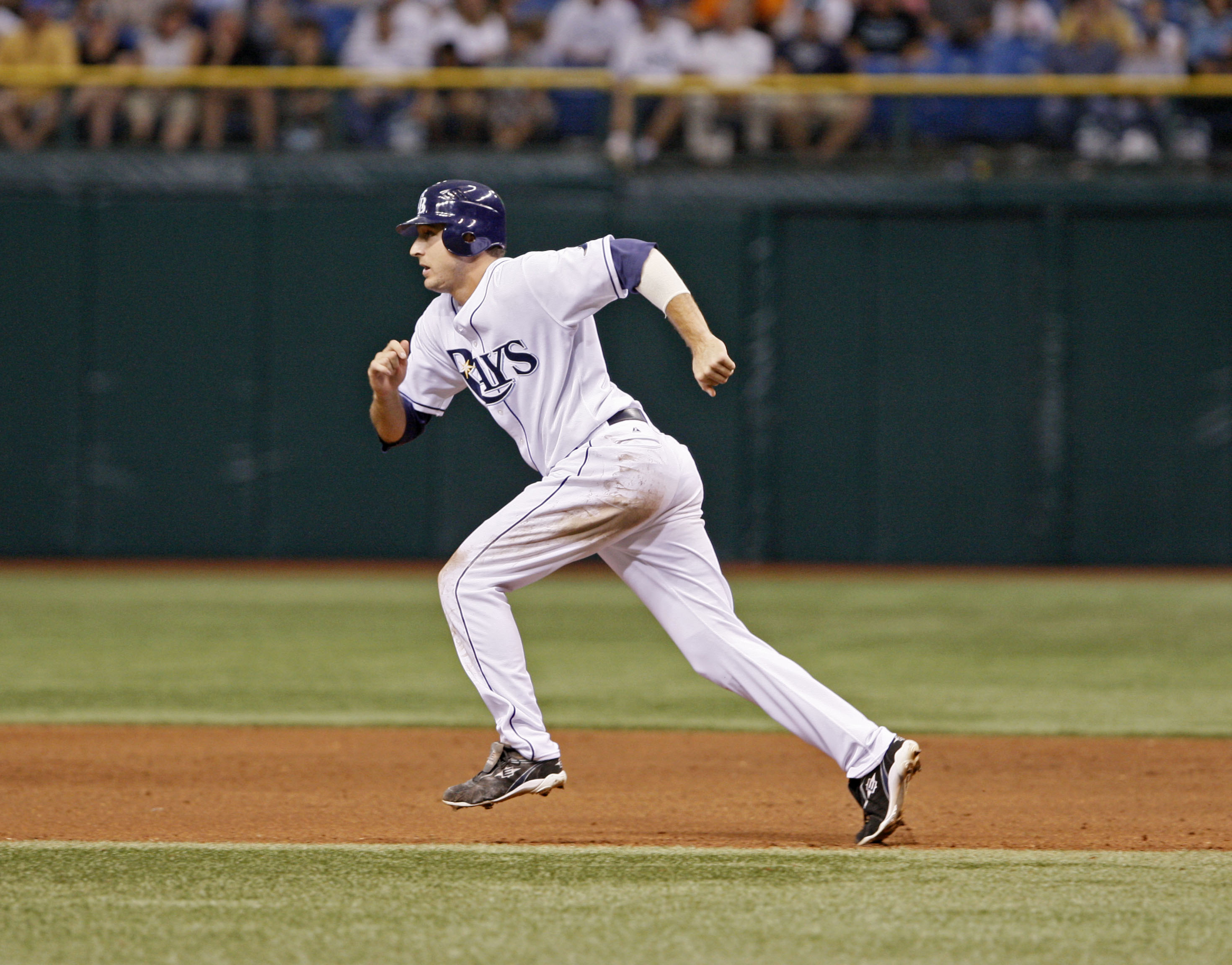 When Rocco Baldelli emerged as a young star in the minor-league system of the Tampa Bay Devil Rays, he drew comparisons to Joe DiMaggio. Though that association was almost certainly setting him up for failure, the speedy outfielder had been more earnestly compared to a young Andre Dawson or Dale Murphy. Within a few years, however, Baldelli's story underscored the fickle nature of baseball and illustrated the ups and downs faced by elite athletes on the cusp of stardom.
Baldelli was born on September 25, 1981, in Woonsocket, Rhode Island. As of 2016, only 76 players from the Ocean State have made it to the major leagues. Nevertheless, Woonsocket has been well represented: It is the birthplace of Hall of Famers Nap Lajoie and Gabby Hartnett. While most youngsters in Rhode Island passionately support either the Boston Red Sox or the New York Yankees, Baldelli said he never developed an allegiance to any one team.1
The son of Dan and Michelle Baldelli, Rocco Dan Baldelli has two brothers, Nicholas and Dante. The family is primarily of Italian and French ancestry. Dan Baldelli, a retired Woonsocket firefighter, was as of 2016 a small-business man of many parts; his enterprises included a coffee shop and a pawn shop/check-cashing store in Woonsocket. He coached the Little League teams of each of his sons. Michelle Baldelli seemed destined to be involved in baseball, as she was named after Mickey Mantle.2
The cold, snowy Rhode Island winters prevented Rocco from getting outside and playing as frequently as his peers from the Sunbelt. So he took his game inside, to the basement of his father's Hava Java Coffee House. The basement, with its 13-foot ceiling, featured a homemade batting cage. The Dungeon, as the basement became known to scouts, allowed Baldelli to take hits cuts even as the temperature outside dipped below freezing. Karl Allaire, an Astros second-round pick out of Rhode Island College in 1984 who worked for Dan Baldelli, would throw Rocco all the batting practice he wanted.
As a 12-year-old, Baldelli played AAU baseball, and his team went to the national finals. In a basketball game at age 13, Rocco suffered a serious injury. He shattered his tibia, severely injuring the tendons in his leg. Doctors thought that the injury looked as if he had been in a car accident, and they encouraged Baldelli to focus on his schoolwork because his injury might prevent further participation in basketball. iii He later said, "I wasn't really worried about sports. I wanted to concentrate on rehab so I could walk again and maybe even run someday." iv
He skipped playing baseball in both his freshman and sophomore years of high school, but his father urged him to try out for the local American Legion team. "I hadn't touched a baseball in two years," Baldelli said. "Rusty was an understatement. I was pretty awful. Even shagging balls in the outfield – it wasn't happening."
"He looked so bad," Dan said. "He missed everything. I was sitting in the car wondering why I had asked him do this. He came back to the car and gave me a look like, 'Are you happy now?'" The family was surprised when they learned that Baldelli's return to baseball had not been a short-lived experiment. He had made the team. v
Baldelli ended up playing baseball, basketball, and volleyball for Bishop Hendricken High School in Warwick, about 25 miles from home. vi In high school, Baldelli had his sights set on attending an academically strong college, hoping that he could play both basketball and baseball. vii An honor student at Bishop Hendricken, Baldelli was considering schools like Wake Forest and Princeton. viii
In the summer before his senior year, Baldelli attended a major-league scouting event at Holy Cross College in nearby Worcester, Massachusetts, which put him on the radar of professional baseball organizations. He had received a nearly-unbelievable 50 scholarship offers from various colleges after impressing observers at the 1999 East Coast Showcase in Wilmington, North Carolina. Though he didn't have the typical baseball pedigree, pro scouts weren't always looking for in-game records. "We fell in love with his athletic abilities," said Dan Jennings, Tampa Bay's scouting director at the time. "He showed every tool you want to see. His arm was the only thing that wasn't above average. We made sure we jumped on him right away." ix
In addition to the attention he received for his baseball skills, Baldelli received a scholarship offer to play volleyball at UCLA. x Baldelli was an elite volleyball player known across the nation for his skills, and when he sent video footage to major-league clubs, the tape included 20 minutes of his play on the volleyball court and only two minutes of action on the baseball field. xi
Skipping basketball in his senior season, Baldelli devoted his free time to taking batting practice in the family's batting cage. Partway through his senior baseball season, Baldelli pulled an oblique muscle and was unable to play for a month. Though he returned in time to play one game before the 2000 major-league baseball draft, Dan Baldelli said that he didn't know what to expect from the draft. The family had heard that Baldelli might be drafted somewhere between the 5th and 15th rounds, and they decided that he would go to college unless he was taken in the first round. xii
Just before the draft, Peter Gammons of ESPN wrote that Baldelli could be the top prospect available. He noted that because of Baldelli's injury and the Rhode Island weather, not many teams had seen him play in person. Baldelli worked out for the Devil Rays only four days before the draft, and the Cleveland Indians found out about him after former Cleveland Browns head football coach Bill Belichick called Indians executives and told them that Baldelli might be the best athlete he had ever seen. xiii
The Devil Rays drafted Baldelli with their first pick; he was the sixth pick overall. Mike Arbuckle, the head of scouting for the Philadelphia Phillies, said that if Baldelli had been available in the draft at the 15th pick of the first round, the Phillies might have selected him instead of taking Chase Utley, the player who became their longtime second baseman. xiv
Shortly after the draft, Baldelli worked out at Tropicana Field before a Devil Rays game. He showed humility in the comments he made after an impressive batting practice. "There's nothing I do well enough to be a major-league player," Baldelli said. "This is great, coming to St. Petersburg, getting a little taste of baseball at its highest level, but I am excited about getting on to the Rookie League, where I can learn." xv
Baldelli struggled with the Rookie-level Princeton Devil Rays that year. He hit just .216 with three home runs in 251 plate appearances over 60 games. He said that he had always tried to pull the ball for a home run in high school, and he had to spend much of his first two professional seasons learning to hit the ball to all fields. xvi
In 2001, playing for the South Atlantic League's Charleston (South Carolina) River Dogs of the low Class-A South Atlantic League, Baldelli improved his batting average to .249 and homered eight times in 113 games. In 2002 he had his breakout season. He played at three levels, promoted from High-A to Double A to Triple A, and was named the Minor League Player of the Year by Baseball America. xvii "That's just an honor," Baldelli said. "Those kind of honors don't come around too often. It's a credit to so many who put in so much time to help me out." xviii
In 77 games with the Bakersfield Blaze (California League), Baldelli hit .333with 14 home runs. For the Double-A Orlando Rays (Southern League), he hit.371 in 17 games, and in Triple A, he hit .292 for the Durham Bulls.
In 2003 Baldelli spent all season in the major leagues with the Devil Rays. The child with the seriously injured leg had grown into a 6-foot-4 baseball star listed at 190 pounds. The right-handed center fielder would play in over 500 big-league games. Based on speed and the name of his hometown, he came to be known as the "Woonsocket Rocket," a nickname that Baldelli said he remembered first hearing on television sports programming. xix
Baldelli started his major-league career with a 13-game hitting streak, the second longest streak to begin a career between 1990 and 2003. The streak also set a rookie record for the Devil Rays, and only four Tampa Bay players had ever hit longer consecutive-game hitting streaks. Baldelli was hitting second in the batting order, and he was expected to see a high number of fastballs because Tampa Bay's leadoff hitter, Carl Crawford, was an accomplished basestealer. Baldelli had 64 major-league plate appearances before he walked. xx
By late May 2003, Albert Chen of Sports Illustrated had written about Baldelli's aggressive approach to hitting in his first couple of months as a major leaguer. He had struck out 37 times at that point in the season, and his strikeout-to-walk ratio was 6.2 to 1; only two players had a higher ratio. However, Baldelli was hitting .353, which was also third in the league. He had set a record among rookies by getting 40 hits by the end of April. Chen pointed out that only four major leaguers had ever hit .300 in a season with a strikeout-to-walk ratio greater than 5 to 1. xxi
Baldelli's hitting philosophy seemed to correlate with a generally restless personality. He said that he often found himself pacing around before games to pass the time, and though he had tried reading and completing crossword puzzles to occupy his time during the season, he found that he lacked the patience to finish those activities. Coach Chuck LaMar noted Baldelli's uniqueness. "Some players have a magnetism that you can't measure or explain. It's something that fans, teammates, even opponents respect. Rocco has it," he said. xxii
By early July Baldelli was hitting .309 with 5 home runs and 40 runs batted in. No Devil Rays player was voted onto the American League All-Star Team by the fans, but each team would have an All-Star Game representative chosen by AL manager Mike Scioscia. Baldelli and Rays teammate Aubrey Huff were thought to be the likely candidates. However, Scioscia had only five picks and four of those needed to be pitchers, so reliever Lance Carter (4.17 ERA, 14 saves in 20 opportunities) emerged as the surprise selection from Tampa Bay. xxiii
Appearing in 156 games in his rookie season, Baldelli batted .289 with 11 home runs and 78 runs batted in. He showed impressive speed, finishing the season with 27 stolen bases, and he came in third in the AL Rookie of the Year voting, behind Angel Berroa of the Kansas City Royals and Hideki Matsui of the New York Yankees. In a year of controversy over whether Matsui should be considered a rookie because of his playing experience in Japan, Berroa received 12 first-place votes compared with Matsui's 10 and Baldelli's 5. xxiv
In his second season, Baldelli got off to a difficult start. A few weeks into the season, when he was hitting below .200, Baldelli remembered, he was called into manager Lou Piniella's office, thinking he might be demoted to the minor leagues. Instead of a demotion, Piniella reaffirmed the team's commitment to him as the starter in center field. Baldelli later said that the affirmation helped him to relax and improve his hitting mechanics. xxvA hamstring strain limited Baldelli to 136 games that year, but he hit .280 and his home run total increased to 16.
After the 2004 season, no one knew that Baldelli had already played the two most complete seasons of his major-league career. He tore a ligament in his knee while he was playing in the yard at the family home in Rhode Island in October 2004; the injury sidelined him for several months. He was playing in the minor leagues on a rehab assignment in June when he injured his elbow. Baldelli tried to ignore the injury and he played in a couple of games after that, but he realized that the pain was not getting better. Team physicians diagnosed a torn ulnar collateral ligament. He required Tommy John surgery. xxvi
Though he missed the entire 2005 season, the Devil Rays signed Baldelli to a three-year contract with team options for an additional three years. He would receive $9 million over the first three years, and the full six years could have been worth as much as $32 million. Fellow outfielder Carl Crawford, who had also signed a six-year deal for similar compensation, expressed surprise that Baldelli had commanded that much money despite his injuries. xxvii
In 2006 injuries struck Baldelli again. He missed the opening two months of the season with a strained hamstring he had suffered in spring training. xxviii He hit .302 with 16 home runs in 92 games that year. Baldelli's name surfaced in trade rumors after the season when Devil Rays manager Joe Maddon noted that the team had outfield depth but could use veteran pitching. xxix
No trade materialized, and in 2007 Baldelli played in 35 games. Though he had recovered from a spring-training hamstring injury in time for the season opener, his regular-season misfortune began when he crashed into a wall in late April and missed a couple of games. Then, mired in a 1-for-40 slump, Baldelli left a mid-May game with another hamstring injury. xxx He missed the rest of the season as the hamstring continued to bother him.
By that point in his career, Baldelli was experiencing frequent muscle cramping and severe fatigue that would set in after even light exercise. Before the 2008 season, he announced that his baseball career was indefinitely on hold. Though he was not retiring, he said that the fatigue rendered him unable to perform the basic baseball functions like running, throwing, and hitting. Baldelli drew an analogy between his condition and a cell phone that would not hold a charge. xxxi
"I feel like I've done a serious workout after a very short period of time, and it's a very odd feeling. I try not to be too dramatic when I explain what's going on, but it's not easy when you're out on the field for a very short period of time and you're done, and you're not really worth anything else out there. That's a tough thing to handle because you wonder why," Baldelli said at the time. xxxii
Baldelli resolved to continue to seek answers for his condition, and he said he would try to find any solution that could get him back to playing baseball. The Rays were supportive, and executive vice president Andrew Friedman said he was optimistic that Baldelli could play again. He said the team would probably decline the 2009 option on his contract, but that he hoped Baldelli would stay within the organization. xxxiii
Baldelli was sent to several physicians, who evaluated him for conditions like Lou Gehrig's disease and multiple sclerosis. His symptoms were not consistent with those diagnoses, and doctors began to suspect that he had a mitochondrial disorder, a defect in the energy-producing part of the body's cells. With medications, nutritional supplements, rest, and dietary changes, his condition seemed to improve. xxxiv
Missing most of the 2008 season, Baldelli returned to play 28 regular-season games in August and September. He hit two home runs in postseason play, including a three-run homer in the ALCS victory that help propel the Rays to the World Series. Alan Schwarz of the New York Times said that the ALCS home run was "as medically remarkable as Kirk Gibson's wobbly-kneed shot 20 Octobers ago." Baldelli had returned to action, but he was having to carefully conserve his energy, sometimes skipping batting practice or sitting down on the field when his team brought new pitchers in from the bullpen. xxxv
In November the Boston chapter of the Baseball Writers' Association of America recognized Baldelli's determination to get back on the baseball field, presenting him with the 2008 Tony Conigliaro Award. Pitchers Doug Davis and Brad Ziegler finished in second and third place in the award voting. xxxvi
Baldelli was a free agent after that season, and he was pursued seriously by four teams: the Boston Red Sox, Pittsburgh Pirates, Cincinnati Reds, and Philadelphia Phillies. A source told the Pittsburgh Post-Gazette that Baldelli was leaning toward Boston, at least in part because playing in the American League would leave the door open for a role as the team's designated hitter. Ultimately, the Red Sox prevailed in negotiations with Baldelli. xxxvii
By the time he joined the Red Sox, Baldelli's diagnosis had been revised to a channelopathy, a protein abnormality that interferes with muscular function. xxxviii That news was thought to be very positive; though channelopathies represent a wide range of conditions, Baldelli's father said that the new diagnosis meant that his son did not have a progressive and life-threatening disease. (In 2009 Rocco said he did not like talking about his medical condition.) xxxix The Red Sox had signed Baldelli with the understanding that his medical condition would limit his use. The team planned to utilize him as their fourth outfielder, and he was expected to appear primarily against left-handed pitching.
Baldelli was tiring of answering questions about his health by the time he arrived in Boston. "I was going to make a sign that says, 'Feeling good, thanks for asking,' and tack it to my locker, so I don't have to answer that anymore," Baldelli said. "I've been disappointed a lot at times, but as far as self-pity, no one really wants to hear any excuses. No one feels that bad for you, no matter what you're going through. I'll be fine. I'll manage no matter what's going on." xl
Though he joined a crowded Red Sox outfield, Baldelli became immediately popular among Boston fans, who gave him a standing ovation the first time he came to the plate in April. Former Tampa Bay teammate Scott Kazmir noted that it was fitting that Baldelli ended up in Boston because he had always had a large fan following when the Rays visited Fenway Park. xli
Baldelli played in 62 games for Boston in 2009. He had a .253 batting average in those games and hit 7 home runs. After the season, three or four teams expressed interest in signing him, but he did not sign a contract. Just before the 2010 season, the Rays hired Baldelli as a special instructor while he continued to work on rehabbing from a shoulder injury. There were no promises that Baldelli would play professionally, but he said he was not officially retiring as a player. xlii
After returning to the field with a rehab stint in the minor leagues, Baldelli was called back up to the Rays in September. In his first major-league at-bat of the 2010 season, Baldelli hit a pinch-hit home run. xliii Teammate Evan Longoria expressed how happy he was to see Baldelli's home run. "I feel great for the guy," Longoria said. "He's a professional in every respect. Just the pure persistence of his journey through the big leagues and back down and back up again – I can't do anything but commend him." xliv
Before the American League Division Series that year, Baldelli was named to the postseason roster. Willy Aybar had been left off the postseason roster, with the team opting to include Desmond Jennings, who brought defense and speed to the team. xlv When Baldelli's play was curtailed by severe muscle cramping, he was replaced on the roster by Aybar before the second game of the ALDS. xlvi
When Baldelli saw that he was no longer contributing as a player during the 2010 postseason, he realized that he needed to retire as a player. He officially announced his retirement in January 2011, having spent the previous three months thinking over the decision at the request of Tampa Bay executives. The Rays kept him in the organization as a special adviser for scouting and player development. Baldelli said he was sad that he had not been able to play more during his career, but that he chose not to focus on the negatives in his life. xlvii
"I don't regret anything," he said. "You know what's sad is that I love to play, and I really didn't get a chance to do it as much as I wanted to. But I don't live angrily; I live kind of happy. Why would I look at the negative aspects of everything that I've been through and live the rest of my life talking about those things that aren't the important things to me? The important things to me were all the wonderful things I got to do. It's tough, because you almost never put playing and being an athlete behind you. But in my mind, I already feel like it's a step behind me." xlviii
Though Baldelli had not identified a particular interest for a post-baseball career, the Rays were impressed by his intelligence and his character, so they invited him to stay with the organization in a role that he would help to delineate. In spring training before the 2011 season, Baldelli met with general manager Andrew Friedman, and they decided that he would work in scouting and player development for the Rays.
In his new role, Baldelli specialized in scouting hitters, and he noted that travel was a significant part of the new job. "I'm a Southwest A-List preferred member now and I just became a Marriot Silver member this spring. I think I'm teetering on Gold status already," Baldelli joked. The Rays, who were preparing to make 12 picks out of the first 89 slots in the 2011 draft, said that Baldelli would have a key role in the team's "war room" during the draft. xlix
Before the 2015 season, the Rays were dealing with significant personnel changes, including a new general manager, Matt Silverman, and a new manager, Kevin Cash. They moved Baldelli back onto the field as a first-base coach. The 33-year-old became the youngest coach in the major leagues. l
When Baldelli was not coaching, he ran a small thoroughbred-horse breeding operation. His family has never owned horses, but former teammate Dan Dement, manager Lou Piniella, coach Don Zimmer, and baseball executive Gerry Hunsicker all liked horse racing, furthering Baldelli's interest in it. Baldelli bought his first mare in 2011. In 2014 he sold a colt for $400,000 at auction. li
Baldelli's younger brother Dante also played center field for Bishop Hendricken High School. Dante said he appreciated learning from Rocco's major-league experience. Before the 2016 season, MaxPreps named Dante the number-one high-school prospect in Rhode Island. lii He was selected by the Philadelphia Phillies in the 39th round of the June 2016 Draft, but he elected to play baseball at Boston College.
Last revised: September 1, 2016
This biography was published in "Overcoming Adversity: Baseball's Tony Conigliaro Award" (SABR, 2017), edited by Bill Nowlin and Clayton Trutor.
Sources
In addition to the sources listed below, the author utilized statistics, game logs, and player information available from Baseball-Reference.com.
Notes
Born
September 25, 1981 at Woonsocket, RI (USA)
If you can help us improve this player's biography, contact us.
https://sabr.org/sites/default/files/BaldelliRocco.jpg
600
800
admin
/wp-content/uploads/2020/02/sabr_logo.png
admin
2012-01-04 20:43:11
2012-01-04 20:43:11
Rocco Baldelli