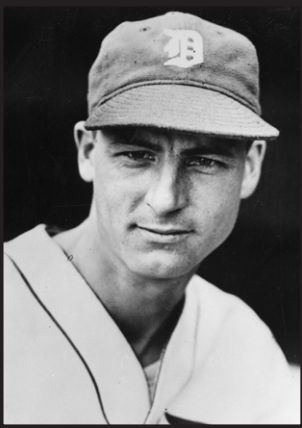 ---
"He's wild, his fast ball isn't fast, his curve ball is just a wrinkle, he gives up a lot of walks, he weakens in the eighth or ninth inning, and we knock him out of the box —but we can't beat him.  He must live right."1
So exclaimed Chicago White Sox manager Jimmy Dykes after Roxie Lawson had defeated Chicago on nine straight occasions.
Toward the end of the 1935 season, the American League-leading Detroit Tigers were looking for relief pitching for the stretch drive. They reached into the farm system and called up Lawson from their Toledo club in the American Association. He had gone 14-8 at Toledo to earn the call-up.
On August 23, 1935, Lawson joined the Tigers and made his first start the next day against the Boston Red Sox. Tigers manager Mickey Cochrane saw that the Red Sox were pitching Lefty Grove and elected not to go with one of his regular starters on the mound. The Tigers entered the game leading the second-place Yankees by seven games. Lawson was, in effect, to be the sacrificial lamb. But nobody told Roxie. He went the route, allowing but five hits and shutting out the Red Sox, 2-0. The game, played at Detroit, was decided in the sixth inning when, with two outs and the bases loaded, an easy roller off the bat of Goose Goslin went through Red Sox first baseman Babe Dahlgren's legs.2 As noted in The Sporting News, "Roxie was generally regarded as a very lucky young man, although it was grudgingly conceded he had a corking good curve, a fair fast ball, an excellent change of pace, and a cool head."3
Lawson was also the beneficiary of some great defense, as noted by H.G. Salsinger in the Detroit News: "Two very fine pickups by Billy Rogell, two catches by Owen, one of them a scintillating glove-handed stab of a line drive far to one side; a long running catch by Pete Fox, a far reaching pickup by Henry Greenberg, and, finally, a one-handed leaping catch by Leon Goslin off the left field wall. These were the plays that broke the hearts of the Boston Red Sox."4
Coach Cy Perkins exclaimed, "Relief pitcher, my eye! If that guy isn't a starting pitcher, I'm crazy, and I've never been in a lunatic asylum in my life."5
Lawson's next start, against the Philadelphia Athletics, produced another win. This time he helped his own cause, going 2-for-4 with a double and three RBIs and limiting the A's to four hits, as the Tigers won 11-0 and kept their league lead at nine games. His third appearance was out of the bullpen on September 7, once again against Philadelphia. Jimmie Foxx homered to end Lawson's scoreless streak at 19 innings, but Roxie allowed nothing else in 1⅔ innings, preserving the 9-7 Tigers win. The lead over the Yanks was up to ten games.
Lawson's emergence did not go unnoticed; he was a page-one story in The Sporting News on September 5, 1935.  
His given name was Alfred Voyle Lawson, but it seemed he was always known as Roxie. Born on April 13, 1906, in Donnellson, Iowa, he was the youngest of five children born to William and Charlotta (Lottie) Pickering Lawson. The family owned a farm, and William also was a blacksmith.
When he entered high school and tried out for the school team, Alfred weighed less than 100 pounds and was told that he was too small. As a pitcher, he had nothing to offer. He formed a team of his own, serving as manager, captain, and pitcher.6 He ultimately made his high-school team, where he was mentored by Leslie Pickard, longtime principal and coach at Stockport (Iowa) High School.  Lawson initially played shortstop, but was finally allowed to pitch in his senior year. He graduated in 1924.
That summer Lawson pitched for a Keokuk, Iowa, semipro team, the Eagle-Legion, and was paid $10 per game.This ran afoul of the folks at Iowa Wesleyan College, in which he had enrolled in January 1925 on an athletic scholarship. Barred from playing college ball, he returned home to Stockport. He spent the next three years on the family farm and pitched on occasion in semipro games in the area.
In 1928, unable to make the semipro team in Stockport, Lawson ventured to nearby Decorah, where he found success with the Winneschiek County Giants. On September 3, 1928, he fired a no-hitter against McGregor. His big turning point came not long thereafter. Word got out about a "skinny farmer boy," and Moe Berg, who was then with the Cleveland Indians, went to observe him.  On October 7, Lawson pitched in a county-fair tournament against Shine Stadola and his Million Dollar Indians. He had a successful outing, winning the game 2-1 over Ossie Orwoll of the Athletics.  Orwoll, who had attended college in Decorah, had gone 6-5 as a pitcher and batted .306 as a first baseman with the 1928 Athletics. Cleveland scout Cy Slapnicka had got the upper hand over competing scouts by volunteering to umpire the game. After the game Slapnicka invited Lawson to dinner.7 Over dinner, Lawson signed with the Indians and was dispatched to Terre Haute in the Class-B Illinois-Indiana-Iowa (Three-I) League, where he labored for two seasons (1929-30), going 22-11.
In 1930 Lawson was called up by the Indians and made his first major-league start on August 13, against George Earnshaw of the Philadelphia Athletics. Lawson matched Earnshaw pitch for pitch for five innings. However, defensive miscues allowed the A's to take the lead in the sixth inning.  Gordon Cobbledick wrote in the Cleveland Plain Dealer, "He pitched with the coolness and courage of a seasoned veteran and marked himself beyond doubt as a young fellow to keep your eyes on." 8
Lawson was with the Indians for parts of two seasons (1930-31) but was largely unsuccessful, going 1-4 with a 7.05 ERA. Wildness was his nemesis. He walked 59 batters in 89⅓ innings. 
On February 6, 1932, Lawson and Blanche Fay Klise were married. They had two children, a son Roxie (July 25, 1934- May 8, 2007) and a daughter, Ellen Jane Lawson Wardlow (September 6, 1946-July 12, 1994). 
Lawson was released by Cleveland and signed on with Toledo of the American Association for the 1932 season. In his first two seasons with Toledo, he went 30-25, good enough to impress Bucky Harris, manager of the Tigers. Lawson was called up at the end of the 1933 season and got into four games. His performance was unremarkable (0-1; 7.31 ERA in 16 innings) and it was back to Toledo in 1934, where he got off to a terrible start. He didn't get his first win until May 29. Prior to that outing, he had made 11 appearances and been charged with six losses.9 For the season, he went 9-14 with a 5.66 ERA.
In 1935 Lawson's star was once again on the ascent as he went 14-8 with Toledo, and his ERA was down to a more respectable 3.92. A main asset to his newfound success was the changeup he had developed at Toledo, and used effectively, even when he was behind in the count.10
After his first few successful outings with Detroit in 1935, Lawson's career-long battle with wildness resurfaced on September 8 in Washington.  He started and took a 3-2 lead into the bottom of the ninth. Two singles and three walks later, Washington walked off with a 4-3 win, giving Lawson his first loss of 1935.11 Down the stretch, he faced the Yankees on September 14 and came away with a 5-1 win, reducing his ERA to 1.22 and extending the Tigers' league lead to 9½ games.
The Yankees were not about to concede anything, mounted a charge, but the Tigers finally clinched on September 21, sweeping a doubleheader against the St. Louis Browns and extending their league lead to an insurmountable eight games.
Lawson's record for seven appearances in 1935 was 3-1 with an ERA of 1.58. He did not appear in the World Series as the Tigers defeated the Cubs in six games. For his efforts, he received a quarter-share of the winning team's World Series payout, or $1,636.19.12
After an impressive finish in 1935, Lawson got off to a poor start in 1936, and was exiled to the bullpen. All but eight of his 41 appearances that season were in relief. His record was 8-6, but he had an ERA of 5.48. His control was terrible; he walked 71 batters in 128 innings, prompting manager Mickey Cochrane to call him "Three and Two" Lawson.13 Even some of the wins came tough. In a rare start on July 3, Lawson defeated the Browns 9-5, allowing seven hits and five walks, and throwing a wild pitch.
In one of his better efforts, on August 1, Lawson tamed the Washington Senators with more than ample support from his slugging mates, 13-4. He allowed only two hits in the first six innings, and kept Washington scoreless until the seventh inning.  He tired in the ninth, giving up three runs, but by then the issue was no longer in doubt.
Nevertheless, it definitely looked as though Lawson would not be back for 1937. That was about to change. The unavailability of Schoolboy Rowe and Tommy Bridges due to injury and the retirement of General Crowder had produced an opening in the rotation, and Lawson was a more than adequate replacement.14 He secured a spot in the rotation during spring training, taking 98 minutes to shut out the Boston Bees, and driving in the first of Detroit's three runs in the seven-inning game.15 In another game he held Cincinnati to four hits in six innings. After the win over Boston, Cochrane exclaimed, "It looks like Roxie has found himself and ended my search for a fourth starting pitcher. He'll be a hard man to beat if he can keep up the pace he has set this spring. I think he'll fox a lot of teams when the season opens because he's got lots of stuff." 16
Sure enough, in 1937 Lawson had his best season, going 18-7 despite a 5.26 ERA and 115 walks allowed (against 68 strikeouts). Obviously, he had some help. Detroit, with a lineup that featured Hank Greenberg, Rudy York, and American League MVP Charlie Gehringer, scored ten or more runs in 11 of his appearances. Five of those barrages were in complete-game wins. Nevertheless, he went the distance in 13 of his wins. In eight of his complete-game wins, Lawson kept the opposition to three runs or less. His 5.26 ERA was driven by his allowing high run counts when he lost or did not factor in the decision. In his 18 wins, he allowed 46 earned runs, posting an ERA of 2.88. Shirley Povich of the Washington Post wrote that Lawson had gone from "Chump" in 1936 to "Amazing" in 1937.17
The Tigers wound up the campaign in second place with an 89-65 record, 13 games behind the Yankees. Lawson got some votes for Most Valuable Player and even appeared (with Hank Greenberg) on a Wheaties box.
In 1938 Lawson got the nod on Opening Day, losing to the White Sox, 4-3. He went 8-9 for the season, and didn't get his first win of the season until June 11, when the Tigers defeated Washington, 7-2. He became a historical footnote that season when he pitched against Boston in the second game of a doubleheader on June 21, 1938. He brought his record to 3-4 with his third consecutive win, 5-4, but the story that day was Mike "Pinky" Higgins of the Sox, who went 4-for-4 against Lawson to extend his streak for hits in succession to 12.18
On May 13, 1939, after getting off to a 1-1 start with the Tigers, Lawson was traded with Mark Christman, George Gill, Bob Harris, Vern Kennedy, and Chet Laabs to the St. Louis Browns for Beau Bell, Bobo Newsom, Red Kress, and Jim Walkup. In his time with Detroit, he compiled a .603 won-loss percentage, good for ninth on the all-time Tigers list (through the 2013 season).
In one of his better outings with the Browns in 1939, he came on in relief against Washington in the first inning on July 15 with the Browns trailing 4-0. He went the rest of the way as St. Louis came back to win 8-7. It was his first win with the Browns after three losses. But it was more bad news than good in 1939, as Lawson went 3-7 with the Browns.
In 1940 Lawson went 5-3, each of his wins coming in relief. Although he finished at 5-3, he never returned to the majors thereafter. For his major-league career, he posted a 47-39 won-loss record with a 5.37 ERA.
Lawson went to spring training with the Browns in 1941, but was released before the season began. He began the season with Montreal, and was 0-3 when he was sold to Atlanta of the Southern Association on June 16. He refused to report to the Crackers and wound up in Milwaukee (American Association) for a brief spell (1-2 in five games).19 Then it was on to Nashville, where he went 5-3, helping the team to win the Dixie Championship.   
Lawson's last season as a player in Organized Baseball was 1942, when he returned to the Milwaukee Brewers. Lawson went 6-6 for the second-place Brewers, bringing his career minor-league won-lost record to 87-72. 
On November 24, 1942, Lawson enlisted in the Navy.20  He was a gunner at the naval base in Traverse City, Michigan, and remained in the Navy as a recruiter until 1946.21
In 1947 Lawson managed Meridian in the Class B Southeastern League. The team got off to a great start, winning 11 of its first 14 games. The players were treated to a breakfast by the Meridian Chamber of Commerce, and each was made an honorary police chief.22 Then the team stumbled to a sixth-place finish with a 67-73 record in the eight-team league.  In 1948 Lawson managed at Green Bay in the Class D Wisconsin State League, retiring midway through the season.
Lawson enrolled at Bill McGowan's umpiring school in Cocoa, Florida, in 1949, to learn the craft before taking on an assignment in the Three-I League.23 He umpired in the league through the 1951 season.24 During the off-seasons, he returned to Ferndale, Michigan, 12 miles north of Detroit, where he was an automobile salesman for ten years. Tragedy struck Lawson on April 2, 1957, when his wife, Blanche, died of injuries suffered in an automobile accident in Marquette, Michigan. She was driving a new car for delivery from Roxie's auto dealership, following his car, when a deer ran into her path. In avoiding the deer, she drove off the road and hit a tree.25
Lawson returned to live in Iowa in 1959, owning the Brass Rail Restaurant in Keosauqua, Iowa. He collected wind-up clocks and built birdhouses, including one for his church. The birdhouses were a sight to behold. They were fully painted mansion-type two-story homes with as many as ten rooms. The one for his church included a steeple.
Lawson continued to be an avid hunter.  On one occasion, he reunited with former ballplayers at State Senator George N. Higgins' camp in Michigan's Upper Peninsula.26
Lawson died on April 9, 1977. He was survived by his second wife, Ruth Morris Lawson; his two children, Roxie and Ellen; and five granddaughters, to whom he was known as Big Daddy.
Sources
Blue, Max, God Is Alive and Playing Third Base for the Appleton Papermakers (Lincoln, Nebraska: Writers Club Press, 2001) —includes an account of the July 24, 1940, game between the St. Louis Browns and the New York Yankees.
Skipper, John C., Charley Gehringer: A Biography of the Hall of Fame Tigers Second Baseman (Jefferson, North Carolina: McFarland and Company, Inc., 2008).
Altoona (Pennsylvania) Mirror
Boston Globe
Burlington (Iowa) Hawkeye
Cleveland Plain Dealer
Des Moines Register
Detroit News
Escanaba (Michigan) Daily Press
Marshall (Michigan) Evening Chronicle
Milwaukee Journal
Montreal Gazette
News-Palladium (Benton Harbor, Michigan)
The Sporting News
Toledo News-Bee
Washington Post
Waterloo (Iowa) Daily Courier
Cobbledick, Gordon, "Youngsters Promise to Bolster Indian Pitcher Staff in 1930 Campaign," Cleveland Plain Dealer, July 21, 1929, 2C.
Kaese, Harold, "Clinton Streak Intrigues Joint Record holders," Boston Globe, July 5, 1962, 15.
Moore, Gerry, "Babe Dahlgren's Error Costs Lefty Grove Game," Boston Globe, August, 25, 1935, 26.
Ovrom, Marv, "Roxie Lawson had Big Tiger Career," Burlington (Iowa) Hawkeye, October 2, 1968, 21.
Salsinger, H.G., "Nats Kept off Bases in Last Four Innings," Detroit News, May 8, 1937.
Salsinger, H.G., "Recruit Bests Grove in Mound Battle, 2-0,"  Detroit News, August 25, 1935.
Salsinger, H.G., "Salsinger Compares," Detroit News, September 22, 1935, 7.
Roxie Lawson File at the Baseball Hall of Fame Library, Cooperstown, New York
Baseball-Reference.com
GenealogyBank.com
Newspapers.com
Ancestry.com
Interview with Linda Lawson Modersohn, granddaughter of Roxie Lawson, October 24, 2013.
Notes
1 "Ex-Tiger Lawson, '30s pitcher, dies, Detroit News, April 14, 1977.
2 Moore, Boston Globe, August 25, 1935, 26.
3 The Sporting News, September 5, 1935, 1.
4 Salinger, Detroit News, August 25, 1935.
5 Burlington (Iowa) Hawk Eye, October 2, 1968, 21.
6 Bill Bryson, "Roxie Lawson a Standout," Des Moines Register, November, 1937.
7 Ralph Kelly, "When They Wouldn't Let Him Twirl, a Scout Found Him," Cleveland Plain Dealer, March, 1931.
8 Gordon Cobbledick, Cleveland Plain Dealer, August 14, 1930, 17.
9 Frank Buckley, Toledo Bee, May 30, 1934, 10.
10 H.G. Salsinger, Detroit News, September 22, 1935, 7.
11 The Sporting News, September 12, 1935, 6.
12 Milwaukee Journal, October 23, 1935, D-6.
13 The Sporting News, April 15, 1937, 1.
14 Skipper, 106.
15 The News-Palladium (Benton Harbor, Michigan), April 6, 1937, 8.
16 Marshall (Michigan) Evening Chronicle, April 6, 1937, 6.
17 Shirley Povich, "Bases Filled in 5th, Nats Fail to Tally," Washington Post, May 8, 1937.
18 Kaese, Boston Globe, July 5, 1962, 15.
19 Montreal Gazette, June 21, 1941, 18.
20 Milwaukee Journal, November 25, 1942, L-5.
21 Des Moines Register, October 6, 1968.
22 The Sporting News, May 7, 1947, 31.
23 Harry Grayson, Altoona (Pennsylvania) Mirror, May 31, 1949, 32.
24 Waterloo (Iowa) Courier, May 6, 1951, 43.
25 The Sporting News, April 17, 1957, 40.
26 The Sporting News, December 3, 1952, 40.
Born
April 13, 1906 at Donnellson, IA (USA)
Died
April 9, 1977 at Stockport, IA (USA)
If you can help us improve this player's biography, contact us.
http://sabr.org/sites/default/files/RoxieLawson.JPG
600
800
admin
/wp-content/uploads/2020/02/sabr_logo.png
admin
2012-01-04 20:27:48
2020-10-08 11:54:57
Roxie Lawson