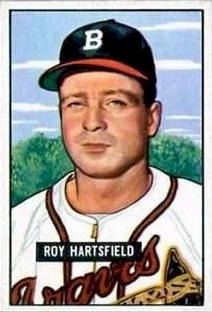 ---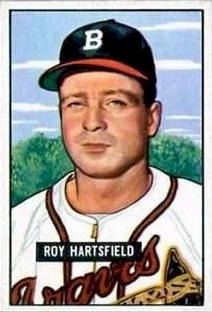 In September 1976 Hall of Fame inductees Yogi Berra and Warren Spahn were only the two most prominent names among a large field of managerial candidates available to the expansion Toronto Blue Jays. But the Jays startled the baseball world by selecting the hardly-household-name Roy Hartsfield as the franchise's first skipper. But the surprise may have been misplaced. Hartsfield's long and productive association with Blue Jays GM Peter Bavasi combined with a minor league managerial résumé of six pennants and more than 1,000 wins actually made the former Boston Braves second baseman the ideal candidate. "I can appreciate the good things when they happen because I started at the bottom," Hartsfield, reflecting on his 20-plus years as a coach or manager from Class D up. "I kept at it because I like my work."1
Work is precisely what Hartsfield encountered. Like every expansion club manager, he suffered through the considerable growing pains of a start-up franchise. In 1975 The Sporting News declared Hartsfield "not the easiest man in the world to impress." Indeed, he was a strict disciplinarian who continually demanded more from his charges. Which was not easy early on. Hartsfield eventually drew the wrath of players and fans as the club compiled 318 losses over three seasons. Critics claimed he had failed the organization during his last season at Toronto's helm. But as Bavasi had said during the September 22, 1976, press conference announcing Hartsfield's hiring, "The burden is on us [upper management] . . . H[artsfield] has demonstrated his ability to manage, it's up to us to provide him with the material. Roy is a fundamentalist, a good teacher and a fine strategist."2
Roy Thomas Hartsfield was born on October 25, 1925, the second of four children of Thomas Milton and Cora Ann (Cowart) Hartsfield, in the Chattahoochee-Bolton neighborhood of Atlanta, Georgia. He was the sixth great-grandson of Prussian immigrant Jurian Hartsfeld (a/k/a Hartsfelder)3 who arrived in Philadelphia, Pennsylvania in 1673. Jurian's son Godfrey moved to North Carolina after 1718, while Godfrey's grandson, Godfrey III, continued the family's trek south into Georgia around 1798. Thomas Jefferson Hartsfield, Roy's great-grandfather, served in the 56th Georgia infantry in the Confederate army, and Roy's father Thomas Milton appears to have continued the family's military heritage with service during World War I. After the war Thomas married Cora. Despite just one year of formal education, the former cotton-mill spinner realized some measure of financial success as a shoe store owner in Fulton County, Georgia, in the midst of the Great Depression.
Sports played a major role in the extended Hartsfield family. In 1940, William Berry Hartsfield, II, Atlanta's longest serving mayor and Roy's distant cousin,4 hosted the 39th annual National (Baseball) Association convention, an event that six years later served as the city's springboard to a Double-A club, and a major league club two decades after. In 1942, Roy Hartsfield was putting the final touches to his extraordinary prep school athletic résumé in Atlanta. Despite his small stature—5'9", 165 lbs. during his professional career—Hartsfield was voted West Fulton High School's best all-around athlete, having excelled in football, basketball, and especially baseball, earning All-City and All-State honors (Hartsfield also played American Legion ball).5 A year after his 1942 high school graduation, Roy established a path that his brother Bob "Poochie" Hartsfield also followed—inking a contract to play baseball professionally. Signed by the Atlanta Crackers in the single-A Southern Association, the 17-year-old earned the starting shortstop role. Playing alongside former major league veterans nearly twice his age, Hartsfield led the club in appearances while placing among the leaders in hits (133) and doubles (17). But it would be three years before he took another stab in the professional ranks.
In 1944, Hartsfield enlisted in the US Navy.6 He served at the Great Lakes (Illinois) Naval Station where the Navy trained optical technicians—the likely birthplace of his nickname "Specs." He played for the famed Bluejackets until the end of World War II. In 1946, he resumed his professional career, spending most of the next two seasons with the Charleston (SC) Rebels in the South Atlantic League (Class A). Hartsfield's breakout season came in 1948 with the Dallas Eagles. Despite league leading marks in strikeouts and errors—one report suggests he set a circuit record for miscues—the right-handed hitter placed among the AA Texas League leaders with 29 doubles and 16 home runs. His aggressive style of play drew lots of attention. One writer described him as a "Little Gas Houser . . . from the old school [who] plays for keeps."7
The unaffiliated Dallas club had ties to Boston. Indeed, Hartsfield shared infield duties opposite the Braves' future All Star shortstop Johnny Logan. In 1949, the Milwaukee Brewers, the Braves AAA affiliate, drafted both infielders, and the pair played in all of the Brewers' 154 games, leading the league in double plays turned at second base (125). Hartsfield also had 471 putouts, the most by an American Association second baseman in 23 years. His .317/.388/.441 slash line that included 12 homers, 13 stolen bases, and a circuit leading 203 hits garnered the league's MVP for him. On December 14, the Braves, in an effort to improve upon their offensive heft traded infielders Alvin Dark and Eddie Stanky (the latter having worn out his welcome with manager Billy Southworth) to the New York Giants for slugging outfielders Willard Marshall and Sid Gordon along with shortstop Buddy Kerr and pitcher Sam Webb. The blockbuster deal left a hole at second base for which Hartsfield was expected to compete with veteran infielders Sibby Sisti, Connie Ryan, and newly acquired Gene Mauch.
In the spring of 1950 Hartsfield's spirited play drew immediate comparisons to the departed Stanky, and he was awarded The Brat's former uniform number 12. "This kid can really fly," said Southworth. "He gets a good jump on the ball and covers plenty of ground."8 On April 28 Hartsfield made his major league debut in Philadelphia as a pinch-hitter and struck out against lefty flamethrower Curt Simmons. Eight days later Hartsfield collected his first major league hit, a pinch-hit single against Cincinnati Reds reliever Kent Peterson. Hartsfield continued in a reserve role over the season's first six weeks as Southworth relied on his veteran players. Finally on June 11, following the May 10 trade of Connie Ryan and amidst Sisti's hitting slump, the skipper turned to the 24-year-old rookie. Hartsfield responded with two hits in four at-bats including his first extra-base hit, a double, against Chicago Cubs righty Bob Rush. Hartsfield never relinquished the second base job thereafter. Twelve days later he hit his first major league home run, a solo shot against St. Louis Cardinals righty Red Munger. On June 25, Hartsfield began a 47-for-149 tear that included a 16-game hitting streak through July 29. His clutch hitting drew particular praise and included a game-tying two-out ninth-inning homer against the Pittsburgh Pirates on August 27; the Braves eventually won that game in extra-innings. Hartsfield finished with a .277/.322/.372 line with 62 runs scored in just 93 starts to earn a place on The Sporting News Rookie All-Star squad. Unfortunately Hartsfield's spotty defense tarnished these achievements somewhat. He committed a major league leading 26 errors at second, and questions arose about his ability to turn the double play—a claim Hartsfield angrily challenged. It was later learned that he had played most of the season with a broken finger on his right hand, an injury he had sustained in a second base collision with Stanky shortly after laying claim to the starting role. Hartsfield said nothing about the injury for fear of losing his then-tenuous hold on his job.
The following spring could not have been better for Hartsfield: his team-leading .344 average in grapefruit league play included a 424-foot drive against the Detroit Tigers that cleared the bounds of McKechnie Field in Bradenton, Florida. He began the 1951 season in the leadoff slot where he reached base in each of the first 23 games. But then he plunged into a 14-for-76 slump. On May 30, Hartsfield lacerated his knee crashing into the low Polo Grounds fence along the right field line and missed 13 games. Though he lost additional time in July to a "heat allergy"—dizzy spells and nausea that the team doctor chalked up to a vitamin deficiency—Hartsfield rebounded with a .291/.338/.362 line in the second half in a season that included three four-hit games. Though the errors continued, Hartsfield did show some signs of improvement, so he didn't fret about losing his starting job going into the offseason.
But in 1952 Braves' manager Tommy Holmes, who had replaced Southworth 59 games into the previous season, inexplicably moved to a three-man platoon at second base—a practice continued under Holmes' successor, Charlie Grimm. Before rookie Billy Reed was sent down in May, Hartsfield made just three starts over the first 21 games, and he committed an error in all three. As had happened before, Hartsfield thrived starting out before plunging into a 5-for-33 slump. And the errors returned as well—three miscues over a four-game span ending June 10. Four days later Hartsfield appeared as a pinch-runner. Amazingly, it would be his last game as a major league player. As the club descended to its worst finish in a decade, management began shuffling the roster: they recalled second baseman Jack Dittmer and pitcher Virgil Jester and assigned Hartsfield and pitcher Dick Donovan to the Brewers. The following January the Braves sent Hartsfield and $50,000 to the Brooklyn Dodgers for veteran outfielder Andy Pafko, a move that would launch a long association between the Dodgers and Hartsfield.
From 1953-57 Hartsfield bounced among four Dodger affiliates with mixed success. In 1953 he helped the International League's Montreal Royals to a Junior World Series championship; the next year he struggled with an average below the Mendoza line and was demoted to the AA Fort Worth Cats in the Texas League. On September 1, 1955, in what is believed to be his first managerial role, Hartsfield took over the reins of the St. Paul Saints for one game when skipper Max Macon was away. A year later, September 5, 1956, while serving as a player-coach under Macon, Hartsfield became the last player to hit a home run in the 60-year history of St. Paul's Lexington Park.9 The following year, his last season as a fulltime player, Hartsfield earned All Star honors in the Pacific Coast League. He spent winters jockeying between the Venezuelan, Puerto Rican, Dominican, and Columbian Leagues. On December 17, 1956, Hartsfield was appointed player-manager of the Estrellas Orientales in the Dominican League. It was a short-lived stint. The club folded due to financial stress 18 days later. The next winter, as player-manager of the Willard Blues in the Columbian circuit, one of Hartsfield's charges was his little brother Bob.
In March 1958, Hartsfield was appointed player-manager of the Des Moines (Iowa) Bruins, the Dodgers' Class A affiliate in the Western League. Over the next seven seasons Hartsfield shuffled between A and D ball shepherding the careers of prized prospects such as Ron Fairly, Joe Moeller, and Jack Billingham. The blossoming youngsters often taxed Hartsfield's patience. For example, on May 29, 1964, St. Petersburg lefty 19-year-old Mike Kekich pitched four strong innings before surrendering two hits, two walks, committing an error, hitting a batter, and throwing three wild pitches when Hartsfield mercifully lifted him in the fifth. Fortunately not all the games were as awful. The very same year Hartsfield earned the privilege of being the Florida State League's All Star Game skipper and he piloted his team to a first place finish.
In 1965, Hartsfield was promoted to the AA Texas League where he guided the Albuquerque Dukes to their first circuit championship and first flag at any level in a dozen years. In the closest balloting in league history, Dallas-Fort Worth skipper Whitey Lockman edged Hartsfield in Manager of the Year polling, but the latter's success earned him another promotion to the AAA Spokane Indians in the PCL. Taking 10 of his Albuquerque players with him, Hartsfield led the previously bumbling 90-loss club to a 75-73 finish in 1966, and then followed this with two consecutive first place finishes. The 1967 season was truly one for the record books: with only five able-bodied position players, Spokane won its last eight games and defeated the Portland Beavers in a one-game playoff to capture the flag. "I've never seen a club like it," said Indians' player-coach and former major league first baseman Gordy Coleman. "They're a real tribute to Hartsfield."10 The successful romp captured major league attention. The Atlanta Braves had added Hartsfield's name to their short list of candidates before selecting Lum Harris to replace retired skipper Billy Hitchcock.11
Following the 1968 season Hartsfield joined the LA Dodgers' coaching staff, filling the void created when Lefty Phillips departed to take a front office job with the California Angels. The move reunited Hartsfield with his former Montreal Royals' skipper, future HOF manager Walter Alston. For the next four years, Hartsfield was frequently mentioned as Alston's heir apparent, and his name also surfaced as other managerial vacancies arose. During the 1971 season, San Diego GM Buzzie Bavasi nearly hired Hartsfield at the recommendation of his son Peter, the Padres farm director and former Albuquerque Dukes business manager. Other reports suggest that around this same time the Angels pursued Hartsfield to replace Lefty Phillips, who had stepped down from the front office to manage the club. But when all these possibilities evaporated, Hartsfield joined the Braves coaching staff following the 1972 season. Hartsfield vehemently denied reports of a bitter parting in Los Angeles. In fact, the move to Atlanta actually offered him an outside business opportunity, plus the chance to be close to family.
Way back during the war, on December 27, 1943, Hartsfield had married his high school sweetheart Alice M. Young. Born 90 miles northwest of Atlanta in Murray County, Georgia, Alice grew up in the Grove Park neighborhood of the City of Trees. The union produced three daughters. Over the years Alice appears to have encountered some serious health concerns. In August 1967, Hartsfield had briefly left the Spokane Indians to attend to her after she underwent major surgery in Atlanta. In 1972, Hartsfield expressed great pleasure about joining the Braves which enabled him to be close to his ill wife. (In May 1978, Hartsfield left the Blue Jays to care for her. Alice recuperated in Toronto following this latter operation).
However his stay in Atlanta proved short-lived. In May 1973, Peter Bavasi, now the Padres GM, offered Hartsfield a two-year contract to manage their AAA affiliate in Hawaii. Within two weeks of his hire—and again at the end of the season—rumors about Hartsfield's replacing San Diego skipper Don Zimmer floated about. Instead Hartsfield remained in Hawaii plagued by a rash of injuries and bad breaks for his team, including a June 2, 1973 game with Albuquerque in which Hawaii Islanders' righty Dave Freisleben threw a no-hitter and lost. By 1975, Hartsfield turned the club around, securing the first of two straight PCL flags—only the third time in league history that a team won consecutive pennants. He won manager of the year honors in 1975 and the well-timed surge put him in competition with Dave Bristol, Ken Boyer, and Yogi Berra for the again vacant Atlanta manager's job.12 Though Bristol got the nod, Hartsfield remained on the rumored short list for all possible vacancies. Finally on September 22, 1976, he was announced as the Blue Jays' inaugural skipper. Hartsfield exerted his influence almost immediately. Exactly a month later, the Jays purchased the contracts of Hawaii Islanders Dave Hilton, Dave Roberts and John Scott. Shortly after the AL expansion draft on November 5, 1976, Hartsfield mailed a 12-page physical conditioning pamphlet to each of the 39 roster players (including 20 rookies). He then reached out to every player individually to emphasize the Blue Jays' strict dress code and opposition to long hair and beards—the latter a decidedly unpopular stricture in the wake of the preceding decade's hirsute outbreak. When the Jays training camp opened in the spring of 1977, Hartsfield shifted to a strict emphasis on baseball fundamentals. He also established a goal of a 70-win season.
On April 7, 1977, in near-freezing temperatures following a snowstorm, 44,649 fans crammed Toronto's Exhibition Stadium (seating capacity: 38,522) for the Blue Jays inaugural game —and Hartsfield's major league managerial debut. "Opening day is something special," he said. "I don't care how long you have been in the business, it's got to get you all charged up and get the adrenalin flowing. Especially this one, a history-making day."13 The day became all the more special as Toronto collected 16 hits to beat the Chicago White Sox handily, 9-5. Toronto won four of their next six contests to claim a half-game lead in the AL East before the learning curve caught up with the young club. Holding a respectable 10-11 record at the end of April, they crashed in May: only eight wins in 25 games. The Jays briefly righted themselves with a 5-1 run in June before collapsing to just one win in the next 11 games. But even this wasn't the worst. In September, Bavasi accused the team of quitting as the club finished with a .243 winning percentage over its last 37 games—that's nine wins—finishing the season with a major league leading 107 losses. The Jays tied for an AL low of 100 home runs and 605 runs scored while leading the majors by hitting into 156 double plays.
While Hartsfield spent a portion of the offseason conducting baseball clinics for US servicemen in Germany,14 the Blue Jays spent an active winter shuffling the deck (a process that continued well into the next season). In addition to the many new faces at least six non-roster invitees accompanied the club to Florida in the spring of 1978. But new faces did little to improve the team; the Jays stumbled to a 2-8 start. In none of the first three months of the season could they win as many as ten games. They endured a particularly brutal nine-game losing streak in June in which they dropped the last six games in doubleheaders played over a four-day period. The Jays did enjoy a 7-1 run in August in what turned out to be the first winning month in franchise history. Hartsfield was rewarded with a contract extension—his third straight one-year contract. "He is one of our department heads," said Bavasi, now the team president. "He remains because he is an executive spoke in our corporate wheel."15 Toronto entered September with a modest record of 55-80 and Hartsfield, who had set no goals for this season, thought "it would be nice not to lose 100 games in our second year in the league."16 It was indeed a real possibility. The Blue Jays needed just seven wins in their final 26 games to avoid triple-digit losses again—they didn't make it. Though the club had improved by five games over its inaugural season, a gruesome 4-22 finish left a bitter taste.
One glaring deficiency in the Blue Jays1978 season was the paltry 28 team stolen bases—the lowest total in MLB in five years. The Jays sought relief in this area by acquiring outfielder Joe Cannon and shortstop Alfredo Griffin in the offseason. But speed alone was hardly the whole answer. On May 21, 1979, with a miserable 10-31 start to the season as backdrop and team tensions running high, Blue Jays' player-representative Roy Howell called a team meeting with Hartsfield and the coaching staff to clear the air. The ceasefire lasted just one day. On May 22, when Hartsfield went to the mound to replace struggling starter Mark Lemongello, the volatile righty tossed the ball past his manager. The blatant show of disrespect unleashed a barrage of invective and torment. Alison Jordan, one of the game's first female reporters, had a field day publicizing the dissention. And she probably relished the job, having received a cold reception from the Jays' old-school manager who barred females from his locker room. In June, as pressure continued to mount for Hartsfield's dismissal, Bavasi took the unusual step of urging the manager to take a week off—an offer that was politely declined. Two months later, with the players publicly calling for his dismissal, neither Bavasi nor GM Pat Gillick came to Hartsfield's defense. To his credit, Hartsfield took the high road, never publicly criticizing his players, coaches (who had reportedly begun ignoring him), or the front office. The losses proliferated, and the Jays finished with a record of 53-109 (.327), the worst showing in the AL since the Tigers .325 winning percentage in 1952. An hour after the season finale on September 30, Toronto announced it would not renew Hartsfield's contract. "We are grateful to Roy Hartsfield for having established the foundation for the future," said Gillick. "His was a most difficult task. We hope Roy will remain with the Blue Jays and assist us with the many challenges ahead."17
But Hartsfield, while claiming no animosity toward the organization, declined the offer. Actually, he had been deeply scarred by the turn of events. In December, he returned to Toronto, host city to the MLB winter meetings, scouting out other major league managerial opportunities. Rumors surfaced of Hartsfield replacing future HOF skipper Bobby Cox in Atlanta, but nothing came of this. He never returned to Toronto. With no offers extended, he went to work fulltime filming athletic events for Georgia Tech University—a job he had held during the off-seasons since the 1950s. "Baseball survived the loss of Babe Ruth," Hartsfield joked. "It survived the loss of Ty Cobb and Stan Musial. It will survive the loss of Roy Hartsfield."18
However the divorce between Hartsfield and baseball turned out to be but a trial separation. In 1981 and 1983 he returned to the minors as manager of Chicago Cubs and Cincinnati Reds affiliates, respectively—managing future World Series hero Joe Carter and relief specialist John Franco among many others. Hartsfield later joined the Houston Astros as an advance scout, a job he held until 1986 when he finally retired. He and his wife moved to Ellijay, Georgia, a small city 80 miles north of Atlanta where they built a three-story home overlooking the 17th tee of the local golf course. An avid golfer (he enjoyed fishing and woodworking as well), Hartsfield participated in varied charity tournaments benefitting MLB Players Alumni Association (an extension of tournaments he participated in years earlier on behalf of The Jimmy Fund in Massachusetts and other such non-profits). In July 1979, during the All Star break, Hartsfield was the only major league manager to participate in a Seattle charity fundraising event sponsored by future HOF outfielder Dave Winfield. Hartsfield continued to generously extend his time into retirement. One year he was the guest speaker at the fall banquet for the Magnolia/Georgia Chapter of the Society for American Baseball Research; another time he was the Grand Marshal of the Ellijay Apple Festival.
But health issues began overtaking the active retiree. In 1997, Hartsfield underwent open heart surgery for replacement of the aortic valve. In 2004, his wife died and Hartsfield, after contracting liver cancer, moved in with one of his daughters in Ball Ground, Georgia. On January 15, 2011, three months after his 86th birthday, Hartsfield succumbed to the cancer in this tiny, aptly named town. He was buried alongside his wife in Yukon Cemetery in Ellijay, Georgia.
Hartsfield spent portions of five decades in professional baseball. And his final record must be appraised as only middling at best. His once-promising major league playing career ended after just 976 at-bats with a .273/.324/.358 batting line. In the 1950s, after a long slog through the managerial ranks in the low minors, he made it back to the majors as the Toronto Blue Jays first skipper. His three-year stint there was Hartsfield's only managerial job at the highest level. And his record can't be described as anything but terrible. He compiled a record of 166–318 (.343) in 484 games—the worst winning percentage for any manager who worked over 200 games since World War II. Though often condemned for his old-school approach, that same approach fostered a high-minded concept of team that he never lost. Speaking of his Hawaii Islanders in 1974, he laid it out: "They work for each other, they root for each other, they pick each other up. Every one of them considers the team first and his own personal goals and accomplishments second."19
Acknowledgments
The author wishes to thank SABR member Thom Hinton for his suggestions regarding Hartsfield's nickname. Further thanks are extended to Tom Schott for review and edit of the narrative.
Sources
Ancestry.com
Notes
Born
October 25, 1925 at Chattahoochee, GA (USA)
Died
January 15, 2011 at Ball Ground, GA (USA)
If you can help us improve this player's biography, contact us.
http://sabr.org/sites/default/files/HartsfieldRoy.jpg
600
800
admin
/wp-content/uploads/2020/02/sabr_logo.png
admin
2016-07-15 14:41:30
2016-07-15 14:41:30
Roy Hartsfield