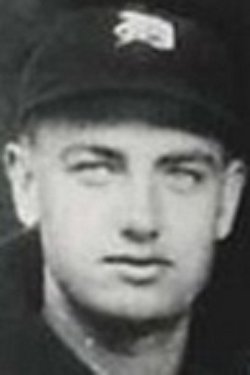 ---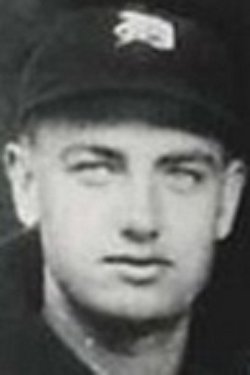 Coach Bill Fetzer at Davidson College knew too well that you could never have too much pitching. When he saw his young first baseman snap throws around the infield he decided to make him into a pitcher. A short time later, Rufe Clarke made his pitching debut against Lenoir College. Backed by some crisp fielding he won 5-1.1 Clarke split time the rest of his collegiate career between the mound and first. He learned his pitching craft so well that his name still appears in the Davidson record book for the most shutouts in a season and the longest (15 innings) game pitched.2 The International League's Baltimore Orioles signed him in December 1920.
Rufus Rivers Clarke was born on Friday April 13, 1900 in Estill, South Carolina. He was the second of six children born to Sumpter Mills and Virginia Pocahontas (Lafitte) Clarke. At the time Sumpter Clarke was a traveling salesman. He later became a farmer in Hampton County, South Carolina. Rufus attended school in Estill and graduated in 1916. Following in the footsteps of his brother Sumpter Jr., he played on the school baseball team as a first baseman. Bigger and burlier than his brother, Rufe grew to six-foot-one inch tall and 203 pounds. Following high school, he enrolled at Davidson College.
Campus life agreed with the amiable Clarke. He was elected Sophomore class president and held a spot on the student council. He graduated in May 1919 despite having missed a short time from classes when he was inducted into the army late in 1918. In his brief military career, he rose to the rank of lieutenant. Clarke joined Coach Fetzer in 1916 when the team posted a 15-6 record, the best of Fetzer's time at Davidson. He earned four letters in baseball. Despite his husky build the only football he played was intramural battles between the classes.
It was not until 1918 that Fetzer converted Clarke to pitcher. The team struggled in Clarke's last two seasons posting records of 5-9 and 4-10. Clarke entered the record book in 1919 with shutouts over Virginia (5-0) and North Carolina (1-0 in 13 innings). His 15-inning performance also came against North Carolina when he lost 4-3. In that contest he struck out 13 and walked one.3 He graduated with a Bachelor of Arts degree and took a job as assistant cashier with the Commercial Bank in Estill.
The Baltimore Orioles tried to sign Clarke while he was at Davidson. His brother Sumpter had signed with the Orioles in 1918. Whether this had a bearing on Rufus' decision is unknown. He must certainly have played baseball in the summer of 1919 and 1920, but details are unknown.
A couple of stories circulated about Clarke's signing decision. One was that he was originally looking to be a pastor and gave it up for baseball.4 His appointment as a Presbyterian Deacon may have spawned that tale. The other story suggested that when he came down with appendicitis in January 1921 his doctor "advised him not to return to inside work until he had fully regained his strength."5 While this may explain his decision to leave the bank the timing is odd. He signed with Baltimore in December 1920, but had appendix surgery on January 29, 1921.
Whatever reason Clarke had for returning to baseball, he joined a powerhouse Orioles team for the 1921 season anchored by Lefty Grove (25-10) and Jack Ogden (31-8) on the pitching staff. Jack Bentley hit .412 to lead a starting lineup featuring seven .300 hitters. Clarke made his professional debut on May 9 in Rochester. Grove had been hammered early and Clarke was sent in to mop up the last two innings. He surrendered a hit in the 9-5 loss.
Clarke got his first start on the hill May 30 in Reading. Appearing in the second game of a doubleheader after a three hour, 18-inning opener won by the Orioles, he beat the Aces 7-2. He allowed seven hits and four walks. In the field he handled six chances cleanly. At bat he drew a walk and sacrificed twice.
Manager Jack Dunn used Clarke as a spot starter and at first base and outfield. On August 14 he played first when Bentley pitched. He had three hits including a double. On the 16th he went four-for-four and pitched the O's to an 8-3 win over Rochester. He hit .287 for the season.
Two weeks later he was loaned out to a semi-pro team to pitch on the weekend and then told to start against Buffalo with one-day rest. He surrendered two runs early in a 2-1 loss that found him striking out for the final out. The Orioles won 119 games and ran off with the pennant. They faced the Louisville Colonels in the Little World Series.
The Colonels were unawed by Baltimore's record and promptly applied a 16-1 drubbing in the first game. Clarke was sent into the opener in the mop-up role and gave up seven runs and seven hits in two innings. His next outing was no better as he surrendered six runs in Game 3. The Colonels took the series five games to three.
Clarke made the roster again in 1922 and found himself in a utilityman role as pitcher and fielder. He went three innings of mop-up in a loss to Toronto on April 23. Two days later he was a substitute in left field and banged out s single and scored. On April 30 he was called in to relieve and gave up two walks before being benched. Dunn sent him to the Atlanta Crackers in the Southern Association soon after.
Clarke was quickly put to work by the Crackers. He pitched the second game of a May 6 doubleheader against Memphis. "Rufus Clarke, making his debut for Atlanta, was wild but tightened in the pinches."6 Seven walks, nine hits and a wild pitch in six innings yet Clarke escaped with a 5-3 win in a game called early. The Crackers sent his contract to the Augusta Tygers in the Class B SALLY.
The Tygers used Clarke in right field on May 15 and 17. He got his first pitching start on May 18 against the Columbia Comers. He tired late and gave up all the Columbia runs in the last two frames, but hung on for a 7-6 victory. Augusta manager Hick Cady continued to use Clarke on the mound and in the field. Clarke responded with a 9-13 pitching mark in 28 appearances and a .256 batting average in 68 games.
In 1923 Patsy O'Rourke took over as manager of the Tygers. His roster was improved over the previous season and he used Clarke mainly as a pitcher. Rufus responded with the best season of his career. It included a no-hit game that he spun on May 23 against Columbia. Augusta won 3-0 with Clarke issuing a walk and another runner reaching on an error. On July 23 he let his bat and arm do the talking. He won an 11-inning game from Greeneville by blasting a pitch way over the centerfielder's head to score the winning run in a 2-1 game.
In early July, Clarke and 18-year old hurler Harry Smythe were purchased by the Detroit Tigers for $11,000. The twosome was to join Detroit at the end of their season with Augusta.7 23-year old Clarke had his major-league debut on September 3 at home versus the White Sox. Hooks Dauss gave up four runs in six innings and was pulled for a pinch-hitter down 4-2. Clarke pitched the seventh inning and surrendered two hits but no runs. The Tigers rallied for four runs in their half of the seventh and went on to a 14-4 win. Clarke got the victory.
Fifteen days later he was sent into the ninth inning of a 9-9 tie in Philadelphia. He walked the first batter and was replaced Syl Johnson who surrendered two hits to plate the winning run. Clarke was now 1-1 and had faced five hitters. He made three more appearances including an outing against the Yankees where he coaxed a double-play grounder from pinch-hitting rookie Lou Gehrig. He pitched a total of six innings in five games. His performance earned a trip to spring training in 1924.
Clarke had a fastball and a sweeping curve, and while neither was overpowering they were good enough to earn him a roster spot in 1924. He tossed an inning in Philadelphia and then had the longest stint of his career at Fenway Park on May 19. He faced 21 batters in a game that stood 7-0 when he entered in the second inning. He surrendered two runs. This proved to be his final game. He closed out his career with a 1-1 record and 3.97 ERA. The Tigers released him to the Birmingham Barons in the Class A Southern Association soon after.
Clarke had already had a bout with appendicitis. He would injure his knee in 1924, probably while with the Tigers. Once with the Barons he came down with a case of tonsillitis that required surgery. That winter he had to have additional surgery for adenoids.8 Despite being in less than peak condition he appeared in 28 games and posted a 5-13 record for the seventh-place Barons. He spent part of the winter in the Sunshine League with Lake Worth, Florida. His brother Sumpter played for Ft. Lauderdale/Stuart. The brothers faced one another on January 22. Rufus held Sumpter hitless on his way to a 7-2 win.9
The Tigers assigned him to Atlanta, but in March he was sent to the International League Toronto Maple Leafs who joined the Tigers in Augusta, Georgia for spring training.10 The Asheville Tourists in the Class B SALLY secured his services. He spent May and June with Asheville. On June 24 in Columbia, Clarke pitched with the league president and baseball commissioner Kenesaw Mountain Landis in attendance. He shutout the Comers on five hits.11 10 days later he joined the Macon Peaches in the same league. Between the two franchises he pitched in 29 games and posted a 6-9 mark. He batted .240 in 36 games. A hip injury ended his season and his career.
Clarke had adopted Columbia, South Carolina as his home. When his career ended he joined the Federal Intermediate Credit Bank in that city. He also served as secretary/treasurer of the North Carolina Agricultural Credit Corporation. Clarke had been a popular player and was respected as "the type of southern gentleman" who made friends easily. He was "mild mannered" and had a "keen intellect."12 He was a natural for the business world. He became a member of the Kiwanis early in his banking career.
He used his position in the community to champion various causes. One of the first was to assist a former teammate, Walter Tengen. Tengen had served in World War 1 and was gassed. In 1926 he was suffering the effects and had been hospitalized in a Veterans hospital in Arizona with a case of tuberculosis. Clarke organized a benefit to raise funds for his friend. Tengen pulled through and lived another twenty years.13
He left Columbia to serve with the Federal Farm Loan Bureau in Washington D.C. for a couple of years. Upon his return to Columbia he worked for the Federal Land Bank. He was a Vice President of that institution in 1935 when he took a bride. In what the newspapers described "was one of the important events of Columbia's pre-Lenten season" Clarke wed Alice Childs Urquhart on February 27, 1935. His wife was a graduate of Randolph-Macon College. After a honeymoon to enjoy Mardi Gras in New Orleans the couple settled in Columbia.14
They remained active in the Trinity Episcopal Church where they were wed and welcomed two daughters, Alice and Barbara. Clarke was appointed a deputy governor of the Farm Loan Bureau in Washington D.C. in 1939-40. The family spent most of the 1940's in Columbia where Clarke served as president for a couple of banks. In 1949 he was made consultant on farm finances for the Salvadoran government in Central America.
The family returned to Columbia and Clarke took over as president of the Federal Land Bank. He served on the Richland County Board of Health and was a long-time member of the American Legion. He retired in 1962, but after two years became a stock broker for a Columbia firm. He retired for good in 1978. In retirement he served on the Carolina Children's Home board, a cause dear to his heart. He also served a brief time on the city council. Alice preceded him in death in 1982. Clarke passed away on February 8, 1983. He was laid to rest in the Elmwood Cemetery in Columbia.15
Acknowledgments

This biography was reviewed by Norman Macht and fact-checked by Alan Cohen.
Notes
1 "Baseball News," The Davidsonian (Davidson, North Carolina) April 3, 1918: 4.
2 http://www.davidsonwildcats.com/documents/2017/7/18/Baseball_Recordbook.pdf 1/19/2018
3 "Carolina Takes Fifteen Inning Game," The Davidsonian, April 30, 1919: 6.
4 "Pulpit Loses a Good Man in Rufus Clarke," Detroit Free Press, March 16, 1924: 21.
5 "Young Rufus R. Clarke Takes Baseball Medicine," The State (Columbia, South Carolina), March 2, 1925: 11.
6 "Crackers Split with Chicks," Tampa Tribune, May 7, 1922: 31.
7 "Detroit Buys Augusta Pitchers," The Index-Journal (Greenwood, South Carolina), July 6, 1923: 6.
8 "Pitcher Clarke on Baron's Sick List," The Greeneville News (Greeneville South Carolina), July 24, 1924: 10.
9 "Tigers Fall Before Attack of Wonders," The Palm Beach Post (West Palm Beach, Florida), January 23, 1925: 13.
10 "Rufus Clarke is Sent to Toronto," The Greeneville News, March 3, 1925: 6.
11 "Tourists 3 Comers 0," The Tampa Tribune, June 25, 1925: 9.
12 Detroit Free Press, ibid.
13 "Walter Tengen Former Member of Tyger Crew Very Ill in Hospital," Augusta Chronicle, May 16, 1926: 2.
14 "Miss Alice Childs Urquhart Weds Rufus Rivers Clarke in Trinity," The State, February 28, 1935: 12.
15 "Rufus Clarke, Retired Banker, Civic Leader, Services Set for Noon Tomorrow," Columbia Record, February 9, 1983: 31.
Born
April 13, 1900 at Estill, SC (USA)
Died
February 8, 1983 at Columbia, SC (USA)
If you can help us improve this player's biography, contact us.
https://sabr.org/sites/default/files/Clarke%2C%20Rufe.jpg
600
800
admin
/wp-content/uploads/2020/02/sabr_logo.png
admin
2018-02-15 15:20:33
2020-04-09 14:40:24
Rufe Clarke