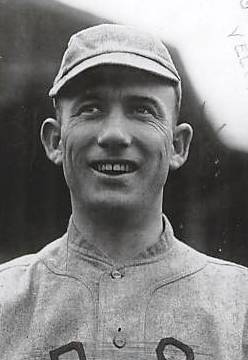 ---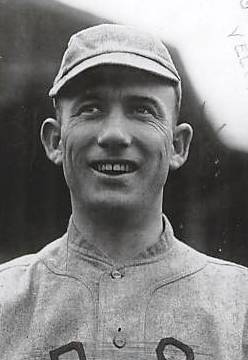 For a player so significant in Red Sox history, surprisingly little is known about Samuel Pond "Sad Sam" Jones. Despite his incredible contributions to the Red Sox World Series victory in 1918, the most often discussed thing about Jones is his curious nickname.
Born July 26, 1892, to Delbert and Margaret Clingan Jones, in Woodsfield, Ohio, about 20 miles west of the West Virginia Panhandle, Sam developed his arm on his grandfather's farm by throwing potatoes across a field to his brother Robert. He pitched well in high school, but quit ball to take a full-time job at Schumacher's grocery store. Though he intimated to family that he preferred basketball, and would have played it professionally had there been a league at the time, he kept pitching in pickup games, and in 1913, he was asked to try out for Zanesville of the Inter-State League. That was where he first broke into professional baseball, winning two games and losing seven but also getting good experience — including pitching in a June exhibition game against the New York Giants. However, Jones was only 20 years old and very homesick, so when he was forced to take a pay cut, he refused, and when he saw his manager, Marty Hogan, on the street the following day, the young hurler demanded to be released immediately. In what Sam's son, Paul, would later call "probably the craziest release in baseball history," Hogan obliged, writing Jones' release in pencil on the inside of a chewing tobacco packet.
Sam was not home for long. Just three days after he returned to Woodsfield, he was offered a contract by Lee Fohl, the manager of the Columbus team in the same league as Zanesville. Ironically, Sam ended up taking a pay cut from his Zanesville wage anyway, and when the league folded on July 15, Sam went home to work as a clerk in the grocery store.1 During the offseason, Jones played semipro basketball, a sport he claimed to be better at than baseball, but in the spring of 1914, he returned to baseball, spending some time at the Bill Doyle baseball school in Portsmouth, Ohio. Later that summer, Jones left the school to sign with the Portsmouth team in the Ohio State League, where he posted another losing record (5-6) but showed some potential when it mattered. One day, with Cleveland Indians scout Bill Reedy watching the game, Jones pitched well enough to earn a victory and hit a triple and home run to help his own cause. Reedy was impressed and signed Jones for the Indians later that year. He spent most of the year pitching for Cleveland's American Association team (10-4 in 23 games, with a 2.44 ERA), earning a promotion to the big-league Cleveland club for one game in the middle of the year.
Jones debuted with the Indians on June 13, 1914. After starter Rip Hageman gave up nine runs to Philadelphia, Jones threw the final three and one-third innings, allowing two hits and one run, while going 1-for-2 at the plate. Though that was his only appearance of 1914, in 1915 he became a regular — his second of 22 seasons pitching for six of the eight American League clubs. In his only full year with the Indians, Jones was 4-9 (3.65 ERA) and walked more (63) than he struck out (42). Jones batted .156 for the Indians — his career batting average was .197 in 1,243 at-bats. In the book The Glory of Their Times, Jones told Lawrence Ritter that he "loved" playing with the Indians–probably because it was so close to where his sister lived.
On April 9, 1916, the Indians traded Jones to the Red Sox with minor leaguer Fred Thomas and $55,000 for future Hall of Famer Tris Speaker. The Joseph Lannin-owned Red Sox were dumping Speaker and his high salary, to the distress of Red Sox fans. Thomas was the man Lannin wanted; Jones himself was an afterthought at best. The 1916 Red Sox pitching staff was essentially the same one that had won the 1915 World Series; Vean Gregg who got most of the work the sore-armed Smoky Joe Wood had previously handled, while Jones threw only 27 innings, all in relief, losing his only decision. During the summer of 1916, on his 24th birthday, Sam married his childhood sweetheart, the former Edith Kerr; they would remain happily married for almost 50 years until Sam's death in 1966.
Jones was used even less in 1917, reprising his 0-1 record. The loss came in his only start of the year, in Cleveland on August 19. He was hammered for two runs in the first and two in the fourth; the Boston Globe said that when it was over, "he looked like a crazyquilt."
At the start of his tenure with the Red Sox, Jones hardly seemed a big part of the ballclub. The Boston Herald and Journal reported that Jones "wasn't even sent a contract [in 1918] by the Hub Hose. The team was at Hot Springs when owner Harry Frazee got a letter from Sam along these lines: 'Forgotten me altogether? I'm not worth a contract of any sort? If I am through, let me in on it.' " Red Sox executives told the Globe that they thought he was at Camp Sherman in the Army and had placed him on the voluntarily retired list in error. [Globe, March 27, 1918] They wired Jones to come quickly, and told the newspaper they expected him to get a fair amount of work.
Fortunately for Jones, the Red Sox were right. The new manager for 1918, Ed Barrow, saw that Jones had a "most baffling delivery" and nurtured him into a pitcher who delivered 16 victories against only five losses (2.25 ERA). Though Barrow would later say that he was equally as proud of turning Babe Ruth into an outfielder as he was of turning Jones into a great pitcher, Jones and his manager had a contentious relationship at best. In his interview with Laurence Ritter for The Glory of Their Times, Jones admitted that he was a bit hard to handle as a ballplayer in his younger years, something that would become a semi-serious problem in his years with the Washington Senators. On May 23, 1918, Jones had his first start of the season and pitched extremely well against Cleveland–though he was on the short end of a 1-0 decision.
Jones's next two starts were brilliant. He outpitched Walter Johnson on May 29, winning a 3-0, five-hit shutout, and followed that with a 1-0 shutout of Cleveland on June 6, again allowing just five hits, but this time in 10 innings. (The June 6 game was interesting in that pitcher Babe Ruth played left field for Boston and pitcher Joe Wood played left field for Cleveland.) After allowing just one run in three starts, Sam Jones had cemented himself in as part of the starting rotation.
In the first three starts he threw against his former ballclub, Jones allowed Cleveland just one run. After he beat the Indians on August 19, the very player he had been traded for, Tris Speaker, told the Boston Herald and Journal:
"Sam Jones is the best pitcher Boston has… Those two years Sam sat on the bench made him. He simply absorbed everything that went on in the games. He's smart and learns rapidly. That slow ball of his simply floats up there and you swing your head off, and then he has a fast one that is on top of you before you realize it. In addicion, he has as good a curve ball as anyone in the league. Yes, I believe he's the best pitcher on the team."
A baffling delivery might be one thing, and it seemed to take him a while to harness his pitches (he walked more than he struck out in each of his first three full seasons in the majors), but Jones maintained that during a five-year stretch he only once threw over to first base to hold back a runner, believing that "there are only so many throws in an arm," something future Hall of Famer Eddie Plank had told him.
When Ernie Shore left for the Navy, Dutch Leonard took a shipyard job, and Babe Ruth cut back a bit on pitching, Joe Bush and Sam Jones got the opportunity to pitch in 1918. Bush won 15, Jones won 16, and Carl Mays won 21. It was a terrific year, and Jones led the league in winning percentage as the Red Sox advanced to the World Series against the Chicago Cubs. Though Jones lost his start in Game Five, 3-0, the Sox won the Series–it would be their last world championship for 86 years.
The next year, 1919, wasn't as kind to Jones as 1918, and Sad Sam finished the season 12-20 with an inflated 3.75 ERA. The team itself had a losing record, and several headlines mentioned Jones's wildness and wobbling. Jones got more work than anyone else on the staff, but others pitched better. He did dominate Washington, throwing three shutouts in a row before losing in the last matchup.
In 1920, Jones's workload increased to 274 innings but he again had a losing record (13-16, with an ERA that grew to 3.94.) He often pitched very well indeed, but was inconsistent and also often suffered from poor run support — though he perhaps single-handedly denied the pennant to the White Sox. Chicago finished two games behind the Indians, and Jones beat them six times. Only once in the first five of those wins did Jones give up as many as two runs. There were, though, the losses: On June 12, he gave up six runs to the St. Louis Browns in the first inning, left the game, and lost. Trying again the very next day, he was left in to pitch the full game and lost again, 11-5.
It took until 1921 for Jones to turn it around again. Even though the team again had a losing record (as it did throughout the 1920s), Jones became a 20-game winner (23-16, 3.22 ERA), making himself an attractive target for the acquisitive New York Yankees.
Five days before Christmas 1921, Harry Frazee traded Jones, and Bullet Joe Bush (between them, the two pitchers had accounted for 39 of Boston's 75 wins in 1921) and threw in eight-year veteran Everett Scott, for four New York players–Roger Peckinpaugh, Rip Collins, Bill Piercy, and Jack Quinn–plus $100,000.
Sam was 13-13 with the Yankees his first year, but went to the World Series again. Jones threw two late innings against the New York Giants without giving up a run, but the Giants swept the Series in four games (not counting a Game Two tie). It was back to the Series again in 1923, Sam's 21-8 and Herb Pennock's 19-6 pacing the Yankees during the season. In what he later called one of his proudest moments in baseball, Jones pitched a no-hitter on September 4, beating the Philadelphia Athletics, 2-0, without striking out a single batter. In the Series, he started and lost Game Three, but it was a 1-0 loss, a four-hitter spoiled only by Casey Stengel's home run for the Giants. Jones took his World Series record pretty seriously; he would later grumble to the press that he got "no run support," a fair assertion.
Jones entered 1924 with a sore right elbow that lasted two months and contributed to a disappointing 9-6 record. In 1925, he pitched a full year again but the Yankees collapsed all the way to seventh place. Jones was 15-21, and his ERA increased one full run from 3.63 to 4.63. The earned run average bumped up again to 4.98 in 1926, and his 9-8 record was mediocre on a team that featured 58 wins from Pennock, Urban Shocker, and Waite Hoyt, and took the World Series to Game Seven before losing to the Cardinals. Jones pitched just the ninth inning in Game Two, giving up the final run in a 6-2 loss.
Jones spent five years pitching in New York, but it didn't change him as a man. Jones was, according to those who knew him, a homebody. He hated leaving his Woodsfield hometown for spring training, and minutes after the season ended, he would hustle his belongings, his wife, Edith, and their sons, George and Paul, into their LaSalle automobile and drive straight to Woodsfield.
In early February 1927, Sam was swapped to the St. Louis Browns for Cedric Durst and Joe Giard. In his one season with St. Louis, Jones was 8-14 with a 4.32 ERA. Right after baseball wrapped up postseason play, St. Louis sent Sam and Milt Gaston to Washington for Dick Coffman and Earl McNeely.
Sad Sam pitched four years for Washington, rebounding nicely with a 17-7 (2.84) in 1928, despite the Senators finishing 26 games out of first place. His hopes for another strong season in 1929 were dashed when he sprained his back on May 22. He returned to Woodsfield for a month and next started in early July. He finished the season with a 9-9 mark and a 3.92 ERA. Owner Clark Griffith signed him again for 1930, but to a "bonus contract" based on incentives. Right as the season began, Jones ran afoul of manager Walter Johnson. Accused of "speaking out of turn" (New York Times) and displaying what Johnson termed "not the proper attitude" (Washington Post), Johnson sent Jones back to Washington while the Senators traveled from Boston to Philadelphia. The rift didn't last long, though, and Jones was back in a few days. Jones was what we could call a "difficult sign" during his years in D.C., but in this case it was perhaps Johnson who "possibly may have been a little harsh" in the words of Post correspondent Frank H Young. Perhaps the bonus clause worked; he won 15 and lost seven (with a 4.07 ERA).
In 1931, Jones was 9-10, and in December the Senators traded him and Irving "Bump" Hadley to the White Sox for Carl Reynolds, Jackie Hayes and Johnny Kerr. The Washington Post said that Jones "undoubtedly is nearing the end of his career." He would turn 40 during the summer of 1932.
Sam Jones won 10 games for the White Sox in 1932 and again in 1933, but was under .500 each year. Chicago was competing with the Red Sox for last place in those years and in his four seasons with the White Sox Jones's won-loss percentage was higher than his team's. In 1934, he celebrated his 42nd birthday with a six-hit, 9-0 shutout of Washington. In November 1935, after he had posted a winning 8-7 record, the White Sox gave Sam Jones his unconditional release at age 43. His 22-year career was finally over.
He kept busy, teaching kids in Woodsfield how to play ball (and securing donations of major-league equipment from some of his old teammates), according to his friend, Ronald Turner; one of those children, from nearby Stewartsville, Ohio, was another Sam Jones, nicknamed "Toothpick Sam," who would go on to play 12 years in the major leagues. Sad Sam spent four summers coaching the Woodsfield Junior Merchants. In 1939, a brief INS wire story reported on a "married men vs. single men" ballgame from the prior summer, in which a batter drove a liner back to the mound and broke Sam's finger. In December, he signed on as a coach-player with the International League Toronto Maple Leafs, where he worked under manager Tony Lazzeri, a former teammate with the Yankees.
Jones's last season as a professional came in 1940, after four years out of the game. He appeared in eight games for the Maple Leafs, for a total of 12 innings, with a winning 1-0 record and a somewhat meaningless 2.25 ERA. Soon after his 48th birthday he was released by the Maple Leafs. In his final appearance, he'd thrown one inning without giving up a hit or a run. Two years later, he briefly dipped back into baseball when he was hired by a factory in Springfield, Vermont, to coach its team in the city league. His son Paul played for the team, and lived in Springfield after Sam had moved back to Woodsfield.
In the years after baseball, Jones prospered in his hometown as president of the board of directors of the Woodsfield Savings and Loan Co., and was active in Presbyterian Church and Masonic circles. Sam suffered an illness that lingered and he died on July 6, 1966, just 20 days before his 50th wedding anniversary.
The Associated Press obituary explained the origin of his nickname, "Sad Sam, the Cemetery Man," as emanating from "a new sportswriter whose only acquaintance with the pitcher was watching him from the press box. The dour features of the pitcher at that distance completely hid the twinkle in his eye." The story deemed him a "whimsical and quietly humorous man, brimful of quips and backwoods humor."
Old friend Ronald Turner recalled Sam as a hunter and horseman who never flaunted his career as a baseball star. One player Turner recalled Sam mentioning with a sense of disapproval was Babe Ruth, whose flashy lifestyle didn't sit well with the modest "Squire of Woodsfield." But Jones was well liked by many of his old teammates and he counted Hall of Famers like Joe Cronin and Cy Young as his friends.
Jones loved his town above everything else–with the exception of his family. When Paul, who inherited Jones's love for baseball (and, apparently, ice skating), moved to Erie, Pennsylvania, Jones, who always hated traveling away from Woodsfield, would often drive the seven hours round trip to visit his son and granddaughters. Sam's other son, George, emphasized the great pride that his father took in his small-town hometown. He loved coon hunting and rabbit hunting, George said. He was a brilliant pianist, who played by ear, something he passed on to son George, who would work in the music industry and play in bands for a time. George says Sam was loved unanimously by everyone in town, and his "coon feed" barbecues were hits. He relished and seized every possible opportunity to immerse himself in Woodsfield, during the time after his career he worked as a delivery man for a grocery store, sold furniture, drove a hearse, labored as a church custodian, was president of his county's World War II draft board and spent part of almost every day sitting in his brother Bob's clothing shop, surrounded by friends and baseball pictures.
Sam Jones, throughout a lengthy baseball career that took him from Cleveland to Washington, Boston to Chicago, and many places in between, was a small-town man at heart; he was a local institution in Woodsfield when he lived, just as much a part of the village as the County Library or the abandoned railroad. A marker detailing his career in baseball stands on Creamery Street in Woodsfield, ensuring that the village remembers the man who cherished it more than any other place until the day he died. While Jones admitted he had been a bit tough to handle during his younger years, he clearly developed and matured from a brash rookie into a true gentleman, and the values of modesty, devotion, and stoicism that he grew to embody are summed up neatly in this poem he composed later in his life.
BASE BALL IS BUT A GAME OF LIFE
First base of Egotism, Second base of overconfidence,
Third base of indifference, Home Plate of honest achievement.
A good many men lose by reason of pop-flies;
the short-stop of public opinion frequently nips short the
career of a man who fails to connect with the ball of life
with a good sound wallop.
The winner is the man who knocks the horse-hide of opportunity
loose with the bat of honest effort.
When you have batted for the last, made the rounds of the bases
and successfully negotiated home-plate,
may we hope to hear the Umpire of LIFE, which after all,
is the esteem of friends and acquaintances,
call to you that you're safe.
Note
1 The reason for the pay cut is outlined in an article by Jim B. Bullard in the Martins Ferry (Ohio) Times Leader. 1913 was a bad flood year, and Zanesville's ballpark was damaged by the flood — forcing the team to move its games to a fairground. Attendance suffered, and the players were asked to take a pay cut.
Sources
Interviews by Alex Edelman with Ronald Turner (June 25, 2007); Sandra Jones Taylor (August 12, 2007, and e-mail correspondence); and George Jones (June 29, 2007).
Lieb, Frederick G., The Boston Red Sox (New York: G.P. Putnam & Sons 1947, republished Carbondale & Edwardsville: Southern Illinois University Press, 2003)
Schlemmer, Bill. "A Fella Named Jones", The Erie Daily Times (Erie, Pennsylvania), October 20, 1950.
Bullard, Jim, "All Time Great Baseball Player Recalls 22 Years In Big Leagues", Martins Ferry Times-Leader, Martins Ferry, Ohio (date unknown).
Born
July 26, 1892 at Woodsfield, OH (USA)
Died
July 6, 1966 at Barnesville, OH (USA)
If you can help us improve this player's biography, contact us.
http://bioproj.sabr.org/bp_ftp/images3/JonesSam.jpg
600
800
admin
/wp-content/uploads/2020/02/sabr_logo.png
admin
2012-01-04 20:37:55
2012-01-04 20:37:55
Sad Sam Jones