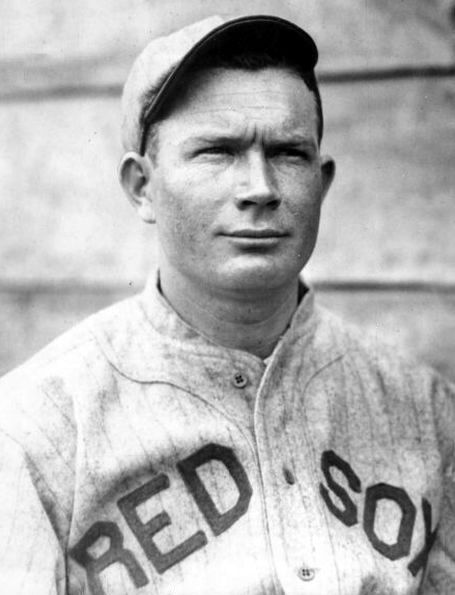 ---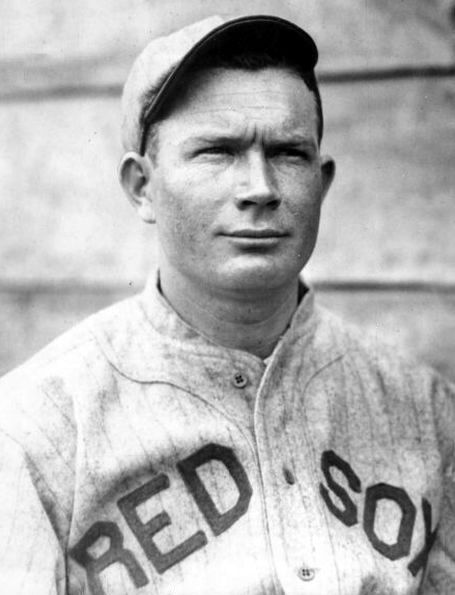 His father was a Texas Ranger half a century before the baseball team was formed. Mark Langford was a real Texas Ranger, according to the 1920 census, a "state ranger" who worked the "Tex-Mex border". Mark Langford's mother immigrated from Sweden and his father came from Kentucky. Mark married a woman from Mississippi, and he and Maude raised four children, one of whom became a major-league outfielder. In 1900 Mark was a carpenter when the census was taken, just shortly before his eldest son Elton was born. In 1910, he was a building contractor.
Elton grew up to become the ballplayer, known as Sam Langford. He was born on May 21, 1900, in Briggs, Texas, about 50 miles north and slightly west of Austin. The family lived most of the time in Georgetown, which is more or less halfway in between. That's where Elton attended school, leaving high school just before he turned 18 to join the United States Navy in April 1918. He served until June 1920 and the census that year placed him in Newport, Rhode Island, serving as a pharmacist's mate in the Navy. It was after returning home to Texas that the 20-year-old began to play baseball professionally – after he'd been spotted by a baseball scout while playing for a Navy team at the Brooklyn Naval Yard.[1]
Langford began his pro career in 1921 with a West Texas League (Class D) ballclub, the Mineral Wells Resorters, which became Ballinger Bearcats on May 20. The team ran through five managers in the course of the season, while two of the six teams in the league disbanded during the season. Langford played in 74 games and hit for a .348 average. In 1922, the West Texas League strengthened, adding new clubs in Lubbock and Amarillo. Langford's 21 home runs led the league; he hit for a .340 average.
The New York Yankees invited him to spring training in 1923, but didn't add him to the roster. Instead, he joined the Charleston Pals, which moved to Macon on June 5. He wound up the season in Class A, with the Atlanta Crackers playing in 30 games and hitting .231 (he'd been batting at a .293 pace with Charleston/Macon).  The1924 season was split between Des Moines (Western League, 23 games) and Peoria (Three-I League), with a combined 304 average and 18 home runs. The left-handed hitter had reached his full size of 6-0 and 180 pounds.
In 1925, he was with the Des Moines Demons for the full year, and his 160 runs scored led the league. Langford hit for a .339 average and homered 13 times. The team won the first half of the split season but lost in a playoff at the end. Langford was chosen as the all-star centerfielder in a vote of league managers. On September 14, the Boston Red Sox purchased his contract. A few days later, Boston's owner Bob Quinn said, "Langford, the outfielder we secured from Des Moines, is said to be a mighty good hitter. He scored a lot of runs out in the Western League and they say that he can 'go and get them' in the outfield as well as anybody."[2]
Langford trained with the Red Sox in New Orleans and earned some raves for his fielding in the Boston papers. Almost on the eve of the regular season, veteran sportswriter Melville Webb wrote in the Boston Globe, "Langford…hits hard and ought to be an outfield asset."[3]
The New York Yankees came to Fenway Park for the April 13 opener of the 1926 season and quickly rolled up an 11-1 lead through 4 ½ innings. Sox manager Lee Fohl asked Langford to pinch-hit for pitcher Howard Ehmke in the bottom of the fifth. Milt Gaston had reached on an error, and Langford dropped down a bunt and Yankees pitcher Bob Shawkey "fell all over" it, putting Langford on first base.[4] A few batters later, he scored on a groundout to second base. The game ended as a 12-11 Yankees win. Langford finished 0-for-1 with a run scored, which was his major-league line for 1926. The Red Sox released him one week later, and he ended up hitting .287 for the Columbus Senators (Double A). He also played 28 games for Fort Worth, where he hit just .216 for the Single A club.
Most of 1927 was spent back in Des Moines, where he hit for a furious .409 pace in 149 games for manager Shano Collins. As one might expect, that average topped the league. The Cleveland Indians secured his name on a contract and he played his second big-league game on September 8, against the Red Sox, going 1-for-3, his first hit in the majors.  In a September 15 game at Yankee Stadium, Langford won the game with a home run in the sixth inning. The Associated Press called him a "Cleveland rookie, tried out by the Yanks several years ago".[5] It was a two-run drive into the bleachers; Langford had scored an earlier run, and was thus involved in all the scoring in the Indians' 3-2 win. In 20 September games, Langford was 18-for-67 (.269), with the one home run and seven RBIs. Right after the season, he married Gertrude "Trudy" LaValle in Boone, Iowa. The couple had one child, Beverly Ann, who gave the Langfords a grandson and four great-grandchildren.
Langford He was back with the Tribe in 1928 and appeared in 110 games, driving in 50 while hitting four more homers and hitting .276. By September he was no longer player regularly, getting only seven at-bats after August 25. They were his last at-bats in the big leagues. He had one record to look back on, dated May 1, 1928, when newspaper boxscores credited him with four assists, tying the major-league single-game record for assists by an outfielder. Years later, however, a look at the official day-by-day records show that the official scorer had only awarded him two.
Langford began the 1929 season in the Pacific Coast League playing for the San Francisco Seals but he didn't get a hit in his first six games, and his .257 average after 30 games was apparently not enough for the Seals to want to keep him. He spent most of the year in the Texas League playing for the Shreveport Sports, and there – back in Single A – he hit .349. He never hit below .300 again.
In 1930, Langford spent the full year with the Atlanta Crackers, playing in 145 games and hitting .318. It was Dallas in 1931 and 1932, .321 and an even .300, and then his final year – 1933 – was split between Dallas and Oklahoma City, a .309 year.
The Langfords moved to Plainview in 1933 and spent the next six decades there. He worked for Arch S. Underwood, who ran an extensive network of cotton warehouses and compresses, and then for 42 years served as manager of Panhandle Compress and Warehouse. For many years he played baseball locally. For ten years, he served on the board of the Central Plains Regional Hospital, for which he had helped raise funds, and in the 1950s he helped organize the West Texas-New Mexico Baseball League that brought minor-league ball to Plainview for seven years.
Looking back on his time and travels in baseball, he wrote a note in 1979 to the person who'd sent him a record of his years in the sports: "Thank you very much for these records. Looks like I traveled a lot, but it was fun & I enjoyed every minute of it. I was 79 years old yesterday and still in good shape." [6] Langford died at Methodist Hospital in Plainview, Texas, on July 31, 1993 after a long illness. He was 92.
Sources
In addition to the sources noted in this biography, the author also accessed Langford's player file from the National Baseball Hall of Fame, the online SABR Encyclopedia, the Encyclopedia of Minor League Baseball, Retrosheet.org, and Baseball-Reference.com. Thanks to Lyle Spatz and Tom Ruane.
---
Born
May 21, 1900 at Briggs, TX (USA)
Died
July 31, 1993 at Plainview, TX (USA)
If you can help us improve this player's biography, contact us.
http://bioproj.sabr.org/bp_ftp/images5/LangfordSam.jpg
600
800
admin
/wp-content/uploads/2020/02/sabr_logo.png
admin
2012-01-04 20:39:08
2021-09-24 09:43:07
Sam Langford